We've pulled together over 50 easy Memorial Day Recipes to help you plan an easy and delicious Memorial Day Menu to kick off the summer. These classic Memorial Day food ideas include a variety of different pasta salads, grilled chicken, and BBQ sides along with plenty of pies, no bake treats, cookies, and more.
Jump to:
Classic Memorial Day Menu Ideas
Memorial Day is the official kickoff to summer, and you'll have plenty of recipes to choose from with this list of our Best Memorial Day Food.
This selection of Memorial Day Menu Ideas includes summer BBQ favorites like grilled chicken, cornbread, pasta salads, cold dips, plenty of refreshing Memorial Day dessert ideas, and so much more. Along with the classics, you'll also find red white and blue recipes and even a few recipes to make your life easier. Why waste precious grill space when these Slow Cooker Baby Back Ribs are just as fall-off-the-bone delicious as when they are grilled?
Plus, don't miss our tips for planning a stress-free Memorial Day cookout that will be fun for everyone, including the hosts. And if you're looking for more festive red, white, and blue menu ideas, try our 4th of July Menu Ideas too.
Recipes for Memorial Day Menu
Memorial Day Salads and Sides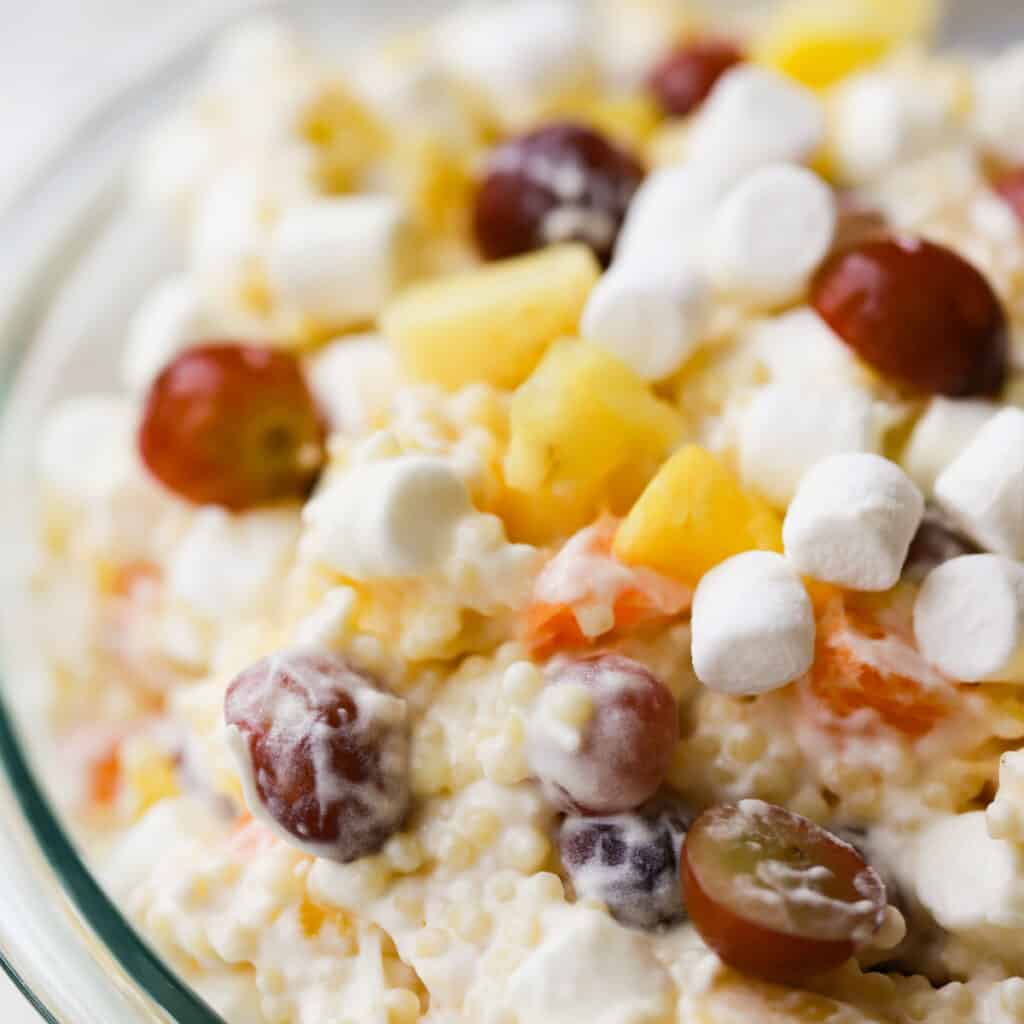 This easy Frog Eye Salad recipe is made with fresh fruit and instant pudding. It's a great fruit salad recipe for your Memorial Day menu and one of the best potluck salads.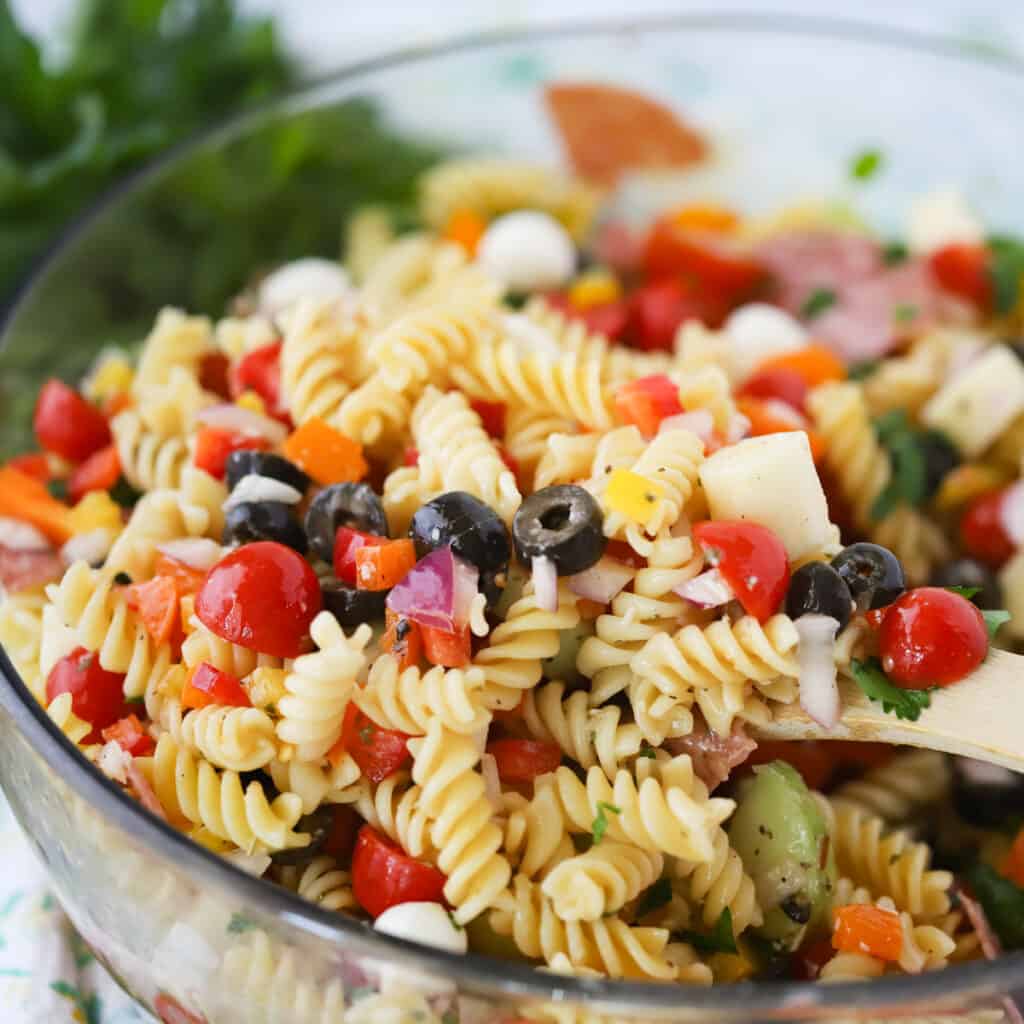 This easy homemade Pasta Salad recipe is full of fresh, colorful and flavorful ingredients all tossed in a homemade Italian dressing. It takes just a few minutes to make, is always a hit, and tastes even better when made the night before.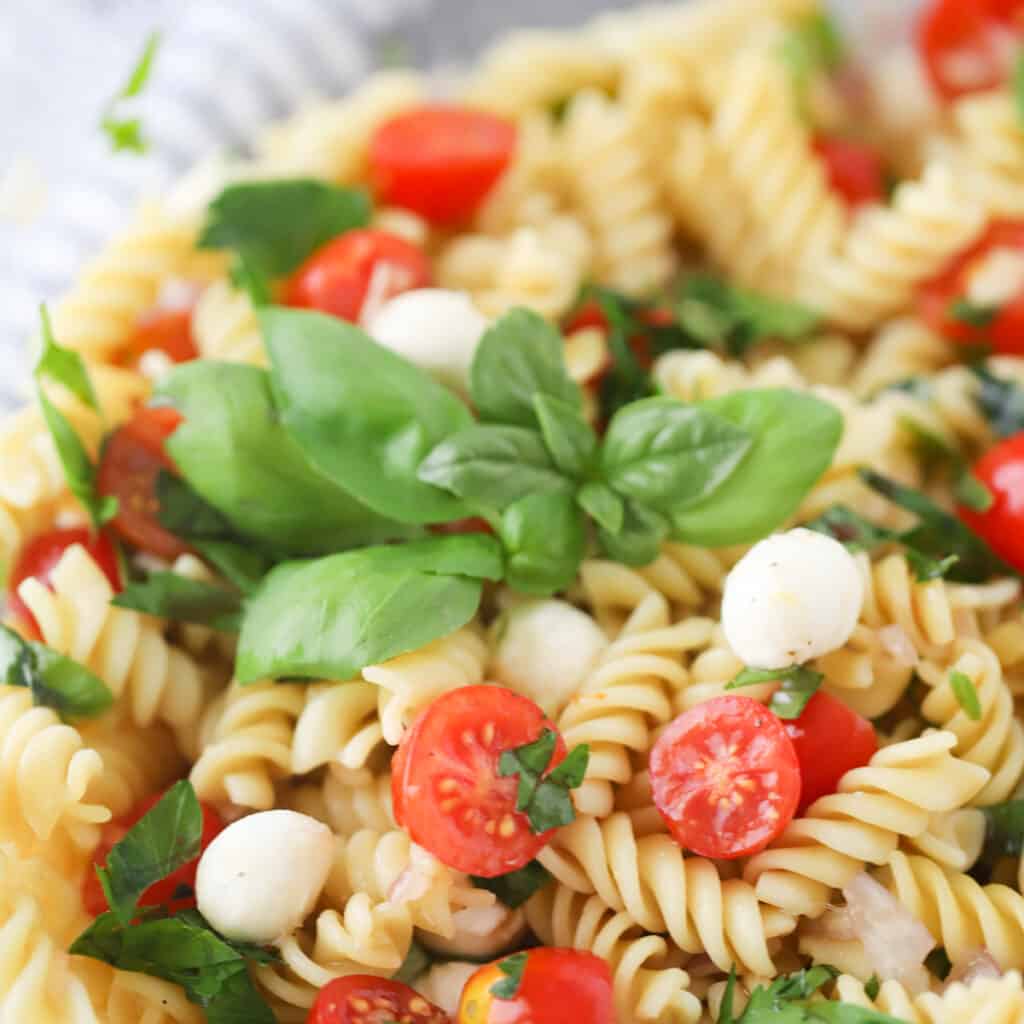 This Caprese Pasta Salad is a quick and easy side dish that is perfect for highlighting fresh, seasonal summer produce. Based on the classic Caprese salad, it's filled with fresh tomatoes and basil, fresh mozzarella, and perfectly cooked pasta all tossed in our homemade balsamic dressing.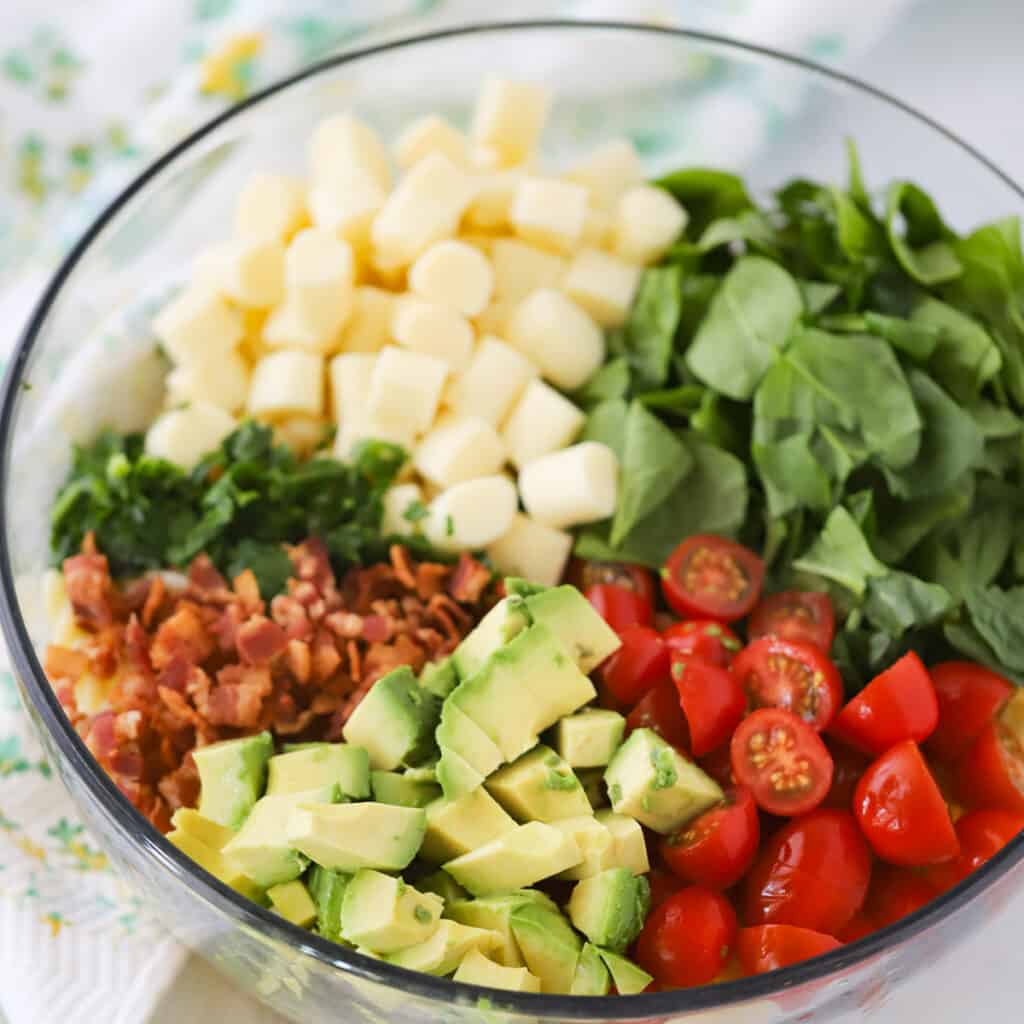 This creamy, crunchy BLT Pasta Salad is based off of the classic bacon, lettuce and tomato sandwich. We also add in mozzarella cheese, avocados and parsley, then cover the whole thing in ranch dressing for an easy and irresistible summer BBQ side dish.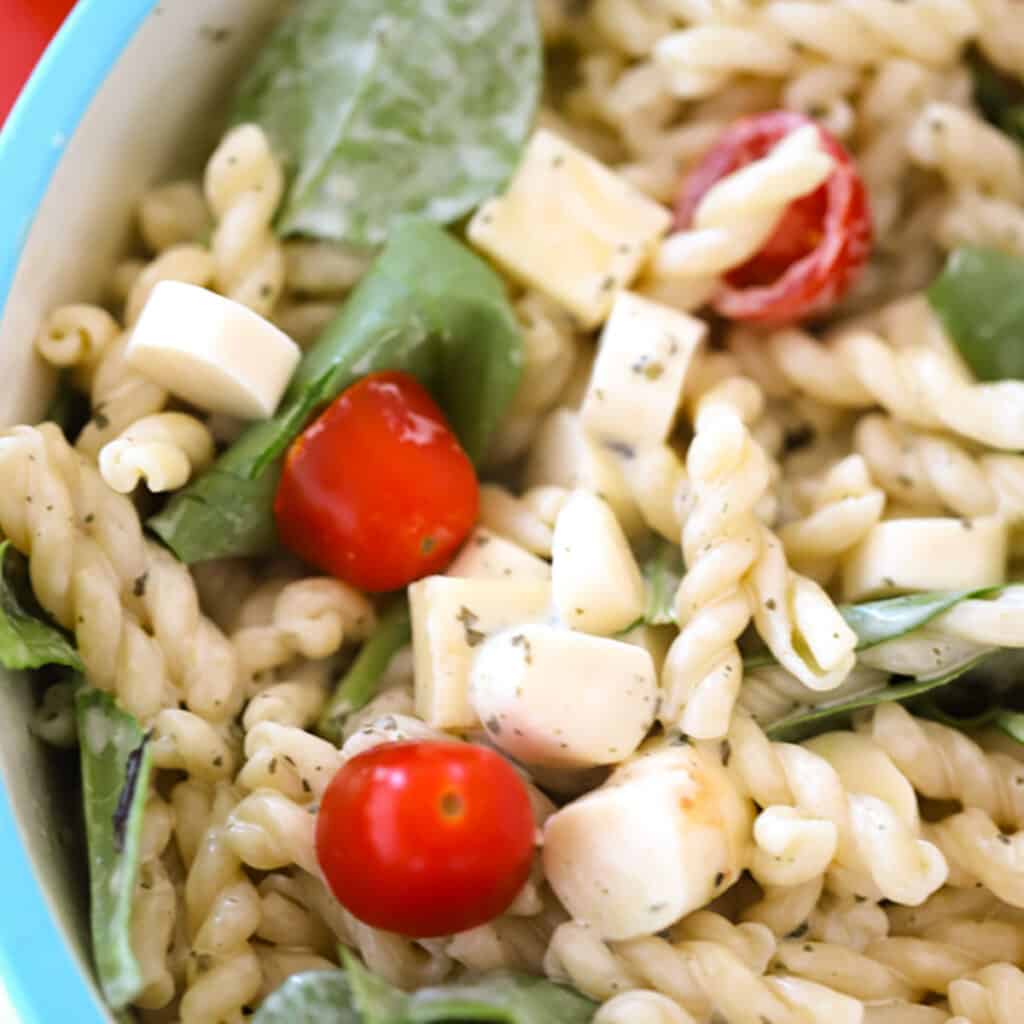 This Creamy Pesto Pasta Salad recipe is the perfect quick and easy summer side dish and Memorial Day menu idea. Filled with bite-sized pasta, creamy pesto dressing, tomatoes, spinach and mozzarella cheese, it tastes great served with grilled chicken, burgers, kabobs and more.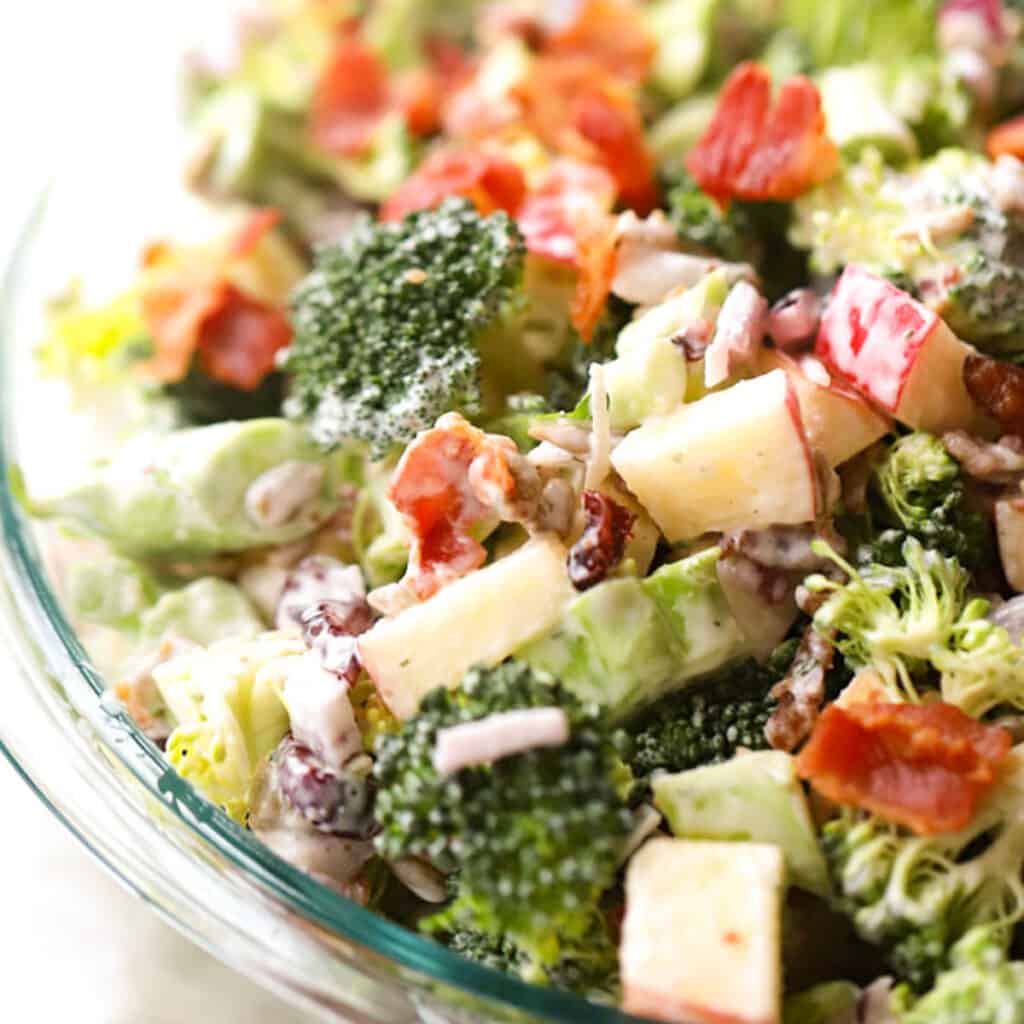 This classic Broccoli Salad with Bacon is the perfect 15 minute side dish to make for Memorial Day, potlucks, BBQs, holiday parties or dinners at home. It's filled with raw broccoli, bacon, onions, apples, sunflower seeds, Craisins all tossed in a creamy homemade dressing.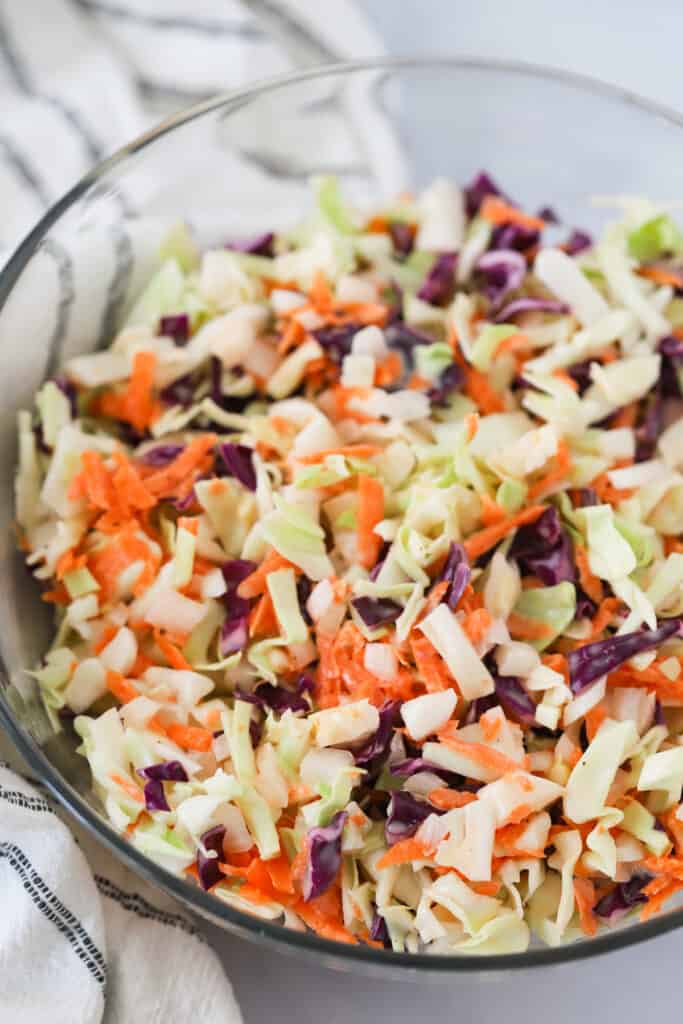 This traditional Coleslaw Recipe is made with finely shredded cabbage, carrots, onions, and a tangy dressing. It's crunchy, colorful, easy to prepare, and one of the most asked for salads for Memorial Day.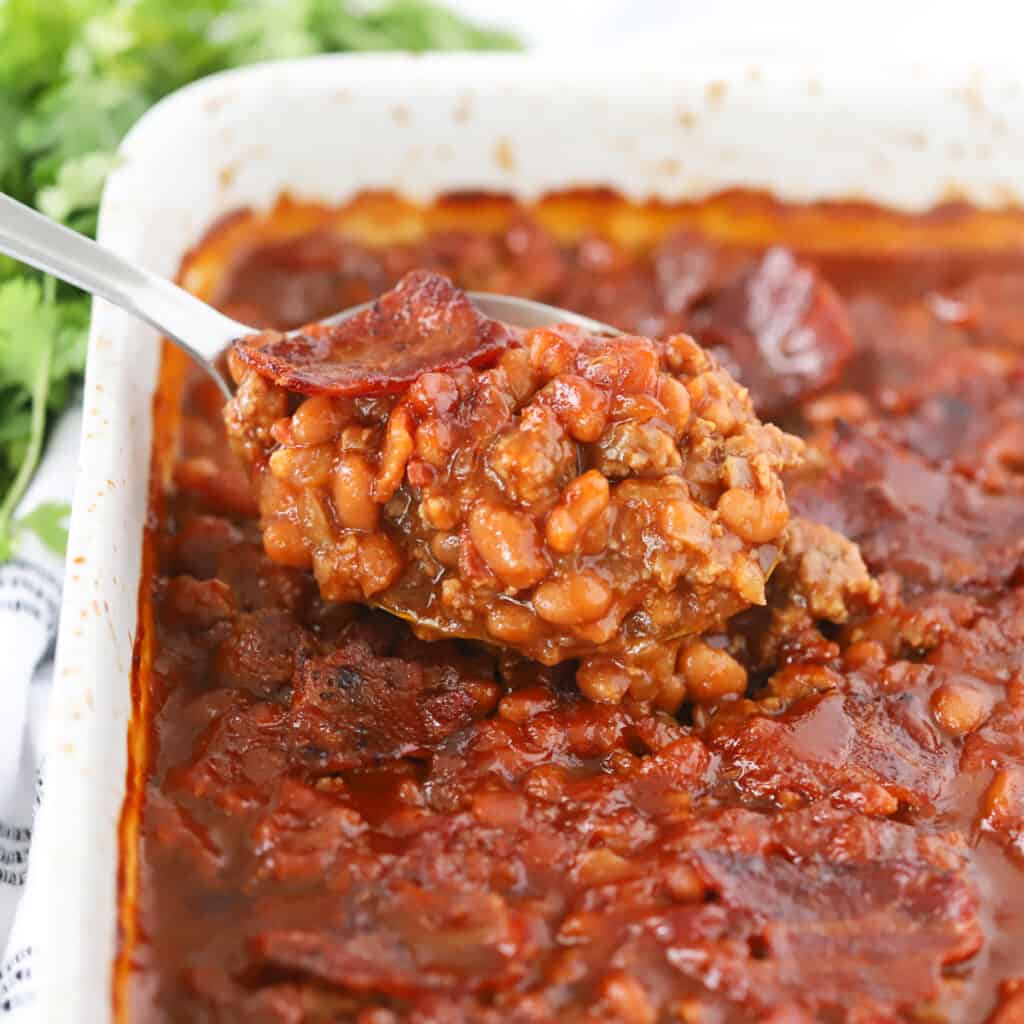 This is the Best Baked Beans Recipe made with bacon, ground beef, and canned beans. It's got a sweet and savory brown sugar sauce and is the perfect side dish for your Memorial Day menu or any summer potluck.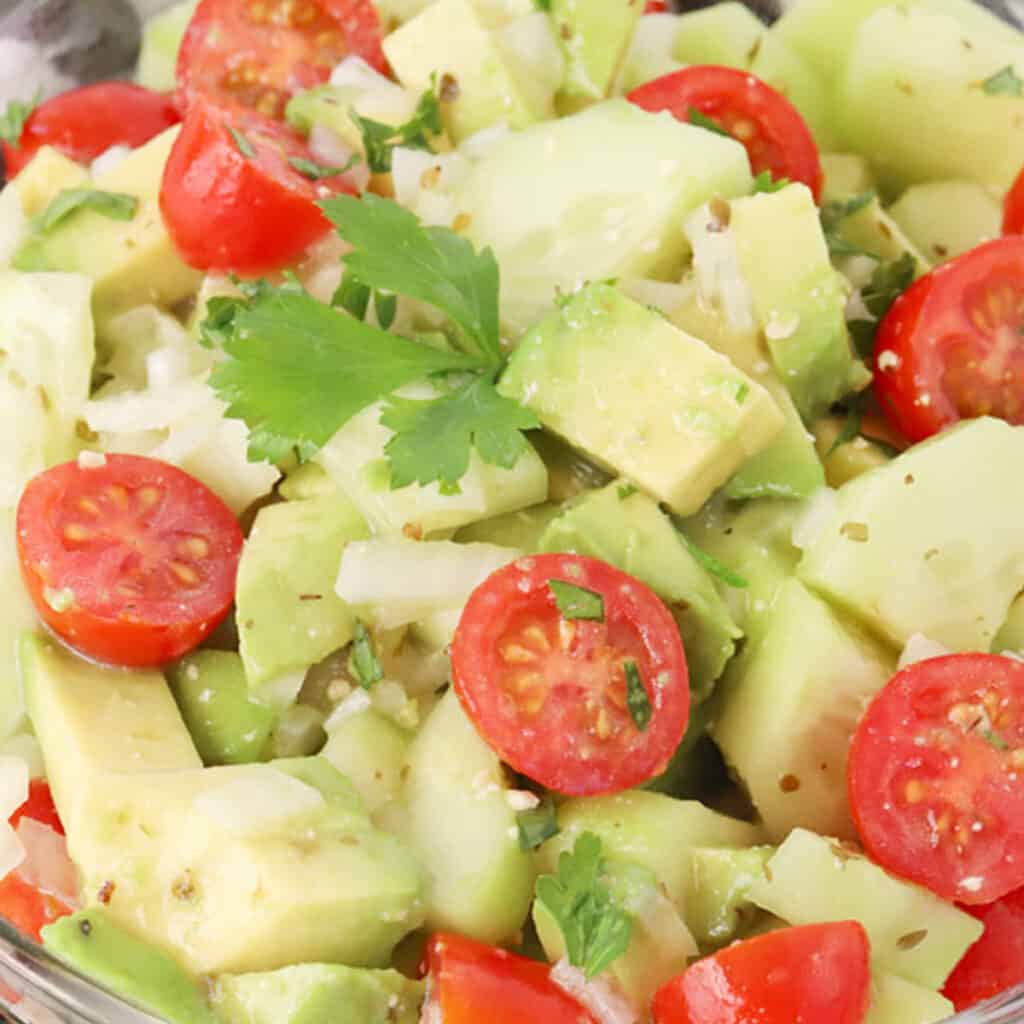 This Cucumber Tomato Avocado Salad is crunchy, creamy and cool - just what you crave on a warm summer day. It's loaded with fresh vegetables, and lightly coated in a tangy homemade Italian lemon vinaigrette, perfect for a light lunch or a side dish for just about anything.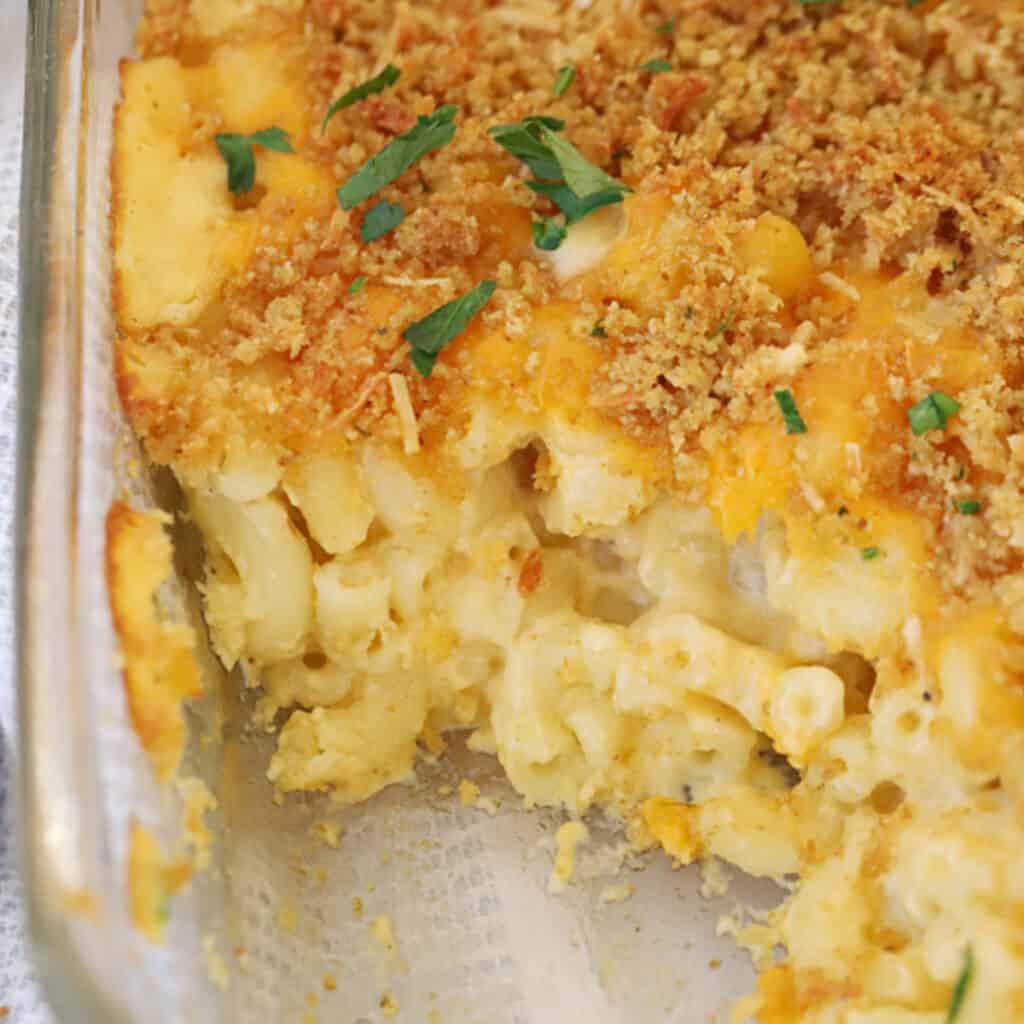 Baked Mac and Cheese recipe is the ultimate family favorite comfort food that is loved by people of all ages. For this recipe, we use sharp cheddar to make a creamy cheese sauce that gets mixed with elbow macaroni, topped with buttery panko breadcrumbs and baked to golden brown perfection.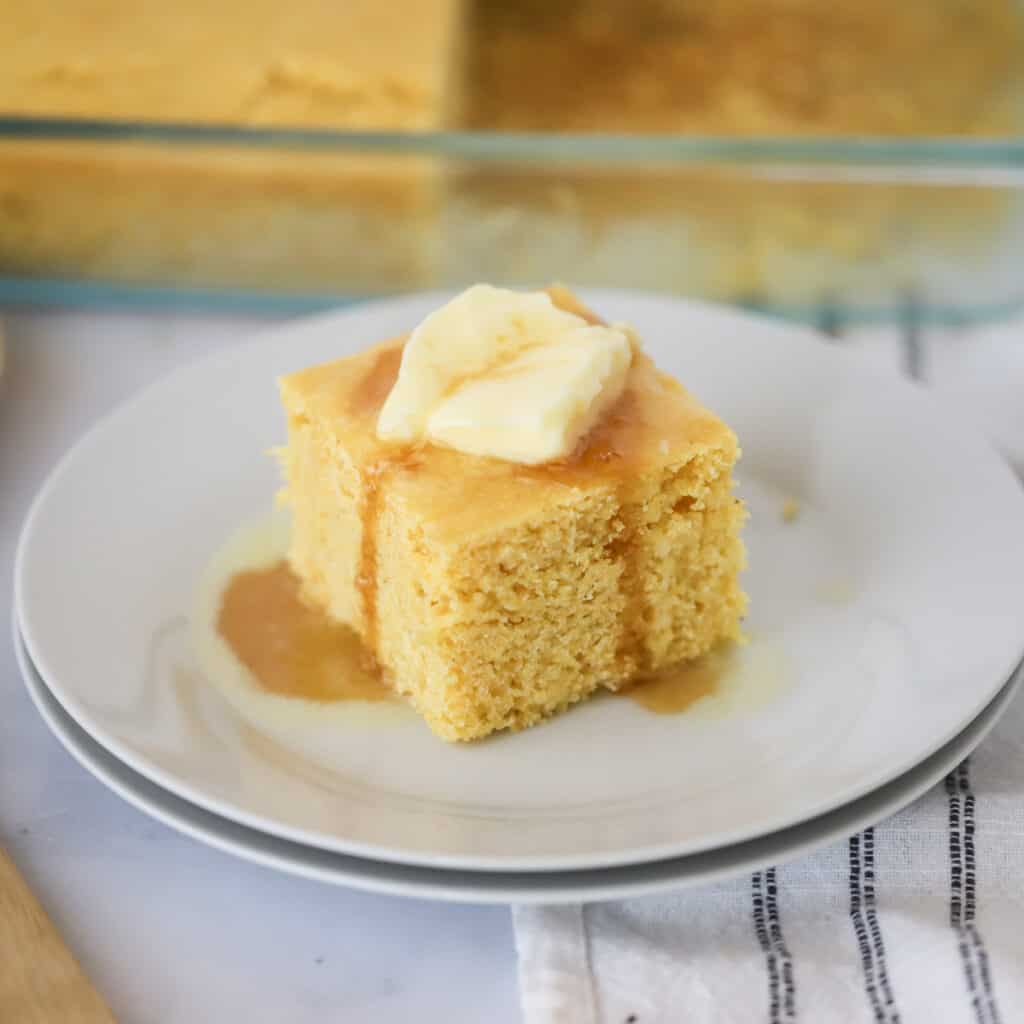 This Easy Homemade Cornbread is tender, moist, and super flavorful. It's made with just a few ingredients and can be baked in a cast-iron skillet, baking dish, or muffin tins.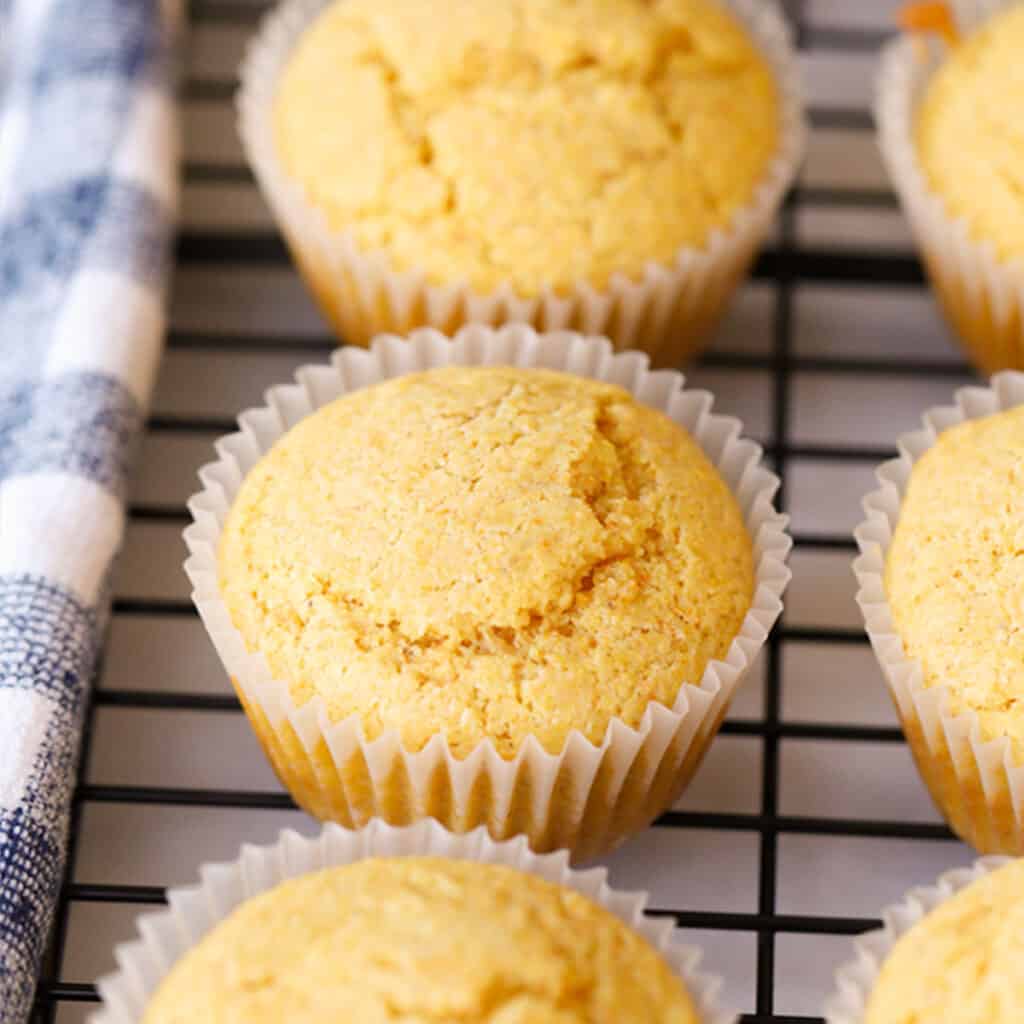 These lightly sweetened, soft and tender Cornbread Muffins are quick, easy and so delicious. Serve with everything from butter and honey to winter chilis and soups, or even your summer BBQ favorites.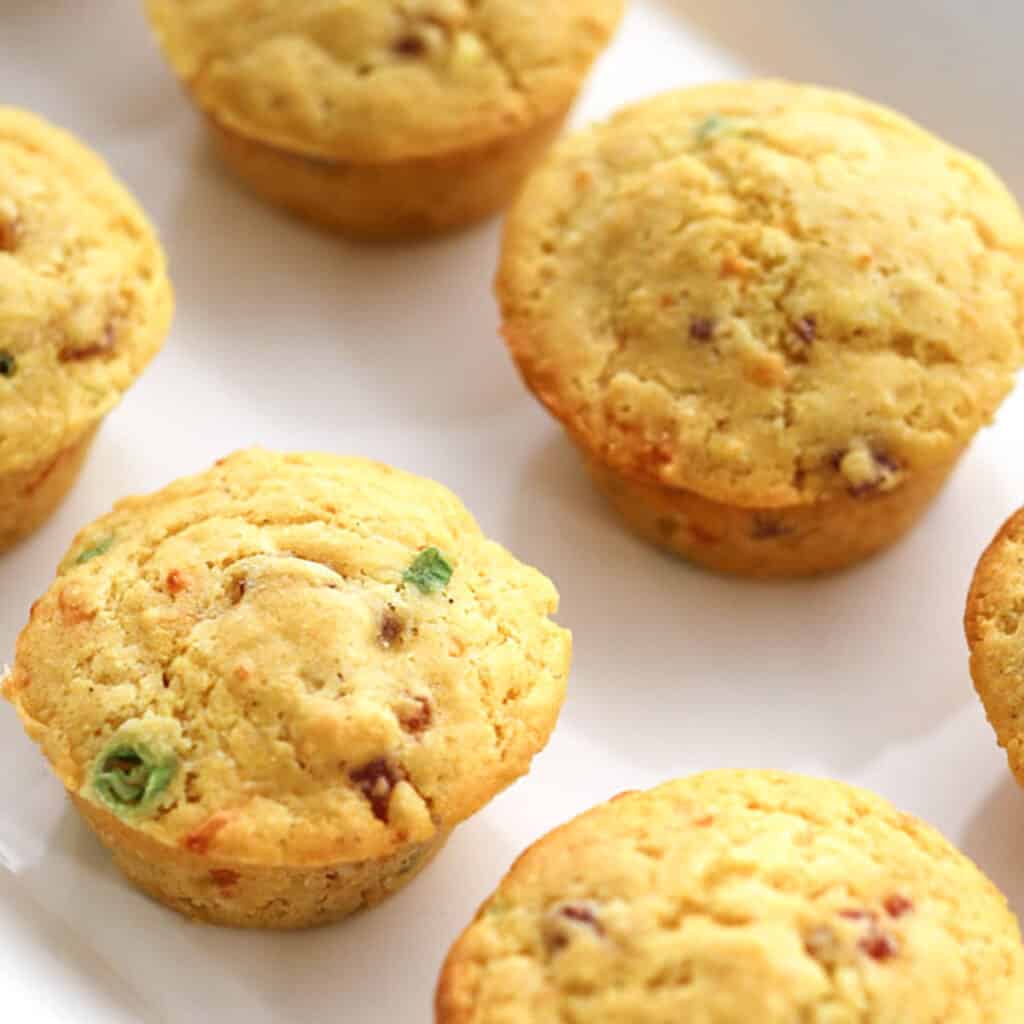 These sweet and savory Ham and Cheese Cornbread Muffins are soft, chewy, perfectly moist, and simple to make. Inspired by the sandwich classic, this fun, flavorful, savory cornbread muffin recipe is loaded with ham, cheddar cheese, and thinly sliced green onions.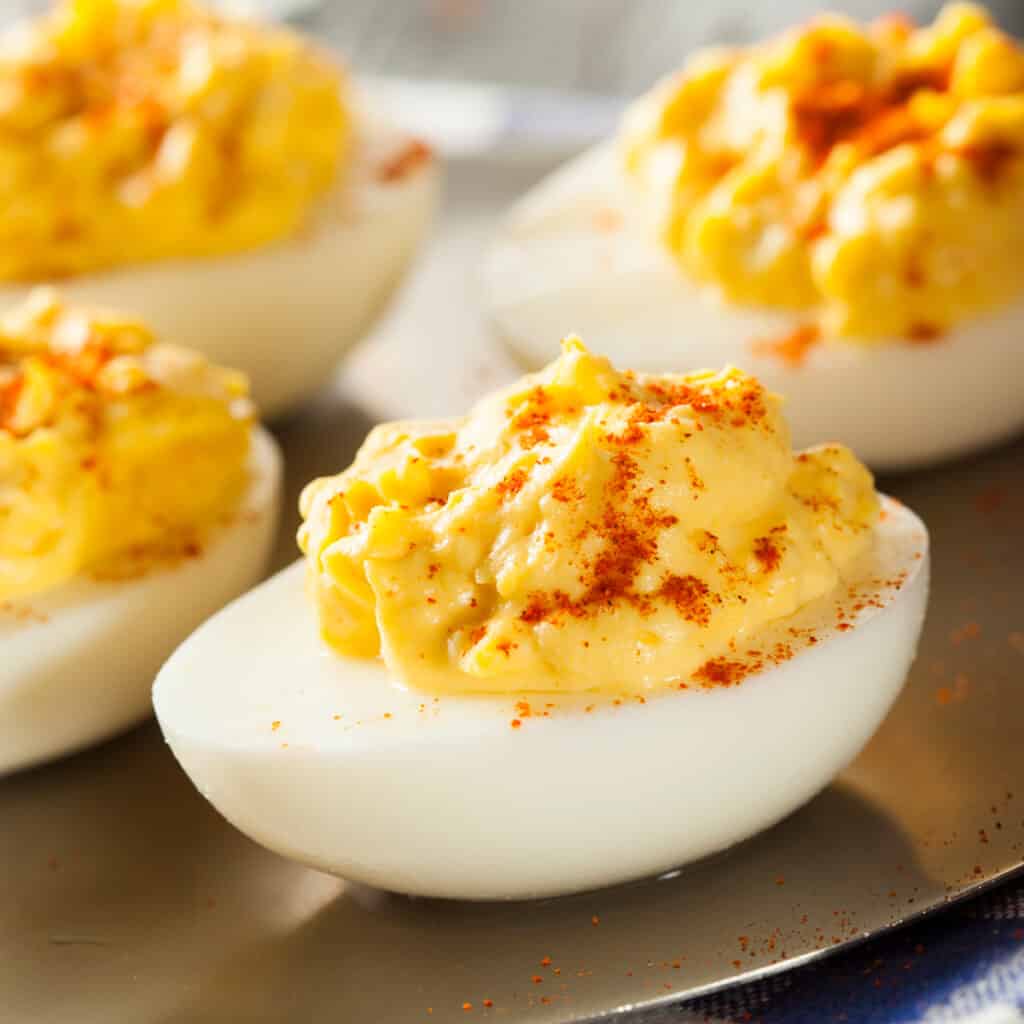 This classic Deviled Egg recipe is perfect for your Memorial Day menu, potlucks, summer picnics, and baby showers. It's a simple no-frills appetizer that is easy to adapt and totally delicious.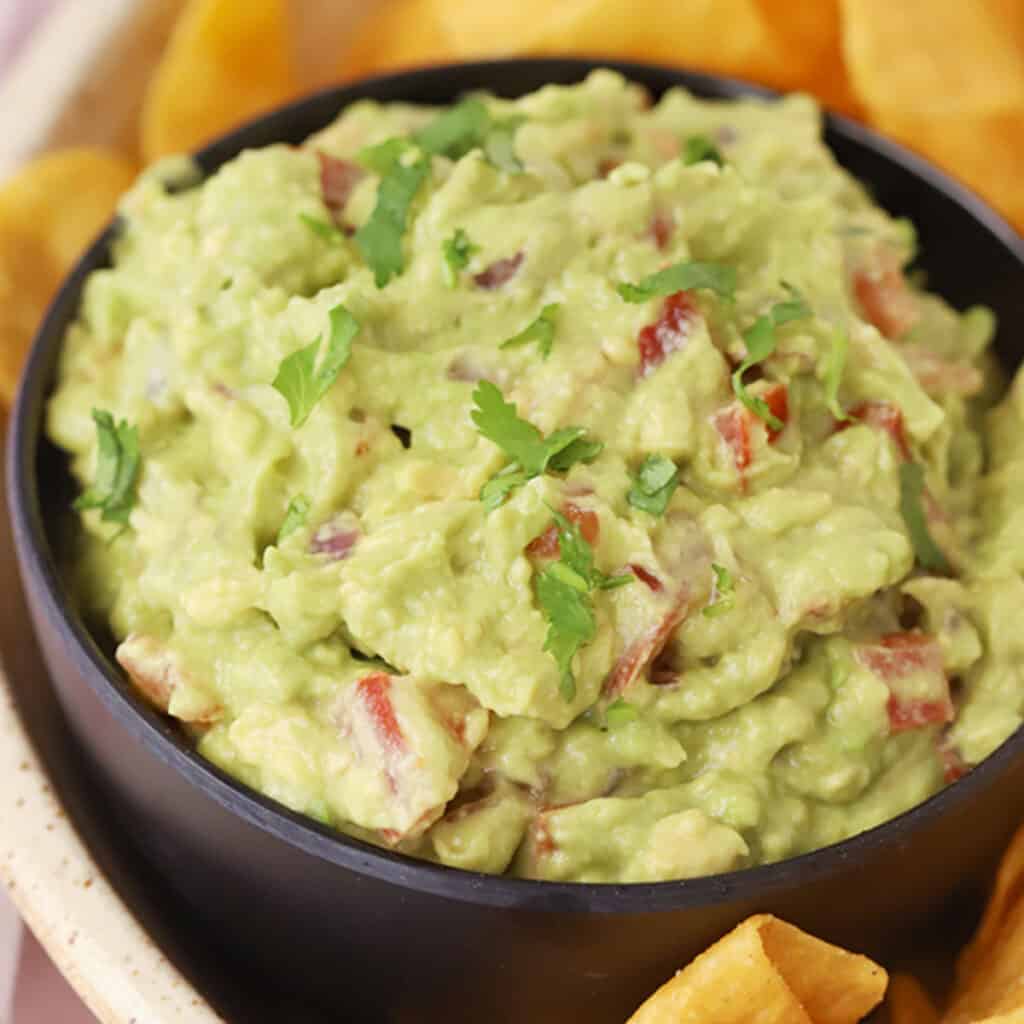 This Homemade Guacamole recipe is quick, easy, and just as good as anything you'll find at a restaurant. With a few simple ingredients (and no cooking), you can have the zestiest, fresh, and flavorful party dip in no time - just add chips!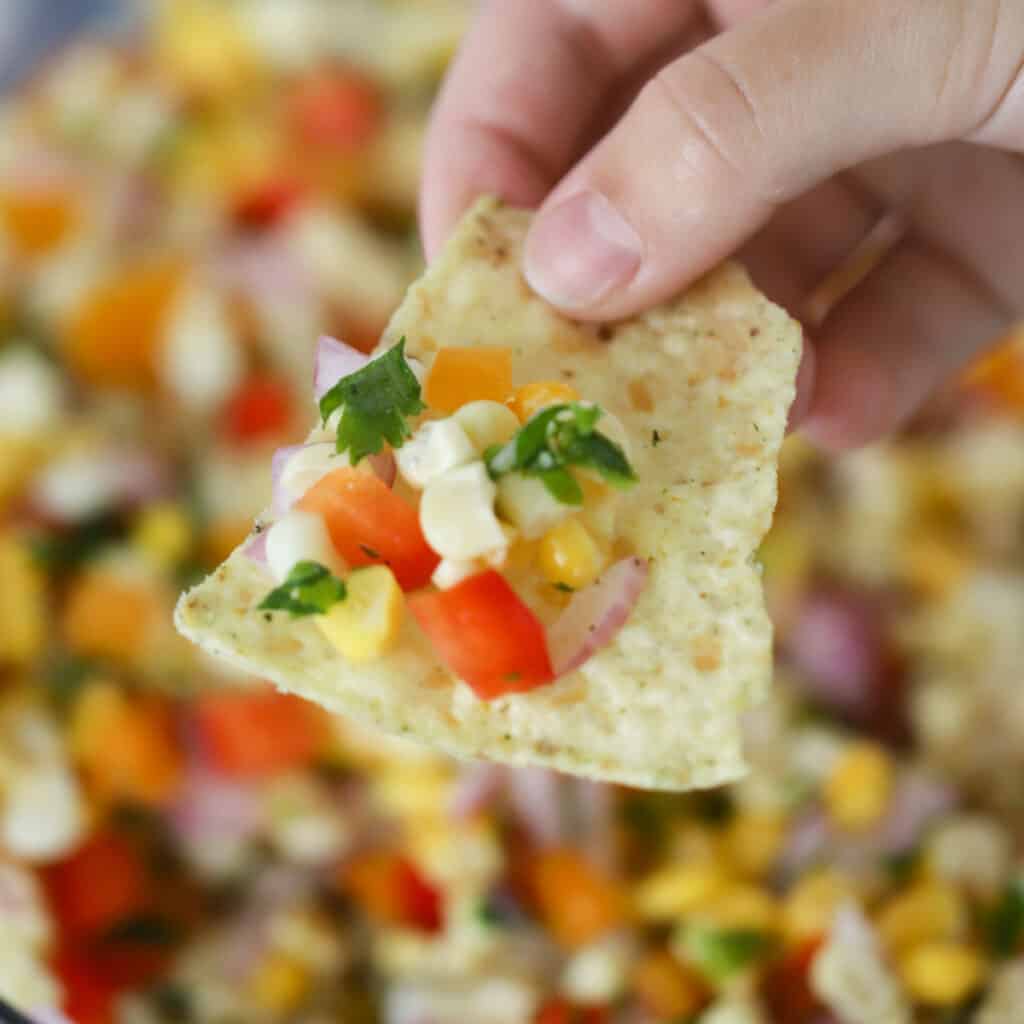 This Corn Salsa is sweet, crunchy, zesty and oh-so-easy to make. Full of sweet corn, cilantro, fresh lime juice and crisp veggies, it's the perfect summer salsa to serve with tortilla chips, or to add to tacos, burrito bowls and more.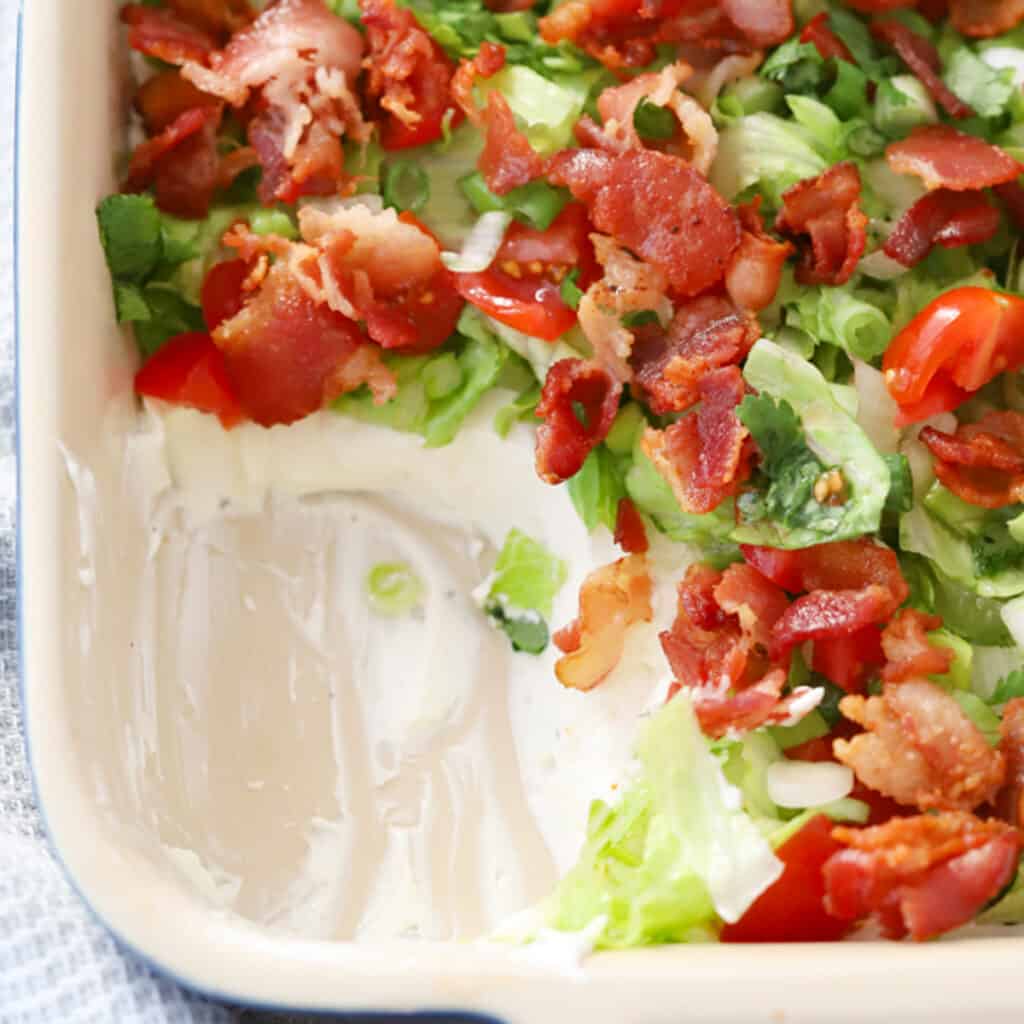 This BLT Dip is a creamy, simple and delicious take on the classic sandwich. It's a perfect no-bake appetizer to make for potlucks, holiday parties or lazy weekends at home.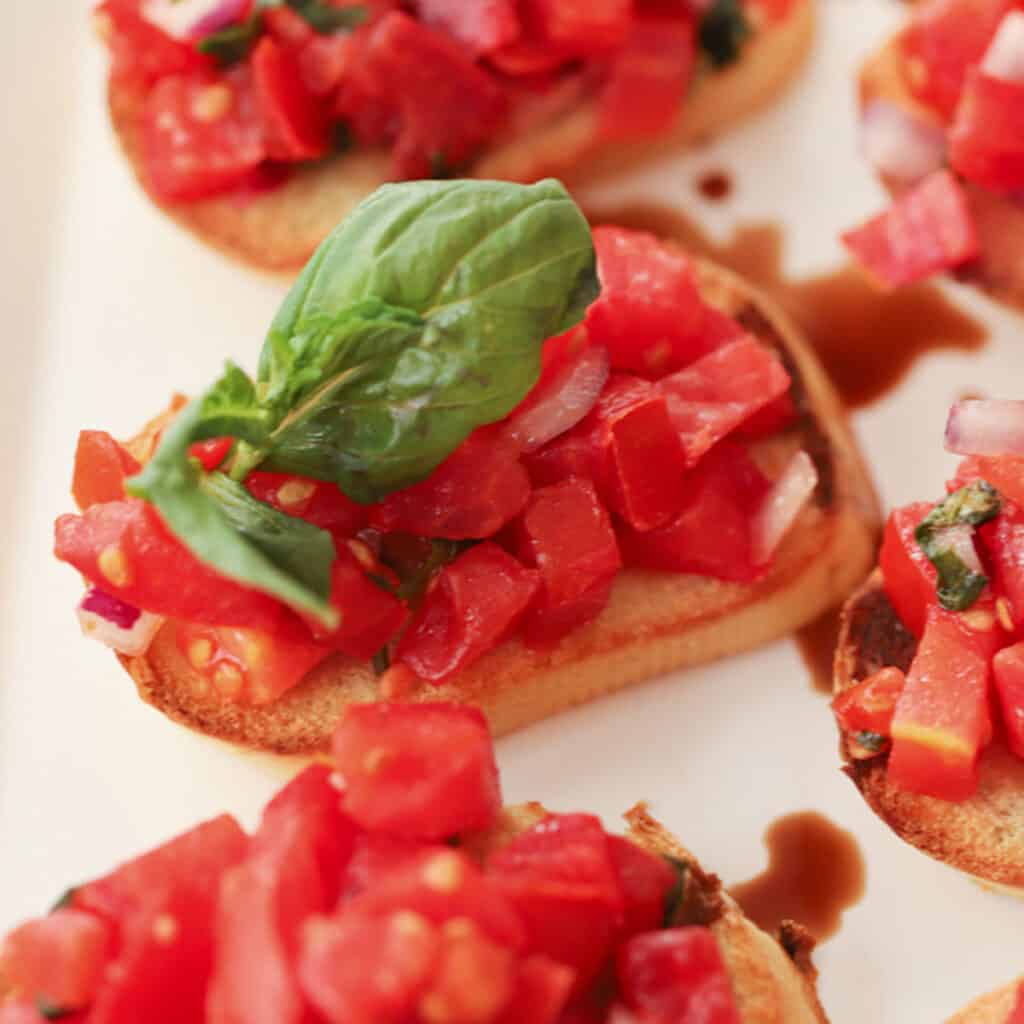 This Easy Fresh Tomato Bruschetta is an easy, healthy and delicious appetizer. It's made from fresh tomatoes with basil, olive oil, and vinegar all served on toasted bread.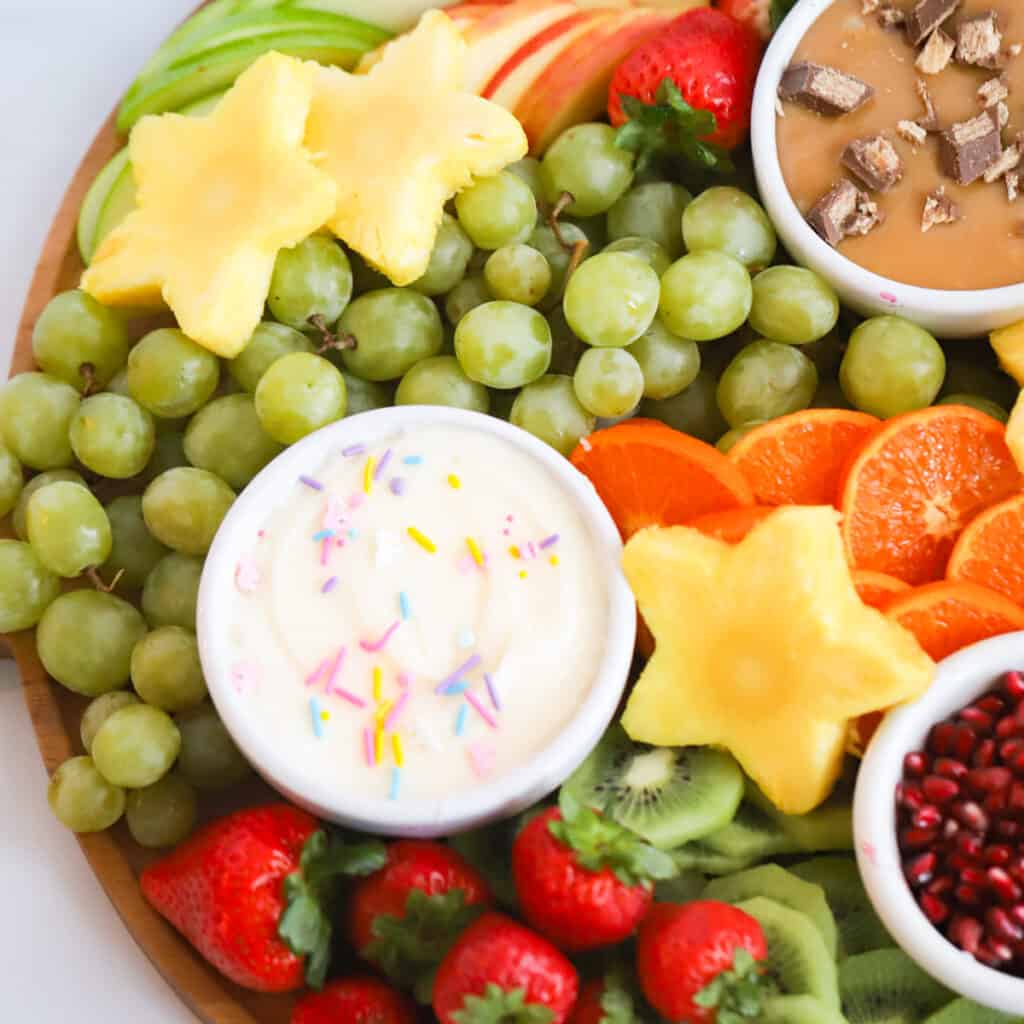 This Fruit Charcuterie Board is a great idea for dinner parties and get-togethers all year long. Served with a side of cream cheese dip, it's a beautiful and simple option that takes very little preparation and is easy to adapt.
Memorial Day BBQ Ideas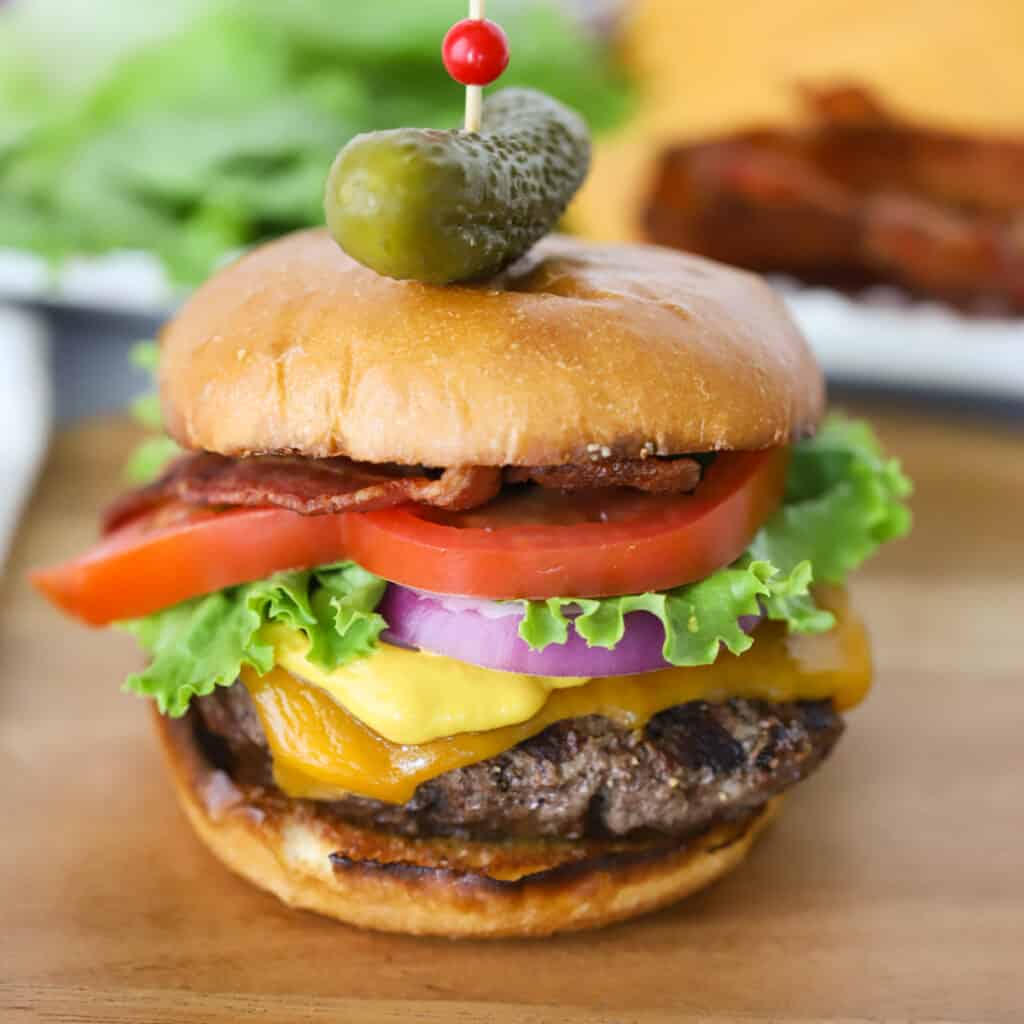 This Homemade Hamburgers recipe is an easy summer classic that cooks up juicy and delicious every single time. Seasoned simply and served on a brioche bun with your favorite toppings - you really can't go wrong. Plus we've included some tips and tricks for cooking for a crowd. If you really wanna kick off the red, white and blue theme, add some bacon, blue cheese and and thick tomato slices for a red, white and blue burger.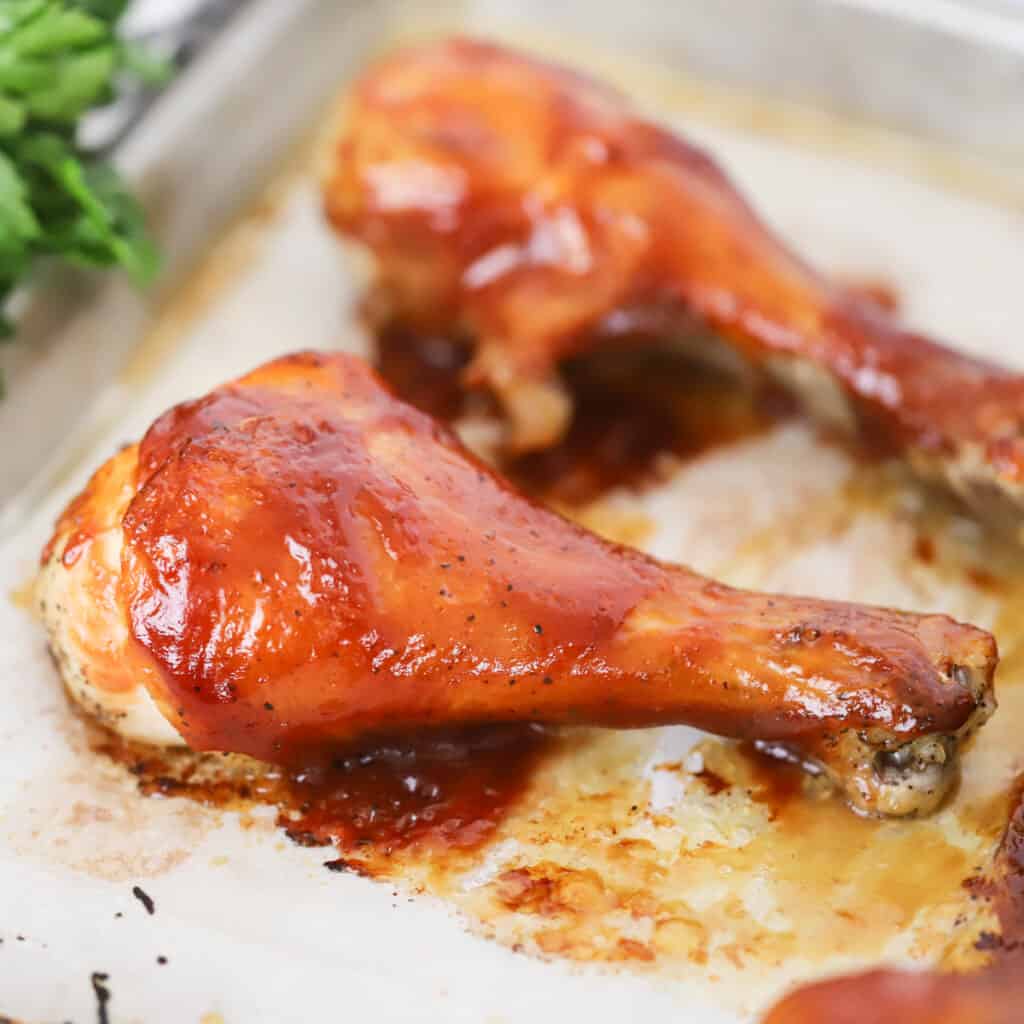 These oven-baked BBQ Chicken Drumsticks are the perfect way to enjoy delicious barbecue chicken without having to fire up the grill. They're a family favorite, perfect for Memorial Day, game day, potlucks, or easy weeknight dinners.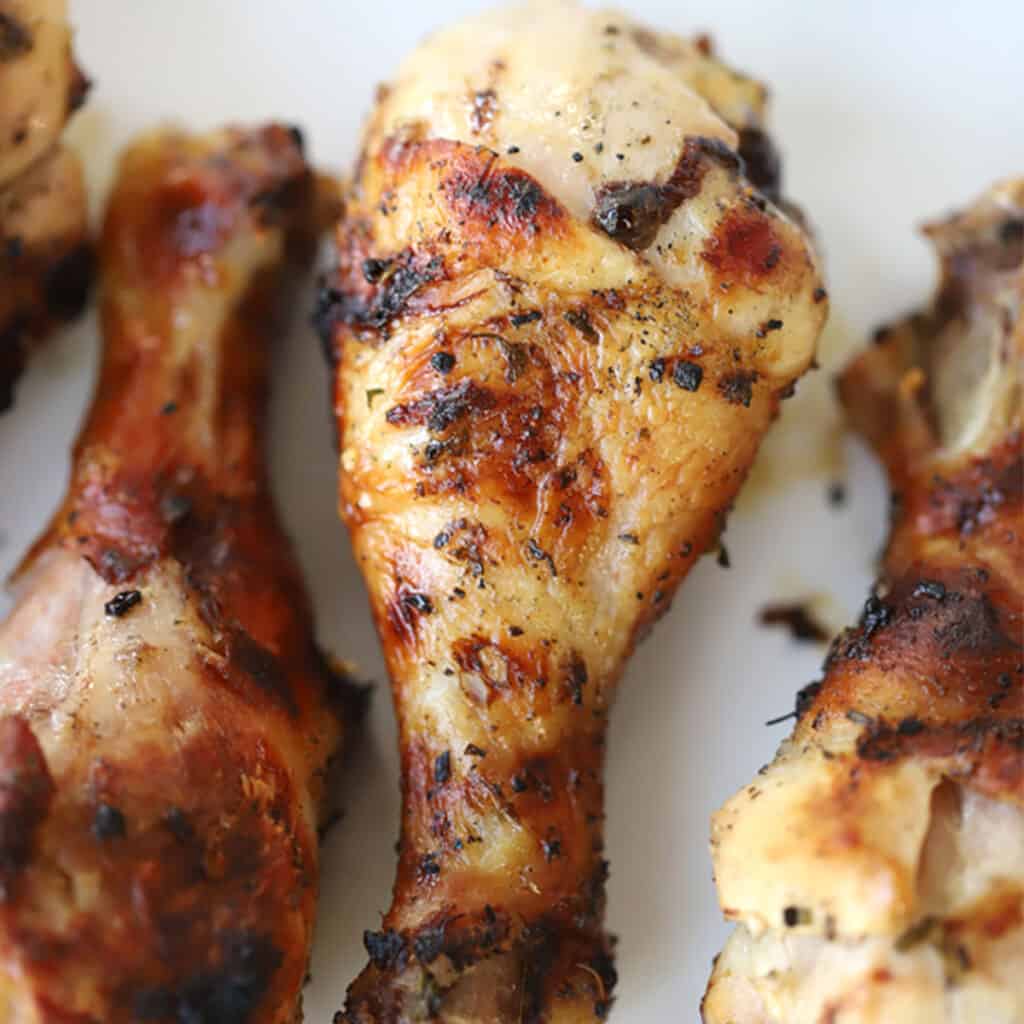 These Mediterranean Grilled Chicken Drumsticks are an easy, inexpensive, and healthy chicken recipe. They are easy to prepare and only take a few minutes to cook on the grill.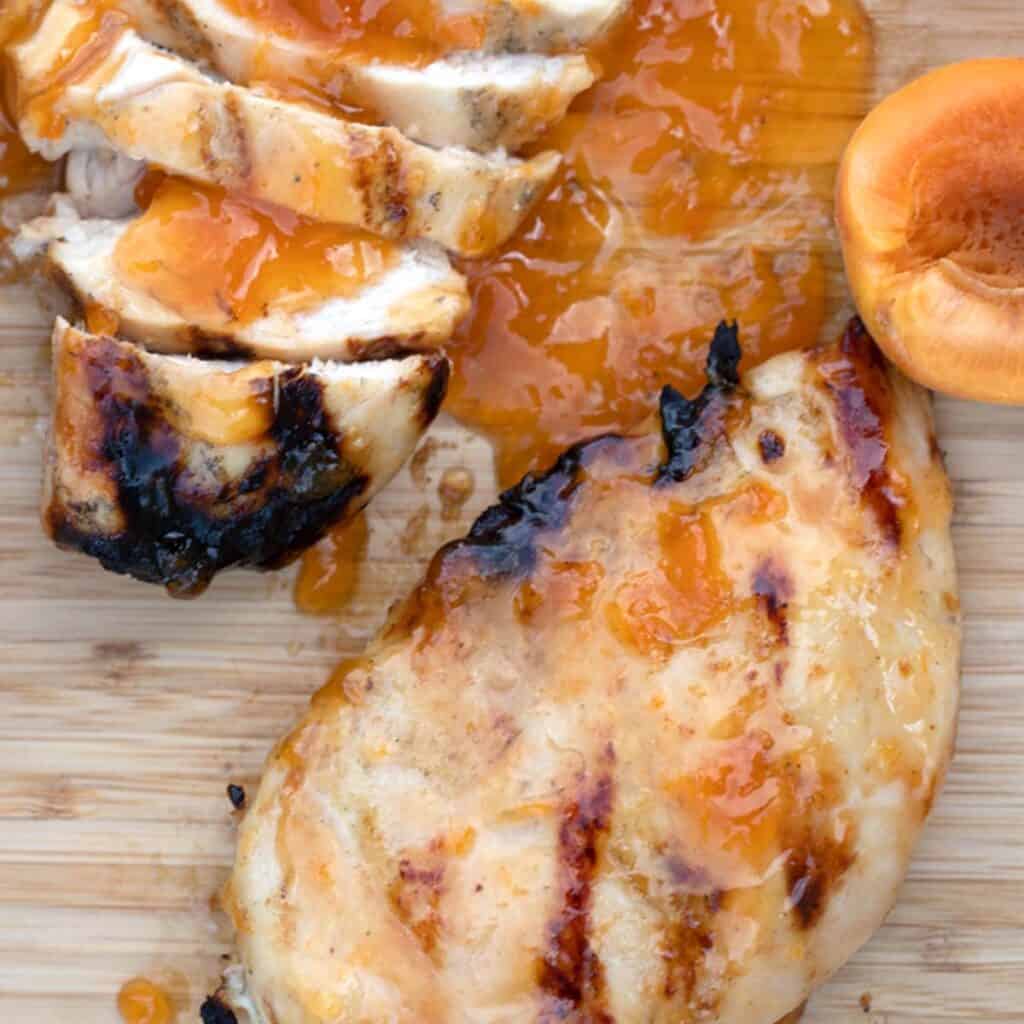 This Grilled Apricot Chicken Recipe is one of the best grilled chicken recipes. It's made with an easy apricot chicken marinade and topped with a simple and easy apricot lime glaze.
Satisfy your taste buds with this amazing Honey Mustard Grilled Chicken Recipe that's perfect for any occasion. It's not just delicious, and healthy but also easy to prepare and packed with flavors that'll leave you craving more.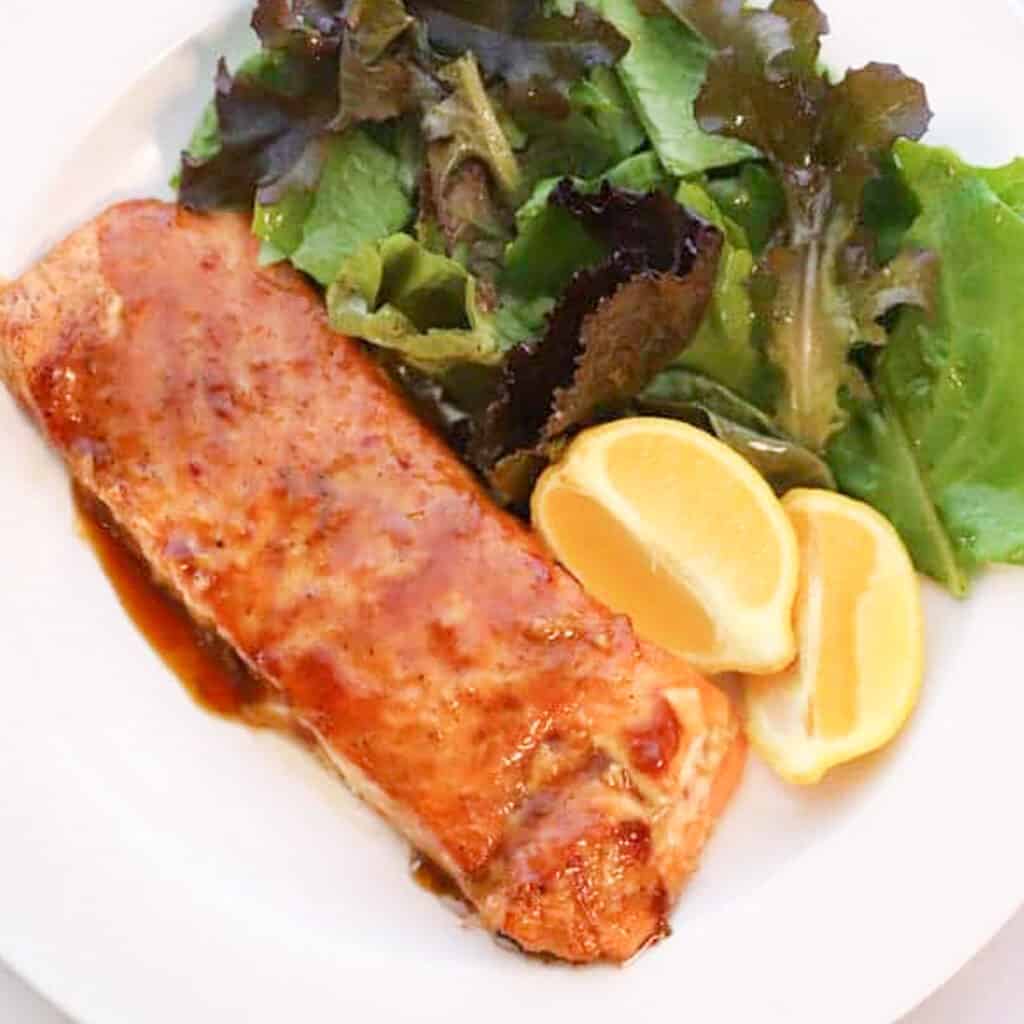 This cedar plank Grilled Teriyaki Salmon recipe turns out tender, flakey and delicious every single time. It uses a simple ginger buttermilk marinade to tenderize while infusing sweet, spicy, robust flavor.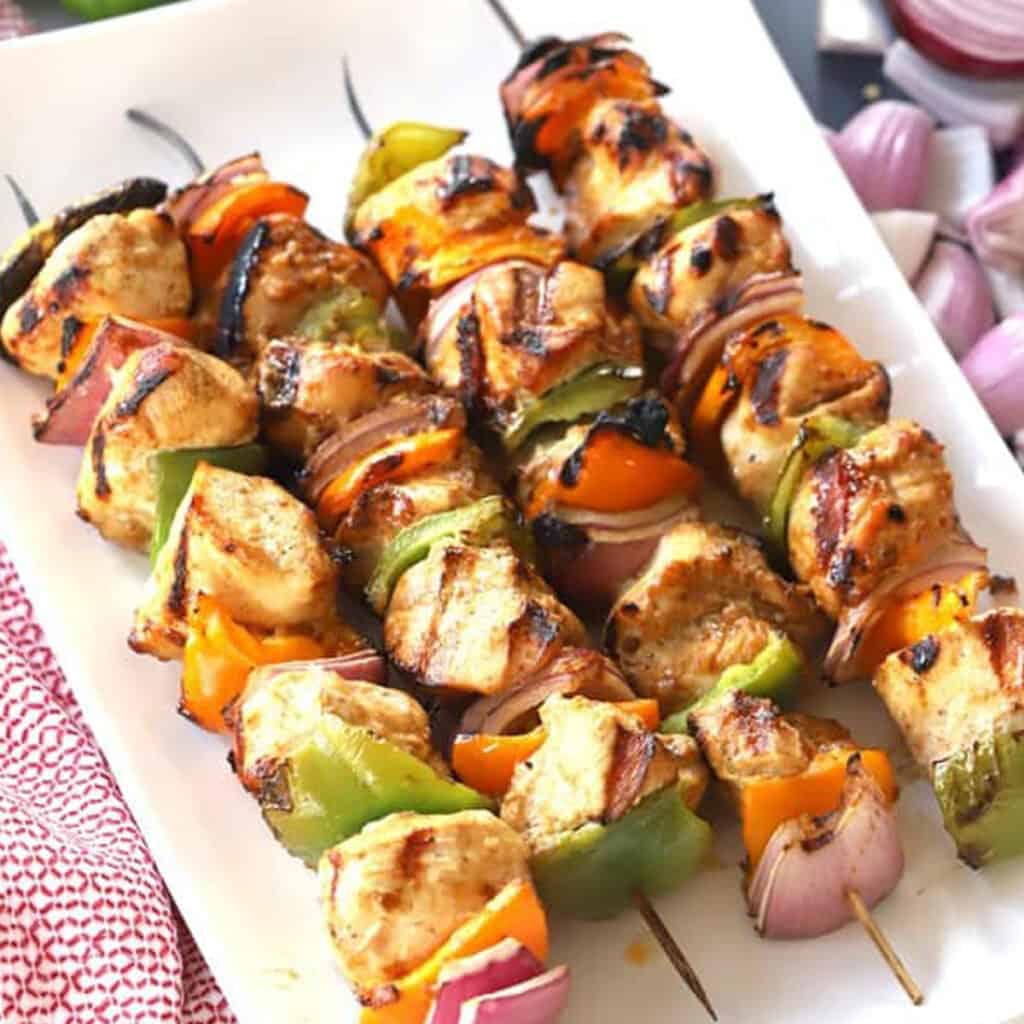 This Southwest Chicken Kabob Recipe is the perfect grilled chicken recipe. It's packed with flavor, has just a little spice, and is just a touch sweet too.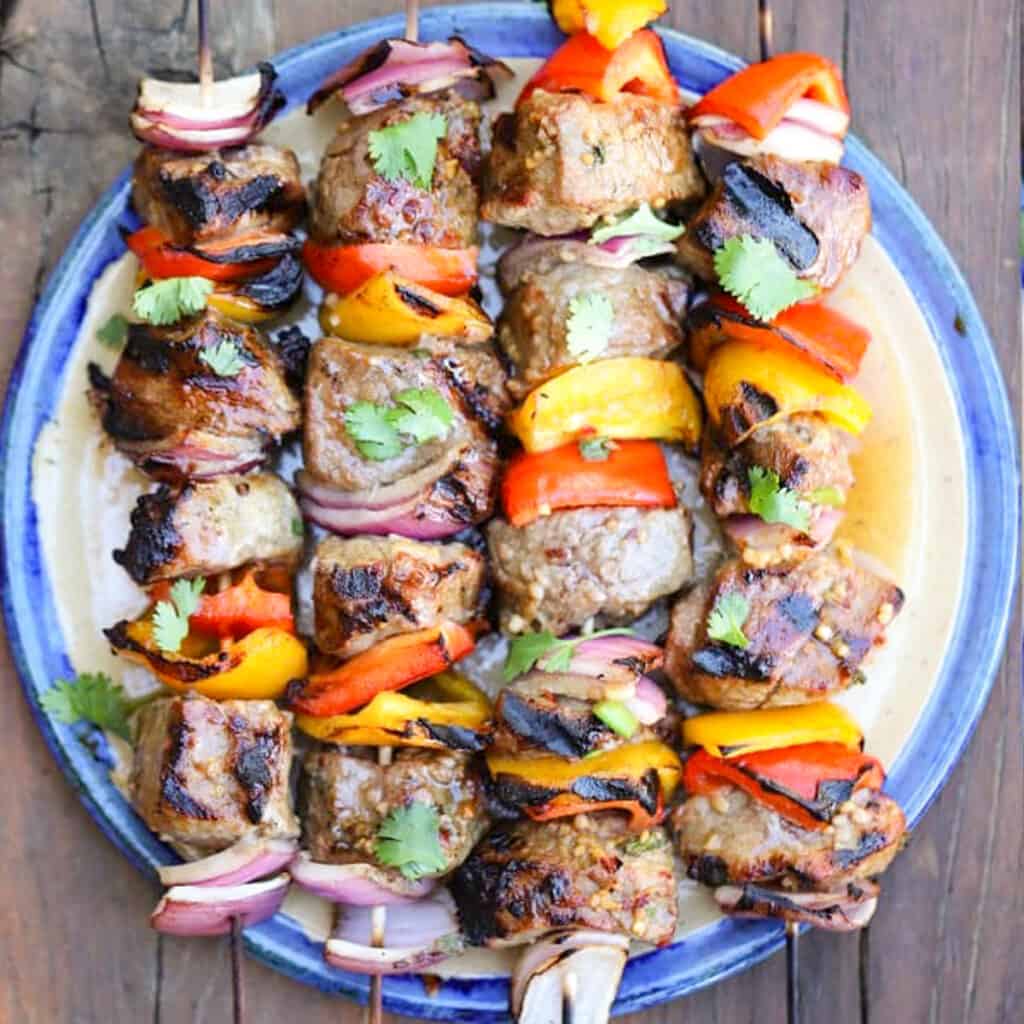 These Asian Beef Kabobs are chock full of grilled veggies and juicy steak flavored with delicious sesame, ginger, and garlic marinade. It's an easy beef kabob marinade recipe, perfect for your backyard barbecue feast.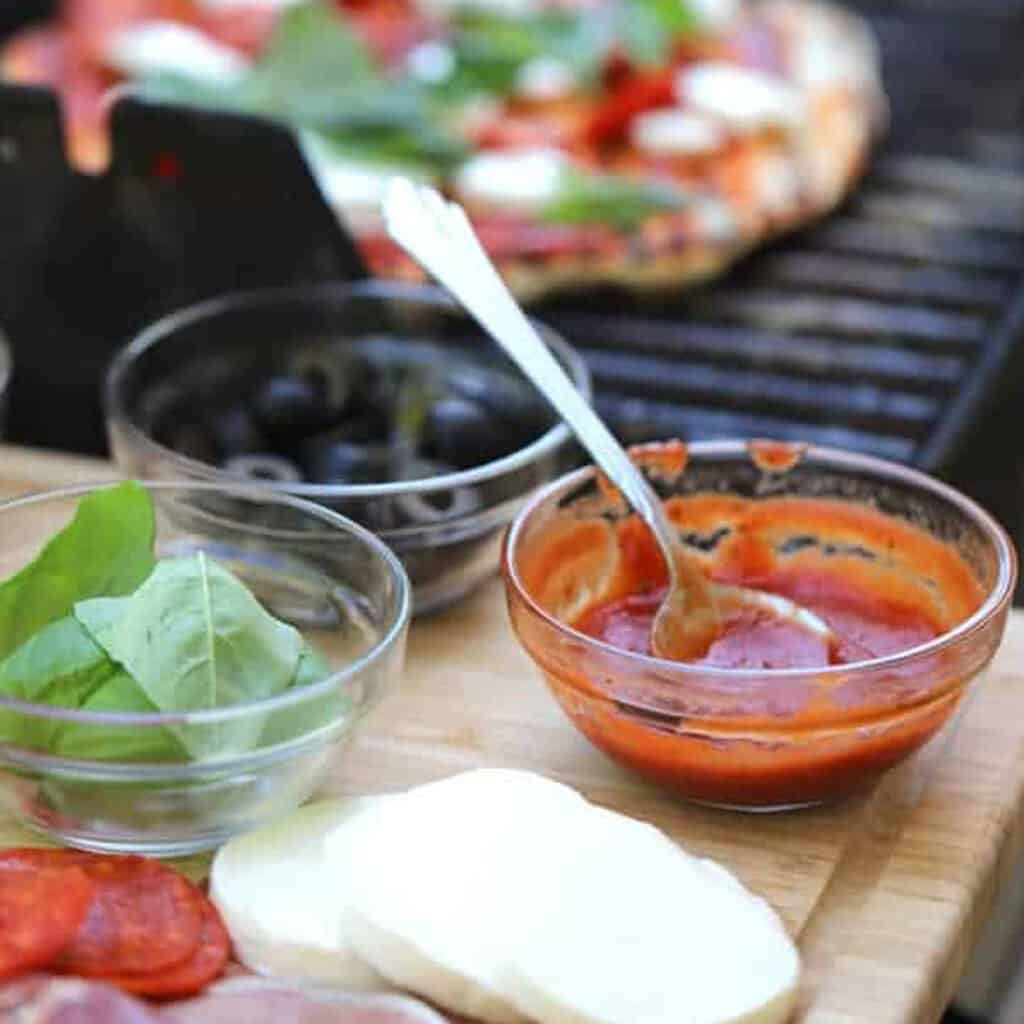 This homemade grilled pizza recipe will walk you through everything you need to know in order to make chewy, crispy and delicious Grilled Pizza. We've included our easy recipe for pizza dough for the grill, step-by-step instructions on how to cook pizza on the grill, expert tips, topping ideas, and more.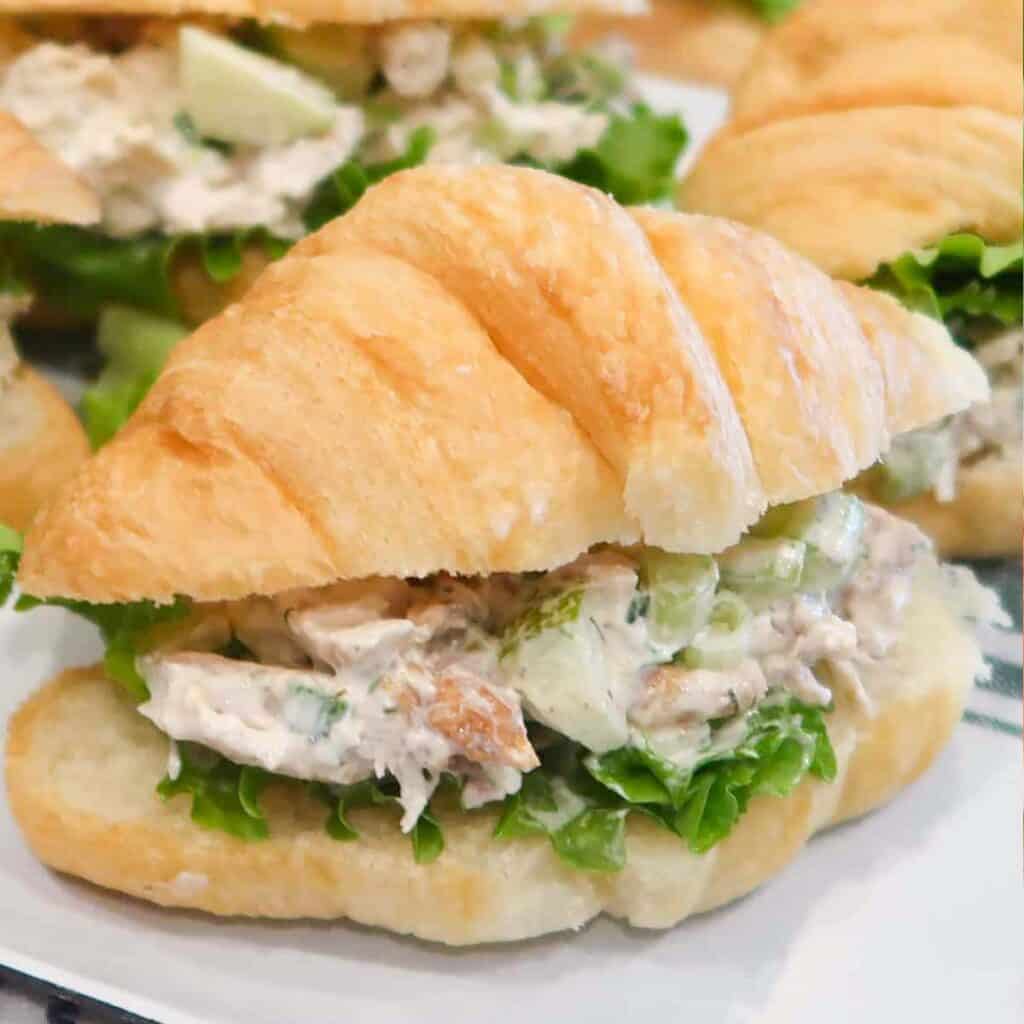 This classic Chicken Salad Sandwich recipe is full of tender rotisserie chicken, creamy dill dressing and crunchy apples and celery. Serve as a chicken salad croissant roll, sandwich bread or in a bowl with crackers for a simple make-ahead lunch.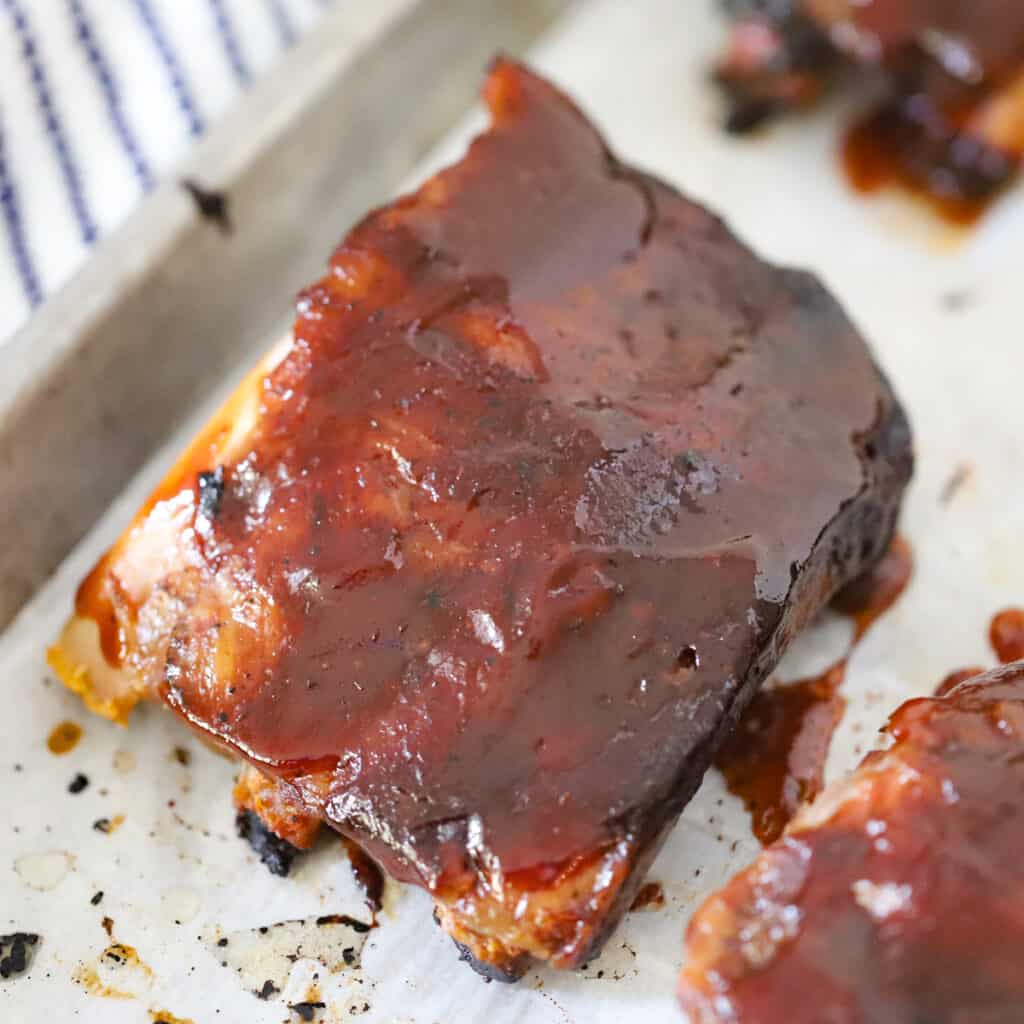 These Slow Cooker Baby Back Ribs are fall-off-the-bone tender, absolutely delicious and made without having to fire up the grill. They're seasoned with a simple dry spice rub and slathered in BBQ sauce then slow cooked to juicy perfection.
Memorial Day Desserts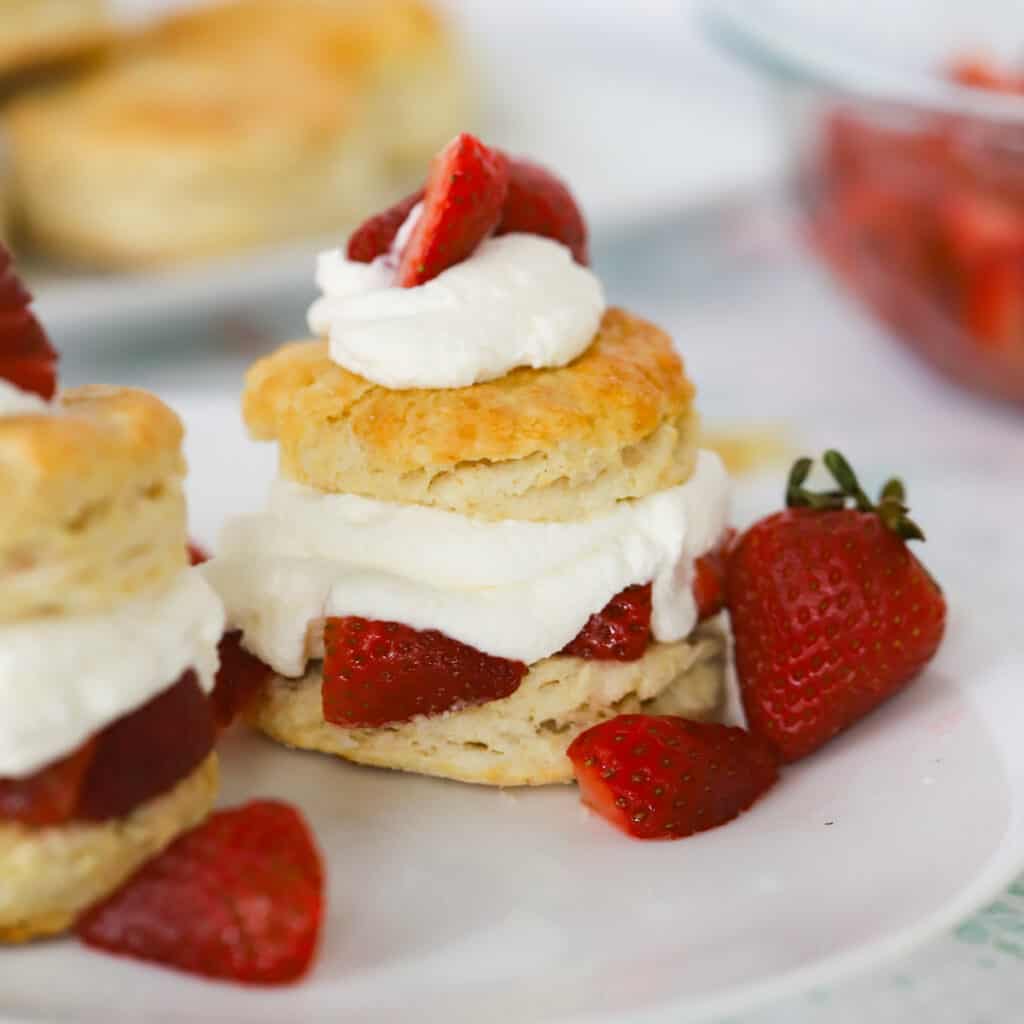 This classic Strawberry Shortcake recipe is the real deal and is so easy to make at home. With its sugar-crusted, sweet flaky biscuits, juicy strawberries, and freshly whipped cream you'll be wanting to make this dessert all summer long.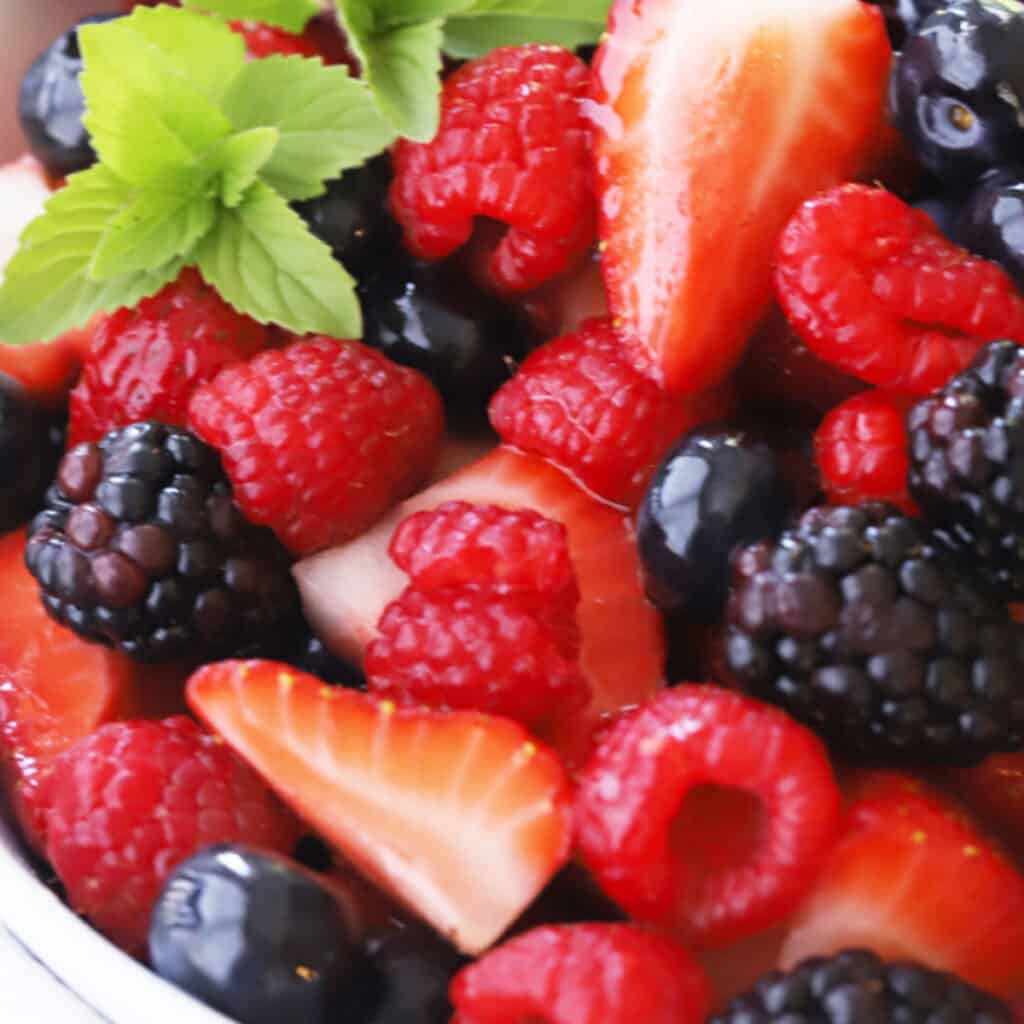 This Berry Salad with Citrus Glaze is slightly sweet and oh-so-refreshing. Made with fresh berries and tossed in a light simple orange glaze, it is the perfect simple side dish or light dessert for your next summer barbecue or potluck.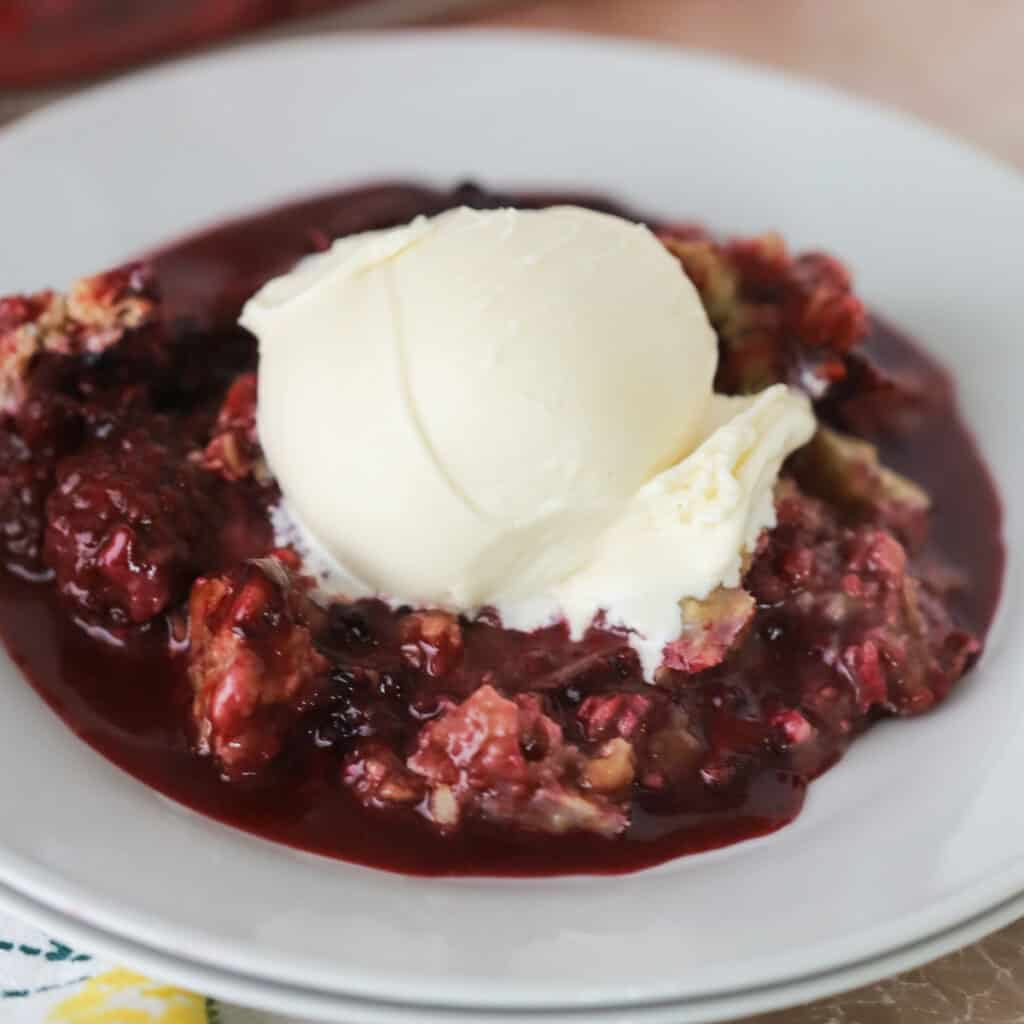 This homemade Blackberry Pie recipe combines a light, flakey pie crust with a super juicy, sweet, seasonal blackberry filling for the ultimate summer dessert. Add a scoop of vanilla ice cream for the perfect finish, and prepare to make this recipe every year.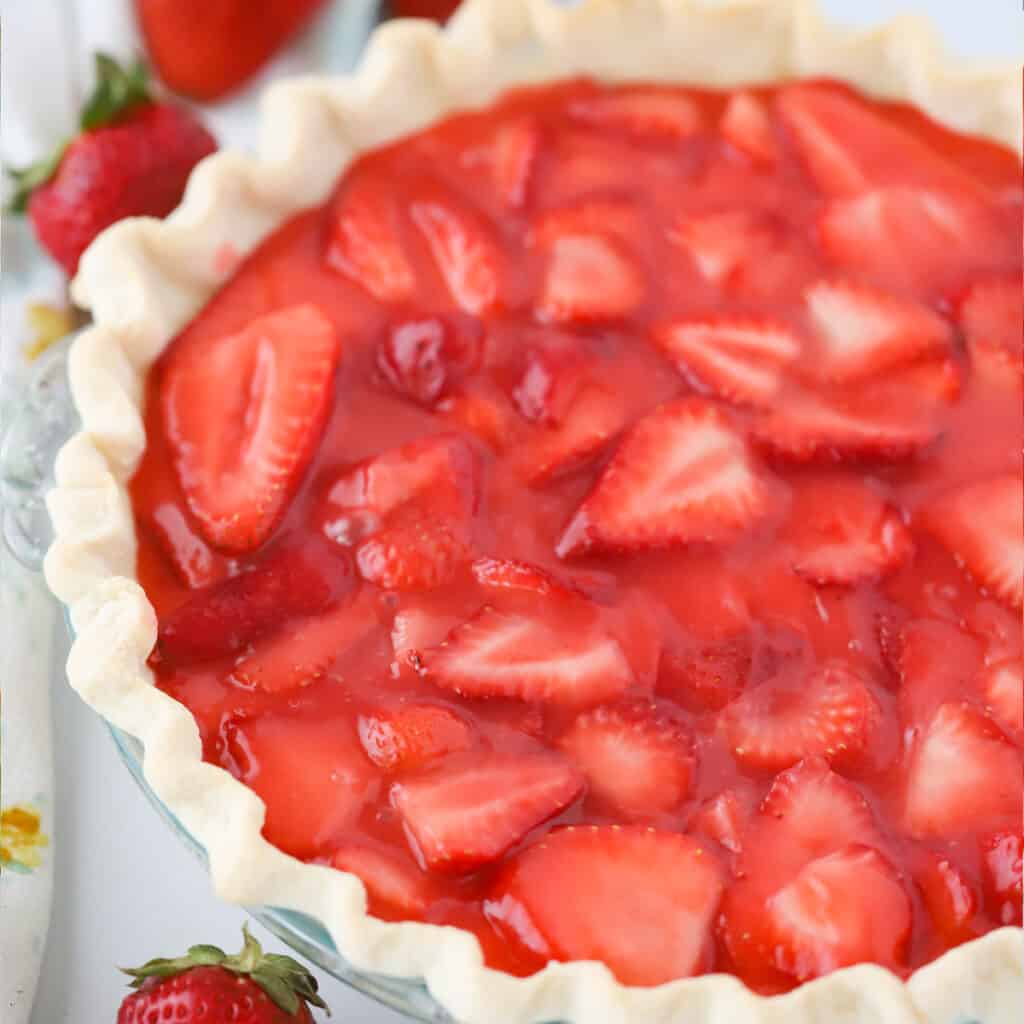 This recipe for Fresh Strawberry Pie is the perfect dessert to make during the peak of strawberry season. It's loaded with fresh berries that have been mixed with a lemon and strawberry glaze and packed inside a flakey homemade pie crust.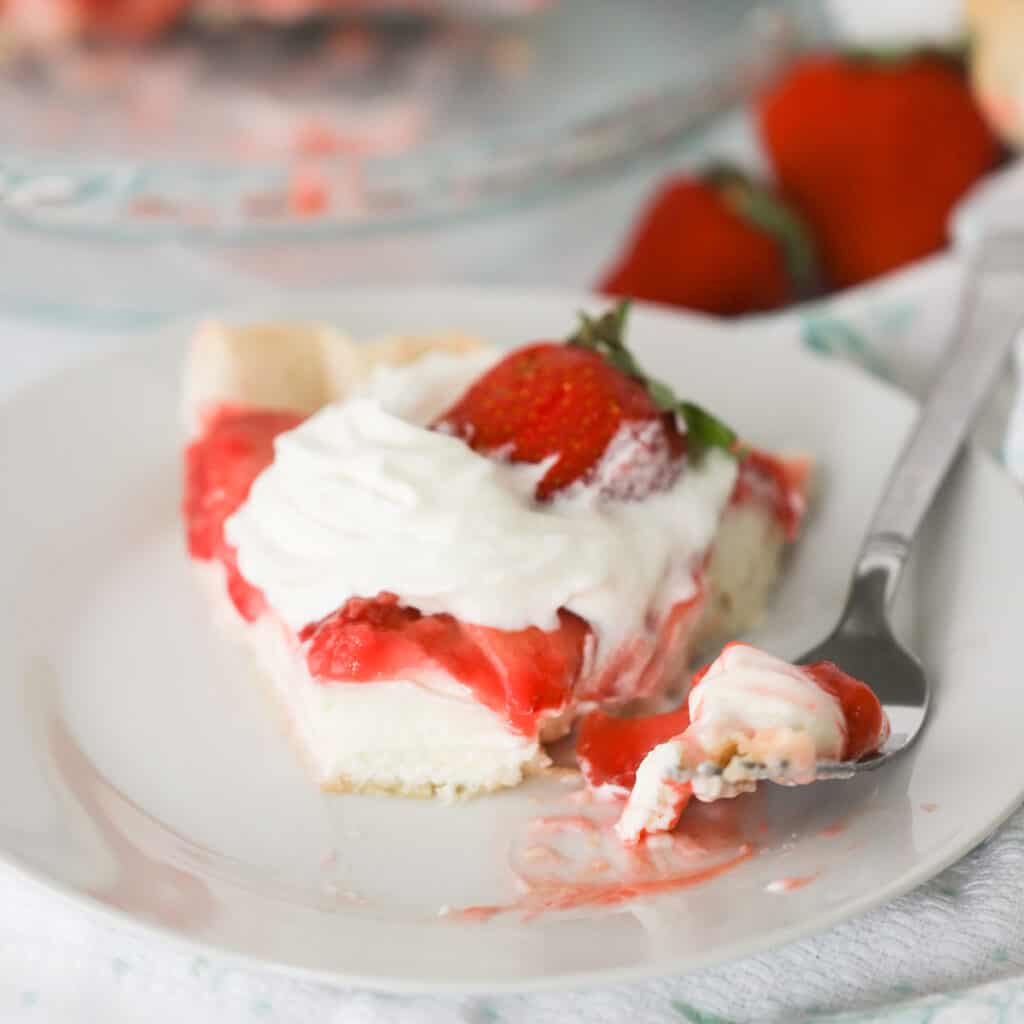 This Strawberry and Cream Pie recipe is an easy summer pie that is exploding with fresh strawberry flavor. It's got a flakey homemade pie crust that is filled with creamy, dreamy no-bake cheesecake and then piled high with fresh glazed strawberries.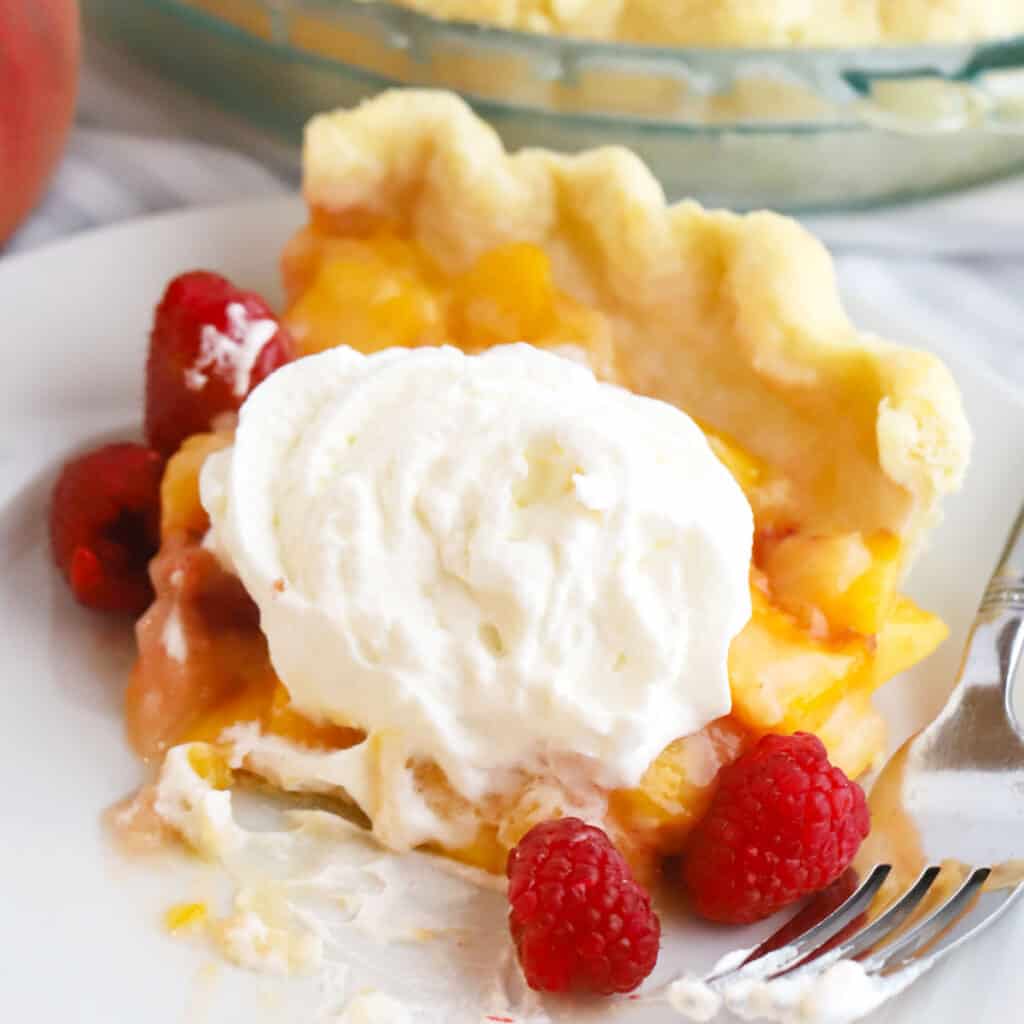 This Fresh Peach and Raspberry Pie combines the sweetness of summer peaches with the tartness of ripe raspberries all wrapped up in a buttery flaky pie crust. Serve with a dollop of whipped cream or a big scoop of vanilla ice cream for a perfect seasonal dessert.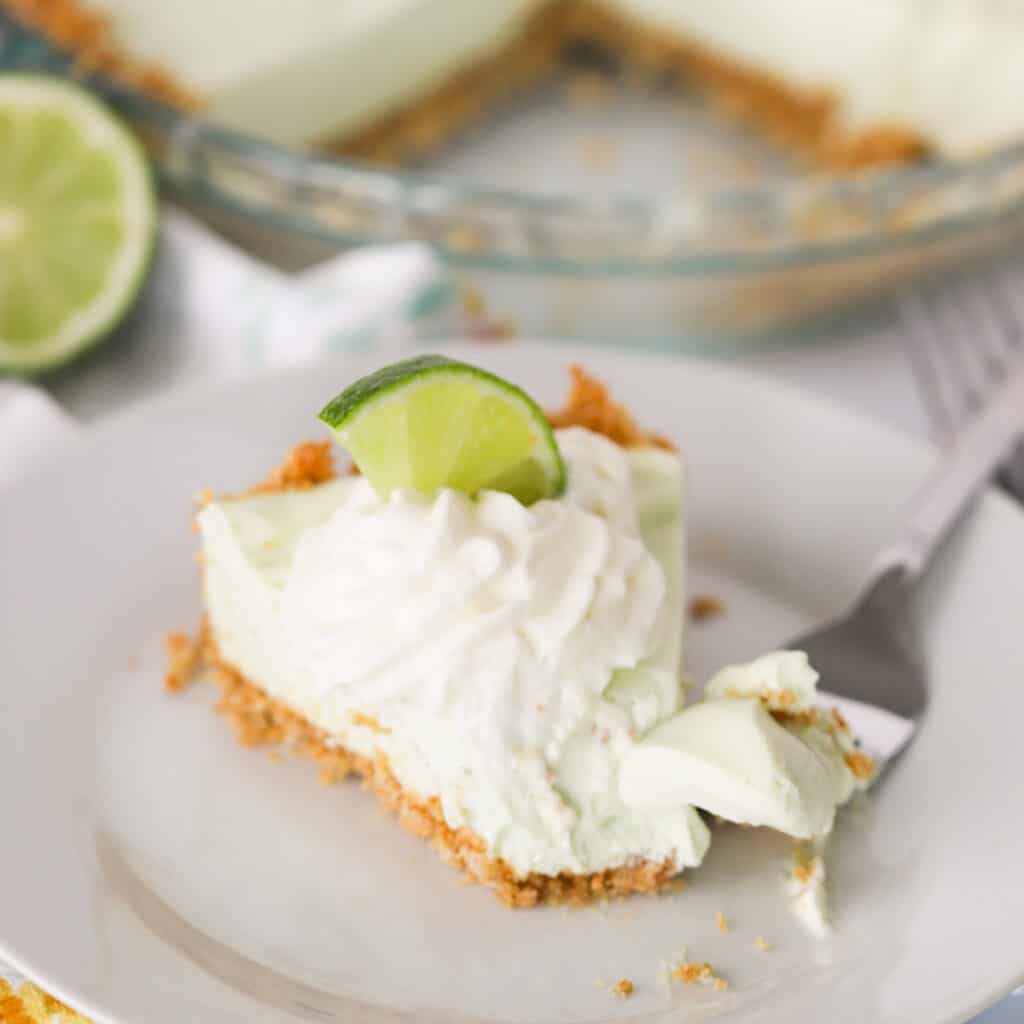 This easy Key Lime Pie is tart and sweet, super creamy and bursting with fresh lime flavor. We use a homemade graham cracker crust as the base, filling it to the brim with a smooth and creamy no-bake filling.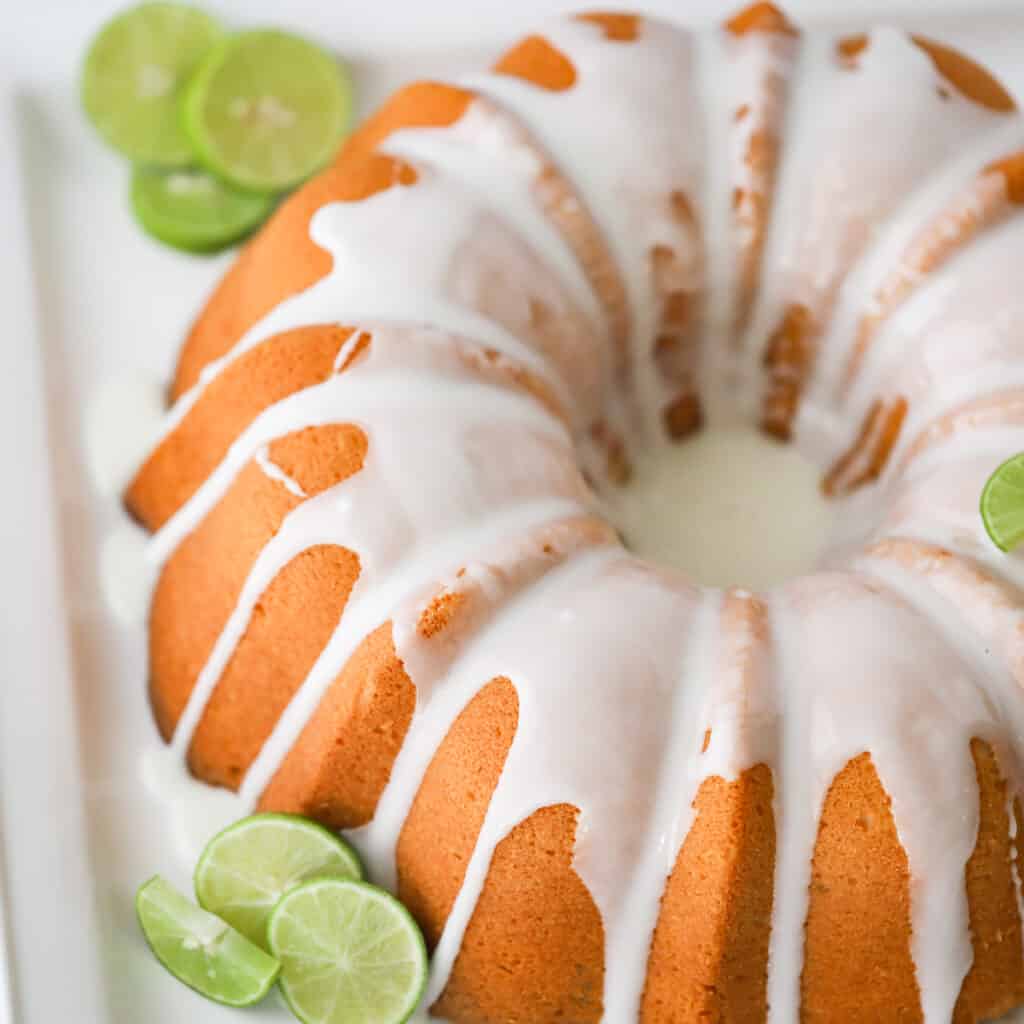 This Key Lime Pound Cake is dense, moist and packed with Southern key lime flavor. Topped with our sweet and sour key lime glaze, it's a simple homemade cake that's perfect for spring and summer.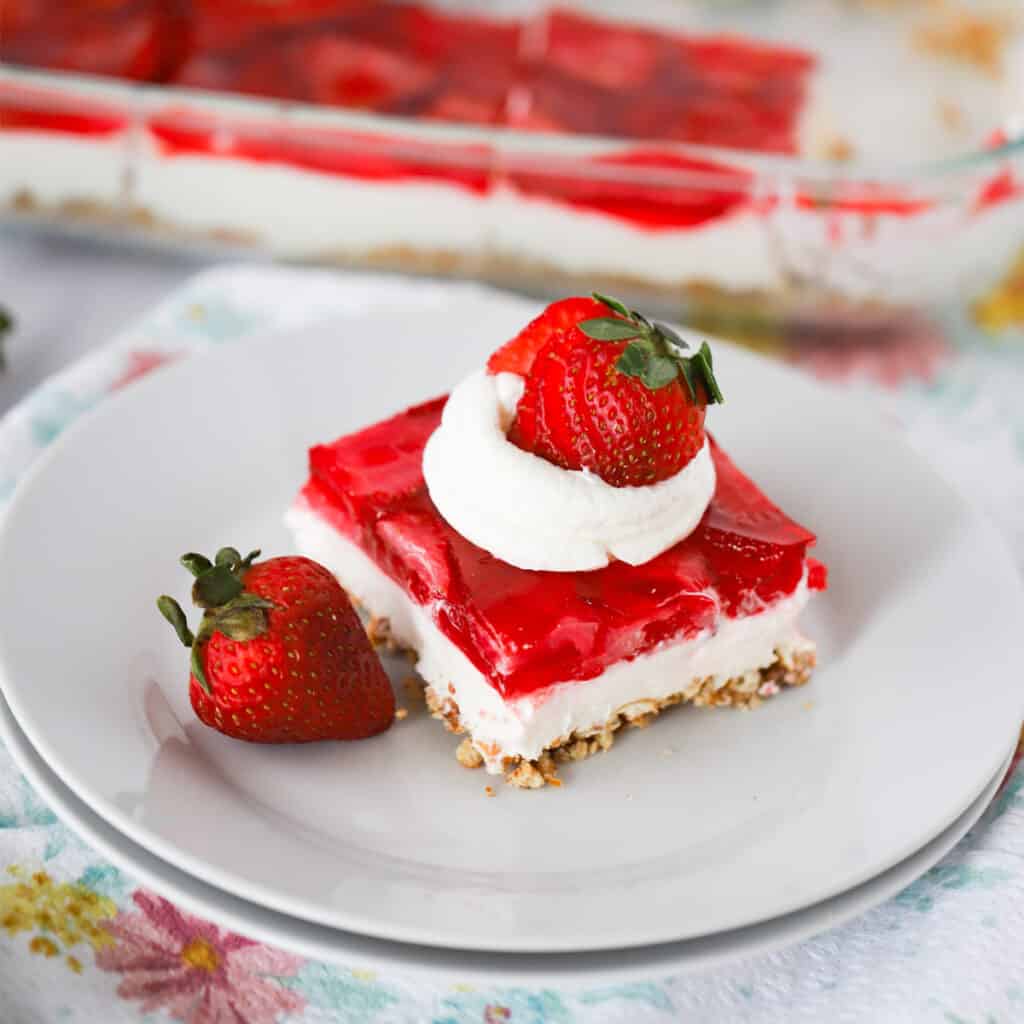 Strawberry Pretzel Salad is a sweet and salty family favorite, perfect for all types of get-togethers. The crunchy pretzel crust is topped with cream cheese filling and strawberry jello making for an easy classic summer dessert.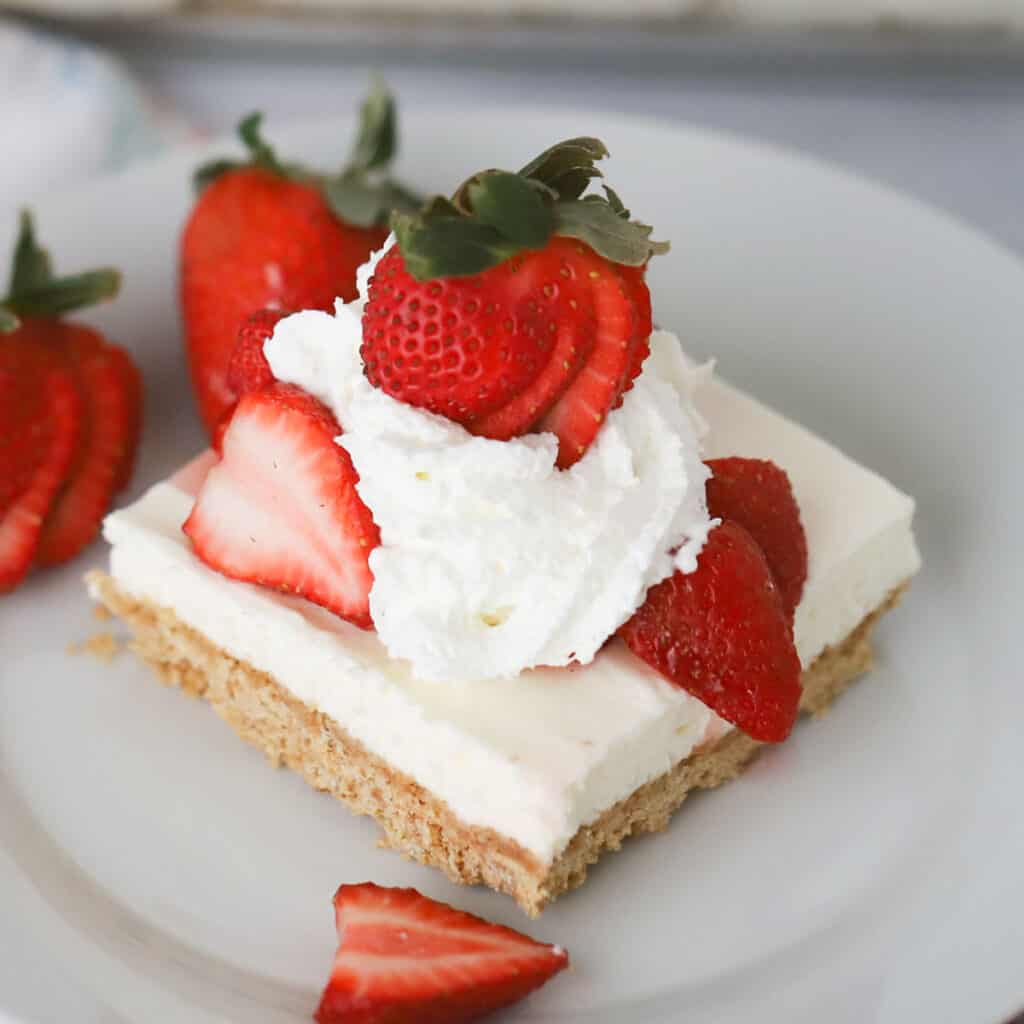 These No-Bake Cheesecake Bars are smooth and creamy with a buttery graham cracker crust. Finish them off with fruit, jam, caramel sauce or any of your favorite toppings.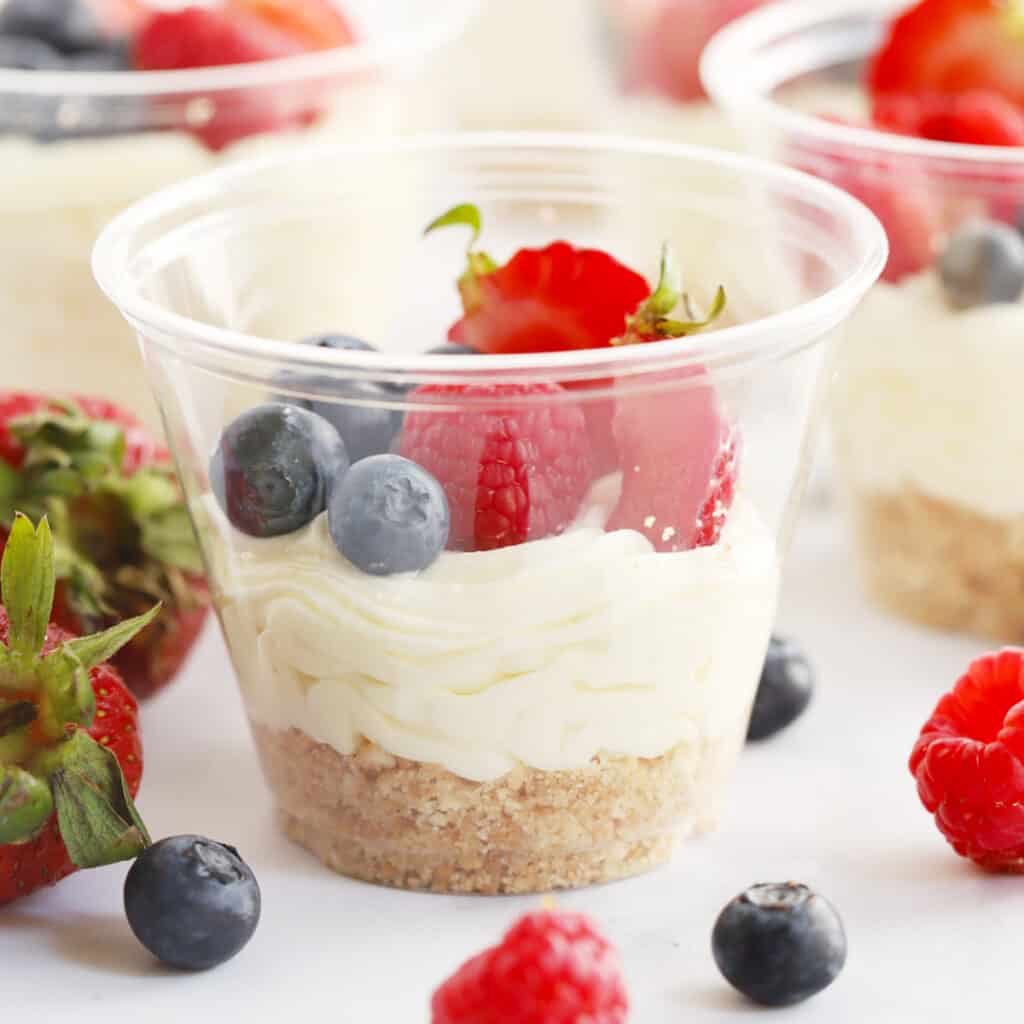 These individually portioned No-Bake Mini Cheesecakes are the perfect dessert to serve at parties, potlucks or at home for the family. They have the same rich and creamy texture and buttery cookie crust as a traditional cheesecake, without all of the baking.
This no-bake Cherry Cheesecake Dip has all of the light, creamy, fluffy cheesecake goodness without all of the prep. It only uses 5 ingredients and can be whipped up in just about 10 minutes!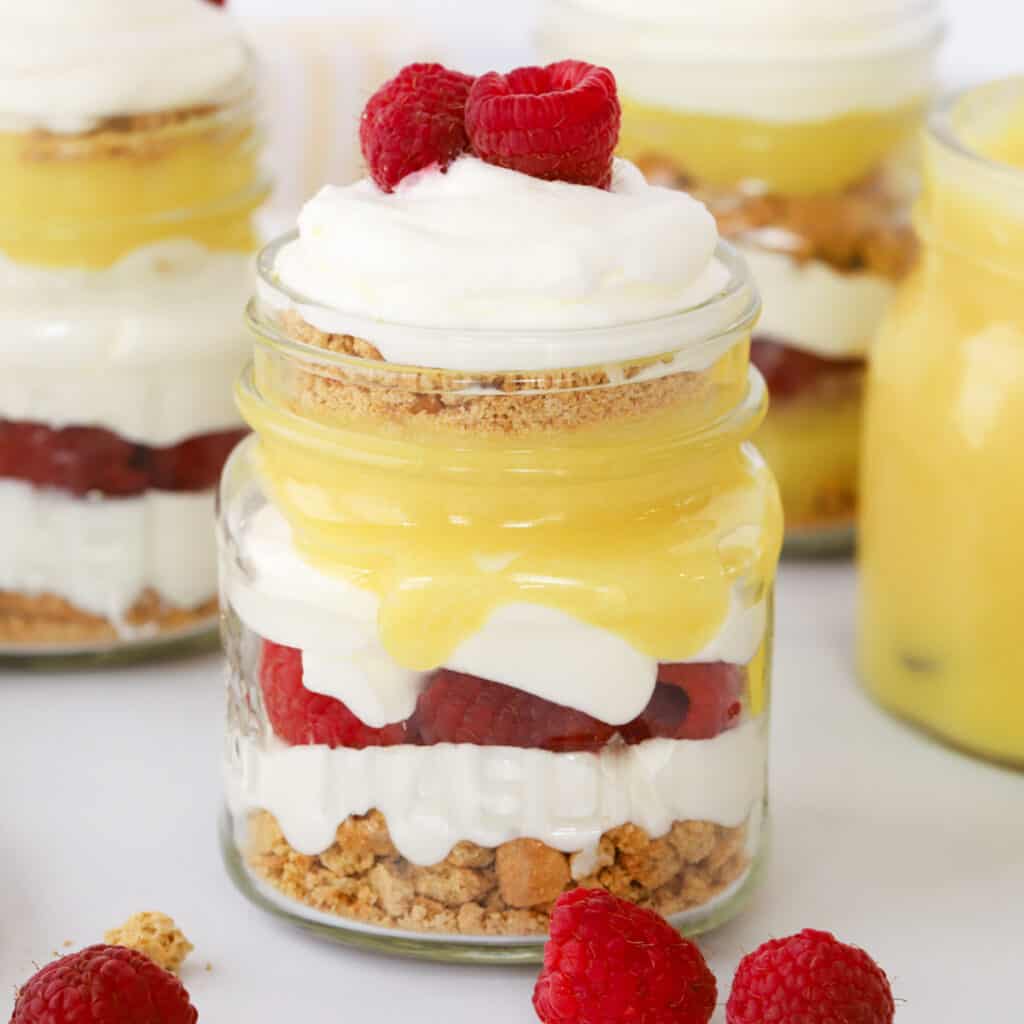 This Lemon Raspberry Parfait is like summertime in a glass. It's light, bright, creamy and bursting with fresh raspberries, lemon curd, whipped cream and graham crackers in every bite.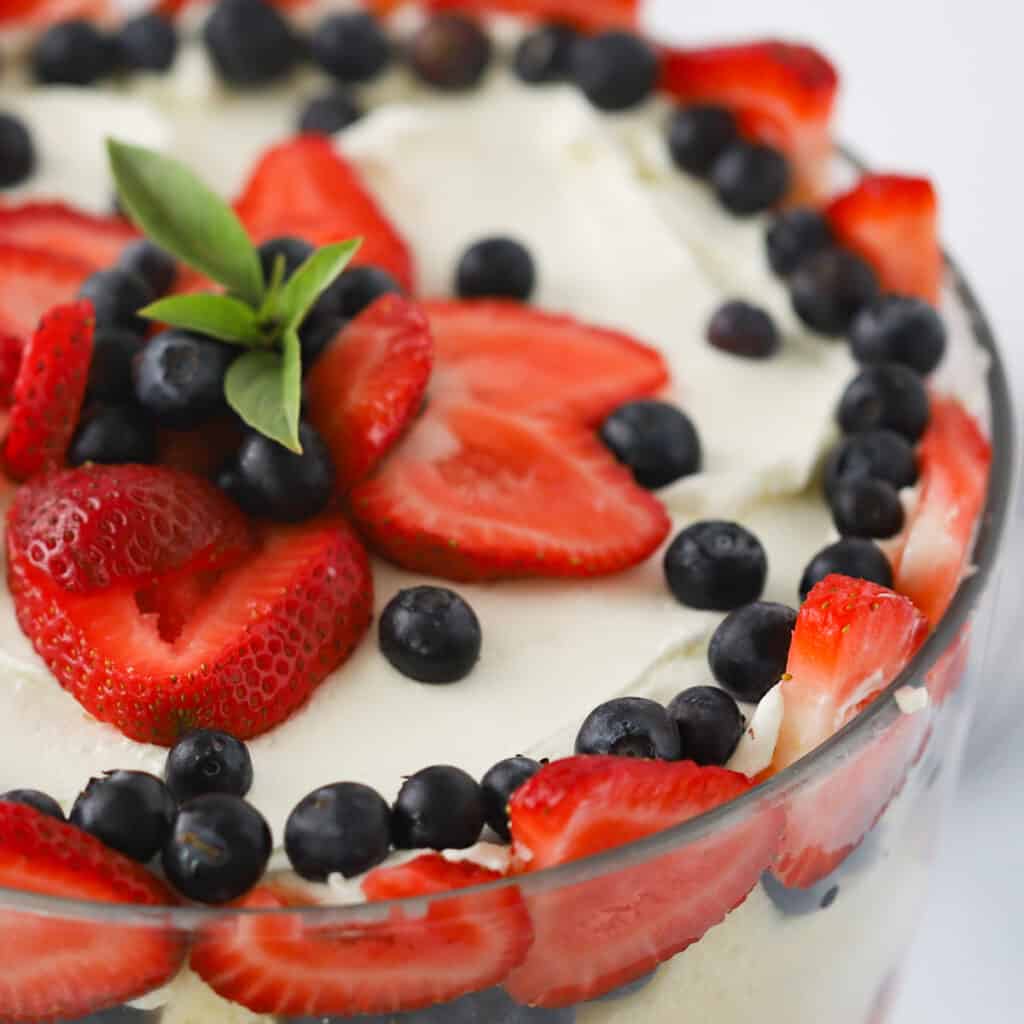 This Berry Trifle recipe is a refreshing summer dessert that's as delicious as it is beautiful. It's a super simple recipe made with layers of juicy fresh berries, pound cake and velvety smooth whipped cream cheese.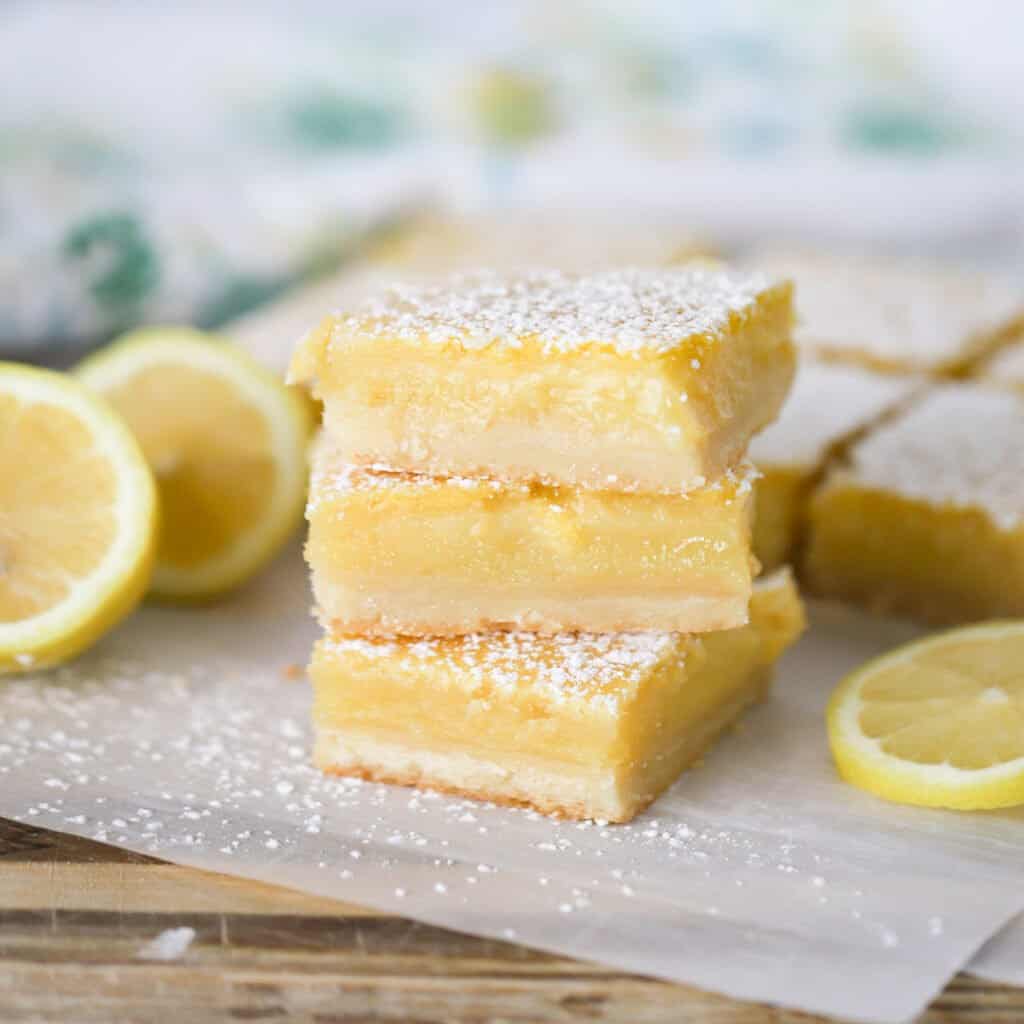 This classic Lemon Bars Recipe has a thick, creamy lemon curd filling baked over a buttery shortbread crust. These easy Lemon squares are delicious and always a crowd favorite.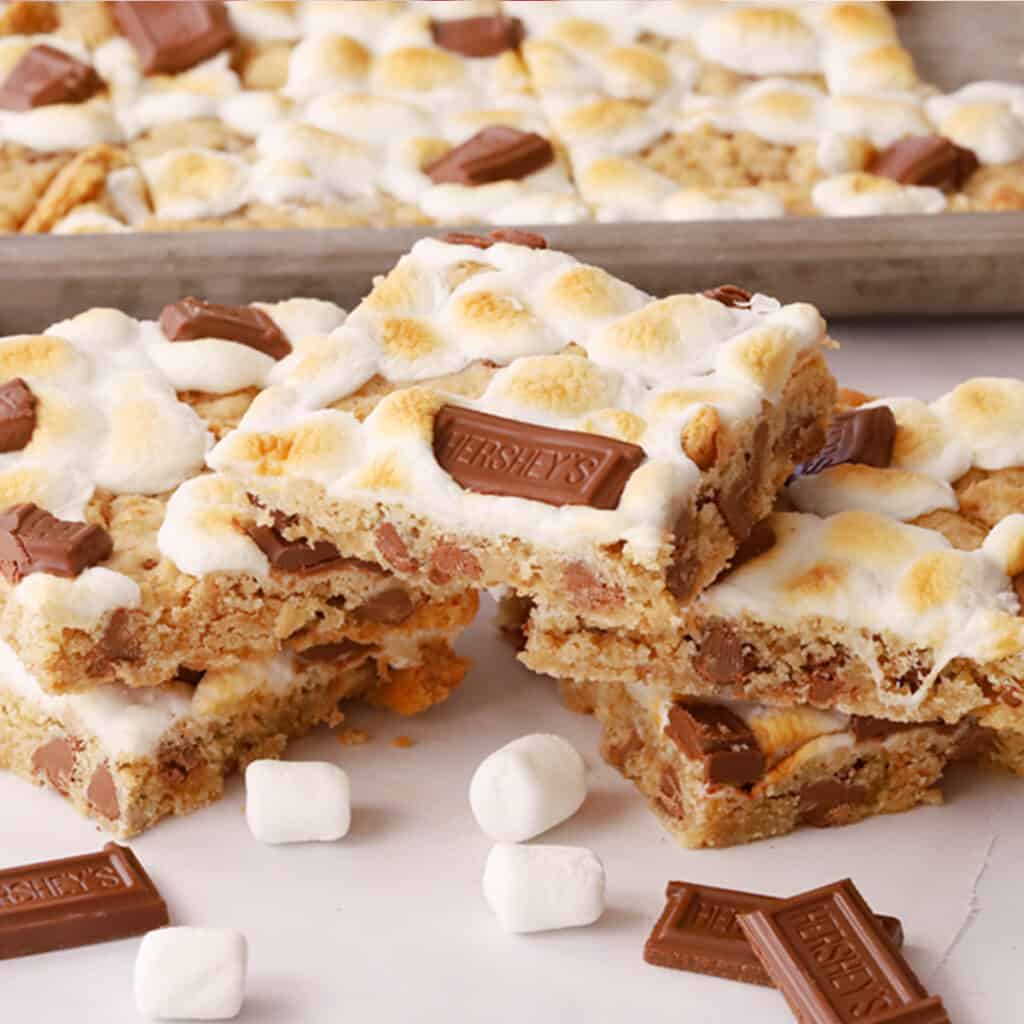 These S'mores Cookie Bars are soft, chewy, and taste just like the ooey-gooey campfire classic, with less mess. Made with crushed graham crackers, mini marshmallows, and Hershey's Chocolate, this is sure to become your family's new favorite treat.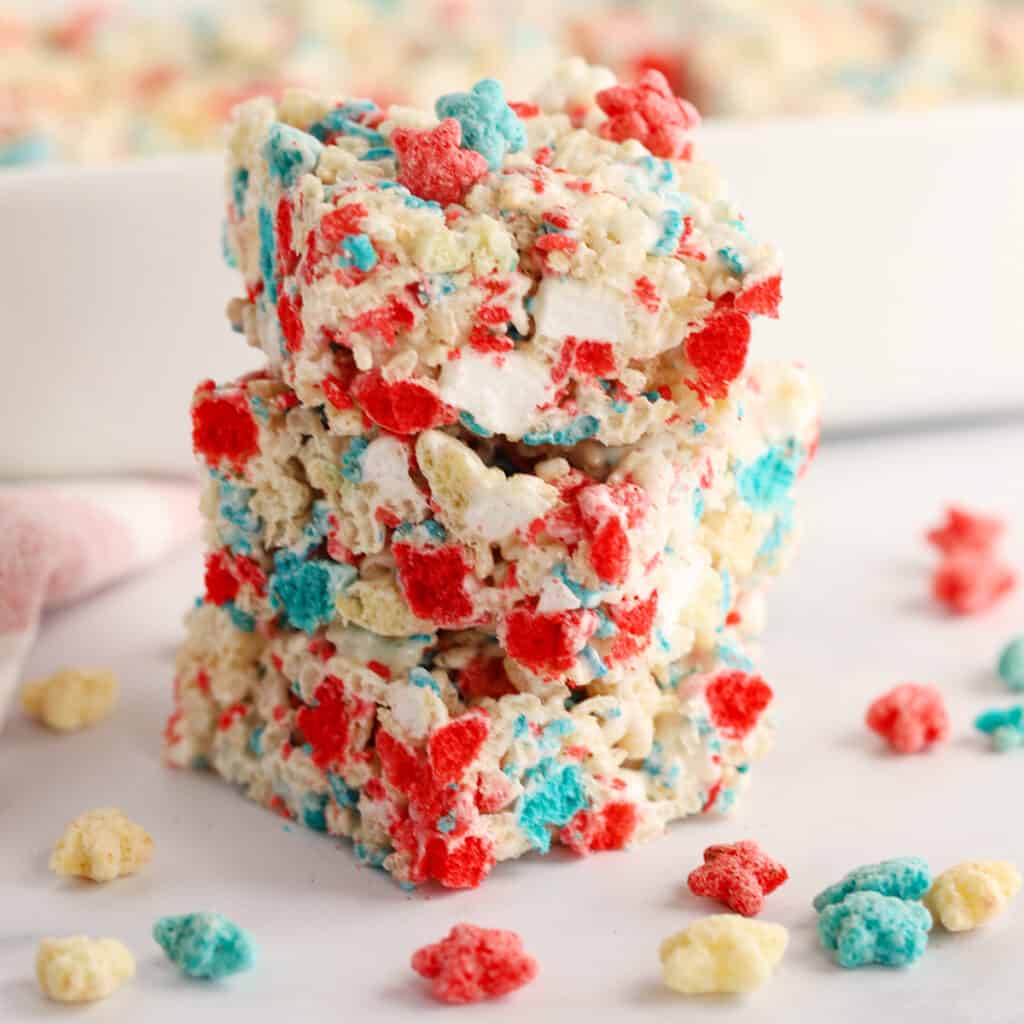 These Red, White, and Blue Rice Krispies Treats are the perfect Memorial Day treats. This colorful variation on Rice Krispie treats is a fun and patriotic recipe, an easy way to make nostalgic no-bake treats.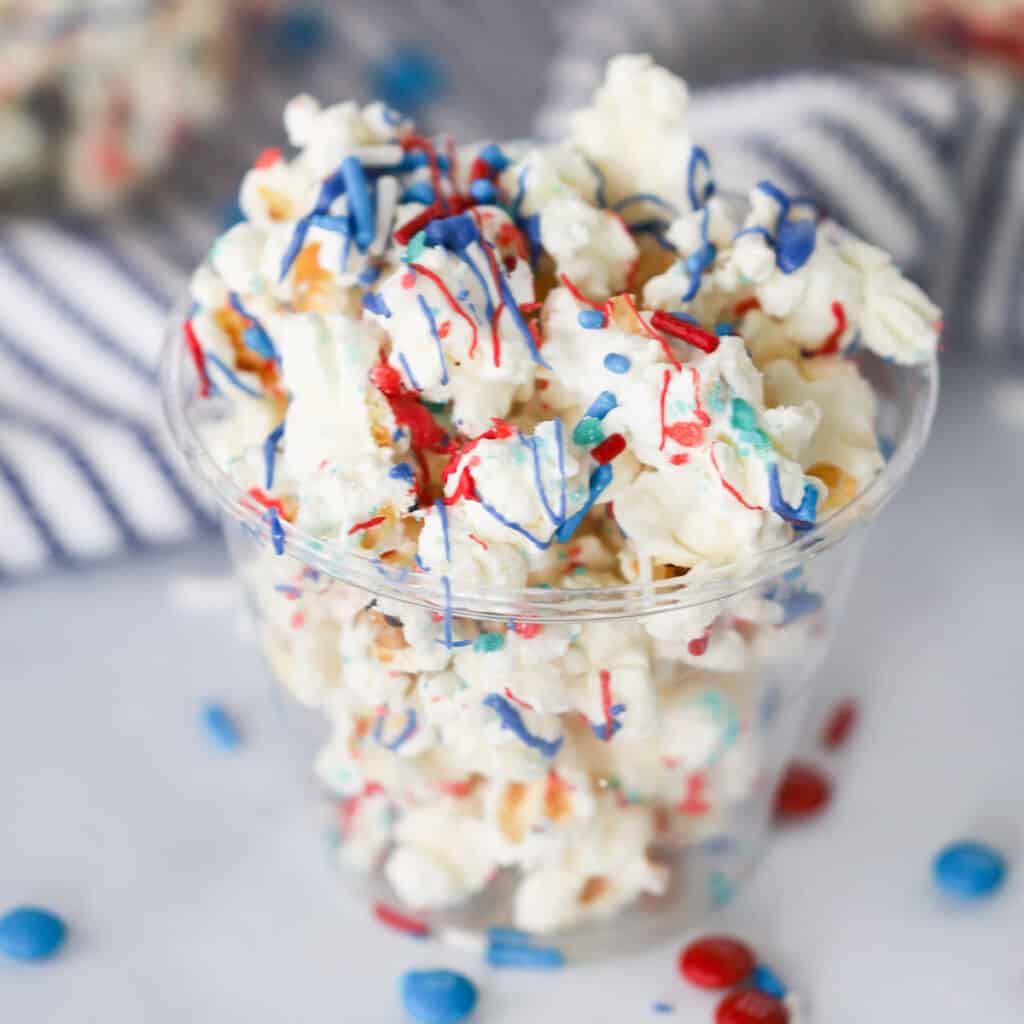 This Firecracker Popcorn is an easy and delicious treat to make for any of the patriotic summer holidays. Always a crowd pleaser, it's made with freshly popped popcorn coated in melted white chocolate and decorated with fun and festive candies and chocolate drizzle.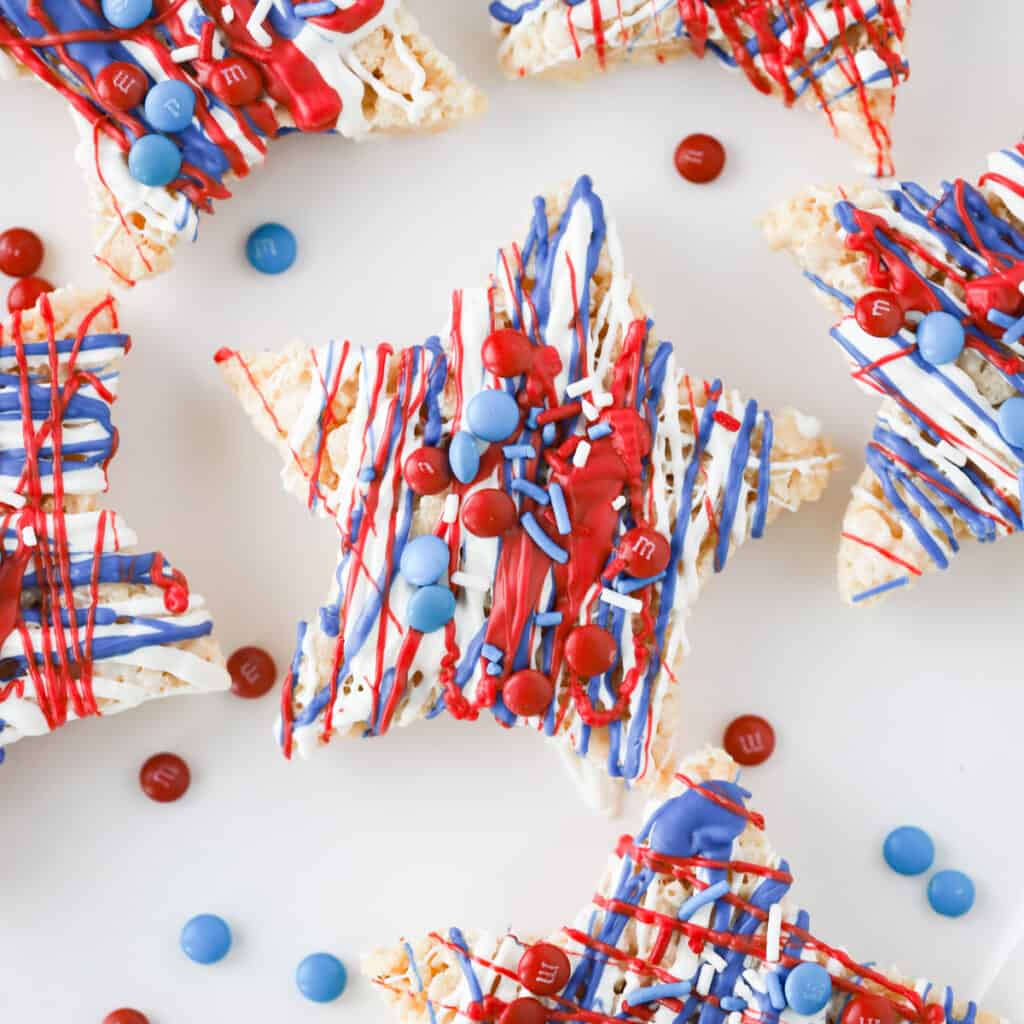 These Rice Krispie Pops are a fun and easy way to celebrate holidays and birthdays throughout the year. Using our recipe for this classic no-bake dessert, we cut them into fun shapes, decorate as desired and place them on a stick for a delicious and mess-free treat.
These chewy Oreo Cookies and Cream M&M Cookies liven up the everyday cookie by stuffing it full of Oreos and M&M candies. They are fun, colorful, simple to make, and always a complete hit.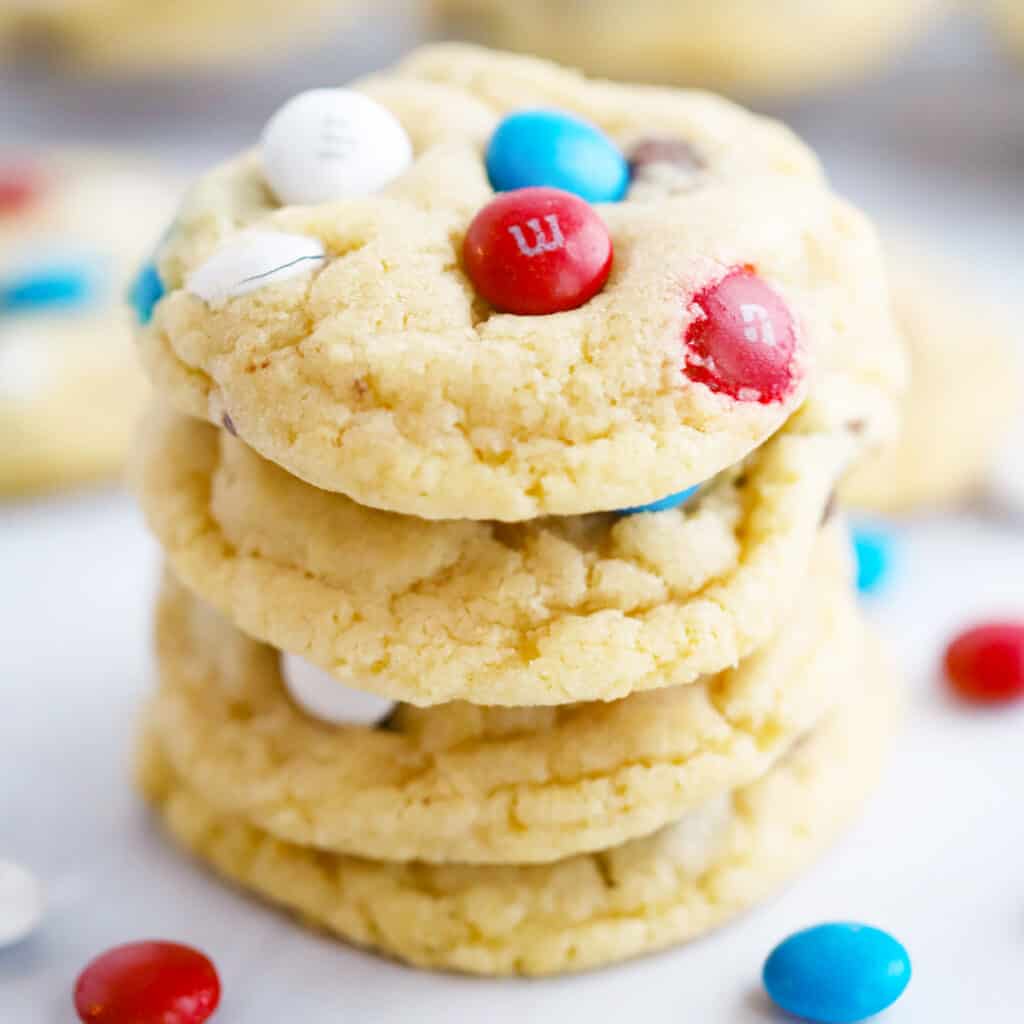 These Red White and Blue M&Ms Cookies take our favorite chocolate chip cookie and dress it up for the Fourth of July, or any other patriotic holiday. They're perfectly chewy, packed full of chocolate chips and M&M candies and are sure to disappear fast.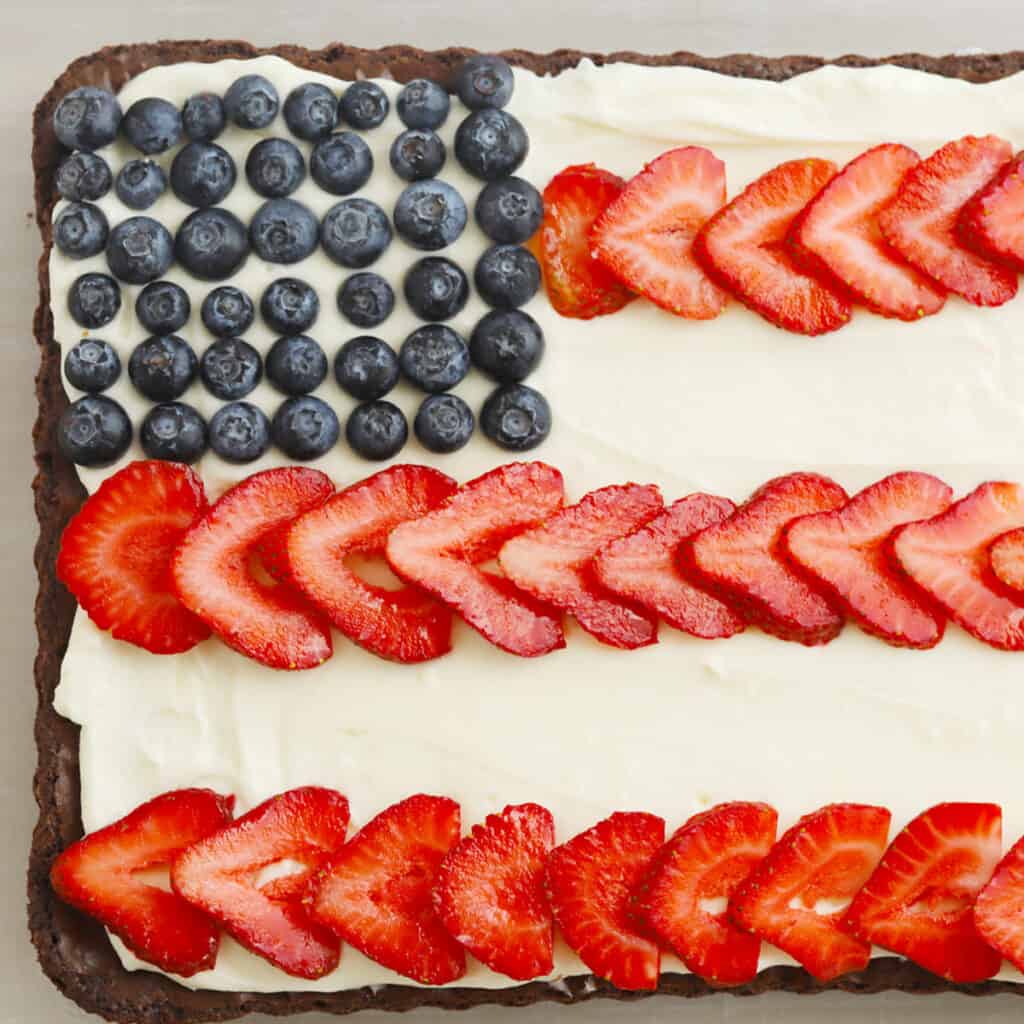 These American Flag Brownies are a super easy, creative and tasty way to celebrate the 4th of July, Memorial Day or any other patriotic holiday. Not only do they look stunning, they're also totally delicious and a great simple dessert to make with the little ones.
Homemade Drinks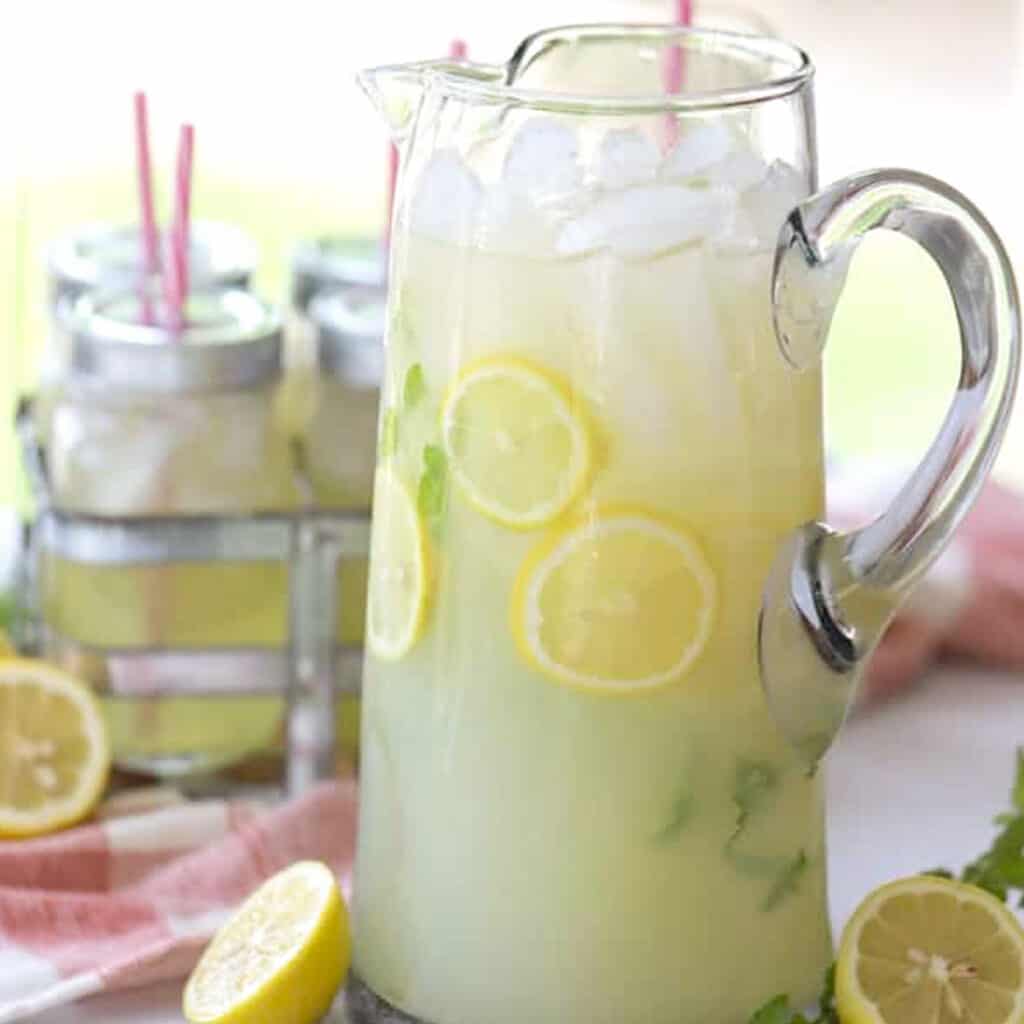 This easy Mint Lemonade Recipe is the perfect drink to cool you down on a hot summer day. It's fancy enough for a wedding or baby shower and easy enough for everyday meals.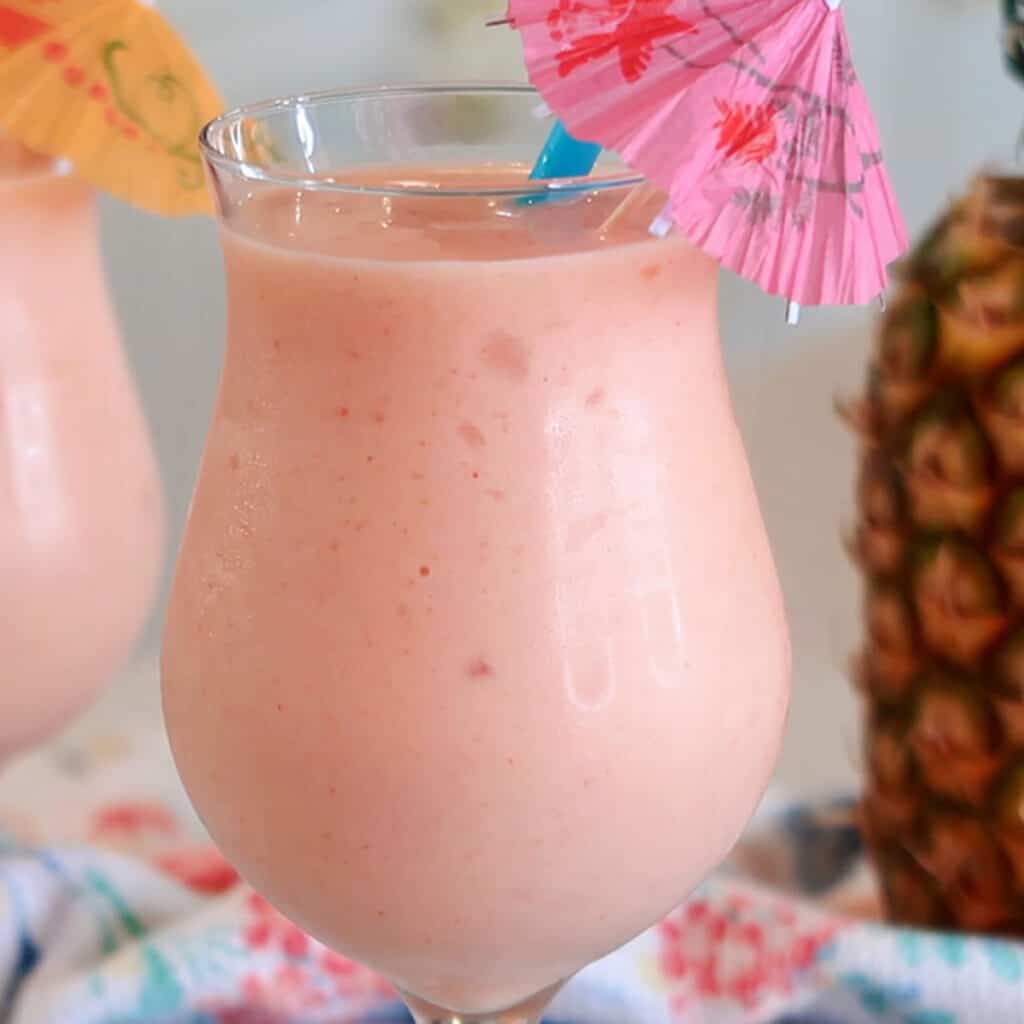 This Strawberry Virgin Pina Colada is the perfect smoothie for a hot summer day. Made with frozen pineapples, frozen strawberries, cream of coconut and a handful of other simple ingredients, this non alcoholic pina colada recipe will immediately transport you to the tropics, no matter where you are.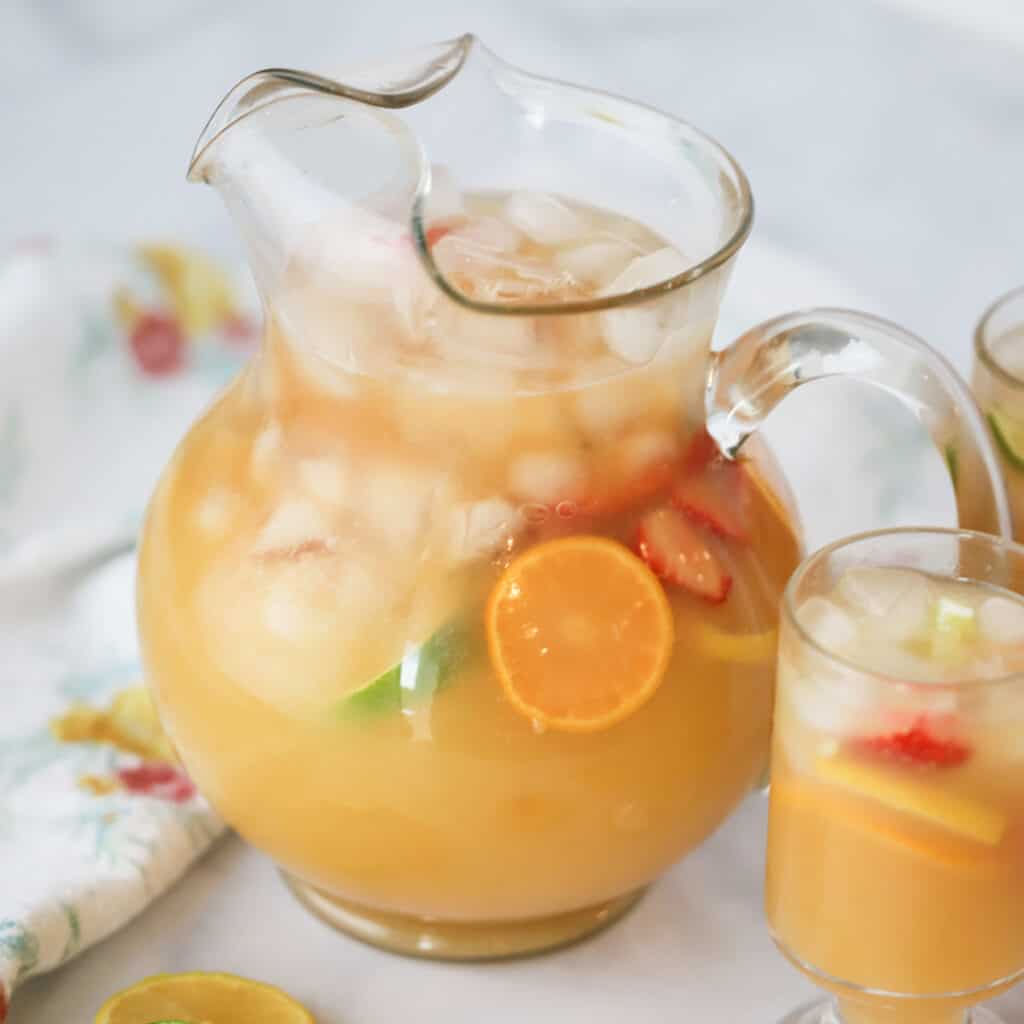 This homemade Tropical Punch recipe is a great way to add a little sunshine to your breakfast. Filled with citrus, pineapple juice, guava juice, and fizzy ginger ale, this easy punch recipe is the perfect non-alcoholic drink to serve for your next baby shower, holiday brunch, and more.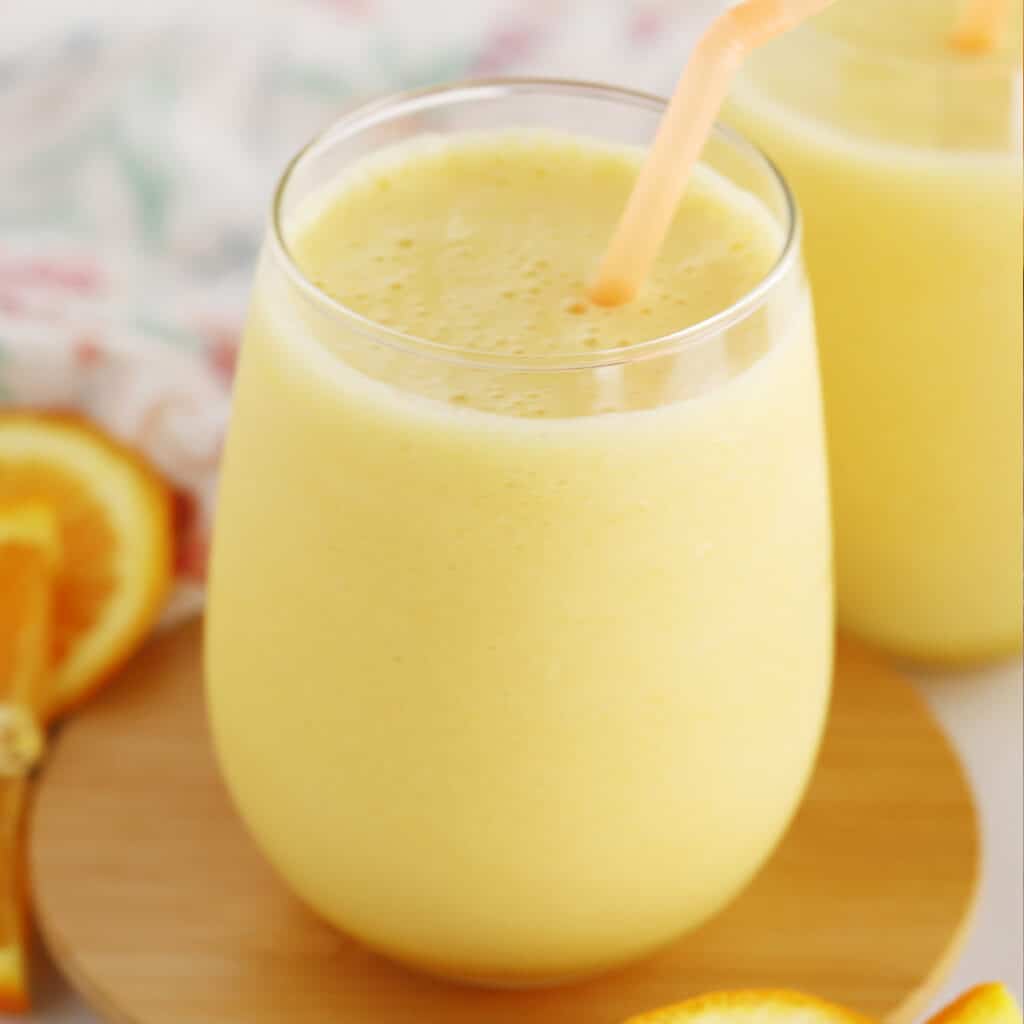 This recipe for a simple copycat Orange Julius is super creamy, frothy and refreshing. And just like the original, it tastes like a cold melted creamsicle - yum!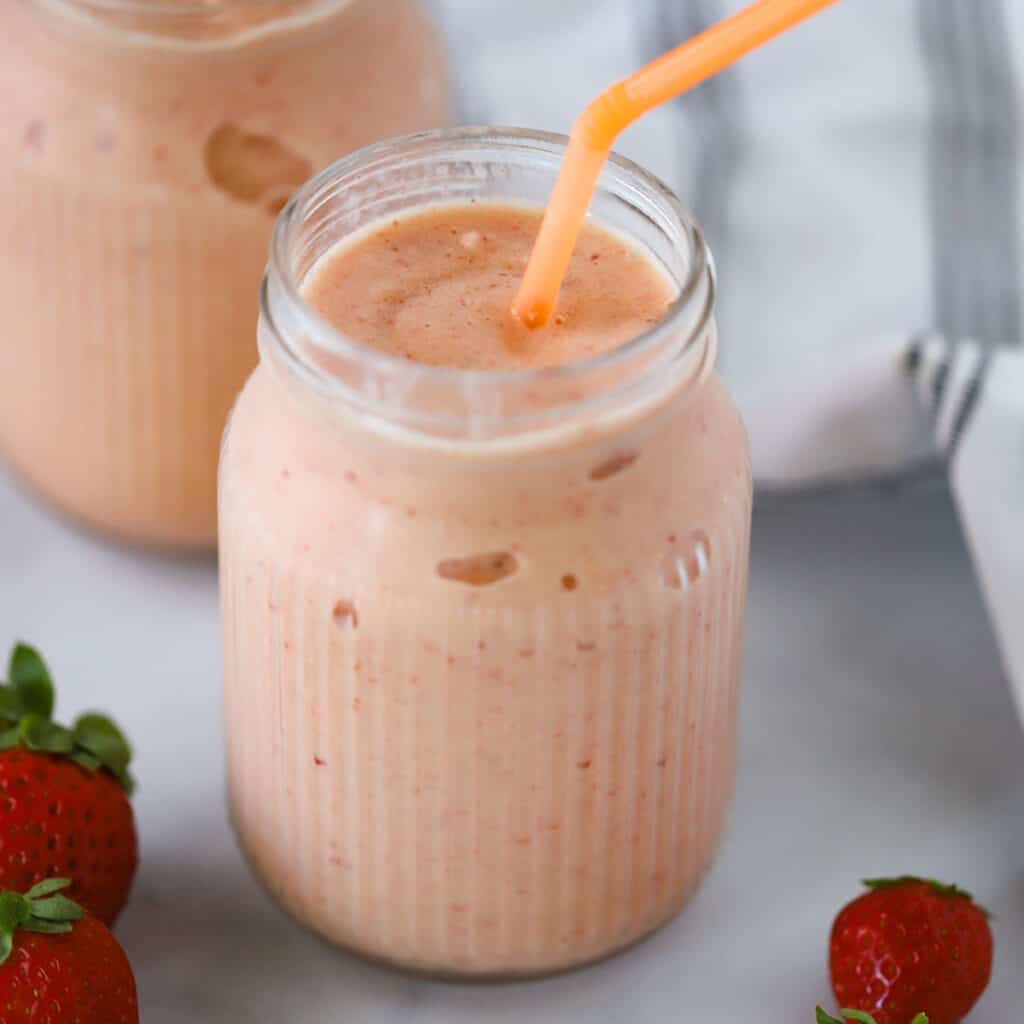 This Strawberry Orange Julius is the perfect refreshing drink for a hot summer day. It's sweet, super creamy, and couldn't be easier to whip up at home.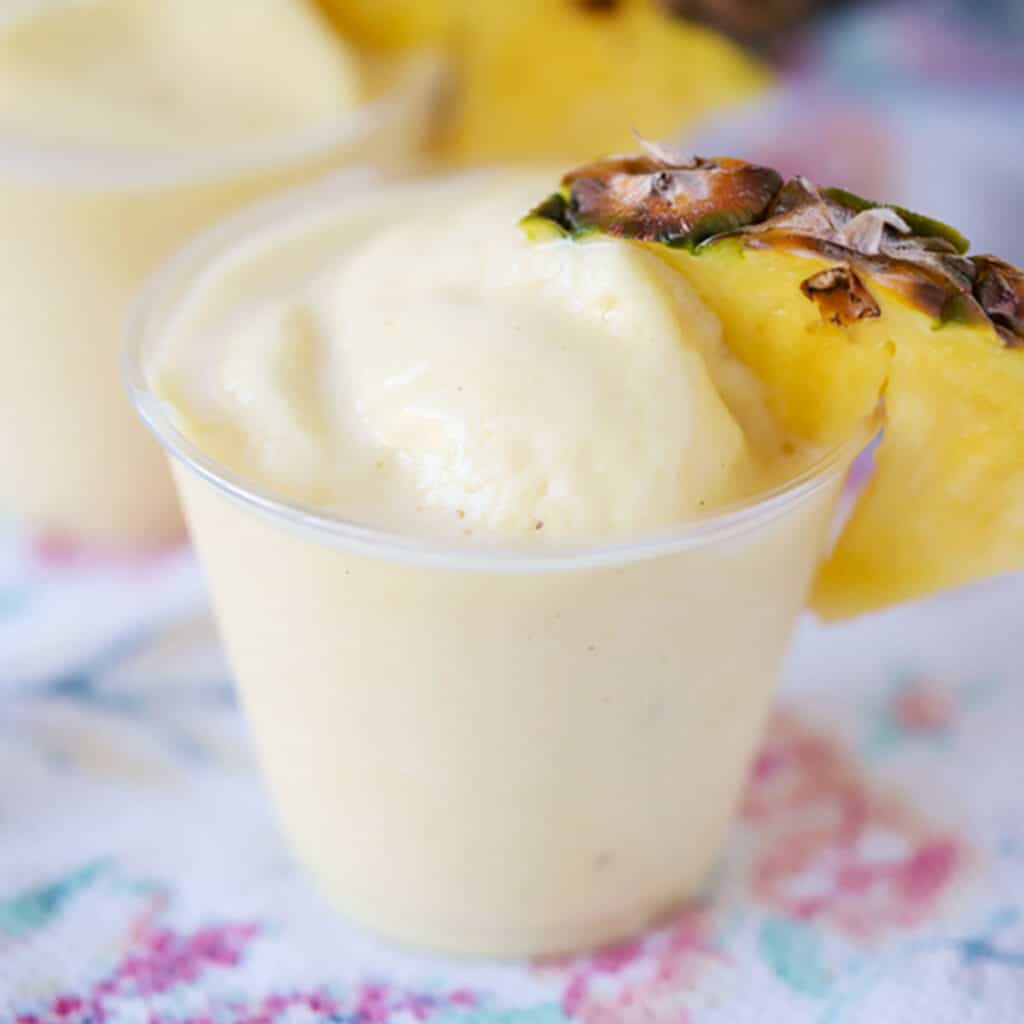 This recipe for Disney Copycat Dole Whip is creamy, refreshing and tastes almost identical to the real thing. All you need is three ingredients and a heavy-duty blender to make this copycat recipe right in your very own home.
Tips for Planning Your Memorial Day Menu
Plan ahead. No matter what special occasion you are planning for, it's always a good idea to figure out your menu at least 1-2 weeks ahead of time. This will give you plenty of time to go to the store before the crowds and make any items ahead of time that you can. You'll also be able to delegate better if someone asks what they can bring.
Use your slow cooker. Don't forget that you can use your slow cooker in the summer, too. It's a great kitchen tool for saving precious grill space or for keeping things like baked beans warm.
Prep your presentation. Since Memorial Day cookouts often involve a lot of side dishes, salads, and condiments,it's a good idea to start gathering all of your bowls, serving platters, serving spoons, tongs, and plates ahead of time. Figure out how many of each you will need so you aren't scrambling the day of.
More of the Best Summer BBQ Recipes
If you've tried this recipe, please rate it and leave a comment on this post. I love hearing feedback from you. It helps me and other readers too! If you love Pinterest, feel free to leave a comment and photo there too. Also, if you like to share, use the hashtag #thecarefreekitchen on Instagram and tag me @thecarefreekitchen so I can find you and give your post some love. You can also find me on Facebook at The Carefree Kitchen. Thank you!!
Here are over 50 Memorial Day Menu ideas to get you started planning. We've included salads, sides, BBQ favorites, and plenty of desserts.
Reader Interactions