We've collected 20 of our favorite Red, White, and Blue Recipes for you to celebrate any patriotic holiday in style.  Our list includes 4th of July-inspired breakfasts, appetizers and desserts to keep your day playful, patriotic, Pinterest-worthy, and, of course, delicious.
Jump to:
20 of Our Favorite Patriotic Recipes
Whether you are planning a simple hot dogs and hamburgers BBQ or a 4th of July blowout, we've pulled together 20 easy Red, White, and Blue recipes that you can sprinkle into the mix.
We realize that summer holidays are not the time to be stuck inside around a hot oven, so many of these recipes reflect that. We've got no-bake desserts, healthy breakfast bowls, creative appetizers and fresh veggie trays that all celebrate the red, white, and blue.
Easy Patriotic Recipes for 4th of July Breakfast
Looking for a Red, White, and Blue breakfast? We've got you covered. Here are a few easy recipes for 4th of July that would of course work just as well as Memorial Day recipes. We've got everything from super healthy to super indulgent.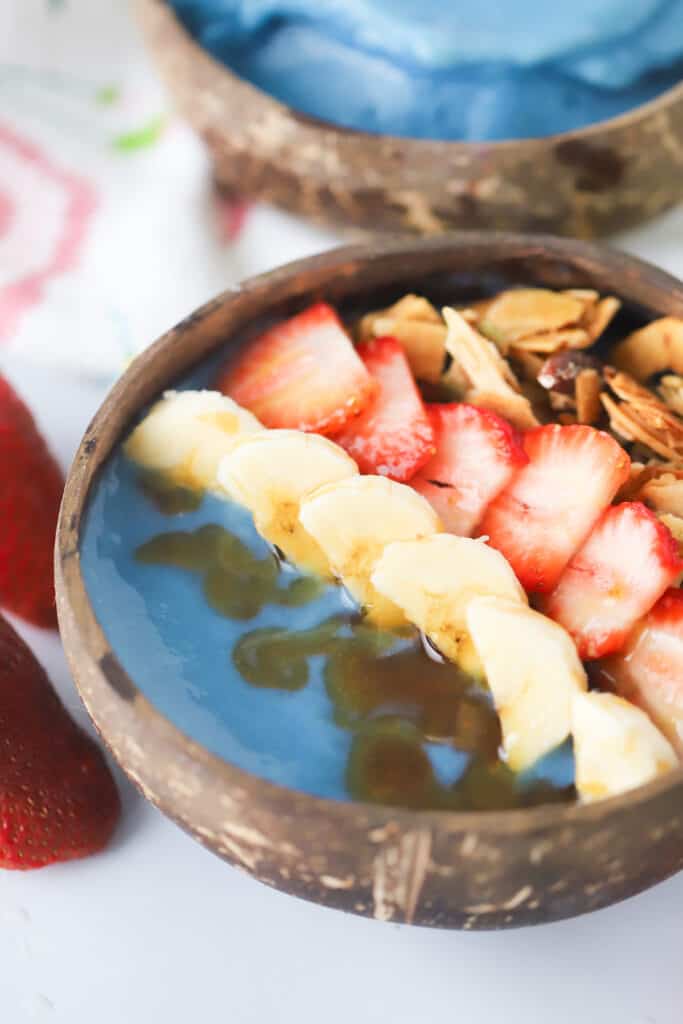 This healthy recipe for a Blue Smoothie Bowl is made by blending vibrant blue spirulina with frozen fruit, coconut milk and a touch of vanilla. Top with tasty red, white and blue mix-ins like strawberries, raspberries, blueberries, bananas and coconut.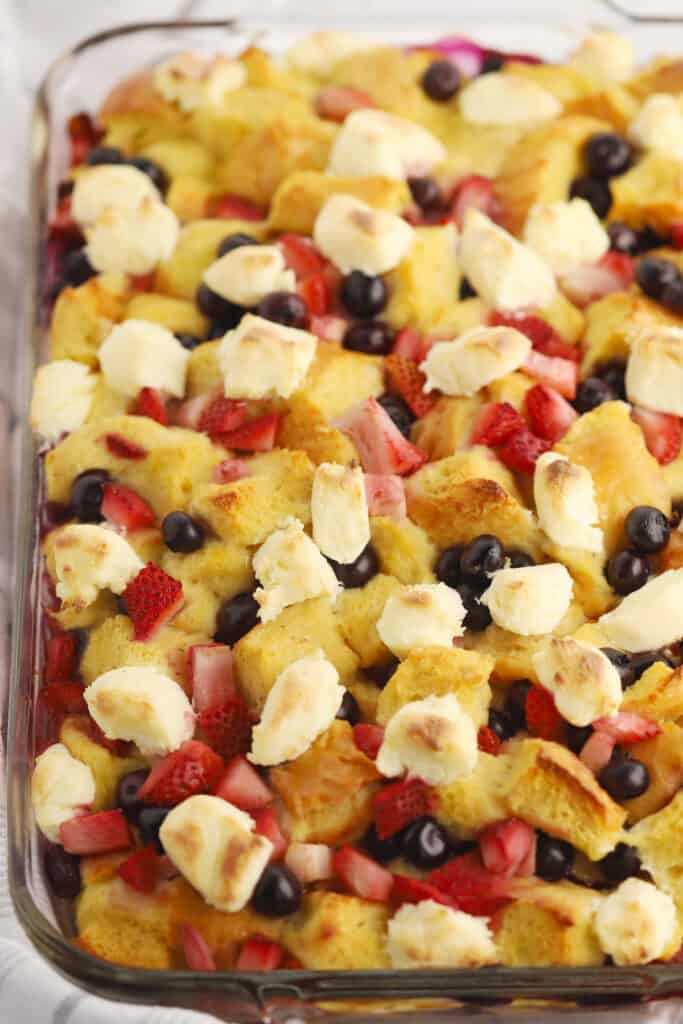 This overnight breakfast casserole is made with French bread soaked in a yummy egg custard and topped with blueberries, strawberries, cream cheese and a cinnamon brown sugar streusel just before baking.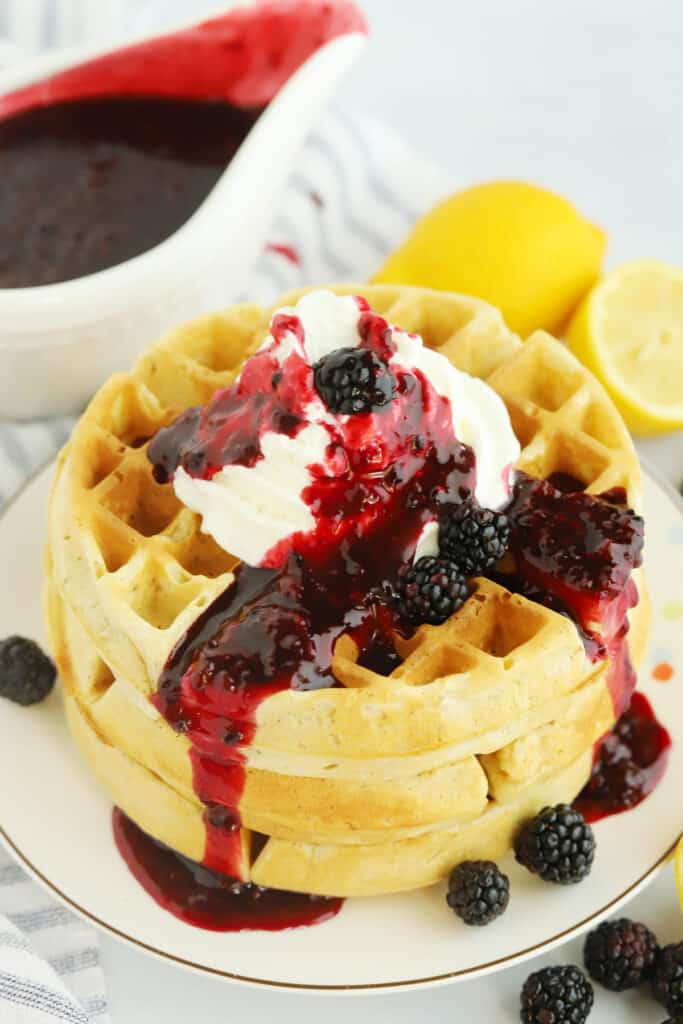 Our Homemade Belgian Waffles are super fluffy on the inside, crisp on the outside, and can be ready in no time. Top them with homemade whipped cream, homemade strawberry sauce, powdered sugar and fresh blueberries for an easy patriotic breakfast treat.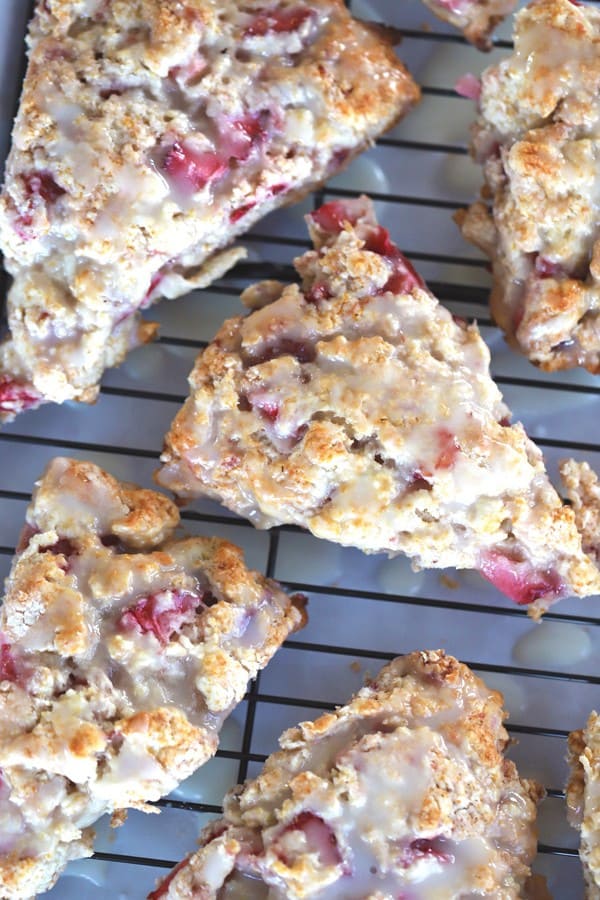 These Strawberry Cream Scones are fluffy, tender and topped off with a tart lemon glaze. Add blueberries for an easy 4th of July twist!
Red, White, and Blue Appetizers
Here are some patriotic recipes to kick off your next summer party. These Memorial Day or 4th of July recipes are super festive, full of fresh fruits and vegetables and totally delish.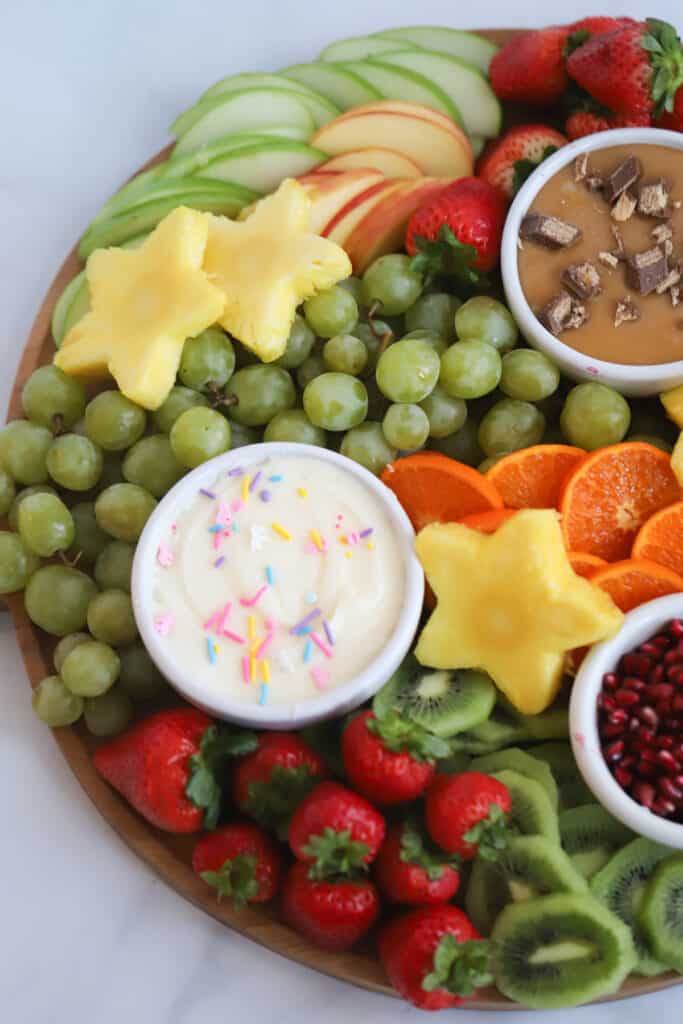 This Fruit Charcuterie Board could be easily adapted to make a beautiful and refreshing Memorial Day or 4th of July appetizer. Arrange red fruits and blueberries, star-shaped pineapples and any other fruit that you'd like along with our cream cheese dip.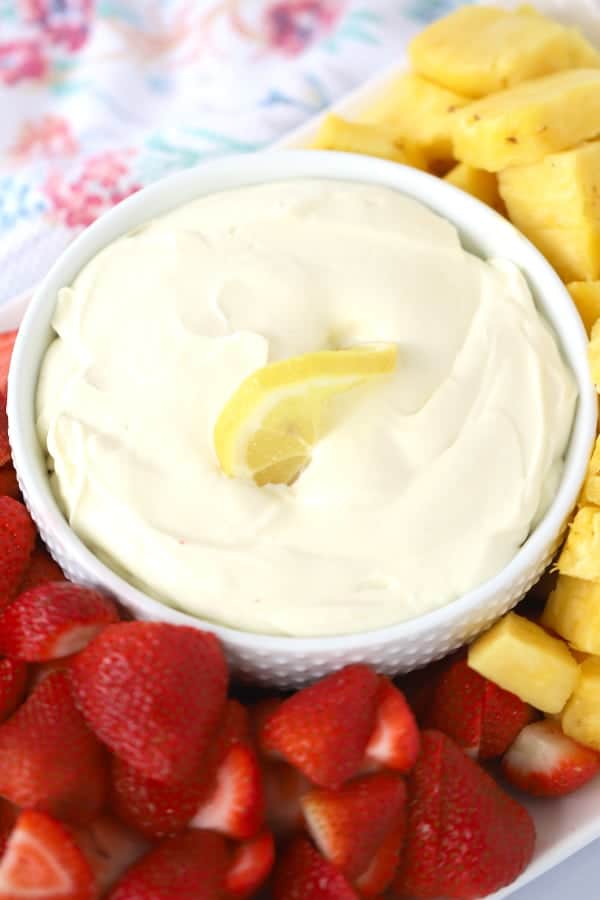 This cheesecake dip is tart and sweet, light and fluffy and perfect for serving along with red and blue berries for a 4th of July barbeque or potluck.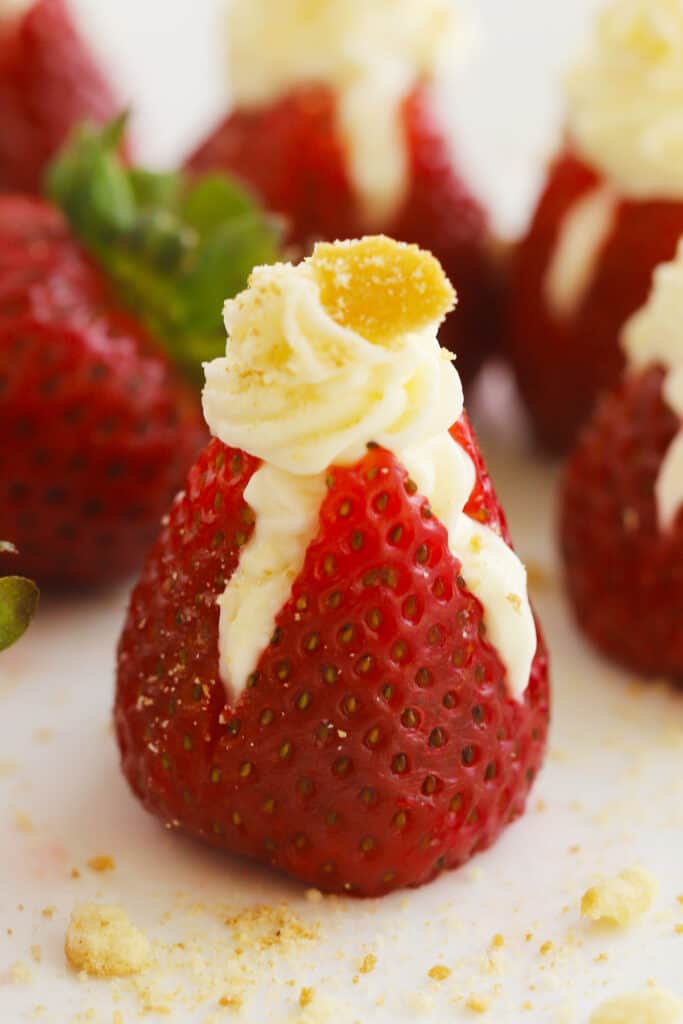 Each juicy strawberry is stuffed full of rich and creamy no-bake cheesecake filling, then topped with sprinkling of crushed graham crackers for a sweet and crunchy finish. Garnish with blueberries for an easy red, white, and blue appetizer.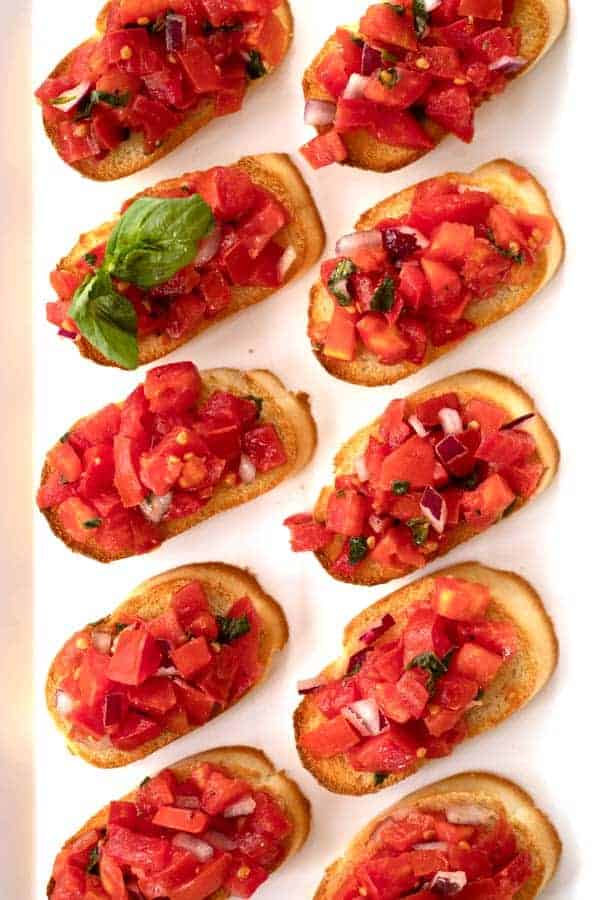 This homemade bruschetta recipe is made from fresh tomatoes with basil, olive oil, and vinegar, and served on toasted bread. Top with a few blueberries to complete the red, white, and blue theme.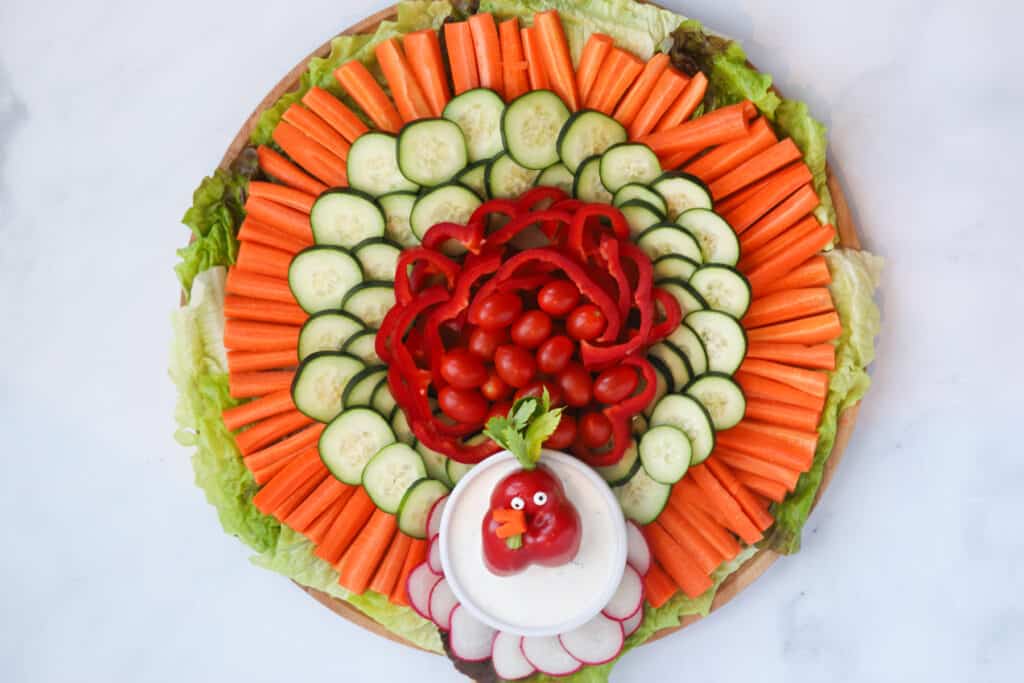 This Veggie Tray is full of crisp and colorful veggies, served with homemade ranch dressing on the side. To adapt for any patriotic recipe, choose red veggies like cherry tomatoes, red peppers, radishes along with white dip and blue potatoes.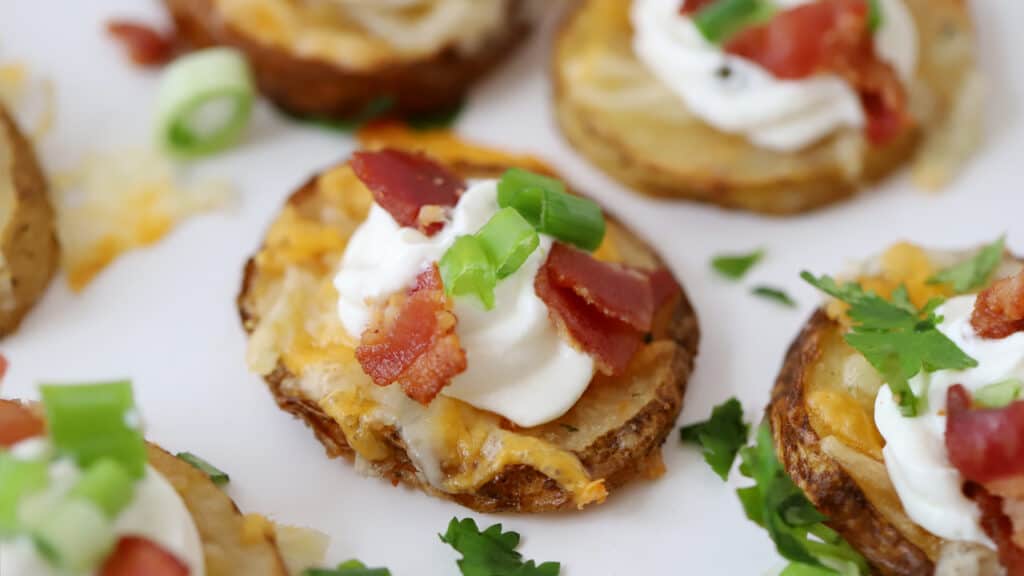 These Crispy Potato Bites are fully loaded, made with thin slices of oven baked potatoes topped with melted cheese, ranch dressing dip, homemade bacon bits and green onions. Use purple or blue potatoes instead to make these fit the theme.
Patriotic 4th of July Recipes for Easy Desserts
These easy 4th of July dessert recipes (Red, White, and Blue) are perfect for bringing to backyard BBQs, potlucks or even taking along to watch the fireworks! We've pulled together cookies, brownies, no-bake treats and fruity classics that will satisfy and delight people of all ages.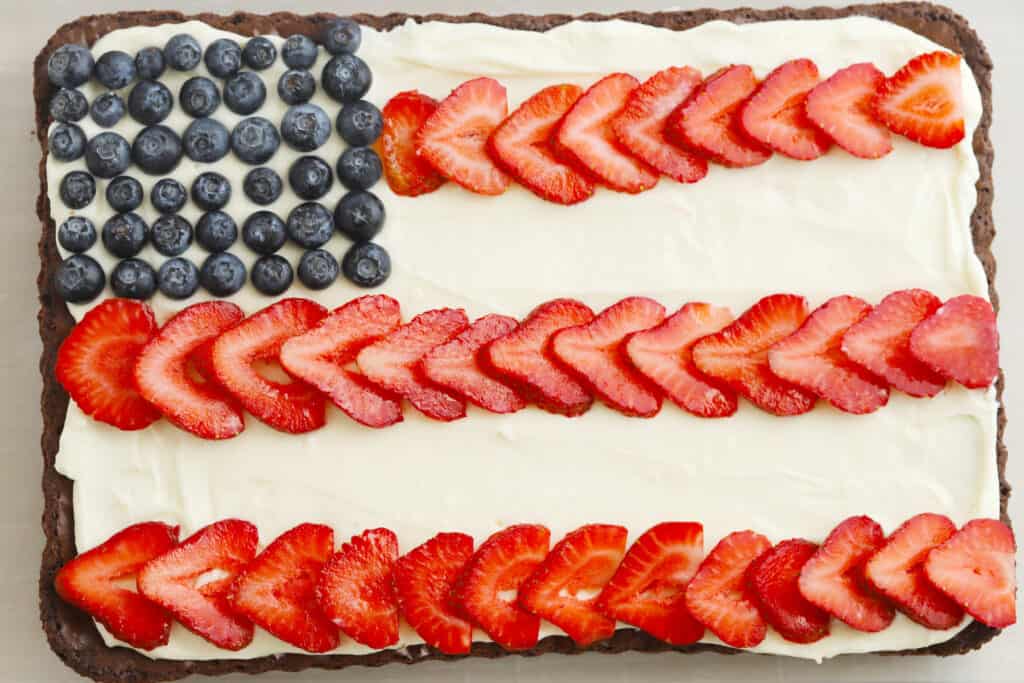 These American Flag Brownies are a super easy, creative and tasty way to celebrate the 4th of July, Memorial Day, Flag Day or any other patriotic holiday.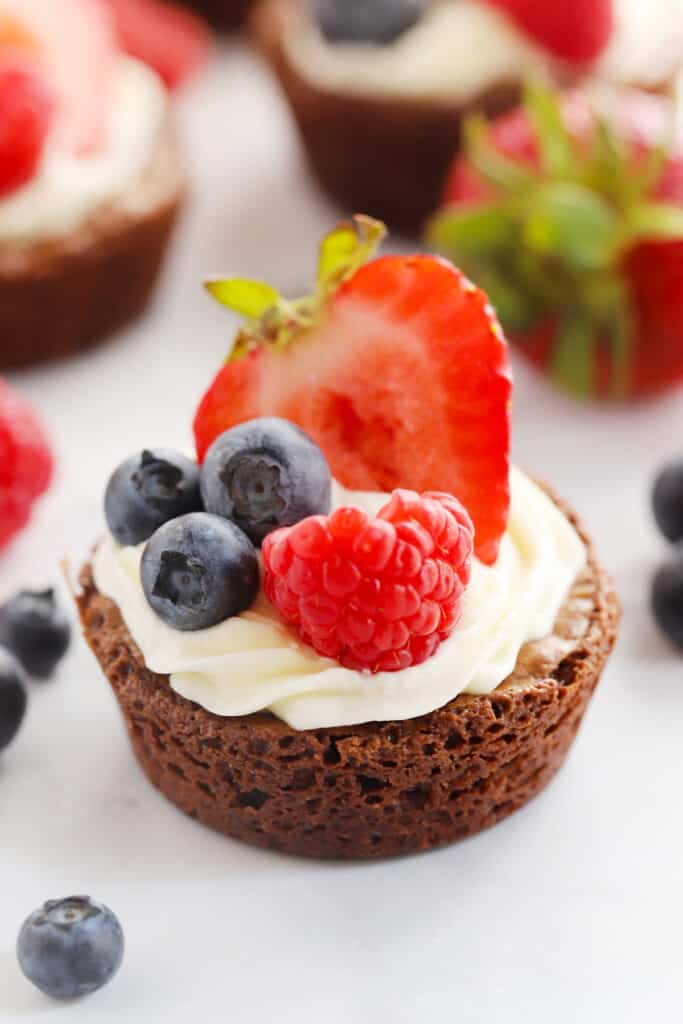 We've topped these Brownie Bites with blueberries and strawberries for a red, white and blue 4th of July theme, but these little beauties taste great topped with just about anything sweet.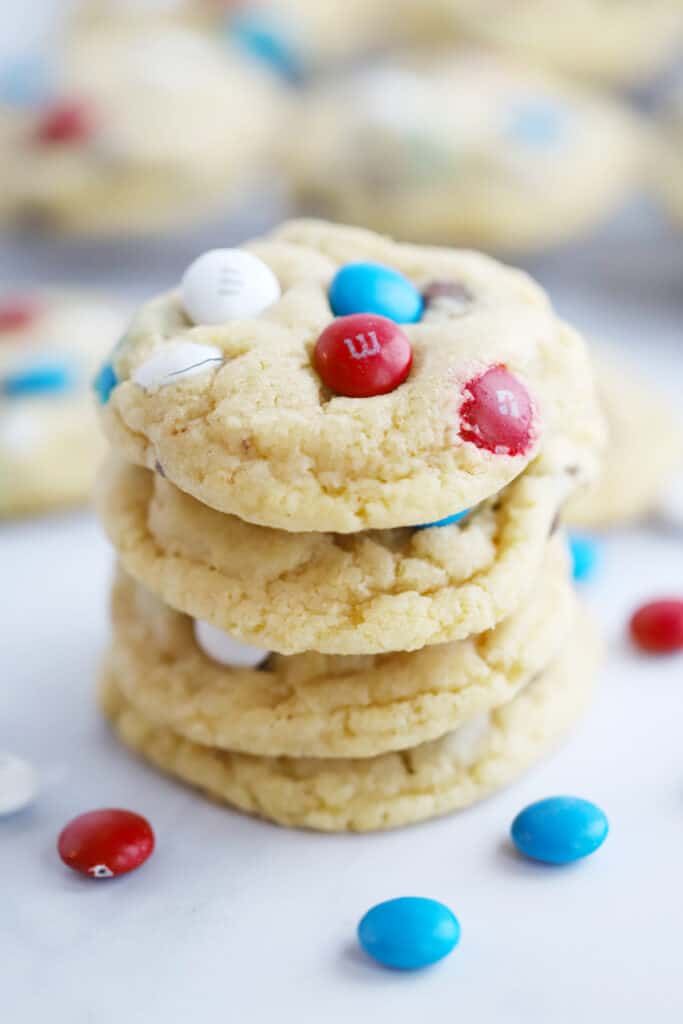 These Red White and Blue M&M Cookies take our favorite chocolate chip cookie and dress it up for the Fourth of July, or any other patriotic holiday.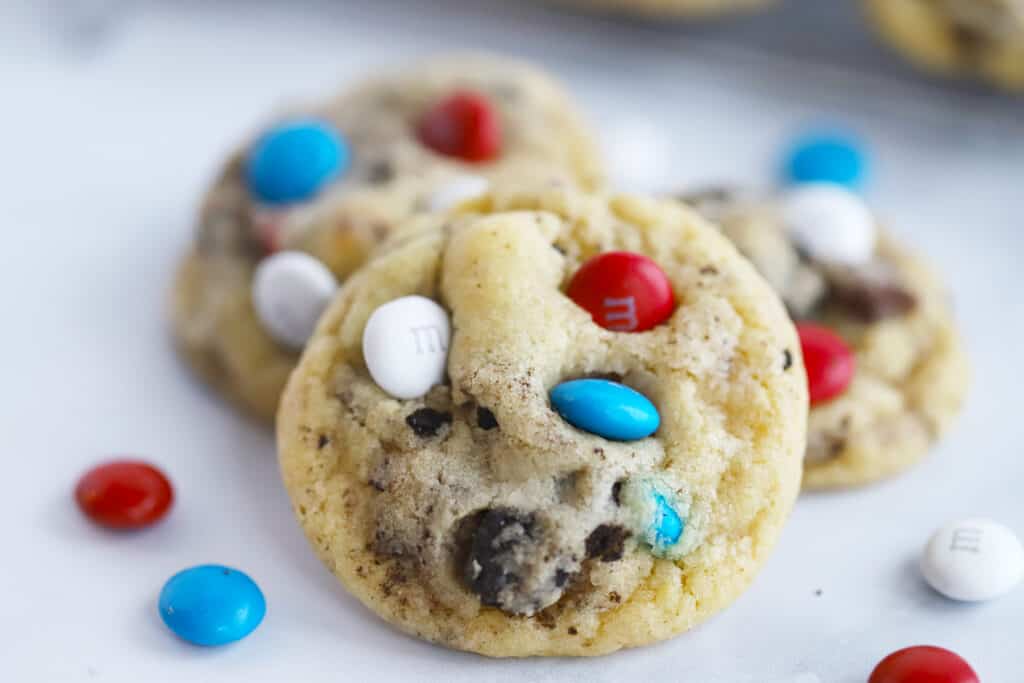 For a slightly different but equally delicious variation, you can also try these Oreo and M&M Cookies.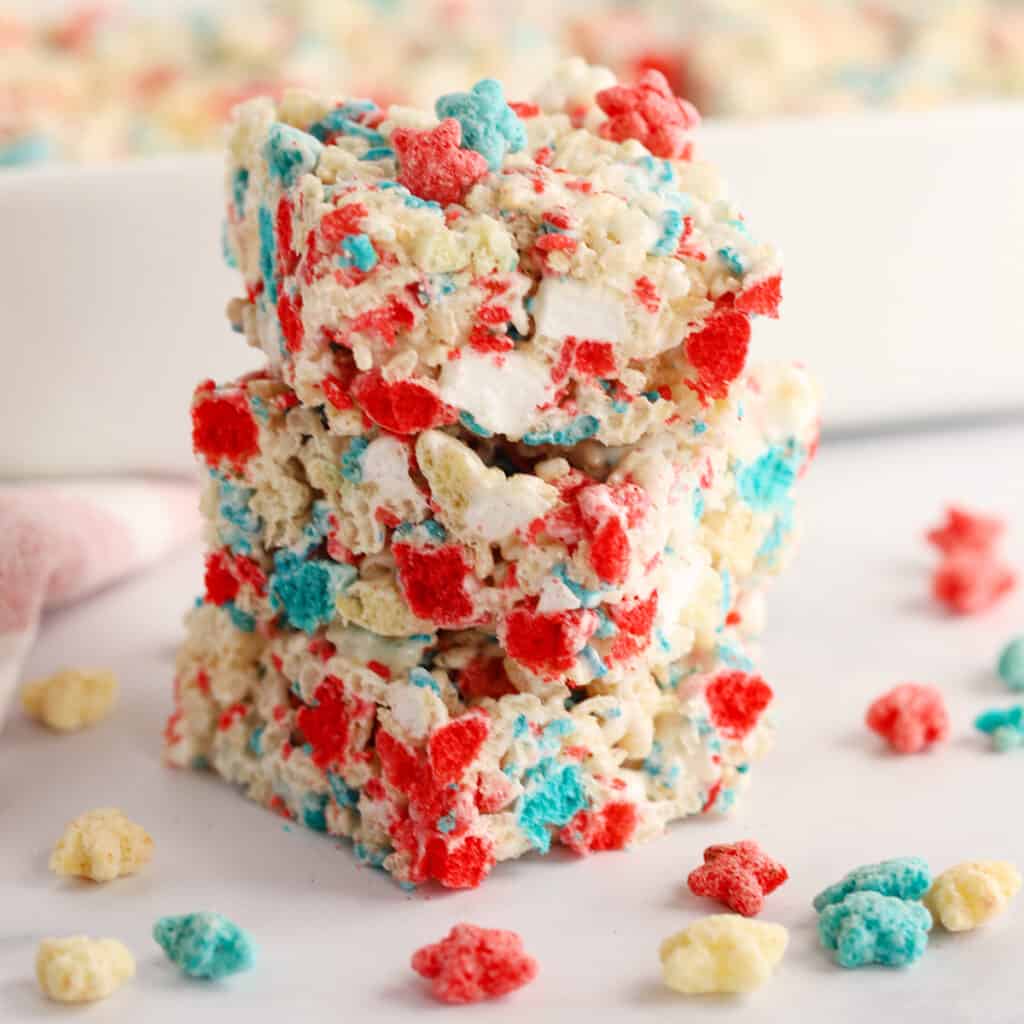 This colorful variation on Rice Krispie treats is a fun and patriotic recipe, an easy way to make nostalgic no-bake treats.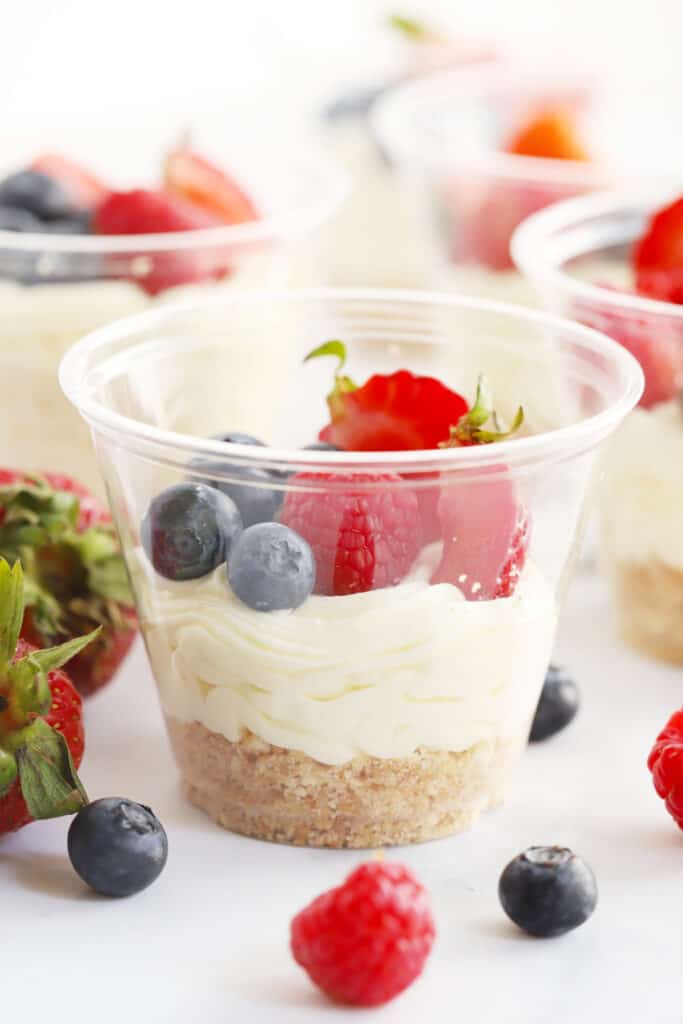 These individually portioned No-Bake Mini Cheesecakes are easy to adapt for any summer holiday. We topped this version with strawberries and blueberries to give it a red, white and blue patriotic theme. But, there is really no limit to what you can choose to top these little beauties with.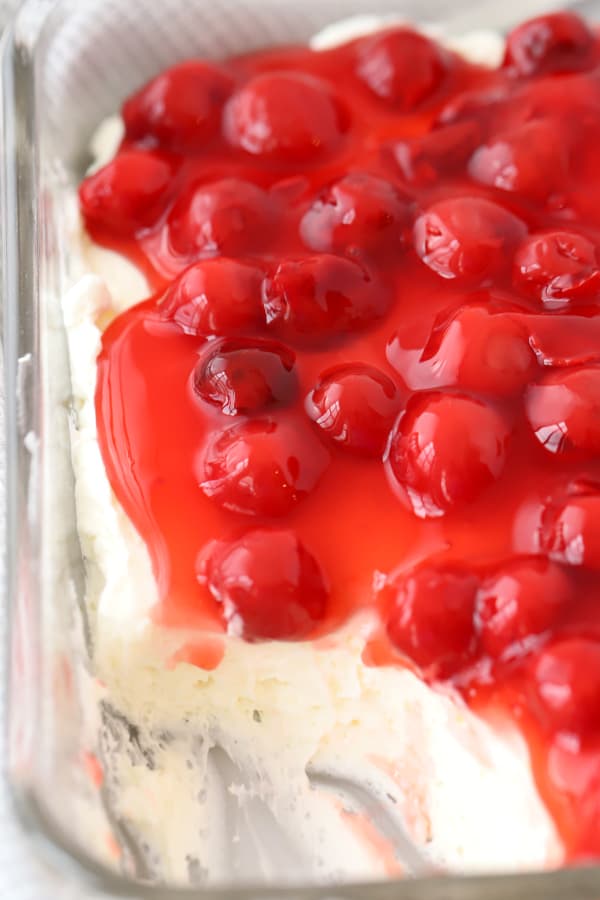 This no-bake Cherry Cheesecake Dip has all of the light, creamy, fluffy cheesecake goodness without all of the prep. Toss some blueberries on top and you've got yourself an easy patriotic dessert.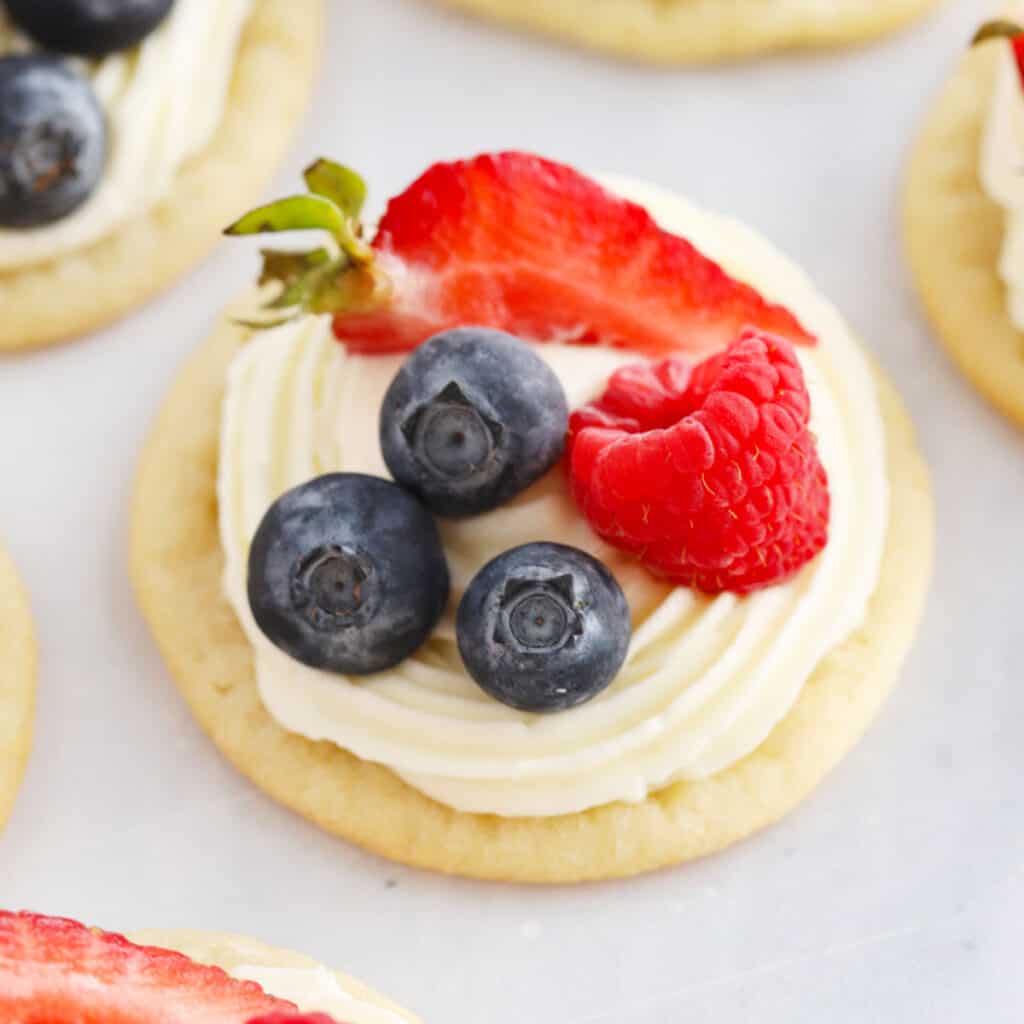 These mini Sugar Cookie Fruit Pizzas are so easy to customize for all sorts of different holidays, party themes, and preferences. We've also got a large version of Fruit Pizza if you want to go that route.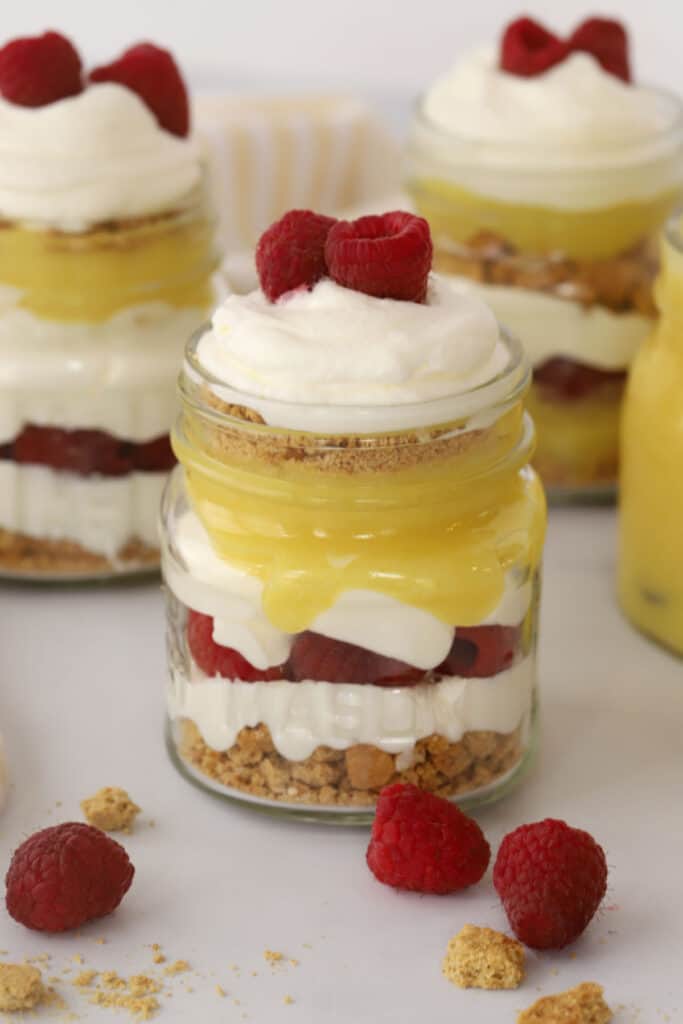 This fruity parfait is light, bright, creamy and bursting with fresh raspberries (and blueberries to stick to our theme), lemon curd, whipped cream and graham crackers in every bite.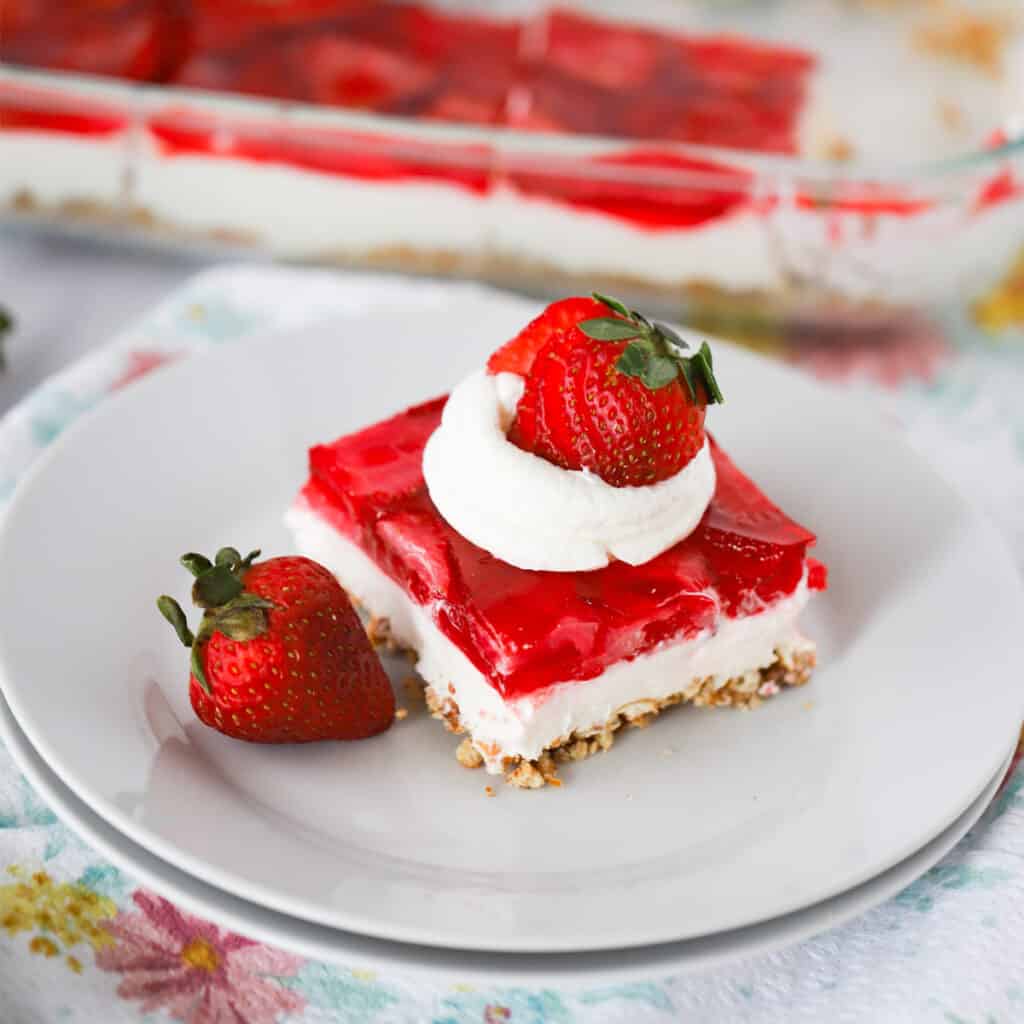 Strawberry Pretzel Salad is a sweet and salty family favorite perfect for all types of get-togethers.  The crunchy pretzel crust is topped with cream cheese filling and strawberry jello making for an easy classic summer dessert.  Once again, just add blueberries.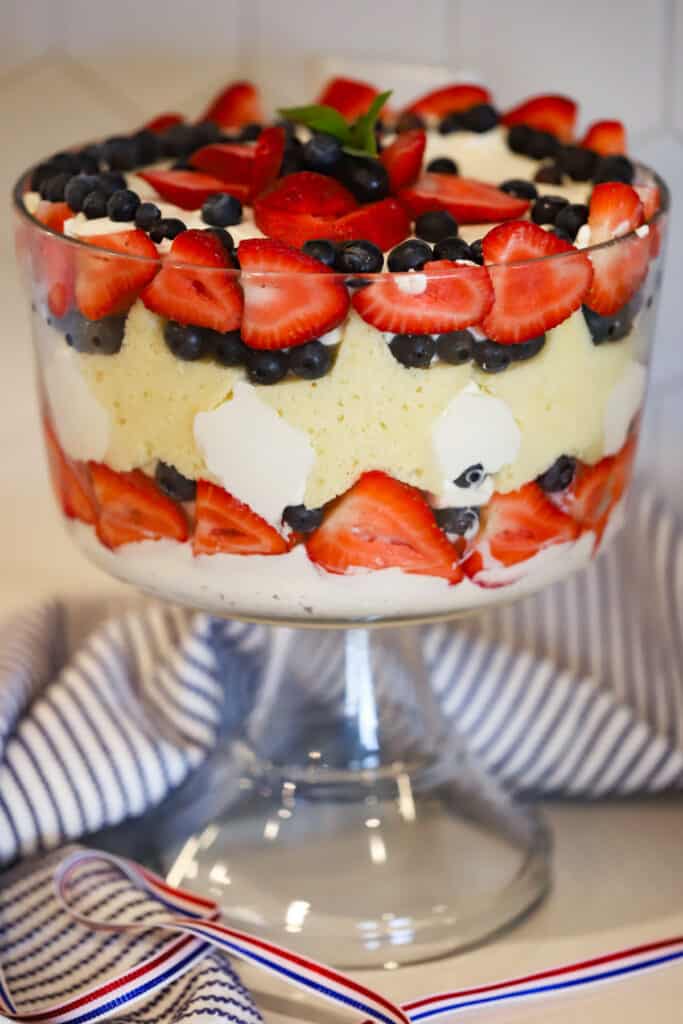 21. Berry Trifle
This Berry Trifle is a refreshing summer dessert that's as delicious as it is beautiful.  It's a super simple recipe made with layers of juicy fresh berries, pound cake and velvety smooth whipped cream cheese.
Even More Memorial Day and 4th of July Recipes to Try
Here are more recipes for Memorial Day and the 4th of July that don't follow the Red, White, and Blue theme, but are perfect for a summer BBQ.
If you've tried this recipe, please rate it and leave a comment on this post. I love hearing feedback from you. It helps other readers and me too! If you love Pinterest, feel free to leave a comment and photo there too. Also, if you like to share, use the hashtag #thecarefreekitchen on Instagram and tag me @thecarefreekitchen so I can find you and give your post some love. You can also find me on Facebook at The Carefree Kitchen. Thank you!!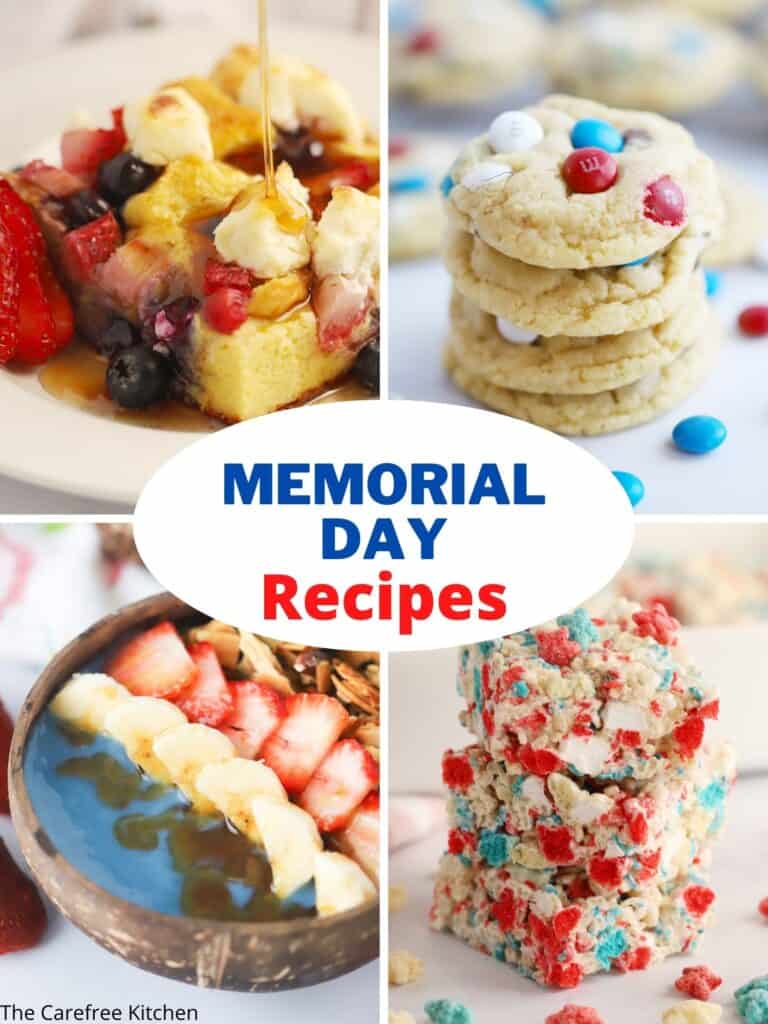 Raise the flag and celebrate with these 20 Red, White, and Blue recipes. We've picked some of our favorite patriotic recipes for breakfasts, appetizers and desserts to help you plan your next summer holiday menu.
Reader Interactions