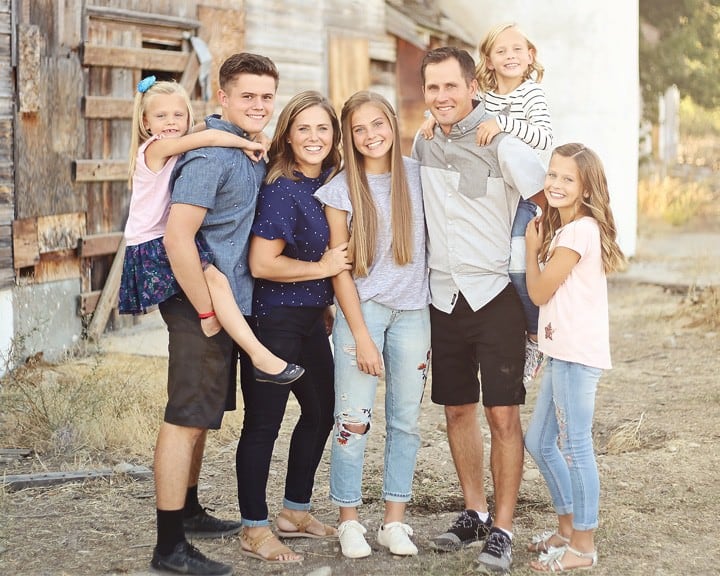 Hi! I'm Jill.
Hello and welcome - I'm so glad you're here! My name is Jill and I am the creator behind The Carefree Kitchen. I live in Boise, Idaho with my husband and our 5 kids. That alone keeps me in the kitchen a lot! My husband and children are my toughest critics and most willing taste testers.
I grew up on a large farm and ranch here in Idaho where I was milking cows, bottle feeding sheep, irrigating acres and acres of vegetables, and riding horses from a young age.  We grew a huge 1-acre garden and had many fruit trees and grapevines.  We canned quart after quart of salsa and peaches in the fall and butchered a beef steer in the spring.  We even made our own bread every week that we ate with hand-churned butter.  Basically, I was raised on Idaho potatoes, fresh milk, and grass-fed beef.  It was amazing! 
From a very young age, I have grown an appreciation for what it takes to raise healthy meat, grow fresh vegetables and gather around the dinner table with the people that you love to eat all of your family favorites. Food is what truly brings us all together, and I am so happy to be able to share this passion with all of you.
When I'm not in the kitchen, you can find me in the car getting kids to soccer practice, track meets, and piano lessons.  I love it all and am so grateful every single day.
Turning My Passion For Food into a Business
My passion for the business side of the food world actually started when I was about 9 years old.  Each week I would sit on the counter next to the big mixer, watching my Mom and Grandma bake.  Before I was even 10 years old, I had perfected my No-Bake Cookies, Homemade Pizza Dough, and Chocolate Chip Cookies. 
It was clear to them just how much I loved everything about the kitchen, so one day when my Mom was especially busy, she told me she needed me to make bread for the family. She wrote the recipe down for me and set me loose. Was I intimidated? Hardly - I had seen my Mom do it one hundred times! To me, it was a dream come true.
She came home several hours later to freshly baked loaves of wheat bread and a very happy daughter. I'm sure the bread wasn't super pretty, and who knows what the state of the kitchen was, but I will never forget how proud my Mom was and how satisfying it felt to do it all by myself.
After seeing how much I loved it, she suggested that I make a few extra loaves and try to sell them. Without hesitations, I began making bread and cinnamon rolls every Tuesday and had regular weekly and bi-monthly customers in no time.
How The Carefree Kitchen Came to Be
Several years ago, I helped 2 of my daughters start a YouTube channel.  They made entertainment videos for kids full of crafting, pranks, and everything else that teenage girls love.  My girls thoroughly enjoyed it for a time but eventually wanted to take a break.  I, on the other hand, was hooked! I loved everything about it:  filming, editing, analytics and so much more.  
I felt like I was just getting the hang of it, so I started brainstorming about how I could integrate all of this experience into something new.  It clicked one day while daydreaming in the kitchen, so I started a Youtube channel, a few social media accounts, and a simple website that has grown to become The Carefree Kitchen.  
I love everything about it, from creating a new recipe, testing, testing, testing, to shooting a how-to video and getting to share my passion with all of you. I truly believe I was made for this!
A Quick Lesson in Making Mistakes
There was one day that I had an especially long prep list, between large orders for neighbors and bread for the family. I was incredibly tired and in my haste, I forgot to add salt. Just as I pulled the bread out of the oven I realized my mistake. It was barely edible. While I began to cry from disappointment, my Mom, bless her heart, put her apron on and we whipped up another batch of bread that was ready in no time.
I feel like I have made every imaginable mistake in cooking and baking.  But, learning the hard way is sometimes the best way to learn.  We learn the limits on baking and sometimes we even end up with happy accidents.  By failing in cooking, I have learned innumerable ways to be creative in the kitchen.  Never be ashamed of a mistake. It's always a learning experience, and it can even be the beginning of something truly amazing!
I am truly grateful you are here. It's an honor to share my love of food and my favorite recipes with you and those you love.
Let's Connect
A great way to connect is by commenting on any of the recipes that you try. Or, contact me any time by sending me a message with any questions, concerns or comments, or emailing me at hello@thecarefreekitchen. I love to hear from all of you! You can also find me on Pinterest, Facebook, Instagram and YouTube.
Thanks so much for stopping by, and please come again!
Contact Jill
I love hearing from readers! If you'd like to get in touch with me, contact me by email at hello@thecarefreekitchen.com.
Due to my insane backlog of emails, I may not respond right away (although I do try to get to each email eventually!), so if you have a specific recipe question, leave it on the comment thread of that particular post — I usually get to those comments sooner.
For email updates (when a new post goes live OR for the weekly newsletter that often has free menu plans and exclusive recipes), sign up here.
Work With Me
The Carefree Kitchen is a recipe development company specializing in food recipes and video content. Please email us at hello@thecarefreekitchen.com if you'd like the most recent media kit and rate card.