This sweet Teriyaki Glazed Salmon recipe is ah-maaazing! It's going to become your new favorite salmon dinner recipe! This is a cedar plank salmon grill recipe which means the fishy smell stays outside and most of the mess too!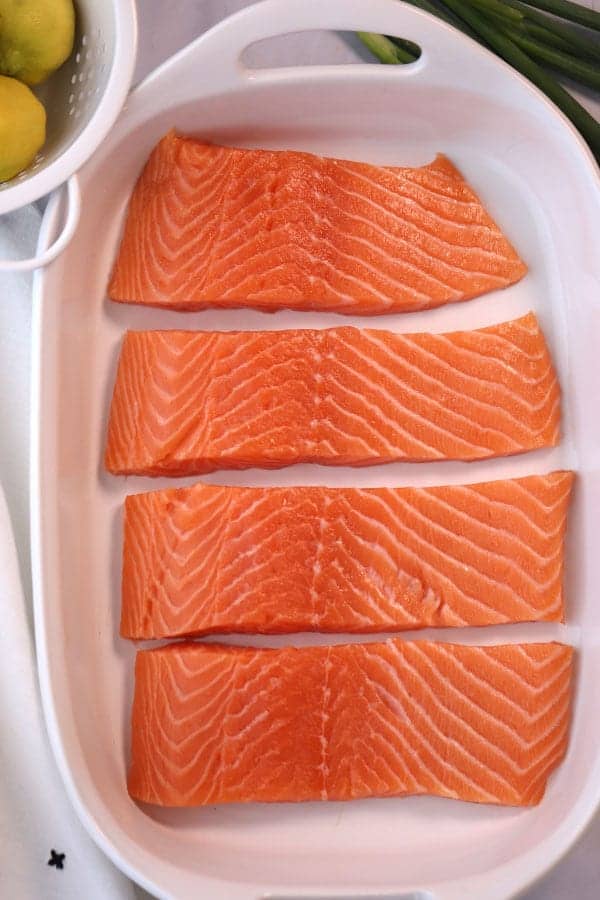 Do I need to use fresh Salmon?
I bought my salmon from Costco and since I'm in a landlocked state, that's about as close as I can come to fresh. You can also use the flash frozen individual salmon steaks. They work great too!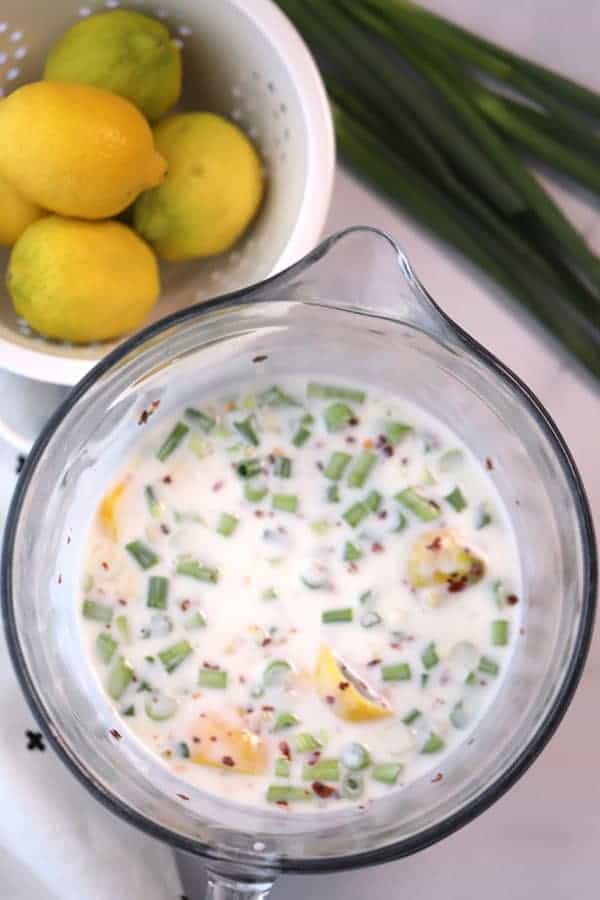 What is the best marinade for Salmon?
This Ginger Buttermilk Marinade is going to knock your socks off. The buttermilk tenderizes the salmon, the ginger gives it a robust flavor and the red pepper flakes give it just a little heat.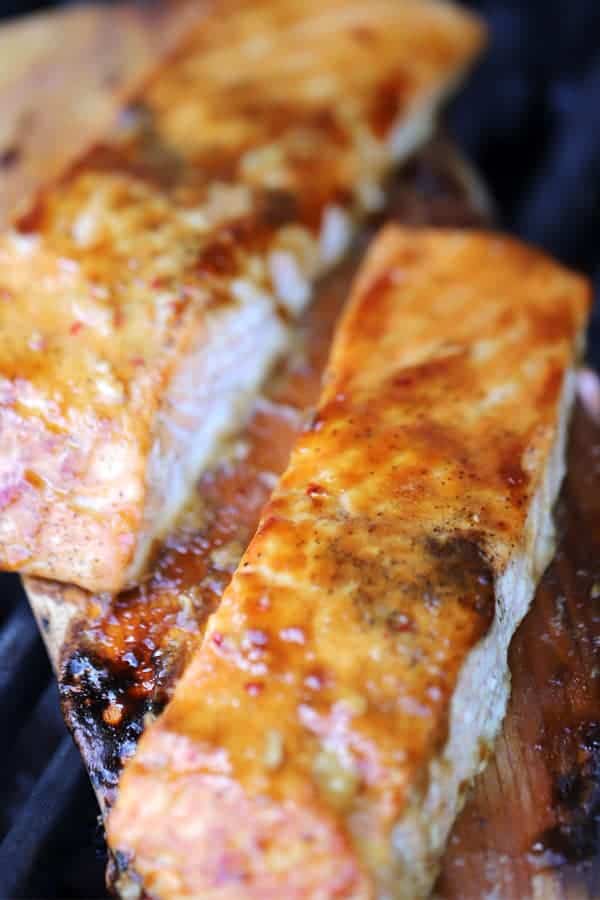 How to cook salmon on a cedar plank?
The answer is definitely no! If you've never tried it, now is your chance. Here's an Amazon link for planks to use on a cedar plank salmon recipe. These are inexpensive and work great! The key to using planks is to be sure to soak them long enough. You want the planks to soak up water so they don't start on fire.
When you're ready to cook the salmon. Place the soaked cedar planks on the grill on med-high heat. Close the lid and let the plank warm up, about 3-4 minutes. You should be able to smell the cedar plank when it is warm enough to cook your salmon. Place the salmon on the plank and it only takes about 12 minutes to cook the salmon.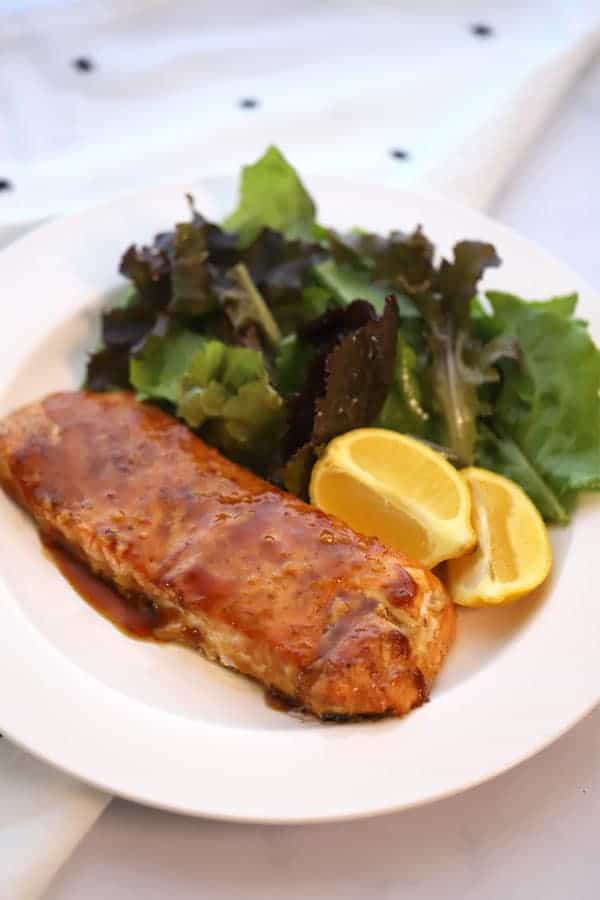 Tips for Making Teriyaki Glazed Salmon on Cedar Planks:
Use fresh or flash frozen Salmon. Of course fresh is best but the flash frozen is great too!

You can keep your fresh salmon in the ginger buttermilk marinade for up to 24 hours. Try to get at least 2 hours in the marinade!

You can use ginger powder in a pinch but of course the fresh is best here too. You can crush or peel and slice the ginger.

Be sure to salt and pepper your salmon before you put the teriyaki sauce on and the brown sugar mixture. The marinade doesn't have any salt in it.

You can use your favorite brand of teriyaki sauce or you can make your own. I used a PF Changs Teriyaki sauce. The Soy Vey brand is yummy too.

Be sure to salt, pepper and season both sides of the salmon. That's what makes this teriyaki glazed salmon so delicious! There is so much flavor!!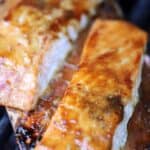 Teriyaki Glaze Salmon
Teriyaki glazed salmon with the most amazing salmon marinade, grilled on Cedar Planks.
Ingredients
3

lb

Salmon (1/3 lb salmon per person)

3

large

Cedar planks (you will want enough planks to cook all your fish at once)
Ginger Buttermilk Marinade:
2

Cups

Buttermilk

1/2

Cup

Ginger, fresh is best, sliced or crushed

3

large

Garlic cloves, minced

1/2

Cup

Green Onions, thinly sliced

1

Large

Lemon, sliced

1

Tablespoon

Red Pepper Flakes
For the Teriyaki Glaze:
1

tsp

Salt and Pepper to taste

1

tsp.

Ginger powder

1/2

Cup

Brown Sugar

1

Tablespoon

Sesame Seeds, optional for garnish

1

Tablespoon

Green onions, optional for garnish
Instructions
Submerge the plank in water, placing a weight on top of it. Soak for 1 to 4 hours.

Prepare the buttermilk marinade. Add the buttermilk to a large mixing bowl or directly into a ziplock bag. Add the sliced or crushed ginger, the minced garlic, green onions, sliced lemon and the red pepper flakes.

Cut the fillet into individual salmon steaks. This allows for quicker, more even cooking, as well as the seasonings and marinade to cover more surface area. Add salmon to marinade in a ziplock bag (for easy clean up) for a couple of hours or up to overnight.

Preheat grill on high for 10 minutes. Preheat plank for another 3-4 minutes. Lower the temperature to Medium and cover. While your grill is heating, remove salmon from marinade and pat dry with paper towels. Season the salmon with S&P. Slather in your favorite teriyaki sauce. Add the ground ginger to the brown sugar and then apply an ample coating of brown sugar to the top.

Place seasoned salmon on preheated plank and allow to cook for 12-15 minutes, depending on the size and thickness of your steaks. Feel free to baste with additional teriyaki sauce. It should reach an internal temperature of 145 degrees, and should flake easily when a fork is inserted into the center of the thickest part.

Top with sesame seeds and thinly sliced green scallions, alongside some steamed broccoli and white rice or just a fresh salad. Enjoy!
Nutrition Facts
Teriyaki Glaze Salmon
Amount Per Serving
Calories 466
Calories from Fat 162
% Daily Value*
Total Fat 18g 28%
Cholesterol 133mg 44%
Sodium 601mg 25%
Potassium 1342mg 38%
Total Carbohydrates 25g 8%
Protein 48g 96%
* Percent Daily Values are based on a 2000 calorie diet.
Are you looking for a little something to help satisfy your sweet tooth? Try my Lemon Sugar cookie Bars if you're craving a little something tart and sweet.
If you're wanting something more along the lines of no bake and peanut butter, check out these babies….Peanut Butter Cornflake Cookies, they're ready in a jiffy!
The Carefree Kitchen Socials:
I'd love to connect with you on social media. Come find me!
Facebook: https://www.facebook.com/thecarefreekitchen/
Instagram : https://www.instagram.com/the_carefree_kitchen/
Pinterest: https://www.pinterest.com/thecarefreekitchen/pins/
Save this for later!!