These Asian Beef Kabobs are a delight at any backyard grilled feast! They have the classic complex Asian flavors and you can add just about any variety of vegetable or cut of beef steak!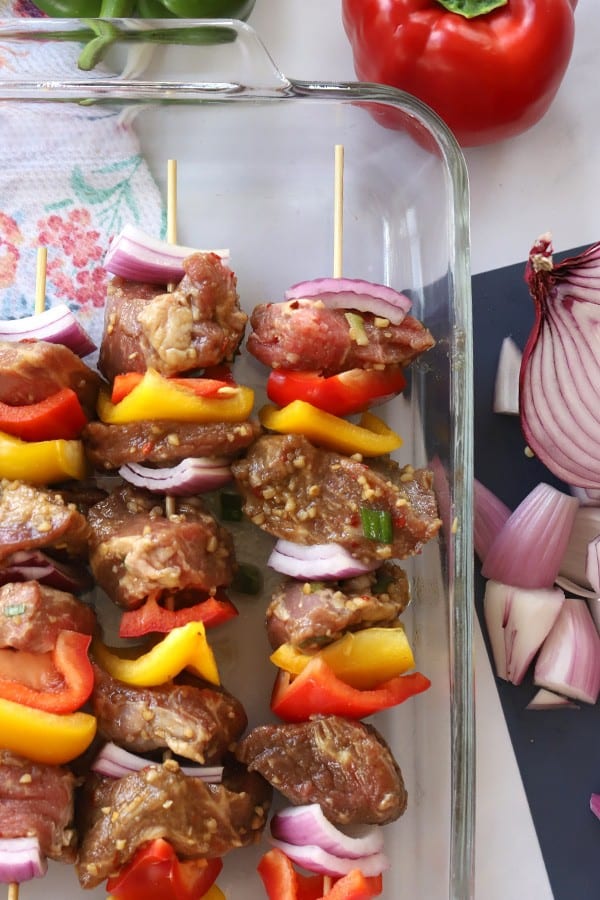 How to make Asian Beef Shish Kabobs:
This beef shish kabob marinade has many of the classic Asian flavors, soy sauce, garlic, green onion, sesame oil, and a little sweetener.
You can make these beef kabobs with just about any cut of steak.  I used tri-tip in my beef kabobs but you could definitely use sirloin steak, a ribeye, or chuck steak.  Tri-tip beef steak and sirloin beef steak are probably the best for this marinade.
You can also use just about any variety of vegetable.  The steak only takes about 10 minutes to grill so you want something that can cook in about that amount of time.  Potatoes are a natural combination with beef steak or steak bites but if you decide to use them, be sure to use potatoes that are already almost thoroughly cooked. My favorite veggies for shish kabobs are onions and peppers.  I think I could eat onions and peppers every day!
Be sure to soak your wooden shish kabob sticks before you use them.  I've found it works great to put an inch of water in a 9 by 13 baking dish and drop my kabob sticks in there. They need to soak in the water for a couple of hours.
There really aren't any rules when it comes to making a great kabob.  Have some fun! Use everything you love.  They're all so pretty and fun to eat!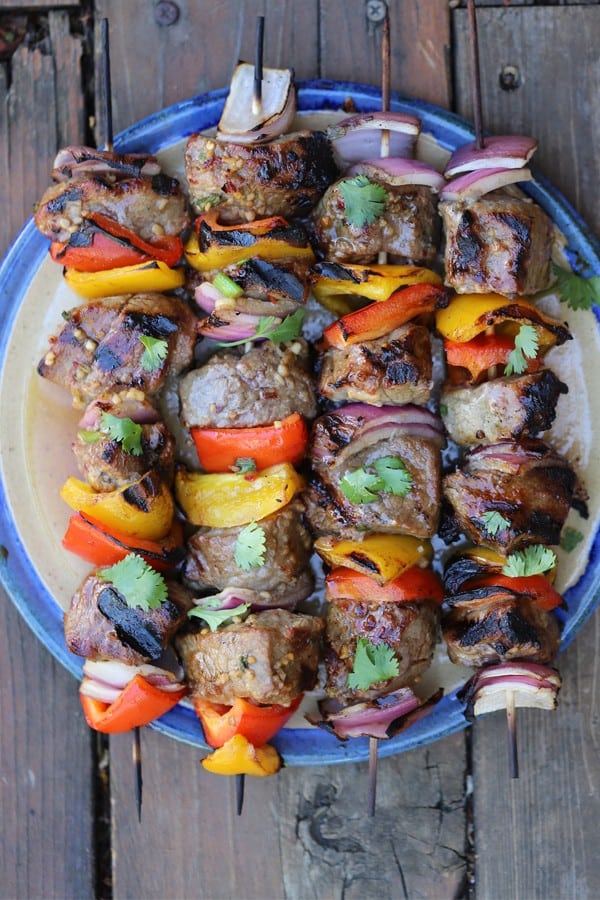 If you're looking for another great grilling recipe, try these…
The cornflake Nutella cookies are a no-bake variety and perfect for a night by the grill or relaxing on a summer evening.
Tips for making a great beef shish kabob and marinade:
soak your wooden kabob sticks for at least a couple hours.
marinate your meat but not your veggies with it
cut your meat up before you marinate it.  It gives the meat more flavor.
Use just about any kind of veggie.  It works great to brush them with butter and a little garlic salt to give them a ton of flavor too.
be sure to salt and pepper your kabobs.  There isn't much salt in the marinade.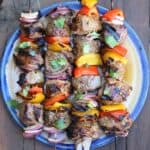 Asian Beef Shish Kabobs
These Asian Beef Kabobs are a delight at any backyard grilled feast! They have the classic complex Asian flavors and you can add just about any variety of vegetable or cut of beef steak!
Ingredients
Asian Beef Kabob Marinade
3

Tablespoons

Avocado Oil

1/8

Cup

Soy Sauce

1

Tablespoon

Sesame Oil

4

tsp

Garlic cloves (minced)

2

tsp

Ginger Powder

2

Tablespoons

Brown Sugar

4

Green Onions (sliced thin)

1/2

tsp

Red Pepper Flakes
Kabob Ingredients
2

large

Red Peppers

2

Cups

Pineapple

1

large

Red onion

2

lbs

Steak or enough for 4-6 oz per person

salt and pepper to taste

melted butter to brush on veggies

Garlic salt to sprinkle on veggies
Instructions
For the Asian Beef Marinade: In a gallon ziplock bag, combine the avocado oil, soy sauce, sesame oil, minced garlic, brown sugar, sliced green onions and the red pepper flakes.

If you're using wooden shish kabob sticks, soak them in water for 2 hours before assembling the beef shish kabobs.

Cut the steak into 1 1/4" pieces. Be sure all the meat is about the same size so it cooks evenly. Cut the veggies into 1 1/4" pieces as well.

Add the meat the kabob sticks, alternating with the veggies. (Use an onion on the ends of the kabobs. They hold everything on there the best)

Grill for 3 min on each side, searing the meat and cooking to the desired doneness.
Nutrition Facts
Asian Beef Shish Kabobs
Amount Per Serving
Calories 701
Calories from Fat 414
% Daily Value*
Total Fat 46g 71%
Cholesterol 138mg 46%
Sodium 535mg 22%
Potassium 942mg 27%
Total Carbohydrates 24g 8%
Protein 48g 96%
* Percent Daily Values are based on a 2000 calorie diet.
I'd love to connect with you on social media.  Come find me!
Facebook: https://www.facebook.com/thecarefreekitchen/
Instagram : https://www.instagram.com/the_carefree_kitchen/
Pinterest: https://www.pinterest.com/thecarefreekitchen/pins/
Pin it for Later!!