This Roast Beef in a Crock Pot is a melt in your mouth, delicious pot roast made in the slow cooker.  It's so easy and turns out tender and juicy every time!

This delicious Roast Beef Slow Cooker recipe is tried and true, it turns out amazing every time!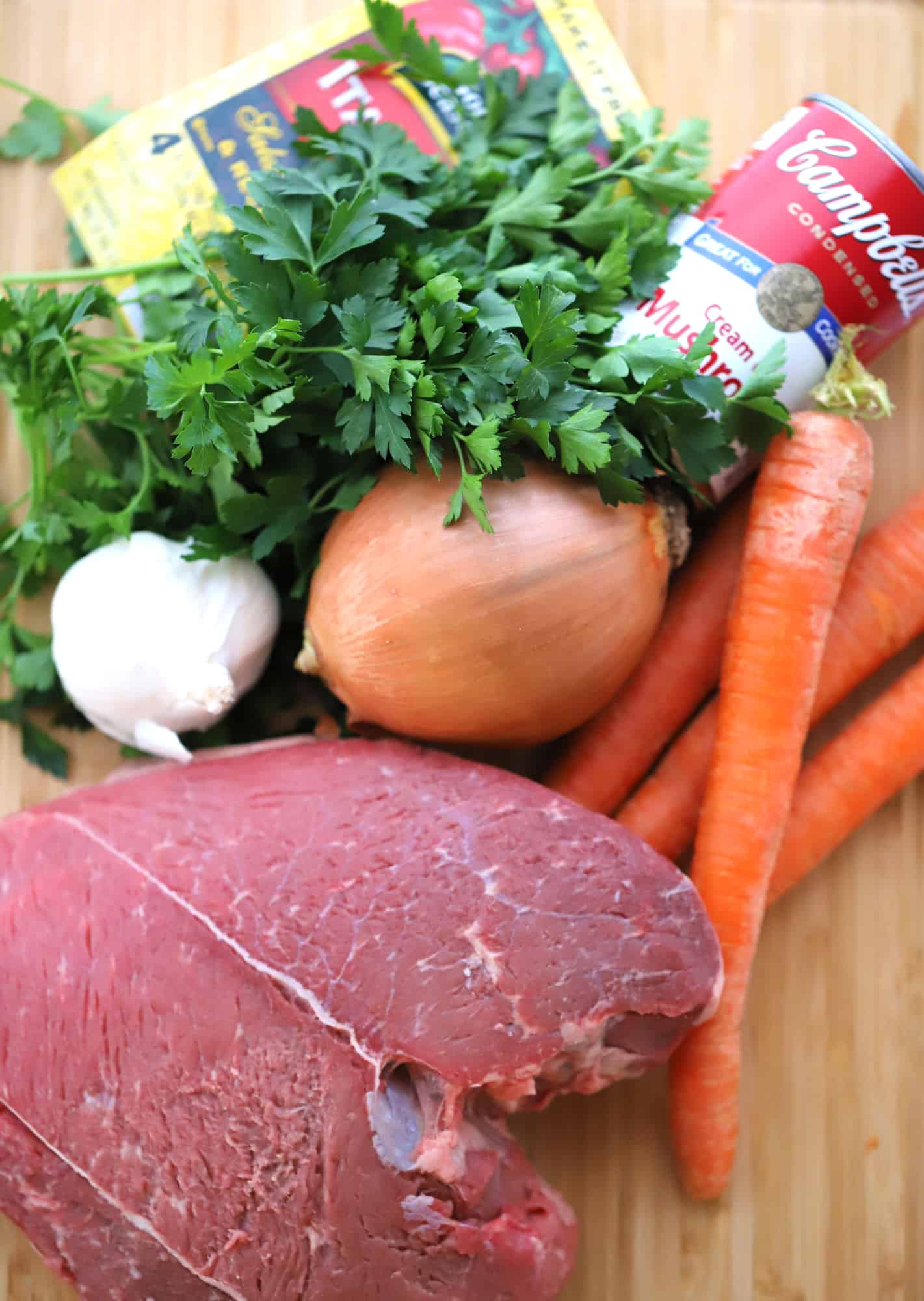 Where's the Beef
Growing up my family raised cattle and butchered one every year for our family to eat.  We always had a freezer full of Roast! I didn't realize how lucky I was!!  It was a staple at our house.  We had roast beef, potatoes, gravy, and corn, 9 times out of 10 for Sunday dinner.  We would walk in the door from church and BAM! that incredibly lovely smell of Roast cooking in the crockpot! So delicious!
There are a lot of options when it comes to which beef roast to use when making this crockpot recipe.  You can use just about any type of beef roast.  If you choose to use Sirloin Roast there is a vein of gristle that runs through the center.  Just be aware of it when you are shredding the meat after it slow cooks. Just pull the meat away from the vein and discard any gristly parts of the roast.  This cut of meat is has a big beefy flavor and is worth the extra little bit of work.
Rump roast is another great cut of meat for this recipe. It is usually a less expensive cut of meat but shreds easily after cooking in the crockpot all day.
When cooking a roast in a crock pot using these large pieces of meat, just be sure to give yourself enough time to cook it.  A lot of times I'll start a crockpot early in the morning and let it cook all day long.  I can always keep the crock pot warm for an hour or so if it gets finished early.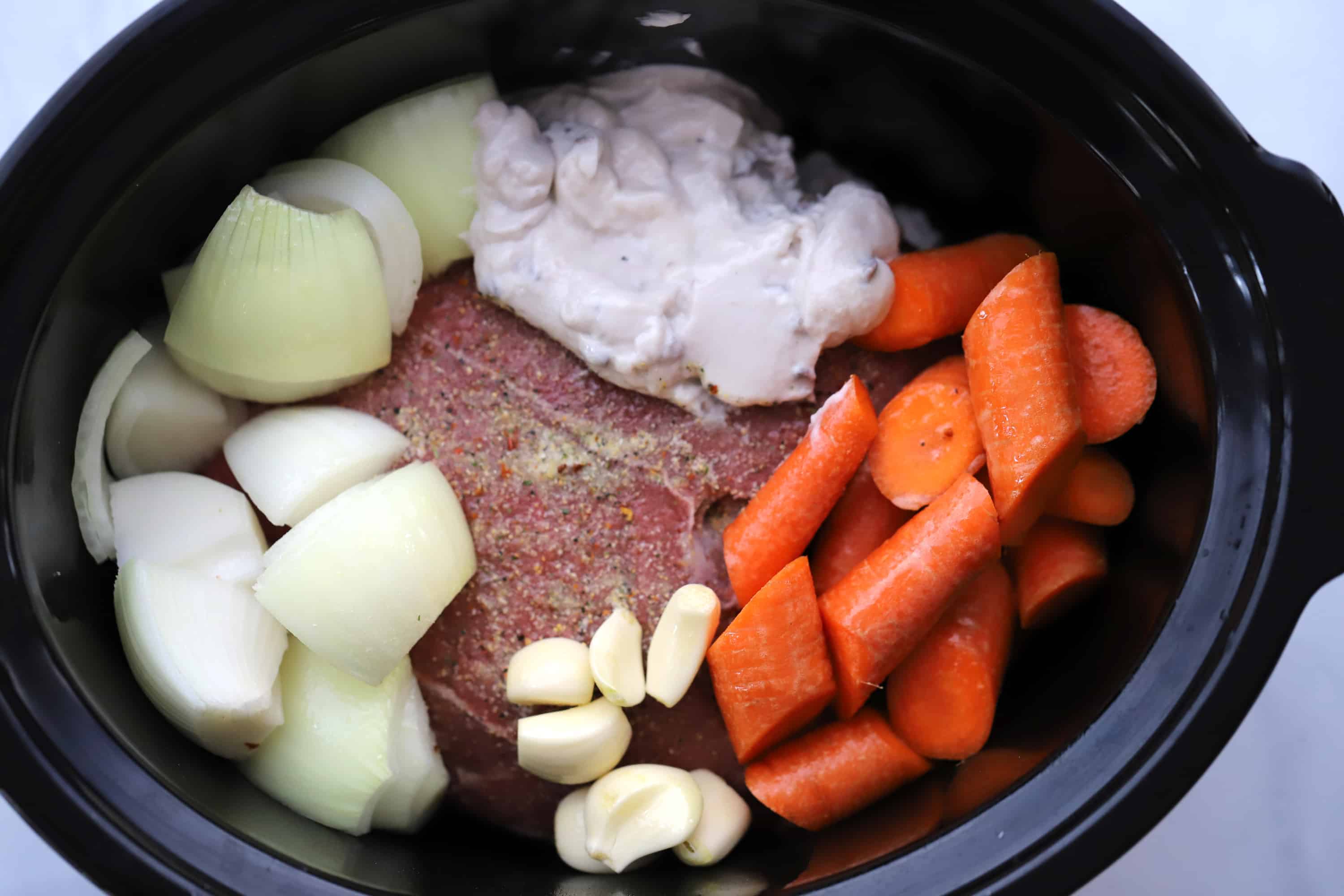 Perfect Side: Mashed Potatoes
My family loves these Mashed Potatoes they are the perfect potatoes to enjoy with your tender Roast Beef.  I usually drain the drippings off the Roast Beef and make a gravy.  These drippings are already so flavorful.  I usually just add a little salt and pepper and some cornstarch with water to thicken it up a bit.
Here's a crockpot mashed potatoes guide and recipe too.  Find the recipe here.
Another great side with this slow cooker pot roast is this Pull-Apart Garlic Bread. So good!
Tips for amazing Crockpot Roast:
You can use any kind of roast for this recipe

You can cook this in the garage or on the patio if you don't care for the smell of beef cooking for 6-8 hours

Leftovers are great with sauteed peppers and onion in a tortilla–easy Philly flavors!

You can add different vegetables based on your family's preferences.  Potatoes are wonderful in this too.  You may just need to add a little cooking time.

You can also use a frozen roast.  I like to buy several Sirloin Roasts or Rump Roasts when they're on sale at the supermarket and freeze them.  This is an easy way to cook roast without having to remember to thaw it.
Crock Pot Roast Beef-Sirloin or Rump Roast
This incredibly flavorful roast beef is a no fail recipe! Just drop the ingredients into a crock pot and soon you can enjoy this juicy and tender roast!
Ingredients
4-5

lb

Roast--Sirloin or Rump are Great options

1

large

Onion

4

medium

Carrots cut into 2" chuncks

1

pkg

Italian Seasoning

1

can

Cream of Mushroom Soup

6-7

Cloves

Garlic
Instructions
Place roast, one large onion, a few carrots, a package of italian seasoning, 1 can of cream of mushroom soup and garlic into your crockpot.

Cook on low for 6-8 hours or until the meat can easily be shred with a couple forks.

Drain drippings off the meat and shred the beef. Keep warm till ready to serve

Make gravy with the drippings or simply drizzle onto the cooked beef to keep it juicy. Enjoy!
Nutrition Facts
Crock Pot Roast Beef-Sirloin or Rump Roast
Amount Per Serving
Calories 362
Calories from Fat 189
% Daily Value*
Total Fat 21g 32%
Cholesterol 126mg 42%
Sodium 265mg 11%
Potassium 901mg 26%
Total Carbohydrates 6g 2%
Protein 35g 70%
* Percent Daily Values are based on a 2000 calorie diet.