This Roast Beef in a Crock Pot is a melt in your mouth, delicious pot roast recipe, made in the slow cooker. It's so easy and turns out tender and juicy every time!

This delicious Roast Beef Slow Cooker recipe is tried and true, it turns out amazing every time! This is the best roast beef ever!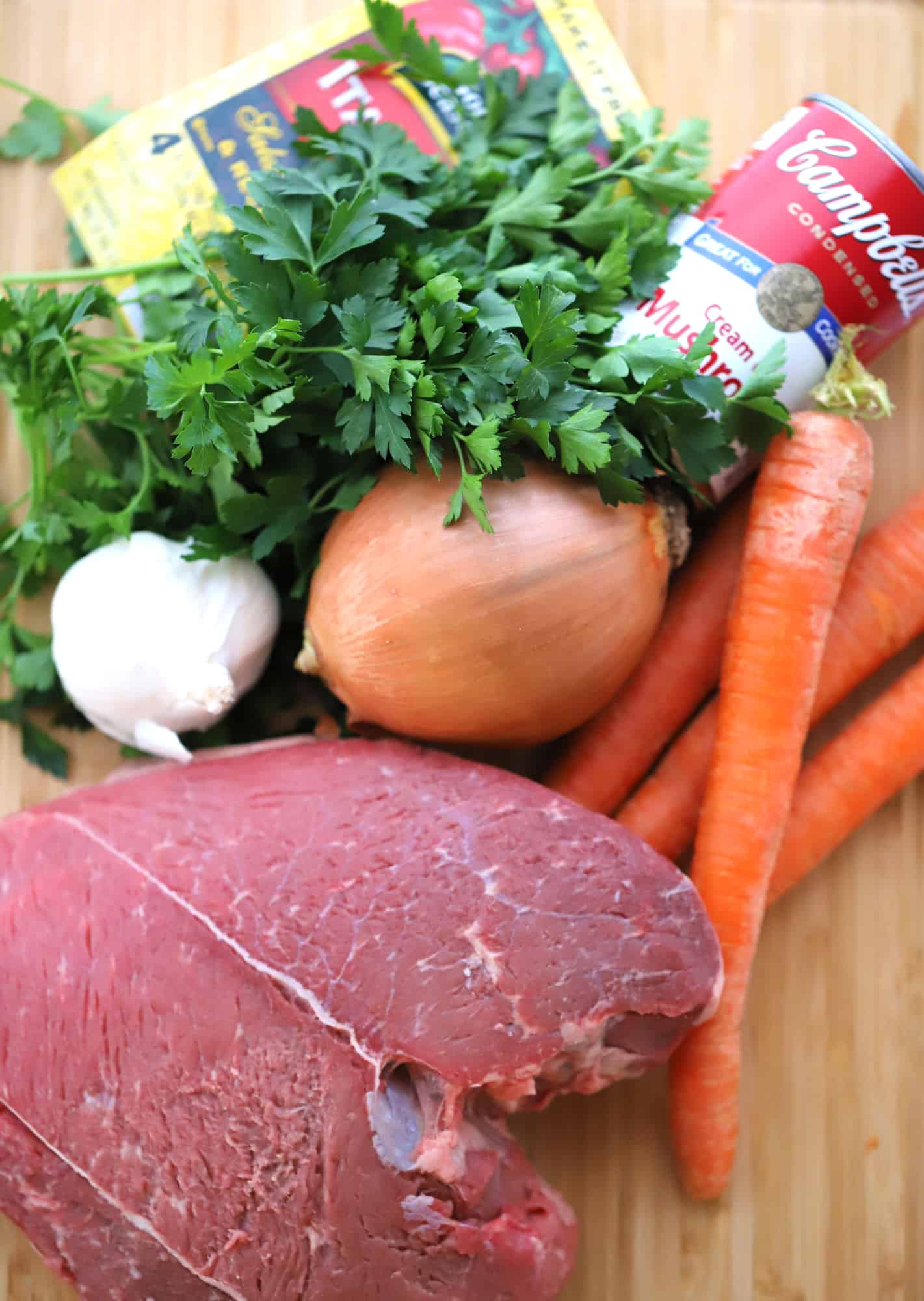 Where's the Beef
Growing up my family raised cattle and butchered one every year for our family to eat. We always had a freezer full of Roast! I didn't realize how lucky I was!!
It was a staple at our house. We had roast beef, potatoes, gravy, and corn, 9 times out of 10 for Sunday dinner. We would walk in the door from church and BAM! that incredibly lovely smell of Roast cooking in the crockpot! So delicious!
There are a lot of options when it comes to which beef roast to use when making this crockpot recipe. This is the best slow cooker roast beef.
You can use just about any type of beef roast. If you choose to use Sirloin Roast there is a vein of gristle that runs through the center. Just be aware of it when you are shredding the meat after it, slow cooks. Just pull the meat away from the vein and discard any gristly parts of the roast. This cut of meat is has a big beefy flavor and is worth the extra little bit of work.
Rump roast is another great cut of meat for this recipe. It is usually a less expensive cut of meat but shreds easily after cooking in the crockpot all day.
When cooking a roast in a crock pot using these large pieces of meat, just be sure to give yourself enough time to cook it. A lot of times I'll start a crockpot early in the morning and let it cook all day long.
I can always keep the crock pot warm for an hour or so if it gets finished early.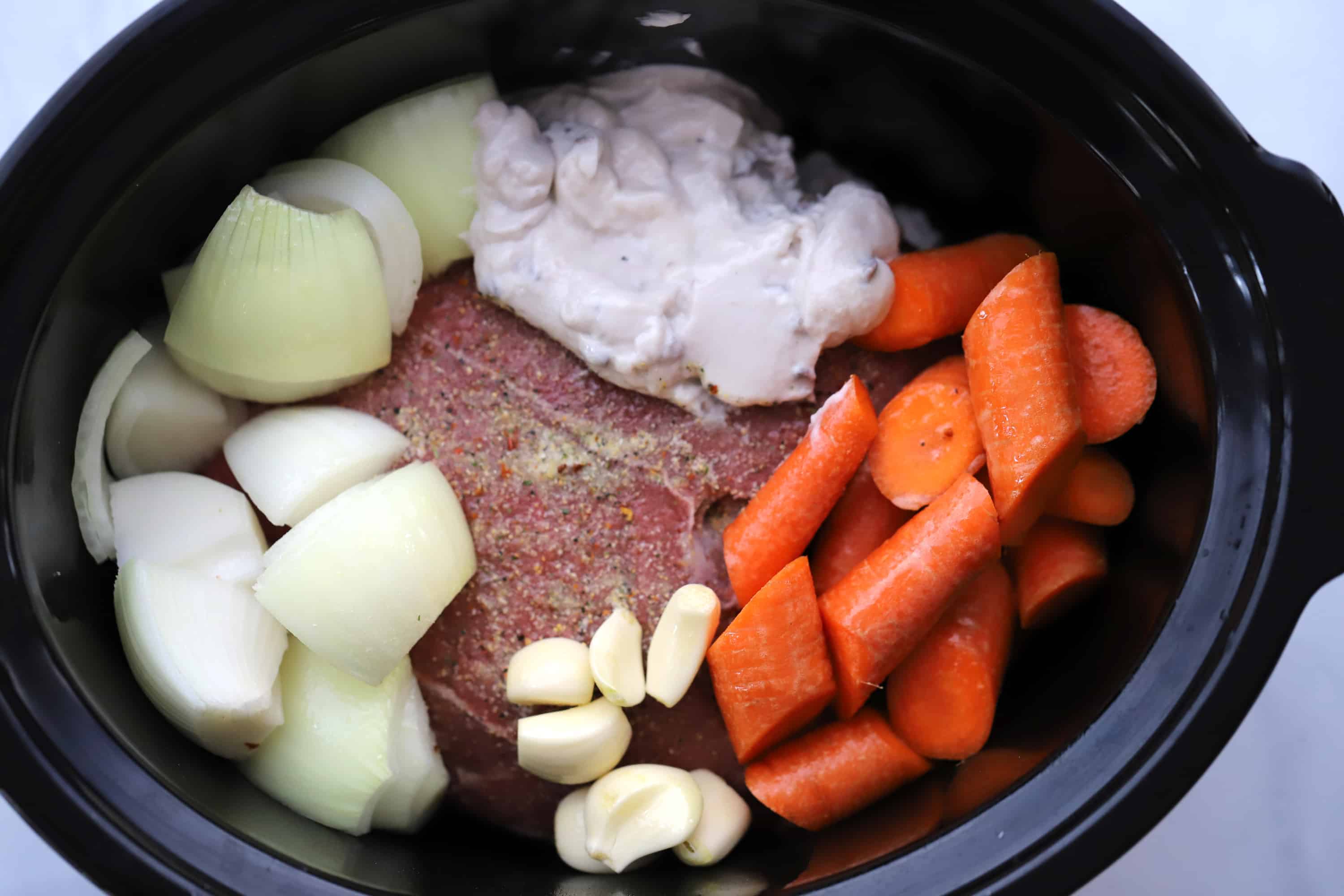 What to serve with Roast Beef:
We love these STEAK HOUSE STYE BAKED POTAOTES
Here's a crockpot mashed potatoes guide and recipe too.
Also, Pull-Apart Garlic Bread.

Slow Cooker Scalloped Potatoes are amazing!
Best Cut of Beef for Pot Roast:
Just about any cut of beef will do for pot roast. Some have a large vein of fat throughout the roast. I would look for an evenly marbled roast. Beef Sirloin Roasts, Beef Rump Roast, Beef Round Roast all work great! If there is a vein in your roast, just discard any gristly parts of the beef when you are shredding it.
How much Roast Beef per person:
When planning a dinner for a crowd, here's a little rule of thumb I use. If the beef is the main dish you will need to plan on 1/3 lb of raw meat per person. If it is a crowd of big eaters, you may want to plan on 1/2 lb per person. If it's a mixture of children and adults, 1/3 lb per person will be about right. This allows for some shrinkage due to the fat content in the meat. (that being said, you will want to err on getting extra beef if there is a big strip of fat on your raw roast beef. )
How to Roast Beef in the Oven- Dutch Oven Roast Beef Recipe:
Using this same recipe, add the ingredients to a large oven-safe Dutch oven. Place the lid on the dutch oven and bake for 3-4 hours. You will know when the meat is done when you can easily pull the meat apart with two forks. Each roast is a little different so it's hard to be exact. If your roast needs to be cut with a knife, it's not done yet. This recipe, when cooked long enough will make shredded roast beef, perfect to smother in gravy!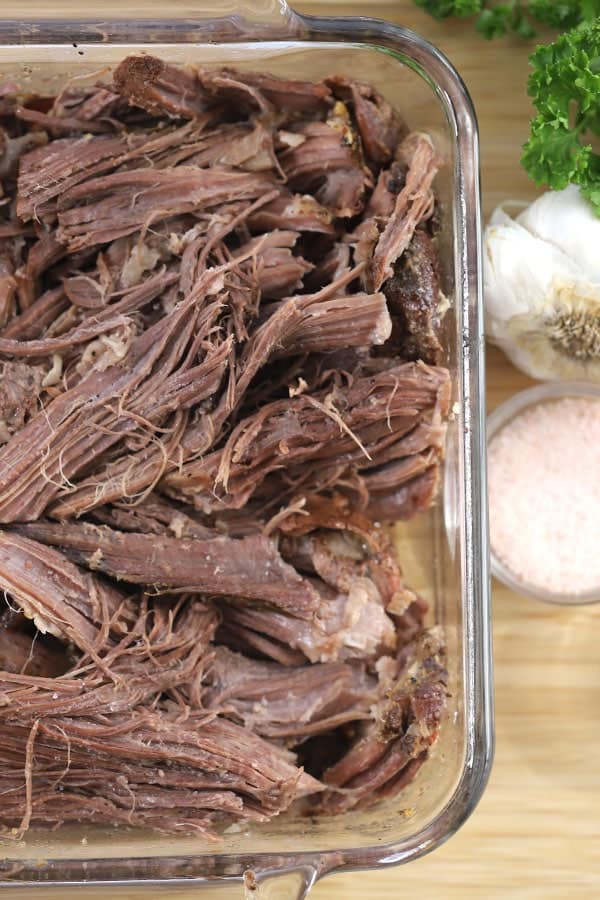 How long does roast beef take to cook?
If you're wondering how long do I cook roast beef, Here ya go..for a 4-5 lb roast to bake in the oven it will take 3-4 hours in a dutch oven with a lid. You will know when the meat is done when you can easily pull the meat apart with two forks.
What is the best way to cook roast beef?
The slow cooker is my favorite way but the dutch oven method works great too!
What to do with leftover roast beef:
Leftover shredded roast beef are great with sauteed peppers and onion in a tortilla–easy Philly flavors!

This roast beef works great in a shepherds pie recipe. Just swap the shredded beef for the ground beef.

Add some of your favorite BBQ sauce to your left over roast beef and slide it on a toasted bun, easy barbeque sandwich
How to reheat roast beef
RE-HEATING IN THE MICROWAVE: You can place the roast beef in the microwave for about 2 minutes, take it out, stir and heat until it heated throughout all the meat.
WARMING IN THE OVEN: Place the roast beef in an oven safe dish, something like a small casserole dish will work. Add a few tablespoons of water or gravy on top of the roast beef, cover with aluminum foil and place in a preheated 350-degree oven for about 20 minutes.
RE-HEAT ON THE STOVE: In a small pan, add a little butter or a few tablespoons of water. Turn heat on medium heat, stirring occasionally, and heat until all the homemade roast beef is heated. (This is a great way to re-heat and add BBQ sauce for a great shredded beef sandwich)
Tips for amazing Crockpot Roast:
You can use any kind of beef roast for this recipe

You can cook this in the garage or on the patio if you don't care for the smell of beef cooking for 6-8 hours

You can add different vegetables based on your family's preferences. Potatoes are wonderful in this too. You may just need to add a little cooking time.

You can also use a frozen roast. I like to buy several Sirloin Roasts or Rump Roasts when they're on sale at the supermarket and freeze them. This is an easy way to cook roast without having to remember to thaw it.
If you're wondering how to cook roast beef in a crockpot, here ya go…
Crock Pot Roast Beef-Sirloin or Rump Roast
This incredibly flavorful roast beef is a no fail recipe! Just drop the ingredients into a crock pot and soon you can enjoy this juicy and tender roast!
Ingredients
4-5

lb

Roast--Sirloin or Rump are Great options

1

large

Onion

4

medium

Carrots cut into 2" chuncks

1

pkg

Italian Seasoning

1

can

Cream of Mushroom Soup

6-7

Cloves

Garlic
Instructions
Place roast, one large onion, a few carrots, a package of italian seasoning, 1 can of cream of mushroom soup and garlic into your crockpot.

Cook on low for 6-8 hours or until the meat can easily be shred with a couple forks.

Drain drippings off the meat and shred the beef. Keep warm till ready to serve

Make gravy with the drippings or simply drizzle onto the cooked beef to keep it juicy. Enjoy!
Nutrition Facts
Crock Pot Roast Beef-Sirloin or Rump Roast
Amount Per Serving
Calories 362
Calories from Fat 189
% Daily Value*
Total Fat 21g 32%
Cholesterol 126mg 42%
Sodium 265mg 11%
Potassium 901mg 26%
Total Carbohydrates 6g 2%
Protein 35g 70%
* Percent Daily Values are based on a 2000 calorie diet.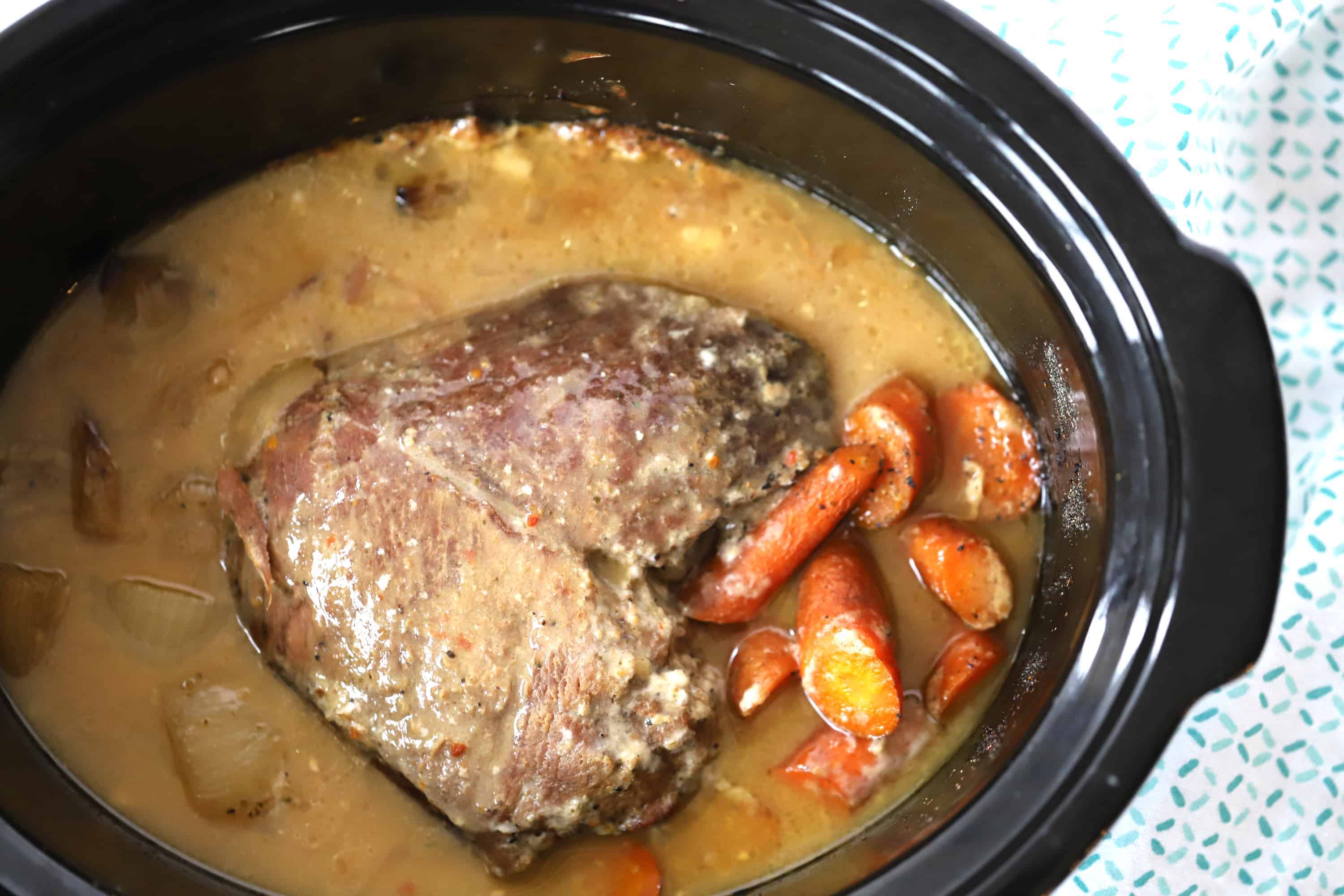 The Carefree Kitchen Socials:
I'd love to connect with you on social media. Come find me!
Facebook: https://www.facebook.com/thecarefreekitchen/
Instagram : https://www.instagram.com/the_carefree_kitchen/
Pinterest: https://www.pinterest.com/thecarefreekitchen/pins/