This recipe will show you how to make grilled pizza from start to finish, complete with a pizza dough recipe and tips to make your grilled pizza delicious every time!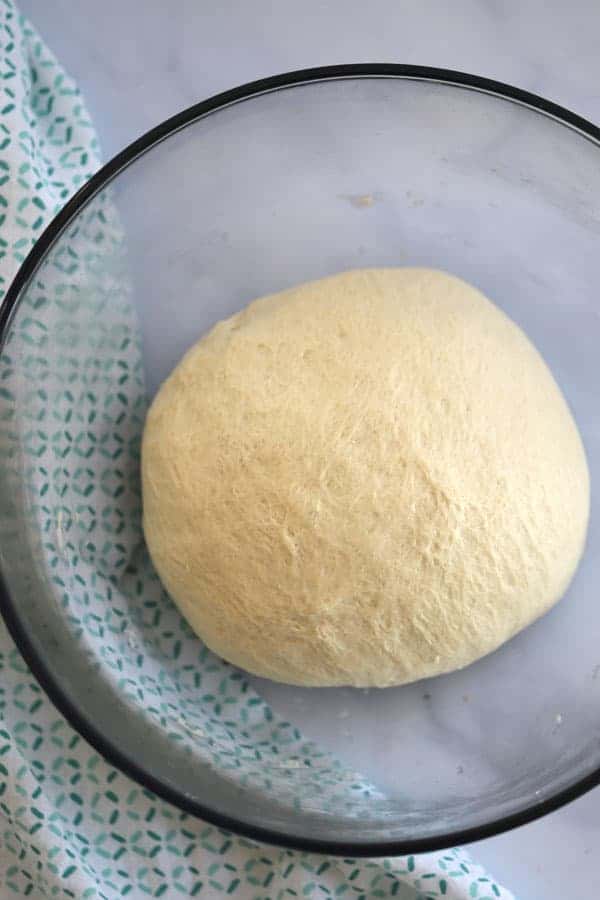 Pizza is in my top 3 favorite foods! I discovered making pizza on the grill a couple years ago and it's such a summer game changer! There's no need to heat up your kitchen to cook a pizza! In fact, It's a good excuse to gather on the patio or deck and make dinner an event instead of just another thing to check off your busy list.
Homemade Pizza Dough Tip:
If you add flour, just until the dough comes off the sides of the bowl, that's just the right amount of flour.  If you're mixing and there's still dough clung to the sides of the bowl, you need more flour.  I always like to add the flour slowly.  (If the recipe calls for 4 cups of flour, I'll add three and mix it for a couple minutes in the bosch and then slowly add the 4th cup until the dough is stuck to the mixing paddle and not the sides of the bowl.)
What is the best dough for Grilled Pizza
This homemade dough has simple ingredients.  There's no secret ingredient here. It's the basic pizza dough recipe that will work for homemade pizza on a pan; thick crust pizza, thin crust pizza, stuffed crust pizza, and grilled pizza too.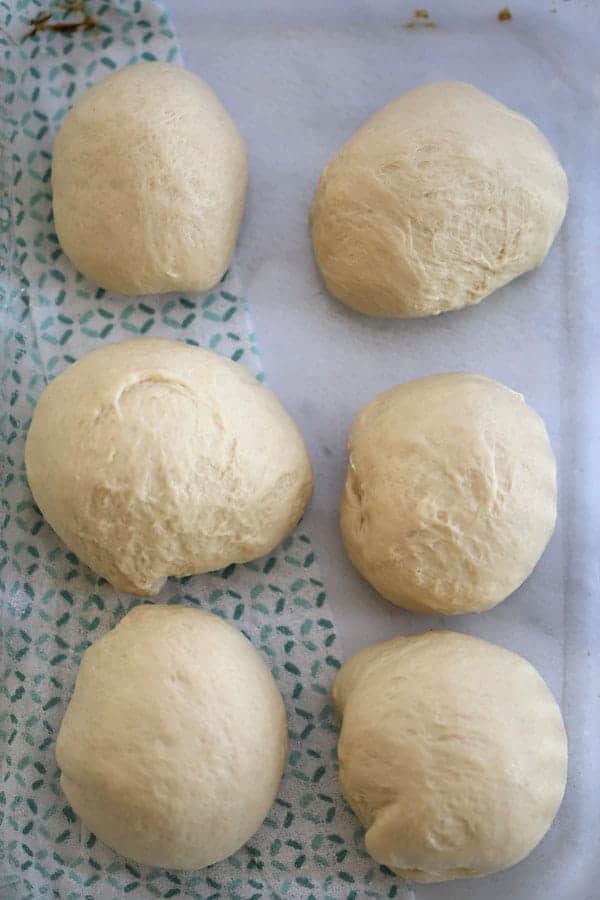 I like to take my dough recipe and split it into 6 relatively equal balls.  These balls can be refrigerated for up to 24 hours.  In fact, that's the way to get the little bit of tang or sharpness taste in the dough.   Give the yeast some time to mature and your pizza dough will have more flavor.
If you don't have time to keep it in the fridge, no worries, go ahead and use it.  There isn't even a timeline for how long it needs to rise.  This recipe turns out great every time.
How to Grill Pizza:
After I have mixed up the dough, I like to spread it out with my hands.  I just start stretching and pulling until it is about a 12″ round.  If your dough is a little sticky, knead a little flour into it.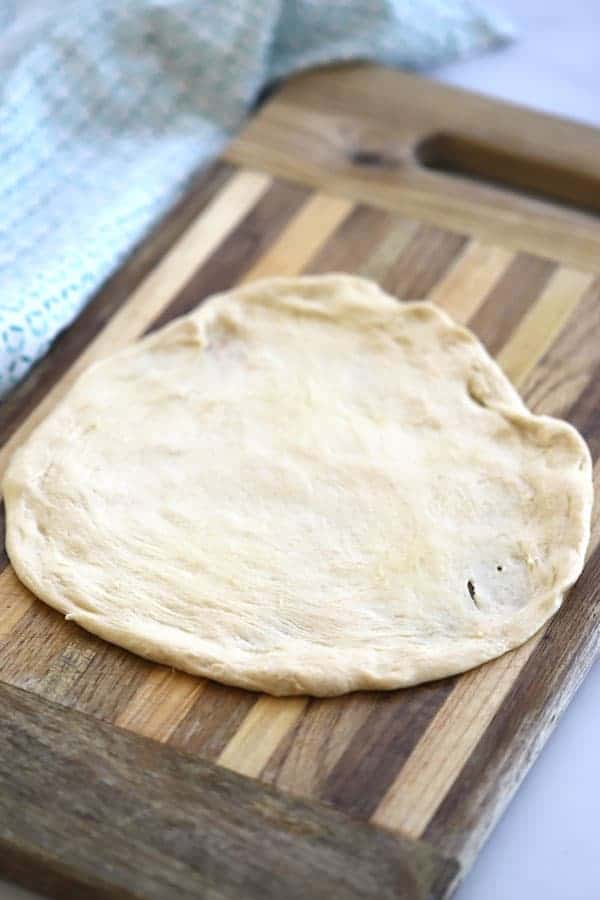 I laid my dough out on a cutting board until the grill was hot and ready to use.  If you grill a couple pizzas at a time, there's plenty of time to stretch out some dough while the other pizzas are cooking.
Preheat your grill to about 350 degrees.  You can go a little higher depending on how thick your crust is.  I like to have mine somewhere in the middle.  I prefer chewy and crunchy crust.
How to cook pizza on the grill
Cooking Pizza on the grill is easy with a few helpful tips! Once you have your dough stretched out, brush it with olive oil.  Stretch the pizza dough out as you lay it on the grill. Put the olive oil side down on the grill and then brush the dough with oil so both sides are lightly coated with olive oil.  This will keep the dough from sticking to your grill grates. Close the grill for a couple minutes.  Keep a close eye on the first couple of pizzas so you can get a feel how hot your BBQ is cooking the pizza.
You are going to want to grill one side of the pizza dough and flip it before you add your ingredients.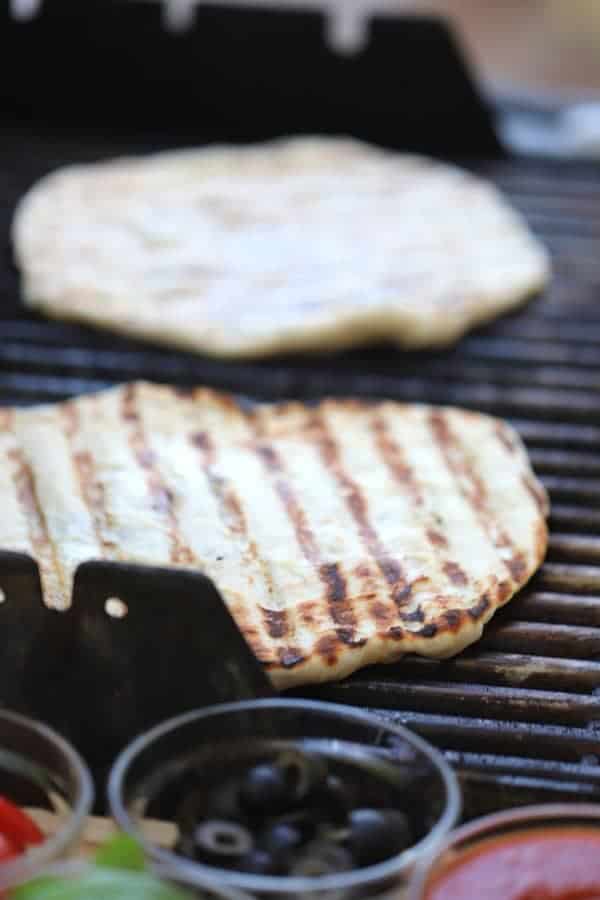 Now you can add your toppings.  I turned the grill down a bit at this point.  I wanted it to melt my cheese.  Speaking of cheese, make sure to go lighter on the cheese so it is sure to melt by the time your crust is done.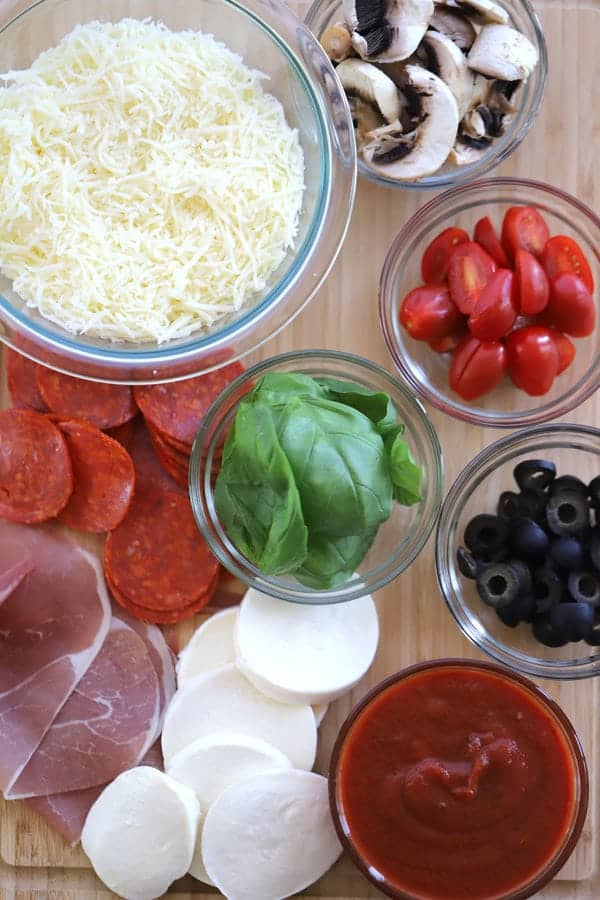 Best toppings for grilled pizza:
Marinara Sauce (Here's a recipe if you're looking for an extra special element to your grilled pizza
Pepperoni
Fresh Basil
Cherry Tomatoes
Olives
Proshuttio
Mozzarella cheese
Ham
Pineapple
Sea Salt
Dried Oregano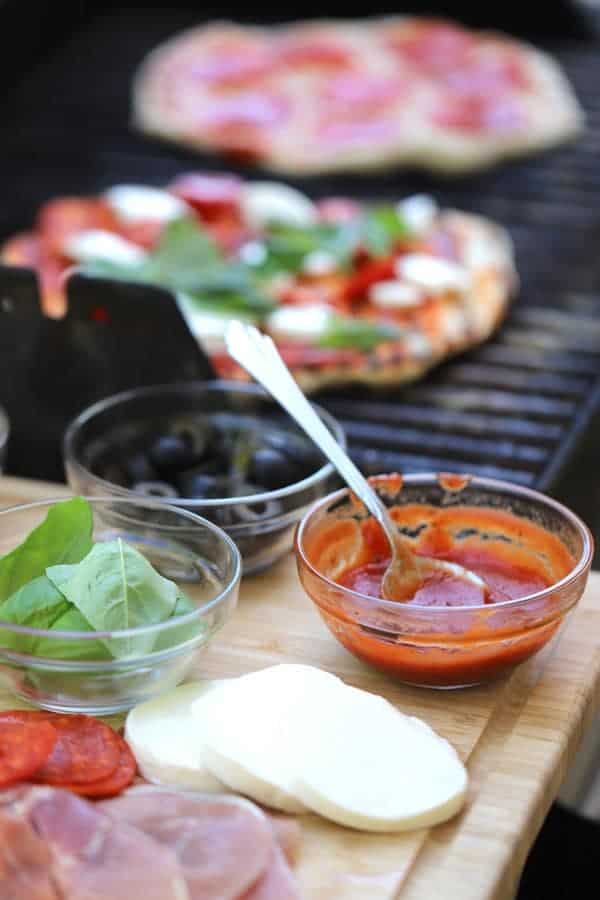 Tips for Cooking Pizza On The Grill
Brush both sides of your pizza dough before grilling
Go light with the cheese, you want to be sure it's melted by the time the crust is done
Add sea salt and dried oregano to your pizza before you grill it! It adds so much flavor!
After you are finished grilling your pizza, cut it up on a cutting board and then slide it onto a cooking rack.  It prevents the crust from getting soggy.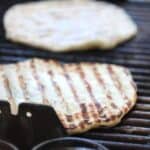 Grilled Pizza Dough
Grilled pizza dough! This is a pizza dough recipe and tips to make your grilled pizza delicious every time!
Ingredients
1 1/4

Cup

Warm Water

2

Tablespoons

Yeast

3

Tablesoons

Sugar

1

Teaspoon

Salt

4

Cups

Flour
Instructions
In a mixing bowl (an electric mixer works great. Mixing by had works too) add the warm water. You want it to be warm but not hot enough to burn your wrist.

Add the yeast and the sugar. Add the salt and 3 cups of the flour. Mix for 2 minutes. The dough should appear to be a little stringy. Add the flour a 1/4 cup at a time while mixing. Add flour until the dough comes away from the sides of the bowl.

Divide the dough into 6 balls of equal size. You can refrigerate the dough up to 24 hours or use it right away. Use your hands to pull and spread each ball in to a round 12"-14".
Nutrition Facts
Grilled Pizza Dough
Amount Per Serving
Calories 309
% Daily Value*
Sodium 392mg 16%
Potassium 101mg 3%
Total Carbohydrates 64g 21%
Protein 9g 18%
* Percent Daily Values are based on a 2000 calorie diet.
Are you looking for some easy desserts to serve on the patio with your grilled pizza?
Here's some Lemon Sugar Cookie Bars, they're a hit every time!
Here's a great No Bake Peanut Butter Cornflake Cookie and a Nutella Cornflake Cookie too.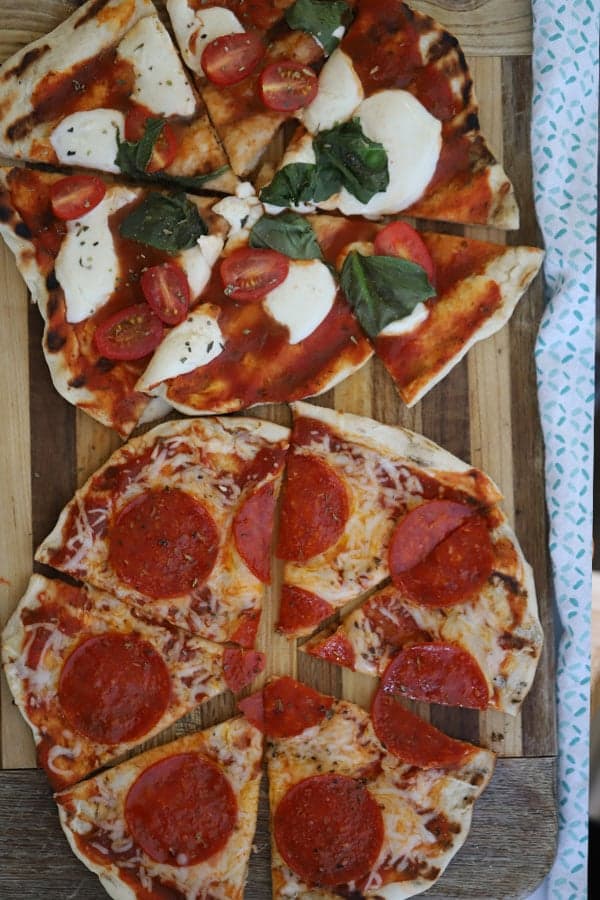 I'd love to connect with you on social media.  Come find me!
Facebook:Â https://www.facebook.com/thecarefreekitchen/
Instagram :Â https://www.instagram.com/the_carefree_kitchen/
Pinterest:Â https://www.pinterest.com/thecarefreekitchen/pins/