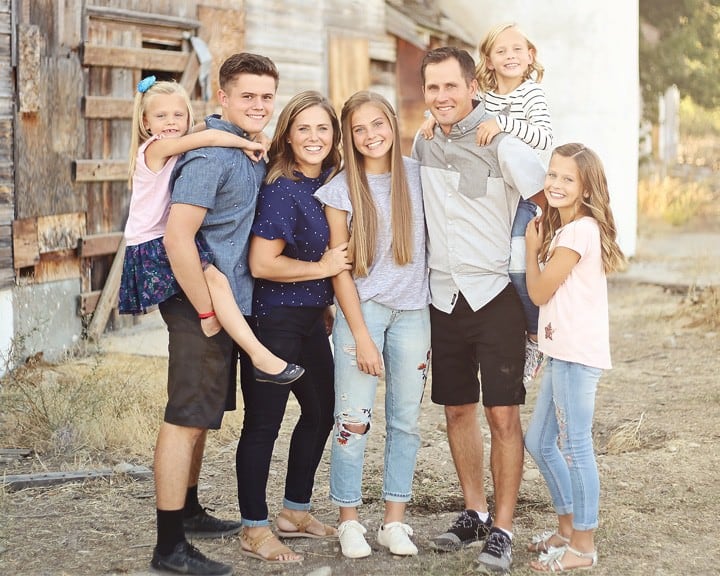 Hi! I'm Jill.
I am a lover of all food! I love all things chocolate and lemon — just not together! And I love sharing my favorite recipes with the world.
I've been baking since I was a small child and made bread alone when I was just 7!
I love baking and cooking for my family and friends.
I started in the food industry when I was 9. True story, I started a small bakery out of my mom's kitchen and made whole wheat bread and cinnamon rolls for my grandparents and all the neighbors.
I'm married to the most amazing man, almost 20 years, and have 5 incredible children.
I also run a Youtube channel for my daughters, Marissa and Brookie, and enjoy being behind the camera and managing their Youtube channel.
I am a 4th generation Idahoan and proud of it. I grew up on a family farm in southern Idaho. I love all things about farm life and have a passion for a farm to table way of life.
I also love supporting my kids on the wrestling mat, soccer field, and gymnastics mat.
I love nutrition and sometimes get into phases of "health nut" but I'm mostly interested in all food!
If you'd like to contact me, please shoot me an email [email protected]. Due to my insane backlog of emails, I may not respond right away (although I do try to get to each email eventually!), so if you have a specific recipe question, leave it on the comment thread of that particular post — I usually get to those comments sooner.
For email updates (when a new post goes live OR for the weekly newsletter that often has free menu plans and exclusive recipes) sign up here.
Also, for more information on privacy policies and affiliate disclosures click here.
I am a participant in the Amazon Services LLC Associates Program, an affiliate advertising program designed to provide a means for me to earn fees by linking to Amazon.com and affiliated sites.
Contact Jill
I love hearing from readers! If you'd like to get in touch with me, contact me by email at [email protected].
You can also find me on Pinterest, Facebook, and Instagram.
Work With Me
The Carefree Kitchen is a recipe development company specializing in food recipes and video content. Please email us at [email protected] if you'd like the most recent media kit and rate card.
Content Use Policy
Before you use any content from this blog, including picture or recipes, please contact me for permission at [email protected]. All work is copyright and trademarked by The Carefree Kitchen.
Terms & Conditions
By accessing the website at https://thecarefreekitchen.com, you are agreeing to be bound by these terms of service, all applicable laws and regulations, and agree that you are responsible for compliance with any applicable local laws. If you do not agree with any of these terms, you are prohibited from using or accessing this site.