Here are 50+ Best Thanksgiving Side Dishes, from our family to yours.  We've pulled some of the most popular Thanksgiving foods as well as fun new Thanksgiving sides so you'll have plenty to choose from this holiday season.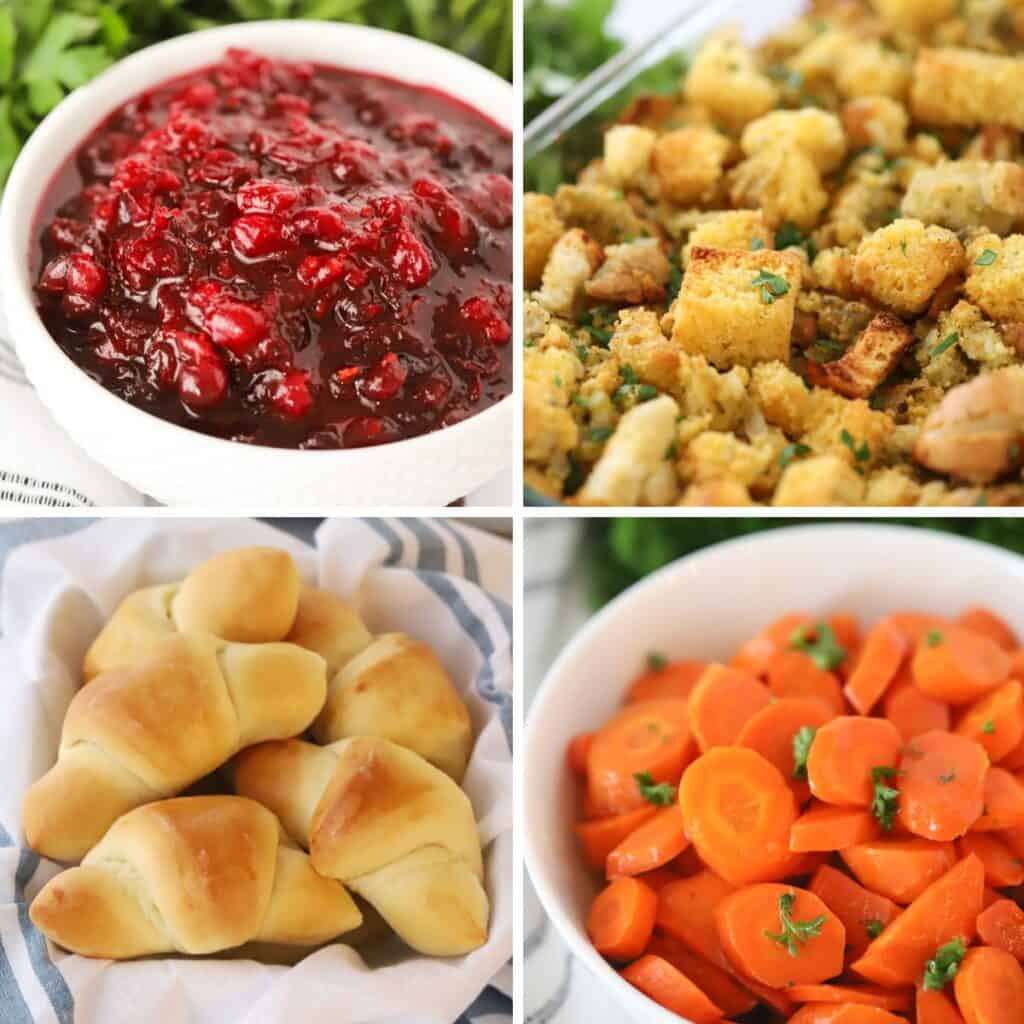 Jump to:
Easy Thanksgiving Sides
If you like to plan ahead, this list of our Best Thanksgiving Sides is for you. You can pick and choose a variety of traditional Thanksgiving dinner sides to prepare for friends and family this Thanksgiving. We've gathered some of our most popular Thanksgiving side dishes, everyone's favorite veggies, stuffings, casseroles, bread and more to share with you.
But, if you are a procrastinator, this list is also for you! Basically, there's no need to scour the internet for Thanksgiving dinner side dishes - just pick a couple and get cooking. We promise, they are all easy and delicious.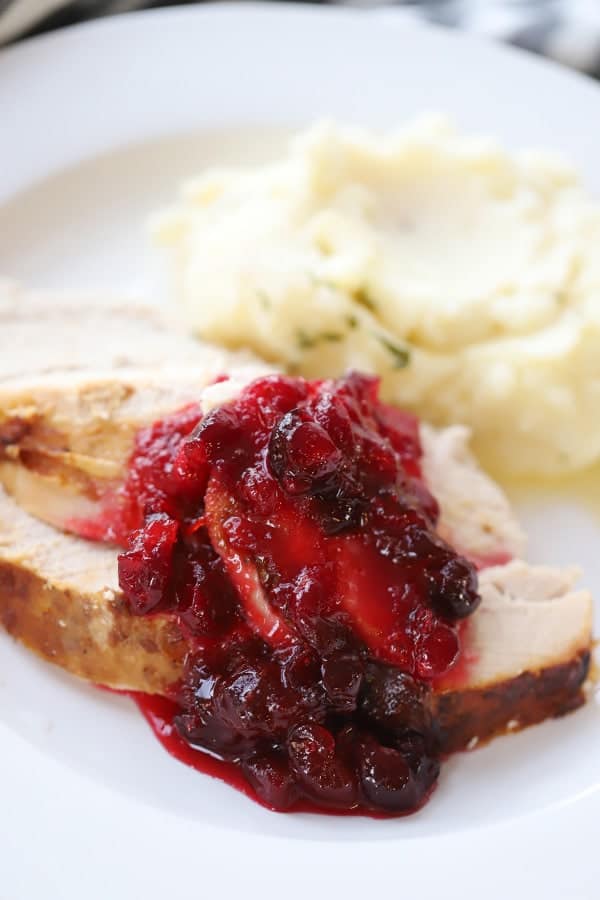 Traditional Thanksgiving Side Dishes
These are the side dishes that we've all come to expect from Thanksgiving dinner, no matter whose house we are at. These traditional thanksgiving dinner sides are always a hit.
This stuffing recipe has been passed down from my Grandma to you! For generations, we've been making this stuffing recipe, and it's a hit every time. It's a classic stuffing recipe that never gets old!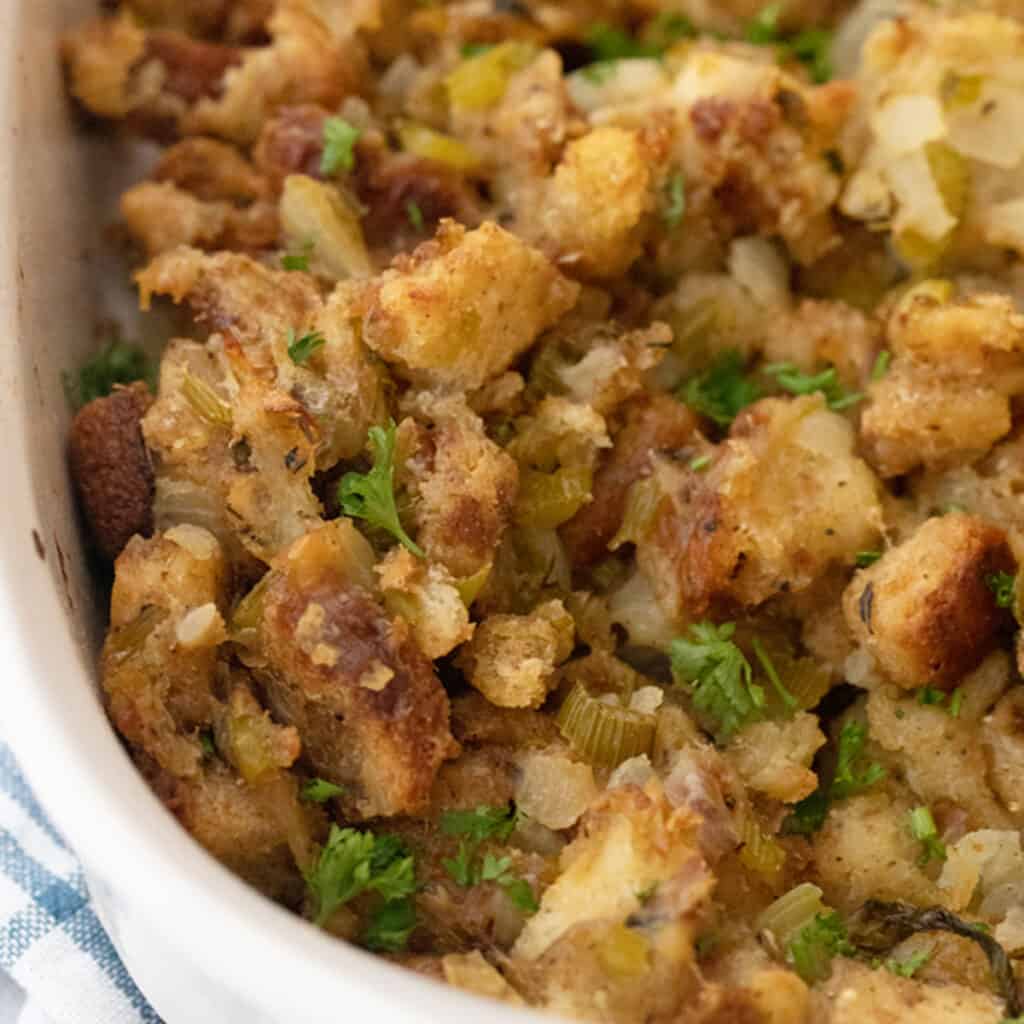 This casserole is total comfort food, made from frozen shredded potatoes, cheese, and sour cream. It's loaded with ooey gooey cheesy goodness and is one of the best nostalgic potato recipes.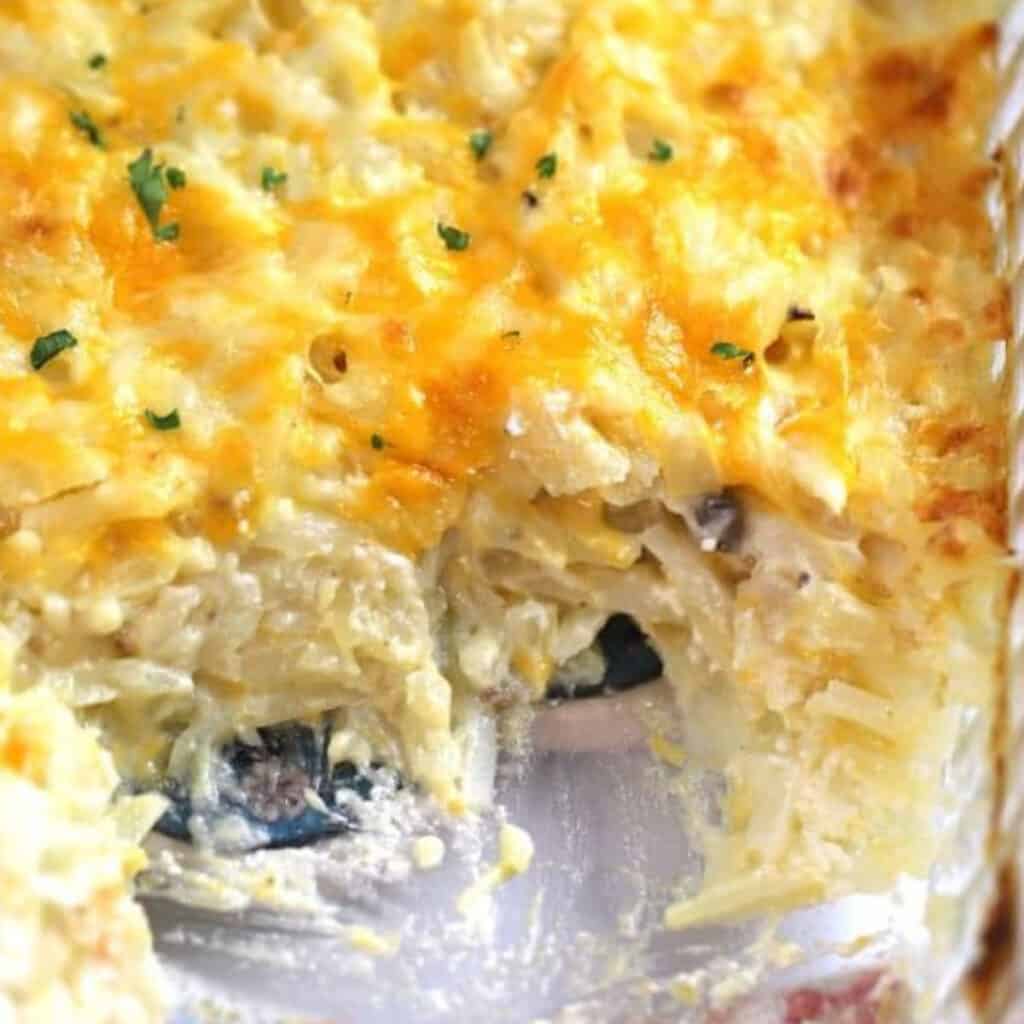 What kind of holiday would it be if there wasn't a Sweet Potato Casserole on the Thanksgiving table? This version, with a marshmallow topping, is our favorite way to prepare this holiday classic.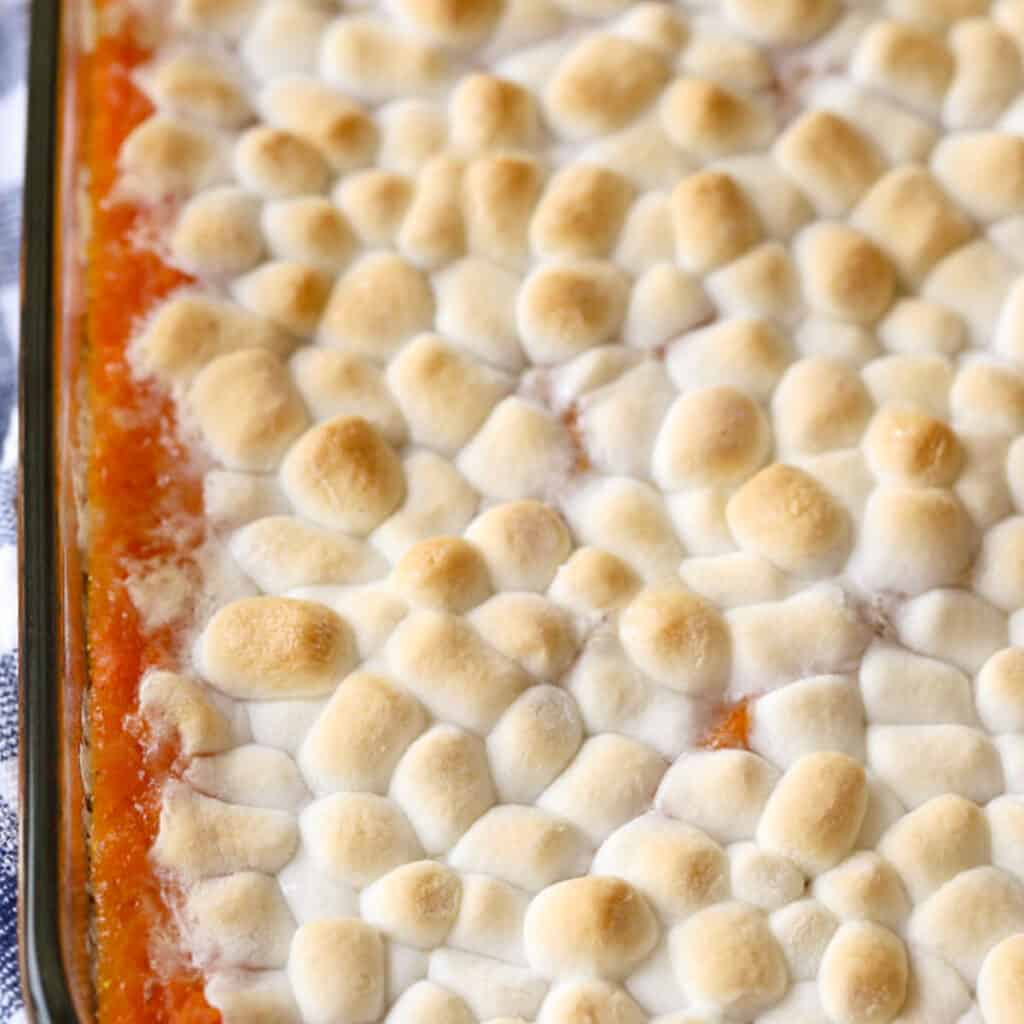 These scalloped potatoes are cheesy and creamy. They're made with fresh potatoes, cheese, sour cream, and herbs.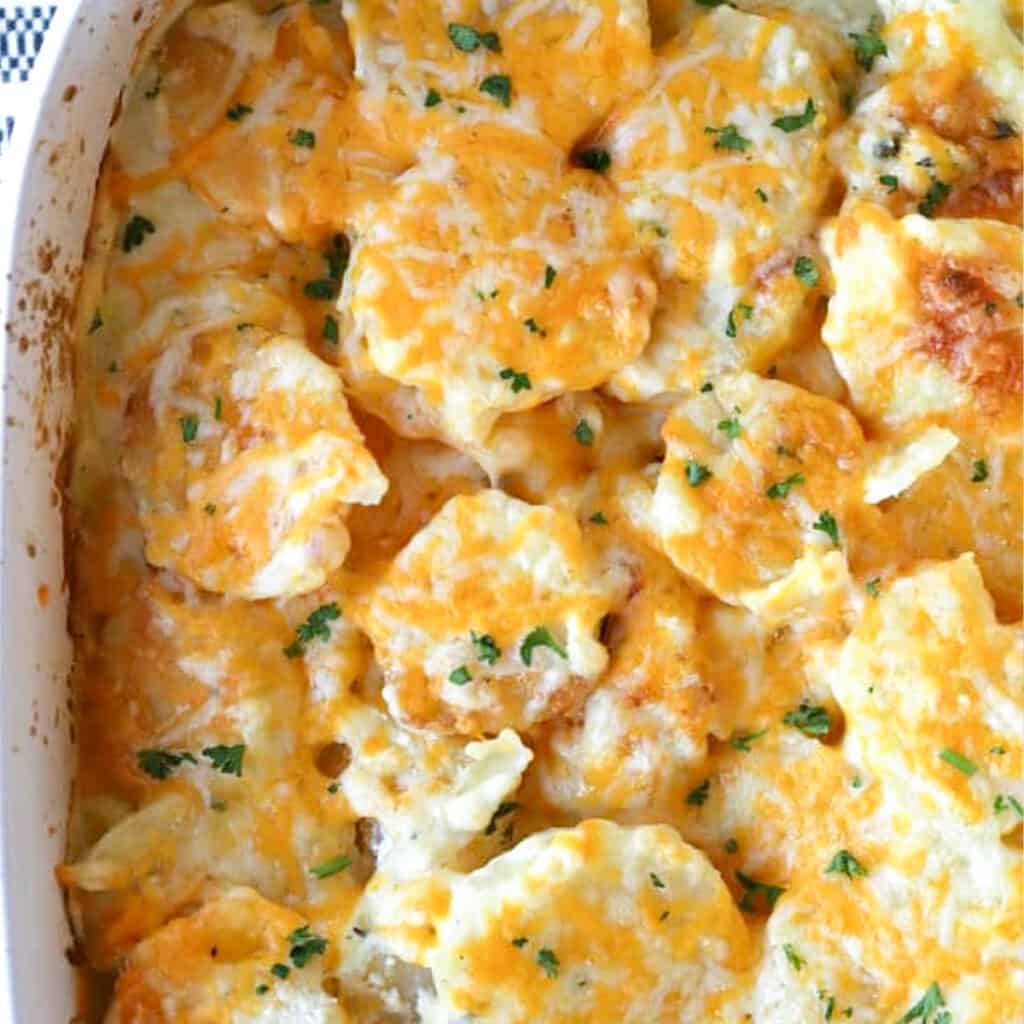 This Sweet Potato Casserole is rich and buttery with a sweet crunchy pecan topping. It's a southern classic that can pass as either a side dish or dessert at your next holiday dinner.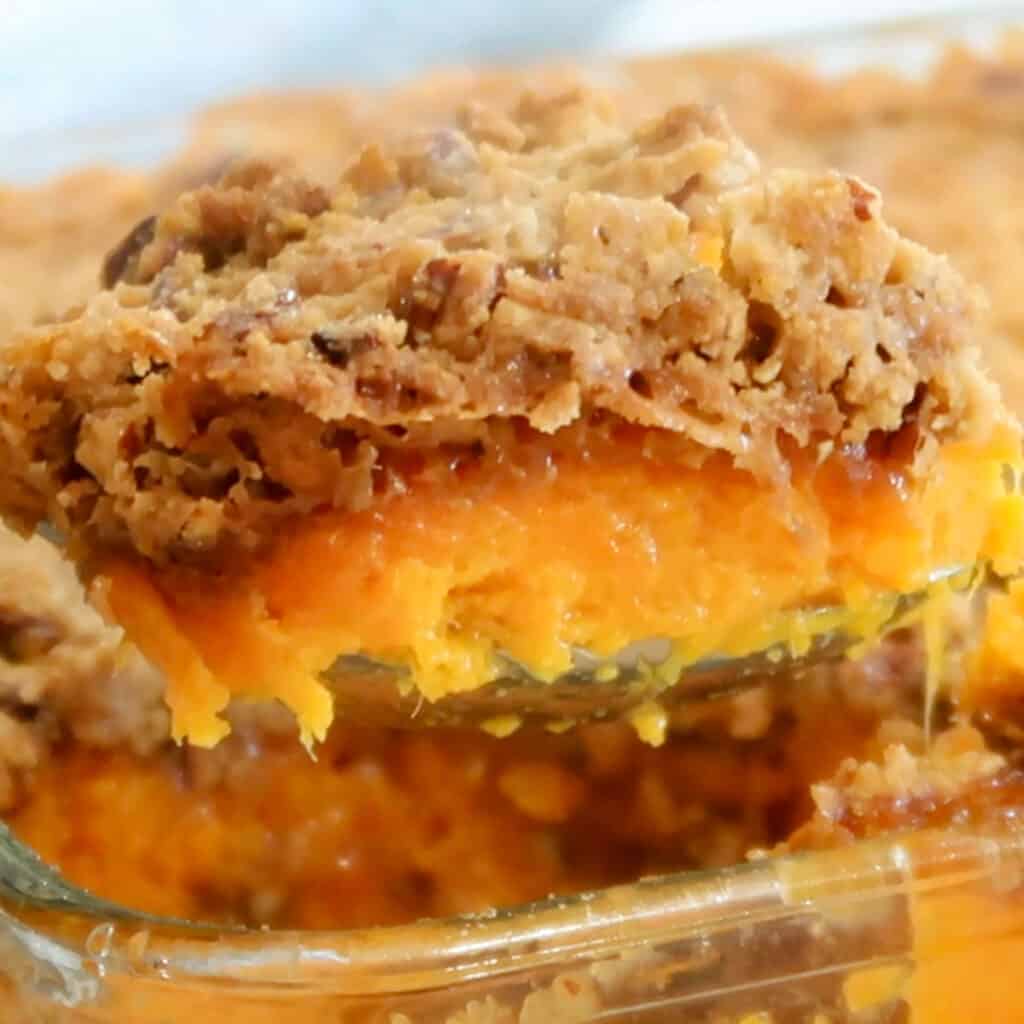 These simple Make-Ahead Mashed Potatoes are fluffy, buttery and can be made up to 3 days in advance. They make the perfect Thanksgiving side dish that can be easily reheated in a variety of different ways.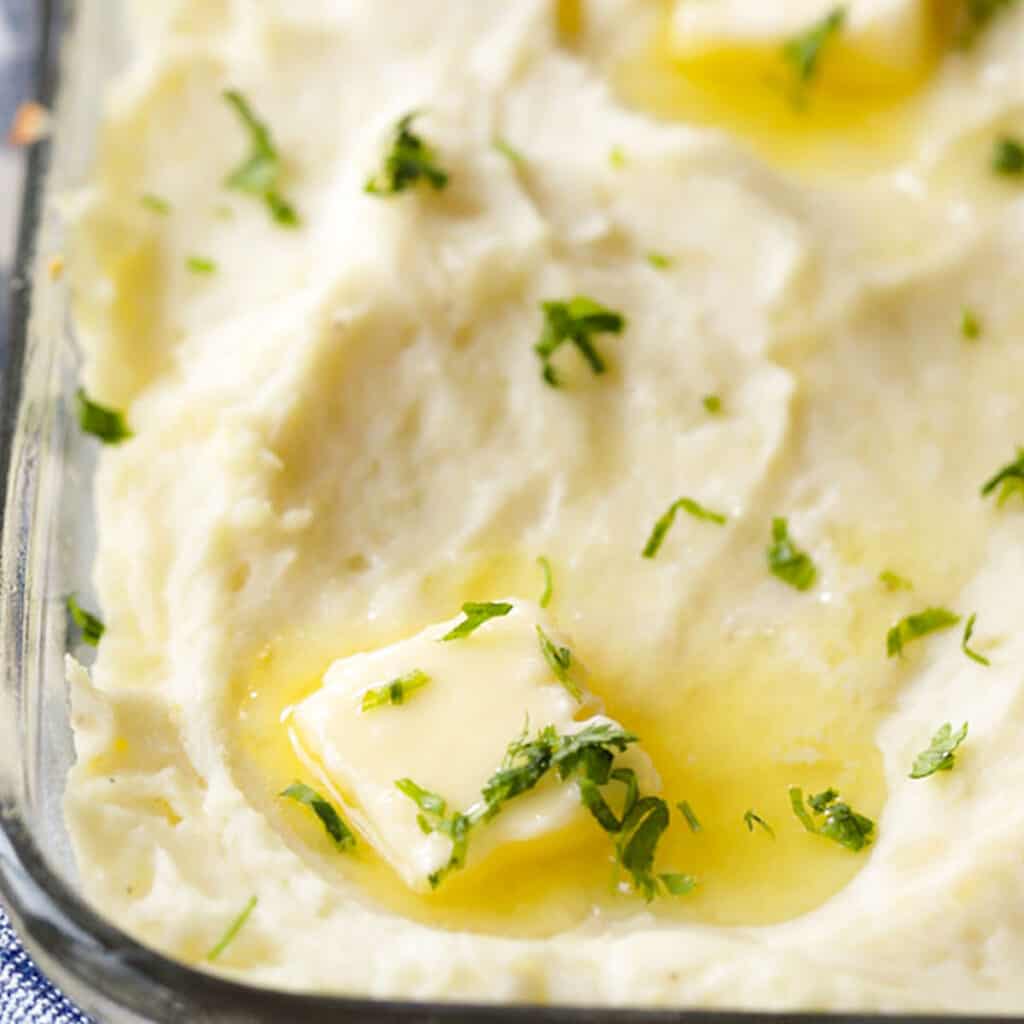 This Cranberry Orange Sauce uses just 5 simple ingredients and puts any store bought canned sauce to shame. It's sweet and tangy, flavored with orange juice and orange zest, and makes a delicious quick and easy side for any classic holiday dinner.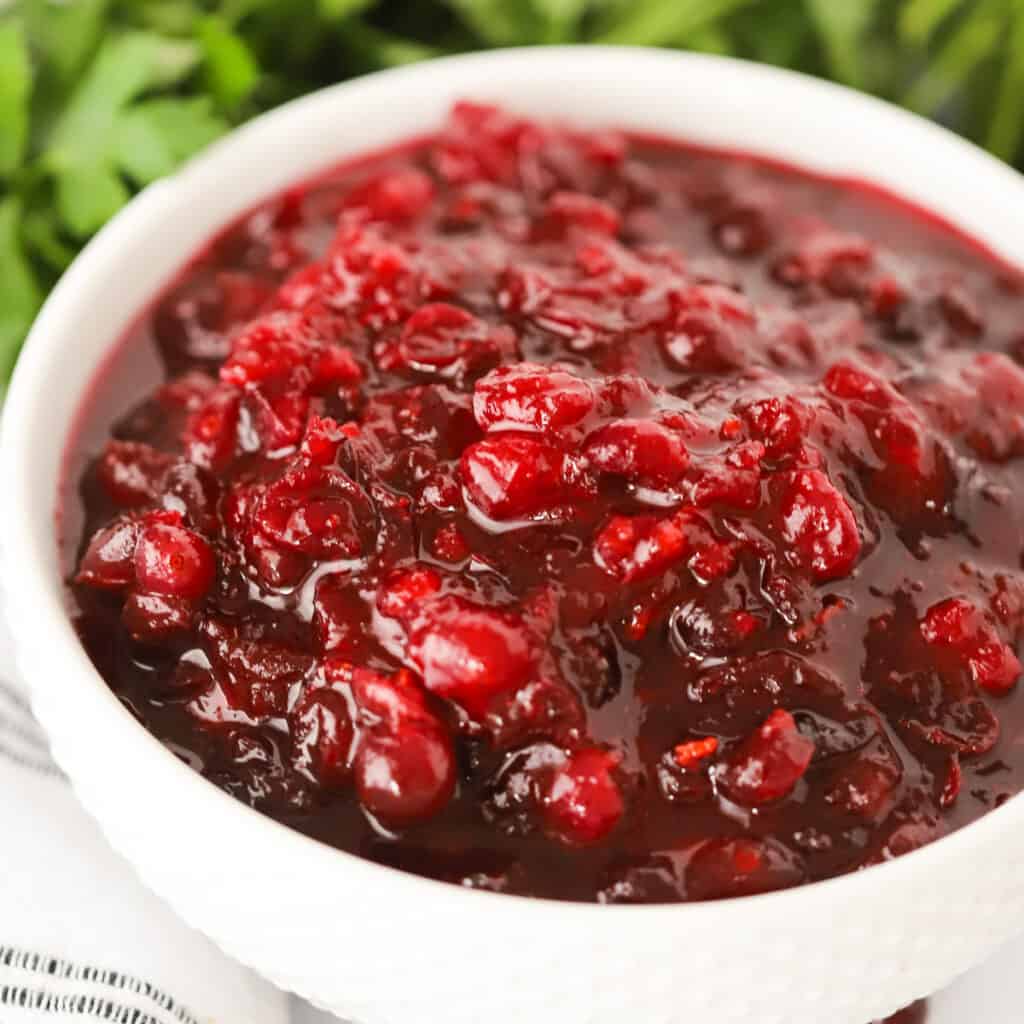 Mac n Cheese is by far one of the most popular Thanksgiving dishes. This stovetop Homemade Mac and Cheese is just as easy to make as the box mix, but oh-so-much tastier. We use wholesome ingredients like milk, butter, flour, cheddar cheese and seasoning to make a creamy dreamy cheese sauce to mix with elbow macaroni pasta.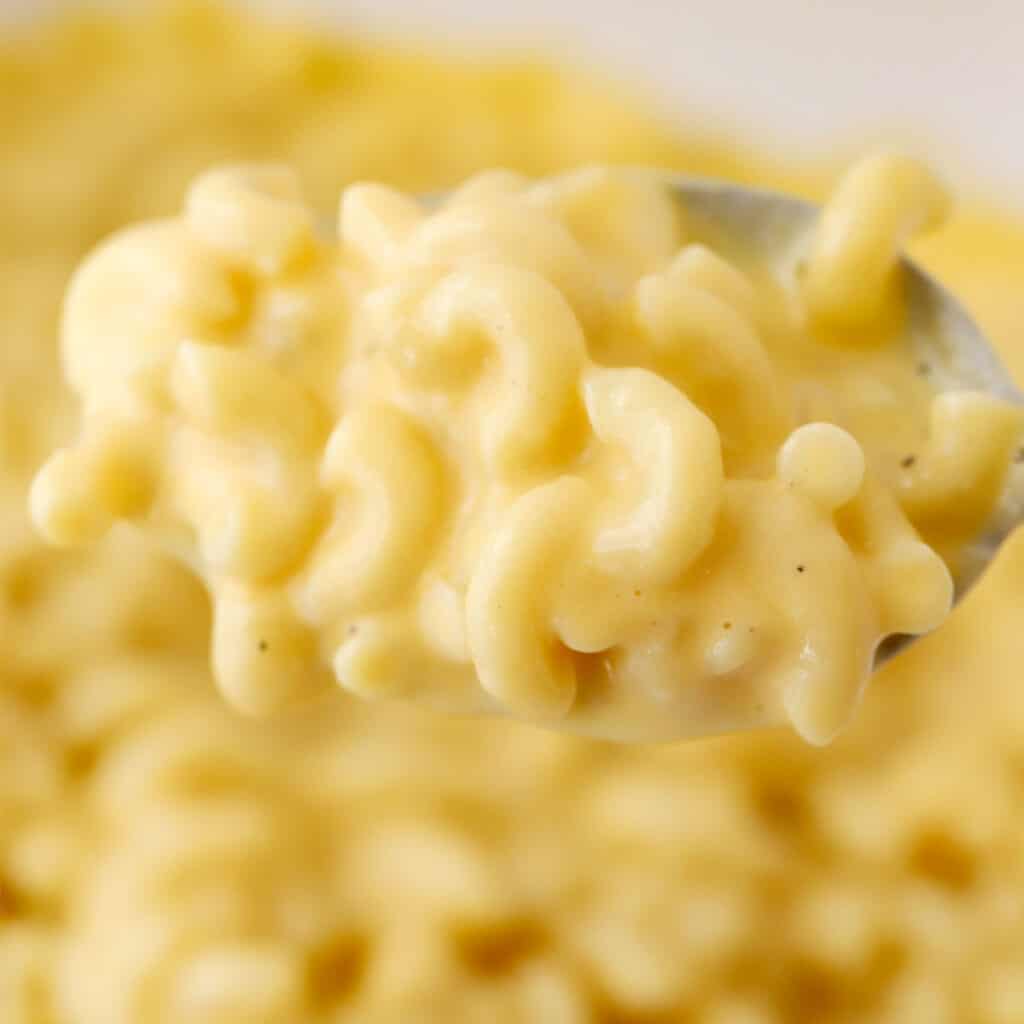 Thanksgiving Vegetable Dish Recipes
The following veggie side dishes are perfect for Thanksgiving, but can also be enjoyed throughout the year.
These Oven Roasted Green Beans Recipe is seasoned with lemon and garlic and tastes amazing! Green beans are a healthy and delicious side dish at any time of the year.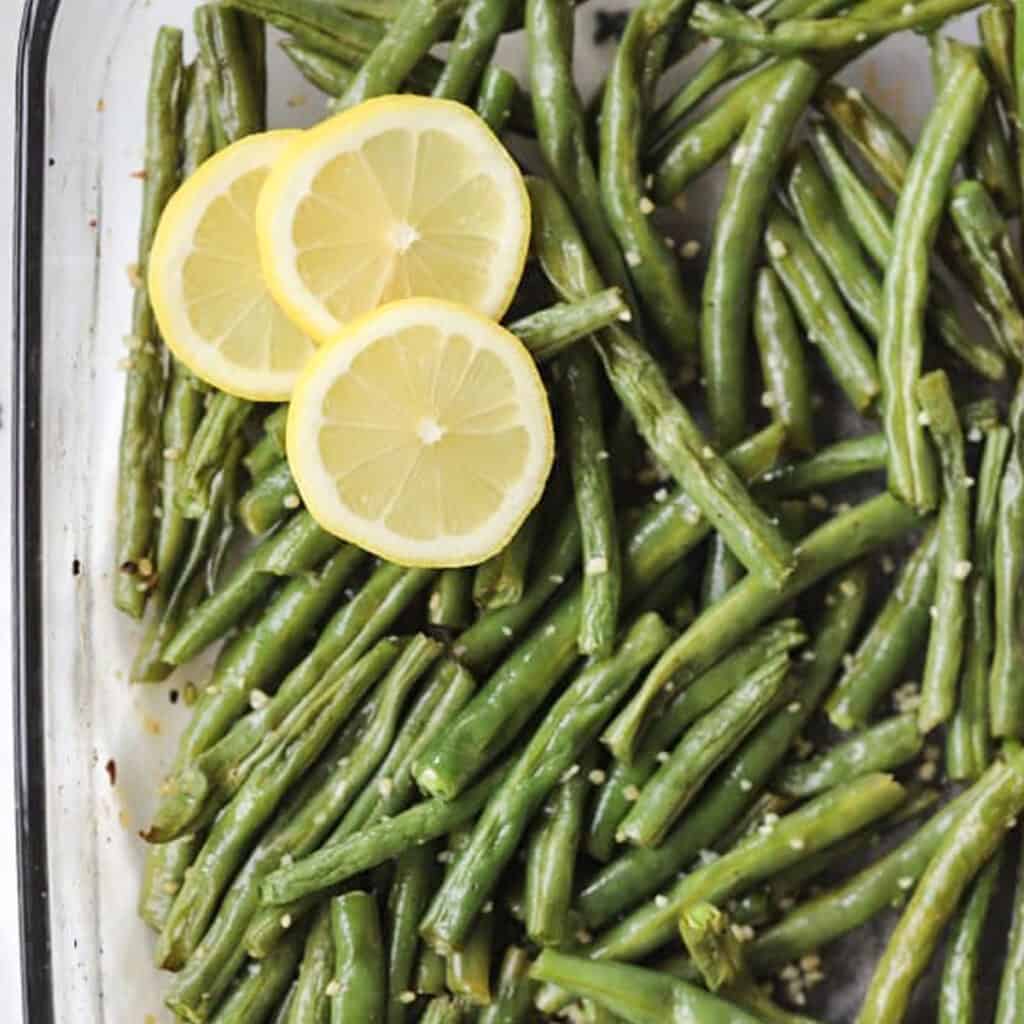 This recipe for garlic and lemon Oven-Roasted Asparagus is the perfectly simple way to let this veggie shine. We'll show you how to get tender stalks, crispy tips and so much flavor with very few ingredients all while roasting your asparagus in the oven.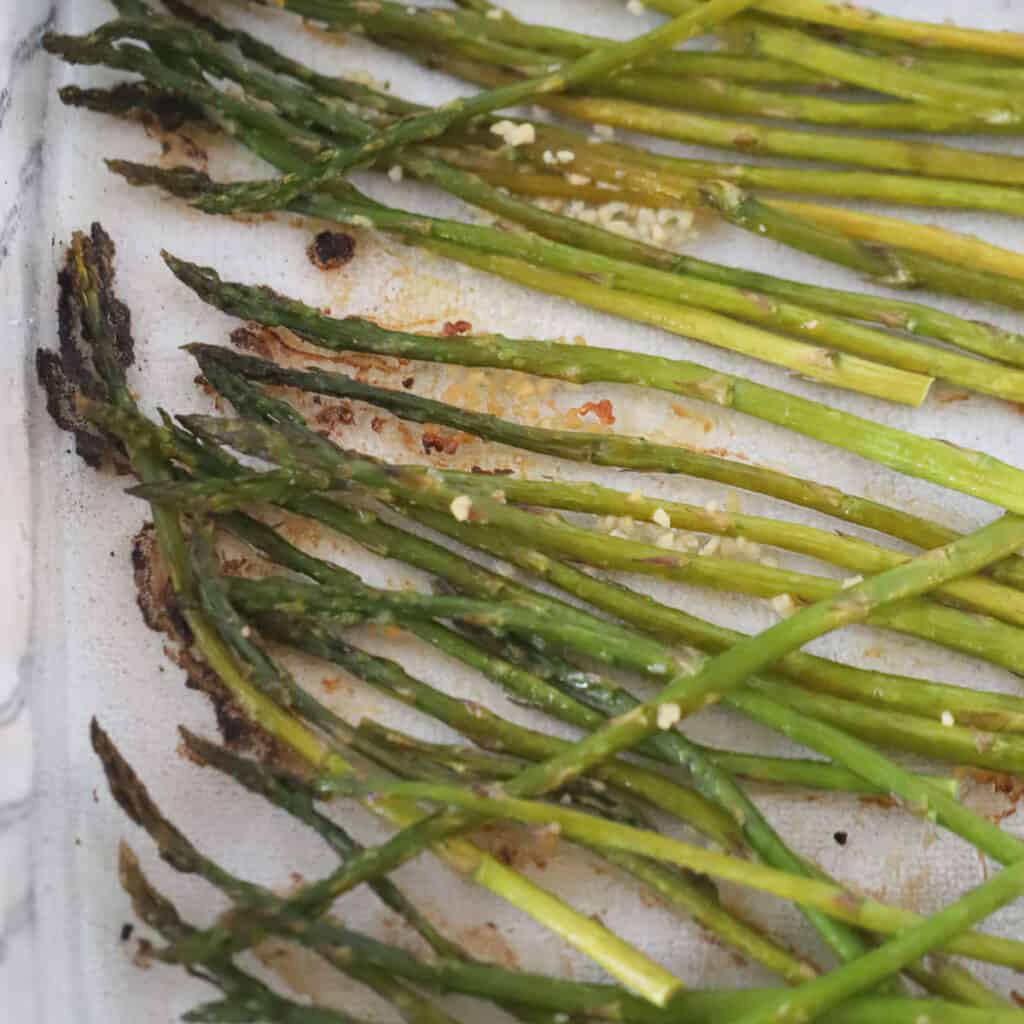 This Bacon Wrapped Asparagus is a quick and easy side dish that is always a hit. Seasoned simply with salt, pepper, garlic and a sprinkle of Parmesan cheese, this recipe is perfect for party appetizers, holiday dinners or getting picky eaters to eat their veggies.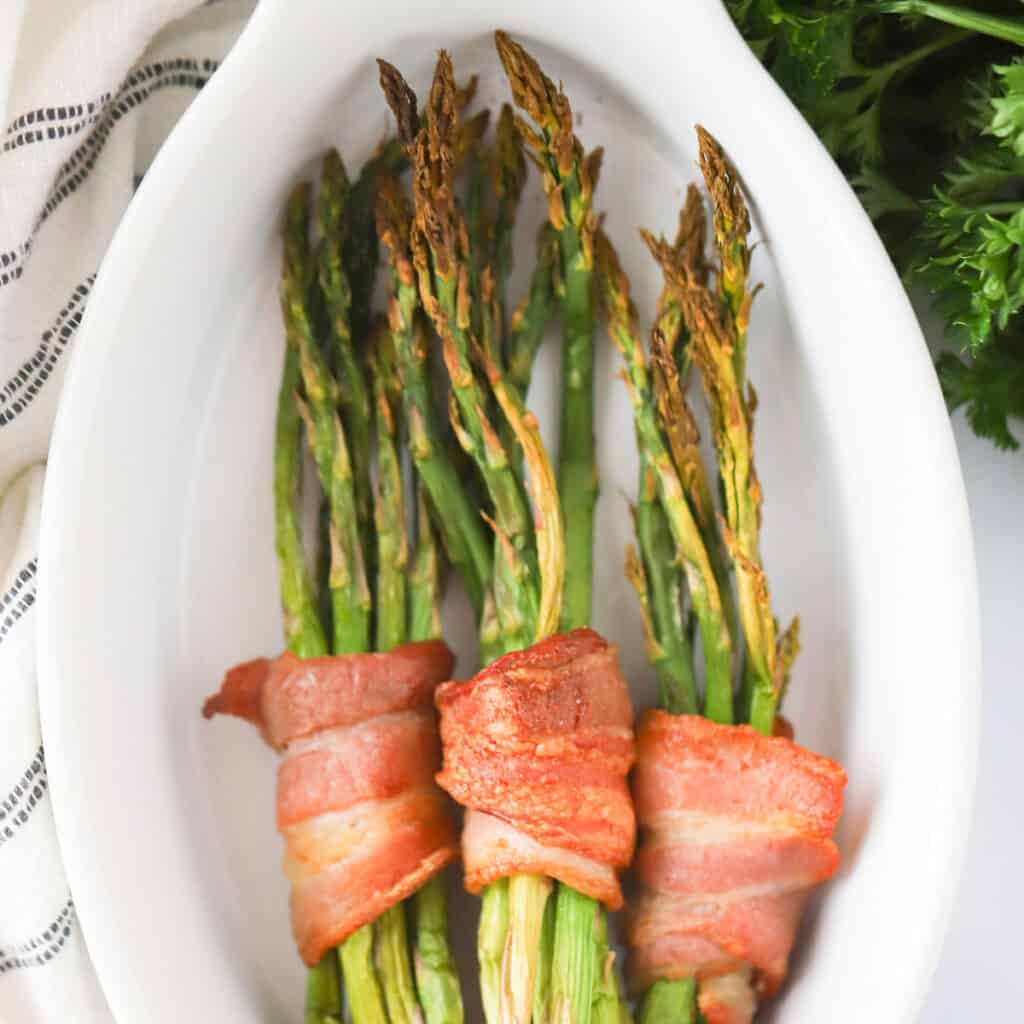 These honey and brown sugar Glazed Carrots make the perfect Thanksgiving side dish to pair with just about anything. They require no oven space, use just a few ingredients and are so delicious that you may find yourself making them all the time.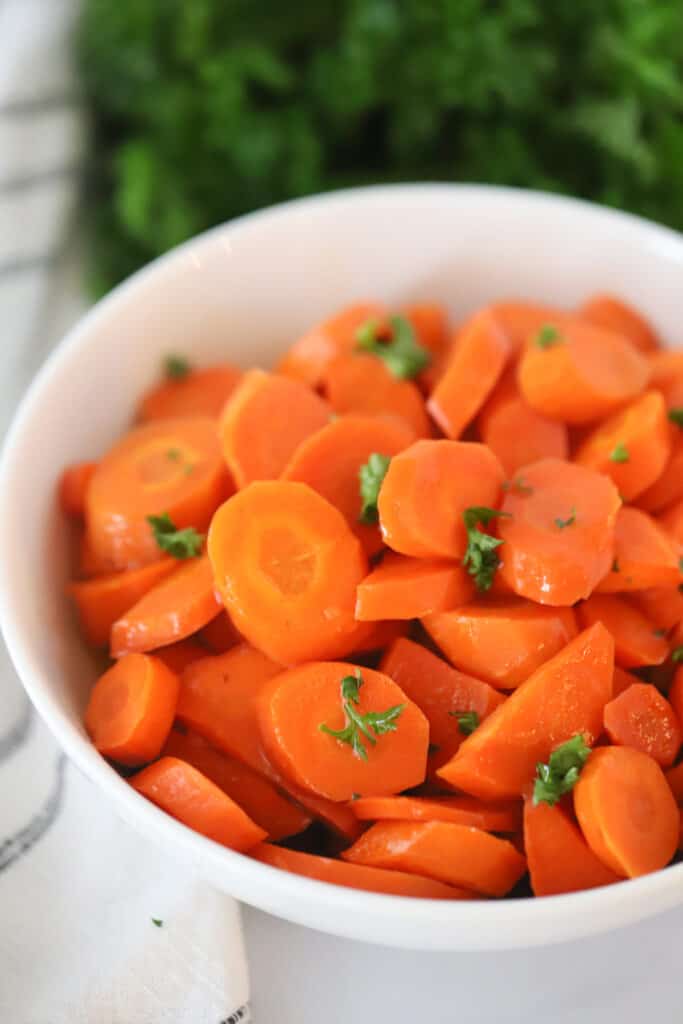 This Roasted Acorn Squash Soup is a creamy, satisfying and healthy addition to any fall menu. We roast acorn squash along with apples, onions and garlic before blending with coconut milk, butter, nutmeg and other cozy cool-weather seasonings.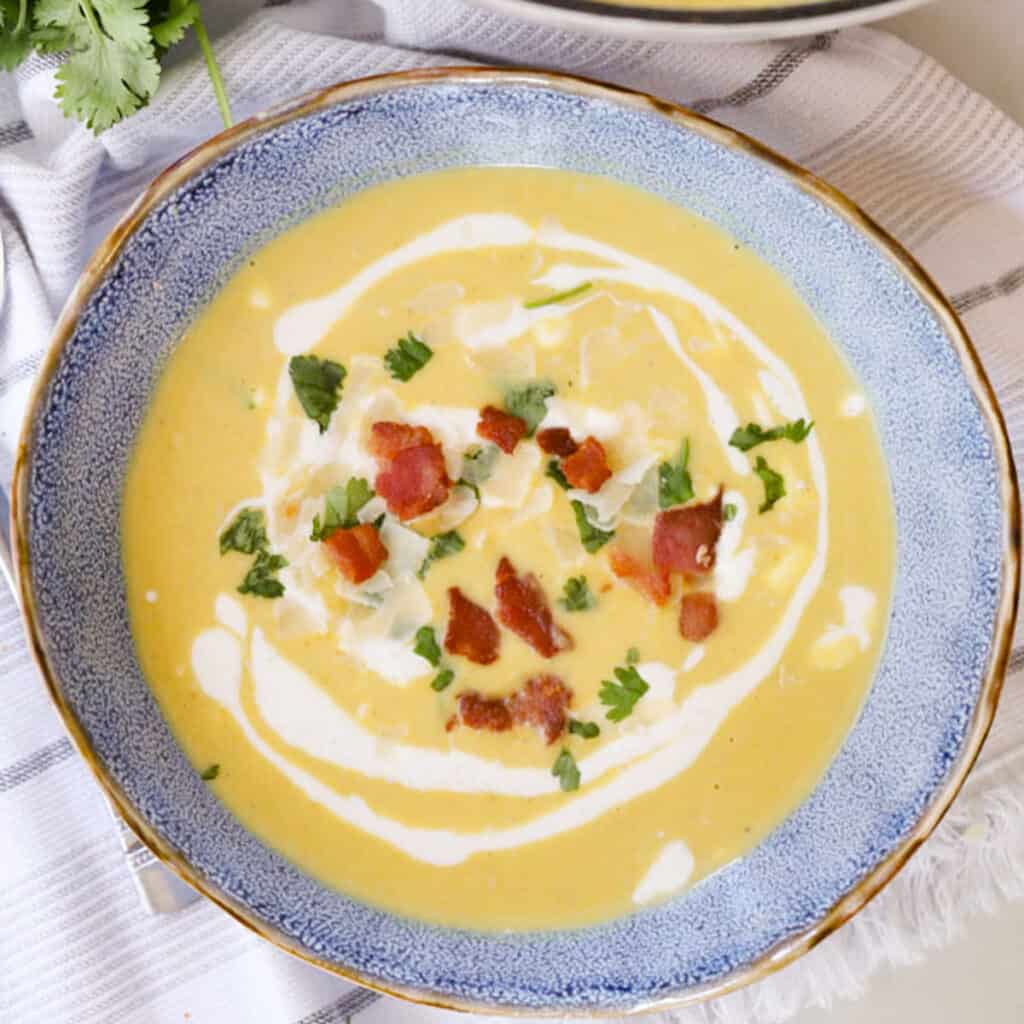 These Oven-Roasted Brussels Sprouts are a simple, healthy and naturally gluten-free side dish that even kids will enjoy. We'll show you how to achieve beautifully caramelized veggies that are crispy on the outside and tender on the inside every single time.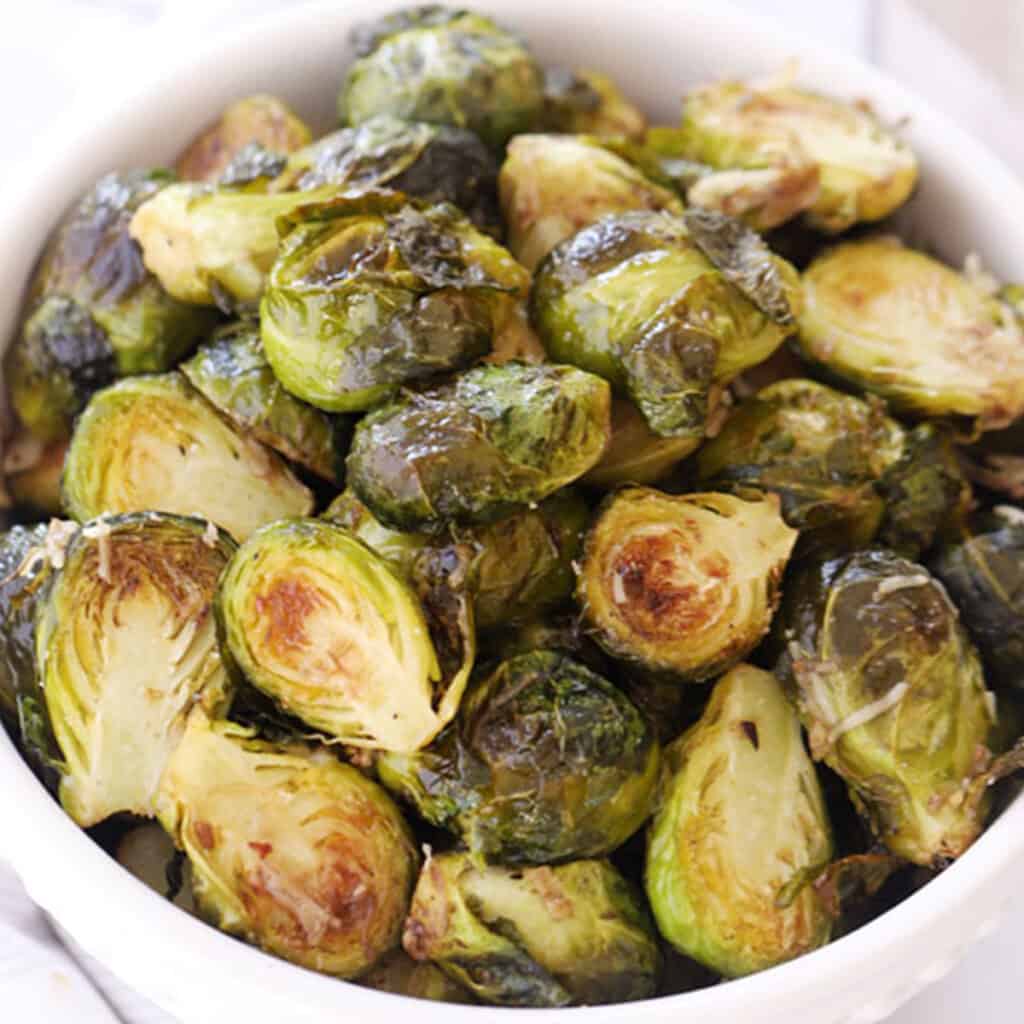 These Oven-Roasted Brussels Sprouts and Sweet Potatoes are cooked along with onions and cranberries then finished with a sweet and tangy honey mustard glaze. this is one of those great Thanksgiving side dishes that everyone loves.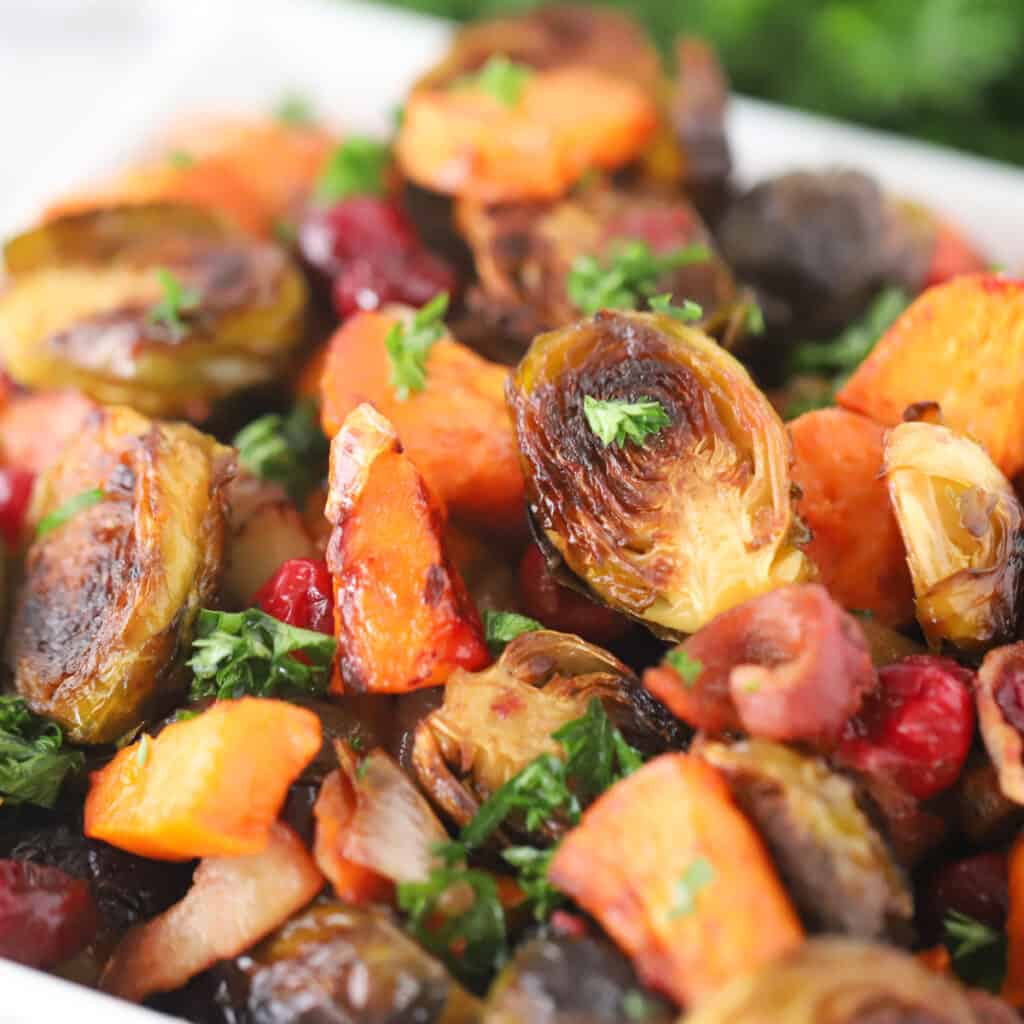 These Creamy Brussels Sprouts are sautéed until golden brown, drowned in a rich and creamy cheese sauce and served with crispy bacon to finish. They make a perfectly satisfying side dish to go with just about any meal.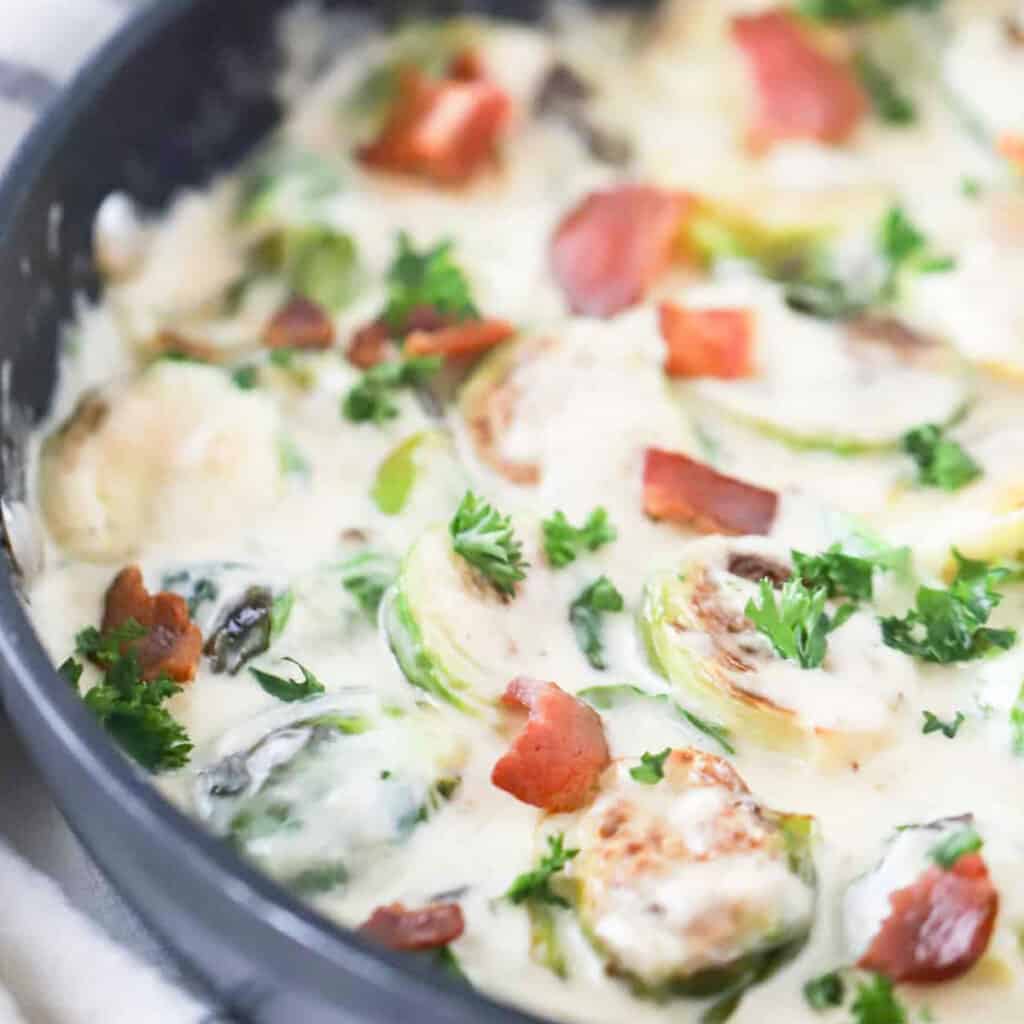 This Cinnamon Squash Recipe is the very best way to enjoy squash! It's a sweet squash recipe and has a light maple cinnamon glaze with just a hint of cinnamon.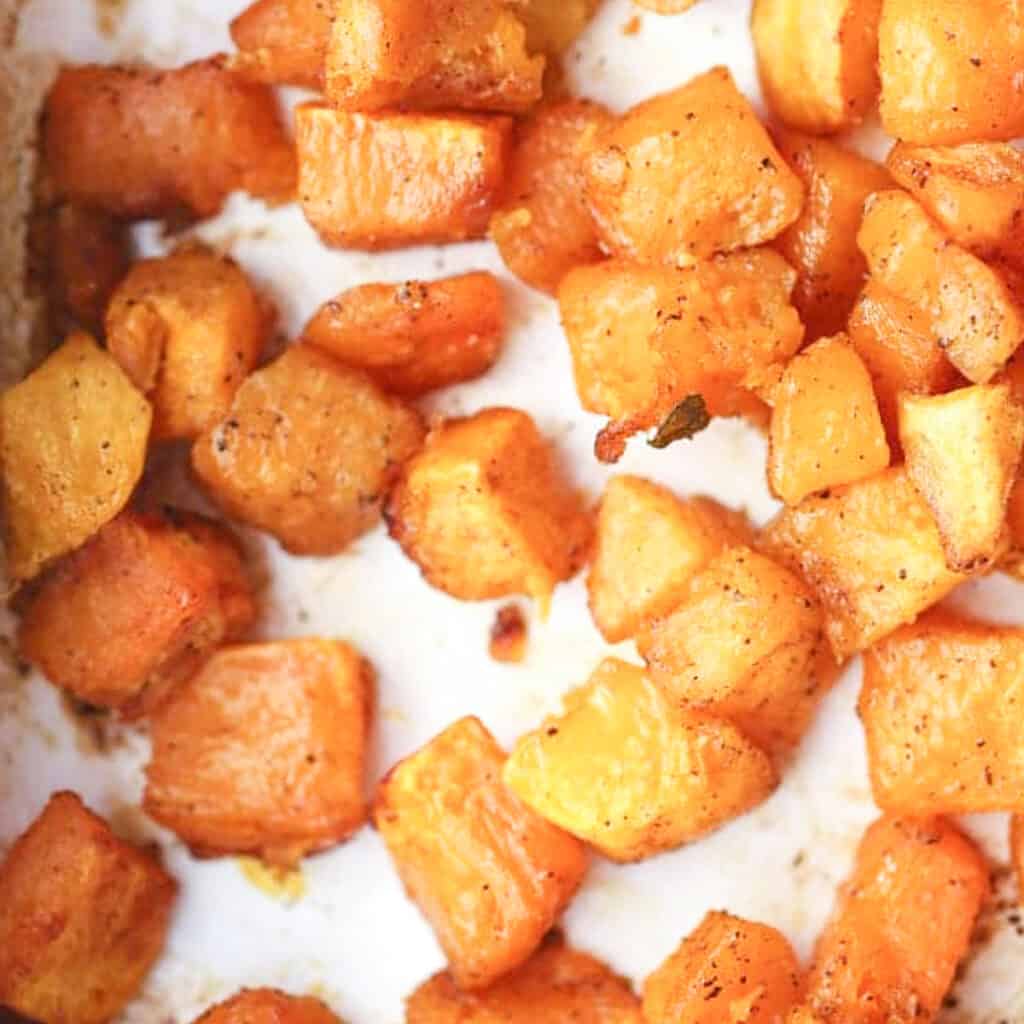 This Homemade Creamed Corn is the perfect comfort food side dish for BBQs, holidays or weeknight dinners. The sweet corn is cooked in a smooth and silky cream sauce and garnished with butter, fresh parsley and any other toppings your family loves.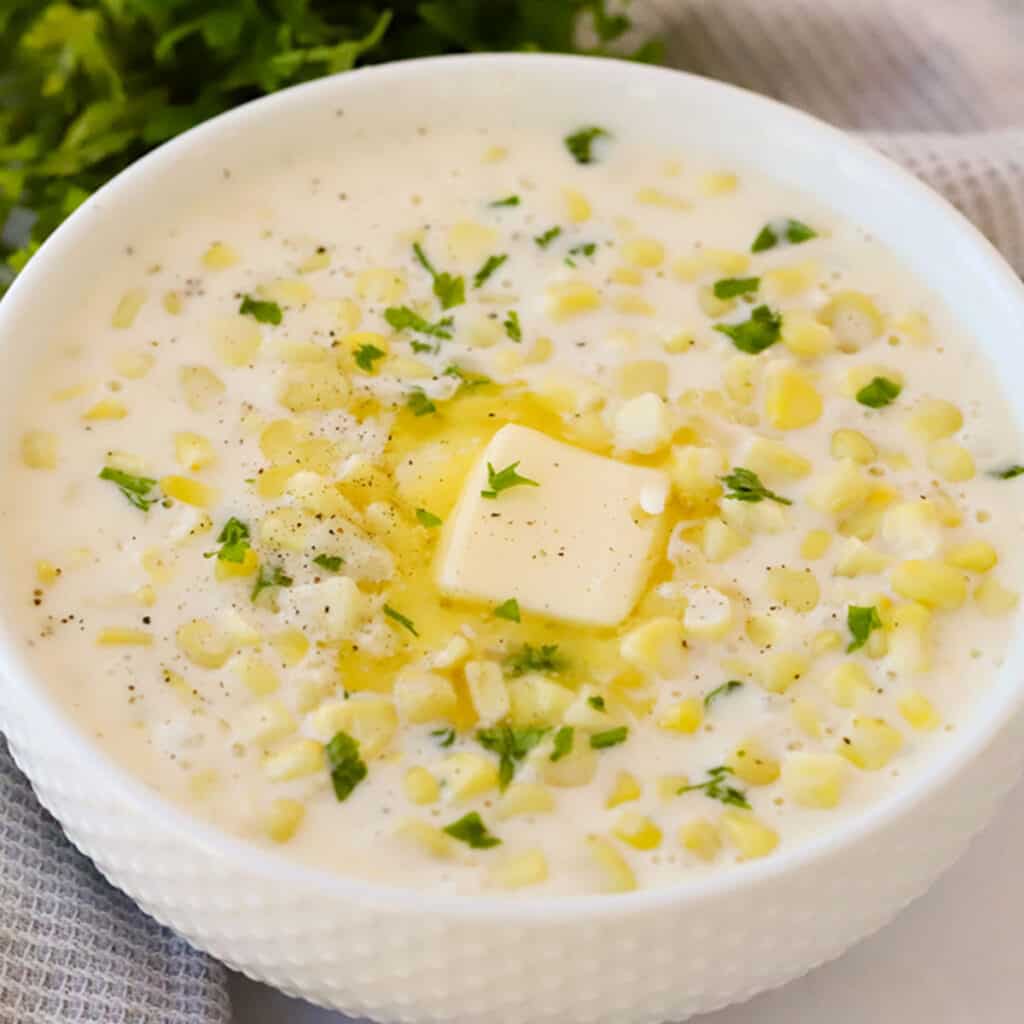 Bread, Bread and More Bread Recipes
What would a Thanksgiving dinner be without bread? We've included rolls, cornbread, popovers, and everything in between.
This Homemade Crescent Rolls Recipe is Grandma's Yeast Rolls Recipe. Yes, it's that good. It's buttery and soft and is the perfect Thanksgiving side dish for your holiday meal.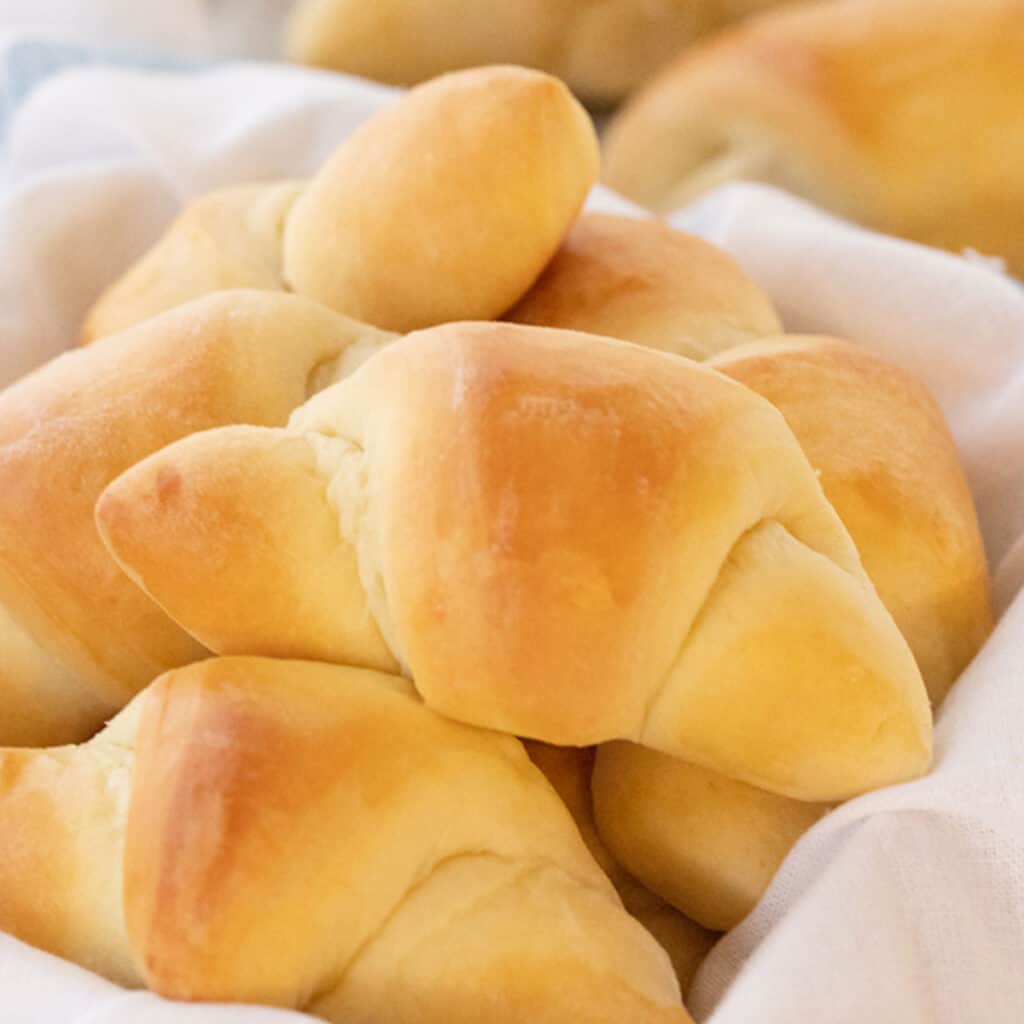 This Easy Homemade Cornbread is tender, moist and super flavorful. It's made with just a few ingredients and can be baked in a cast-iron skillet, baking dish or even muffin tins.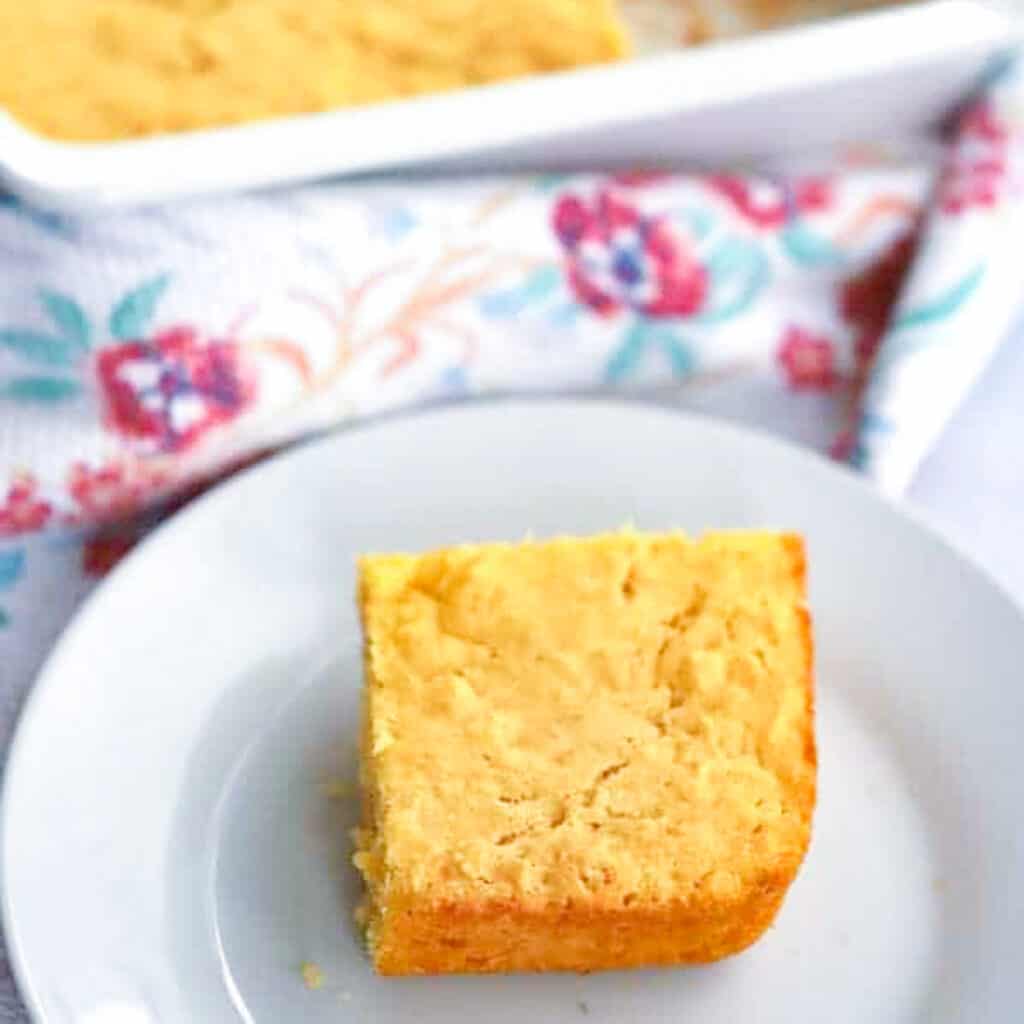 This honey butter recipe only It only takes a few minutes to whip up this cinnamon butter recipe. It's made with whipped butter so it's light and fluffy and has a hint of cinnamon and vanilla too.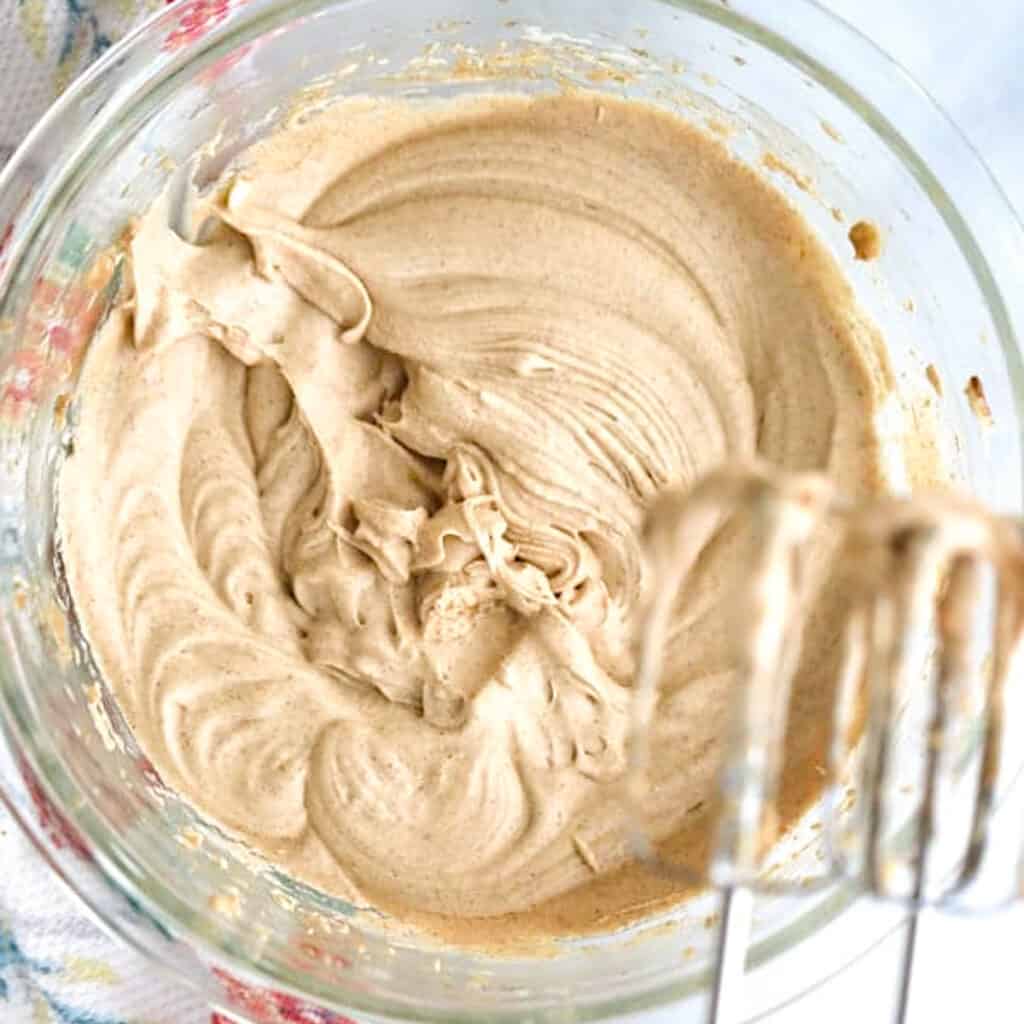 This Garlic Herb Twist Bread is such a beautiful and delicious alternative to regular garlic bread. It's packed with Italian herbs, garlic powder, and Parmesan cheese and makes a delicious snack or side for sopping up pasta sauce.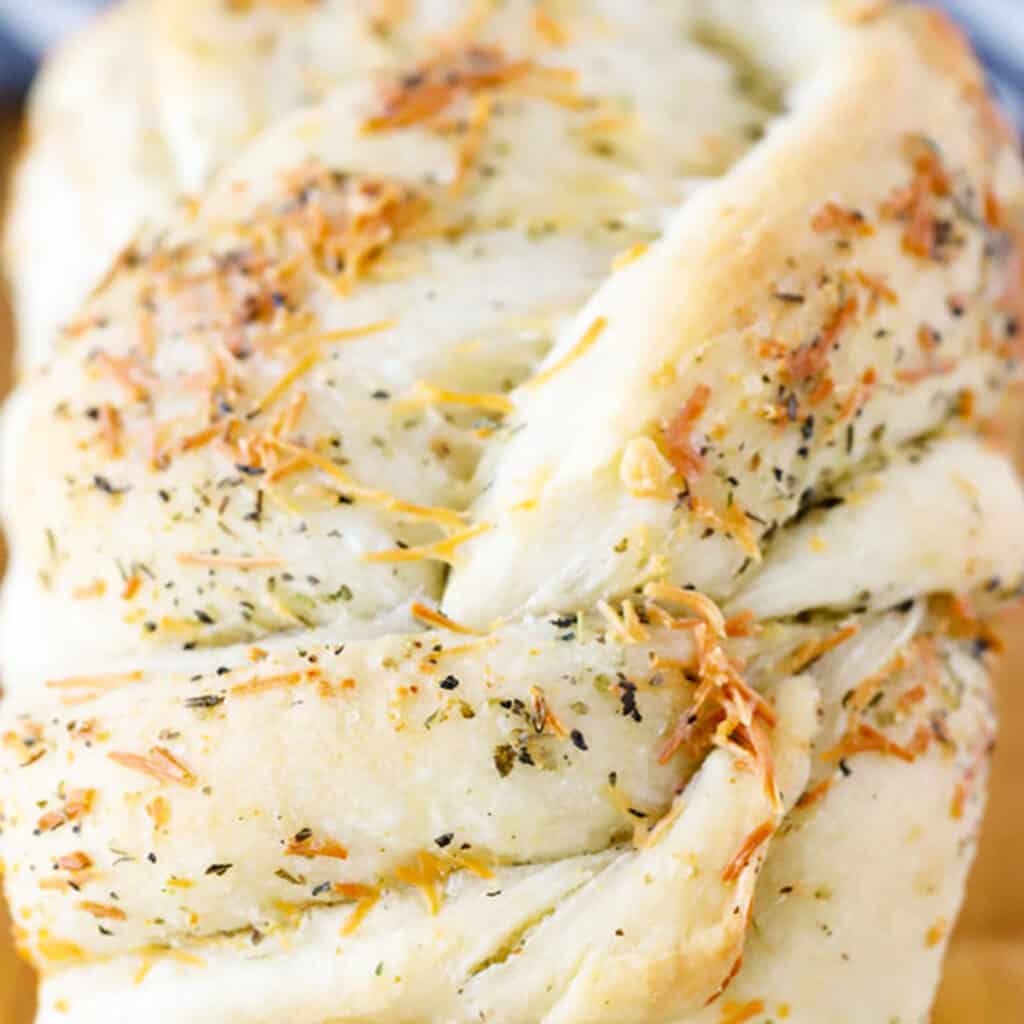 This Rustic Cheddar Cheese Bread is an easy yeasted bread recipe made with simple ingredients. It's cheesy, crusty and tastes amazing when eaten warm from the oven or dipped into your favorite soup.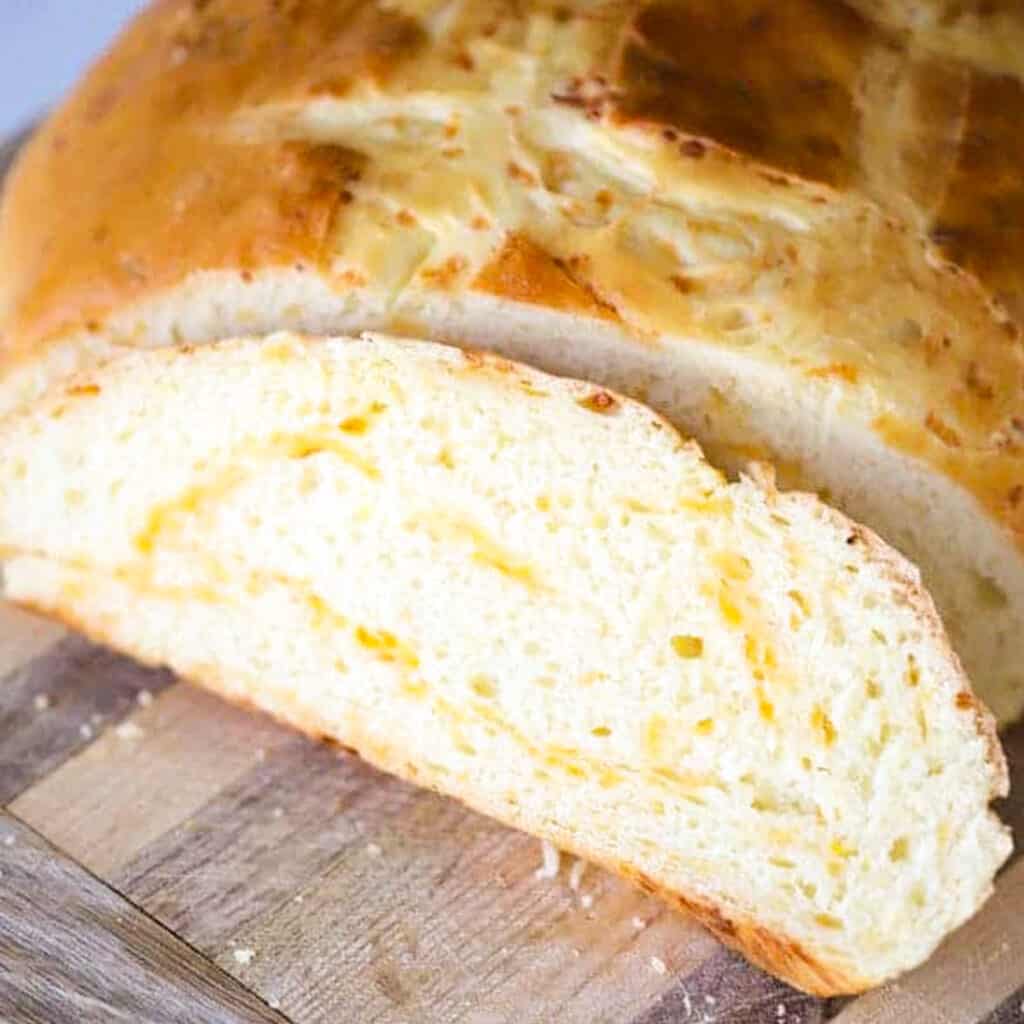 These Cheddar Chive Popovers are crispy on the outside, light and airy in the center and full of savory goodness. This recipe for popovers takes no time to make and is perfect for serving at breakfast, brunch or dinner.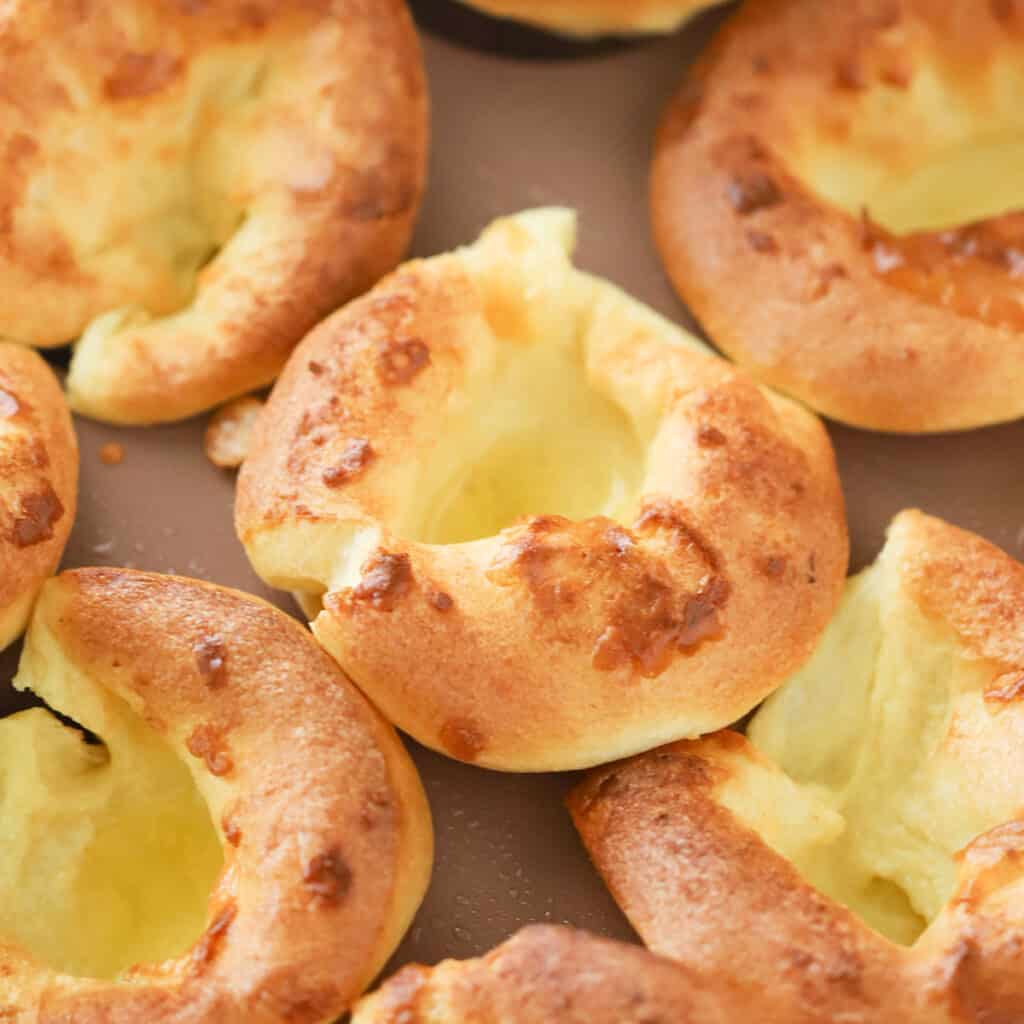 These homemade dinner rolls will be a family favorite in no time. They're made with all-purpose einkorn flour are are perfect for your holiday or family dinners.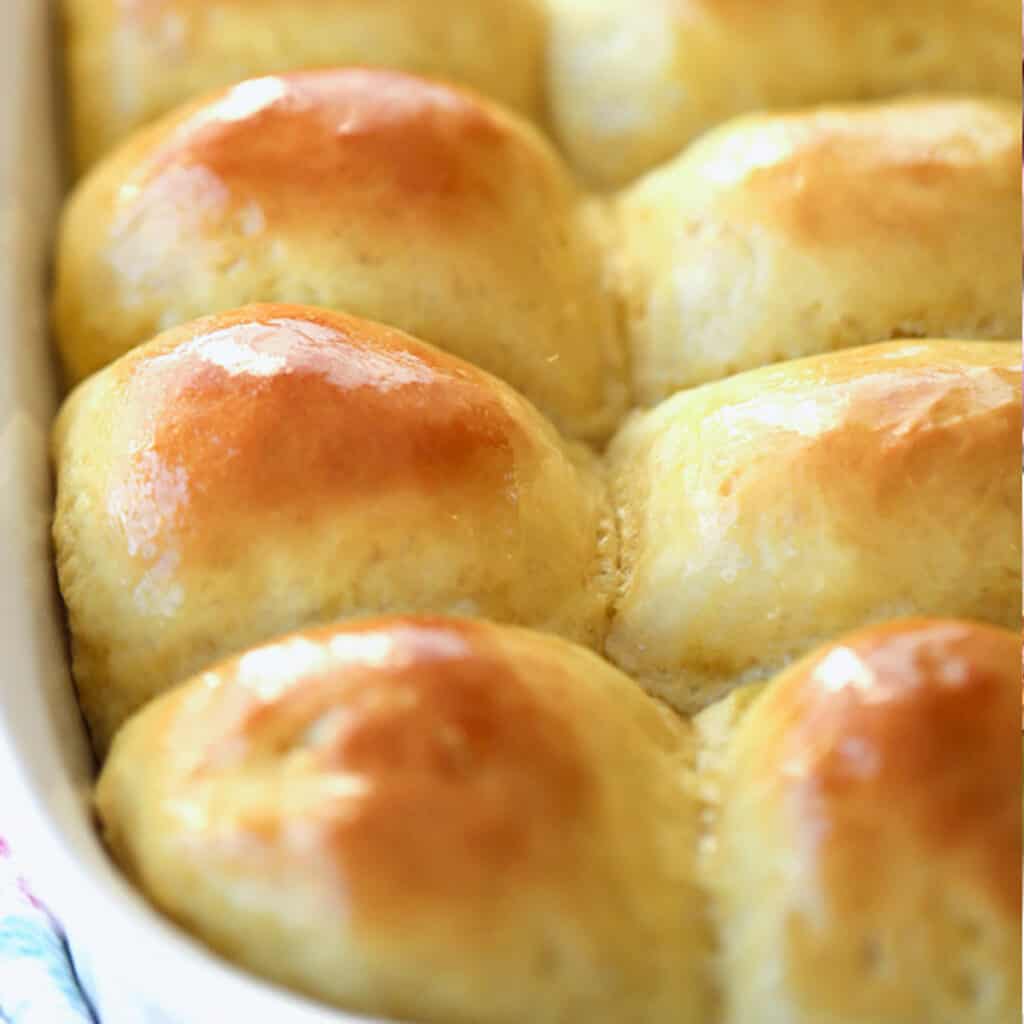 This easy pull-apart garlic bread is a fun and easy twist on homemade garlic bread or garlic knot recipe. It's soft and chewy on the inside and crusty, buttery and garlicky on the outside.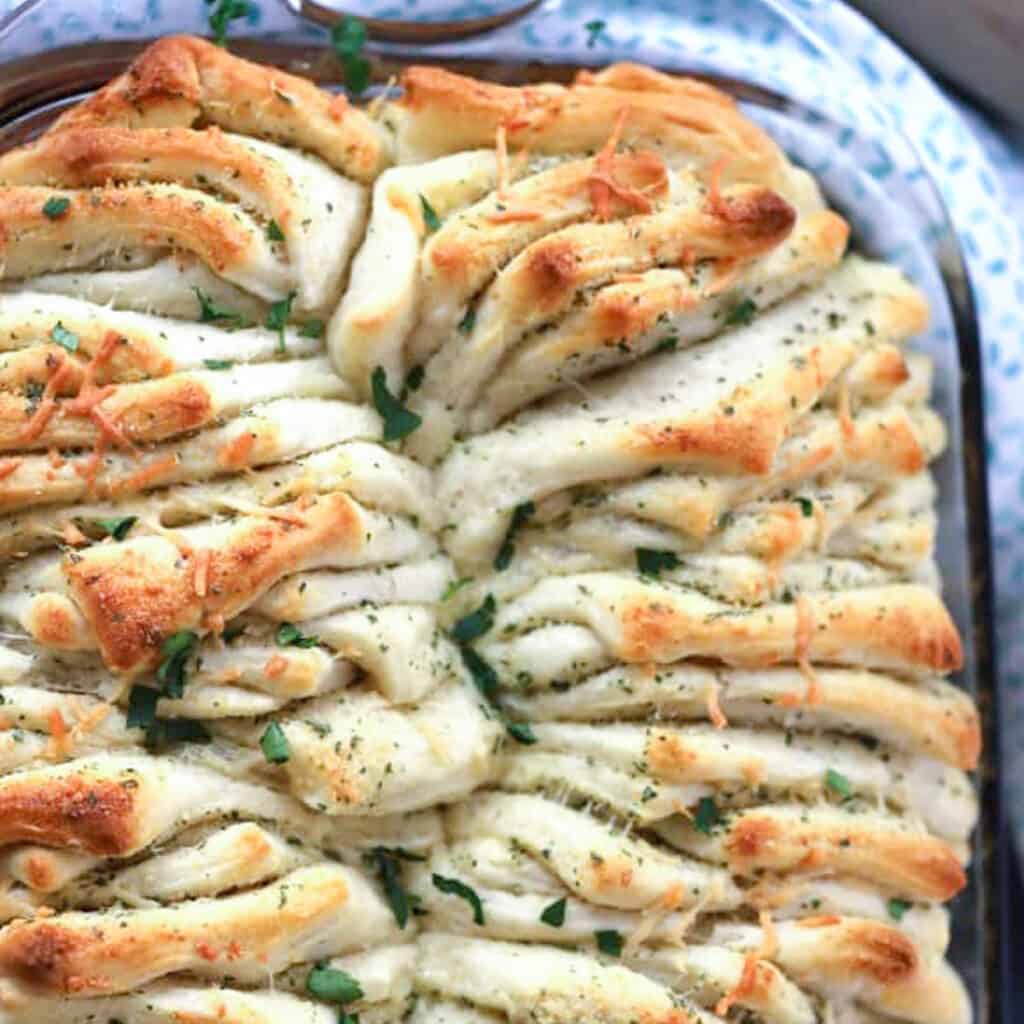 This Italian Herb Focaccia Bread is soft and chewy with a crisp outside and lots of flavor. We use plenty of olive oil, Italian herbs, Parmesan cheese and flakey sea salt to make sure that this simple bread is as delicious as possible.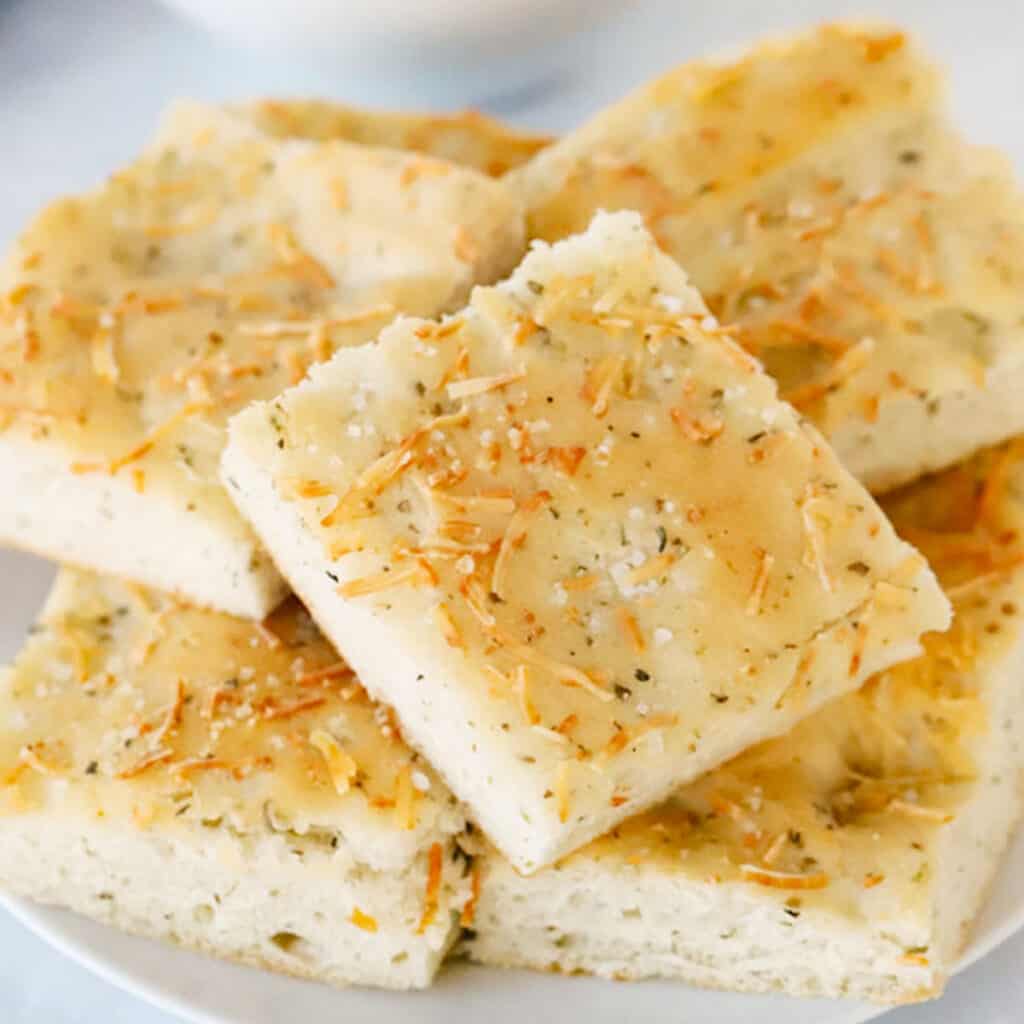 This Homemade Flaky Biscuit Recipe, Baking Powder Biscuits are soft, fluffy, buttery and so quick to make. With just a few easy steps, you'll have delicious homemade baking powder biscuits to rival anything from the can in no time.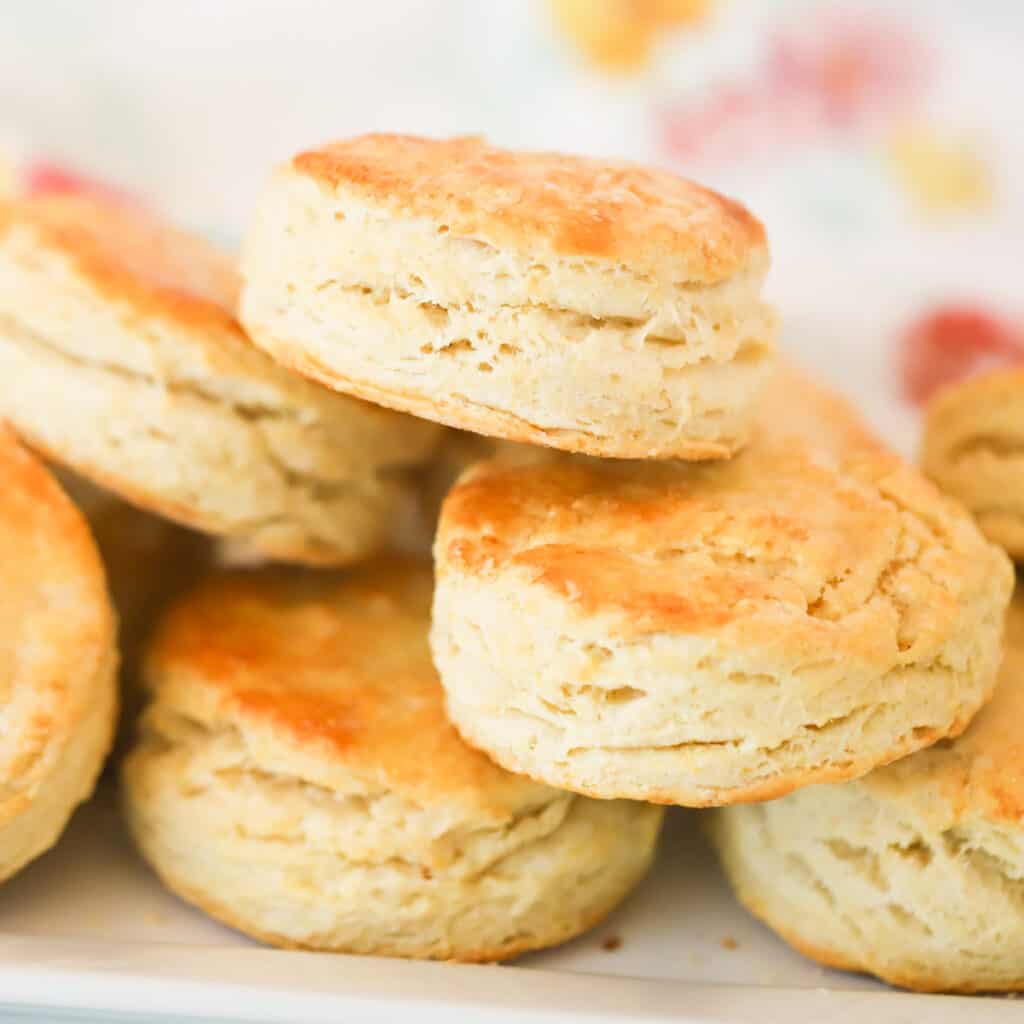 These Quick Dinner Rolls are soft, fluffy, buttery and so easy. All you need are a few simple ingredients and a minimal amount of prep to have these ready and on the table in no time.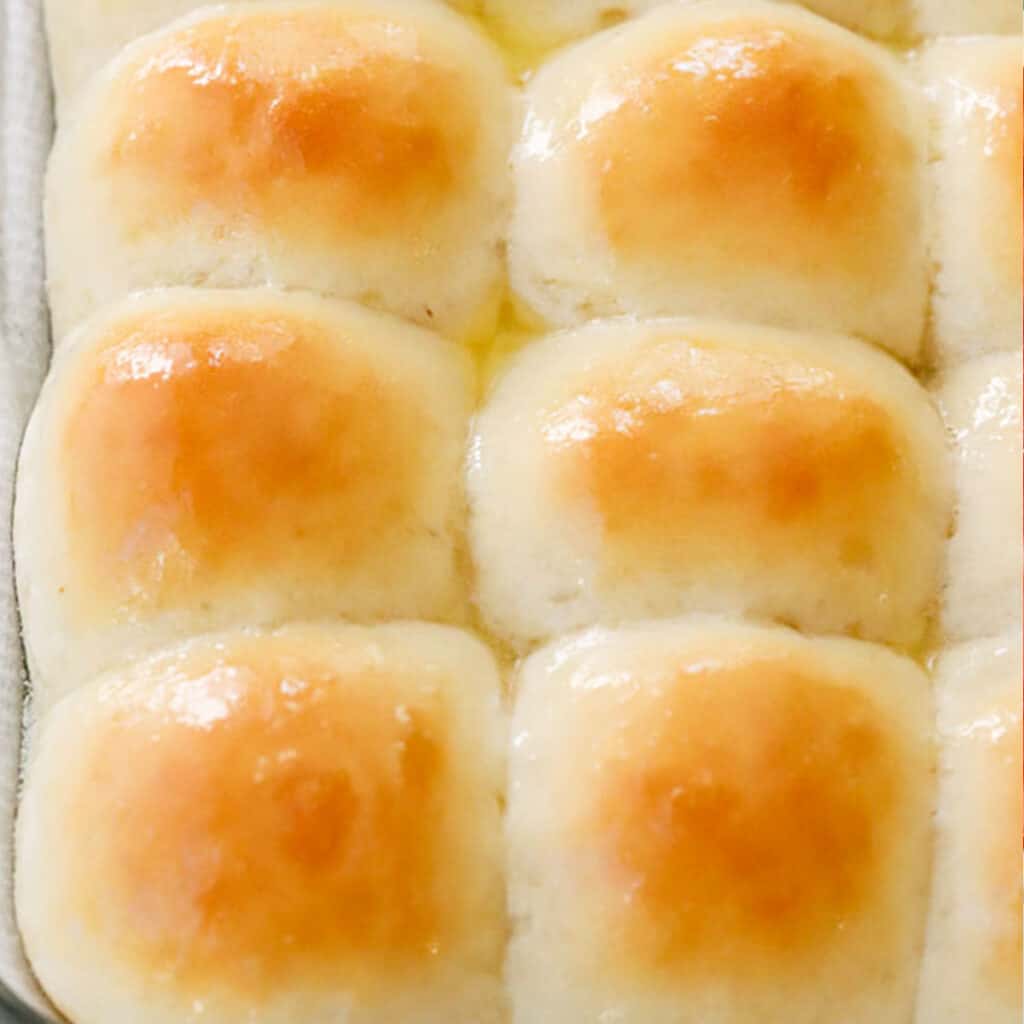 These homemade Wheat Rolls are soft, fluffy, and full of flavor. They are also wholesome, hearty, and make the perfect side dish, snack, or even mini sandwich roll.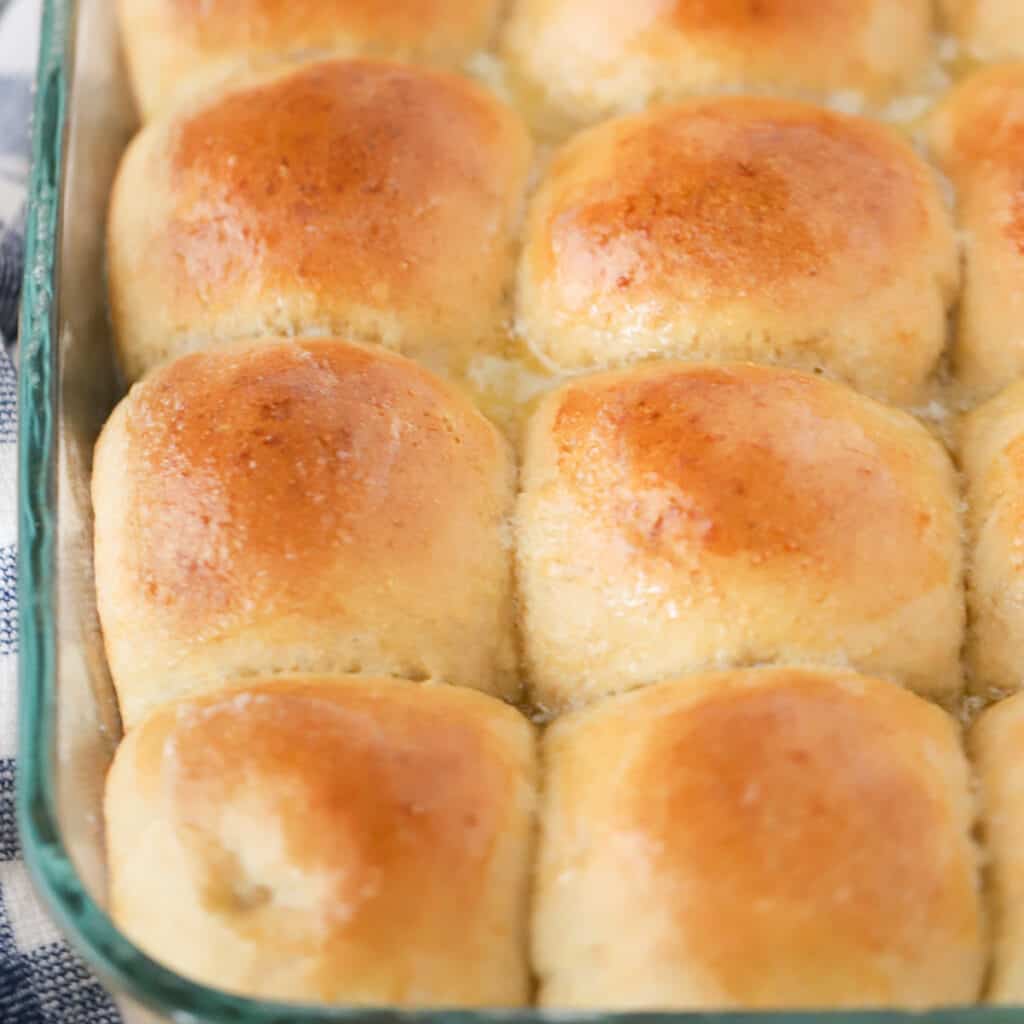 Potato Thanksgiving Dinner Sides
Aside from the potato recipes in the holiday favorites above, here are even more of our favorite potato side dish recipes for all your holiday needs. We've got you covered, from baked potatoes to crockpot mashed and au gratin potatoes. These thanksgiving side dishes everyone's favorites.
This Garlic Parmesan Mashed Potatoes recipe makes the perfect Thanksgiving side dish to go along with just about anything. They are buttery, garlicky, cheesy and absolutely delicious, with or without gravy.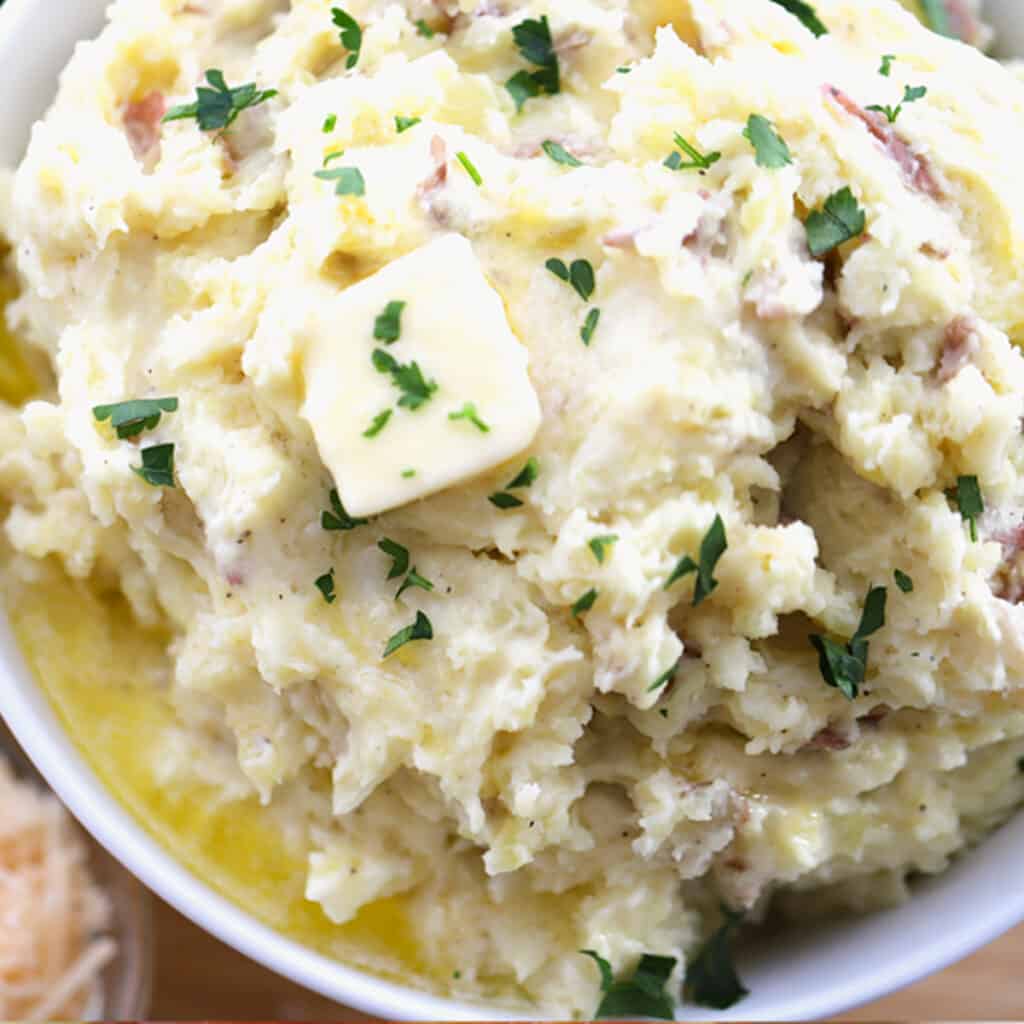 These Mashed Sweet Potatoes make a wonderfully delicious alternative to regular mashed potatoes. We blend perfectly cooked sweet potatoes with butter, brown sugar, cinnamon, and half and half, creating the most flavorful sweet potato side dish to go along with just about anything.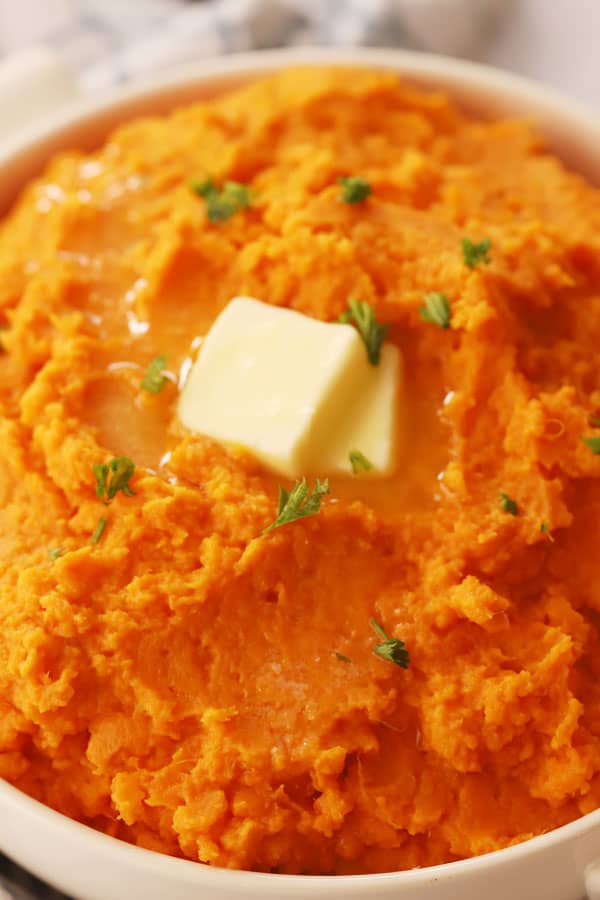 These Parmesan Roasted Fingerling Potatoes make the absolute perfect side dish, appetizer or snack for any occasion. They have a delicious crispy Parmesan crust with a smooth and buttery center and, best of all, they are incredibly simple to prep.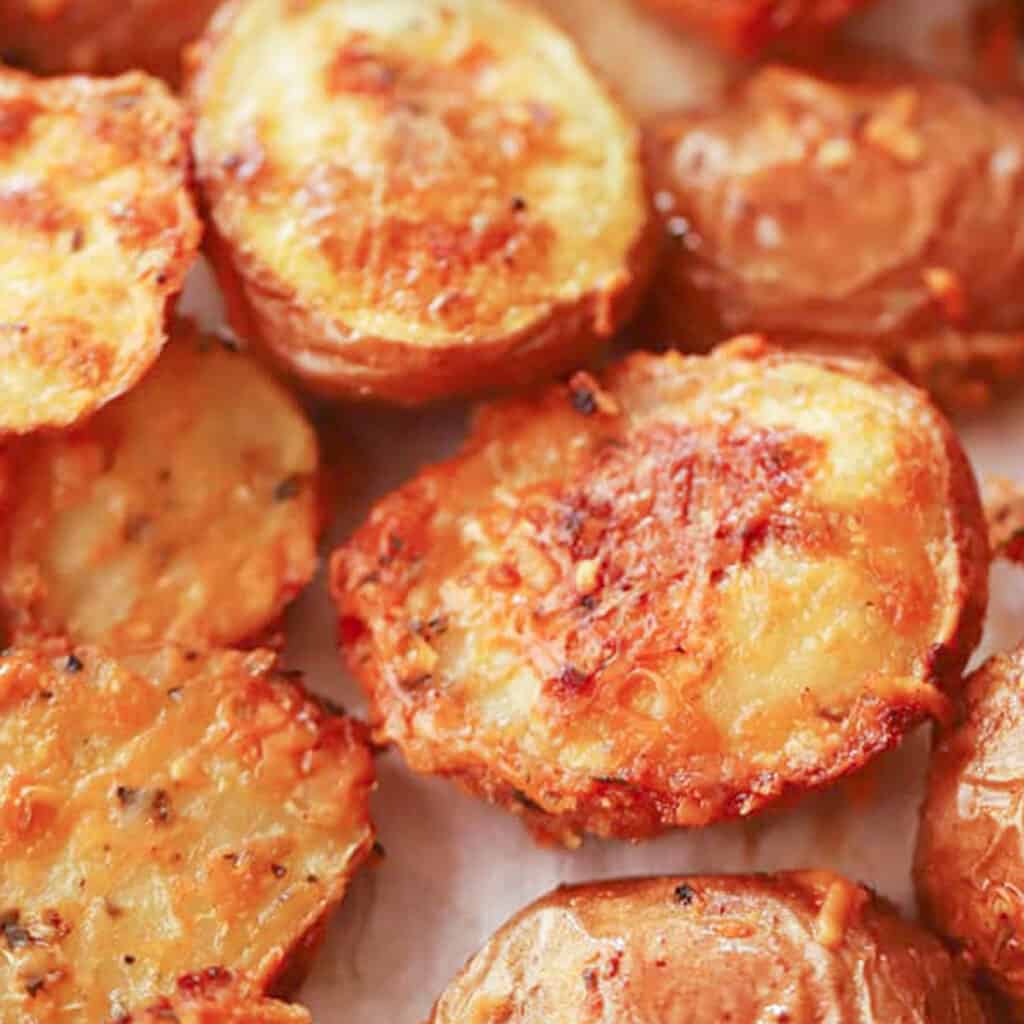 The Best Baked Potato Recipe has perfectly crispy, salty skin on the outside, and is fluffy on the inside. I'll show you how to make the best baked potato in the oven using just three ingredients.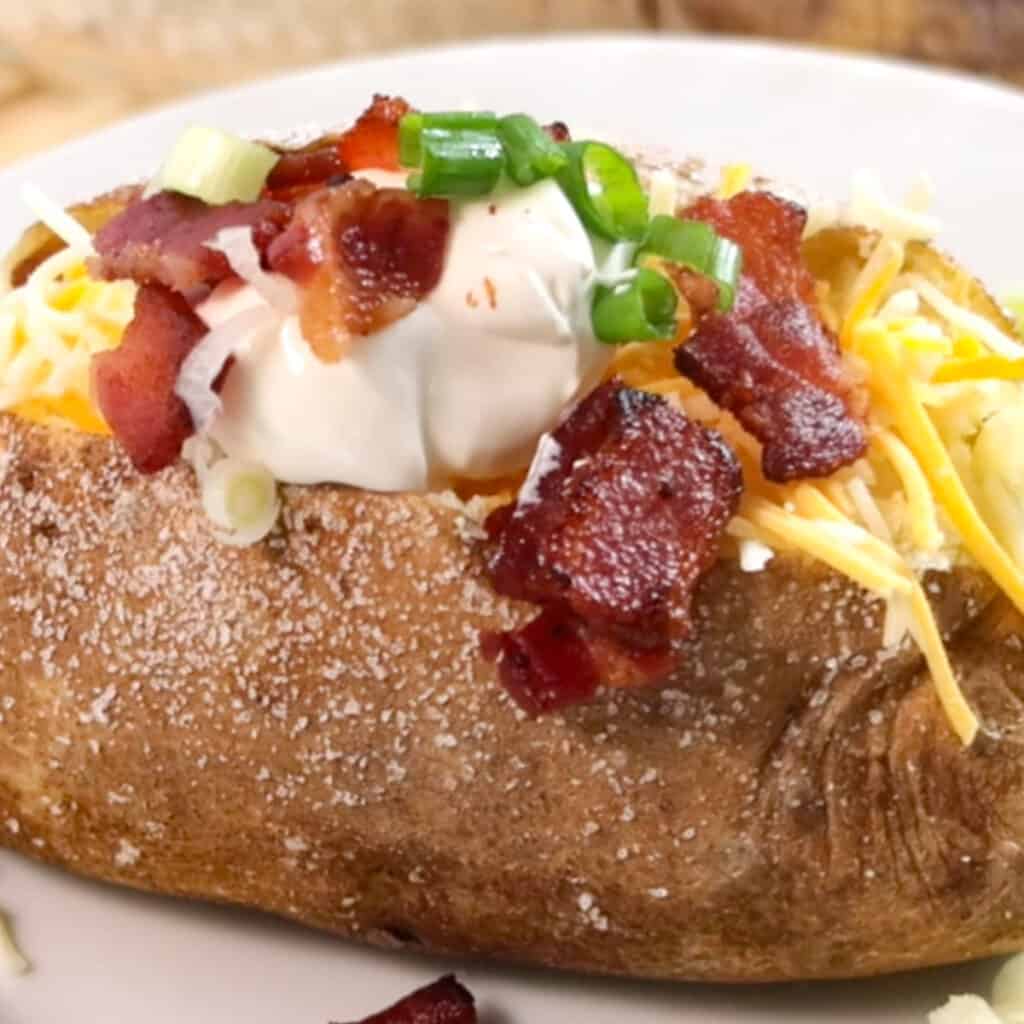 This Air Fryer Red Potato Recipe is fluffy on the inside, crispy on the outside, and uses only a fraction of the oil that fried potatoes do. They are super simple to make, use just a few ingredients, and are the perfect Thanksgiving side dish, ready in under 30 minutes.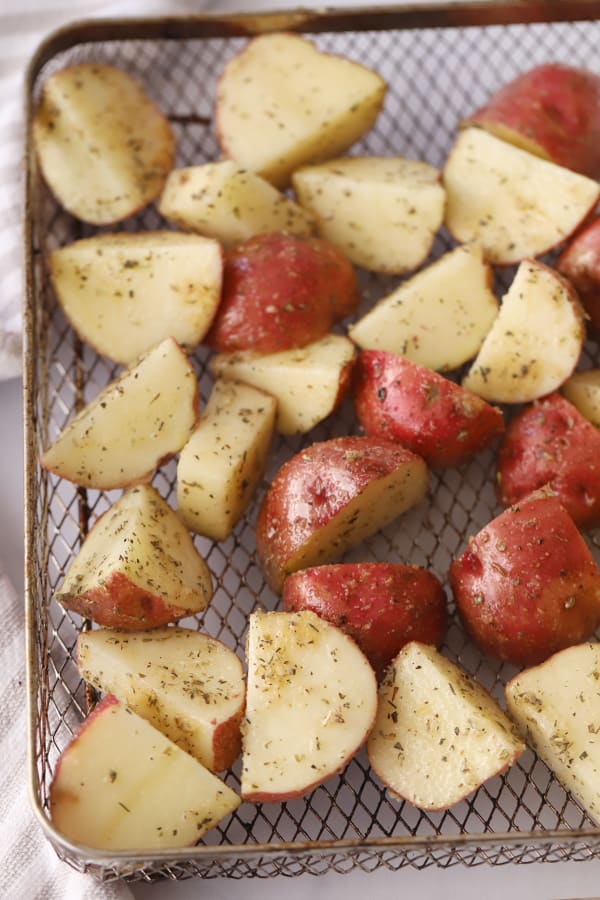 This Oven Roasted Red Skin Potatoes recipe is one of the most simple and versatile side dishes that you can make. These little spuds are crispy on the outside, soft in the middle and perfectly seasoned to go with just about anything.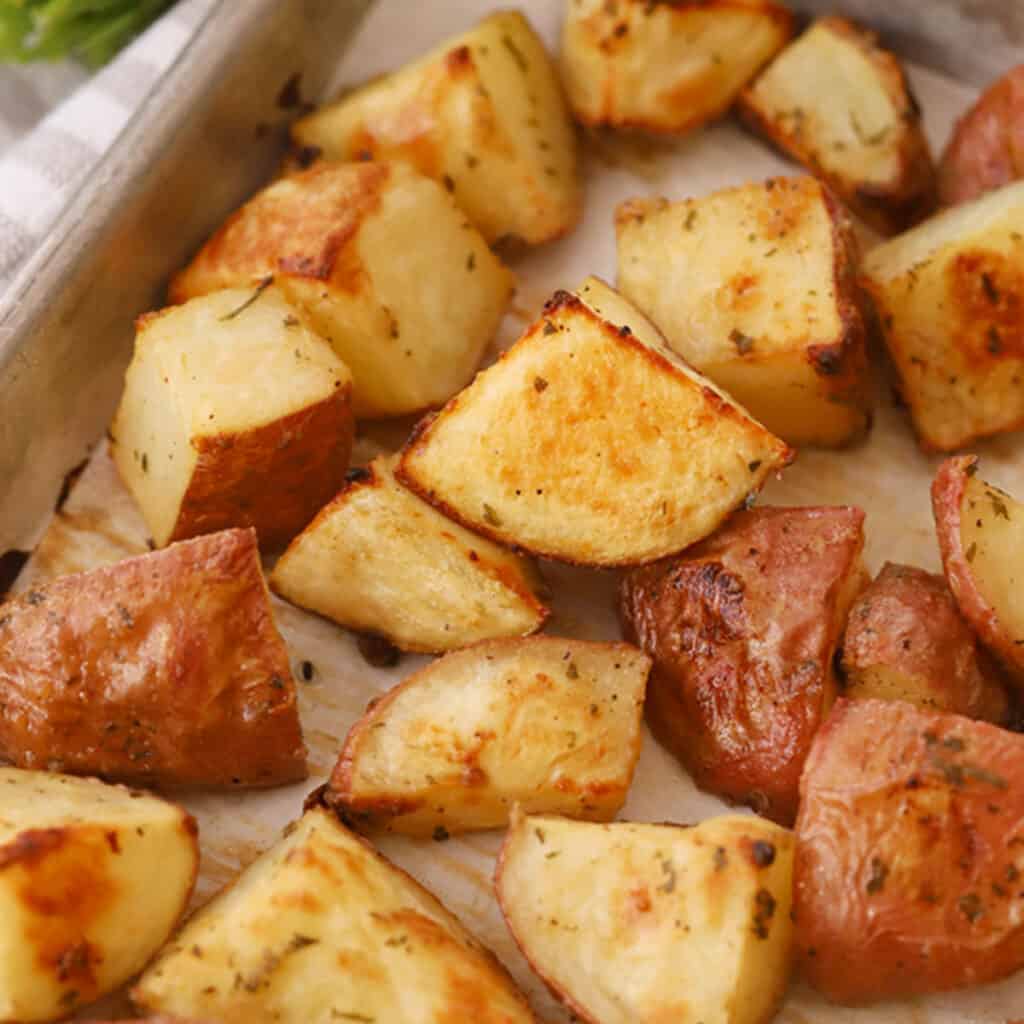 This Cheesy Ranch Potatoes Recipe is total comfort food that the whole family will love. It's made with red potatoes that have been tossed in ranch dressing mix, oven-roasted, and smothered in gooey cheddar cheese and bacon bits.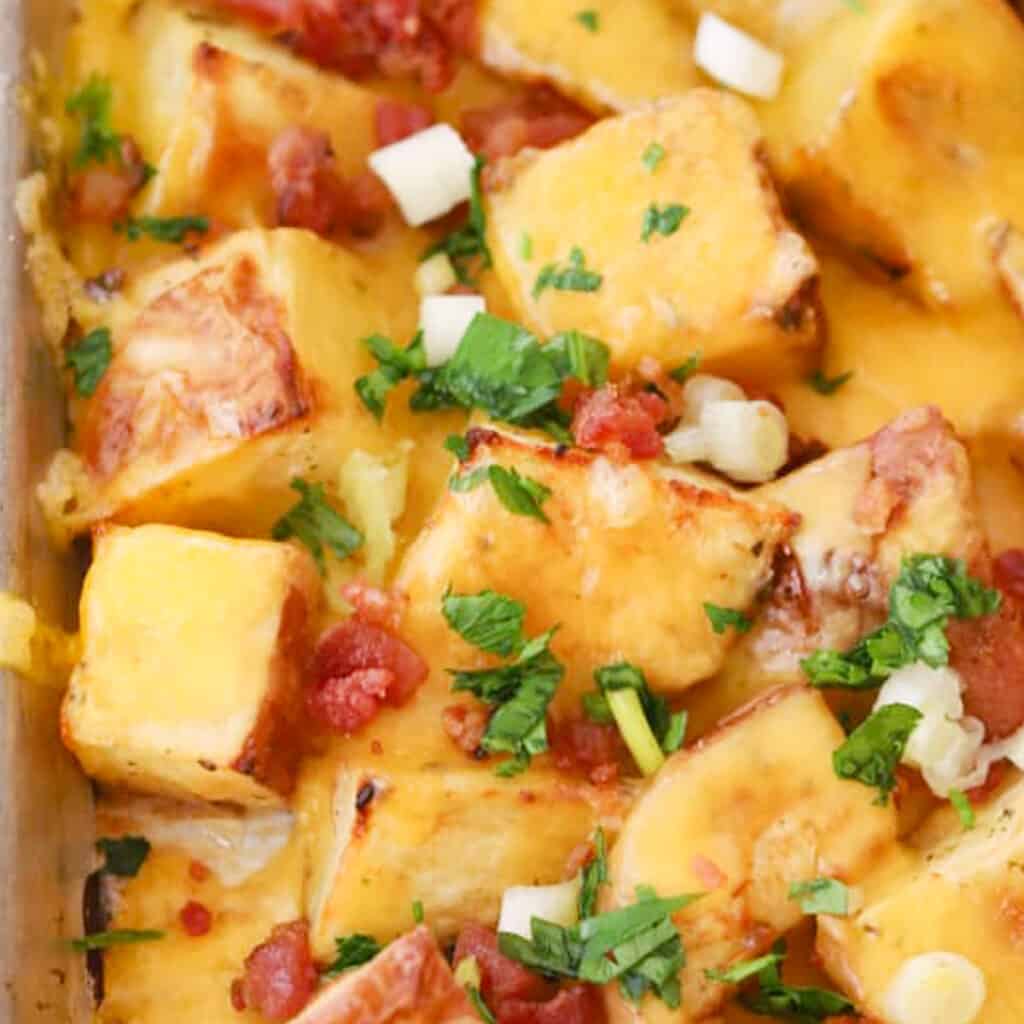 These Crockpot Mashed Potatoes are 100% made in the crockpot. They are light and fluffy, full of flavor and make for the ultimate hands-free Thanksgiving side dish.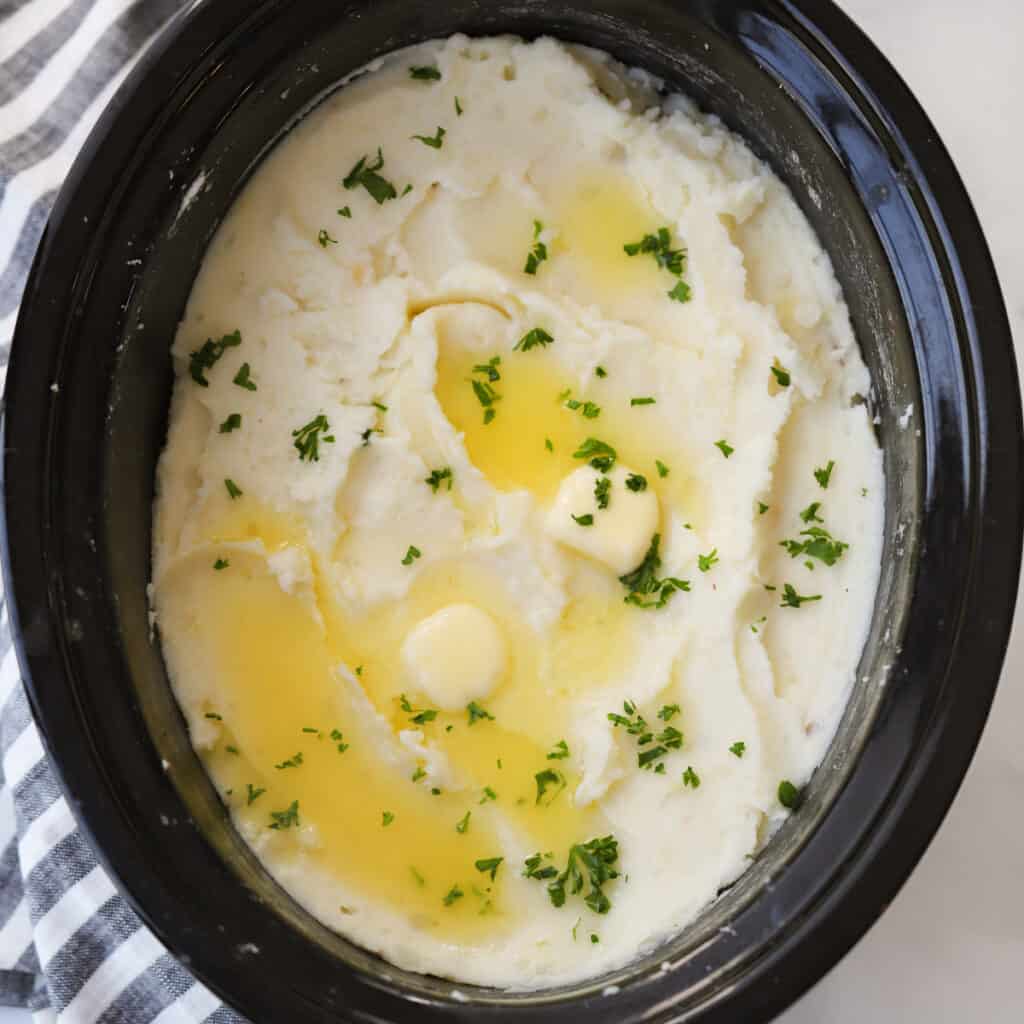 Crockpot Cheesy Potato Casserole Recipe is so easy to make. It's a dump and go recipe that only makes a few minutes to throw together.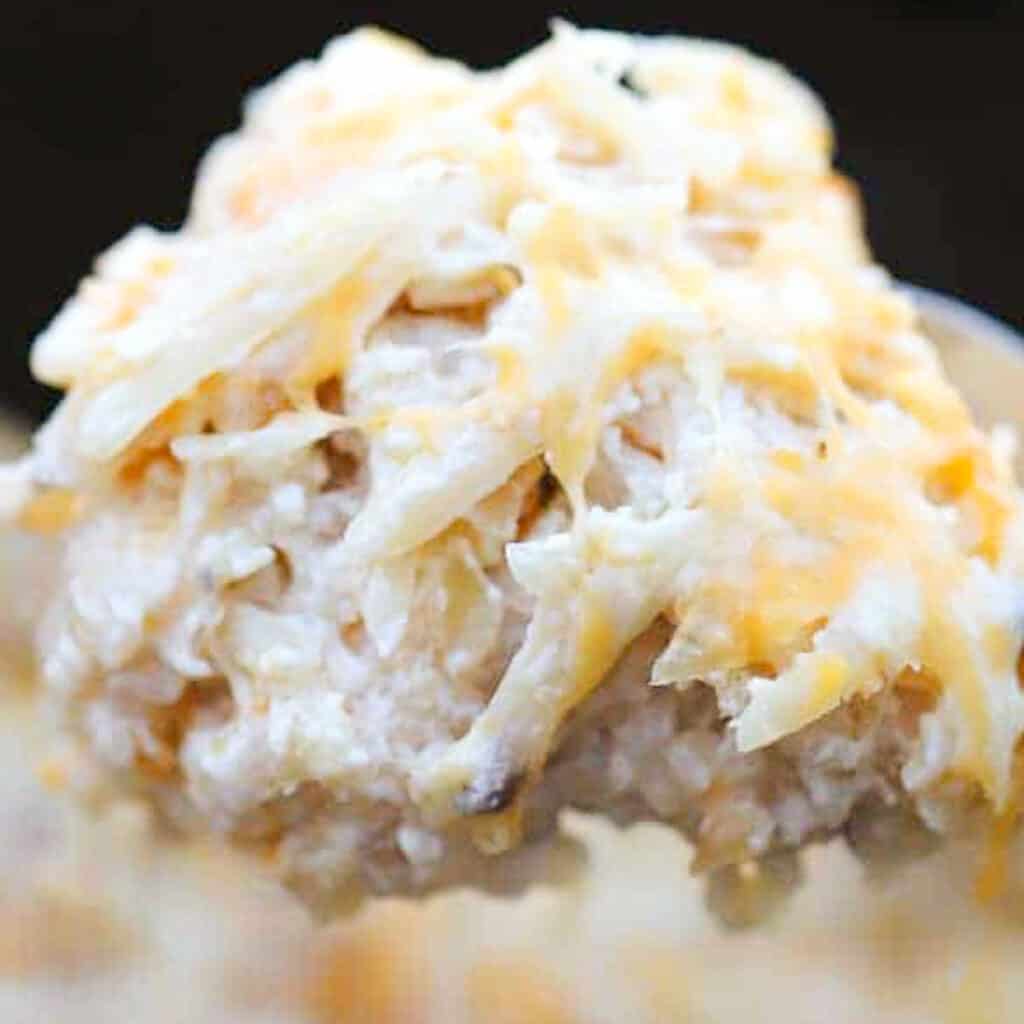 This Gruyere Scalloped Potatoes recipe makes the perfect potato side dish for weeknights, potlucks, or holiday dinners. Made from thinly sliced potatoes and covered in a sweet and nutty Gruyere cheese sauce, it's a deliciously rich and creamy dish the entire family will love.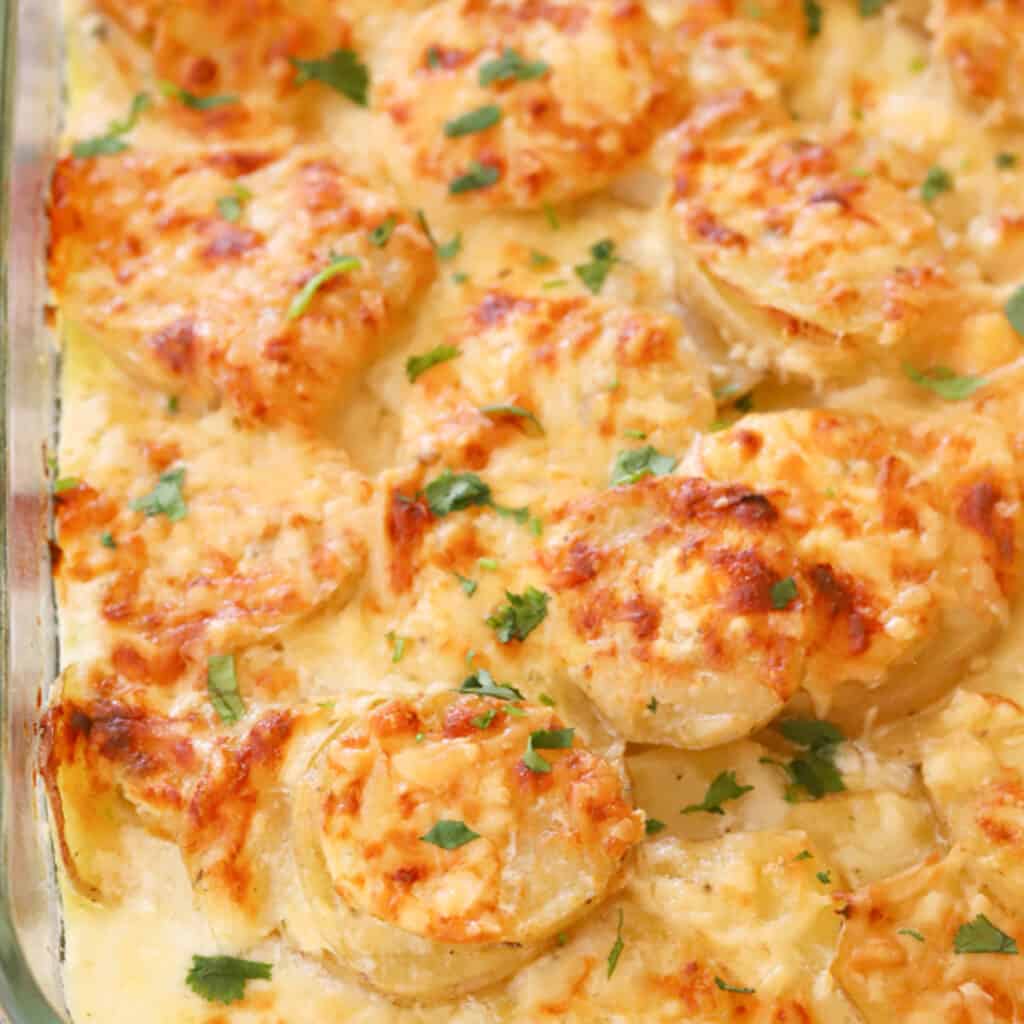 This Twice Baked Potato Casserole is what cheesy potato dreams are made of. It's super simple to make and loaded with family favorites like mashed potatoes, sour cream, cheddar cheese and bacon.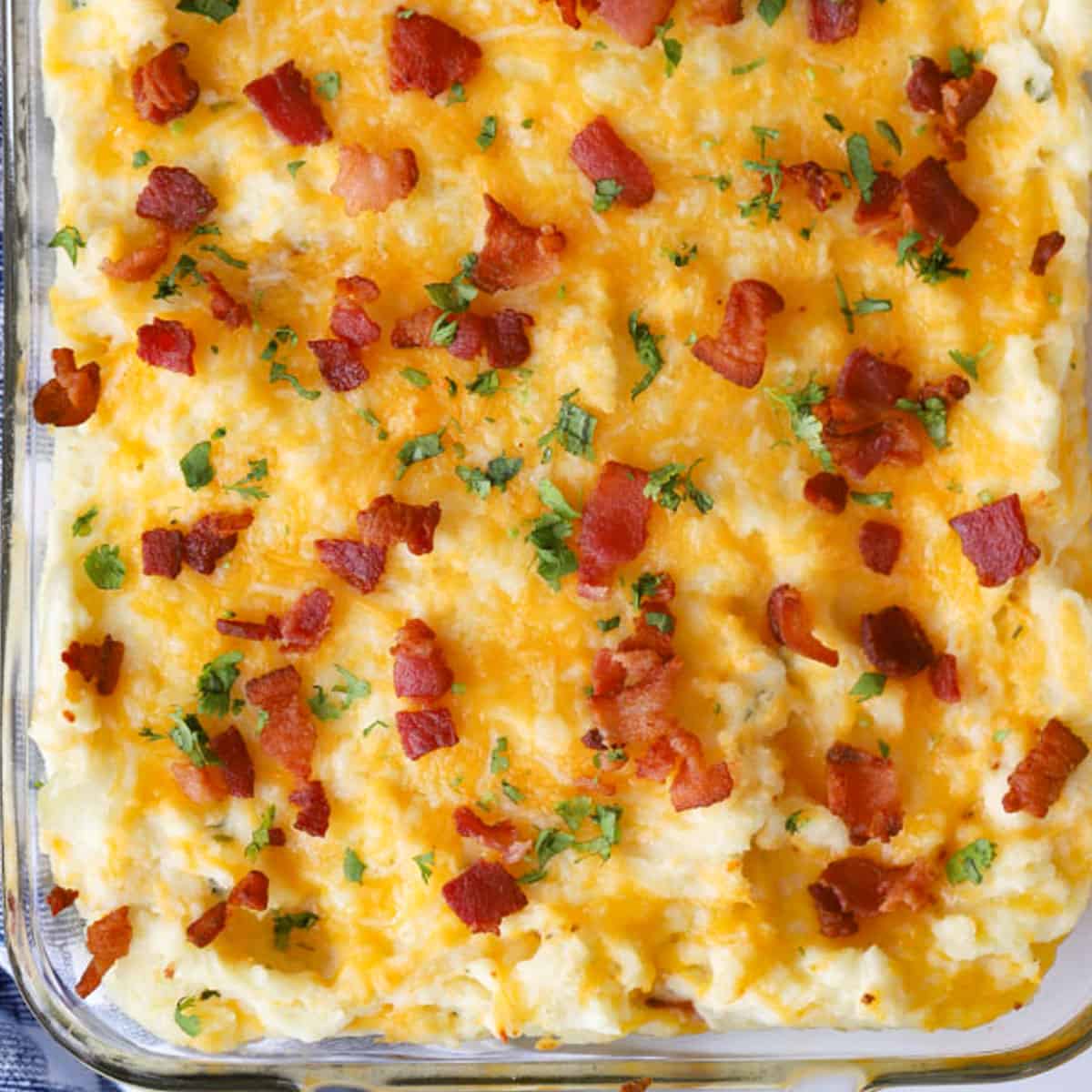 This Mashed Red Potatoes Recipe is pure comfort food and an easy Thanksgiving side dish. Made with simple ingredients like butter, sour cream, garlic, and milk, they are bursting with flavor and pair well with just about anything.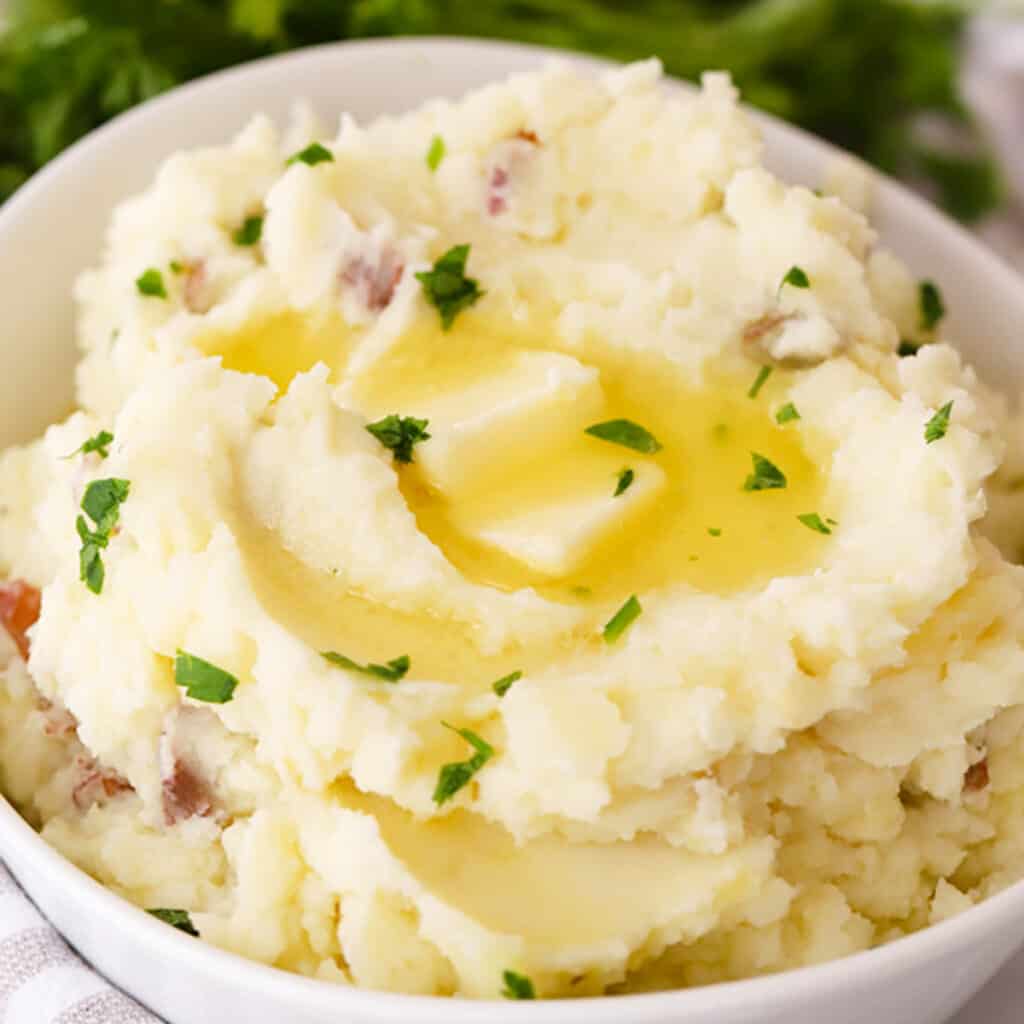 These Homemade Au Gratin Potatoes are an easy, cheesy side dish that is impossible to resist. Thinly sliced potatoes are cooked to melt-in-your-mouth perfection in a rich cheddar cheese cream sauce.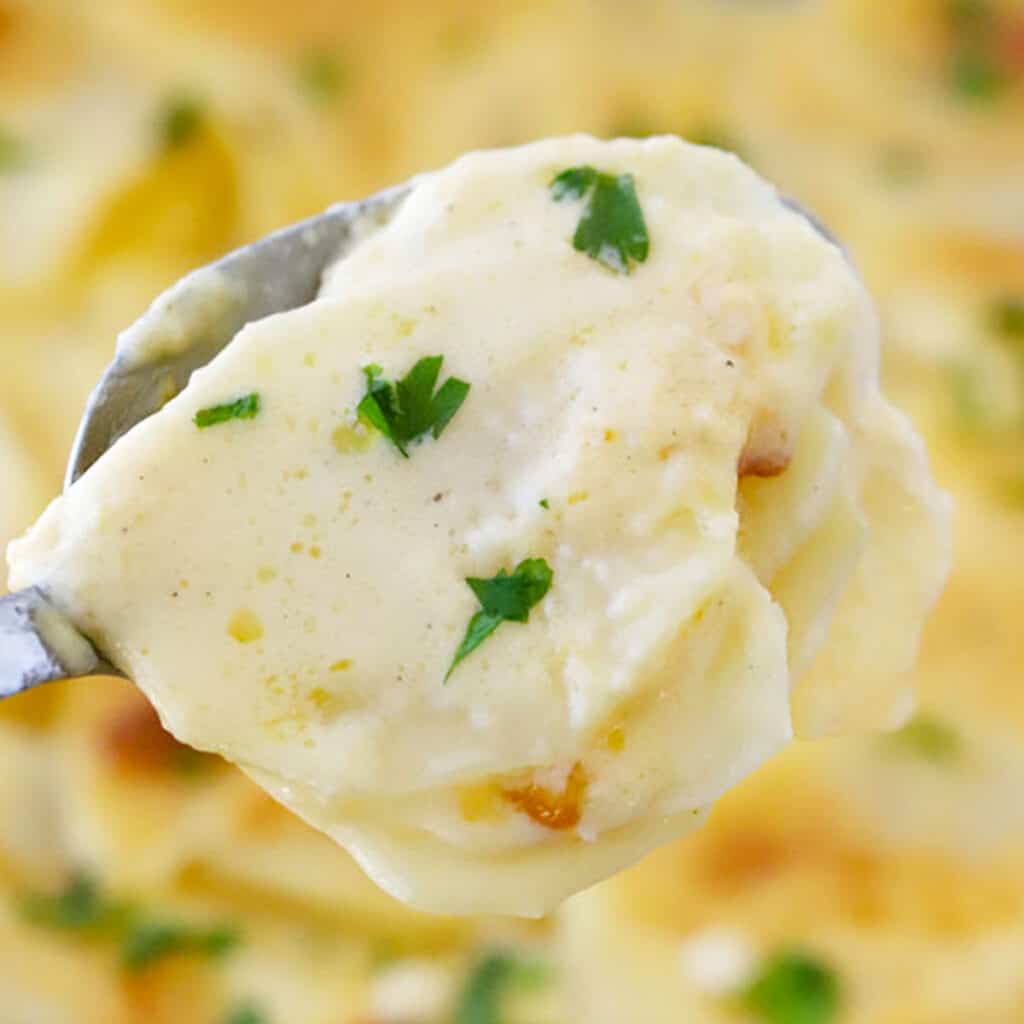 New Thanksgiving Sides
The following easy side dishes for Thanksgiving include fun twists on holiday favorites. Find something new to make this year, and create a new tradition.
This Curry Squash Soup is just what you want to eat on a chilly fall day. It's ultra-creamy and full of flavor, thanks to apples, coconut milk, warm spices, and just a hint of cayenne powder.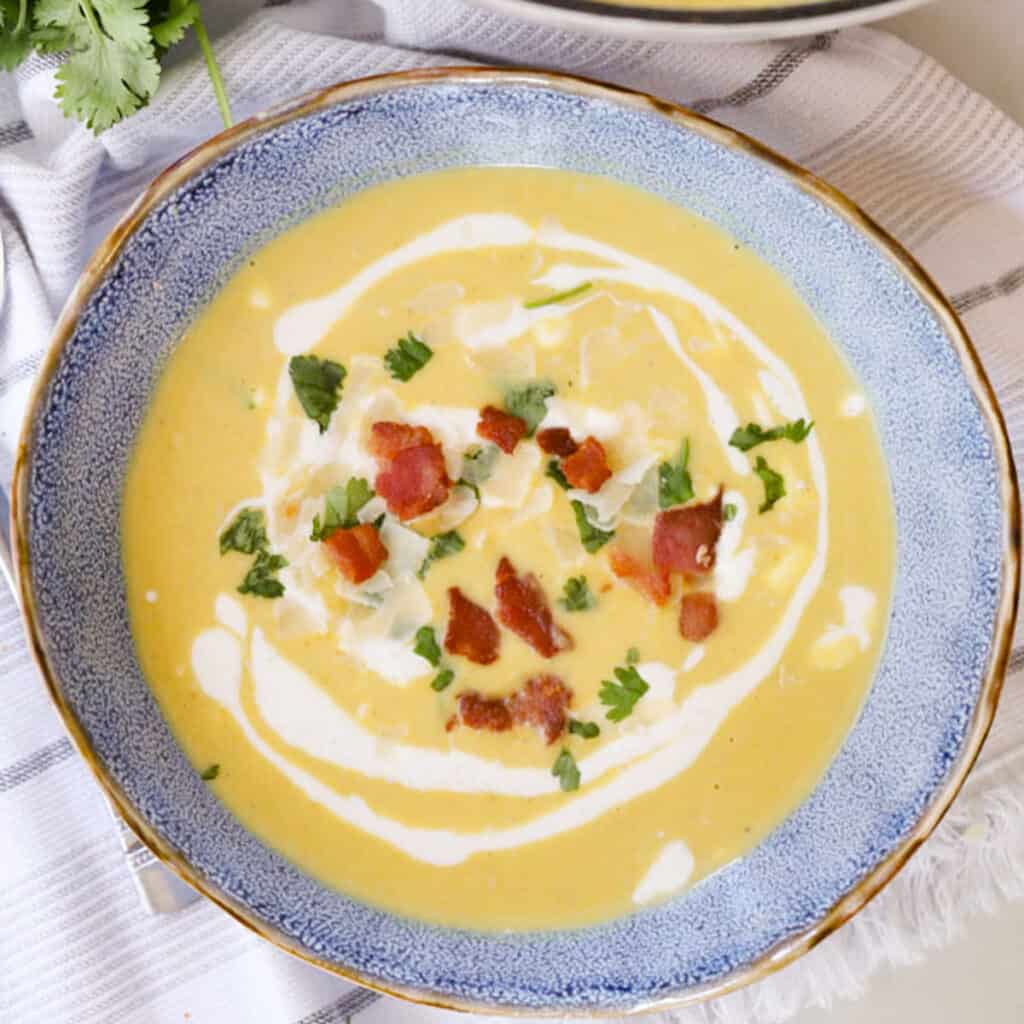 These thin and crispy oven-baked Zucchini Chips are a healthy and delicious alternative to potato chips. Made with thinly sliced zucchini tossed in olive oil, simple seasoning and a dusting of Parmesan cheese, they make the perfect healthy snack or easy side dish.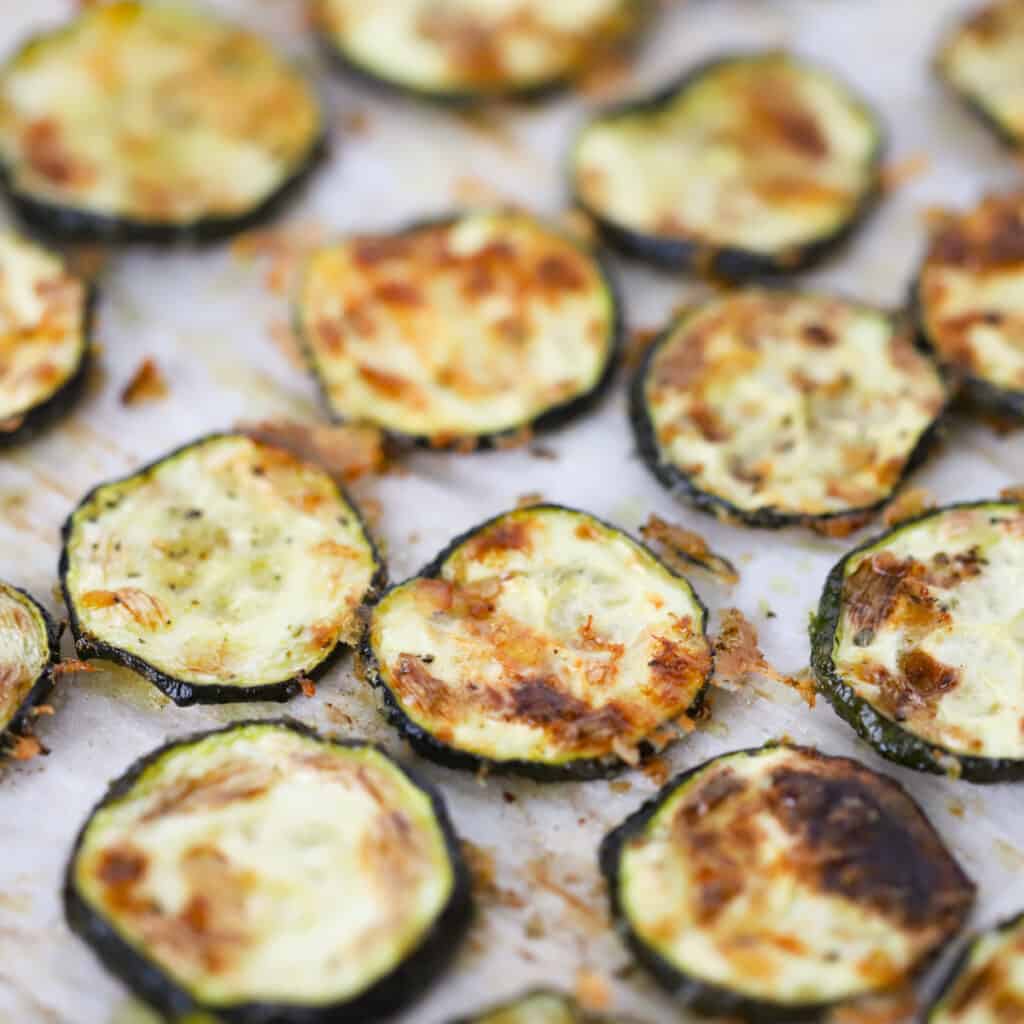 These Creamy Mashed Root Vegetables make for a simple, delicious, and unique side dish to serve with any fall meal.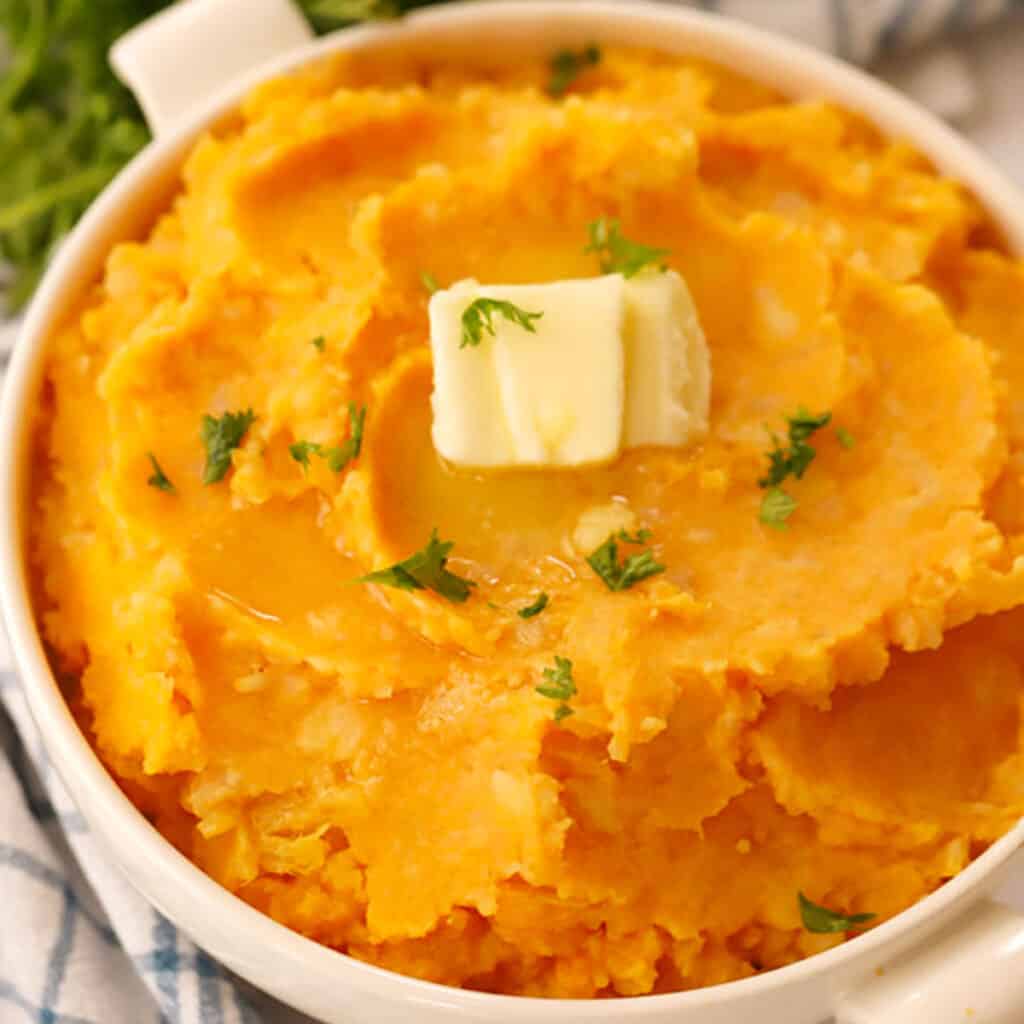 This is an apple sausage stuffing recipe made with simple and fresh ingredients, maple sausage, fresh apples, and a perfect balance of fresh herbs and spices. It's one of the best Thanksgiving side dishes for your holiday feast!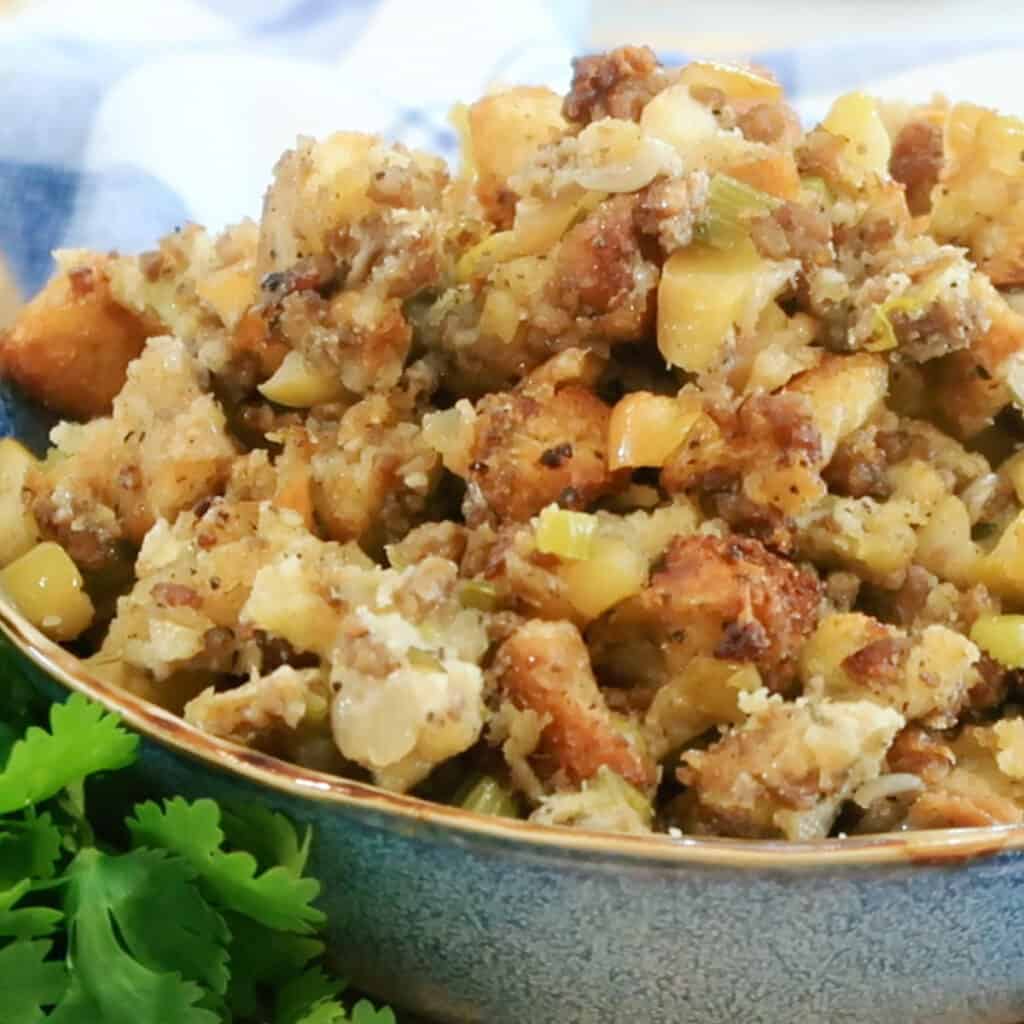 This Bacon Ranch Cheese Ball is a quick and easy appetizer. It's a 5 ingredient easy cheeseball recipe with cream cheese, cheddar cheese, hidden valley ranch seasoning, bacon bits, and green onions. It's a bacon cheddar ranch cheeseball everyone will love.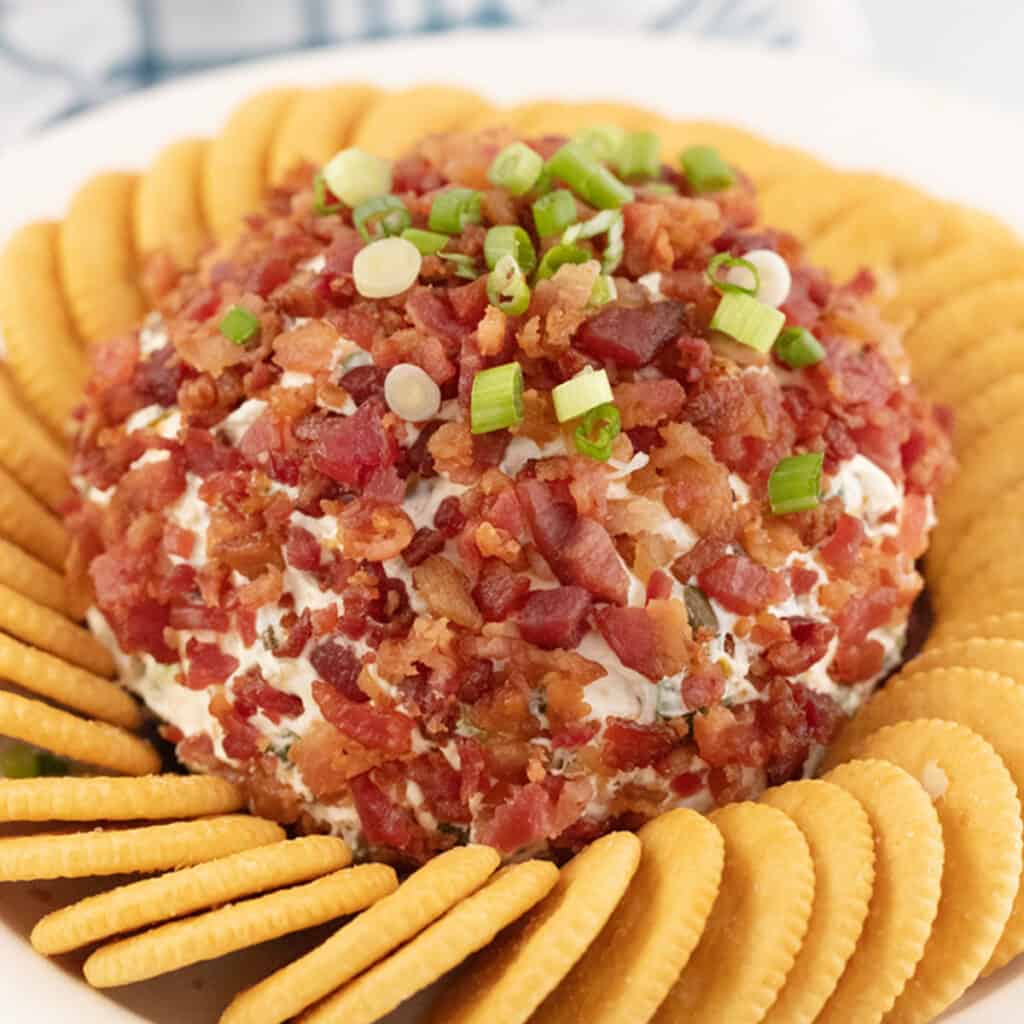 This Classic Cheese Ball Recipe is a Ham and Cheddar Cheese Ball Recipe. It's made with cream cheese, green onions, ham and is a classic Holiday Cheese Ball. It's perfect for the holidays or any gathering, an easy make-ahead, no-bake appetizer.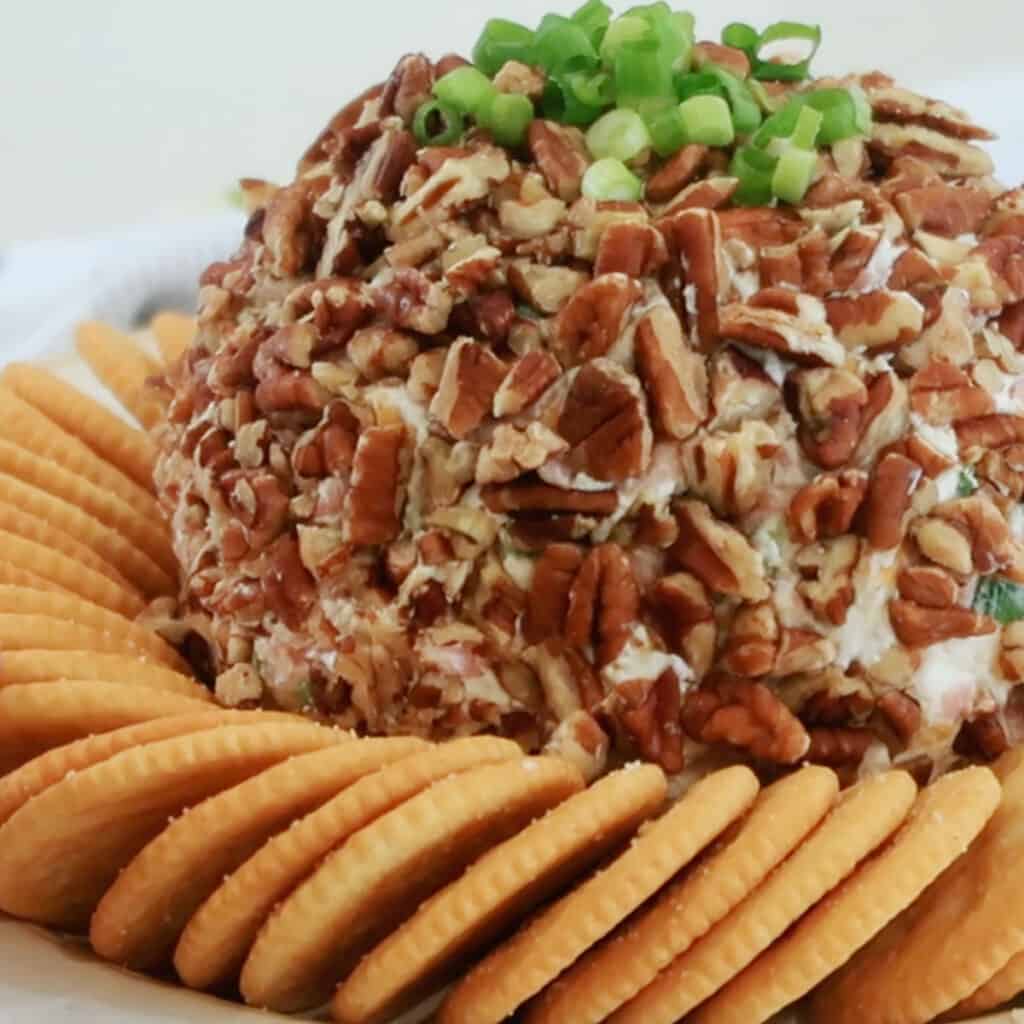 These Sausage Stuffed Mushrooms are easy stuffed mushrooms recipes. This stuffed mushroom appetizers is stuffed with spicy sausage, cream cheese, and topped with a panko and a parmesan breadcrumb topping. It's a delicious and easy appetizer recipe that can be served hot or warm.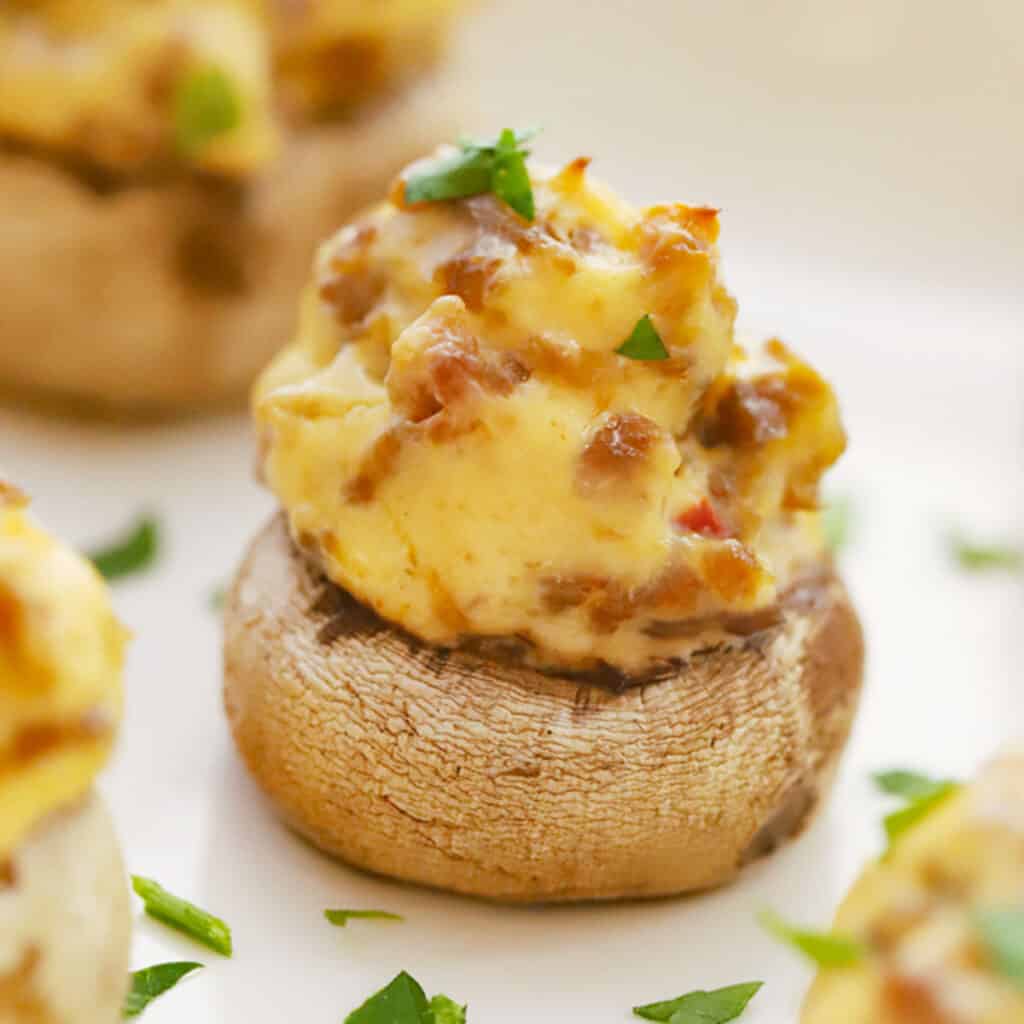 This Thanksgiving Wild Rice is a hearty side dish packed with sauteed veggies, toasted pecans, dried cranberries, and fresh citrus. I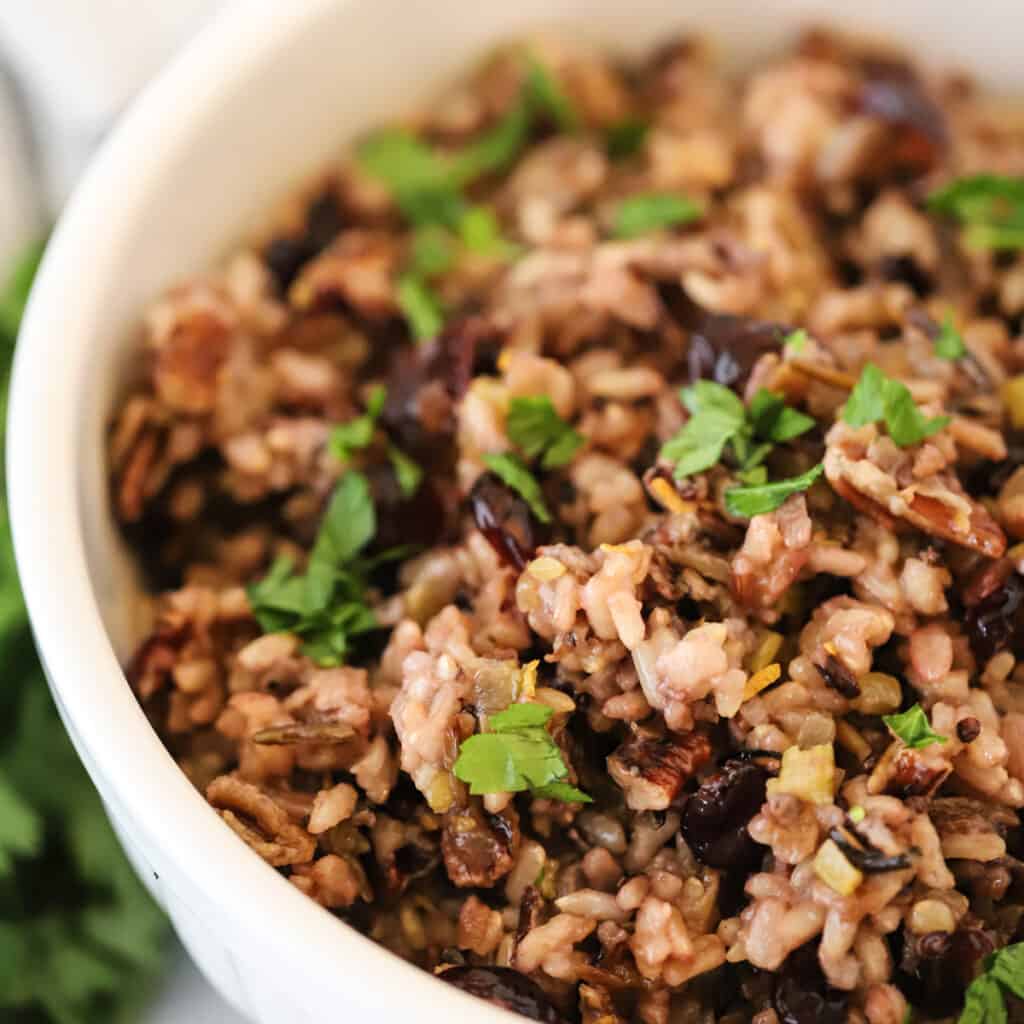 If you've tried this recipe, please rate it and leave a comment on this post. I love hearing feedback from you. It helps me and other readers too! If you love Pinterest, feel free to leave a comment and photo there too. Also, if you like to share, use the hashtag #thecarefreekitchen on Instagram and tag me @thecarefreekitchen so I can find you and give your post some love. You can also find me on Facebook at The Carefree Kitchen. Thank you!!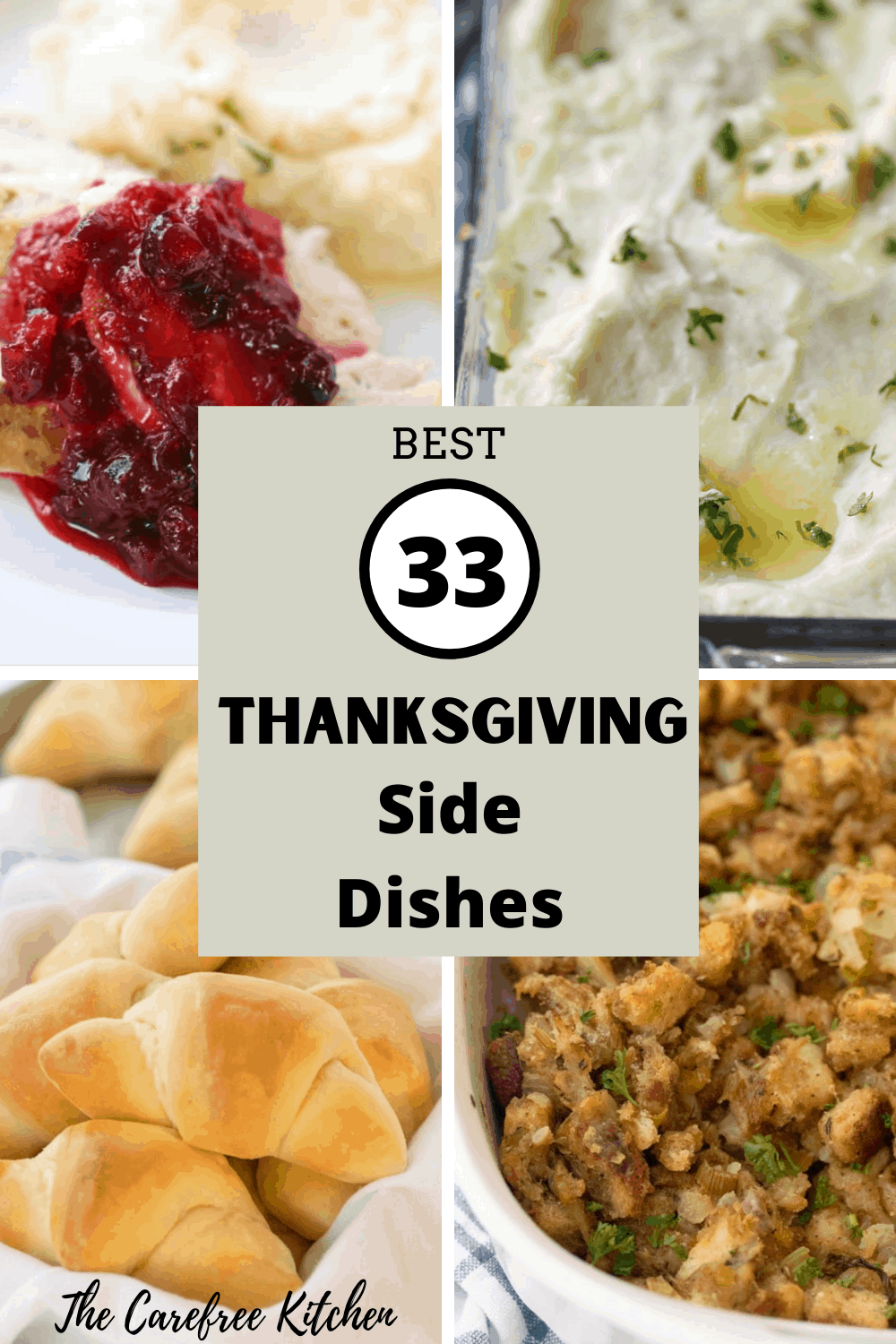 More Favorite Holiday Recipes
Here are our Best Thanksgiving Side Dish recipes, from our family to yours. We've pulled together a range popular Thanksgiving food and new favorites so you'll have plenty to choose from this holiday season.
Reader Interactions