These homemade mashed potatoes are easy and delicious. This garlic mashed potato recipe is amazing with gravy but has plenty of flavors to devour without it too!

These rustic garlic mashed potatoes will be a hit at your next family dinner. The intense garlic and parmesan flavors pair perfectly with the mashed potatoes, with or without gravy!
If I'm ever questioning my kids what I should make for dinner, these are always on top of the list. Some families really prefer rice but my family, it's potatoes all the way!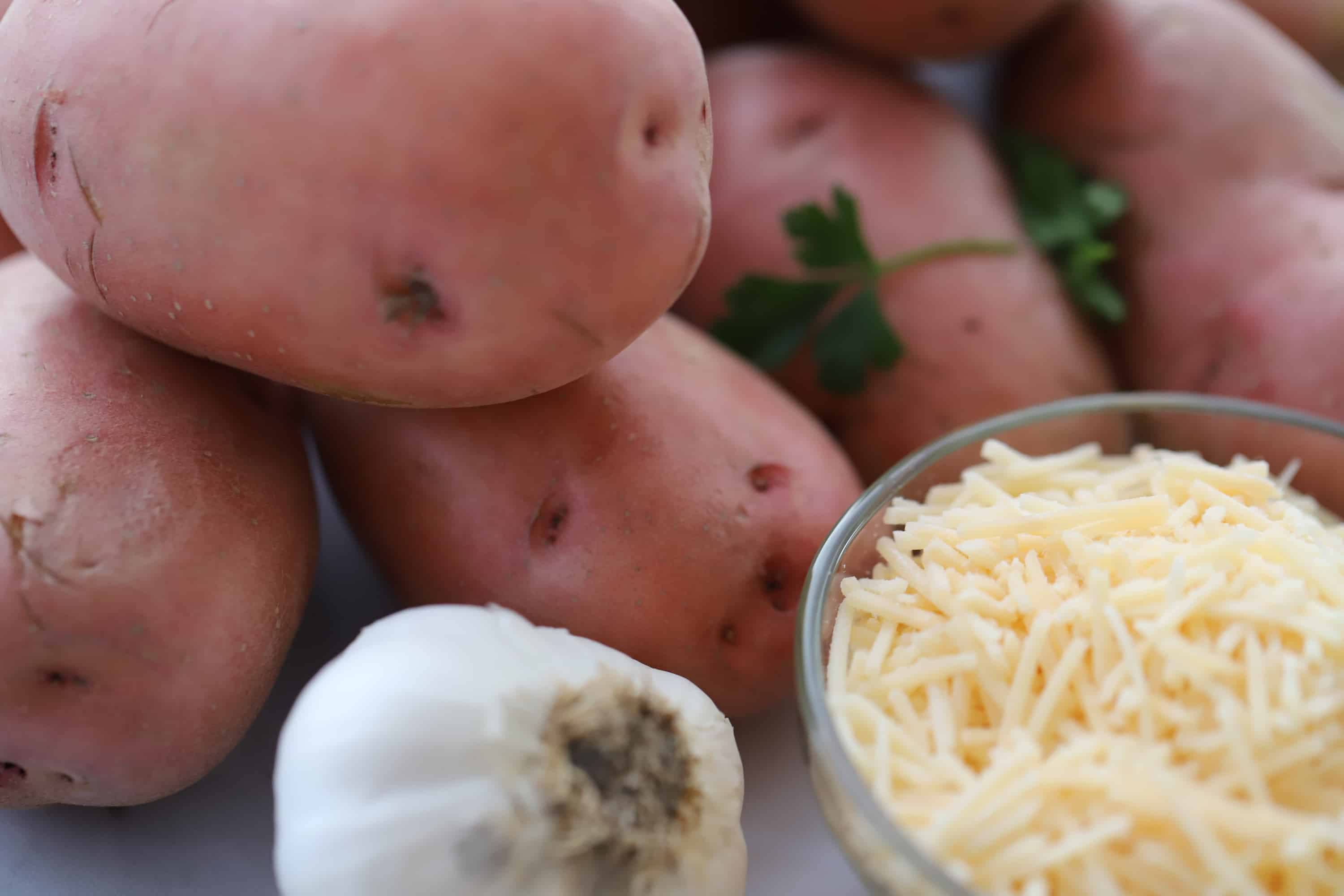 Potatoes are easy and so versatile!!
I love potatoes because they're so versatile. They are one of my favorite vegetables to experiment with. They adapt to so many different flavors and styles of cooking. You can mash them many different ways, fry them, bake them, and roast them, and my family likes them every time. Boo-yah!
Best Mashed Potato Recipe
If your little kids or you family is a little squeamish about garlic flavor, this is a great way to give them some exposure. You might want to go a little lighter on the garlic than the recipe calls for but we love garlic around here. You can reduce the garlic by a teaspoon or so and they'd probably still be great!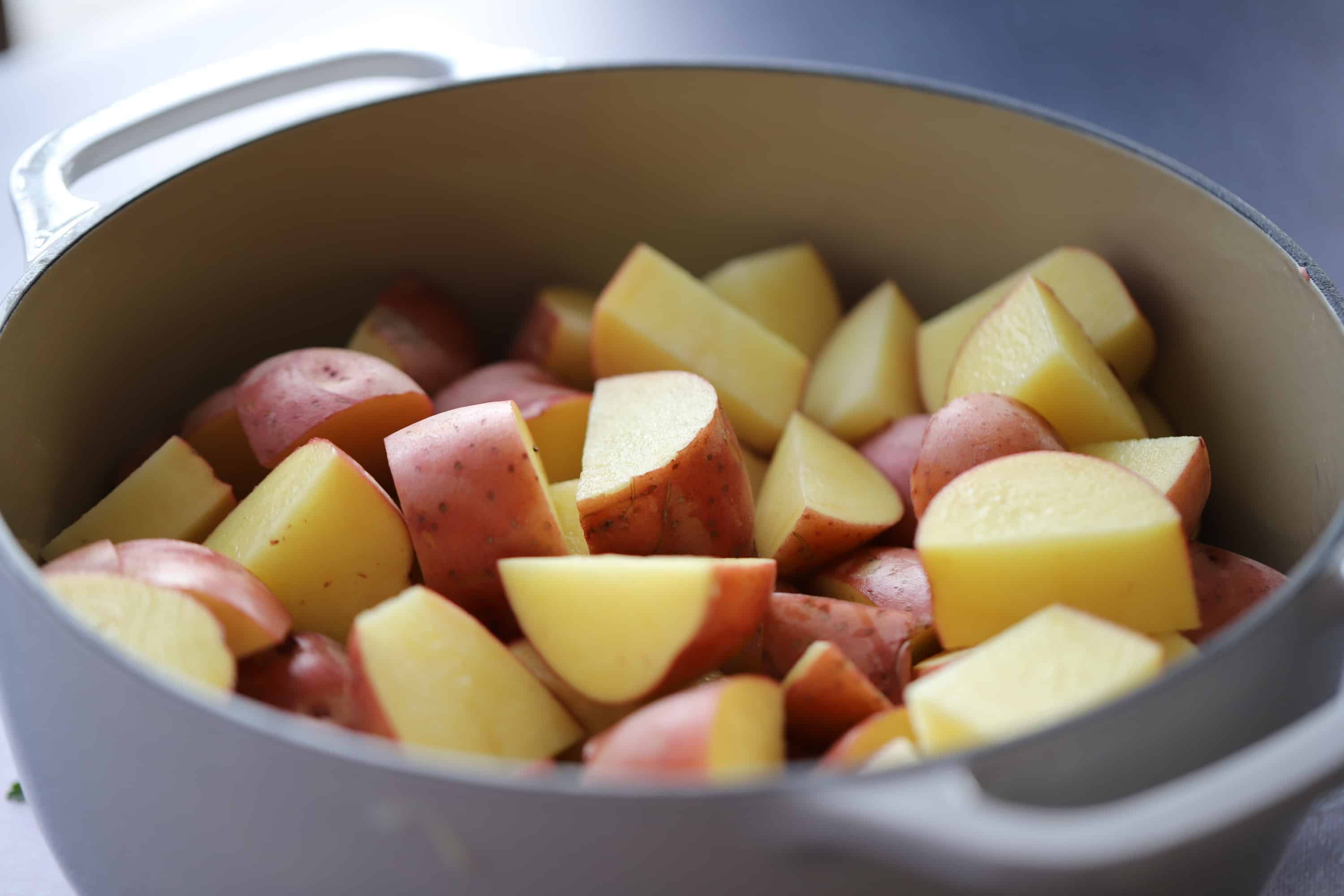 I used pre-shredded parmesan in this recipe but you can certainly grate your own or use a mix of cheeses. Sometimes I'm certain I have enough parmesan in the fridge but find that I don't. You can use mild cheddar, gouda, or even mozzarella in these potatoes. If you find your family likes more cheese, by all means, double the amount of cheese. As long as you have enough salt and garlic flavoring, and have enough milk, you can play around with all kinds of different cheese flavors.
Wondering what to serve these delicious potatoes with? Try a crispy baked chicken breast or and easy pot roast. Honestly, It works as a side dish with just about anything. Here's the recipe to my Crock Pot Roast.
Another great side with a roast and these potatoes are my Garlic Pull Apart Bread. Heavenly!
We love Potato Recipes! Here are a few recipes using potatoes..
Loaded Baked Potato Skins Recipe
Slow Cooker Cheesy Hash Brown Potatoes
Cheesy Hash Browns with Bacon and Ham
Fingerling Potatoes with Parmesan and Rosemary
The Most Amazing Classic Scalloped Potatoes
Slow Cooker Hams and Cheese Scalloped Potatoes
Cheesy Potato Casserole or Funeral Potatoes
Creamy Potato and Broccoli Cheese Soup
Garlic Parmesan Mashed Potatoes
Steakhouse Style Baked Potatoes
Helpful Hints:
You can use just about any potato or even a mix of potatoes

The smaller you cut your potatoes, the faster it will cook

 Salt the water your boil your potatoes in

A hand potato masher will you give you more rustic mashed potatoes

A handheld mixer or a kitchen aid will give you super creamy mashed potatoes

You can leave the peels on or take them off, whichever you prefer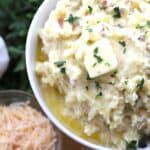 Garlic Parmasean Mashed Potatoes
Rustic mashed potatoes with intense garlic and creamy parmesan flavor. A great side to just about any dish!
Ingredients
5

lbs

Red Potatoes

1

Tablespoon

Salt for Boiling Water

1/2

Cup

Parmesan Cheese

2/3

Cup

Sour Cream

1 1/2

Tablespoon

Salt

3-4

Teaspoons

Garlic Powder (depending on how intense you want the flavor)

1/2

Cup

Cream or Whole Milk
Instructions
Clean the Red Potatoes and cut into 1" cubes.

Place in a pot and boil the water.

Boil potatoes for 20-30 minutes or until the potato is soft but not mushy. You'll know it has cooked long enough when you stick a fork in the potato and the potato doesn't stay on the fork when you lift it.

Drain the water off the potatoes. Add the remaining ingredients.


Mash potatoes. You can add a pat of butter and chopped parsley to finish it off. Enjoy!

Nutrition Facts
Garlic Parmasean Mashed Potatoes
Amount Per Serving
Calories 314
Calories from Fat 99
% Daily Value*
Total Fat 11g 17%
Cholesterol 34mg 11%
Sodium 2352mg 98%
Potassium 1347mg 38%
Total Carbohydrates 47g 16%
Protein 8g 16%
* Percent Daily Values are based on a 2000 calorie diet.
The Carefree Kitchen Socials:
I'd love to connect with you on social media. Come find me!
Facebook: https://www.facebook.com/thecarefreekitchen/
Instagram : https://www.instagram.com/the_carefree_kitchen/
Pinterest: https://www.pinterest.com/thecarefreekitchen/pins/
Pin this for later!