These einkorn dinner rolls are made with simple ingredients and are oh, so delicious! These homemade dinner rolls will be a family favorite in no time. They're made with all-purpose einkorn flour are are perfect for your holiday or family dinners.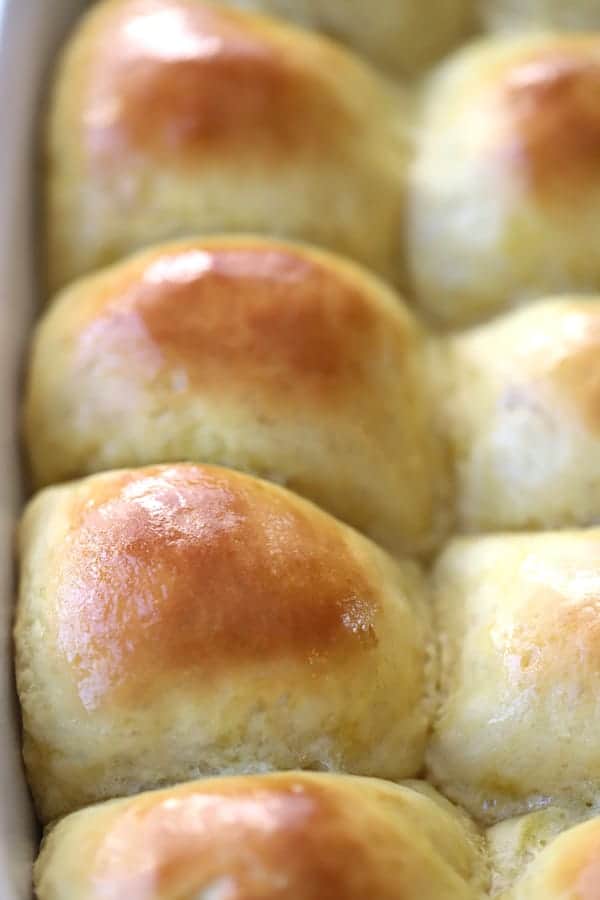 Jump to:
All-Purpose Einkorn Flour
Most of the recipes you have made with regular all-purpose flour can be made with Einkorn all-purpose flour. It just takes a little tweaking and experimenting.
All-purpose Einkorn flour is easy to work with and if you know a few tricks, your recipes can come out just as good as with regular flour.
I've mentioned this before in some of my other Einkorn posts but I think it's worth mentioning again, here are a few tips on working with all-purpose Einkorn flour.
If you're looking for something to serve with these amazing rolls, I'll show you how to make garlic butter or honey butter too.
Tips on working with Einkorn All-Purpose Flour
If working with yeast dough, it's helpful to add an extra cycle of rising. It will help the dough have more structure so it doesn't deflate when rising or cooking.
Also, if working with yeast dough, add the flour slower. It just takes a little more time for the dough to absorb the liquid. If it seems like your dough is too stiff and you can't add more flour, give it a few minutes to rest and then you can add more flour.
If you are looking for a crusty, thick crust, add a pan of water to the bottom rack before preheating the oven. This will allow the water and pan to come up to oven temp. Another trick is to throw a few ice cubes in the bottom of the oven. This will increase the humidity in the oven which will give you a thicker crust.
Give yourself a little more time. This dough won't raise quite as fast as normal all-purpose flour.
If you're working with brownies or a quick bread recipe, mix your ingredients together and then let the batter sit for 10 minutes to absorb all the liquid. Before you pour the batter into the pan or bake, stir your ingredients again to make sure it's all mixed. (this is help ensure your batter doesn't have a gritty texture.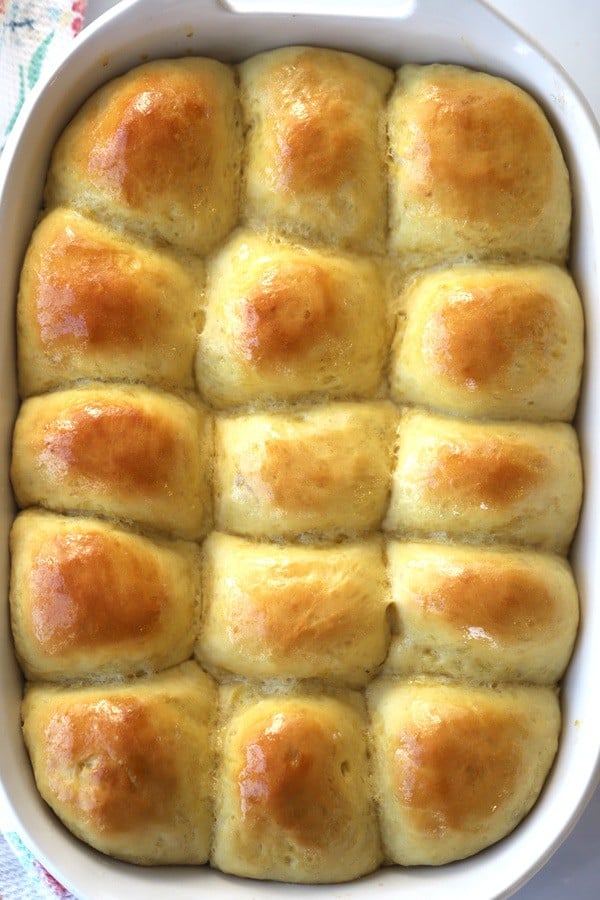 If you're looking for more Einkorn recipes, be sure to try our Einkorn bread recipe, Einkorn Brownies, and Einkorn Snickerdoodles too. Also, If you'd like more info on Einkorn or would like to purchase some, go to Einkorn.com for more details.
How Should I Store Einkorn Dinner Rolls?
These can be stored a few different ways! No matter how you choose to store them, we recommend warming the rolls slightly before eating, either in the microwave or a warm oven.
Room Temperature: cool completely and store in a freezer bag, or another airtight container, for up to 2-3 days at room temperature.
Refrigerator: you can store these for up to 5 days in the fridge, as long as they are wrapped well in plastic wrap, or placed into an airtight container.
Freezer: these freeze great! Just be sure to cool completely, then transfer to freezer bags or another airtight container and store frozen for up to 1 month. Once you are ready to eat, you can thaw them at room temperature or in the fridge overnight.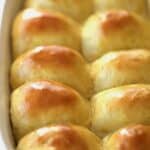 Print
Einkorn Dinner Rolls Recipe
This einkorn dinner roll recipe is made with simple ingredients and is oh, so delicious! These homemade dinner rolls will be a family favorite in no time.
Ingredients
1 ¼

Cup

Milk

2

Tablespoons

Yeast

¼

Cup

Sugar

1 ½

teaspoon

Salt

4

Cups

Einkorn All-Purpose Flour

1

med

Egg (for egg wash)

1

tablespoon

Water (for egg wash)

2

Tablespoons

Butter, melted, ( to brush on after baking)
Instructions
In a small saucepan on the stove, warm the milk. Test it on your wrist, it should be the same temperature as your skin. If it's too hot, it will kill the yeast, let it cool down before adding it.

In a small bowl, combine the yeast and the sugar. Add warm milk and stir until dissolved. Let the yeast mixture sit for a few minutes. (should be frothy)

You can mix and knead this recipe by hand but a mixer is much quicker. Add half of the flour and the salt to a mixer and add the yeast mixture. Turn the mixer on low and mix until the flour is combined. Keep on mixing while adding the remaining flour in, a ¼ cup at a time until. When the dough pulls away from the sides of the mixer, stop adding flour. This is when you know you have added enough flour. (It's okay if you have flour remaining.)

Turn the mixer off and let the dough raise until double. (**One way to make this happen quicker is to turn the oven on warm for a few minutes. Let the oven warm up just until warm, not hot, turn the oven off and let your dough raise in there. It will speed up the process.)

Once the dough has raised to double, Mix again and add in remaining flour ¼ cup at a time to get the dough to pull away from the edges of the bowl again. Let the dough raise till double again.

Once your dough is done raising, sprinkle remaining flour on your counter and use to hand knead the dough. using a knife or a pizza cutter, divide dough into 15 pieces of dough.

Using your hands, shape dough into evenly shaped balls and place in the baking dish.

Mix up the egg wash by breaking adding an egg to a small bowl with one Tablespoon of water and beat until combined. Brush the dough balls with egg wash using a pastry brush.

Spray a 9 by 13" baking pan with cooking spray.

Preheat oven to 350 degrees.

Let the rolls rise in a warm place until double. Place in a 350 degree oven and bake for 12-15 minutes.

Brush with melted butter using a pastry brush. Enjoy!
Nutrition
The Best Einkorn Flour Recipes
I'd love to connect with you on social media. Come find me!
Pin this for later!!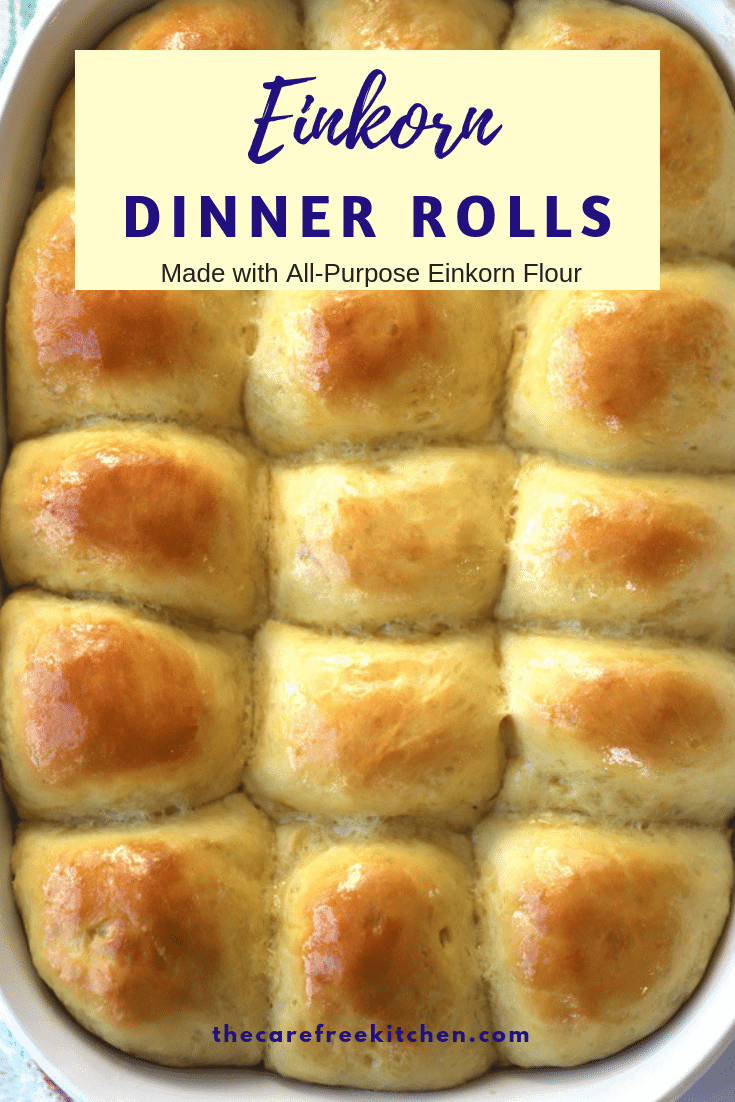 This einkorn dinner roll recipe is made with simple ingredients and is oh, so delicious! These homemade dinner rolls will be a family favorite in no time.
Reader Interactions