These Crockpot Mashed Potatoes are 100% made in the crockpot. This is a step-by-step guide to cook your slow cooker mashed potatoes.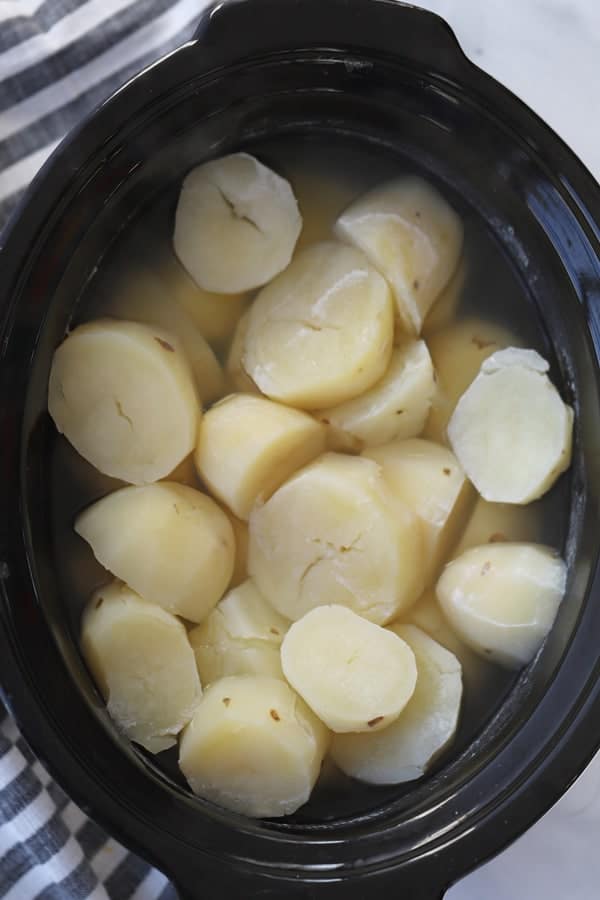 Easy and Delicious Mashed Potatoes:
This recipe for slow cooker mashed potatoes is the perfect solution to getting your holiday meal on the table at the same time.
Did you know, you can peel your potatoes the night before. This is a lifesaver if you're trying to get a big meal on the table the next day. We use this for Thanksgiving dinner, Christmas dinner and Easter. Just peel your potatoes and cover them with water to keep them from turning brown. When you're ready to start cooking them, drain the water, add fresh, hot water, salt and turn the crockpot on high. When making crockpot mashed potatoes, be sure to give yourself enough time to cook them. My crockpot runs a little high and it took 2.5 hours to cook my potatoes.
If you're worried about how much time it will take, just allow an hour or so buffer. You can always mash the potatoes and turn the crockpot on low until it's time to serve dinner, then all you need to is put the crockpot mashed potatoes in a bowl, add a tablespoon of butter and garnish with parsley (optional). It is no problem to keep your slow cooker mashed potatoes warm in the slow cooker for another hour until everything is ready.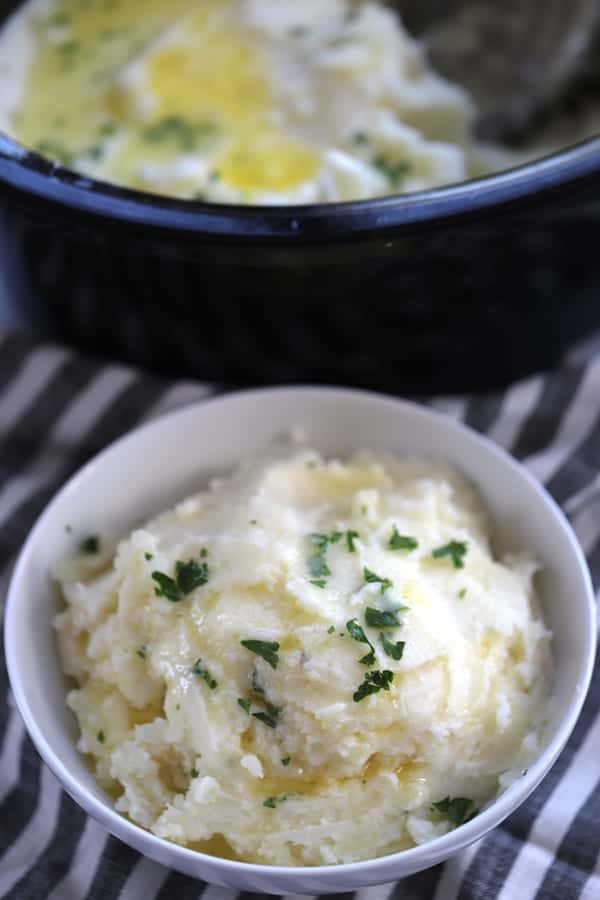 We love Potato Recipes! Here are a few recipes using potatoes..
Loaded Baked Potato Skins Recipe
Slow Cooker Cheesy Hash Brown Potatoes
Cheesy Hash Browns with Bacon and Ham
Fingerling Potatoes with Parmesan and Rosemary
The Most Amazing Classic Scalloped Potatoes
Slow Cooker Hams and Cheese Scalloped Potatoes
Cheesy Potato Casserole or Funeral Potatoes
Creamy Potato and Broccoli Cheese Soup
Garlic Parmesan Mashed Potatoes
Steakhouse Style Baked Potatoes
Tips for making Slow Cooker Mashed Potatoes:
You can peel your potatoes the night before a big meal if you're worried about having enough time to get everything done. Just peel, dice, and cover with cold water. Keep in the fridge or a cool place. The next morning, drain the water, cover the potatoes again with hot water and a teaspoon of salt and turn on high for 2.5-3 hours or until you can prick the potatoes with a fork and the potato breaks apart a bit.

You can use sour cream or heavy cream for this recipe. I prefer the little tartness of the sour cream but either will do.

You can also use chicken broth in place of the milk for this recipe.

If you want a lot of flavor in your mashed potatoes, consider adding 1/2 cup grated parmesan cheese. They don't even need gravy!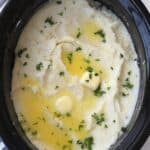 Crockpot Mashed Potatoes
These Crockpot Mashed Potatoes are 100% made in the crockpot This is a step-by-step guide to cook your slow cooker mashed potatoes.
Ingredients
10

medium

Potaotes, cut into 1" cubes

1

Cup

Sour Cream

1/2

Cup

Milk

1/4

Cup

Butter

2

tsp

Onion Powder

2

tsp

Garlic Powder

1

tsp

Salt
Instructions
Peel your potatoes. Plan on 1.5 medium potatoes per person. I have a family of 7 so I usually do 10 potatoes.

Place the potatoes in the crockpot and cover the potatoes with hot water. Add 1 tsp of salt. Cover with lip and cook on high for 2.5-3 hours, depending on how hot your crockpot cooks.

The potatoes will be done when you poke them with a fork and the potato doesn't lift when you pull the fork out.

Drain the water from your potatoes. I just use a dish towel to handle the hot crockpot and offset the lid a little to work as a strainer. It's okay if you don't get all the water out. I couple tablespoons of remaining water is fine.

Add the sour cream, half of the milk, butter, onion salt, garlic powder, and half of the salt. Use a potato masher to mash the potatoes. (Do not over mash or the potatoes will develop a gluey texture.)

Taste the potatoes. Add the remaining milk and salt if desired.

Serve with gravy or load them up with ranch dressing, bacon and green onions. Enjoy!
Nutrition Facts
Crockpot Mashed Potatoes
Amount Per Serving
Calories 330
Calories from Fat 108
% Daily Value*
Total Fat 12g 18%
Cholesterol 31mg 10%
Sodium 385mg 16%
Potassium 1186mg 34%
Total Carbohydrates 50g 17%
Protein 7g 14%
* Percent Daily Values are based on a 2000 calorie diet.
The Carefree Kitchen Socials:
I'd love to connect with you on social media. Come find me!
Facebook: https://www.facebook.com/thecarefreekitchen/
Instagram : https://www.instagram.com/the_carefree_kitchen/
Pinterest: https://www.pinterest.com/thecarefreekitchen/pins/
PIN THIS FOR LATER!