Here's a collection of some of our best Thanksgiving Menu Ideas to help plan your holiday dinner. It includes everything you need from an easy turkey recipe to rolls and holiday desserts galore. Thanksgiving is my favorite food holiday and there just isn't anything better than gathering with your friends and family and enjoying everyone's favorites.
The best thing about eating with a crowd is that everyone can participate too. There are easy recipes, perfect for young kids to make. It's so fun for them to be helpers for the day. That's where I learned to cook, alongside my Mom and Grandma's and hope to give that to my kids too.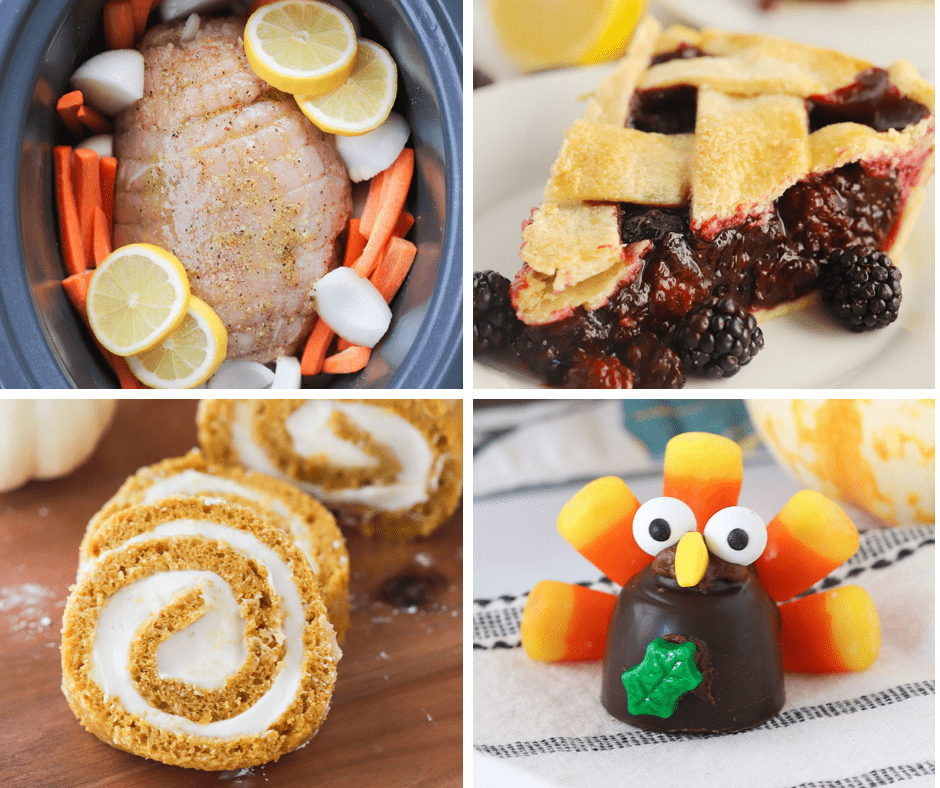 If you need some ideas when planning your menu this year, check out our collection of classics and a few maybe you haven't thought of. It includes all of our favorite holiday appetizers, amazing entrees, side dishes, and desserts galore. Most of these are easy and can be made ahead of time.
I know how busy the holidays are and sometimes we need easy recipes that can be made in advance or take only a few ingredients. I hope this helps to make your Thanksgiving dinner a success and you get to spend some quality time with your friends and family.
Jump to:
Appetizers
I like to have a few appetizers on hand. These are easy recipes you can bust out when everyone is feeling snacky or your need a little something to tide them over until dinner is ready. I love making a big veggie and fruit tray for everyone to snack on. It's a great way to start the day off with something a little lighter. I hope your family loves these appetizers as much as we do.
Dinner Menu
Now for the main dish. Roasted Turkey is a great option. If you're cooking for a smaller group or maybe you don't want to fuss with a whole turkey, try a crockpot turkey breast recipe. It's so easy to make and takes only a fraction of the time.
Smoked Turkey and Baked Honey Ham are also favorites at our house. They're really easy to make and sometimes it's just fun to have options. I like to make both when there's a big crowd or I have the time.
Now for the sides. Is there anything better than Thanksgiving Sides? There are so many potato recipes to choose from. There are so many amazing options to choose from. It's hard to narrow it down but here are our absolute favorites. Some are healthy, some cheesy, there's a little bit of something for everyone.
Sides
Desserts
Here's the best part, dessert! There isn't anything better than a homemade pie with freshly made whipped cream. It's the perfect way to finish off a great meal....and bonus, pie for breakfast! Yesssss! There are all kinds of great dessert recipes and candy recipes you can have on hand too.
Do you have loads of Ham or turkey leftover? Try these easy recipes...
And if you're looking for more holiday recipes, we have loads to choose from. Pull up a seat and find some new favorites.
Reader Interactions