Everyone loves these Herb Roasted Potatoes! They are an amazing oven-roasted potato recipe. They're a perfect side dish for just about any meal!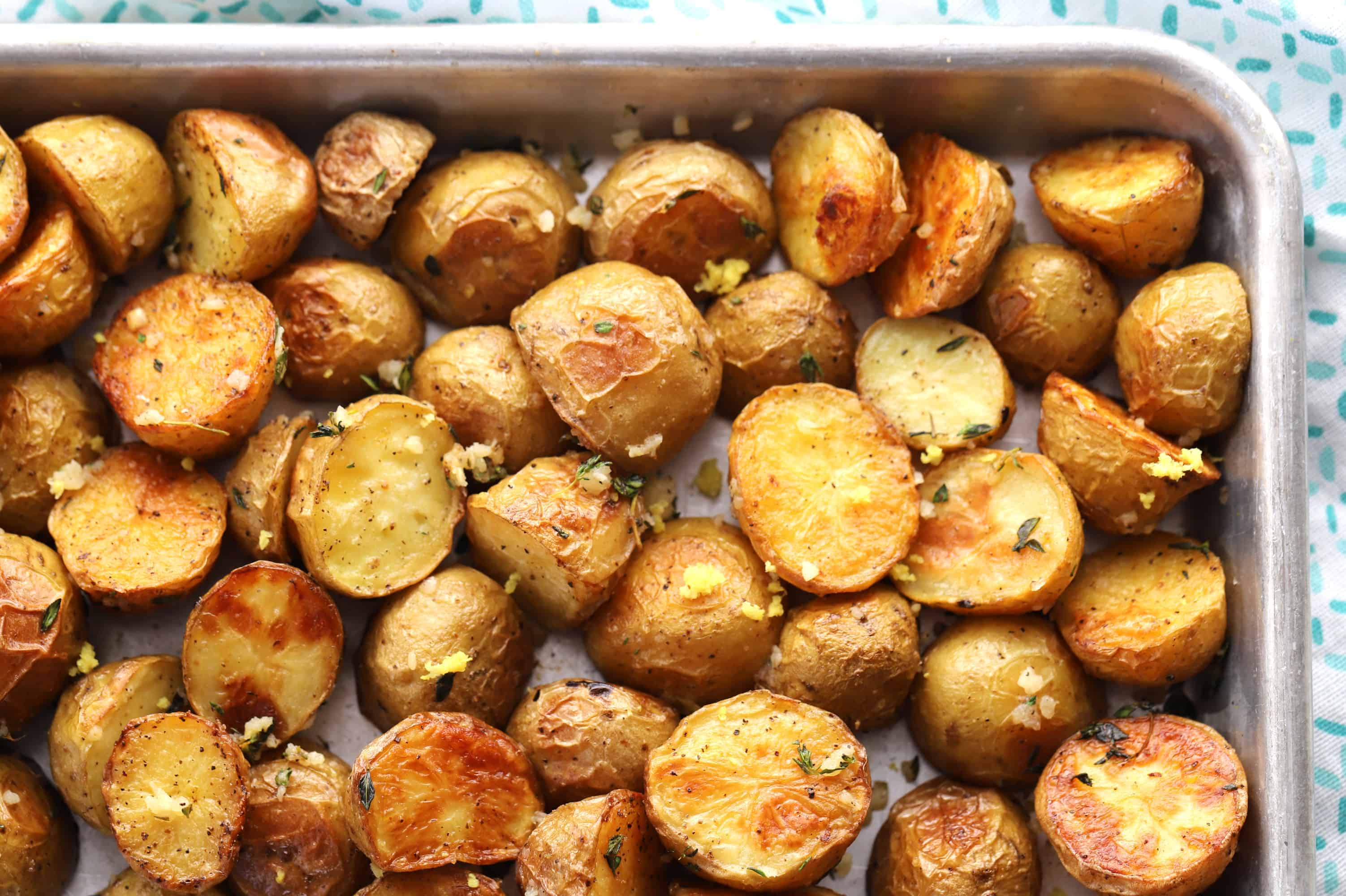 This oven-roasted potato recipe is incredibly tasty! The potatoes are crispy, chewy, salty AND savory, oh yum!
These roasted potato cuties take some time to bake but the time is well spent. You can prep them ahead of time and let them bake while you're prepping or grilling your main dish.
I make these a lot in the summer when I have fresh thyme growing in the garden. The potatoes are baked to a crisp but taste so fresh with the lemon juice and fresh thyme.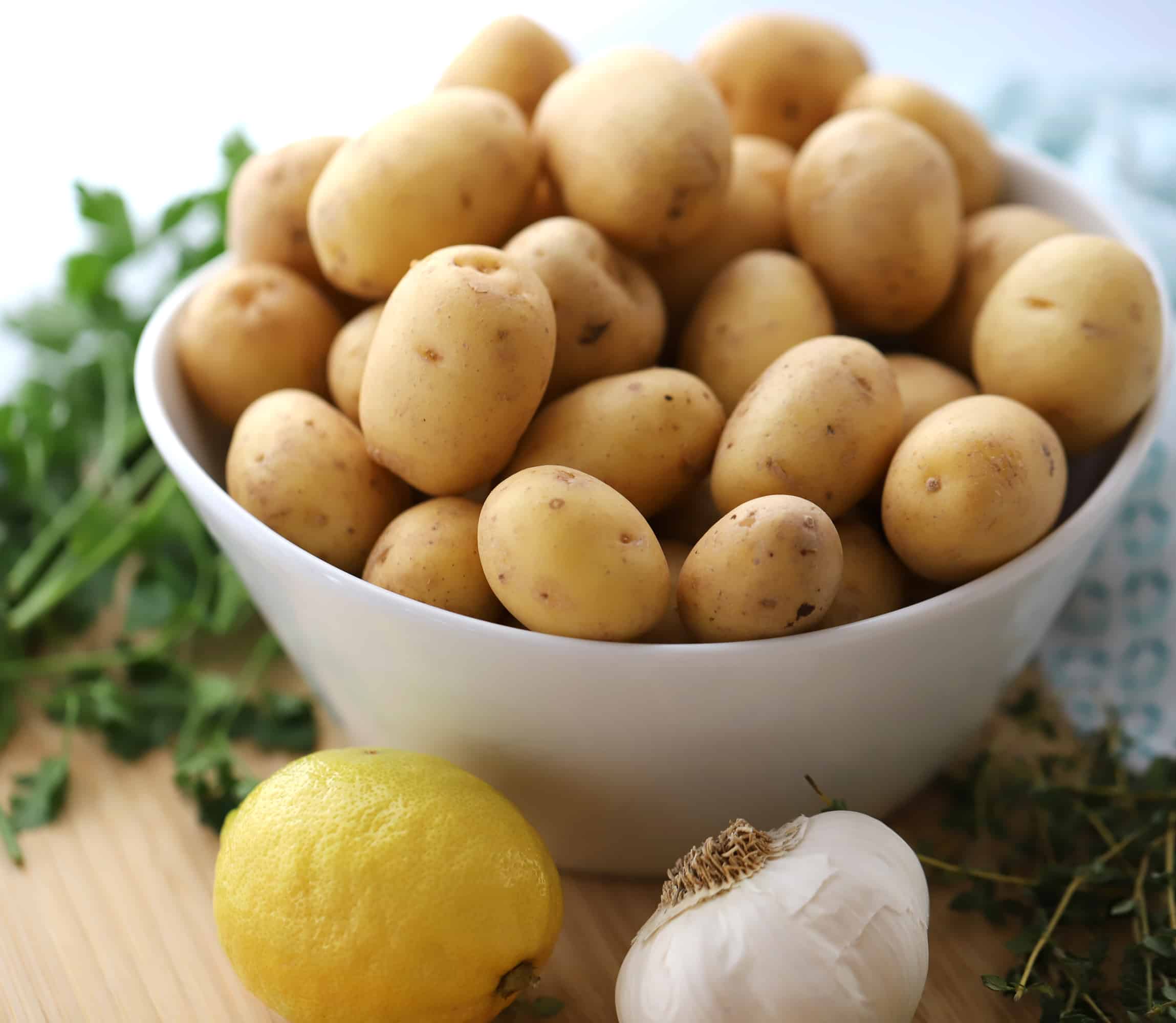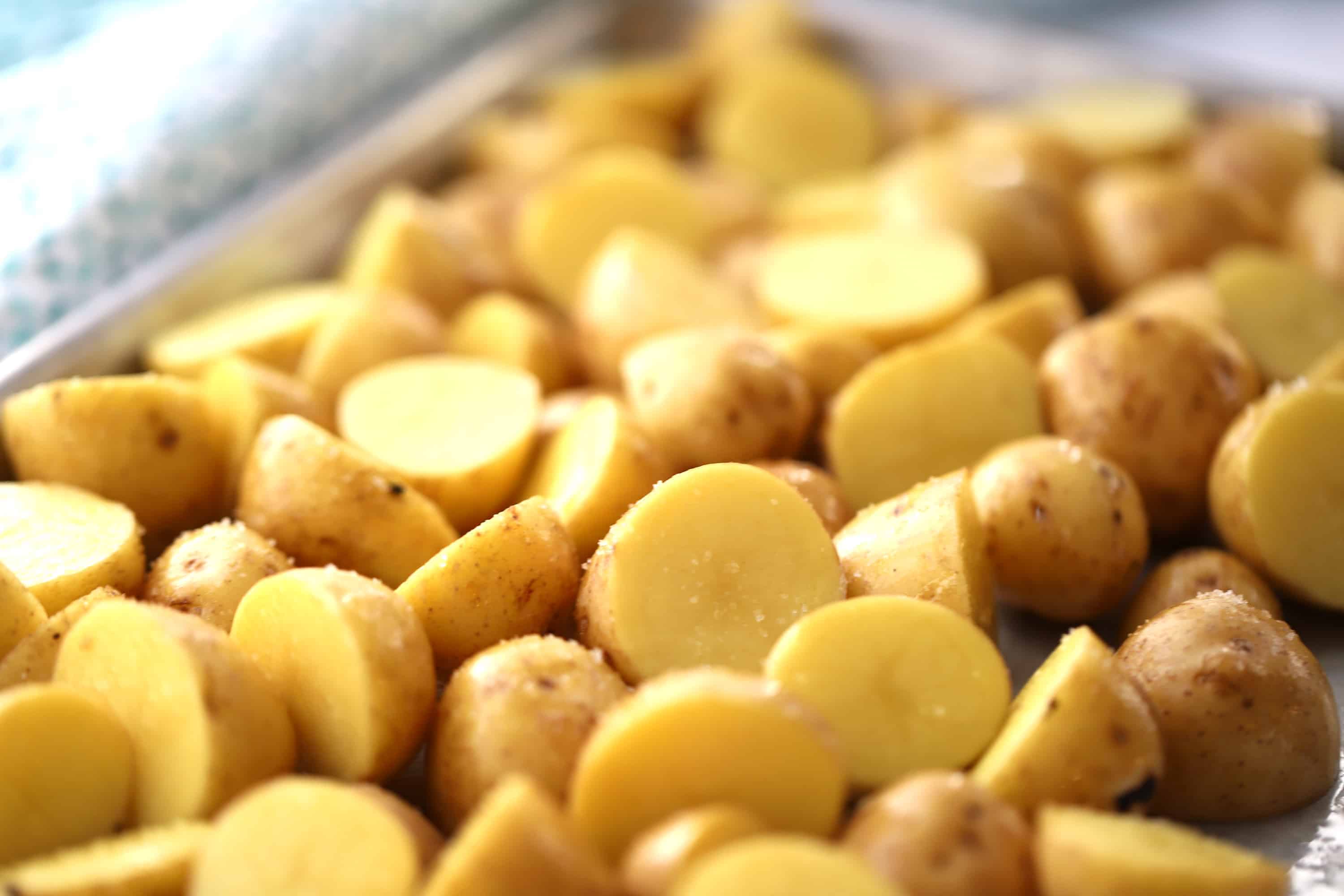 These roasted potatoes go perfectly with Monterey Chicken. You can find the recipe here. While we're at it, these Peanut Butter Corn Flake Cookies are the perfect ending to this glorious meal!
They're also the perfect side for fish, steak or any chicken dish. Everyone in my family loves them and that is a victory when it comes to dinner time.
Jump to:
Making the Best Oven Roasted Potatoes
I like to use Avocado Oil but any vegetable oil will do. Olive oil is also a great option.

You can mince your own garlic or use the jarred minced garlic from the grocery store.

When cutting up the thyme, use the leaves of the thyme, where it's still tender and then just strip the leaves off the rest of the branch of thyme. The main stalk is too woody. Don't use that.

Get

you

lemon zest off before you juice the lemon. It'll be much easier!

I haven't found a potato that doesn't work with this dish. You can use large Russett potatoes, red potatoes or the tri-color, small potatoes--even a mix of them will do. Just be sure they are all cut into about the same size. I like mine to be about one inch which is a nice one or two bites.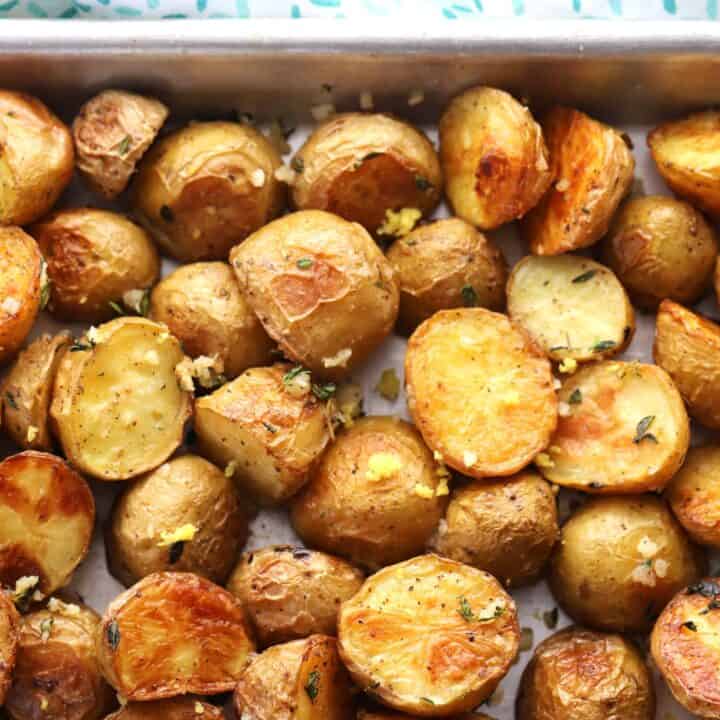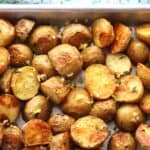 Print
Herb Roasted Potatoes
These easy and delicious roasted potatoes are a perfect side to any meal!
Ingredients
3

lbs

Small Potatoes (I used Boomer Gold Potatoes here but anything small, red or fingerling will do )

3

Cloves

Garlic

½

tsp

Sea Salt

2

tsp

Fresh Thyme (chopped)

1

lemon

juiced

1

tsp

Lemon Zest

¼

Cup

Avocado OIl
Instructions
Wash the potatoes and cut them up into 1" chunks.

Put the potatoes in a bowl and drizzle the avocado oil on the potatoes. Toss the potatoes until evenly coated. Sprinkle salt and pepper over the potatoes and toss again.

Pour potatoes onto a cookie sheet in a single layer. Bake in the oven for about 20 minutes on 425 degrees until the edges of the potatoes are starting to brown on the edges. Using a spatula, turn the potatoes and cook for another 20 minutes so the other side can brown.

Mince the garlic. When it's about at small as you can chop, pour a half teaspoon of salt onto the garlic. Using the blade of the knife, scrape the blade over the garlic until it makes a paste.

Take the potatoes out of the oven and sprinkle the garlic and salt mixture, the lemon zest, chopped thyme and lemon juice on the potatoes.

Cook for another 10 minutes and toss before serving. Salt and pepper to taste. Enjoy!
Nutrition
Calories:
160
kcal
|
Carbohydrates:
21
g
|
Protein:
4
g
|
Fat:
6
g
|
Sodium:
162
mg
|
Potassium:
707
mg
|
Fiber:
4
g
|
Vitamin A:
10
IU
|
Vitamin C:
20.4
mg
|
Calcium:
53
mg
|
Iron:
5.5
mg
We love Potato Recipes! Here are a few recipes using potatoes..
Loaded Baked Potato Skins Recipe
Slow Cooker Cheesy Hash Brown Potatoes
Cheesy Hash Browns with Bacon and Ham
Fingerling Potatoes with Parmesan and Rosemary
The Most Amazing Classic Scalloped Potatoes
Slow Cooker Hams and Cheese Scalloped Potatoes
Cheesy Potato Casserole or Funeral Potatoes
Creamy Potato and Broccoli Cheese Soup
Garlic Parmesan Mashed Potatoes
Steakhouse Style Baked Potatoes
If you've tried this recipe, please rate it and leave a comment on this post. I love hearing feedback from you helps me and other readers too! If you love Pinterest, feel free to leave a comment and photo there too. Also, if you like to share, use the hashtag #thecarefreekitchen on Instagram and tag me @thecarefreekitchen so I can find you and give your post some love. You can also find me on Facebook at The Carefree Kitchen. Thank you!!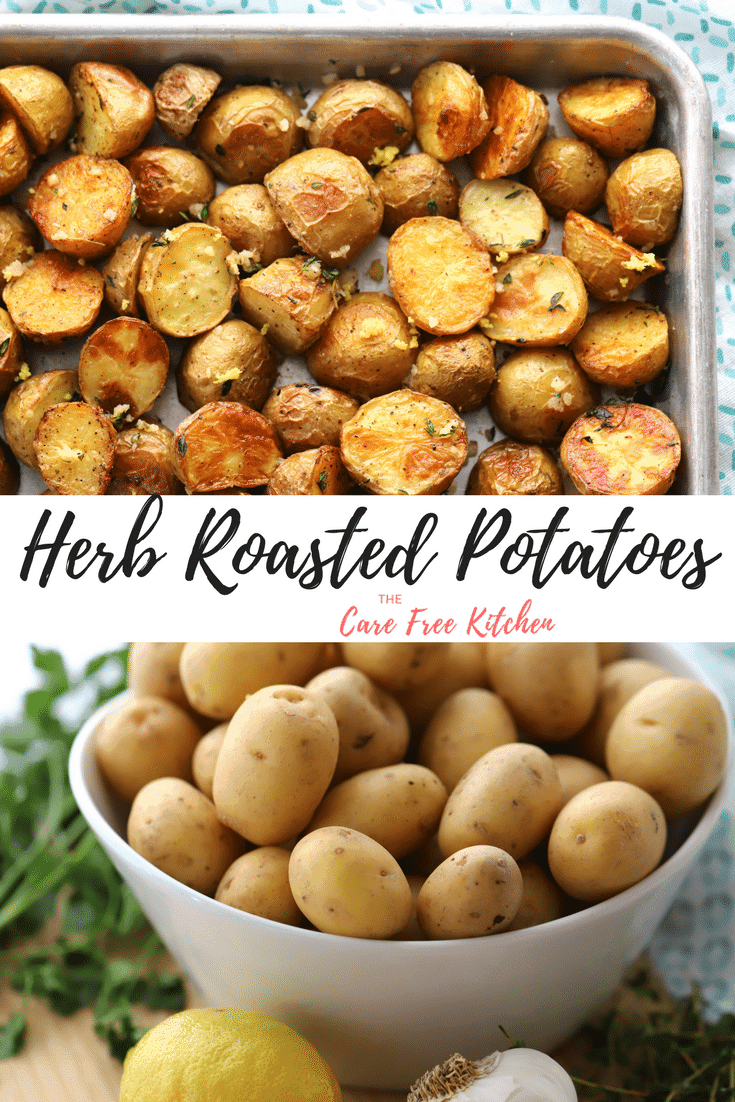 Everyone loves these Herb Roasted Potatoes! They are an amazing oven-roasted potato recipe. They're a perfect side dish for just about any meal!