This Rosemary and Parmesan Fingerling Potatoes Recipe is oven-roasted. These fingerling potatoes are a perfect side dish for just about any meal and fancy enough for your holiday menu. If you love fingerling potatoes, this a potato recipe your entire family will love.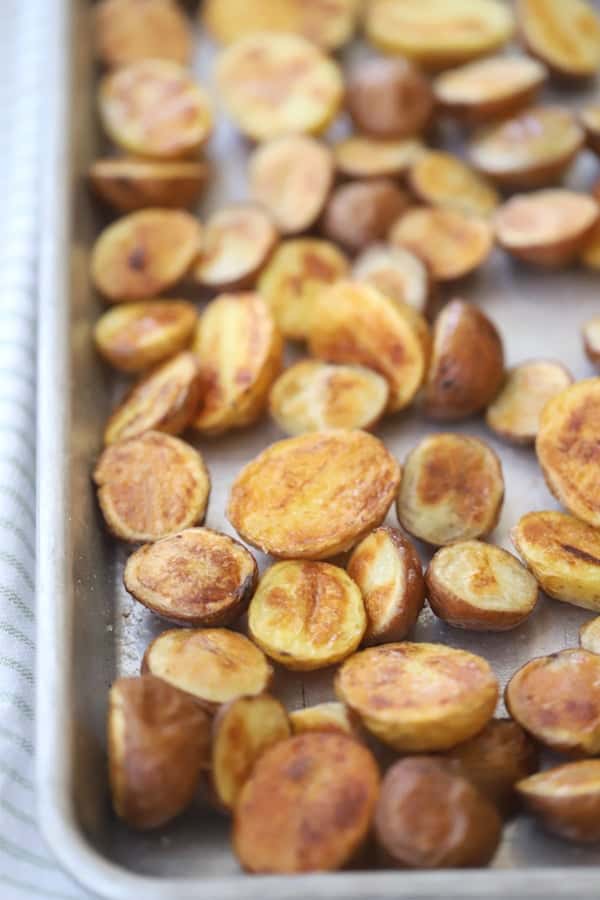 Jump to:
What are the best potatoes to use to Make Fingerling Potatoes?
New Potatoes vs. Fingerling Potatoes
New potatoes and fingerling potatoes are a little different and here's why.
New potatoes are little, immature potatoes, that are taken out of the field before they are done growing. They have been popping up at farmers markets recently and tide us over until the fingerling potatoes are ready.
They're so fun to cook with! New potatoes aren't a variety but rather an immature or baby version of any potato a farmer is growing. New potatoes, because they aren't yet mature, have delicate skins.
On a mature potato crop, the skin goes through a hardening stage so it can be stored and sold during the coming year. New potatoes have a much shorter shelf life because of their delicate skin.
This is why they are only available for a short time, usually at the beginning of the summer. If the skin gets bruised or peeled a little, they are susceptible to rot much quicker. Potatoes are best stored in a paper bag, in a cool place. New potatoes should be used within a few days of purchase.
Fingerling potatoes are a variety of potatoes. They are a small, "finger-shaped" potato.
They are sometimes mistaken for new potatoes because they are so little. Fingerling potatoes are fully mature potatoes and like other potato varieties, they are harvested after the vine of the potato plant has withered and looks dead.
This is part of the hardening process and allows the skin of the potato to thicken so it has a longer shelf life.
Fingerling potatoes are usually long, skinny, potatoes. They are great to use in roasted potato recipes, similar to new potatoes the skin on the fingerling potatoes are pretty thin so there no need to peel the potatoes. Fingerling potatoes are easy to boil or roast, they work great in a simple roasted potatoes recipe or in a potato salad recipe that shows off their cute, unique shape.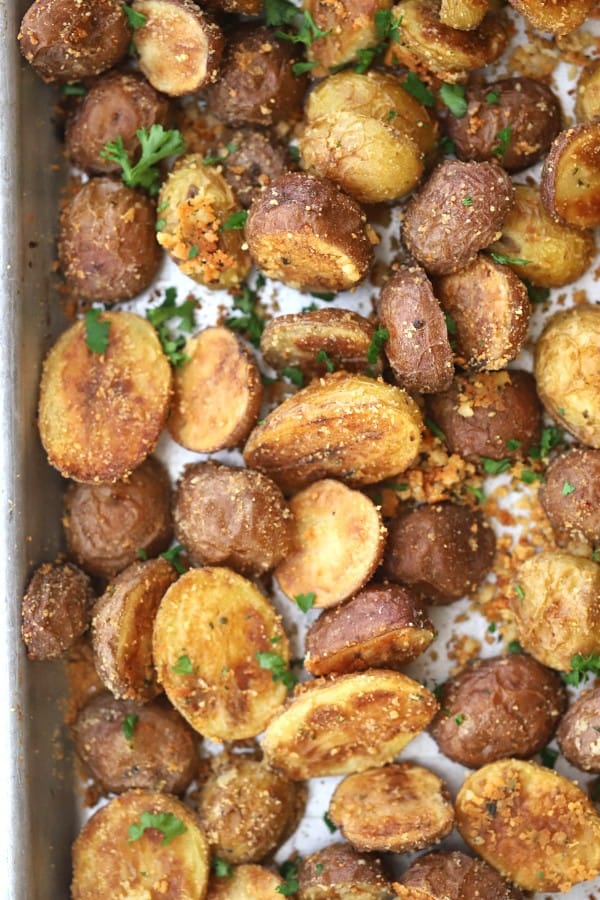 How to Cook Rosemary and Parmesan Fingerling Potatoes Recipe:
How to Boil Fingerling Potatoes--
This is a great way to cook fingerling potatoes. Just make sure your potatoes are about the same size before you boil them so they are finished cooking at the same time.
Cut your fingerling potatoes in half if needed. Boil them for 20-30 minutes depending on the size of the potatoes. To test if they are done, poke a fork in the potatoes.
If they are done, you won't be able to pick the potato up with a fork or the potato will split in half. The potatoes should be soft but not mushy.
How to Cook Fingerling Potatoes in the Skillet
This method works great and is a little quicker than a sheet pan. I like to cut the potatoes in half lengthwise to maximize the crispy surface of the potatoes.
By using a skillet you can still get that golden crisp on the outside of the potato but you will need to make sure you keep a close eye on the skillet to get that golden brown coloring on every side of the potato.
You can use a cast-iron skillet or a non-stick skillet. Use several tablespoons of oil in the bottom of the skillet and crisp them up like you would with hash browns.
This method is really delicious with the seasonings used in this rosemary and parmesan fingerling potato recipe. I also love using Thyme and lemon when roasting potatoes. So delicious!
How to Oven Roast Fingerling Potatoes
This is the easiest way to roast fingerling potatoes.
I like to cut the fingerling potatoes in half, lengthwise. I like to put the potatoes in a ziplock bag, pour a few tablespoons of avocado oil in there, zip up the bag and shake it a little to coat the fingerling potatoes in oil.
Pour the potatoes out onto a baking sheet and sprinkle with some sea salt. Put them in the oven for about 30 minutes or until they are starting to turn golden brown on the edges.
Take them out of the oven, add the seasonings of your choice and put them back in the oven for 10 minutes and then serve.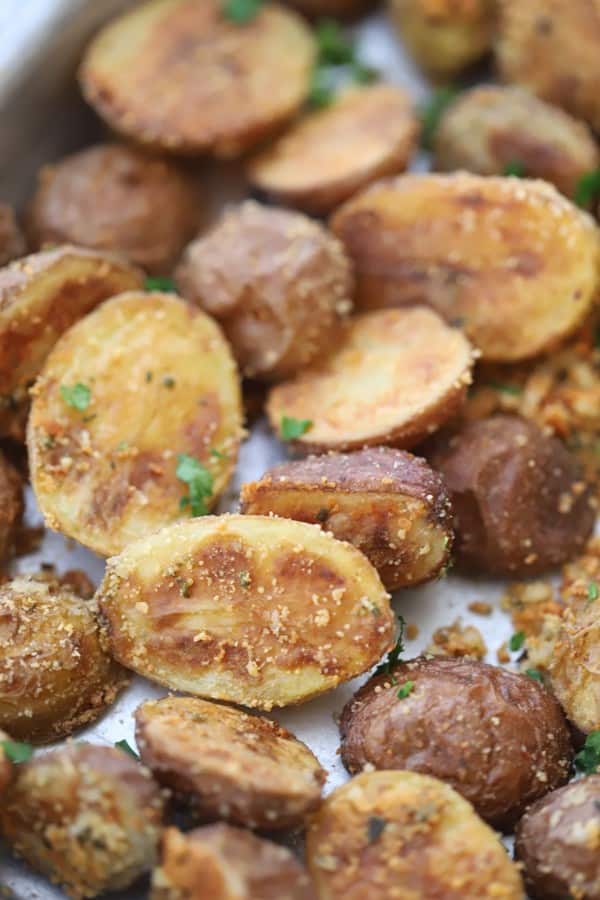 Tips for Cooking Fingerling Potatoes Recipe:
Be sure to rinse the fingerling potatoes before you cook them. Rub the potatoes between your fingers to be sure the dirt if off.

No need to peel the fingerling potatoes. They have soft skins that are easy to eat.

If you're cooking them with the skillet or roasting method, toss them in a little oil and then add your favorite seasonings like salt and pepper, herbs, minced garlic, onion powder, cumin, parmesan cheese, or paprika for flavor.

Freshly squeezed lemon juice is amazing too. Add it after the potatoes are finished cooking.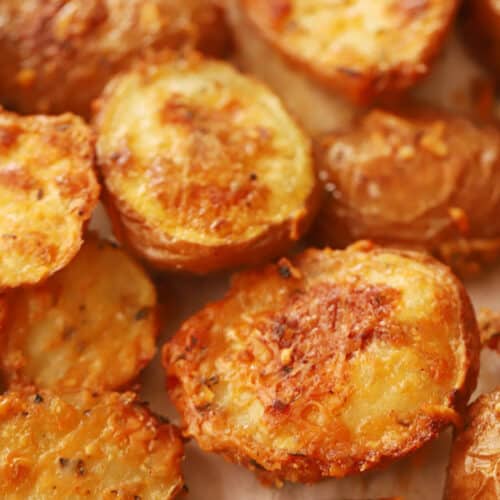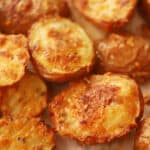 Print
Parmesan Roasted Fingerling Potatoes Recipe
Ingredients
3

pounds

Fingerling Potatoes

washed and cut in half lengthwise

3

Tablespoons

Avocado Oil

can substitute olive oil

1

tsp

Garlic Powder

½

tsp

Onion Powder

1

tsp

Italian Seasoning

⅔

Cup

Parmesan Cheese

1

tsp

Salt

½

tsp

Black Pepper

3

Tablespoons

Avocado Oil

to grease baking sheet
Instructions
Preheat the oven to 425 degrees.

Place potatoes in a large bowl or a ziplock bag and drizzle them in 3 tablespoons of avocado oil. Toss the potatoes until evenly coated, then add the garlic powder, onion powder, Italian Seasoning, Parmesan cheese, salt and pepper.  Toss again until the potatoes are evenly coated. 

Grease a large baking sheet with another 3 tablespoons of avocado oil, spreading it evenly.  Remove potatoes from the bowl or ziplock bag onto the prepared baking sheet, squeezing out as much of the seasoning from the inside of the bag as possible.  Spread out the potatoes in a single layer on the baking sheet.

Bake at 425 degrees for about 20 minutes, or until the edges of the potatoes begin to brown. Using a spatula, turn the potatoes and cook for another 15-20 minutes so the other side can brown.

Once the potatoes are golden brown, remove from the oven and season with additional salt and pepper to taste. Serve immediately and enjoy!
Nutrition
Calories:
169
kcal
|
Carbohydrates:
21
g
|
Protein:
5
g
|
Fat:
8
g
|
Saturated Fat:
2
g
|
Cholesterol:
6
mg
|
Sodium:
286
mg
|
Potassium:
490
mg
|
Fiber:
3
g
|
Sugar:
1
g
|
Vitamin A:
65
IU
|
Vitamin C:
22
mg
|
Calcium:
116
mg
|
Iron:
1
mg
Here are a few other potato recipes we love!!
Steakhouse Style Baked Potatoes
Creamy Potato and Broccoli Cheese Soup
Slow cooker Ham and Cheese Scalloped Potatoes
Classic Cheesy Scalloped Potatoes
Slow Cooker Cheesy Hashbrown Potatoes
The Carefree Kitchen Socials:
I'd love to connect with you on social media. Come find me!
Facebook: https://www.facebook.com/thecarefreekitchen/
Instagram : https://www.instagram.com/the_carefree_kitchen/
Pinterest: https://www.pinterest.com/thecarefreekitchen/pins/
Pin this!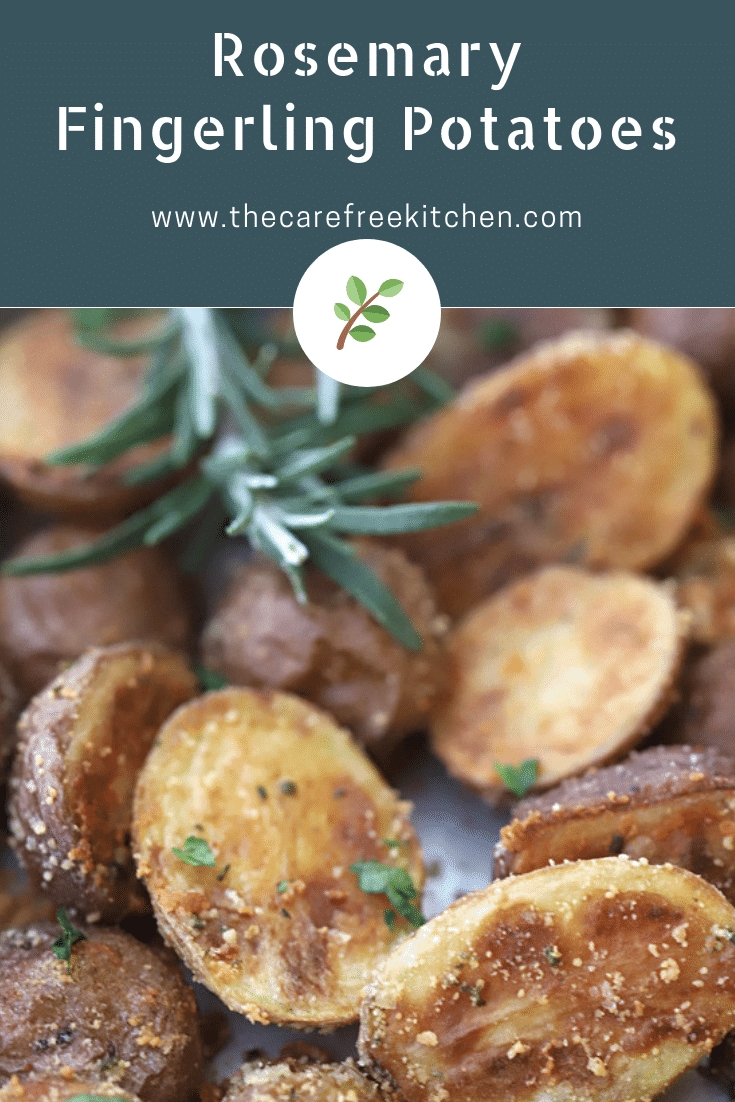 These fingerling potatoes are oven roasted and generously seasoned with parmesan and rosemary. This roasted potato recipe is perfect as a side dish for just about any meal and fancy enough for your holiday menu. If you love fingerling potatoes, this is the roasted potato recipe for you!