This is a step by step guide on how to make a steakhouse-style baked potato. This is the best baked potato recipe and it will show you how to get that fluffy inside and the crispy, salty, potato skin you love on the outside.
Background of the Potato
Here's a little background on potatoes if you're at all interested. If not, just scroll to the recipe card.
Jump to:
Potatoes are the 4th largest food crop following rice, wheat, and corn. It's believed that the Inca Indians in Peru were the first to cultivate potatoes around 8000 BC to 5000 BC.
I grew up in Idaho on a farm and most years we had potatoes in our fields. Idaho Potatoes have been an inexpensive staple in my diet my entire life.
I love potatoes because they're one of the most diverse vegetables and can be made dozens and dozens of ways.
Did you know there is even an Idaho Potato Council? Yes friends, in Idaho, potatoes are kind of a big deal. I look forward to sharing some of my family's favorite potato recipes with you!
History of Potatoes In Idaho
Potatoes first came to Idaho by way of Mormon Pioneers. The Mormon Pioneers migrated north from Utah and potatoes are one of the first crops planted.
Potatoes thrive particularly well in Eastern and Southern Idaho because of the Volcanic Ash Soil.
Potatoes love to be well watered but planted in soil that drains really well. The soil in much of Idaho is ideal conditions for growing potatoes.
From this almost accidental beginning, Idaho farmers set out and on a path to dominate the Potato markets in the United States.
There are more than 200 potatoes sold in the United State. Russet Burbank Potatoes are the most popular. Steakhouse Baked potatoes are usually the Russett variety of potatoes and French fries are made out of Russett Potatoes too. They are the most inexpensive and widely used variety of potato.
I guess you can say I love potato recipes!
Some of our other favorite potato side dishes
When I'm baking potatoes, I always like to throw in a few extra because there are oodles potato recipes. Some of our favorites are Cheesy Potato Casserole, Classic Cheesy Scalloped Potatoes, and Herb Roasted Potatoes.
What is the best potato for baked potatoes?
Russett potatoes are the best potatoes for baked potatoes. They make those crispy skins and fluffy insides we all love. Russet Potatoes are known for their soft and fluffy insides (this is usually the potato french fries are made out of) and their thicker outer skin, perfect for getting those crispy skins.
Russet potatoes come in a wide range of sizes. In the grocery store, if you see baker's potatoes, you're on the right track. There are also 5# bags of potatoes that will work great - they are just going to be smaller and probably closer to the serving size for kids.
When you're buying loose potatoes, look for ones with an even coloring of brown skin. You will also want to find potatoes that are similar in size so they will all cook evenly and be done at about the same time.

What temp to cook baked potatoes?
Bake potato cooking temp is 400-425 degrees. It takes a large Russet potato about 45 minutes to become tender, but the exact timing will depend on how large the potato is. It's best to error on the side of cooking the potatoes faster.
How to know if a baked potato is done?
To test a baked potato and ensure it's done, poke the potato with a fork. If the potato lifts off the baking sheet with your fork, it's not done. When a potato is done, there will be no resistance when pulling a fork out of the potato.
How long to bake potatoes at 425?
Small red potatoes or fingerling potatoes will bake faster than a large Russet potato. Small potatoes will bake in about 30 minutes, however, if you're looking for crispy skin on those, you may need to bake for 45 minutes.
For Russet Potatoes, you'll need to bake for at least 40 minutes. Since there are varying times to make a baked potato, be sure to start your potatoes ahead of time, you can always turn the oven on warm and keep the potatoes warm until you need them. It's really hard to rush baking them faster.
How to Reheat potatoes:
You can reheat a baked potato in the microwave. It works best to cut it into 1 " chunks before heating it. Put the potato on a microwave-safe plate and heat on high for 1 min at a time. Heat in 30-60 second intervals until the desired temperature is reached.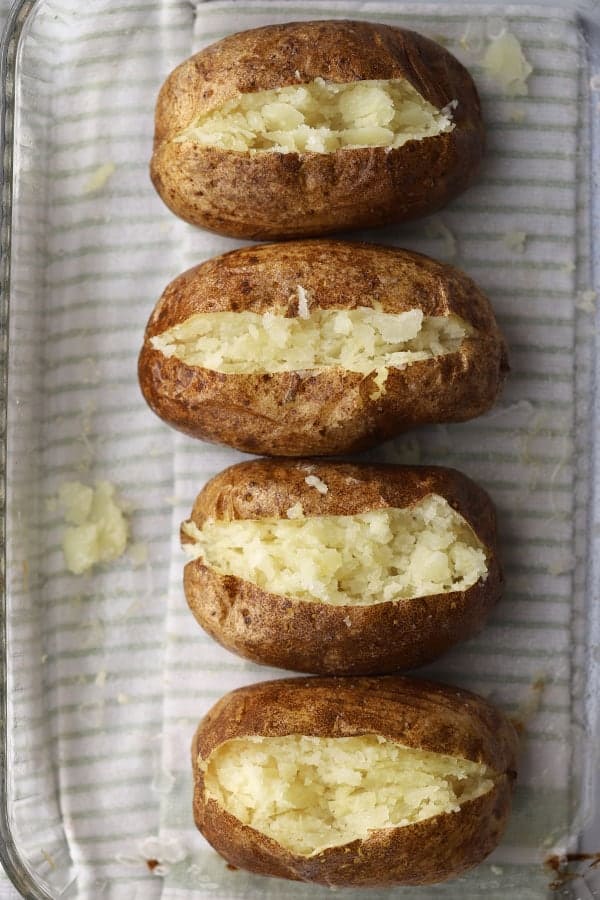 How to Bake Potatoes in the Oven:
If you're looking for salty, crispy skin on your potatoes, you'll get a perfect crispy baked potato by cooking it in the oven.
Wash your potato-use a vegetable scrubber or your hands to really scrub the outside of the potato. Pay special attention to the "eyes" of the potato to make sure there isn't any dirt in there. If there are some bruises or soft spots on your potatoes, be sure to use a pairing knife and cut it off.
Pat them dry with a paper towel.
Use a fork to poke 6-10 holes in each of your potatoes. The steam from the inside of the potato can make the skin burst, which makes a terrible mess in your oven. There's no need to wrap your potato in aluminum foil - this oven-baked method really makes the potato skins nice and crispy.
Drizzle a little cooking oil on it. I like to use avocado oil because it has a higher smoking point and doesn't have a distinct taste to it. Olive oil is a good substitution if you don't have avocado oil.
Sprinkle it with sea salt. You can also use kosher salt.
Bake uncovered on a baking sheet for about 50-60 minutes at 400 degrees. (45 minutes if your potatoes are smaller)
You will know you have perfectly baked potatoes when you can stick a fork in the middle of the potato and there isn't resistance when you pull it out. If you squeeze the potato, you should also feel that the insides are soft.
Take the potatoes out of the oven. Using a knife, slit them down the center and use a fork to make the insides light and fluffy.
Enjoy your potato topped with butter, sour cream, cheese, and bacon bits. YUM!
How to Make the Best Steakhouse Style Baked Potato
Cooking baked potatoes is easy. With just a few tips and tricks, you will be able to replicate the best baked potato you've ever eaten in a fancy steakhouse.
Baking potatoes in the oven is the easiest way to get the fluffy, flaky inside and the chewy potato skin you're looking for.
Best Baked Potato Toppings:
Baked potato bars are a hit for parties or large gatherings. Here are some ideas other than the traditional toppings:
Chili
Nacho Cheese
Sautéed Onion and peppers
Taco meat and toppings
Ranch Dressing with cheese and bacon bits
Guacamole
Salsa
Also, here's a little pro tip for you. Make homemade bacon bits ahead of time. Use the left over oil from the bacon to cover the outsides of the baked potatoes. THIS is the best way to make crispy skin potatoes. Total game-changer!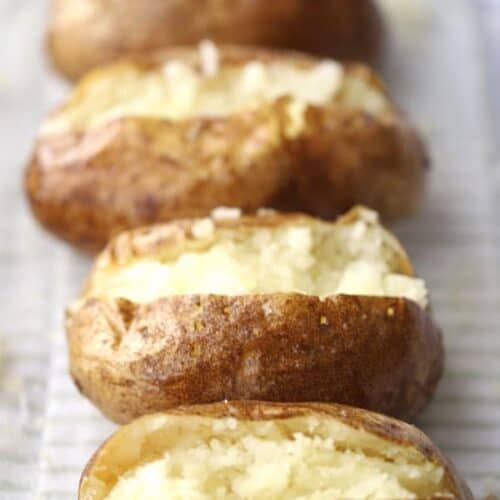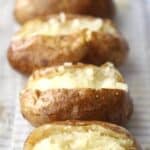 Print
Baked Potato Oven Method
This oven roasted baked potato guide is the easiest way to get those steakhouse perfect baked potatoes you love! Follow the step by step tutorial to make the best baked potato.
Ingredients
4

large

Russett Potatoes

washed

3

Tablespoons

Avocado oil

can substitute another cooking oil

4

tsp

Sea salt
Instructions
Preheat oven to 400 degrees F.

Using a fork, poke 6-10 holes, about a ½" deep, into each potato.

Put the potatoes in a large ziplock bag with the avocado oil. Seal the bag and roll the potatoes around inside the bag until all the potatoes are covered in oil.

Place potatoes onto a 9 by 13" baking dish or cookie sheet lined with aluminum foil or parchment paper.

Sprinkle sea salt all over each potato, making sure to get the sides, too.

Bake for 50-60 minutes, or until a fork inserted does not stick. Remove from the oven and slice open. Use a fork to lightly fluff the insides and serve with your favorite toppings. Enjoy!
Notes
How To Microwave Baked Potatoes
Microwave the baked potatoes on a paper plate or directly on the microwave turntable. If cooking two or more potatoes, an additional 5 minutes. Check the potatoes. When done, the potatoes should be easily pierced with a fork or paring knife all the way to the center. Continue to microwave in 1-minute bursts as needed until the potatoes are cooked through.

Let the potatoes cool for about 5 minutes until you don't risk burning yourself.  Make a slice down the top of the potato and using 2 forks, fluff the inside of the potato.  Enjoy!
How To Cook Baked Potatoes in the Crockpot
Prick the 

potatoes

 with a fork several times, then rub 

potatoes

 with olive oil, sprinkle with salt, and wrap tightly in foil. Place the 

potatoes

into a crockpot, cover, and

cook

on high for 4 ½ to 5 hours, or on low for 7 ½ to 8 hours until tender.
Nutrition
Calories:
93
kcal
|
Fat:
10
g
|
Saturated Fat:
1
g
Here are some other potato recipes we love!
If you've tried this recipe, please rate it and leave a comment on this post. I love hearing feedback from you helps me and other readers too! If you love Pinterest, feel free to leave a comment and photo there too. Also, if you like to share, use the hashtag #thecarefreekitchen on Instagram and tag me @thecarefreekitchen so I can find you and give your post some love. You can also find me on Facebook at The Carefree Kitchen. Thank you!!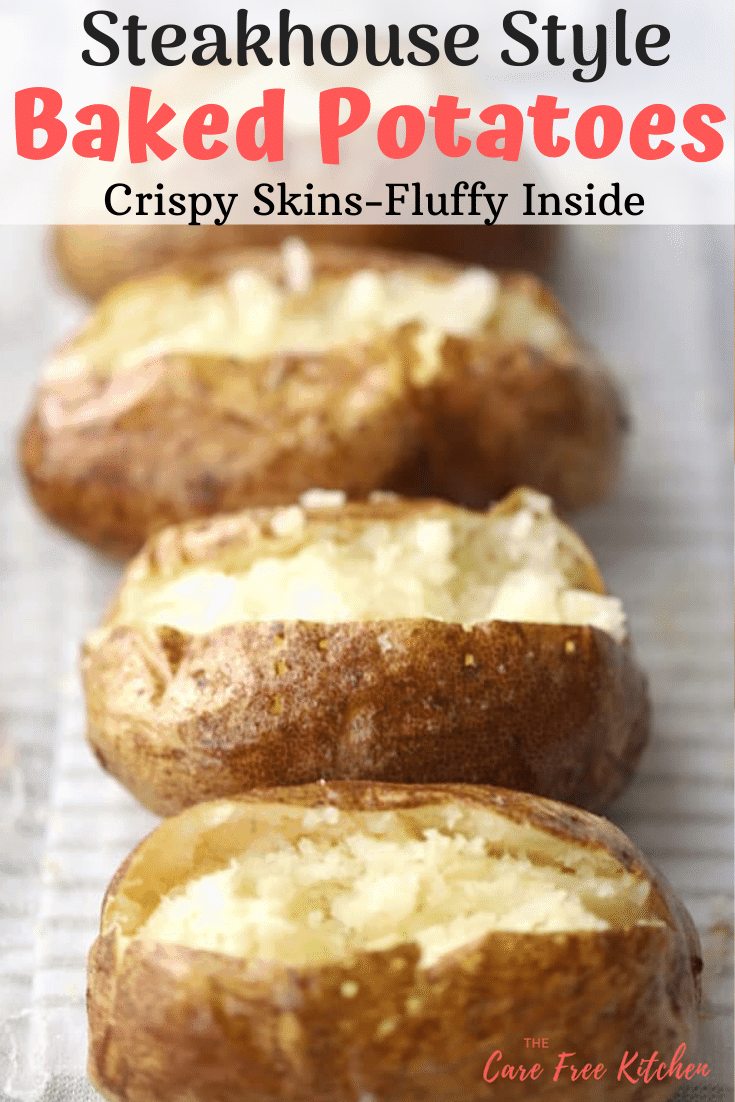 I hope you enjoyed this step by step guide on how to make a steakhouse-style baked potato. It is the best potato recipe - fluffy on the inside with crispy, salty, potato skins that you love on the outside.