If you're looking for a fun and colorful twist on the classic rice crispy treat, you've come to the right place! This fruity pebbles crispy treats recipe perfectly satisfies your sweet tooth and adds some extra pizzazz to your dessert table. These rice crispy treats with fruity pebbles are perfect for any party, celebration, or quick treat!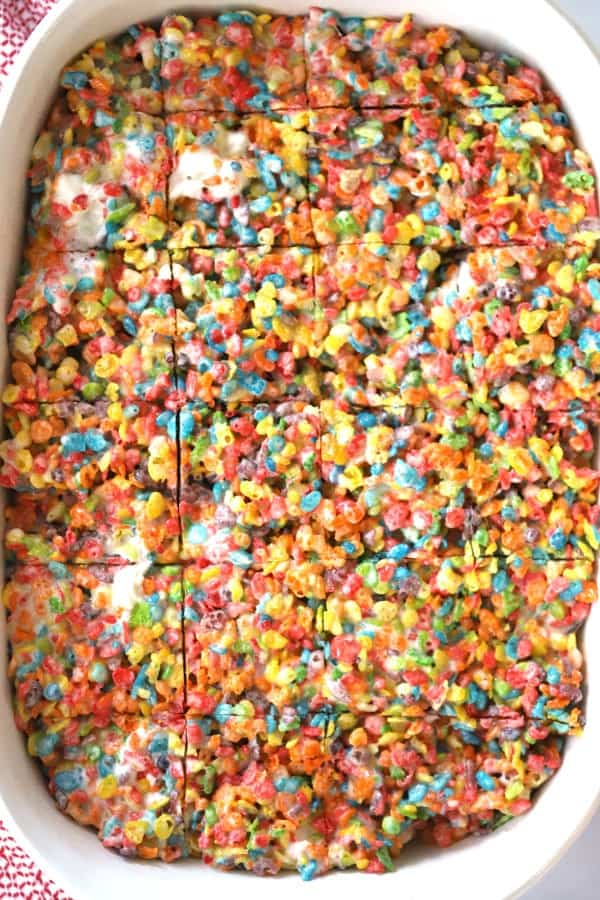 Jump to:
Rice Crispy Treats with Fruity Pebbles
These are a great way to use up leftover cereal. If you have a box of Fruity Pebbles that's been sitting in your pantry for a while, making rice crispy treats is a great way to use it up. These Fruity Pebble Treats are so fun to take to just about any gathering. They're not just for kids, either. No one can resist the fun flavors and colors of fruity pebbles cereal.
They're a great dessert for any occasion: Whether you're hosting a birthday party, a baby shower, or just a casual get-together with friends, Fruity Pebble rice crispy treats are a great dessert choice.
Fruity Pebbles Bars Video Tutorial
Tips for Making Fruit Pebbles Marshmallow Treats
While there are only four ingredients in these no-bake cookies, sometimes the ratios of marshmallow to cereal can be a little tricky. Here are a few tips to help your fruity pebbles cereal bars appear perfect every time.
Tips for Making Fruity Pebble Rice Crispy Treats
If you're a fan of Rice Krispie Treats, you need to try this fun and colorful twist on the classic recipe - Fruity Pebble Rice Crispy Treats!
Use Fresh Marshmallows- It's best to use fresh marshmallows for the best taste and texture. Older marshmallows can get hard and lose their fluffiness.
Add a Couple Handfuls of Marshmallows to the Cereal before Mixing- This will give the Rice Krispie Treats chunks of marshmallows throughout the cookie bars. It will melt a little when you're mixing up the cookie bars and then leave you with delicious chunks of ooey gooey goodness.
Melt the Marshmallows Slowly- When melting the marshmallows, it's important to do it slowly. Slowly melt the marshmallows, stirring constantly to avoid burning them.
Add the Cereal Gradually- When adding the Fruity Pebbles cereal to the melted marshmallows, it's best to add it gradually. Add a bit at a time and mix well to ensure that the cereal is evenly coated with the marshmallow mixture. Adding too much cereal at once can make it difficult to mix and result in clumps of cereal in your treats. Don't add too much cereal or you might have dry crispy treats.
Use a Non-Stick Spray- To prevent your treats from sticking to the pan or dish, it's best to use a non-stick spray. Spray the pan or dish before adding the mixture to make it easier to remove the treats once they've cooled.
Let them Cool Completly- One of the biggest mistakes people make when making Fruity Pebble Rice Crispy Treats is not letting them cool completely. Waiting for the treats to cool allows them to firm up and hold their shape. If you try to cut the treats while they're still warm, they'll fall apart and be difficult to serve.
Cut into Bite-Size Pieces- When cutting your treats, it's best to cut them into bite-sized or easy-to-hold pieces. This makes them easier to eat and serve, especially if you're bringing them to a party or potluck. You can also use cookie cutters to cut them into fun shapes.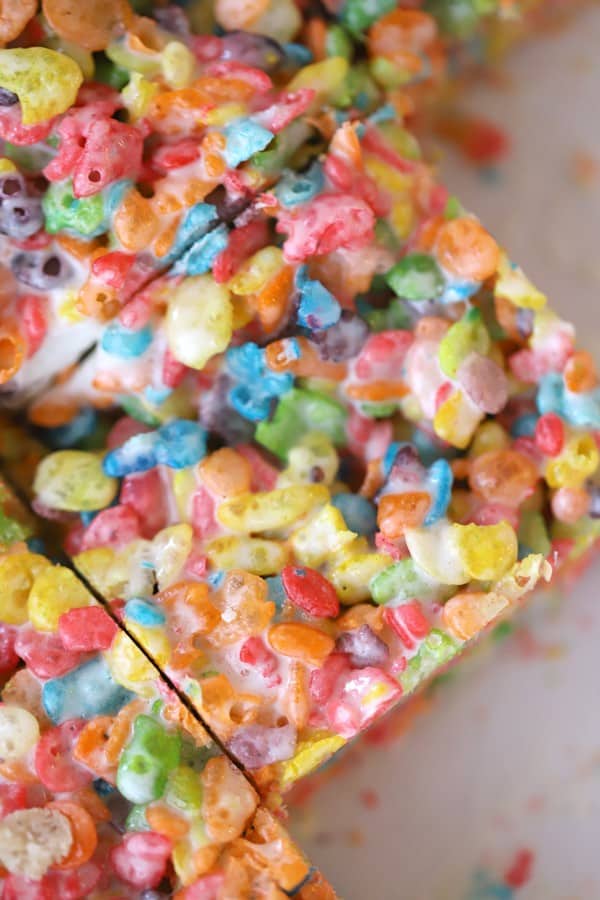 More No-Bake Rice Crispy Treats Recipes
If you love all things, Rice Krispies treats, here are a couple more recipes you're going to want to try.
And if more of the best cereal dessert recipes beyond just Rice Krispies are what you are after, we've got you covered.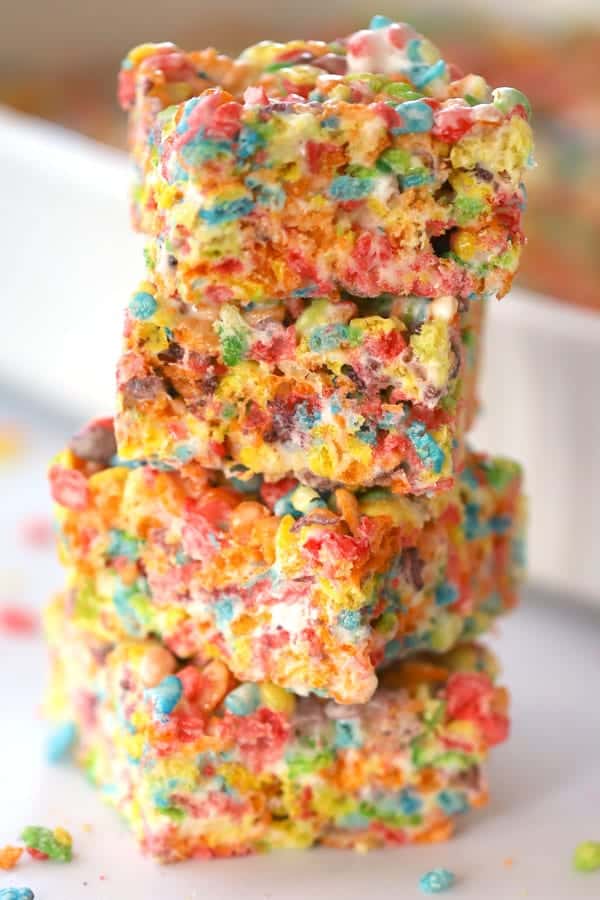 Tips for making Fruit Pebbles Treats
Use butter to grease the baking dish. No one likes the taste of pam. It's a little messier, but taking the time to grease your baking sheet with butter will definitely pay off. You want that first bite into the cookie to be joyous, not the synthetic greasy taste of cooking spray, smooth butter, and then sweet, fruity chewy!
Be sure to use butter, not margarine, in this recipe.
You can substitute a couple of cups of fruity pebbles for regular rice crispies. This will cut down on the sweetness of these cookies. The recipe I made in these pictures has all 6 cups of fruity pebbles, but I've made them many times with half rice crispies, and they're fantastic and a little less sweet.
Coconut extract in place of vanilla extract is a fun variation. It's more of a tropical fruity pebble cookie. YUM!
You can store the leftovers in a ziplock bag or a covered container for up to a few days.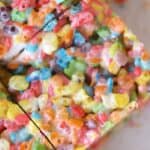 Print
Fruity Pebble Rice Krispies Treats Recipe
This Fruity Pebble Rice Krispies Treats Recipe is fun and easy.   It's a great no-bake cookie that only takes about 10 minutes to make. This variation of a rice crispy treat is perfect for any party, celebration or quick treat! 
Ingredients
¼

cup

Butter

(salted)

1

14 oz bag

Mini Marshmallows

(or 4 cups mini marshmallows)

6

cups

Fruity Pebble Cereal

(you can also sub half fruity pebbles for half regular rice crispies if you don't want them quite as sweet)

½

teaspoon

Vanilla extract

(you can also use a ½ teaspoon of coconut extract for a flavor variation)

½

tsp

Coconut Extract
Instructions
Coat the inside of a 9 by 13" baking dish with butter. Set aside.

In a large dutch oven pot, melt the butter on medium heat.  Add the mini marshmallows and stir until the marshmallows are almost all melted.  Turn the heat off and add the vanilla and coconut extract. Stir.

Add the fruity pebble cereal and mix until combined.

Pour the cereal mixture into the prepared 9 by 13" baking dish. Using the back of a spoon, spread the mixture evenly into the baking dish.

Get your hands just a little wet or spray with non-stick cooking spray and pat down the rice krispies treats. Cool until they hold their shape.  Cut into 3" squares and enjoy!
Nutrition
Calories:
92
kcal
|
Carbohydrates:
13
g
|
Fat:
3
g
|
Saturated Fat:
2
g
|
Cholesterol:
8
mg
|
Sodium:
127
mg
|
Potassium:
10
mg
|
Sugar:
6
g
|
Vitamin A:
495
IU
|
Vitamin C:
3.2
mg
|
Calcium:
4
mg
|
Iron:
1
mg
If you love No-Bake Dessert Recipes, Here are a few more to try...
This Fruit Pebble Rice Crispy Treats Recipe is really easy and fun to make. It's a great no-bake cookie that even kids can make and the great thing is, they only take about 10 minutes to make. This variation of a rice crispy treat is perfect for any party, celebration or quick treat!
Reader Interactions