Calling all peanut butter lovers! These easy no-bake cornflake cookies are quick and easy, chewy and crunchy, AND they have peanut butter in a marshmallow cookie! C'mon now!!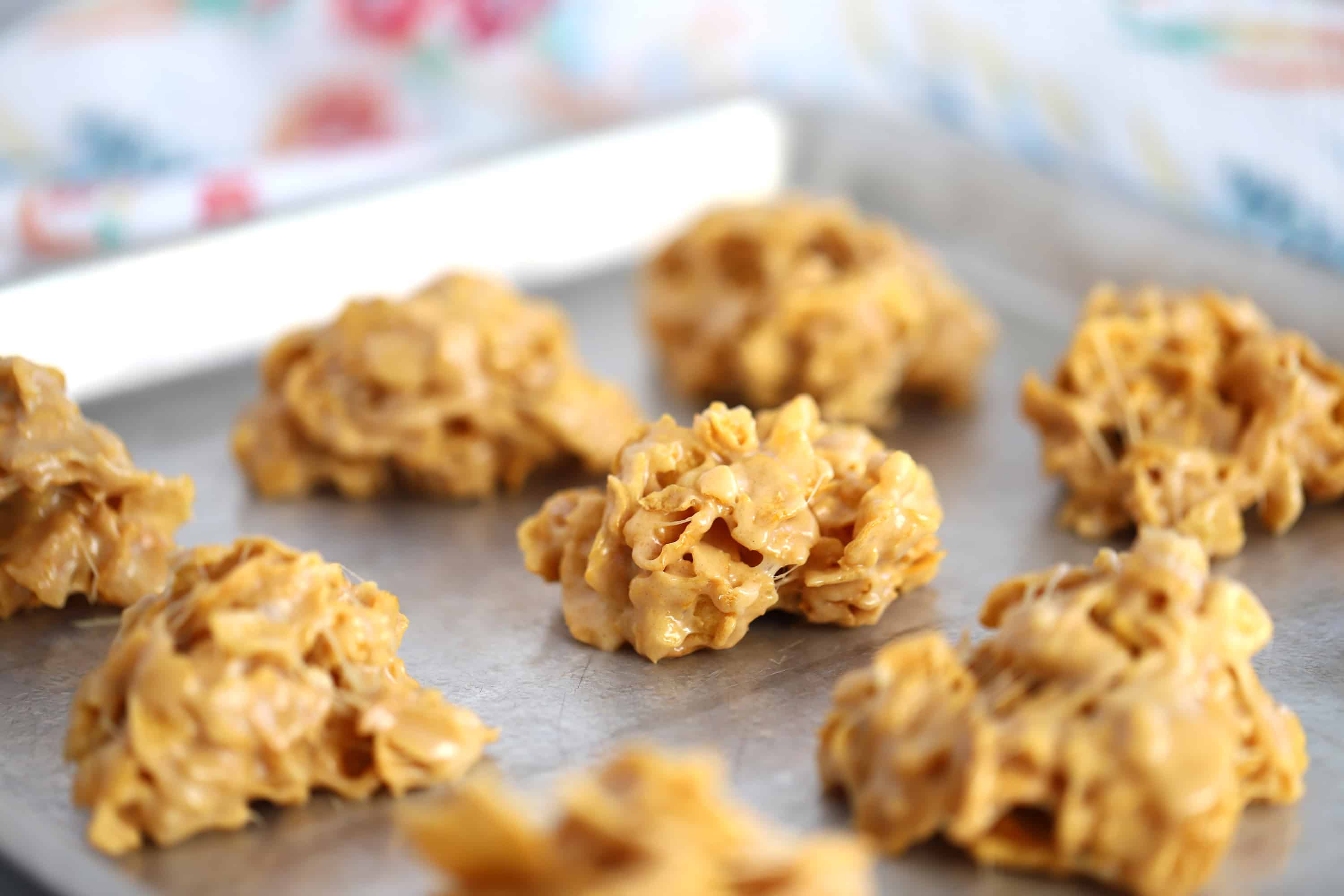 These no-bake cookies have been a staple in my life for as long as I can remember. As far as cookies go, they are right up there in the top 5 for sure! They really have everything going for them, sweet and a little salty, chewy and crunchy, quick and easy. I hope you love this cornflake cookie recipe as much as I do!
Perhaps the thing I love most about these no-bake cookies is how easy they are and also I almost always have the ingredients for this recipe in my pantry. 6 simple ingredients, cornflakes, marshmallows, butter, sugar, Karo syrup, and of course, peanut butter. 10 minutes, BOOM! Easy peasy!
If cornflake cookies are your thang, check out these other variations of amazing no-bake cookies.
and No-Bake Peanut Butter Smores Bars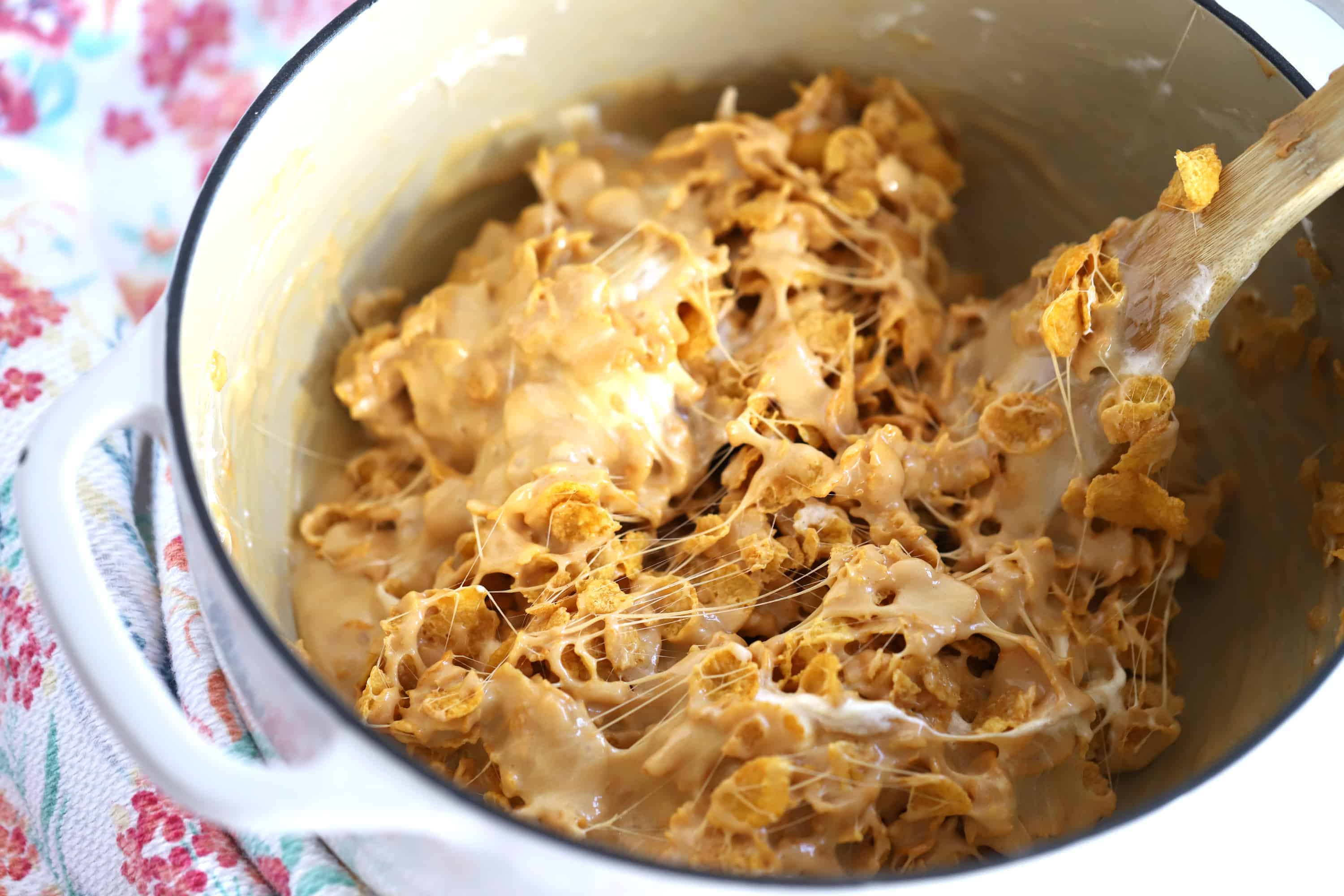 If you love chocolate with your peanut butter cookie. You can also try my recipe for Chocolate Peanut Butter Cookie here.
Helpful Hints:
Just like regular no bakes, you're gonna want to have your pan already greased and all your ingredients for this recipe ready to go. It's that quick!

The recipe calls for boiling the sugar mixture for 1 minute. If you like to keep your cookies really chewy, knock that down to about 30 seconds, just long enough for the sugar to dissolve fully and come to a rapid boil.

You can use mini marshmallows or large marshmallows. If you like small chunks of marshmallow in your cookies, use large and don't let them melt quite all the way.

This is also incredible with coconut extract added before you add the cornflakes. Wowza!! Also, coconut flakes are super in this too. Just add them before you add the cornflakes too.

Chunky peanut butter is my favorite in these

no-bake

cookies. I love the little bits!

You can drop in cookie portions onto a greased cookie sheet or spread them on the cookie sheet and just pull them apart when they're cool. (That way you can say you only ate one cookie. haha)

Peanut Butter Cornflake Cookies

These no bake cornflake cookies are easy and delicious. They will satisfy any peanut butter lover!

Ingredients

1/2

Cup

Butter

1/2

Cup

Sugar

1/2

Cup

Karo Syrup

1/2

Cup

Peanut Butter

5

oz

Marshmallows

5

Cup

Cornflakes

Instructions

Melt the butter in a large pot. Add sugar and karo syrup. Bring to a rapid boil and boil for 1 minute.

Add the marshmallows and peanut butter and stir until combined.


Add the cornflakes and stir until mixed thoroughly.

Drop on a greased cookie sheet. Let cool. Enjoy!

Nutrition Facts

Peanut Butter Cornflake Cookies

Amount Per Serving

Calories 200

* Percent Daily Values are based on a 2000 calorie diet.

The Carefree Kitchen Socials:
I'd love to connect with you on social media. Come find me!
Facebook: https://www.facebook.com/thecarefreekitchen/
Instagram : https://www.instagram.com/the_carefree_kitchen/
Pinterest: https://www.pinterest.com/thecarefreekitchen/pins/