These triple chocolate oatmeal energy bites are a delicious and healthy no bake treat! No-bake energy bites are easy to make and perfect for a snack or breakfast on the go.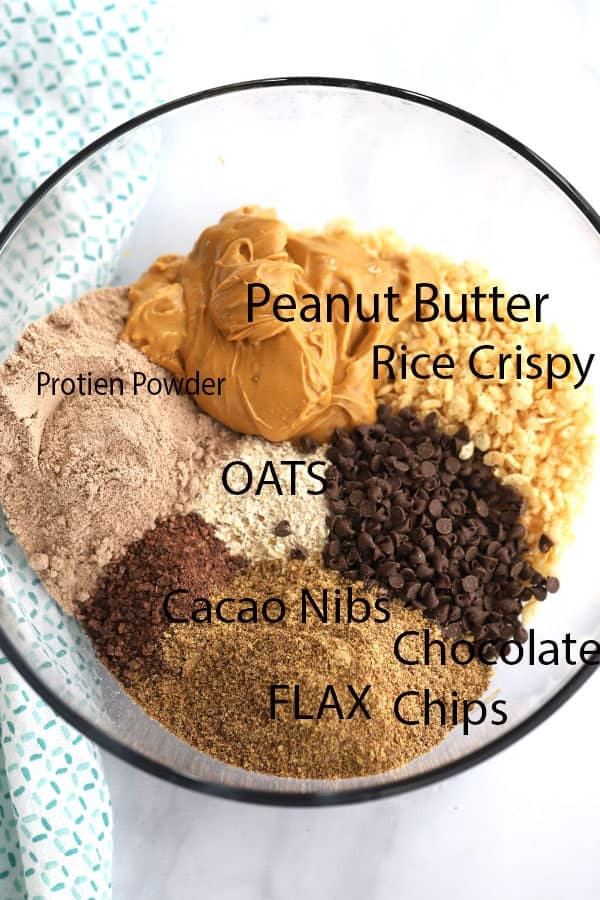 I love having these energy balls on hand. I've made them in the past to help me get through some no sugar challenges and also for a sweet pick-me-up in the afternoon.
My sister-in-law gave me her favorite recipe last summer, and my kids loved them. This is a modified version of her recipe.
The great thing about this recipe is that it can easily be modified. If I give my kids a couple of options and they get to help create the recipe, they love them even more! You can let me add their favorite dried fruit, some mini m and m's or their favorite chopped nuts.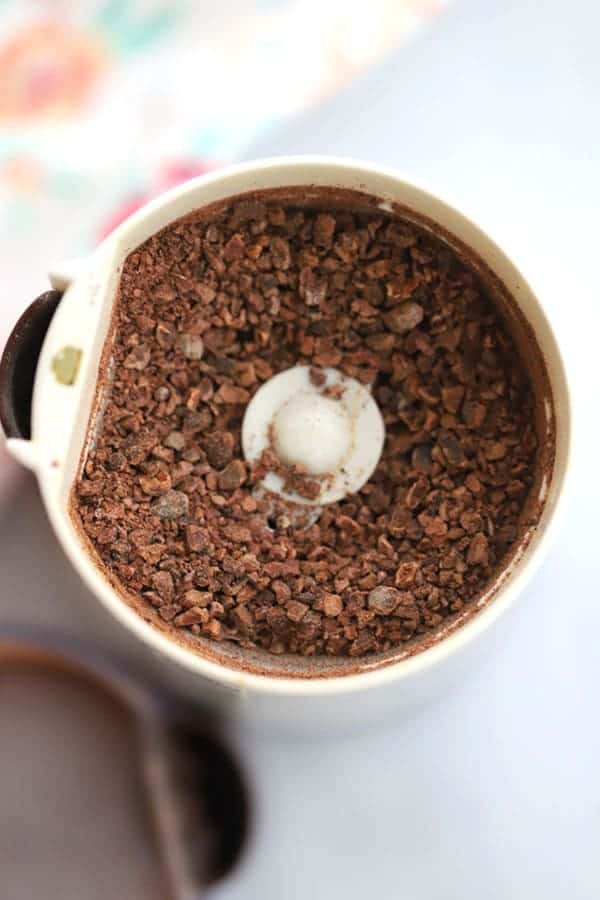 Here's a picture of the small coffee grinder I use to grind things like nuts, flax seeds, and raw cacao nibs. It's super handy to have on hand. Of course you can purchase these things all ready to go but I had some of the ingredients on hand so I used those.
What are Energy Ball?!? Energy balls go by many names: energy bites, protein balls, power balls, and vegan truffles.
Ingredients in No-Bake Energy Balls:
Oats: Rolled Oats. These are really the best base for power balls. Oats can hold a little moisture without getting soggy. I like to pulse mine in a blender or food processor to break them down a little. It gives the Energy ball more of a raw cookie dough texture.
Nut butter: Just about any nut butter will do here. You can use almond butter, or cashew butter, but my favorite is definitely peanut butter. You can also use a combination of nut butter. That's the great thing about this recipe, you can easily swap out ingredients or add an extra one if you have it on hand.
Sticky liquid sweetener: For the sweetener, I like to use honey but it's also really easy to use pure maple syrup, Agave, or Medjool dates. You can use 3-4 dates in place of half the honey. If you want to use dates, just be sure to soak them overnight or for several hours at least so they can be very soft when you blend them up. You will probably want to do half dates and half honey if you're using dates. You'll need a little honey to hold everything together.
Custom Mix-Ins: There are so many options here.  This is where my kids love to have an opinion. Some of the mix-ins we love to use:

are cacao nibs (I like to pulse these a few times in a small blender),
mini m & m's
mini chocolate chips
raisins
hemp hearts
raw cacao
flaxseeds
chia seeds
chopped dried fruit
chopped nuts--just about any kind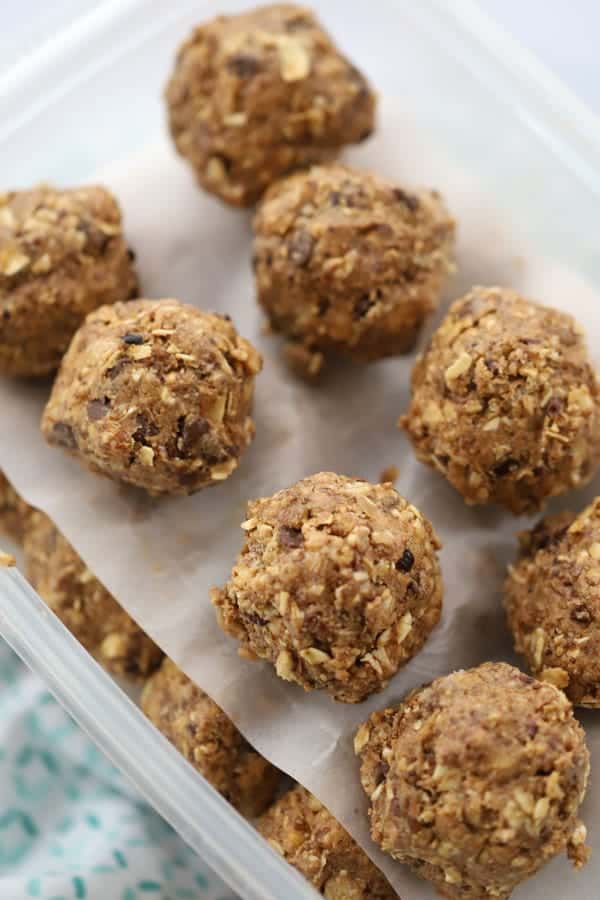 Jump to:
Tips for making The Best Power Balls:
Use a food processor to break up the oats a little. The energy balls will hold together better if the oats are a little smaller.
Use at least half honey and then you can experiment with other liquid sweeteners like maple syrup, agave, and Medjool dates.
The mix-ins are the fun part. Do whatever you or your kids like! Get them in the kitchen rolling the balls. That's the fun and messy part.
Use a couple of Tablespoons of Coconut oil on your hands. Use about a teaspoon at a time. Use it liberally. It will help keep the balls together and the sticky mess off your fingers, and it's good for you!
I like to keep the balls in the refrigerator or freezer. I store them in a Tupperware container to keep them fresh and ready to throw into a sack lunch or a soccer bag for practice.
Line your container with parchment or wax paper. It'll keep the balls from sticking.
If your energy balls seem a little sticky, just add some more ground flaxseed or oatmeal. If your balls aren't sticking together, add some honey or agave.
If you plan to use flax seeds, be sure to grind them up or purchase them already ground. Our bodies cant' break down the hard shell.
I used a cookie scoop to scoop the dough. It worked amazingly well. I used a tablespoon and a half scoop, and it's the perfect bite-size.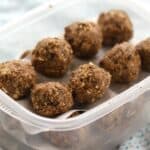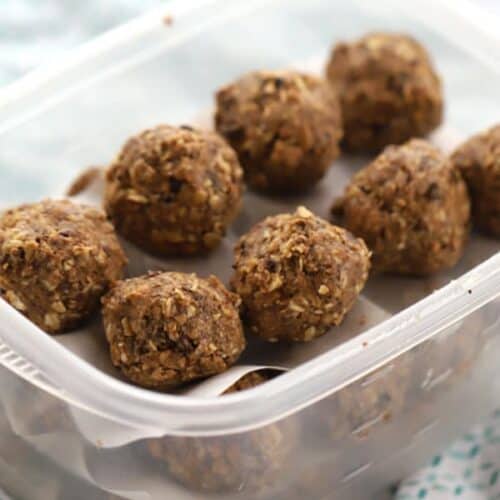 Print
Triple Chocolate Power Balls
Energy balls are a delicious and healthy treat! No bake energy balls are easy and perfect for a snack or breakfast on the go.
Ingredients
2

Cups

Regular Rolled Oats (pulsed in a food processor or blender till about a third or half the size)

1

Cup

Rice Crispies

½

Cup

Flax (I like to grind mine in my blender or a small coffee grinder)

1

Cup

Peanut Butter (any nut butter will do. Peanut Butter is my favorite)

2

Scoops

Chocolate Protein Powder

½

Cup

Mini Chocolate Chips

¼

Cup

Cacao Nibs (I also like to grind these till about half the size)

½

Cup

Honey

¼

Cup

Pure Maple Syrup
Instructions
In a blender, add rolled oats. Pulse it or turn it on low and chop the oats up until half the size.

In a small coffee grinder or a blender, grind up the flax seeds.

In a mixing bowl, pour in all of the ingredients except the coconut oil. (The ground oats, rice crispies, ground flax seeds, peanut butter, protein powder, chocolate chips, cacao nibs, honey and maple syrup.) mix.

The "dough" should resemble dry cookie dough. When you scoop and lightly pack it together, it should stay in a ball and not break. If it's a little dry, add some honey. You can also add a little coconut oil to help it stay together.

To roll into balls, use a cookie dough scoop to make balls and then use your hands to finish rolling into a ball shape. Use coconut oil on your hands if you need to. I used a couple tablespoons, a teaspoon at a time, on my hands to keep the dough from sticking.

Keep in an airtight container in the freezer or the fridge. These make great afternoon snacks or breakfast on the go. ENJOY!
Nutrition
Calories:
174
kcal
|
Carbohydrates:
19
g
|
Protein:
6
g
|
Fat:
8
g
|
Saturated Fat:
2
g
|
Cholesterol:
3
mg
|
Sodium:
64
mg
|
Potassium:
152
mg
|
Fiber:
2
g
|
Sugar:
11
g
|
Vitamin A:
10
IU
|
Calcium:
42
mg
|
Iron:
0.8
mg
More Easy Snack Ideas
If you've tried this recipe, please rate it and leave a comment on this post. I love hearing feedback from you helps me and other readers too! If you love Pinterest, feel free to leave a comment and photo there too. Also, if you like to share, use the hashtag #thecarefreekitchen on Instagram and tag me @thecarefreekitchen so I can find you and give your post some love. You can also find me on Facebook at The Carefree Kitchen. Thank you!!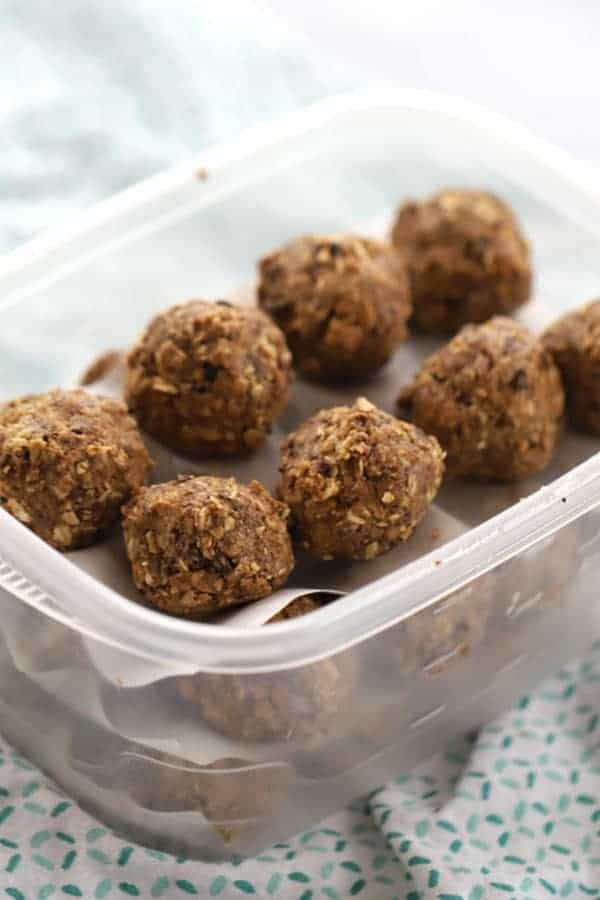 Energy balls are a delicious and healthy treat! No-bake energy balls are easy and perfect for a snack or breakfast on the go. I especially love to send them with my kids to sports practice and games.
Reader Interactions