Reeses Peanut Butter Cereal Bars are an ooey gooey Peanut Buttery delight! Topped with Reeses Peanut Butter Cups and a white chocolate drizzle these cereal bars are going to become a new favorite!!

If you love a good cereal bar or cookie, check out another variation of this peanut butter goodness with my Peanut Butter Cornflake Cookies.
These cookies are a serious no-brainer for any caramel, marshmallow, and peanut butter lover out there! These quick, no-bake cookies are my go to when I need to whip something up in a hurry! They're great for any potluck or family gathering.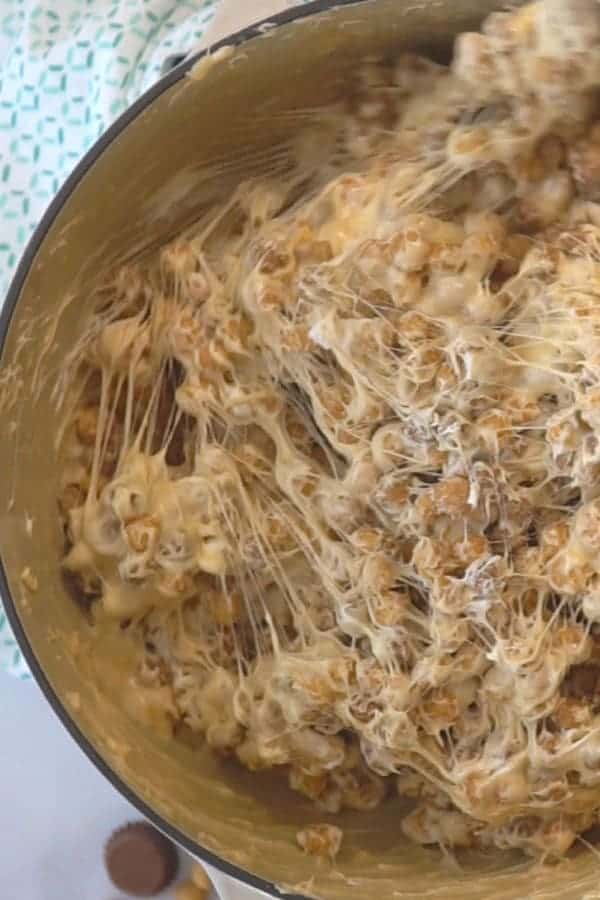 This dessert starts with a delicious peanut butter caramel, no-bake, base. I love a good chewy and crunchy no-bake cookie! Then this dessert gets topped off with chopped up Reeses Peanut Butter Cups. It a perfect way to use up the candy left over from a holiday. It would be delicious with rolo, snickers, twix, or just about any candy bar! After the Reeses Peanut Butter cups, next is a white chocolate drizzle. Oh baby! Come to Mama!
CAN YOU MELT Chocolate IN THE MICROWAVE?
You can definitely melt white chocolate in the microwave. I used white chocolate wafers but white chocolate chips work great too. Put the wafers in the bowl. Microwave on high for 30 seconds. Take it out of the microwave and stir it. Repeat the process until all the chocolate is melted. Takes about 1-2 minutes.
[videopress N10Err1l]
If you love Peanut Butter, you are going to love everything about this dessert and it will be a huge hit for the holidays or any time of the year. You can't go wrong with an ooey gooey caramel and peanut butter cereal bar!
This dessert is easy to make but such a crowd pleaser! It is the perfect holiday dessert.
Tips for Making Reeses Peanut Butter Cereal Bars:
Chop your peanut butter cups before you start making the cookie bars (It goes really fast and you're pretty much stirring the entire time.

Have your white chocolate ready too

Spray your baking dish with non-stick spray

Let the cereal bars cool for about 10 minutes before you serve them or they will be hot and won't hold up.

Boil only for 1 minute, otherwise, your cereal bar will be too hard when it cools.
Here are some of the Best Cookie Bar Recipes:
Caramel Peanut Butter Cookie Bars
White Chocolate and Raspberry Cookie Bars
Coconut Lime Sugar Cookie Bars
Reeses Peanut Butter Cereal Bars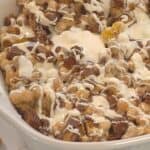 Reeses Peanut Butter Cereal Bars
These amazing Reeses Peanut Butter Cereal Bars are what dreams are made of! Ooey gooey peanut butter goodness in a fluffy marshmallow cereal bite, complete with Reeses Peanut Butter Cup chunks and a white chocolate drizzle! Oh my!
Ingredients
1/2

Cup

Butter

1/2

Cup

Karo Syrup

1/2

Cup

Peanut Butter

1/2

Cup

Sugar

12

oz

Mini Marshmallows

12

Cups

Reeses Puff Cereal

1

12oz

Reeses Cups (Chopped)

6

oz

White Chocolate Wafer
Instructions
Spray a 9 by 13" pan with non-stick cooking spray. Set Aside. Be sure to have all the ingredients measured and ready to go. This recipe goes quickly as soon as you start cooking.

In a large and deep, (preferably non-stick) pot, melt the butter.

Add the karo syrup, and sugar. Stir while the mixture comes to a boil. Boil for 1 minute. Turn the heat to low and mix in the peanut butter and marshmallows. Keep stirring the mixture until it comes to a boil again.

Take off the heat and add the cereal. Stir until mixed.

Pour into the greased 9 by 13" baking dish.

Melt the white chocolate wafers in the microwave--Pour the white chocolate into a microwave safe bowl and microwave for 30 seconds. Take the chocolate out and stir, microwave for another 30 seconds, stir. Keep repeating this process until all the chocolate is melted and smooth. It should be about 2-3 minutes.

Sprinkle the chopped Reeses Peanut Butter Cups on the cereal bars and then drizzle white chocolate over the bars.

Let sit for 10 minutes or so until the cereal bars are cool. You can speed up this process by putting them in the fridge too. Cut into 3" squares and enjoy!!
Nutrition Facts
Reeses Peanut Butter Cereal Bars
Amount Per Serving
Calories 398
Calories from Fat 126
% Daily Value*
Total Fat 14g 22%
Cholesterol 18mg 6%
Sodium 321mg 13%
Potassium 269mg 8%
Total Carbohydrates 68g 23%
Protein 6g 12%
* Percent Daily Values are based on a 2000 calorie diet.