These chili lime steak bites are quick and easy.  They only take about 15 minutes to prepare.  They're an easy steak bites recipe and work great as a main course for dinner or steak bites appetizer.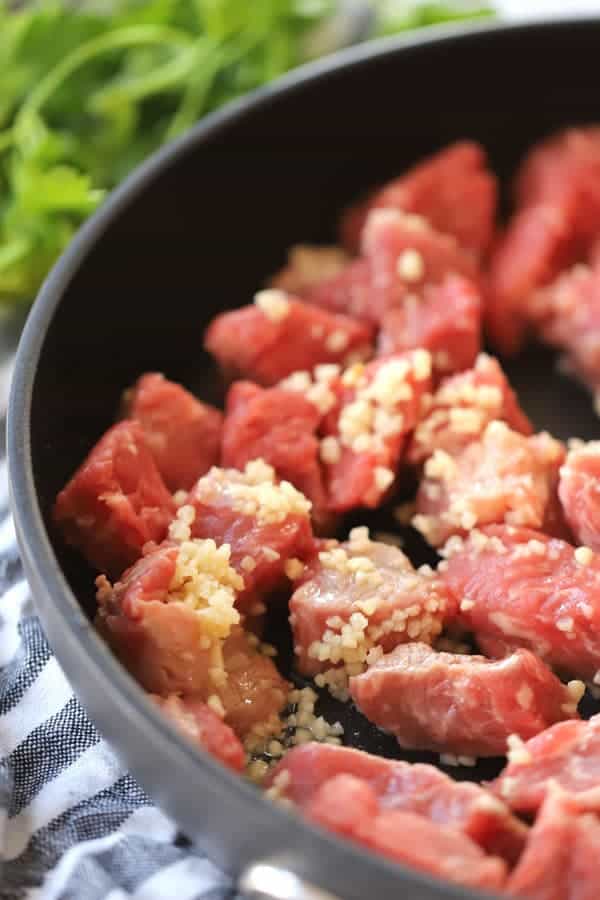 This garlic steak bites recipe is a quick and easy dinner idea. When I can find steak on sale, I like to cut it up into steak bites sized pieces and freeze them.  You can take it out of the freezer a few hours before you need to make dinner and wa-lah, an easy dinner idea.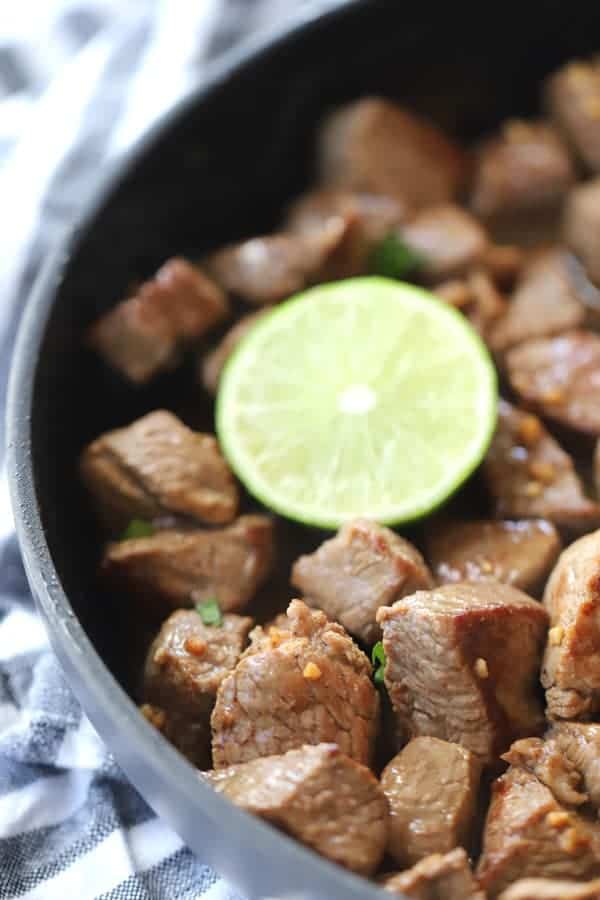 The chili and lime flavors on these steak bites are delicious.  It's the perfect combination of spicy and sweet! Cook those sirloin steak bites with garlic butter and chili powder, squeeze a lime on it when it's done and you've got yourself a winning combo.  
Here are some other healthy side dishes you can serve with your chili lime steak bites:
Oven Roasted Broccoli with Garlic and Lemon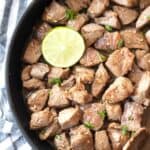 Chili Lime Steak Bites
Ingredients
1

Tablespoon

Avocado Oil

1

Tablespoons

Minced Garlic

1/2

tsp

Chili Powder

1/2

tsp

Onions Powder

1/2

tsp

Pepper

1

tsp

Salt

1/2

Tablespoon

Honey

1

Tablespoon

Butter

1

Tablespoon

Parsley

Chopped

24

ounces

Steak

Sirloin, rib eye, tri tip work great
Instructions
Cut your steak into 3/4", bite-sized pieces.

In a large skillet, turn the heat on to med/high and wait for the pan to get hot. Add the Tablespoon of oil and then the cut up meat. Spread the meat on the bottom of the pan. All the pieces of meat should be touching the bottom of the pan. (This will ensure all the meat gets cooked evenly.

Add the minced garlic, chili powder, salt, and pepper.

Using tongs, lift one piece of the meat. If it is caramel colored, it's time to turn all the pieces of meat. It should only take ~2-3 minutes on each side. Stir the steak bites. Salt and pepper again to your preference. You will want to cook the steak bites on a high heat so you get the caramel color without overcooking the meat.

Just before your steak bites are finished cooking, add the butter, honey the parsley. The butter and honey will lift the caramel flavoring off the bottom of the skillet and give your steak a little bit of a juicy sauce. Sprinkle with the chopped parsley and enjoy!

Nutrition Facts
Chili Lime Steak Bites
Amount Per Serving
Calories 283
Calories from Fat 180
% Daily Value*
Total Fat 20g 31%
Cholesterol 74mg 25%
Sodium 467mg 19%
Potassium 313mg 9%
Total Carbohydrates 2g 1%
Protein 23g 46%
* Percent Daily Values are based on a 2000 calorie diet.
The Carefree Kitchen Socials:
I'd love to connect with you on social media.  Come find me!
Facebook: https://www.facebook.com/thecarefreekitchen/
Instagram : https://www.instagram.com/the_carefree_kitchen/
Pinterest: https://www.pinterest.com/thecarefreekitchen/pins/