These amazing Spicy Italian Meatballs are made with half hot Italian sausage and half lean ground beef. Whether you're a seasoned cook or a beginner in the kitchen, this guide will help you master the art of making spicy Italian meatballs. Before you know it, you'll be serving up a plate of meatballs that could rival any Italian grandma's recipe.
Jump to:
Spicy Meatballs Video Tutorial
Beef and Sausage Meatballs Recipe
This is the best Spicy Italian Meatball recipe. It has just the right amount of spicy sausage and hearty beef.
These authentic Italian meatballs are perfect in a baked pasta dish, on top of spaghetti with meat sauce, as a crockpot Italian meatball appetizer, or in a meatball sub sandwich. The possibilities are endless!
These Spicy Italian meatballs can be made or frozen before you're ready to use them. You can make a double batch, freeze them, and then pull them out of the freezer one at a time or when making a meal for the family.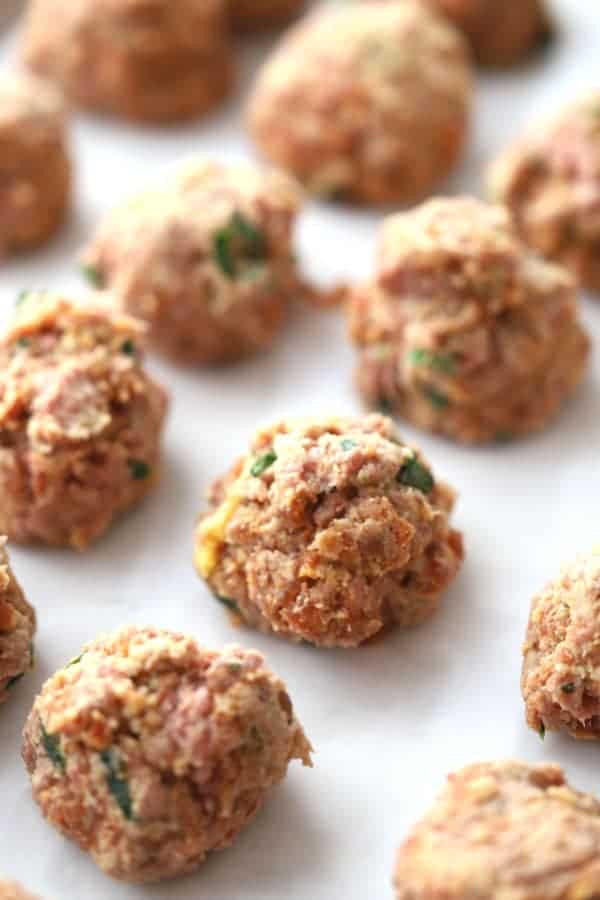 Ingredients for Spicy Italian Meatballs
Hot (Johnsonville) Sausage: This already is seasoned and has a real kick to it. If your family is sensitive to spicy foods, you can also use a medium or mild sausage here.
Ground Beef (15% fat works great): This is tame the heat of the sausage and give the meatballs a really nice hearty flavor. The combo of pork and beef works great for meatballs. I have also use Elk meat and venison in meatballs with sausage and it also has a wonderful flavor.
Bread Crumbs or Cracker Crumbs: Either will work great in this recipe. If you have some stale crackers, use those, it's a great way to use up old bread or crackers from the pantry.
Parmesan Cheese: You can use grated or shredded parmesan here. Just use what you have on hand. If you need to purchase more parmesan cheese for this recipe, I would lean toward the grated parmesan.
Cream: This will help bind your meatballs together. You can also use half and half here too.
Eggs: This will help all the ingredients bind together and keep your meatballs in a ball.
Parsley:
Garlic: Minced garlic works great but use garlic powder if you don't have any fresh garlic.
Onion Salt: Adds a lot of flavor
Salt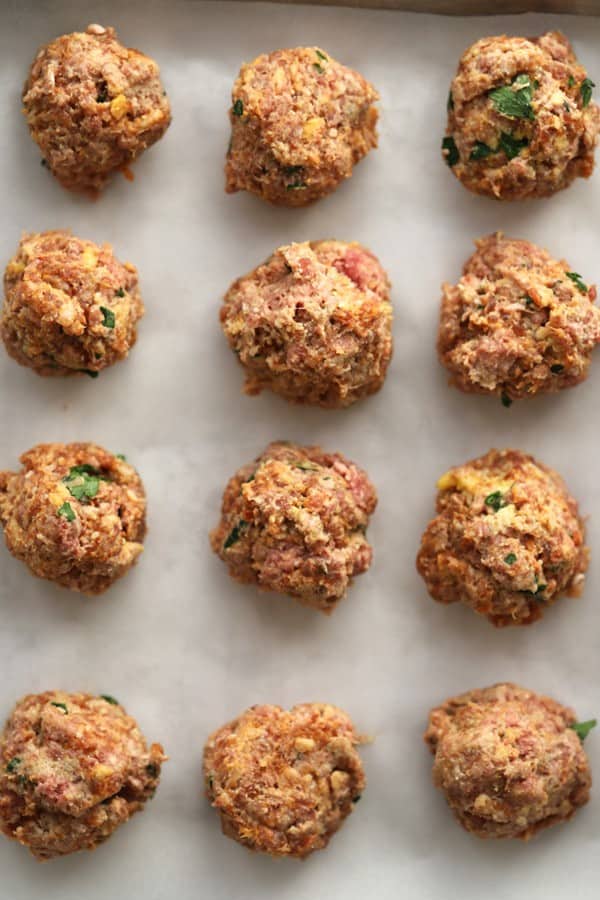 What to Serve with Meatballs
Pasta: Serve your spicy Italian meatball pasta with a bed of al dente spaghetti or penne pasta. The combination of tender meatballs and savory sauce with pasta creates a classic and satisfying dish.
Marinara Sauce: Top your meatballs with a generous ladle of tangy marinara sauce. The rich flavors of the sauce complement the spiciness of the meatballs, creating a harmonious balance that will leave your taste buds dancing with joy
Parmesan Cheese: Sprinkle grated Parmesan cheese over your meatballs for a delightful burst of umami flavor. The cheese adds a creamy and salty element that enhances the overall taste of the dish.
Garlic Bread: Serve garlic bread on the side to mop up any remaining sauce. The crispy yet soft bread, infused with garlicky goodness, pairs perfectly with the bold flavors of the meatballs.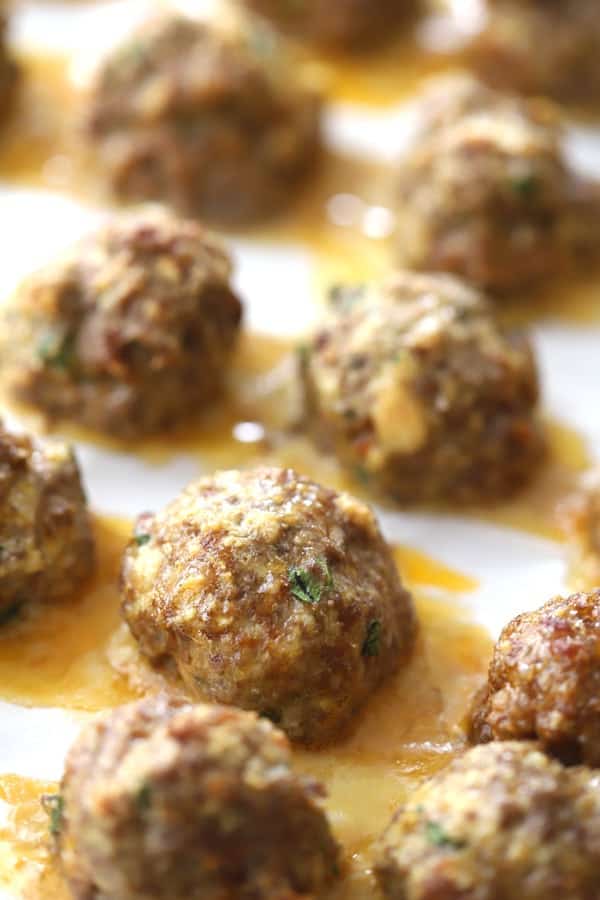 Recipe Ideas using Spicy Italian Meatballs
Meatball Subs: Load your spicy Italian meatballs into a crusty sub roll and top them with melted mozzarella cheese. Add some sliced bell peppers and onions for extra crunch and flavor. This handheld delight is perfect for those on the go.
Meatball Pizza: Transform your meatballs into pizza toppings! Spread pizza sauce on a pizza crust, sprinkle on some shredded mozzarella, and arrange your spicy meatballs on top. Bake until the cheese is bubbly and golden, and enjoy a unique twist on a classic favorite.
Meatball Skewers: Thread your meatballs onto skewers, alternating with colorful bell peppers and onions. Grill or broil until the meatballs are cooked through and slightly charred. These flavorful skewers make for a fun and interactive dining experience.
Meatball Sliders: Miniaturize your meatballs by placing them between slider buns. Add a dollop of spicy mayo or a slice of pepper jack cheese for an extra kick. These bite-sized delights are perfect for parties or as appetizers.
Slow Cooker Meatball Appetizer: Add freshly cooked or frozen meatballs to a slow cooker. Top with your favorite marinara sauce and some shredded mozzarella cheese. Serve with toothpicks at any gathering. Such a fun and easy appetizer recipe.
What is the best type of meat to use for spicy Italian meatballs?
When it comes to making spicy Italian meatballs, the best type of meat to use is a combination of ground beef and ground pork. This combination provides a perfect balance of flavors and textures. The beef adds richness, while the pork adds juiciness to the meatballs. Feel free to experiment with different ratios until you find the perfect blend that suits your taste buds!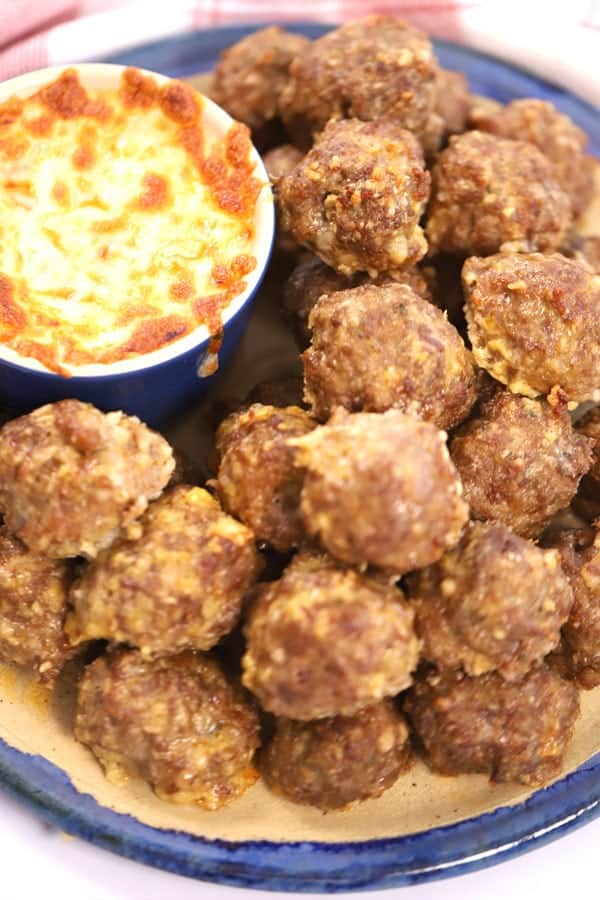 Recipes with Homemade Italian Meatballs
One of my favorite ways to use Spicy Italian Meatballs is in baked pasta! You can use your favorite sauce, and favorite pasta too! My family's favorite is baked penne with meat sauce and topped with these delicious Italian Meatballs!
Here are a couple of other recipes you can use in this variation.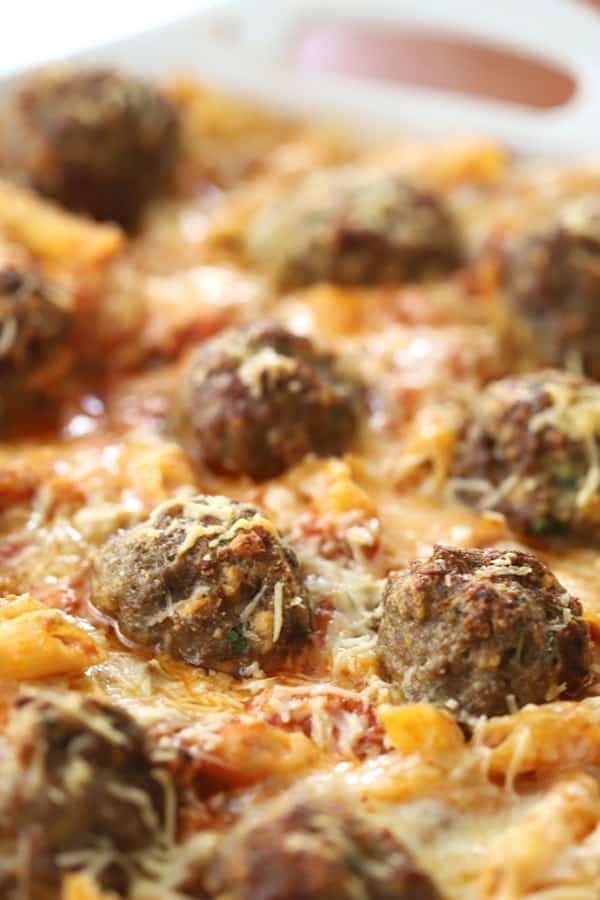 How to make Best Italian Meatballs Recipe
Use a combination of meats. You can use spicy sausage, ground beef, venison, ground lamb, or even ground turkey. To get that spicy flavor, be sure one of the meats is a spicy ground sausage. This will give you those robust Italian flavors you love and a little spice too.
You can use bread/panko bread crumbs, small pieces of bread, or even crackers in your meatballs. I love using the crumbs, from the bottom of the box, of cheese-flavored crackers. If you want to make gluten-free meatballs, use a crushed up rice cracker in your meatballs.
Egg, Using an egg or two in your meatballs well help bind the meat, cheeses, and bread crumbs or crackers together. It will help maintain a ball shape while cooking.
Add shredded or grated cheese to give a flavorful punch to your meatballs.
Add salt, pepper, minced garlic, and spices to your ground meat mixture. This is a great way to add different flavors to your meatballs.
Spicy Italian meatballs are great in just about any pasta dish and a
Storing
Fridge: Leftover spicy Italian meatballs can be stored in the refrigerator for up to 3-4 days. Make sure to transfer them to an airtight container or wrap them tightly in plastic wrap before refrigerating.
Freezing: If you want to extend their shelf life, you can also freeze the meatballs. When properly stored in the freezer, they can last for 2-3 months.
Thawing: Just thaw them in the refrigerator overnight before reheating and enjoying.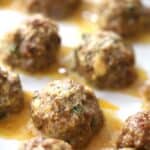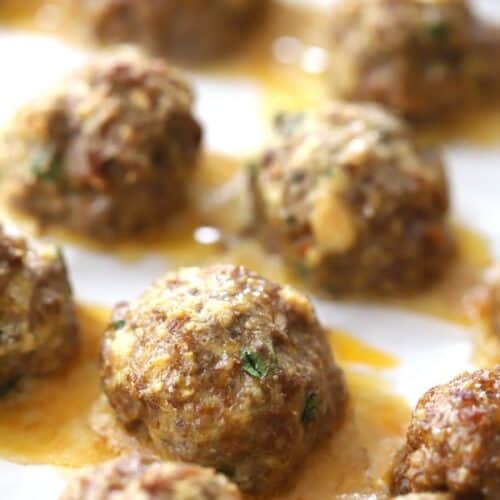 Print
Spicy Italian Meatballs
These amazing spicy Italian meatballs are made with half hot Italian sausage and half lean ground beef. This is a step by step guide to making homemade Italian meatballs. So delicious!
Ingredients
1

lb

Hot (Johnsonville) Sausage

1

lb

Ground Beef (15% fat works great)

½

Cup

Bread Cumbs or cracker crumbs

⅓

Cup

Parmesan Cheese

⅓

cup

cream

2

large

Eggs

2

Tablespoons

Fresh Parsley, minced

1

teaspoon

Garlic, minced

1

teaspoon

Onion

½

teaspoon

Salt
Instructions
Preheat your oven to 350 degrees.

Spray a large baking sheet with non-stick cooking spray or line a baking sheet with parchment paper.

In a large Mixing bowl, Combine the hot sausage and ground beef. Mix with your hands until well combined. (You can use food preparation gloves for this process if that makes it more tolerable)

Add the rest of the ingredients. (Breadcrumbs, parmesan cheese, cream, eggs, parsley, minced garlic, onion powder, and salt.) Mix again until well combined.

To make the meatballs, roll about 1 ½  tablespoons of the meat mixture between your hands to form a ball. Place the meatballs on a greased baking sheet or a parchment-lined baking pan, about 2" apart. Repeat this process until you have formed all your meatballs.

Bake in a 350-degree oven for approx 25 minutes or until golden brown on the outside and the inside of the meatballs reach at least 145 degrees internally.

Take out of the oven and let sit for a couple minutes before adding the meatballs to a baked pasta dish, or sub sandwich. These can be cooled and then frozen to use at a later date. This recipe makes approx. 24 meatballs. Enjoy!
Nutrition
Calories:
412
kcal
|
Carbohydrates:
5
g
|
Protein:
22
g
|
Fat:
32
g
|
Saturated Fat:
12
g
|
Cholesterol:
144
mg
|
Sodium:
682
mg
|
Potassium:
337
mg
|
Vitamin A:
375
IU
|
Vitamin C:
1.9
mg
|
Calcium:
92
mg
|
Iron:
2.4
mg
More of the Best Appetizers
If you've tried this recipe, please rate it and leave a comment on this post. I love hearing feedback from you helps me and other readers too! If you love Pinterest, feel free to leave a comment and photo there too. Also, if you like to share, use the hashtag #thecarefreekitchen on Instagram and tag me @thecarefreekitchen so I can find you and give your post some love. You can also find me on Facebook at The Carefree Kitchen. Thank you!!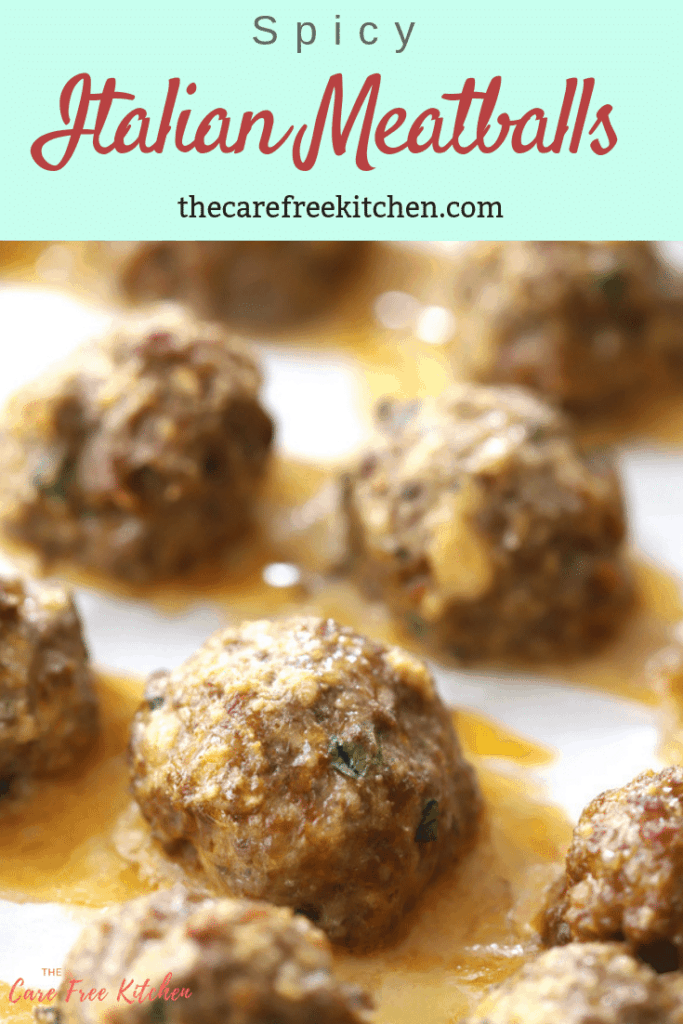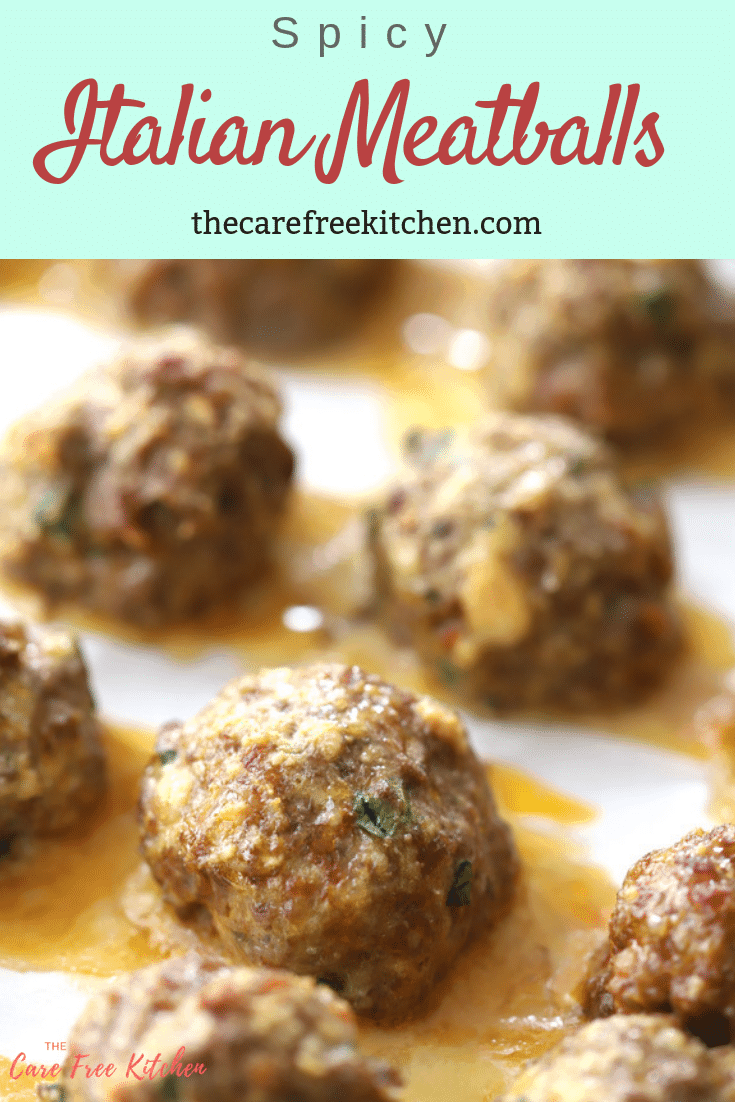 These authentic Italian Meatballs are made with half hot Italian sausage and half lean ground beef. This is a step by step guide to making delicious old school Italian meatballs. So delicious!
Reader Interactions