An easy, step-by-step guide to making sweet, silky smooth, and delicious caramel. You can use this recipe for caramel apples or just as a homemade caramel candy.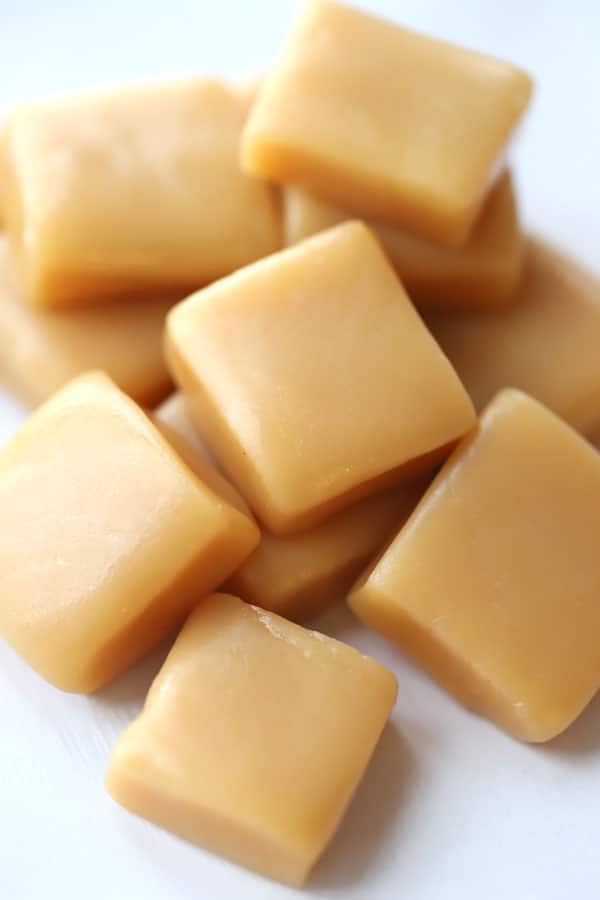 Jump to:
Homemade Caramel Video Tutorial
What pan do I use to make caramel?
The best pan to use when making caramel is a large, non-stick pot. However, you can make it without a non-stick pot but it is much more difficult to keep your caramel from scorching.
Your caramel will boil up about double it's size when cooking so be sure your ingredients have room to expand. A pan with handles is a must too.
You will be pouring the hot caramel into a baking dish as soon as it has come up to temperature.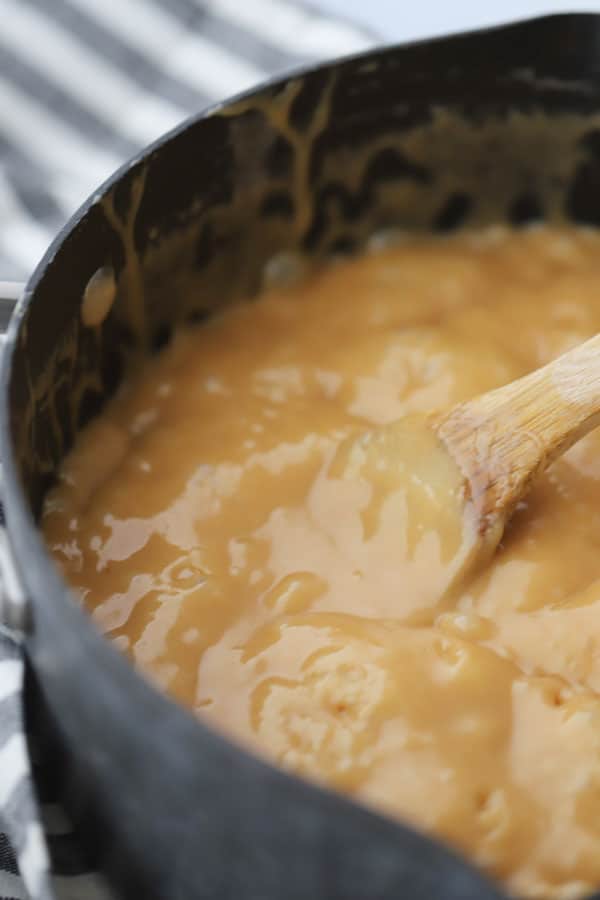 What temperature do I cook the caramel?
It's best to gradually increase the temperature of the sugar and butter mixture. Stir the caramel the entire time the sugar and butter mixture is on the heat.
Sugar scorches easily so it's best to use a wooden spoon with a square tip so you can scrape much of the bottom of the pan as possible while the caramel comes to a soft ball stage. (Stir on a direction and then scrape around the perimeter of the pan and then scrape the other direction.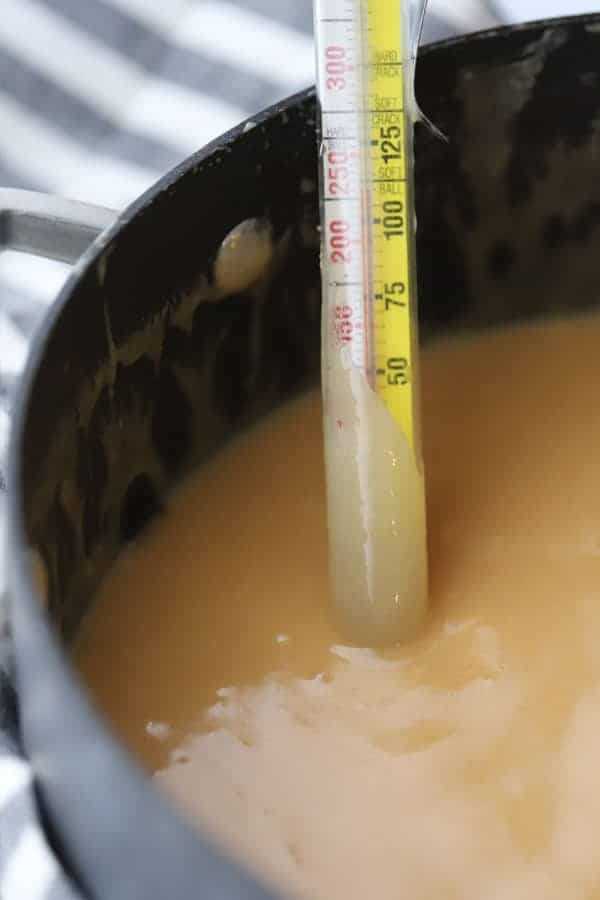 What if my caramel scorches?
If you see little spots in your caramel, immediately take the caramel off the heat and pour into another clean, non-stick pan.
This means you are cooking your caramel too quickly and the caramel is scorching. However, If you act quickly, you can save your caramel and it won't have a burnt taste. You might however get a little bit of a grainy texture if this happens.
As long as you are cooking the caramel on constant medium heat and stirring constantly, you won't have a problem.
What is a soft-ball stage?
As the sugar and butter mixture boil, the sugar concentration increases, and the temperature rises.
Be sure to make a mental note, soft-ball stage is 240 degrees Fahrenheit. The highest temperature the caramel reaches will tell you how firm it will be when it cools.
Softball stage will be soft and chewy but not too hard to bite when it's cool. Softball stage, 240 degrees, is the temp you will want your caramel for caramel candy or for caramel apples.
It's important to watch this stage of the process closely so you don't overcook your caramel.
How to test for softball stage without a candy thermometer.
To test for soft ball stage if you don't have a candy thermometer, all you need is a bowl of cold water. The caramel will go through a few stages.
In the first stage, it will just begin to boil, little bubbles will start popping up. Keep the heat on medium and as the liquid evaporates from the caramel, it will become hotter and produce a rapid boil. (A rapid boil is when there are layers of big bubbles all over the surface of the caramel.)
The caramel will go from a light caramel color to a little more of an amber colored caramel. This is close to the softball stage.
Use a small and add a couple of cups of cold water. Drop a tablespoon or so of caramel in the bowl of cold water.
Be careful not to burn yourself. Just roll the ball of caramel around with your fingers and it should produce a soft "ball" of caramel. If the caramel runs through your fingers or doesn't hold it's shaped at all, keep cooking it.
Repeat this process every minute or so until you reach softball stage.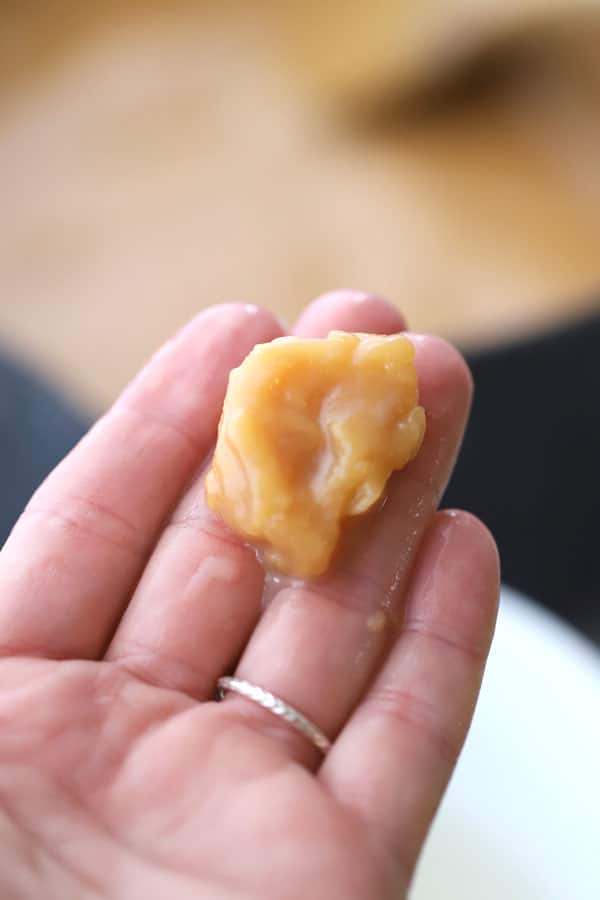 How to make salted caramel:
To make salted caramel, add ½ tsp of salt to the caramel mixture when adding the sugars.
Sprinkle salt flakes on the caramel pieces after they've cooled. An important reminder, use salt flakes, not coarse salt.
You want your salt sprinkles to be delicate and dissolve quickly. This caramel recipe is gorgeous and so delicious!!
Preparing the baking dish:
This recipe calls for a 9 by 13" baking dish. Be sure to grease the baking dish with butter and not non-stick cooking spray. Butter should be the first thing you taste when you bite into this sweet treat.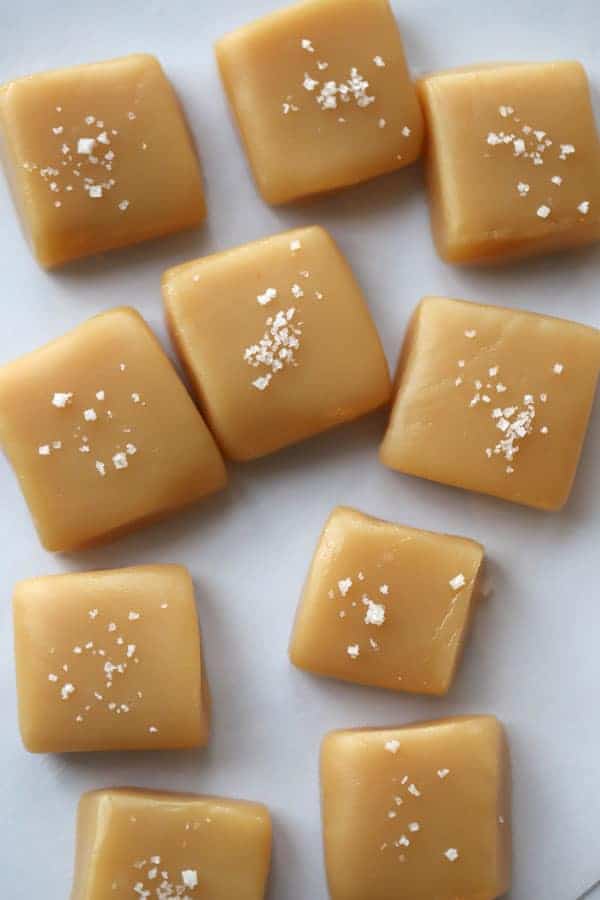 Best Caramel Recipes
Ways to use this recipe:
A go-to recipe for Caramel Apples
Make a caramel sauce, don't cook it as long. Use the same ingredients and cook it until it reaches 220-230 degrees or coats the back of a spoon.
Add caramel sauce and whipping cream to make a caramel sundae.
Tips for Making Homemade Caramel:
Use a non-stick pan to make the caramel
Stir the caramel in a verticle pattern in the pan, around the perimeter, and then in a horizontal pattern.
Use a square tip wooden spoon to be sure you are scraping off the entire bottom of the pan.
Don't stop stirring, again, don't stop stirring
Cook the caramel to 240 degrees Fahrenheit ( or use the cold water method as explained above)
Use butter, not non-stick cooking spray to prepare the baking dish. (Butter is all you should be tasting here!)
You can speed up the cooling process by sliding the baking dish of caramels in the fridge or a cool garage.
Don't cut the caramel until it has had a chance to cool completely and come to room temperature
If you plan to dip these caramels in chocolate, be sure to have them cut into pieces and then cooled in the fridge for at least 15 minutes so the caramels keep their shape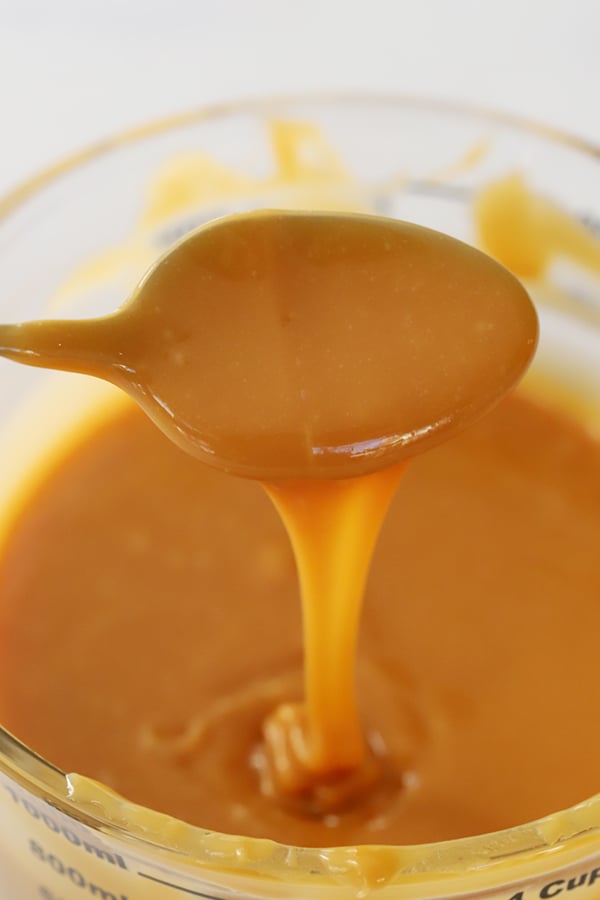 Ingredients in Homemade Caramel:
Butter: You can use no salt butter or salted butter, either works great.
Sugar: just regular granulated sugar works just fine.
Brown Sugar: light brown sugar is best.
Karo Syrup/Corn Syrup: Light corn syrup is best.
Sweetened Condensed milk: This is important for this recipe. Do not substitute it for heavy cream or evaporated milk. This recipe doesn't allow for those substitutions.
Salt: Sea Salt is best
Vanilla: Pure Vanilla is best. For a flavor switch-up, use coconut flavoring. It's such a fun treat.
Salt Flakes: This is optional. You can find salt flakes at a boutique grocery store or on amazon.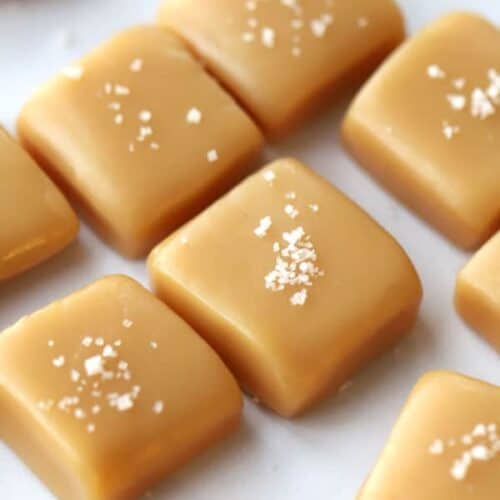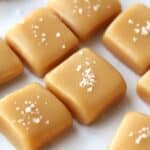 Print
Easy Homemade Caramel
This is an easy, step-by-step guide to making sweet, silky smooth, and delicious caramel. You can use this recipe for caramel apples or just as homemade caramel candy.
Ingredients
1

cup

butter

1

cup

sugar (white, granulated)

1

cup

brown sugar

1

cup

karo syrup

or sometimes called corn syrup

1

can

sweetend condensed milk

Be sure this is NOT evaporated milk

¼

tsp

salt

1

tsp

vanilla extract

salt flake for the top of the caramel (optional)
Instructions
Prepare your baking dish. Grease a 9 by 13" baking dish with butter. Do not use non-stick cooking spray for this or it will give your caramel a strange flavor. Set it aside until the caramel is done cooking.

In a non-stick pan, add the butter, sugar, brown sugar, Karo syrup, sweetened condensed milk, and salt.

Cook in a deep saucepan over medium heat, stirring until all the sugar is dissolved and the butter is melted.

Stirring constantly, cook the caramel mixture until it comes up to 240 degrees on a candy thermometer. If you don't have a candy thermometer, use the cold water method. (put a couple cups of cold water in a cereal bowl. Drop a tablespoon of caramel into the cold water. move the caramel mixture around with your fingertips. If the caramel forms a "soft-ball" it's ready. If the caramel dissolves or runs through your fingers, keep cooking it.)

Take the caramel off the heat immediately to stop the cooking.

Pour the caramel into the greased, prepared, 9 by 13" baking dish. Let the caramel cool before cutting.

Sprinkle with salt flakes if desired. Enjoy!
Nutrition
Calories:
228
kcal
|
Carbohydrates:
37
g
|
Protein:
1
g
|
Fat:
9
g
|
Saturated Fat:
5
g
|
Cholesterol:
25
mg
|
Sodium:
124
mg
|
Potassium:
75
mg
|
Sugar:
37
g
|
Vitamin A:
280
IU
|
Vitamin C:
0.4
mg
|
Calcium:
59
mg
|
Iron:
0.1
mg
More Candy Ideas
More Holiday Recipes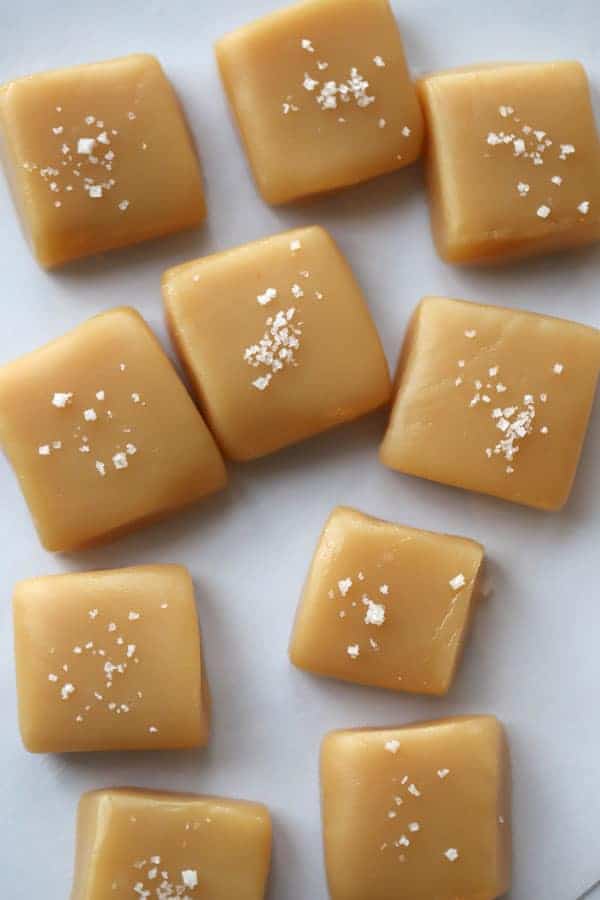 If you've tried this recipe, please rate it and leave a comment on this post. I love hearing feedback from you helps me and other readers too! If you love Pinterest, feel free to leave a comment and photo there too. Also, if you like to share, use the hashtag #thecarefreekitchen on Instagram and tag me @thecarefreekitchen so I can find you and give your post some love. You can also find me on Facebook at The Carefree Kitchen. Thank you!!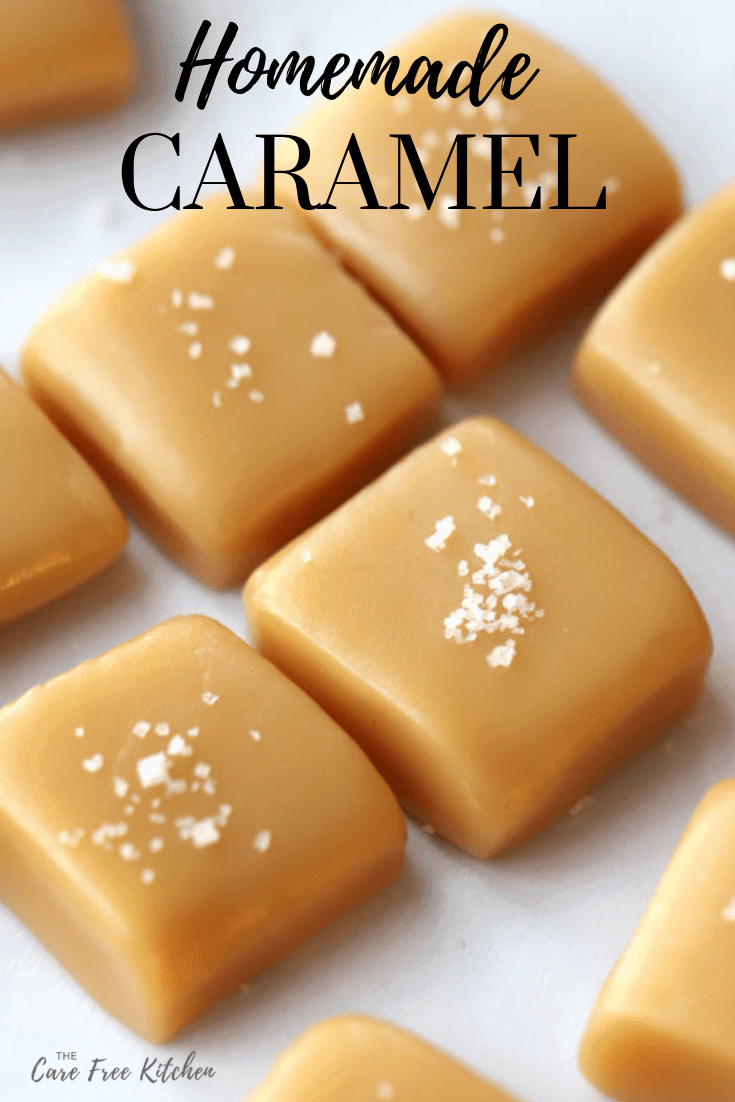 This recipe for homemade caramel candy is an easy, step-by-step guide. to make sweet, silky smooth, and delicious caramel. You can use this recipe for caramel apples or just as a homemade caramel candy.
Reader Interactions