You will love this grilled Cilantro Lime Chicken.  It is a party in your mouth! You'll love the tender, juicy chicken on a bed of flavor packed quinoa with an avocado cream drizzle.  It will become part of your family dinner rotation in no time!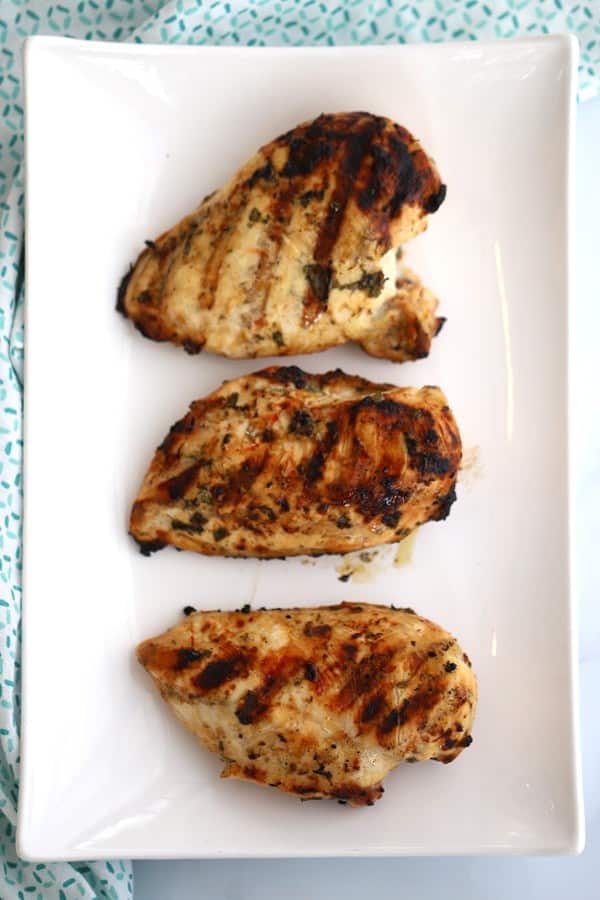 Here's a picture of the Cilantro Lime Chicken marinating.  I love using ziplock bags to marinade meat. You can throw your meat and spices in the bag and let it work its magic. It cuts down on the mess so much!  I don't know about you but I don't want to handle raw chicken anymore than I have to.  The ziplock bags make cleanup so much easier!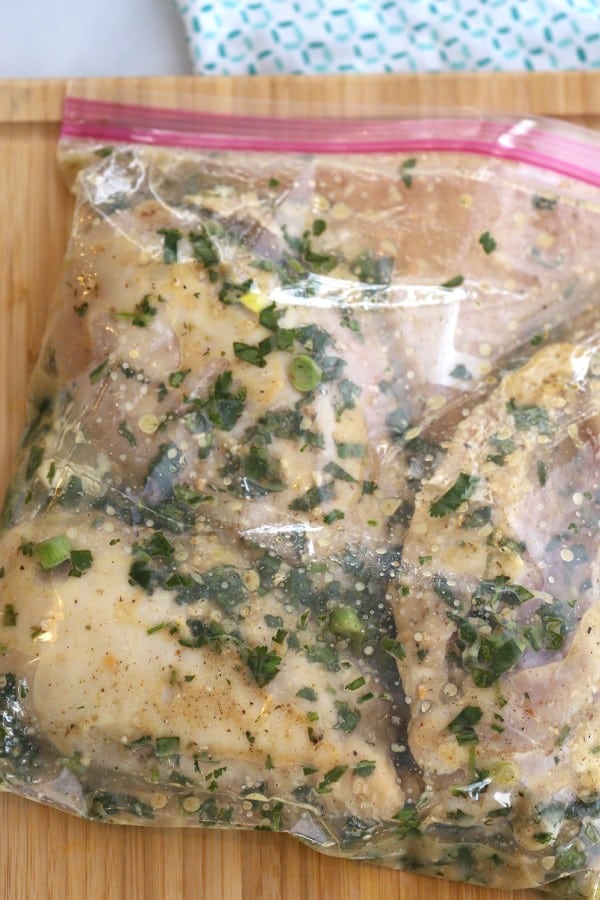 The Best Chicken Base or Chicken Broth
I love this chicken base!  I don't even buy chicken stock or chicken broth in the boxes anymore.  I found this a few years ago at Costco and I won't go back.  It seriously makes the best soups and casseroles.  It comes in a beef flavor and it's really good too. Whenever I can find a product that is smaller and does the same job, I'll take it! I really don't like buying the chicken stock at the store in big boxes or cases.  It takes up a lot of room in my pantry that already has limited space.  Whenever a recipe calls for chicken stock,  you can use this.  Just add a teaspoon of chicken base to a cup of warm water and you're good to go!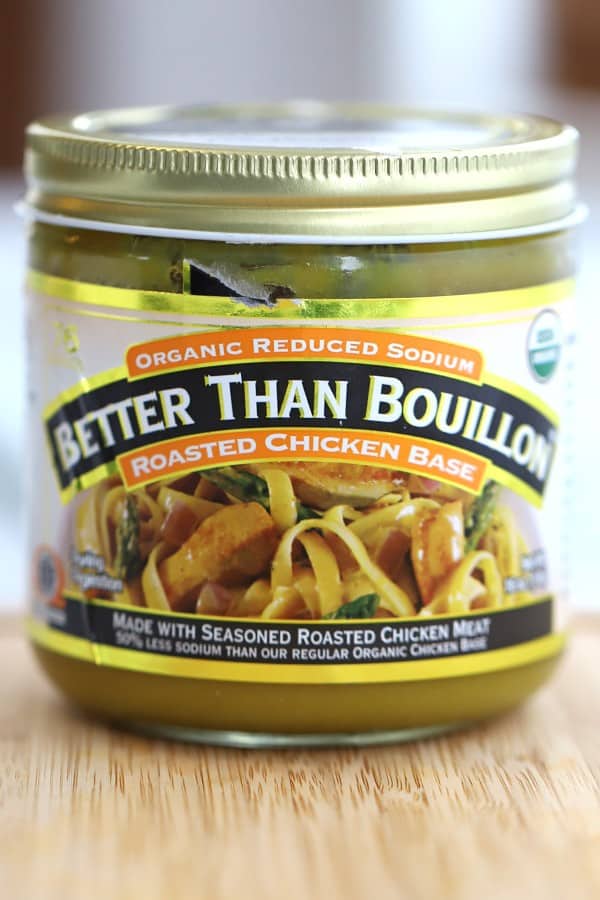 Grilled Cilantro Lime Chicken Recipe
I'd like to be able to tell you that you can make these several different ways, grilling, baking or in the crockpot but the truth is, grilling is the way to go with this cilantro lime chicken marinade! I tried baking the chicken after it marinated.  It turned out really juicy but the flavor wasn't as intense.  The grill gives it such a deep and intense flavor.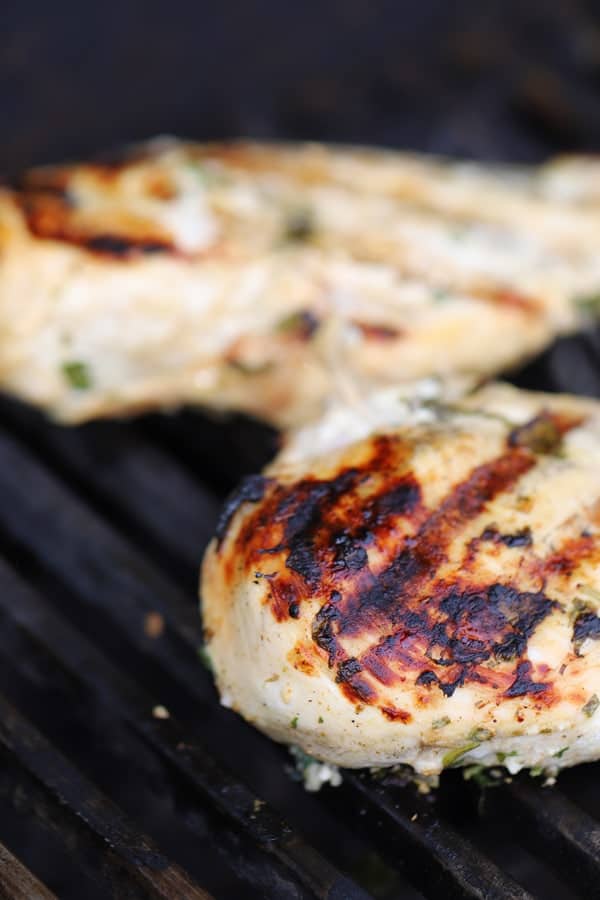 Oh baby, check out those grill marks, so much flavor packed in this cilantro lime chicken recipe!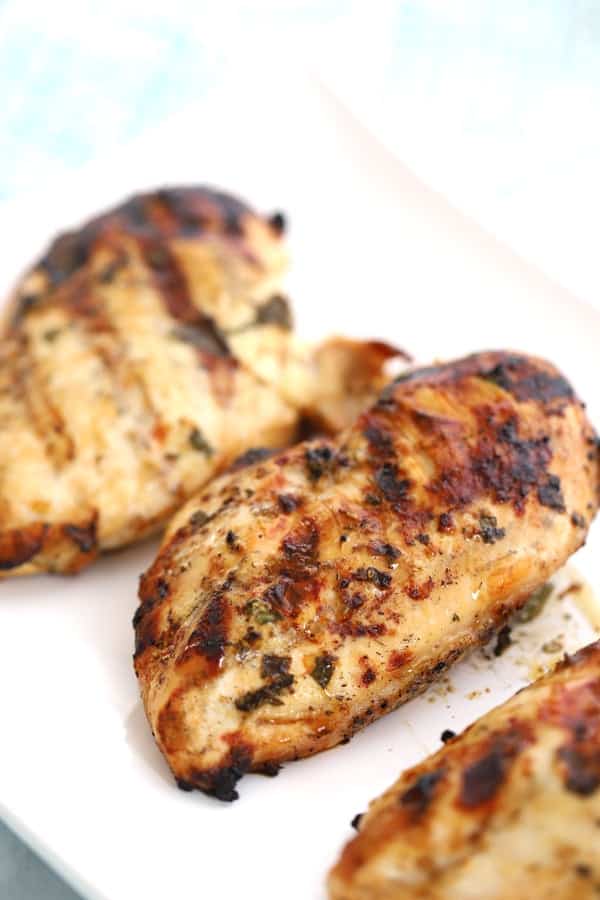 Lime Quinoa
This lime quinoa is made with chicken stock, green chilies, garlic, butter and fresh lime juice.  It is my favorite way to make quinoa.  Quinoa has a very earthy flavor if cooked on its own.  You gotta add some flavor, yo!  My kids think quinoa actually smells and tastes like dirt if it isn't flavored and I can't argue with them on that. It's doesn't taste very good when cooked plain.
The quinoa recipe has enough flavor to stand alone as a side dish but it's so delicious and perfect to put in a taco, enchilada, or with this cilantro lime chicken recipe. So. much. flavor! Move over rice! This delicious quinoa is more nutritious and here to stay!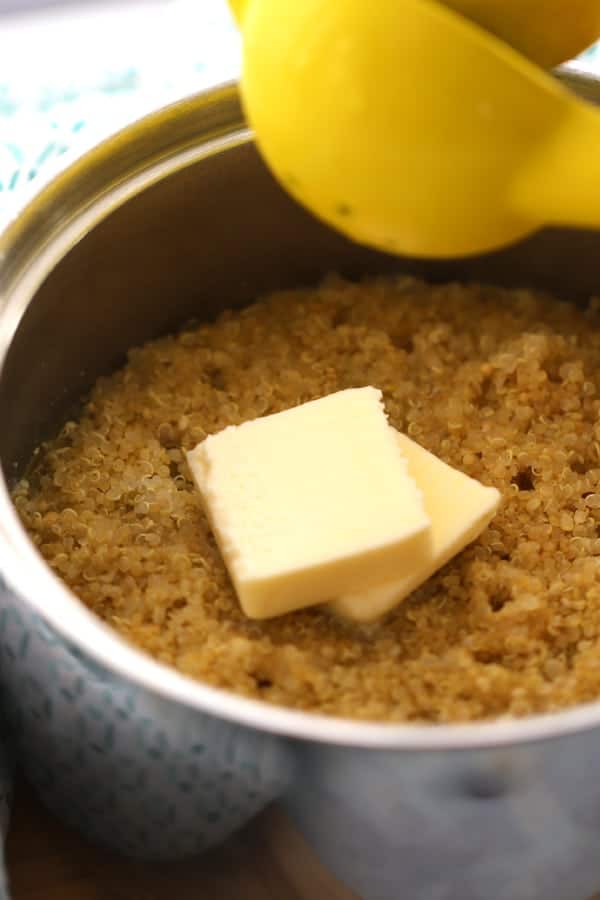 This Creamy Avocado Sauce is a perfect addition to any taco, burrito, or this Cilantro Lime Chicken recipe.
It's a healthy choice because it's made with plain greek yogurt, avocado, fresh lime juice, cayenne, and salt.  These delicious ingredients make a smooth and creamy, slightly tangy and spicy drizzle.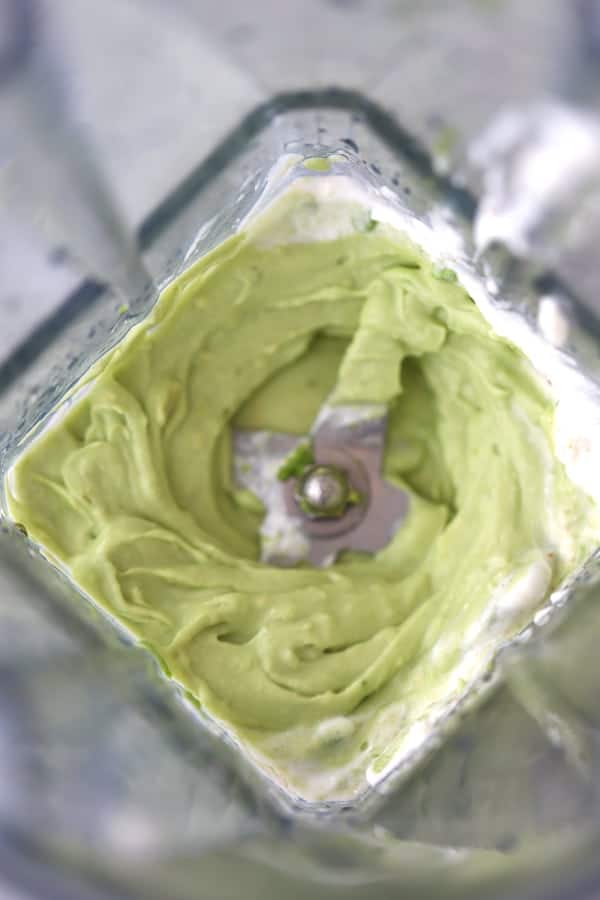 Tips for Making Cilantro Lime Chicken with Quinoa and Creamy Avocado Sauce
Make sure you let the chicken marinate for at least 4 hours.  24 is best but of course, sometimes that doesn't work out.
Chicken breasts and chicken tenderloins work great.
Use a ziplock bag to marinate your chicken, it makes clean up so much easier!
You can use the chicken base to make your own chicken broth, it's so much easier than having chicken stock on hand
The quinoa can be cooked the same as rice, even in a rice cooker.  I usually cook mine on the stove in a pot with a lid but if you're fancy and have a rice cooker, it works perfectly with quinoa too!
For the creamy avocado sauce, just dump everything in the blender and whip it up.  It works great.  You can store the leftovers in an airtight container for several days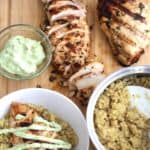 Cilantro Lime Chicken with Quinoa and a Creamy Avocado Sauce
This amazing Cilantro Lime chicken has tender, juicy chicken on a bed of flavor packed quinoa with an avocado cream drizzle.

Ingredients
Cilantro Lime Chicken Marinade
3-4

Chicken Breast

2

Limes (juiced)

3

Tablespoons

Avocado Oil

2

tsp

Garlic (minced)

3

Green Onions (thinly sliced)

1

tsp

Oregano

1

tsp

Chilli Powder

1/4

tsp

Salt

1/4

tsp

Pepper
Lime Quinoa
1

cup

Quinoa

2

cups

Chicken Broth or Chicken Stock

1

can

Green Chillies (small can)

1

tsp

Garlic (minced)

2

Tablespoons

Butter

1/2

Lime (juiced)

Salt and pepper to taste
Creamy Avocado Sauce
1/2

Avocado (ripe)

1/4

Cup

Greek Yogurt (plain)

1/2

Lime (juiced)

pinch

cayenne pepper

pinch

Salt
Instructions
Cilantro Lime Chicken Mariaide
In a large plastic ziplock bag, Combine the chicken, avocado oil, oregano, lime juice, green onion, garlic, chilli powder, salt and pepper.


Let everything marinade for 4-24 hours. Grilling is the preferred method for cooking this chicken.

Lime Quiona
Put the quinoa, chicken broth, garlic, butter, salt and green chillies in a rice cooker and run ton the rice setting. When the quinoa is finished, pour the juice from a lime on the quinoa and fluff with a fork, delicious!
Creamy Avocado Sauce
For the Creamy Avocado Sauce: Pu the avocado, greek yogurt, lime juice, cayenne pepper and a pinch of salt in the blender. Blend until smooth. Drizzle on your Cilantro Lime chicken. Enjoy!
Nutrition Facts
Cilantro Lime Chicken with Quinoa and a Creamy Avocado Sauce
Amount Per Serving
Calories 602
Calories from Fat 225
% Daily Value*
Total Fat 25g 38%
Cholesterol 124mg 41%
Sodium 1094mg 46%
Potassium 996mg 28%
Total Carbohydrates 51g 17%
Protein 42g 84%
* Percent Daily Values are based on a 2000 calorie diet.