These Nutella Balls are a variation of a buckeye ball, made with Nutella!  These no-bake balls are quick and easy.  They're perfect as neighbor gifts, teacher gifts, or to hoard all by yourself!
Jump to: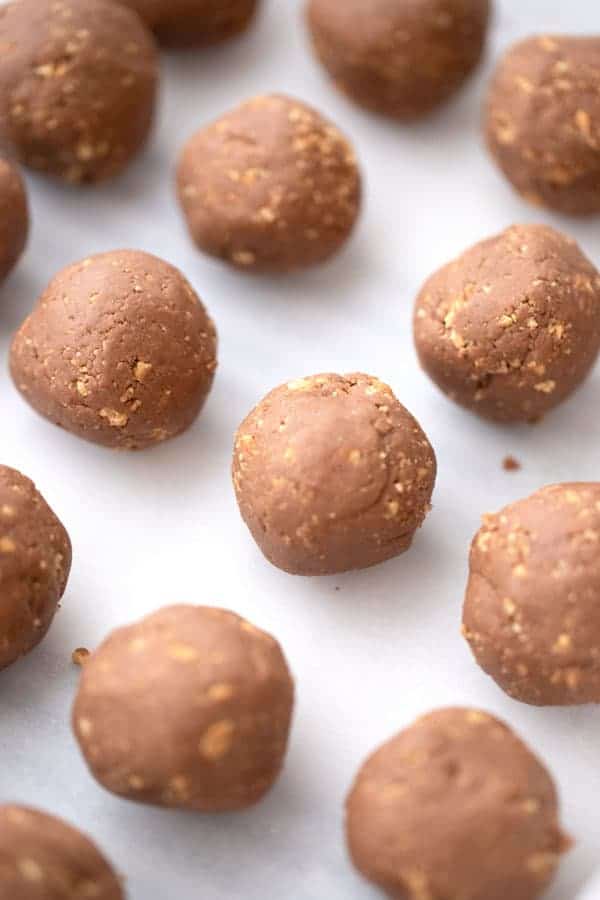 No-bake treats are the best kind of treats.  These Nutella Balls can be made in advance and stored in a covered Tupperware container in the friege.  These crunchy little Christmas candy treats are easy enough a child can make them.  If you love buckeye balls, you're going to love these Nutella balls. 
You can easily add variations to this recipe too. I used graham crackers to give these balls a little crunch but you can certainly use rice crispies or any other sweet cookie or plain cereal.  Thinking this through, they would be so delicious with a crunchy gingersnap cookie too! 
I like to call this candy a no-bake candy but it's certainly related to a cake ball and a no-bake cookie, all great ideas, no matter how you like to classify them.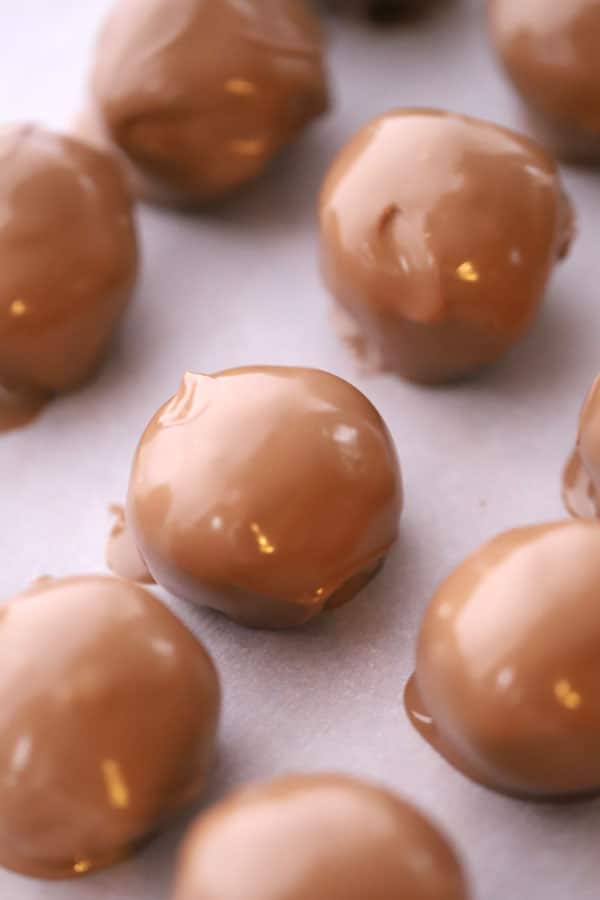 If you love Nutella as much as we do,  You're going to want to try these Nutella Cornflake Cookies, wow, they are so fun to make and eat and bonus, they are another great no-bake recipe. 
If more no-bake recipes are what you're looking for, try these...
Coconut Peanut Butter Power Balls
Cornflake Peanut Butter Cookies
Tips for Making Nutella Balls:
You can make these a few days before you need them.  They store great in the fridge in a covered container.

There are several fun variations with this recipe.  You can change out the Nutella for almond butter, cashew butter, peanut butter, or cookie butter.

You can enjoy these balls dipped in chocolate or without chocolate.  

This no-bake ball recipe is delicious in white chocolate, dark chocolate, or milk chocolate, my favorite.

These no-bake treats are perfect to give as a neighbor gift, teacher gift, for Christmas or Valentines Day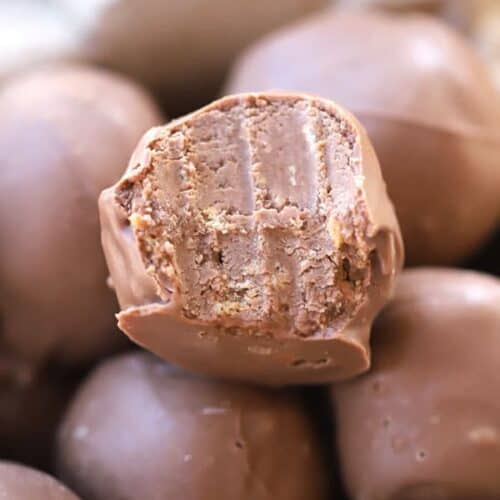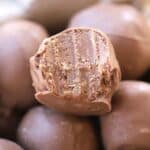 Print
Nutella Balls
These Nutella Balls are a variation of a buckeye ball, made with Nutella! These no-bake balls are quick and easy. They're perfect as neighbor gifts, teacher gifts, or to hoard all by yourself!
Ingredients
1/2

cup

Butter

1

cup

Nutella

1

cup

Graham Crackers, crushed into crumbs

2

cup

Powdered Sugar

1.5

lb

Chocolate, to dip the Nutella Balls (optional)
Instructions
Nutella Balls
In the bowl of an electric mixer, a kitchen aid works great. Cream together the butter and Nutella. Beat the room temperature butter and Nutella together until the mixture is light and fluffy.

Crush up your graham crackers. The easiest way is to just throw them in a ziplock bag and crush them with a cup or rolling pin. You can also grate your graham crackers or pulse them in a food processor. I like a little crunch in there so I prefer them to have a little texture, You can do whatever fits your preference.

Next, you are going to add the graham cracker crumbs, powdered sugar, mix it again.

Your Nutella mixture should be crumbly but hold it's shape if you squeeze it in the palm of your hand. If it's really sticky, add a little more graham cracker crumbs. If it's a little too dry, add a small scoop of Nutella until the mixture resembles wet sand.

Use butter or non-stick cooking spray to coat your hands. Roll the Nutella mixture into 1" or bite-sized balls. There should be at least 24 balls.

Place the Nutella balls on a baking sheet lined with parchment paper. Set in the fridge until you are ready to dip the Nutella balls in chocolate.
Melting Chocolate for the Nutella Balls
You can melt the chocolate in the microwave. If you're using a large baker bar of chocolate, chop 1.5 pounds of chocolate into 1/2" pieces. Place the chocolate into a microwave safe bowl and microwave for 1 minute. Take the chocolate out of the microwave and stir. Microwave again for 30 second and stir between heating cycles.

Don't rely on the shape of the chocolate to tell if it's melted. If the chocolate isn't stirred, it will retain it's shape and possibly scorch. Be sure to stir between heating it in the microwave. Heat until the chocolate is almost melted. Keep stirring, the chocolate melts the rest of the way because of the heat from the melted chocolate and the heat from the bowl.

Remove the Nutella balls from the fridge and using a fork, dip the Nutella balls in the chocolate. Using the fork, shake the ball a little to remove any excess chocolate. Scrape the fork on the edge of the bowl to remove more excess chocolate.

Place the chocolate dipped Nutella ball on the parchment paper and set in the fridge or cool place until the chocolate is set. Store in a covered Tupperware container in a cool place. It can be kept for up to a couple weeks. Enjoy!
Nutrition
Calories:
317
kcal
|
Carbohydrates:
38
g
|
Fat:
16
g
|
Saturated Fat:
11
g
|
Cholesterol:
10
mg
|
Sodium:
63
mg
|
Potassium:
57
mg
|
Sugar:
31
g
|
Vitamin A:
120
IU
|
Calcium:
18
mg
|
Iron:
2.9
mg
The Carefree Kitchen Socials:
I'd love to connect with you on social media.  Come find me!
Facebook: https://www.facebook.com/thecarefreekitchen/
Instagram : https://www.instagram.com/the_carefree_kitchen/
Pinterest: https://www.pinterest.com/thecarefreekitchen/pins/
Pin this for later!!