These Einkorn Chocolate Chip Cookies are soft and chewy and filled with delicious chocolate chips. They're made with all purpose Einkorn Flour and make the best einkorn cookies. These will soon be your family's favorite chocolate chip cookie recipe.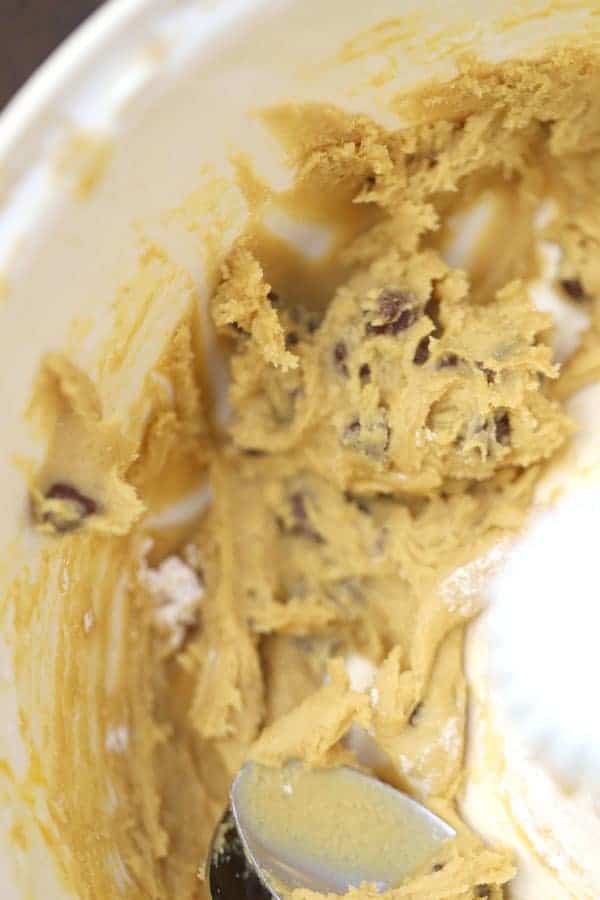 Jump to:
What is Einkorn Flour?
Einkorn is an ancient grain. Being considered an ancient grain means it has been around for a long time. This primitive wheat variety has not been modified, plus it's more nutritious and easier to digest than modern wheat. It's likely to be grain our ancestors ate thousands of years ago.
The majority of wheat today has 42 chromosomes in the DNA makeup. Einkorn is an ancient wheat variety and has only 14 chromosomes, and it contains a different type of gluten compared with modern wheat.
Whole grain Einkorn also contains a higher amount of protein, phosphorus, vitamin B6 and potassium compared to the bleached all-purpose flour we normally use. Einkorn is also high in carotenoids which is an antioxidant found in many fruits and veggies. All of this makes einkorn a much healthier choice.
Aside from the nutrition benefits of Einkorn, it can more easily be digested. Although it's not recommended for celiacs, many people with a wide range of gluten sensitivities are able to eat einkorn without problems.
How to use Einkorn Flour
One of the things you will notice when baking with Einkorn is that it doesn't need as much water as when you are baking with modern wheat. This is because modern wheat has more gluten and absorbs more water than Einkorn, which assists in it higher rise.
Einkorn is easy to use and in most recipes can be switched out for regular flour. If there is liquid in the recipe, you'll need to decrease the amount a little or add a little extra flour. It may take a little tweaking with your favorite recipes but most recipes can be easily adapted.
Einkorn is a great choice and is making a return to our diets because is easier to digest and it's more nutritious.
If you're wanting more detailed information about Einkorn, Check out this article on 25 reasons Einkorn tops the list.
***Note: The einkorn flour I am using in this recipe is an all-purpose einkorn flour.
More Einkorn Flour Recipes
If you're looking for more einkorn flour recipes, be sure to try our Einkorn Bread, Einkorn Brownies, Eikorn Cinnamon Breadsticks, and our Einkorn German Pancakes. They all use all-purpose einkorn flour.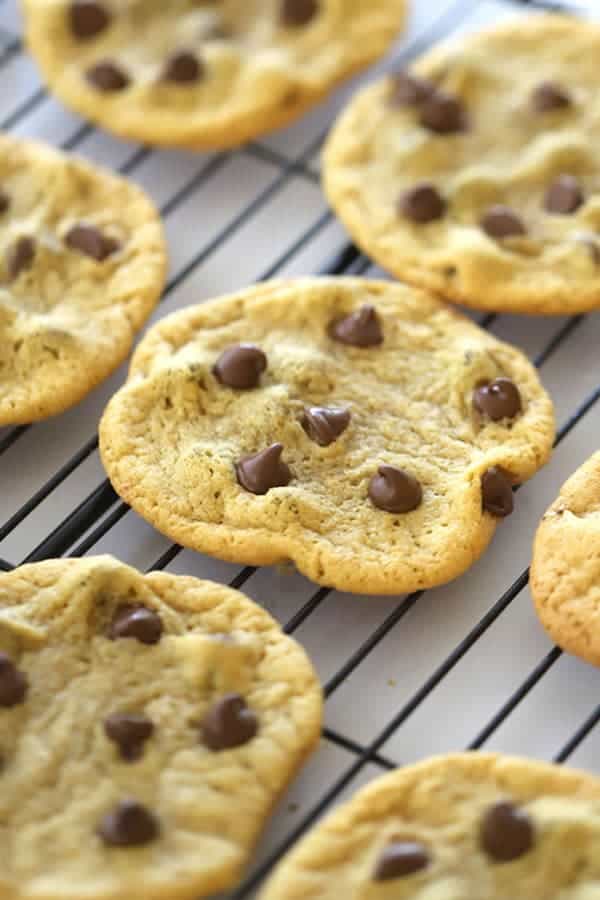 Frequently Asked Questions
Are Einkorn flour cookies gluten free cookies?
Einkorn flour is not technically gluten-free and should not be consumed by people with celiac. It is, however, far more easily digestible for those with gluten intolerances. If you need gluten free cookies, try making almond flour chocolate chip cookies, chickpea cookies, or even just using your favorite brand of gluten-free flour as a substitute.
Make-Ahead Cookie Dough
Fridge- You can make the cookie dough ahead of time. It will last in the fridge for a couple of weeks in an airtight container.
Freezer- Like most cookie doughs, this dough can be frozen and baked at a later date. Simply scoop into balls and place on a parchment-lined pan and freeze until solid. Once frozen, remove from the cookie sheet and place in a freezer bag. They can be stored in the freezer for 3-4 months.
To Bake Frozen Cookies: Defrost for an hour or two in the fridge and bake as directed. If the dough is very cold, you may need to add a minute or two of cook time.
Storing Einkorn Chocolate Chip Cookies
You can also store the cookies already baked.
Airtight Container- If you want to store the cookies already baked, just place them in a container with a lid. They will stay fresh for a few days.
Freezer- If you haven't tried this method, you're missing out. Cookies freeze really well and are so fun to grab out of the freezer and enjoy. Let them thaw for a few minutes and you'll have an extra chewy cookie to enjoy. Cookies can remain in the freezer, in an airtight container or freezer bag for up to 3 months.
Optional Add-Ins
Nuts: just about any kind! Toast them in a saute pan about 5 minutes first or lightly toast them in the oven before adding to the dough.
M&M's: plain, peanut, coconut, peanut butter, all sizes, shapes, and flavors! A really fun and cute addition.
Dried Fruit: cranberries, raisins, blueberries, strawberries, flaked coconut (super yummy when it's toasted) and even sliced & dried bananas!
Extra Crunch: try crushing some whoppers, crushed potato chips, or pretzels,
Flavored Morsels: butterscotch chips, chocolate chips, caramel bits, or Heath pieces.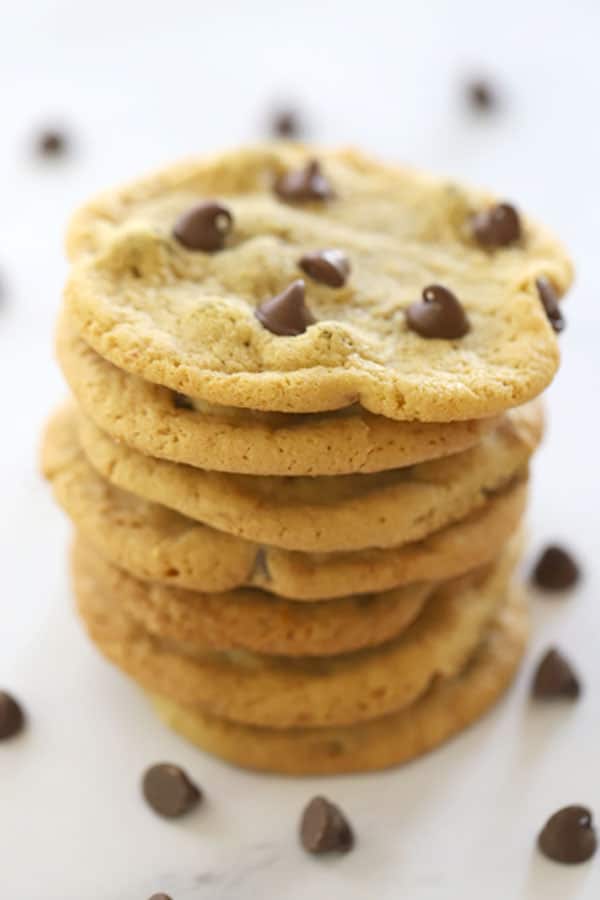 Tips for Making Einkorn Cookies
Use less liquid or more flour in your cookie recipe. This recipe called for almost 25% more einkorn flour than my normal cookie recipe.
You can use any size chocolate chip or chocolate chunk in this recipe.
If your cookies come out a little flat, add more flour. I added almost 25% more flour to my normal cookie recipe for these cookies
If you're looking for a great place to buy Einkorn flour, can order it from Einkorn.com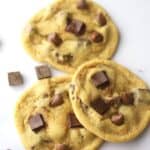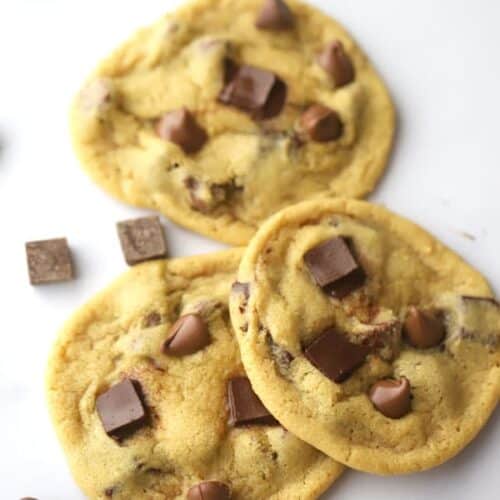 Print
Einkorn Chocolate Chip Cookies
These Einkorn Flour Chocolate Chip Cookie are soft and chewy and filled with delicious chocolate chips.  This whole wheat cookie recipe will soon be your family's favorite.  
Ingredients
1

Cup

Butter

1

Cup

White Sugar

1

Cup

Packed Brown Sugar

2

large

Eggs

2

teaspoon

Vanilla extract

1

tsp

Baking Soda

½

tsp

Salt

3 ¾

Cup

All-Purpose Einkorn Flour

2

Cups

Chocolate Chips
Instructions
Preheat oven to 350 degrees.

Cream together butter and sugars. Add the eggs and vanilla, mix. Add baking soda, salt, and flour and mix until incorporated. Add chocolate chips and drop by spoonful onto a cookie sheet.

Bake at 350 for 8-10 minutes or until golden. Let the cookies cool on the baking sheet for 5 minutes before transferring them to a cooking rack. Enjoy!
Nutrition
Calories:
292
kcal
|
Carbohydrates:
39
g
|
Protein:
4
g
|
Fat:
13
g
|
Saturated Fat:
7
g
|
Cholesterol:
38
mg
|
Sodium:
190
mg
|
Potassium:
89
mg
|
Fiber:
1
g
|
Sugar:
26
g
|
Vitamin A:
290
IU
|
Vitamin C:
0.1
mg
|
Calcium:
40
mg
|
Iron:
1.1
mg
More of The Best Einkorn Recipes
These Einkorn Chocolate Chip Cookie are soft and chewy and filled with delicious chocolate chips, made with all-purpose Einkorn Flour. These will soon be your family's favorite cookie recipe.
Reader Interactions