These Einkorn Chocolate Chip Cookie are soft and chewy and filled with delicious chocolate chips.  These will soon be your family's favorite cookie recipe.

What is Einkorn Flour?
Einkorn is an ancient grain.  Being considered an ancient grain means it has been around for a long time.  This primitive wheat variety has not been modified, plus it's more nutritious and easier to digest than modern wheat. It's likely to be grain our ancestors ate thousands of years ago.
The majority of wheat today has 42 chromosomes in the DNA makeup.   Einkorn is an ancient wheat variety and has only 14 chromosomes, and it contains a different type of gluten compared with modern wheat.
Whole grain Einkorn also contains a higher amount of protein, phosphorus, vitamin B6 and potassium compared to the bleached all purpose flour we normally use. Einkorn is also high in carotenoids which is an antioxidant found in many fruits and veggies.  All of this make einkorn a much healthier choice. 
Aside from the nutrition benefits of Einkorn, it can more easily be digested.  Although it's not recommended for celiacs, many people with a wide range of  gluten sensitivities are able to eat einkorn without problems.
How to use Einkorn Flour
One of the things you will notice when baking with Einkorn is that it doesn't need as much water as when you are baking with modern wheat. This is because modern wheat has more gluten and absorbs more water than Einkorn, which assists in it's higher rise.
Einkorn is easy to use and in most recipes can be switched out for regular flour.  If there is liquid in the recipe, you'll need to decrease the amount a little or add a little extra flour. It may take a little tweaking with your favorite recipes but most recipes can be easily adapted.
Einkorn is a great choice and is making a return to our diets because is easier to digest and it's more nutritious.
If you're wanting more detailed information about Einkorn, Check out this article on 25 reasons Einkorn tops the list.
***Note: The einkorn flour I am using in this recipe is an all purpose einkorn flour.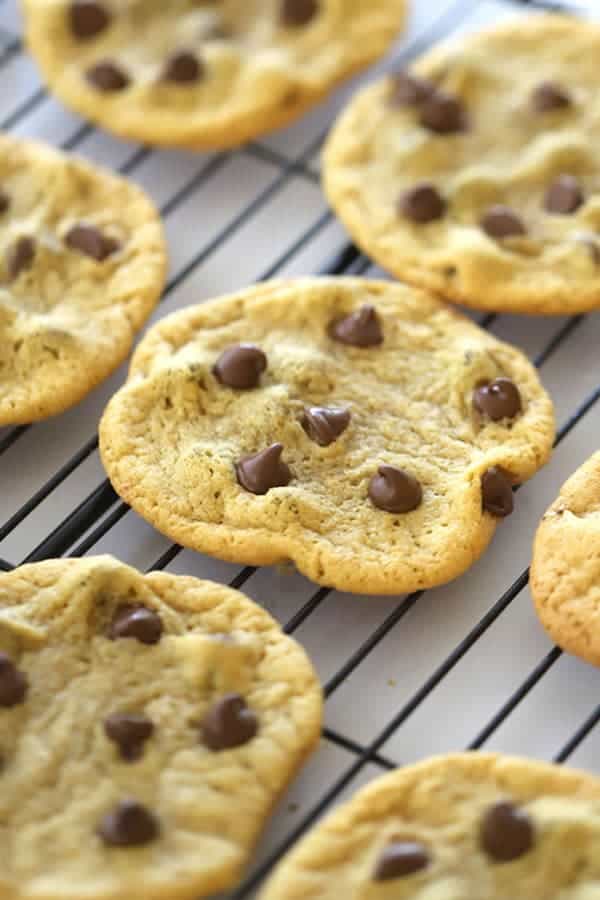 Tips for Making Einkorn Cookies
Use less liquid or more flour in your cookie recipe.  This recipe called for almost 25% more einkorn flour than my normal cookie recipe.
You can use any size chocolate chip or chocolate chunk in this recipe.
If your cookies come out a little flat, add more flour.  I added almost 25% more flour to my normal cookie recipe for these cookies
If you're looking for a great place to buy Einkorn flour, can order it from Einkorn.com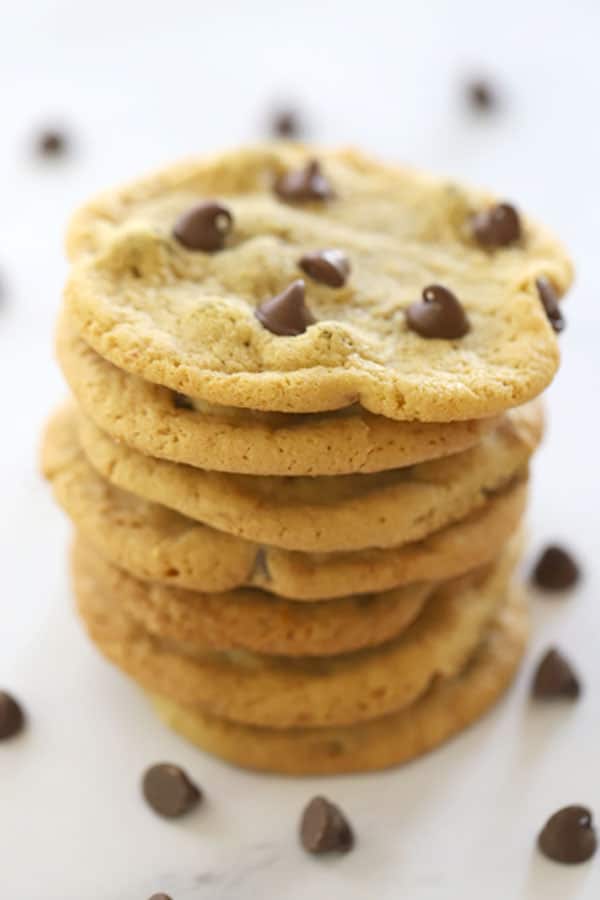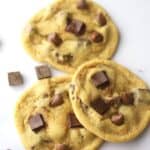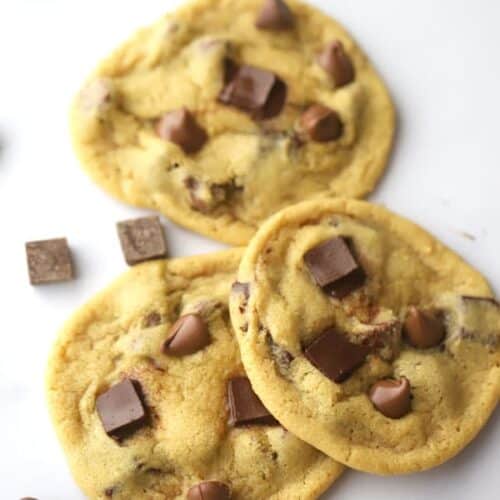 Einkorn Chocolate Chip Cookies
These Einkorn Chocolate Chip Cookie are soft and chewy and filled with delicious chocolate chips. These will soon be your family's favorite cookie recipe.
Ingredients
1

Cup

Butter

1

Cup

White Sugar

1

Cup

Packed Brown Sugar

2

large

Eggs

2

tsp

Vanilla extract

1

tsp

Baking Soda

1/2

tsp

Salt

3 3/4

Cup

Einkorn Flour (All-Purpose Einkorn Flour)

2

Cups

Chocolate Chips or Chocolate Chunks
Instructions
Preheat oven to 350 degrees.

Cream together butter and sugars. Add the eggs and vanilla, mix. Add baking soda, salt, and flour and mix until incorporated. Add chocolate chips and drop by spoonful onto a cookie sheet.

Bake at 350 for 8-10 minutes or until golden. Let the cookies cool on the baking sheet for 5 minutes before transferring them to a cooking rack. Enjoy!
Nutrition Facts
Einkorn Chocolate Chip Cookies
Amount Per Serving
Calories 292
Calories from Fat 117
% Daily Value*
Total Fat 13g 20%
Cholesterol 38mg 13%
Sodium 190mg 8%
Potassium 89mg 3%
Total Carbohydrates 39g 13%
Protein 4g 8%
* Percent Daily Values are based on a 2000 calorie diet.
If you're looking for some other delicious cookies, try these Cadbury Cookie Bars.
Or these Chocolate Peanut Butter Cookies
and for a great no-bake option, try these Peanut Butter Cornflake Cookies
And if you're looking for another einkorn recipe, here's my recipe for Einkorn Cinnamon Breadsticks
and Einkorn Lemon Blueberry Scones
I'd love to connect with you on social media.  Come find me!
Facebook: https://www.facebook.com/thecarefreekitchen/
Instagram : https://www.instagram.com/the_carefree_kitchen/
Pinterest: https://www.pinterest.com/thecarefreekitchen/pins/