This easy and delicious Carne Asada Marinade Recipe has the perfect balance of sweet and spicy and makes the most tender carne asada. It is grilled to perfection and full of amazing Mexican flavors.
This carne asada is an easy and versatile dinner recipe.  Wrap it in a warm tortilla to make it into carne asada tacos, make carne asada fries, or add a few of your favorite veggies on a bed of lettuce and you have a carne asada salad. This is an easy and flavorful marinade.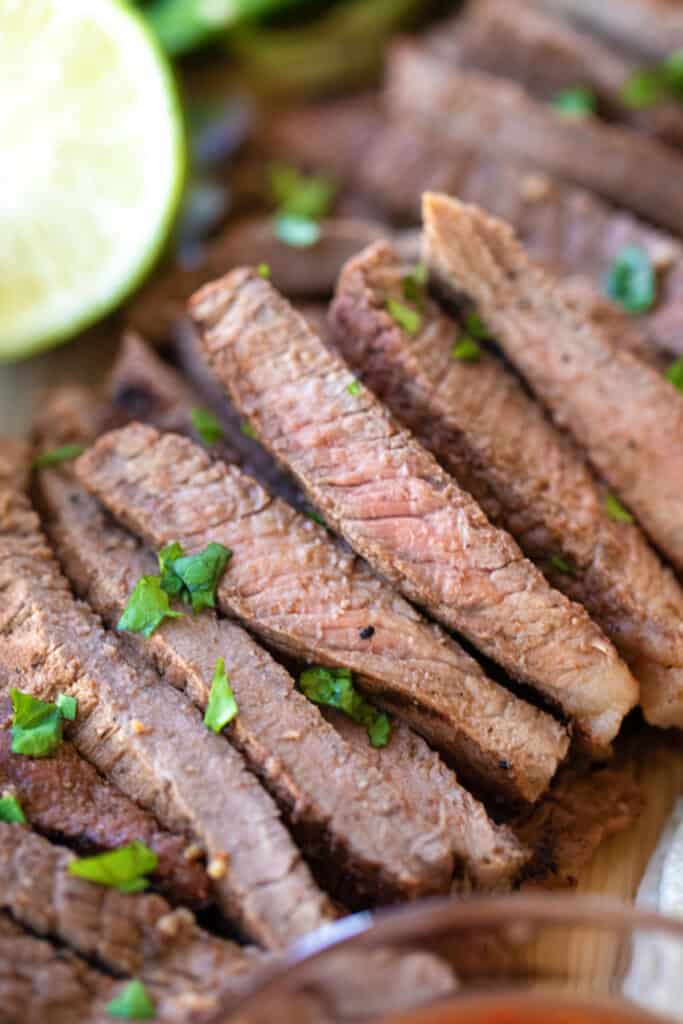 The thing I love most about this carne asada recipe is the way the marinade tenderizes the beef and then when you grill it, you get that fire-grilled char on the outside. YUM! Add a little fresh Guacamole and you've got yourself a Mexican fiesta!
I don't know that this is an authentic carne asada marinade but it's my version of a tex-mex favorite. I hope you love it as much as we do!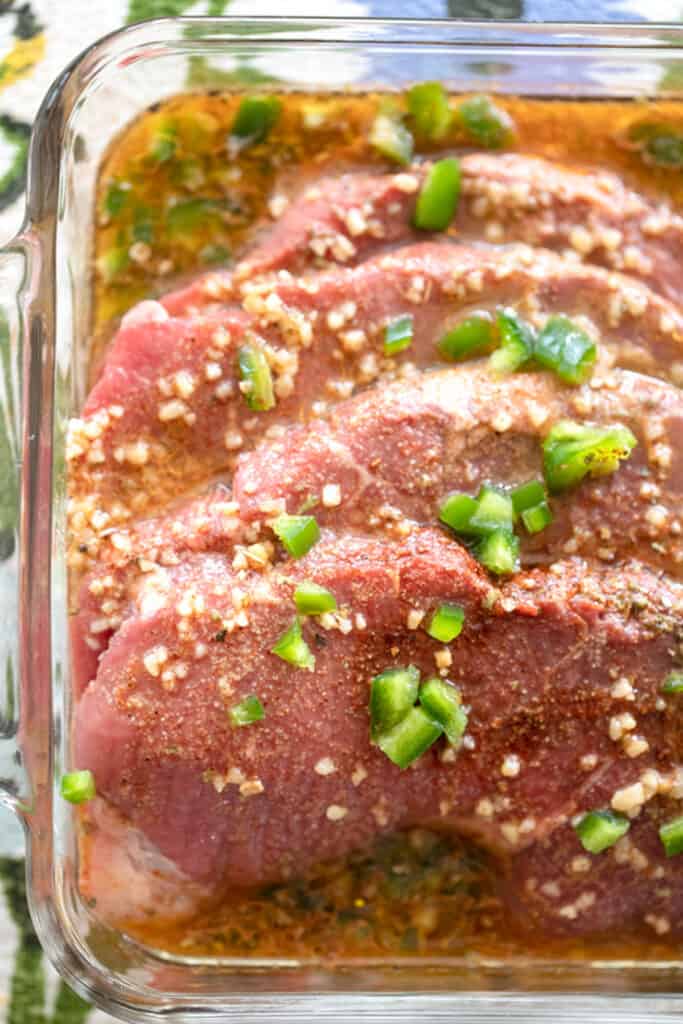 Here is another Super Sweet and Spicy Chipotle Carne Asada Recipe we love. It's more spicy and sweet too.
Jump to:
What is Carne Asada?
The translation of carne asada meat literally means grilled meat. While that's a very simple translation. Carne aside is a thinly sliced, grilled, or pan-seared beef served in tacos and burritos, and salads. Almost any cut of beef can be thinly sliced into carne asada but it's usually cut from the skirt steak or flank steak.
Carne asada means so much more than that to me and I'm sure, many of you. When I'm wanting carne asada, I'm looking for tender strips of flavorful beef marinated in my favorite Mexican flavors, grilled to perfection, and served in a fresh taco shell with a burst of flavor and tender beef in every bite. What's your favorite way to eat carne asada?
Where do I buy Carne Asada:
You can find carne asada in most grocery stores in the spring, and summer months. It's one of the most popular meats around Cinco de Mio. If your grocery store doesn't carry the pre-sliced carne asada, no worries, you can still make this recipe, just thinly slice flank steak or skirt steak at home, it works great too!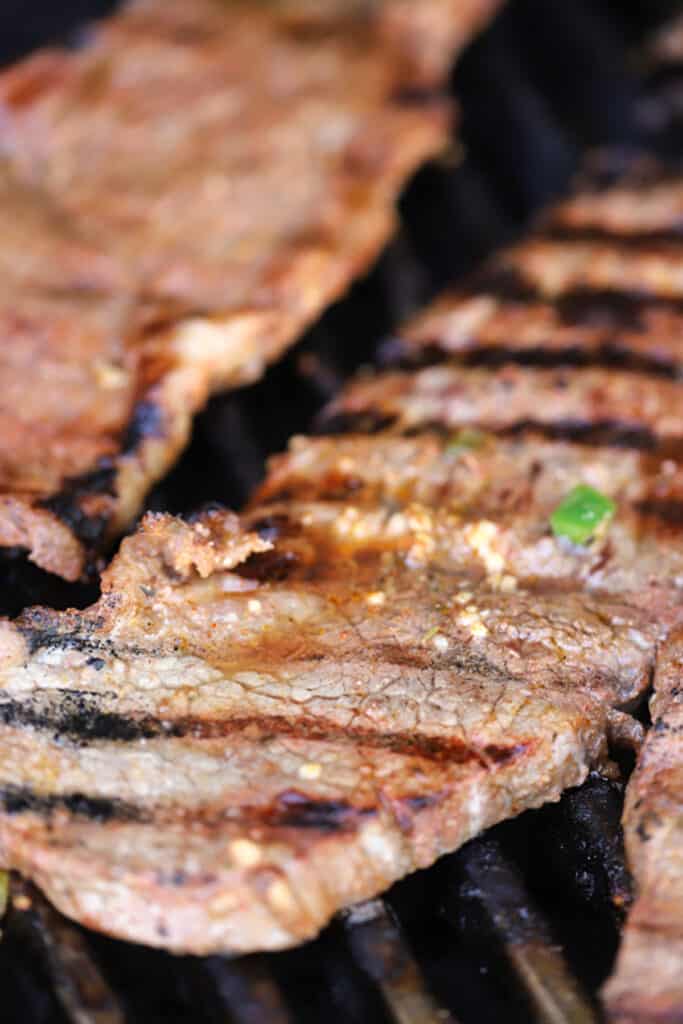 What kind of meat is
Carne Asada is usually cut from the skirt steak or flank steak but can be made from just about any kind of steak, just cut thinly and add to a marinade to ensure your carne asada is tender and juicy.
Skirt Steak vs Flank Steak

Skirt steak is a thin, long cut of beef from the diaphragm muscles of the cow. Skirt steak has an even more intense beefy flavor than flank steak. It does contain more tough muscles than flank steak, though, so should only be cooked to rare or medium-rare for the most tender texture.

Flank steak comes from the flank of the steer below the loin and sirloin. It sits in the abdominal area of the animal near the bottom. It helps the cow to twist and walk, so the muscle works A LOT. It is tough, lean and has long thick muscle fibers.
How to get carne asada tender?
There are a few things that really make a difference if you want to make tender and juicy carne asada. Here's what you need to do…
Use a marinade with lemon juice, lime juice or vinegar. The acidity helps break down the muscle fibers and will give you more tender meat.
Don't forget to salt your meat. I like to add with when I place the meat on the grill. Season to taste.
Let the meat come to room tempreture before you put it on the grill. Let your meat sit on the counter at room temp for about 20 minutes to take the chill off.
If your meat is less than ¾" thick, don't close the lid when grilling. Cook on med/high heat to get those beautiful char grill marks.
Hit the right internal temp. Use an instant read meat thermometer. Grill your carne asada to med, even med-well if desired. Just don't over-cook your meat.
Let your meat rest after you cook it. After you have cooked your meat, cover lightly with aluminum foil and let it rest for 3-5 minutes to give the juices a chance to re-distribute.
Slice the carne asada against the grain. This will make it easier to eat and in the end, will make your meat more tender.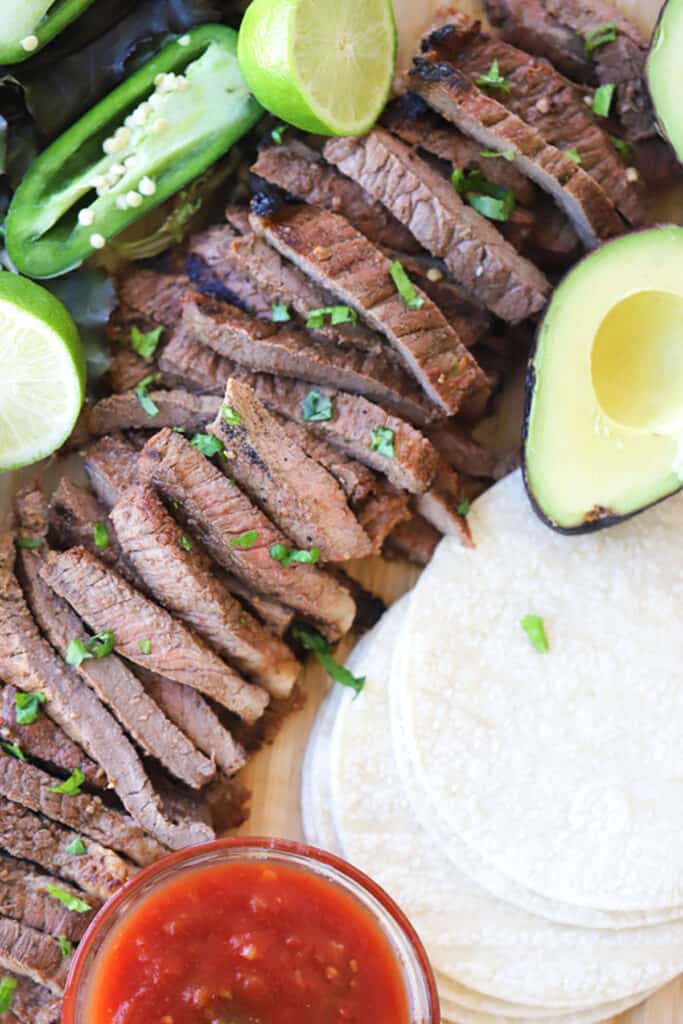 Ingredients in Carne Adada
Avocado Oil- This will give your carne asada so much flavor, keep it tender, and help get those char lines when cooking
Garlic- adds so much flavor!
Orange Juice, Lemon Juice, Lime Juice- this trio of cirtrus will give your carne asada so much flavor and gives your marinade the acidity to help break down the fibers in the meat.
Cumin, Garlic Powder, Oregano- A blend of Mexcan Spices.
Salt-salt to taste when cooking. This will also help make your carne asade even more tender.
Jalapeno- optional, seeded and minced. Leave the seeds in for an extra spicy kick.
Cilantro-Optional, but it adds a lot of flavor but if you don't like cilanto, just leave it out.
What to Serve with Carne Asada:
We have many tex mex sides to choose from.
Grilled Vegetables: Serve up some delicious grilled veggies alongside your carne asada. Bell peppers, onions, and zucchini are all great options.
Guacamole: No carne asada meal is complete without guacamole! Whip up a batch of this creamy, avocado-based dip to serve alongside your meat.
Salsa: Another must-have condiment for any carne asada meal. Whether you prefer it mild or spicy, this 5-minute salsa adds a burst of flavor to your meat.
Beans: A side of refried beans or black beans is a great way to round out your meal. They're filling, delicious, and packed with protein.
Rice: Serve up some Spanish rice or Cilantro Lime Rice to add a bit of carb-y goodness to your meal. It's the perfect base for your carne asada and other sides.
Tortillas: Of course, you'll need some tortillas to make tacos or burritos with your carne asada. Warm them up on the grill for a bit of extra flavor.
Cilantro and Lime: Top your carne asada with some fresh cilantro and a squeeze of lime juice for added brightness and flavor.
Mexican Street Corn: Whip up some grilled corn on the cob and slather it in mayo, cheese, and spices for a delicious and unique side dish.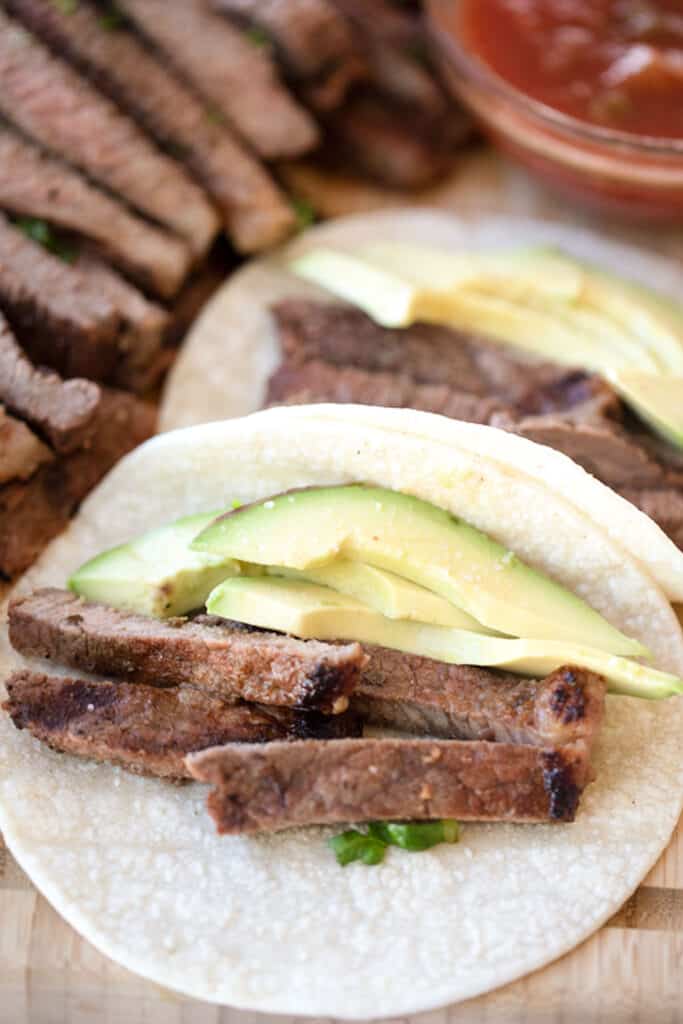 Tips for Cooking Carne Asada
Choose the right cut of meat: When it comes to carne asada, the cut of meat is crucial. Look for cuts like flank steak or skirt steak that are thin and have a good amount of marbling.
Marinate the meat: A good marinade can take your carne asada to the next level. Use a blend of citrus, garlic, and spices for a flavorful and tender result. Note- the longer you marinate your beef, the more tender it will be. Marinate anywhere from 1-8 hours. (longer than 8 hours, you may end up with mushy meat)
Preheat your grill: Make sure your grill is preheated properly before you start cooking. This will ensure even cooking and prevent sticking.
Cook over high heat: Carne asada is traditionally cooked over high heat for a short amount of time. This will give your meat a nice crust while keeping the inside juicy.
Let it rest: After cooking, let your carne asada rest for a few minutes before slicing. This allows the juices to redistribute and keeps your meat tender and moist.
Slice against the grain-Cup perpendicular to the veins in the steak. It will cut much easier and also be easier to eat.
Cook it on a skillet- You can also cook carne asada on the stovetop. Preheat a large skillet, a cast iron skillet works great. Be sure to add a little cooking oil such as avocado oil. Cook on each side for 5-7 minutes or until its cooked to your desired tempreture.
How to make Carne Asada Tacos
Carne Asada Tacos start with perfectly grilled flank or skirt steak. Once you have that covered, the options are endless. We like to heat a little butter in a pan, warm the corn or flour tortilla, sprinkle a little cheese on the pan, and crisp it up. Do that to both sides of your tortilla and you've really leveled up your taco game. Add some shredded cheese, sour cream, fresh salsa, and a sprig of cilantro and you've got yourself the best carne asada tacos in all the land!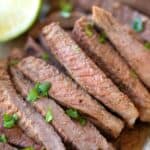 Print
Easy And Authentic Carne Asada Recipe
This easy and delicious marinade recipe makes Authentic Carne Asada. The carne asada is grilled to perfection and full of amazing Mexican flavors. This is a quick and easy carne asada recipe!
Ingredients
2

lbs

Flank Steak

Skirt Steak, or pre-sliced Carne Asada (plan ⅓ lb of uncooked meat per person)
Carne Asada Marinade
2

Tablespoons

Avocado Oil

or any vegetable oil

2

Tablespoons

Garlic

Minced

¼

cup

Orange Juice

1

large

Lemon Juice

juiced

1

large

Lime Juice

juiced

2

teaspoon

Cumin

1

teaspoon

Garlic Powder

1

teaspoon

Oregano

1

teaspoon

Salt

½

teaspoon

Black Pepper

1

large

Jalapeno

optional-seeded and minced (because it's cooked, it adds just a little spice)

½

bunch

Cilantro Leaves

Chopped, Optional-It adds a lot of flavor but if you don't like cilanto, just omit
Toppings for Carne Asada Tacos
12

small

Taco Shells

Corn Tortilla or small, 6" flour tortillas work great.

½

cup

Shredded Cheese

⅓

cup

Sour Cream

½

cup

Fresh Salsa

1

large

Lime

cut into small chunks to individually squeeze on the tacos
Instructions
How to Tenderize the Carne Asada
It is important to tenderize the steak. Use a tenderizing mallet or the bottom of a pan. Briefly pound the steaks on one side, turn them over and pound again. This, along with the marinade will help your carne asada be tender, juicy and full of flavor.
How to Make the Carne Asada Marinade
Wearing rubber gloves to protect your hands, wash and then slice the jalapeno in half. Use a small spoon to scoop the seeds out. Discard the seeds. Dice the jalapeno into small chunks.

Wash the cilantro and use a knife to cut into small pieces.

In a gallon sized Ziplock bag, add the Avocado Oil, Minced garlic, orange juice, lemon juice, lime juice, cumin, garlic powder, oregano, salt, pepper, minced jalapeno, and chopped cilantro leaves.

Add the beef steak to the marinade. Let the meat marinade for 2-24 hours.
How to Grill Carne Asada
If you're using the thicker flank or skirt steak, grill the steak over a medium-high flame for 7 to 10 minutes until it reaches 130°F for medium-rare, 10 to 12 minutes until it reaches 140°F for medium. (The steak will continue to cook once you've removed it from the grill.)

If you're using the pre-sliced carne asada, lay the carne asada on the grill and cook on med-high heat for 2-3 min or just until the meat is seared. Use a meat thermometer to ensure you don't overcook the meat.

Transfer steak to cutting board and let rest 5 minutes before slicing.

Find the grain of the meat. (It will run one way. You are going to want to cut against the grain. If your grain runs lenght-wise of your meat, cut the meat width-wise)

Serve this delicious carne asada on a tortilla shell with your favorite taco toppings.
Notes
You can also cook carne asada on the stovetop.  Preheat a large skillet, a cast iron skillet works great.  Be sure to add a little cooking oil such as avocado oil.  Cook on each side for 5-7 minutes or until its cooked to your desired tempreture. 
Nutrition
Calories:
435
kcal
|
Carbohydrates:
20
g
|
Protein:
36
g
|
Fat:
22
g
|
Saturated Fat:
7
g
|
Cholesterol:
104
mg
|
Sodium:
597
mg
|
Potassium:
657
mg
|
Fiber:
2
g
|
Sugar:
2
g
|
Vitamin A:
240
IU
|
Vitamin C:
15.6
mg
|
Calcium:
134
mg
|
Iron:
3.4
mg
Other Beef Recipes we love:
If you've tried this recipe, please rate it and leave a comment on this post. I love hearing feedback from you helps me and other readers too! If you love Pinterest, feel free to leave a comment and photo there too. Also, if you like to share, use the hashtag #thecarefreekitchen on Instagram and tag me @thecarefreekitchen so I can find you and give your post some love. You can also find me on Facebook at The Carefree Kitchen. Thank you!!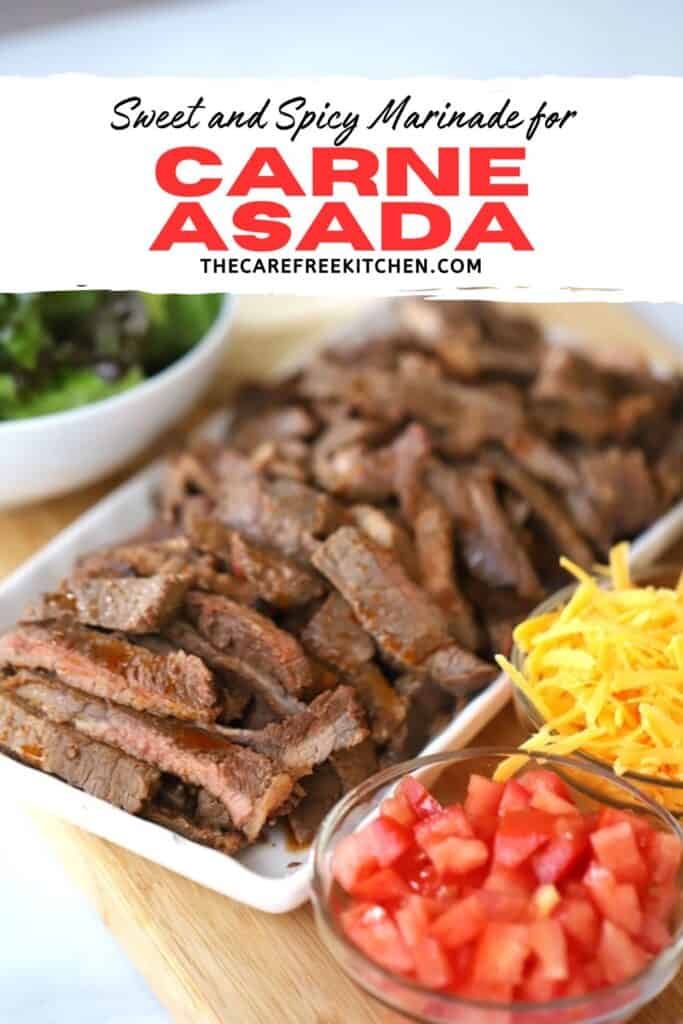 This easy and delicious Carne Asada marinade recipe makes an Authentic Mexican Fiesta. The grilled carne asada is perfection and full of amazing Mexican flavors. This beef recipe is quick and easy. Carne Asada recipe all day every day, yo!
Reader Interactions