This rich and smooth coconut syrup is perfect on crispy, golden, coconut french toast!! This is heaven for any coconut lover out there!
Calling all coconut lovers out there! This recipe is for you!! This coconut syrup is what dreams are made of. It's delicious on ice cream, waffles, pancakes, and especially on this golden coconut french toast.
Everyone's favorite Breakfast
This is my go-to breakfast when we have family and friends stay the night. It's everyone's favorite and i always have requests for the recipe. If you really want to blow their minds, serve this coconut french toast and coconut syrup with some bacon fried hash browns. Then you have the sweet, chewy french toast and the savory bacon hash browns. Your guests will never want to leave!
 Helpful Hints: Coconut Syrup
When making the syrup, you want to boil the ingredients just until the color of the syrup turns to a golden color. As soon as it turns golden, remove from the heat.
This is very similar to a lot of buttermilk syrup recipes out there, just kicked up a notch!
You can get coconut extract in the baking aisle, close to the vanilla extract
You can do half coconut flavoring and half vanilla flavoring too. The vanilla makes a very rich and deeply sweet syrup
If you love the texture of coconut, you can add coconut shavings to the syrup too. It's best if you chop it up into smaller pieces so it's easy to pour
Be sure to use a large pot to cook this in. The combination of the baking soda and the buttermilk will make the syrup bubble up twice its volume.
Store leftovers in the fridge in an airtight container. The Coconut syrup can easily be warmed up in a pot on the stove.
Pro Tips: Coconut French Toast
There's a little brown sugar in the recipe. It helps to get that golden color on the French Toast
I used regular coconut flakes in my egg batter but you could use the smaller, unsweetened flakes too
Coconut oil is a great way to try this french toast too. In fact, it makes the french toast a little more crispy (who doesn't love that!?!)
I like a little pinch of nutmeg in with my french toast but if your family doesn't care for the taste of nutmeg, cinnamon will do great alone.
Here's the recipe. Let me know if you have any questions!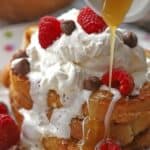 Coconut Syrup
This Coconut Syrup is perfect on ice cream, pancakes, waffles and especially on Coconut French Toast!!
Ingredients
1 1/2

Cup

Sugar

3/4

Cup

Buttermilk

1/2

Cup

Butter

1/4

Cup

Corn Syrup

1

Teaspoon

Baking Soda

2

Teaspoon

Coconut Extract
Instructions
Combine all ingredients into a large pot. (The syrup will bubble up at least twice it's size. The bubbles also pop when boiling and can burn you so error on the side of a large pot.)

Boil for about 7 minutes stirring constantly

When the syrup starts to turn from a whitish color to a golden color, it's done!

Remove from heat and enjoy!

Any leftover syrup can be kept in a glass jar in the fridge and warmed up again easily in a pot on the stove.
Nutrition Facts
Coconut Syrup
Amount Per Serving
Calories 392
Calories from Fat 144
% Daily Value*
Total Fat 16g 25%
Cholesterol 43mg 14%
Sodium 358mg 15%
Potassium 40mg 1%
Total Carbohydrates 62g 21%
Protein 1g 2%
* Percent Daily Values are based on a 2000 calorie diet.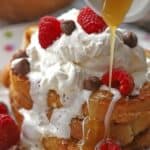 Coconut French Toast
This Coconut French Toast is a dream come true for all coconut lovers!
Ingredients
3

Eggs

2/3

Cup

Milk

1/2

tsp

cinnamon

pinch of nutmeg

2

Tablespoons

Brown Sugar

1/3

Cup

Coconut, shredded, sweetended

1/4

Teaspoon

Coconut extract

6

slices

Bread
Instructions
In a medium dish, a glass pie plate works great, beat together all the ingredients.

In a griddle or frying pan, melt half of the butter over medium heat.

Dip both sides of the bread in the egg mixture and carefully transfer to the hot griddle. Cook till golden brown on both sides and transfer to a warm plate while you cook the remaining french toast.

Repeat step 3 until all of your french toast is cooked. Serve hot with coconut syrup, whipped cream, fresh berries, or chocolate chips. Enjoy!
Nutrition Facts
Coconut French Toast
Amount Per Serving
Calories 155
Calories from Fat 45
% Daily Value*
Total Fat 5g 8%
Cholesterol 84mg 28%
Sodium 190mg 8%
Potassium 132mg 4%
Total Carbohydrates 20g 7%
Protein 6g 12%
* Percent Daily Values are based on a 2000 calorie diet.
Here's a video guide of the recipe. Sometimes it helps to get a visual…
[videopress 22G9tFwl]