This Beef and Broccoli Teriyaki is a quick and easy meal with thin slices of beef and chunks of beautiful broccoli in a sweet and saucy homemade teriyaki marinade and sauce. 

This is a variation of stir fry.  It is one of the easiest and quickest dinners! I love that it's a healthy dinner option and you can throw in just about any type of veggie and it tastes amazing!
I live too far away for takeout so this is always on the menu when we need something quick and easy. I can whip this up and have it on the table in no time.  I hope this teriyaki beef and broccoli becomes a favorite for your family too!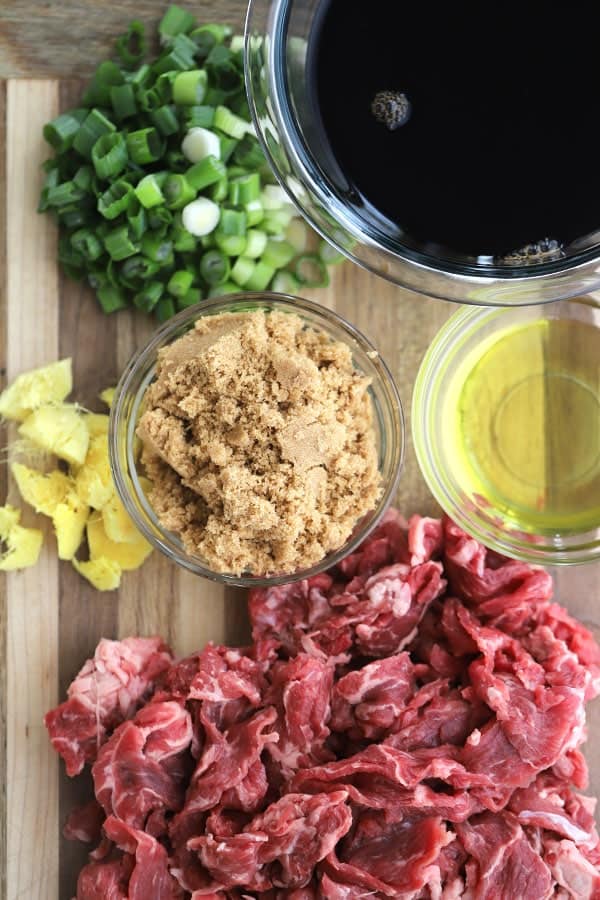 First, let's talk about the meat options.  You have a few options here.  I found some carne picada at my super market. You can use jus about any type of beef here.  You can slice some steak or a roast.  I happened to find this already prepped from my grocery store and it worked great.  It was about $5 per pound.
What is Carne Picada?
Carne picada is thinly sliced or shredded beef. It is typically chuck beef, but meat labeled as carne picada may also contain other lower-grade cuts of beef. Because it is thinly sliced, it cooks quickly, which great for sub sandwiches or burritos when you are short on time. Carne picada is commonly sold in Hispanic grocery stores, although it is also found in some large supermarkets.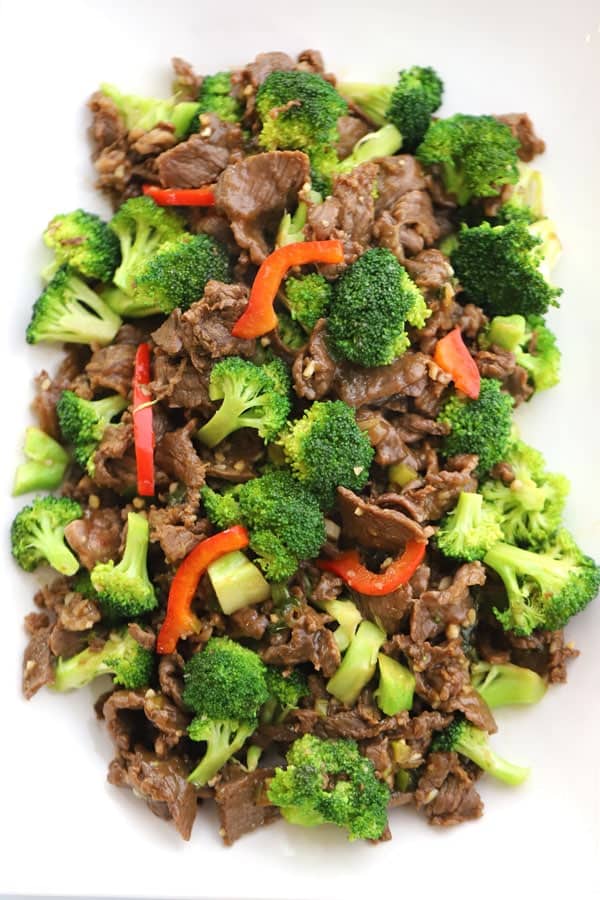 It works best to cook the veggies first.  In this dish I used a few red peppers that needed to be used and some broccoli.  It would be really easy to use any of your favorite vegetables here, carrots, celery, squash, or zucchini.  Whatever your family loves is great!
I like to add a couple tablespoons of oil to the pan, a couple teaspoons of minced garlic, the veggies and then some salt and pepper.  It make the most amazing stir fried veggies every time!
As far as the meat goes, you can marinade it for 24 hours or just a few minutes.  Since the beef is thinly sliced, you get plenty of sauce on all sides of the meat and its delicious!  If you don't have enough time to marinade on this one, no worries! It's going to be great anyways!
Tips for Making the Most Amazing Homemade Teriyaki Beef and Stir-Fry:
Thinly slice your beef before you add it to the marinade. That way your meat will have so much flavor!

Have all your veggies chopped and ready to go before you start cooking.  It only takes about 3 minutes to cook the meat and only a few to cook the veggies too.

You can marinate your beef 24 hours or 15 minutes, both work great with this recipe.

Start cooking your rice before you start cooking the stir-fry. yes, it's that fast!

You can use fresh ginger root or powdered ginger.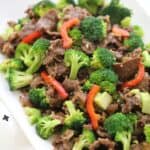 Beef and Broccoli Teriyaki
This Beef and Broccoli Teriyaki is a quick and easy meal with thin slices of beef and chunks of beautiful broccoli in a sweet and saucy homemade teriyaki marinade and sauce.
Ingredients
2

lbs

Carne Picada or any thinly sliced beef. Sliced steak or even chuck roast works great (plan on 1/3 lb per person)

2

Cups

Soy Sauce

1/2

cup

Green onions (thinly sliced)

1/2

Cup

Brown Sugar

1/2

Cup

Avocado Oil

2

Tablespoons

Ginger, thinly sliced (fresh is best but you can use 2 tsp powdered ginger if you don't have fresh)

1

Tablespoons

Garlic (minced)

1

Tablespoons

Corn Starch

2

Tablespoons

Avocado Oil (For Frying Vegetables)

1

Tablespoon

Garlic (minced--for veggie stir fry)
Instructions
For the teriyaki marinade, in a gallon size ziplock bag, add the soy sauce, green onions, brown sugar, avocado oil, ginger, and 1 Tablespoon minced garlic. Add the beef. (Plan on about 1/3 lb meat per adult and 1/4 lb per child.) Seal the ziplock bag and mix the meat and sauce so all of the meat has some marinade on it. Let it marinade for 15 minutes to 24 hours.

For the stir fry, broccoli and red peppers, add 2 Tablespoons oil in a large frying pan. Heat the oil and add a Tablespoon of garlic. Add the broccoli and red peppers. Salt and Pepper the veggies. Mix and fry until the broccoli is tender and starting to brown. When your vegetables are still a little crisp and slightly tender, remove them from the pan and set aside.

Cooking the Meat, In the same pan you cooked the vegetables, heat the pan and add another couple tablespoons of oil. Using a slotted spoon, add half of the meat and cook, stirring, until the meat is cooked. It will only take about 2-3 minutes. Take the meat out and set it aside. Add the rest of the meat and cook another 2-3 minutes. Take it out and set aside also.

Teriyaki Sauce--You should have about a half cup of liquid remaining in the pan. This will be your sauce for your meat and vegetables. If you want more sauce on your meat, add some from your bag of marinade. (A half cup of sauce for your meat and veggies is about right)


Heat the marinade until it boils. In a small separate bowl, add one tablespoon of cornstarch and a couple tablespoons of water. Mix until it is combined. Slowly add the cornstarch to the sauce and stir until slightly thick. Add the beef and the veggies and stir until everything is combined and heated through . Serve over rice or as is! Enjoy!
Nutrition Facts
Beef and Broccoli Teriyaki
Amount Per Serving
Calories 485
Calories from Fat 297
% Daily Value*
Total Fat 33g 51%
Cholesterol 69mg 23%
Sodium 3304mg 138%
Potassium 477mg 14%
Total Carbohydrates 19g 6%
Protein 29g 58%
* Percent Daily Values are based on a 2000 calorie diet.
I'd love to be connected with you on social media! Follow along on Facebook, Instagram, and Pinterest 
Looking for a yummy treat?? Try my Reeses Peanut Butter Cereal Bars here…Â