This easy baked pasta recipe has delicious and tender baked penne pasta in meat sauce and topped with delicious Italian Meatballs and mozzarella cheese, a huge hit with the entire family!
Jump to: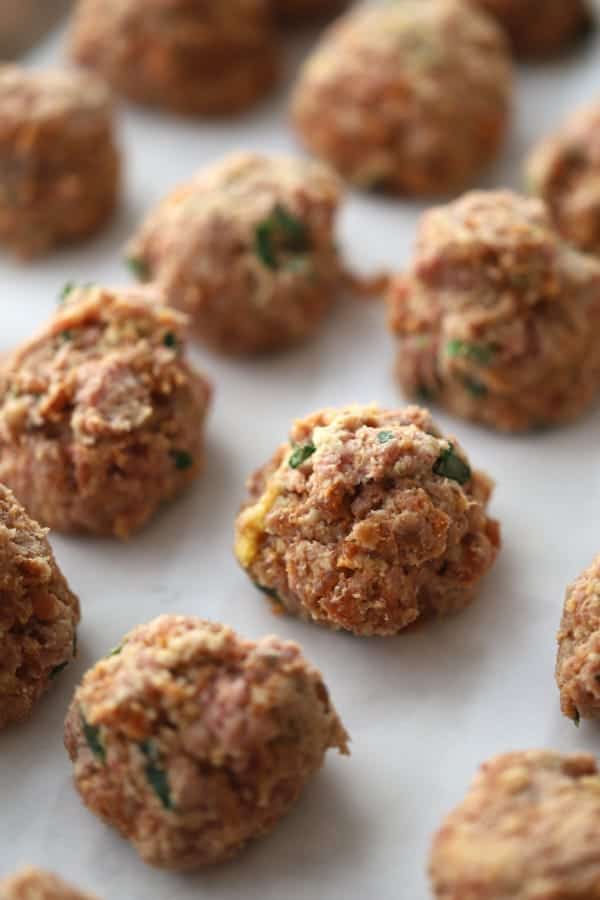 Baked Penne Pasta with Italian Meatballs Recipe
You can use pre-made meatballs for this penne pasta bake or you can use my recipe for Spicy Italian Meatballs. Whether you use homemade meatballs or store-bought, pre-made meatballs, either way, it will turn out delicious.
This pasta bake has all the components of a meal the entire family will love.
Ingredients for Baked Penne Pasta and Italian Meatballs
For this recipe, I used penne pasta. You can use just about any type of pasta for this pasta bake, just be sure you cook it to al' dente. This will ensure your pasta isn't overcooked after you bake it with the Italian Meatballs.
I added a couple of kinds of cheese to this pasta bake. My favorites are Mozzarella and Parmesan cheese. You can use a variation of these cheeses as well. Monterey Jack cheese or even Pepperjack would work OK too.
This is one of those meals I usually have all the ingredients on hand. I can pull out of the freezer and pantry when I'm running low on groceries.
Are you looking for a homemade marinara sauce? This is my recipe for knockout homemade Marinara. This slow cooker tortellini bake is also a favorite at our house.
These most amazing Italian Meatballs can be made ahead of time and stored in the freezer until you need them for a spaghetti dinner or this delicious Penne Pasta Bake.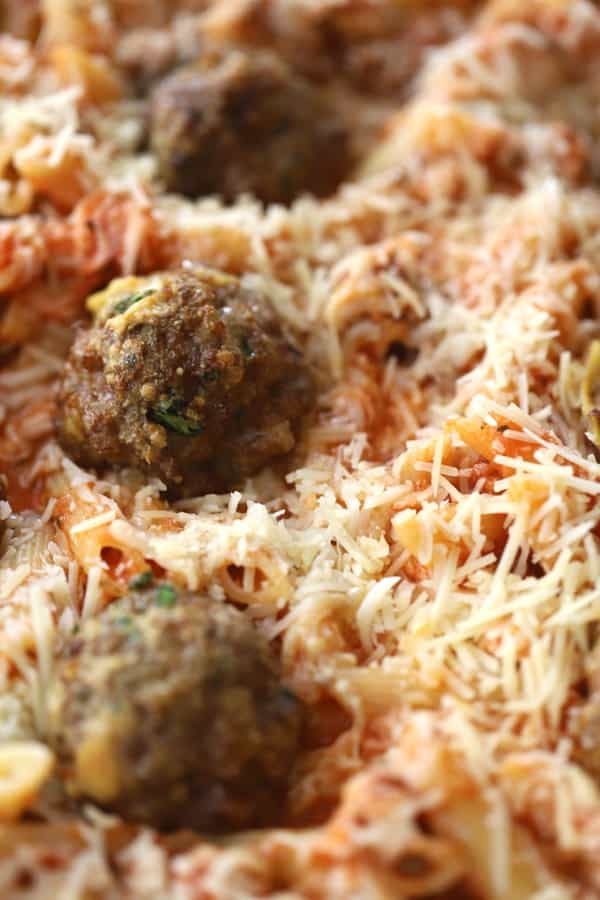 How to make a pasta bake:
You can use just about any type of pasta. Penne, rigatoni, bowtie, the list goes on, use your favorite shape!

You can use your favorite sauce too. My Sun-Dried Tomato Alfredo is a great starter. Marinara Sauce, Meat Sauce or a mixture of Alfred and Marinara are great too! Drizzle a little Pesto on top, bam!

Cheese. Don't skimp here. Mozzarella is a favorite because it isn't a greasy cheese and has such a beautiful cheese pull, am I right!?! Parmesan will kick up the flavor punch in any pasta dish. Monterey jack is another favorite and pepper jack too. We are spice lovers in this house so any excuse to use pepper jack is a good excuse!

You can drizzle your pasta with pesto or a hot sauce. Just throw a few things in your family loves and it's bound to turn out great. Have some fun in the kitchen, or better yet, let your kids throw dinner together for a change!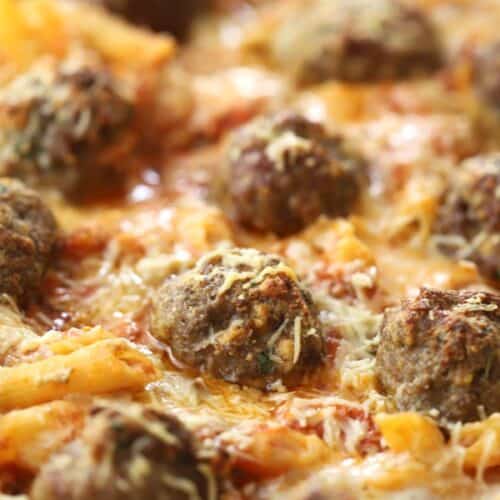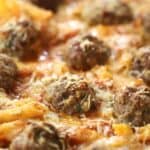 Print
Penne Pasta and Italian Meatball Bake
This penne pasta bake with meat sauce and Italian Meatballs is a huge hit! Tender penne pasta baked in meat sauce and topped with delicious mozzarella cheese, your family is going to love this one!
Ingredients
1

package, 8 servings

Penne Pasta

2

med

Onions, diced or chopped finely

3

Tablespoons

Garlic

1

lb

Hamburger

15

large

Meatballs

1

can (24 oz)

Spaghetti Sauce-use your favorite kind (I use the "Hunts Traditional" It's inexpensive but it isn't watery and doesn't have chunks. My kids like it)

1/3

Cup

Parmesan Cheese

2

Cups

Mozzerella Cheese

2

Tablespoons

Olive Oil
Instructions
Pre-heat oven to 400 degrees and spray and 9 by 13 baking dish with non-stick cooking spray.

Boil Penne pasta according to package instructions. Be sure to cook till al' dente, still chewy, not mushy. Drain and set aside.

In a large saucepan, add the olive oil. Add the 2 medium onions, chopped. Cook the oil and the onion until the onion is lightly golden brown. Add the minced garlic and cook while stirring for 2 more minutes.

Add the ground beef and cook until only a little pink shows. Add the can of tomato sauce. Mix until combined.

Add the drained pasta in with the sauce. Stir until combined.

Pour the pasta, with the sauce, into a 9 by 13" baking dish.

Top with half of the mozzarella and parmesan cheese. Stir gently. Add the rest of the mozzarella and parmesan cheese. Add the meatballs.

Bake uncovered in a 400 degree oven for 20 minutes or until the cheese on top is lightly golden. Remove from the oven, enjoy!
Nutrition
Calories:
309
kcal
|
Carbohydrates:
32
g
|
Protein:
14
g
|
Fat:
13
g
|
Saturated Fat:
5
g
|
Cholesterol:
26
mg
|
Sodium:
529
mg
|
Potassium:
150
mg
|
Fiber:
1
g
|
Sugar:
5
g
|
Vitamin A:
220
IU
|
Vitamin C:
3.7
mg
|
Calcium:
301
mg
|
Iron:
2.2
mg
Here are some other of the Best Pasta Dinner Recipes:
Penne Pasta and Italian Meatball Bake
Chicken and Cheese Stuffed Pasta Shells with Sun Dried Tomato Alfredo Pasta Bake
Slow Cooker Tortellini Pasta Bake
Easy Crockpot Lasagna with Ravioli
Sun-Dried Tomato Alfredo Sauce
If you've tried this recipe, please rate it and leave a comment on this post. I love hearing feedback from you helps me and other readers too! If you love Pinterest, feel free to leave a comment and photo there too. Also, if you like to share, use the hashtag #thecarefreekitchen on Instagram and tag me @thecarefreekitchen so I can find you and give your post some love. You can also find me on Facebook at The Carefree Kitchen. Thank you!!
Pin This for Later!!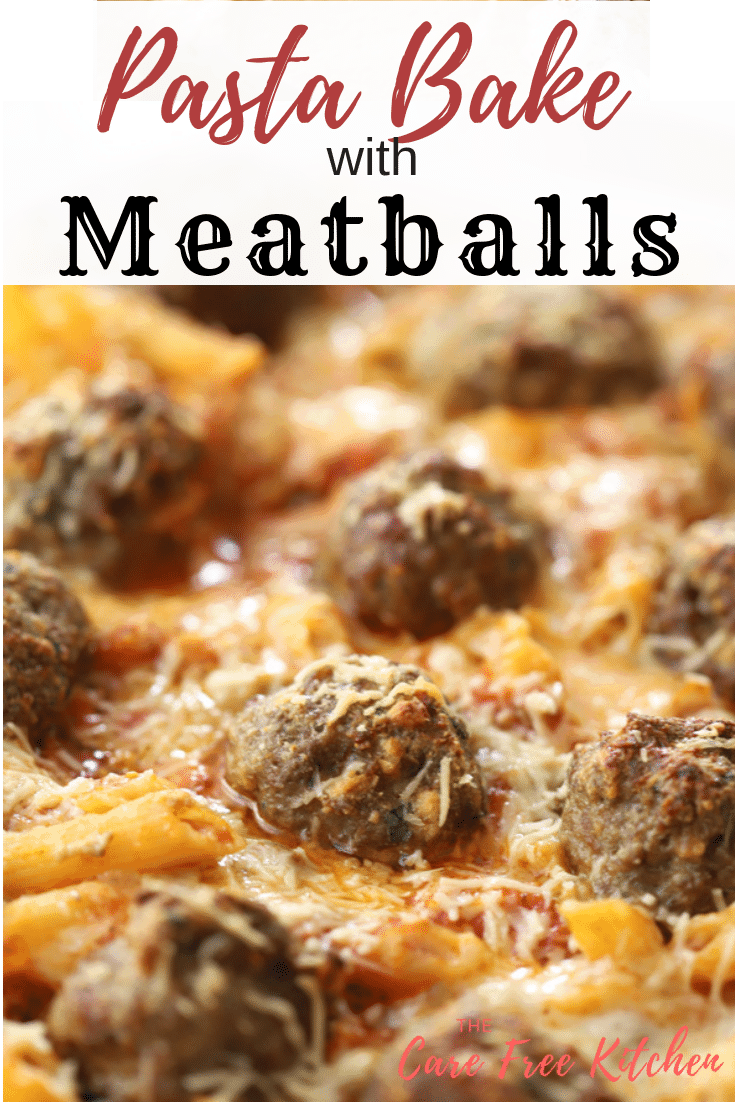 This delicious and tender penne pasta baked in meat sauce is topped with delicious Italian Meatballs and so much ooey-gooey mozzarella cheese. It's an amazing pasta bake the entire family will love.