Delicious and tender penne pasta baked in meat sauce and topped with delicious Italian Meatballs and mozzarella cheese, a huge hit!!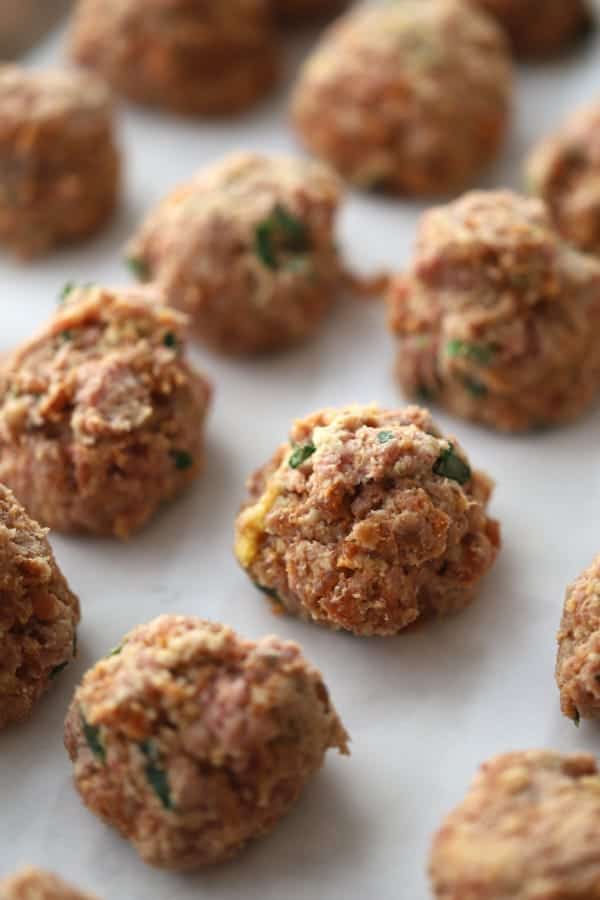 You can use pre-made meatballs for this penne pasta bake or you can use my recipe for Spicy Italian Meatballs. Either way, it will turn out delicious.  
For this recipe I used penne pasta.  You can use just about any type of pasta for this pasta bake, just be sure you cook it to al' dente.  This will ensure your pasta isn't overcooked after you bake it with the Italian meatballs.
I added a couple kids of cheese to this pasta bake.  My favorites are Mozzarella and Parmesan cheese.  You can use a variation of these cheeses as well.  Monterey Jack cheese or even Pepperjack would work OK.  This is one of those meals I can pull out of the freezer and pantry when I'm running low and groceries. I almost always have these ingredients on hand.
Are you looking for a knockout homemade Marinara? Look no further!  Or a slow cooker tortellini bake.  Here ya go! What about the most amazing Italian Meatballs?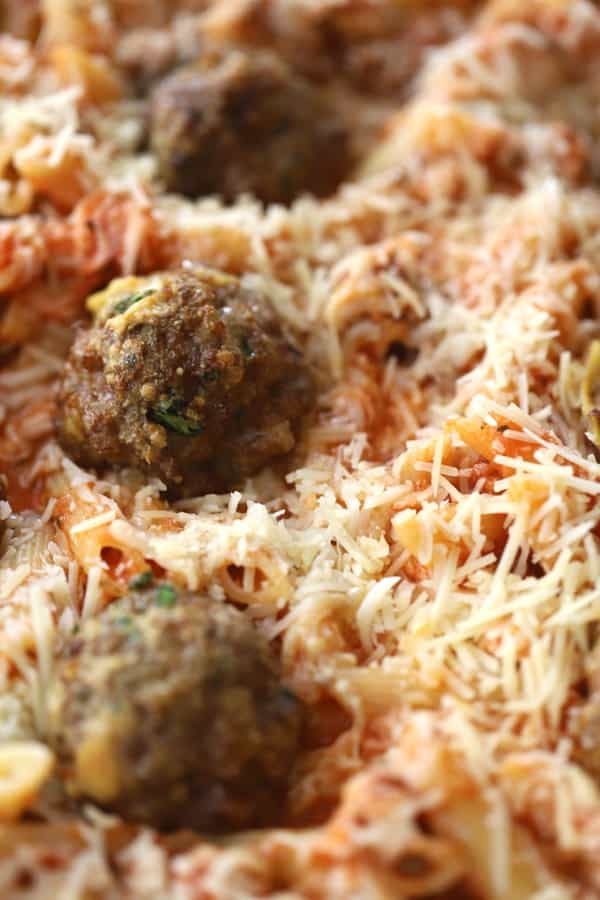 How to make a pasta bake, the possibilities are endless!
You can use just about any type of pasta.  Penne, rigatoni, bowtie, the list goes on, use your favorite shape!

You can use your favorite sauce too.  My Sun Dried Tomato Alfredo is a great starter.  Marinara Sauce, Meat Sauce or a mixture of Alfred and Marinara are great too! Drizzle a little Pesto on top, bam!

Cheese. Don't skimp here.  Mozzarella is a favorite because it isn't a greasy cheese and has such a beautiful cheese pull, am I right!?! Parmesan will kick up the flavor punch in any pasta dish.  Monterey jack is another favorite and pepper jack too.  We are spice lovers in this house so any excuse to use pepper jack is a good excuse!

You can drizzle your pasta with pesto or a hot sauce.  Just throw a few things in your family loves and it's bound to turn out great.  Have some fun in the kitchen, or better yet, let your kids throw dinner together for a change!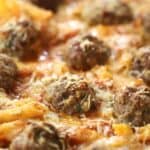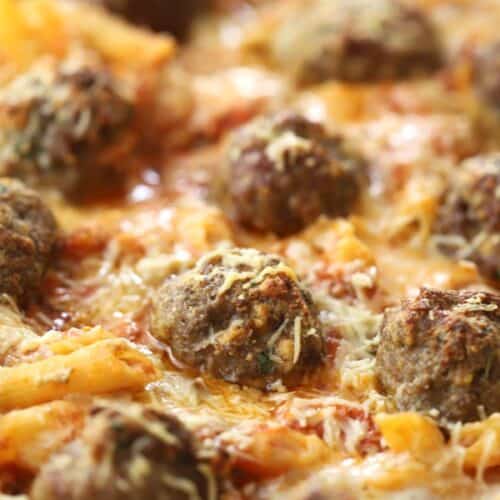 Penne Pasta and Italian Meatball Bake
This penne pasta bake with meat sauce and Italian Meatballs is a huge hit! Tender penne pasta baked in meat sauce and topped with delicious mozzarella cheese, your family is going to love this one!
Ingredients
1

package, 8 servings

Penne Pasta

2

med

Onions, diced or chopped finely

3

Tablespoons

Garlic

1

lb

Hamburger

15

large

Meatballs

1

can (24 oz)

Spaghetti Sauce-use your favorite kind (I use the "Hunts Traditional" It's inexpensive but it isn't watery and doesn't have chunks. My kids like it)

1/3

Cup

Parmesan Cheese

2

Cups

Mozzerella Cheese

2

Tablespoons

Olive Oil
Instructions
Pre-heat oven to 400 degrees and spray and 9 by 13 baking dish with non-stick cooking spray.

Boil Penne pasta according to package instructions. Be sure to cook till al' dente, still chewy, not mushy. Drain and set aside.

In a large saucepan, add the olive oil. Add the 2 medium onions, chopped. Cook the oil and the onion until the onion is lightly golden brown. Add the minced garlic and cook while stirring for 2 more minutes.

Add the ground beef and cook until only a little pink shows. Add the can of tomato sauce. Mix until combined.

Add the drained pasta in with the sauce. Stir until combined.

Pour the pasta, with the sauce, into a 9 by 13" baking dish.

Top with half of the mozzarella and parmesan cheese. Stir gently. Add the rest of the mozzarella and parmesan cheese. Add the meatballs.

Bake uncovered in a 400 degree oven for 20 minutes or until the cheese on top is lightly golden. Remove from the oven, enjoy!
Nutrition Facts
Penne Pasta and Italian Meatball Bake
Amount Per Serving
Calories 309
Calories from Fat 117
% Daily Value*
Total Fat 13g 20%
Cholesterol 26mg 9%
Sodium 529mg 22%
Potassium 150mg 4%
Total Carbohydrates 32g 11%
Protein 14g 28%
* Percent Daily Values are based on a 2000 calorie diet.
The Carefree Kitchen Socials:
I'd love to connect with you on social media.  Come find me!
Facebook: https://www.facebook.com/thecarefreekitchen/
Instagram : https://www.instagram.com/the_carefree_kitchen/
Pinterest: https://www.pinterest.com/thecarefreekitchen/pins/
Pin This!!