This Homemade White Bread is soft, delicious, easy to make and super satisfying. It's buttery on the outside, fluffy on the inside and makes the best sandwich bread, toast or afternoon snack.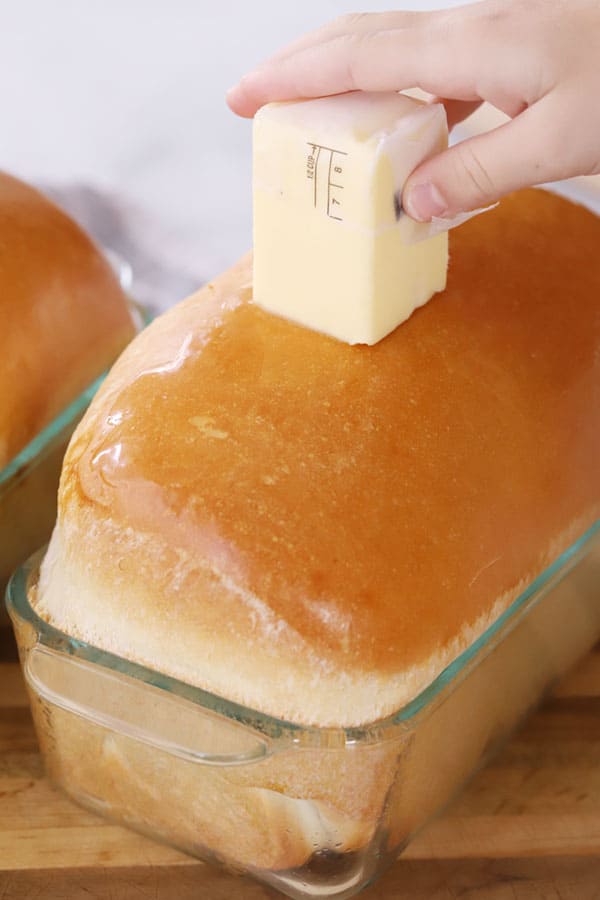 Jump to:
Homemade White Bread Video Tutorial
The Best Homemade White Bread
Once you've made your own Homemade White Bread, it'll be hard to ever look at store-bought loaves the same. This simple recipe makes the most soft and fluffy loaves that bake up nice and tall and fill your entire house with the most amazing smell.
We've provided step-by-step instructions to help you make perfect loaves every time, whether you have a stand mixer or not. With this recipe, and just a few basic ingredients, you'll be well on your way to basking in heavenly, buttery fresh baked bread aroma any old time you want.

White Bread Ingredients
Water - you want your water to be warm (between 95-105 degrees F) in order to help "wake up" your yeast.
Sugar - you can substitute honey if you'd like.
Active Dry Yeast - be sure and use active dry for this recipe, or else your mixing, rising and baking times will need to be adjusted.
Oil - we use avocado oil, however you could also substitute room temperature butter.
Eggs - any type of large eggs will work
Salt - salt is incredibly important in both the flavor and structure of bread, so don't skimp!
All-Purpose Flour - you can also use bread flour, but you'll probably need to adjust the amount of flour that you need to add so keep an eye and make sure your dough is looking nice and shiny.
Egg Wash - we make our egg wash with whole eggs and water.
Butter - this is brushed on just after baking to give that extra shiny top and yummy buttery flavor.

How to Form a Perfect Loaf of Sandwich Bread
Before you form your white bread loaves, you'll need to grab your loaf pans so that you can see how long you'll need to shape them. You might as well butter them now, too, if you haven't already!
Divide your dough into 3 even pieces. Take each piece one at a time and gently roll them into a rectangle - the shorter end should be about as long as your baking pan, and the longer end should be about 12".
Once you've got your rectangles, you can tightly roll them up and pinch the end to seal the seam up.
Tuck each end of the loaf under and place seam-side down into your greased baking pans.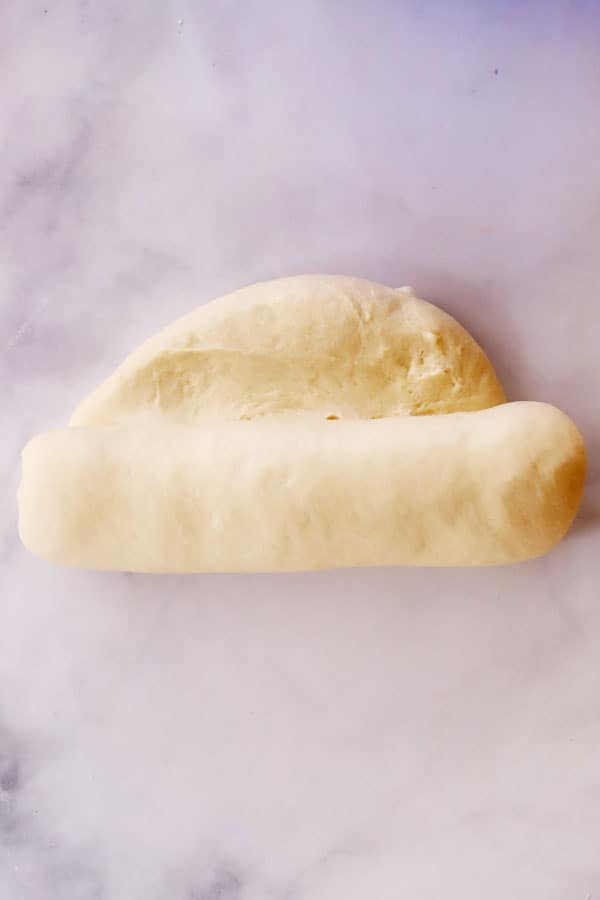 How to Make Homemade White Bread Without a Mixer
Do not let your lack of a standing mixture stop you from making this Homemade White Bread recipe. Does a mixer make life easier and cleaner? Sure does, but it is by no means 100% necessary. Here's what you'll need to do:
Proof the yeast in a large bowl by mixing together the warm water, sugar and yeast and letting it sit for about 10 minutes until it bubbles.
Once your yeast is nice and bubbly, whisk in the oil, eggs and salt and mix to combine.
Place about 7-8 cups of your flour in a circular mound on your countertop and make a well in the center that's large enough to hold the wet ingredients. If you have a bowl that is large enough, you can use that instead.
Add your wet ingredients into the center well and start to press the flour into the well. You are basically trying to mix it all together while avoiding the flour dam breaking and liquid spilling onto your floor!
Continue to mix until it is all combined, and add knead in more flour, about ½ cup at a time, until your dough is nice and shiny and not sticky.
Knead on your counter top for about 8-10 minutes, or until the dough is very shiny and elastic.
Once you have kneaded the dough, you can transfer it to a clean bowl that has been lightly sprayed with pan spray, and let rise until doubled in size. From here, just continue on with the same steps as they are listed in the instructions.

Variations To This White Bread Recipe
This bread is delicious as plain old white sandwich bread, but if you want to get a little adventurous, here are a few sweet and savory variations to try:
Cinnamon Raisin: add 1 cup of raisins into your bread dough while in the mixing stage. Before shaping your loaves, mix together 1 cup light brown sugar, 4 tablespoons of cinnamon and 6 tablespoons of melted butter in a bowl and spread this evenly over your three rectangles of dough before rolling them up.
Cinnamon Sugar: just skip the raisins and spread with cinnamon and sugar.
Nutella: spread about ½ cup of Nutella over each rectangle of dough before rolling them up.
Herbed Bread: Mix in a total of about 4 tablespoons of your favorite herb mix (herbes de Provence would be great, or make a mix of garlic powder, dried thyme, onion powder, and black pepper).
Dinner Rolls: only make a half-sized batch of this recipe. Once your dough is mixed and has doubled in size, divide into about 2 dozen balls. Roll each into a tight, smooth ball, and arrange into 2 baking dishes (12 per dish). Cover them loosely and let double in size. Once they have doubled (about 45 minutes), brush them with egg wash and bake in a 350 degree oven for about 20-25 minutes. After they are baked, brush with melted butter.
How to Activate Yeast
There are two main types of dry yeast that you will find at the grocery store - instant yeast (or quick rise) and active dry yeast.
Without getting into too much of the science, instant yeast is specially manufactured so that it can just be dumped into your dries and mixed. Active dry yeast, on the other hand, needs to be woken up, or "proofed."
Don't be scared! Proofing yeast really couldn't be more simple. All you need to do is combine your active dry yeast with warm water or milk and a touch of sugar (or honey), and let it sit for 5-10 minutes at room temperature until it starts to get nice and bubbly.
That's it - now your yeast is awake and happy and you can use as directed in your soft pretzel recipe. If the yeast never bubbles and foams, it's likely "dead" and you will want to start over with new yeast. You'll be happier to find that out now, rather than later!
What is the best pan to use for Bread?
There are two main sizes when it comes to loaf pans - 9"x5" and 8.5" x 4.5." A good rule of thumb is:
Use 8.5" x 4.5" size for any bread recipe calling for 3 cups of flour per loaf
Use 9" x 5" size for any bread recipe calling for at least 3.75 cups of flour per loaf
For the amounts in between, just use your best judgement.
We used Pyrex 1.5 quart glass loaf pans in this recipe, which are closer to the 8.5" x 4.5" size. Our recipe calls for about 3 cups of flour per loaf, so this makes perfect sense. If you only have the larger size pan, the recipe will still work but your bread just won't have that nice tall rise.
There are all sorts of other types of bread loaf pans to choose from - metal, non-stick, ceramic, and even silicon. Honestly, they'll all make great bread! The most important thing is to be sure you are using the correct size for your recipe.

Tips for Making Perfect Homemade Bread
If you are using active dry yeast, be sure to proof the yeast. It helps "wake it up" and it also lets you know ASAP whether your yeast is good or not.
Using a standing mixer helps knead your dough properly and keeps your table just a little cleaner!
Check the size of bread pans you've got and adjust to the number of loaves accordingly!
Take the internal temperature of your bread to be sure it's baked through. It should read 195 degrees F in the center.
We know it's hard to resist, but let your bread cool completely before slicing.
What is the best flour to use in homemade bread
When it comes to softer and more tender bread, like this Homemade White Bread recipe, your best bet is to use all-purpose flour. These breads don't need the stronger structure that bread flour will give.
If you don't happen to have all-purpose flour, your next best bet will be bread flour. It's much more ideal for more artisan-style breads that are chewier and denser. But in a pinch, it works.
You're going to want to avoid using pastry or cake flour. They just don't provide enough structure and won't make a very good loaf of bread.

How to store homemade white bread
You don't want to store homemade bread in the fridge. It will get stale much more quickly. Instead, try one of these methods:
In a plastic bag. You can store your bread in an airtight plastic bag at room temperature for up to 3 days. The plastic bag will keep your loaves much softer than if you use a paper bag.
In a bread box. These went out of fashion once baking bread at home wasn't quite as common. But if you have one, by all means, use that!
In the freezer. If you bake more than you'll be able to use in a couple of days, your best bet is to freeze the rest. Wrap the loaves in plastic, or put in freezer bags, and store for up to 3 months. Just pull out and thaw at room temperature as soon as you are ready to use.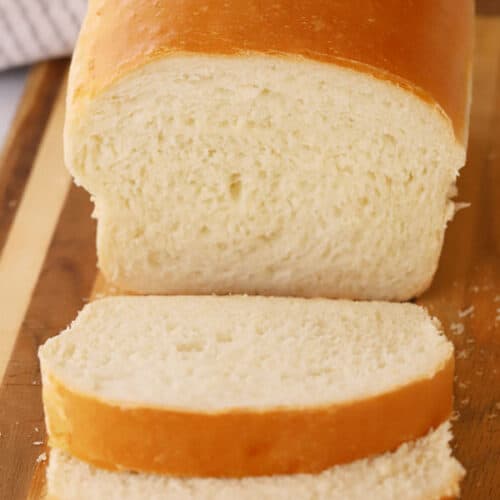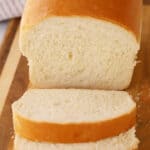 Print
Homemade White Bread
This simple Homemade White Bread recipe makes the most soft and fluffy loaves that bake up nice and tall and fill your entire house with the most amazing smell.  It makes the best sandwich bread, toast or afternoon snack.
Ingredients
Dough
3

Cups

Water

warm

¼

Cup

Sugar

1 ½

Tablespoons

Active Dry Yeast

¼

Cup

Avocado Oil

or room temperature butter

2

large

Eggs

1

Tablespoon

Salt

8 ½-9

Cups

All-Purpose Flour
To Top the Loaves
1

large

Egg

1

Tablespoon

Water

2

Tablespoons

Butter

melted
Instructions
Grease three 8.5" x 4.5" bread pans with butter.

In the bowl of a stand mixer, combine the warm water, sugar, and yeast. Mix well, then let sit for 5-10 minutes, or until the yeast is frothy and bubbly.

Once the yeast has proofed, add the oil, salt, eggs and half of the flour into the yeast mixture and mix on low using the dough hook until combined.

Continue adding one cup of flour at a time, then mixing on low speed, until the dough pulls away from the sides and looks smooth. Once all of your flour is added, knead on medium speed for about 3 minutes. It should look smooth and elastic.

Cover with plastic wrap and let rise in a warm place until doubled, about 30-45 minutes.

Once your dough has doubled, divide into 3 even pieces. Sprinkle flour on your counter, then very gently roll each loaf into a roughly 8"x12" rectangle using a rolling pin (the shorter side of the rectangle should be about the length of your baking pans).

Starting at the shorter end, roll each rectangle up tightly, then pinch the end to seal the seam. Tuck each of the ends under, then place seam-side down into your greased bread pans.

Whisk together the egg and water and brush a thin, even layer over the tops of each loaf of dough using a pastry brush. Let rise again until doubled in size, about 30-45 minutes.

Preheat your oven to 350 degrees F. Once your loaves have doubled in size, bake all three at the same time for 28-30 minutes, or until golden brown (an instant-read thermometer should read 195 degrees F when inserted into the center of your loaves).

When the bread is done, remove from the oven and brush melted butter over the top of each loaf. Let cool for about 10-15 minutes, then remove from the baking pans and let cool completely on a wire rack before slicing. Enjoy!
Nutrition
Serving:
24
g
|
Calories:
1659
kcal
|
Carbohydrates:
288
g
|
Protein:
44
g
|
Fat:
34
g
|
Saturated Fat:
9
g
|
Cholesterol:
206
mg
|
Sodium:
2483
mg
|
Potassium:
467
mg
|
Fiber:
10
g
|
Sugar:
18
g
|
Vitamin A:
503
IU
|
Calcium:
88
mg
|
Iron:
17
mg
Here are some more yeast bread recipes that we love!
If you've tried this recipe, please rate it and leave a comment on this post. I love hearing feedback from you helps me and other readers too! If you love Pinterest, feel free to leave a comment and photo there too. Also, if you like to share, use the hashtag #thecarefreekitchen on Instagram and tag me @thecarefreekitchen so I can find you and give your post some love. You can also find me on Facebook at The Carefree Kitchen. Thank you!!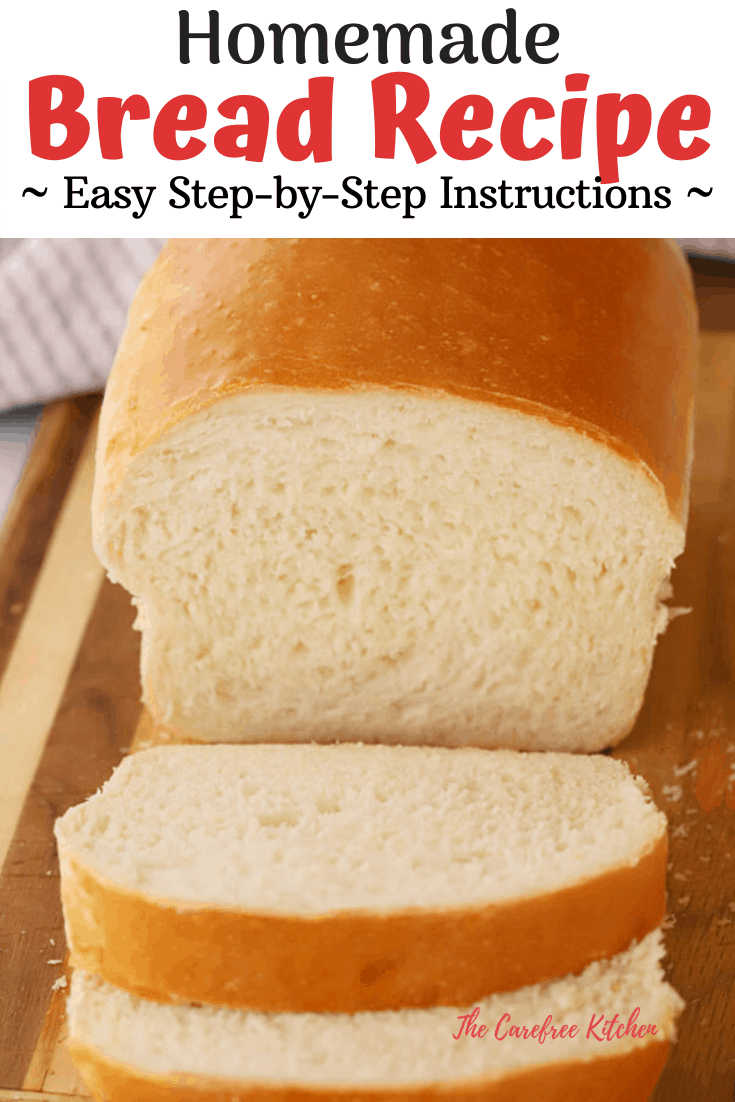 This simple Homemade White Bread recipe makes the most soft and fluffy loaves that bake up nice and tall and fill your entire house with the most amazing smell. It makes the best sandwich bread, toast or afternoon snack.
Reader Interactions