This easy crockpot lasagna with ravioli is such an easy crockpot lasagna recipe. It takes only a few minutes to throw together and is ready when you are. This crockpot ravioli lasagna makes dinnertime a breeze!
Jump to: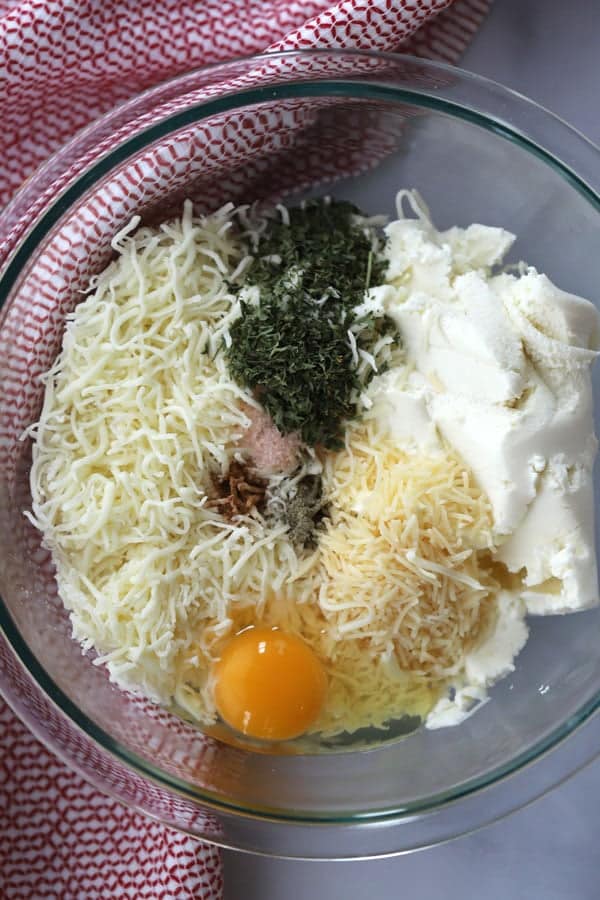 Ingredients for Slow Cooker Ravioli Lasagna:
This slow cooker lasagna recipe calls for some of the basic lasagna ingredients. Read along and I'll show tell you some of my shortcuts to this slow cooker ravioli lasagna.
Noodles: For this slow cooker lasagna with ravioli recipe, I used frozen ravioli. Nothing special, just frozen lasagna from the freezer aisle at the supermarket.
It was about $3. It's inexpensive and works great for feeding a crowd and is delicious in this ravioli lasagna crockpot.
You can use the meat-filled ravioli or the cheese-filled ravioli. My crew prefers the cheese ravioli but either works great. (Another great option would be a mixture of both, oh baby!)
Cheese: There are several different kinds of cheese in this dish. The cheese you see in the pictures, on top of the slow cooker lasagna with ravioli is shredded Mozzarella and shredded Parmesan Cheese.
There is also a classic 3 cheese mixture you will mix up to layer between the meat sauce and frozen ravioli.
This 3 cheese lasagna slow cooker recipe has a mixture of ricotta, mozzarella, and parmesan cheese. The ricotta cheese can be interchangeable with cottage cheese (small curd cottage cheese works best)
If you don't have enough ricotta just sub half ricotta and half cottage cheese in this crockpot ravioli lasagna recipe.
Meat: For the meat in this recipe I use a combination of half ground hot sausage and half beef.
You can cook the meat at the time you prepare this crockpot lasagna with ravioli or you can try this meat prep. I've been doing for years that saves me so much time and cleanup around dinner time.
How to Meat Prep for quick and easy dinners:
I like to purchase my ground beef when if goes on sale at the grocery store. I start by caramelizing some onions and then add in a couple rounded tablespoons of minced garlic, cook that until golden also.
After the onion and garlic are cooked, I like to combine 1 part beef and 1 part spicy sausage. Add about ½ cup water in this mixture.

2 Large Onions

3-4 Tablespoons of Minced Garlic

2 pounds of ground beef

1 Pound Ground Spicy Sausage (We like the hot sausage but medium or mild work great too. It really isn't spicy if you're cooking it with the onions and the beef)

Salt and Pepper to taste

½ cup water.
The water will help the sausage cook in crumble form. You can always drain any leftover liquid off the meat mixture before you use it.
This little meat prep is perfect for homemade spaghetti, crockpot pasta dishes, homemade lasagna, and especially in this crockpot lasagna with frozen ravioli.
After it's cooked I let it cool and then scoop it up into a freezer ziplock bag and freeze it for another day. Seriously, of all the freezer dinner prep ideas, this is the biggest time saver.
If I have some frozen cooked meat, I can have a spaghetti dinner on the table in 15 minutes.
This is a total time saver for dinners!
Spaghetti Sauce: You can use your favorite here. If you are in the mood to make some homemade Marinara sauce, I have a killer recipe here.
Once you try that Marinara recipe, your life will forever be changed. It's made with real simple ingredients but holy smokes, it has so much flavor! It's so good in this slow cooker ravioli lasagna recipe.
Bonus, it also freezes really good and is a treat to pull out and add the meat mixture I mentioned above.
I understand it's sometimes impossible to make everything homemade. I am in the stage of life where I live with picky eaters. My family's favorite is Hunt's Traditional Spaghetti Sauce. It's simple, no chunks, and has great flavor.
Whatever red sauce your family loves, use it in this easy slow cooker ravioli lasagna.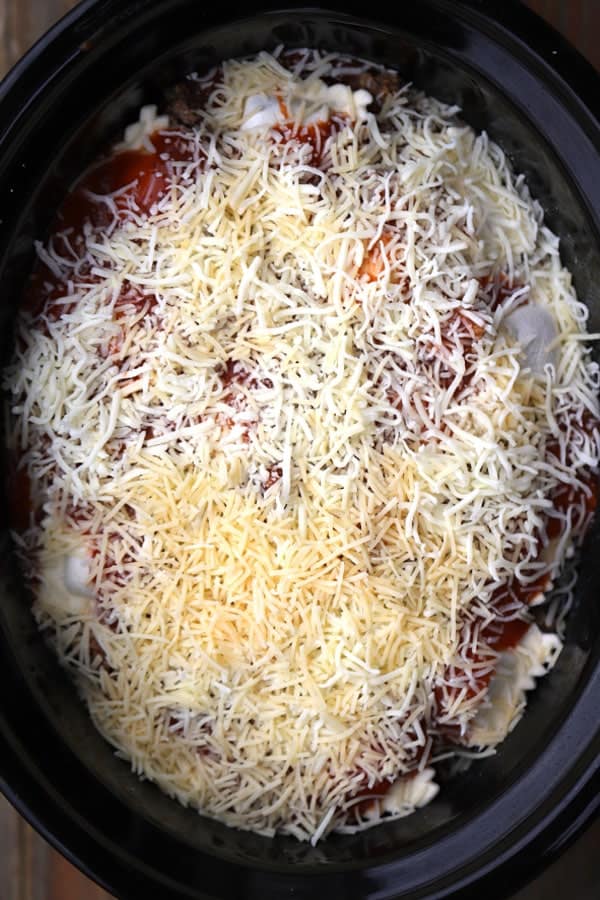 This crockpot lasagna with frozen ravioli is so easy and everyone loves it!
How to make lasagna in the crockpot:
This recipe is all about the layers. To begin you need to prep for each layer and then the assembly of this easy crockpot lasagna recipe will come together in just a few minutes.
Meat Layer:
Chop half of a small onion and cook it in a frying pan with a tablespoon of olive oil until it is golden brown. Add a teaspoon of minced garlic and heat until it is translucent. Add the hamburger and spicy sausage. Cook the meat until it is no longer brown.
I like to do this in really large quantities and then freeze in 1 cup portions in ziplock freezer bags for another day. This method makes dinner time so easy on busy days. I can throw a meal like this together or spaghetti in just 20 minutes.
Add the marinara sauce to the meat and mix until combined. Now your meat layer is ready.
3 Cheese Layer:
Combine the ricotta, most of the mozzarella, the parmesan, the egg, and spices. Just mix it up.
Ravioli:
You can use the fresh Ravioli from the refrigerator section or frozen ravioli here. You'll need about 2 pounds. If it's frozen, keep it frozen.
You can also use no-boil lasagna noodle for this ravioli lasagna crockpot recipe if your family doesn't like ravioli pasta. Just make the recipe the same and substitute the no-boil lasagna noodles for the ravioli.
Slow cooker: Be sure to spray your slow cooker with non-stick cooking spray. This will really help with cleanup.
How to layer the best crockpot lasagna:
You will do 4 layers of the meat sauce, 3 layers of the noodles and 3 layers of the cheese.
It should work out something like this.
1-Meat sauce
2- Ravioli
3-Cheese
4- Meat sauce
5- Ravioli
6-Cheese
7-Meat sauce
9- Ravioli
10-Cheese
11-Meat Sauce
12- Top with the extra mozzarella and parmesan cheese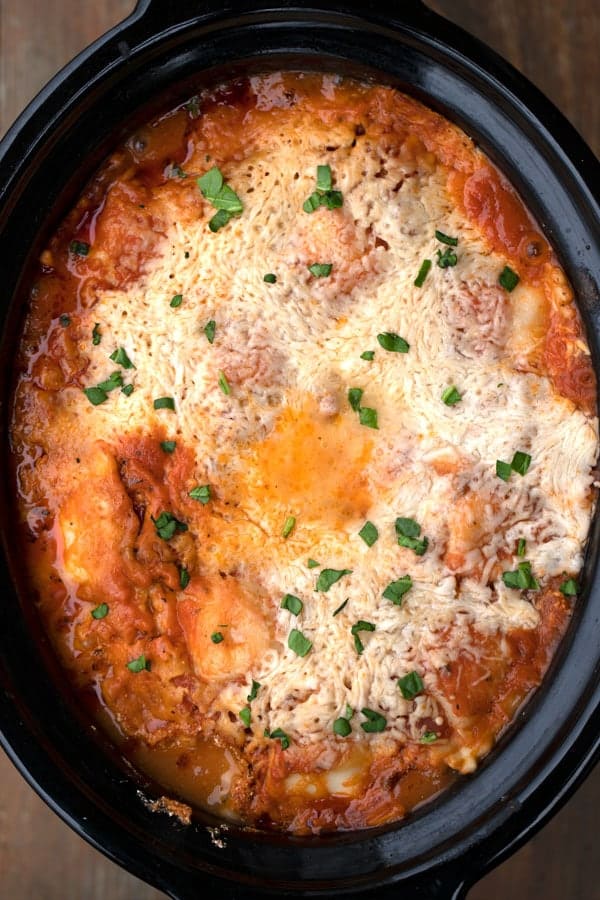 How to clean your slow cooker:
When you make a meal like a crockpot lasagna, sometimes the cleanup is rotten.
If you spray your slow cooker with non-stick spray, that helps. Another thing that helps clean off the cooked on food from your slow cooker is a dryer sheet. It is almost like magic.
Get as much food as you can out of your slow cooker and then fill it with hot water and a squirt of dish soap.
The magic trick is to add a dryer sheet to your slow cooker and it will clean up so easily.
Let the slow cooker sit for about 2 hours, or overnight, and the food will become loose and you can just about wipe it clean.
Trust me on this one, it's almost like magic!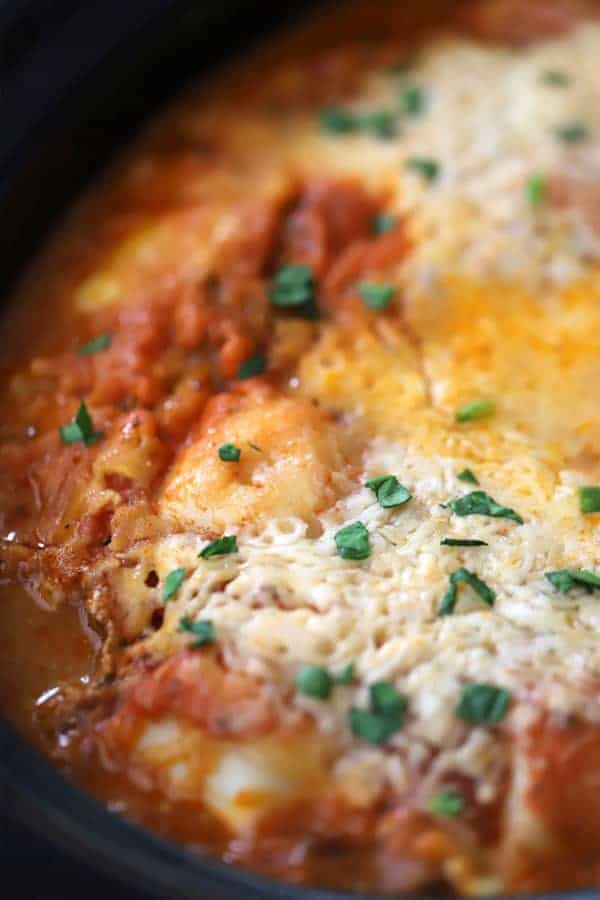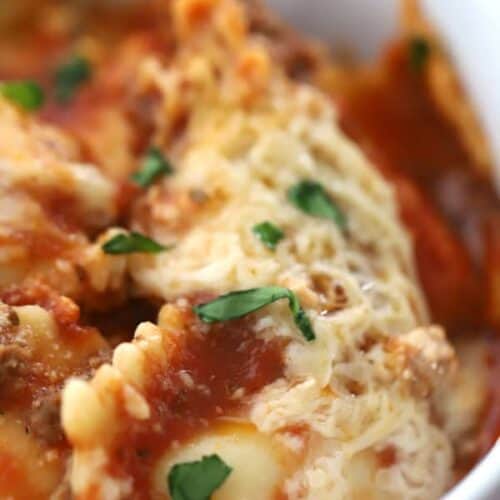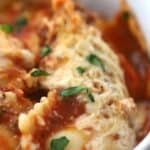 Print
Easy Crockpot Lasagna with Ravioli
This easy crockpot lasagna with ravioli is such an easy crockpot lasagna recipe. It takes only a few minutes to throw together and is ready when you are. This ravioli lasagna crockpot makes dinnertime such a breeze!
Ingredients
Meat Sauce
½

medium

onion

1

Tablespoon

Garlic

minced

1

Tablespoon

Olive Oil

½

lb

Hot Sausage

½

lb

Ground Beef

2

24 ounce

Spaghetti Sauce
3 Cheese Mixture
15

ounces

Ricotta Cheese

Half of the ricotta can be substituted for small curd cottage cheese

½+ ¼

cup

Parmesan Cheese

shredded

1+½ for top

cup

Mozzarella Cheese

shredded

2

large

Eggs

1

Tablespoon

Parsley

Fresh or dried is fine

½

teaspoon

garlic

powder

1

pinch

Nutmeg

½

teaspoon

salt

1

pinch

Pepper
Pasta
2

pounds

Ravioli

Frozen is what I used but fresh works great too.
Instructions
Spray the inside of the slow cooker with non-stick cooking spray.
Meat Sauce
In a skillet on medium heat, add the tablespoon of olive oil and the onion. Stir and cook on medium heat until the onion is golden brown. Add the minced garlic and continue to cook for about 2 minutes or until the garlic is translucent. Add the sausage and the beef and cook until it's no longer pink. Add the spaghetti sauce and stir until combined.
3 cheese Mixture
In a mixing bowl, combine the ricotta cheese, 1 cup mozzarella cheese, ½ cup parmesan cheese, eggs, parsley, garlic powder, nutmeg, salt, and pepper. Stir until combined.
Assembling the Easy Crockpot Lasagna with Ravioli
To assemble the lasagna you will do it in layers. First, Add about a cup of meat sauce to the bottom of the crockpot. Add a layer of ravioli. Touch the edges of the ravioli together but don't stack on top of each other. Add the cheese mixture, You should be adding about a ⅓ of the cheese mixture. and then the sauce mixture, about 1 ½ cups each time you layer.

After you assemble the crockpot lasagna, add the remaining ½ cup of mozzarella cheese and ¼ cup of parmesan cheese.

Bake on high in the crockpot for about 4 (3 hours if you're using fresh ravioli) Enjoy!
Video
Nutrition
Calories:
681
kcal
|
Carbohydrates:
41
g
|
Protein:
40
g
|
Fat:
39
g
|
Saturated Fat:
19
g
|
Cholesterol:
183
mg
|
Sodium:
1251
mg
|
Potassium:
183
mg
|
Fiber:
3
g
|
Sugar:
3
g
|
Vitamin A:
759
IU
|
Vitamin C:
1
mg
|
Calcium:
519
mg
|
Iron:
11
mg
Here are some of the best slow cooker recipes:
Slow Cooker Ham and Cheese Scalloped Potatoes
Tortellini Pasta Bake in a Slow Cooker
Slow Cooker Cheesy Hash Brown Potatoes
Slow Cooker Creamy Salsa Chicken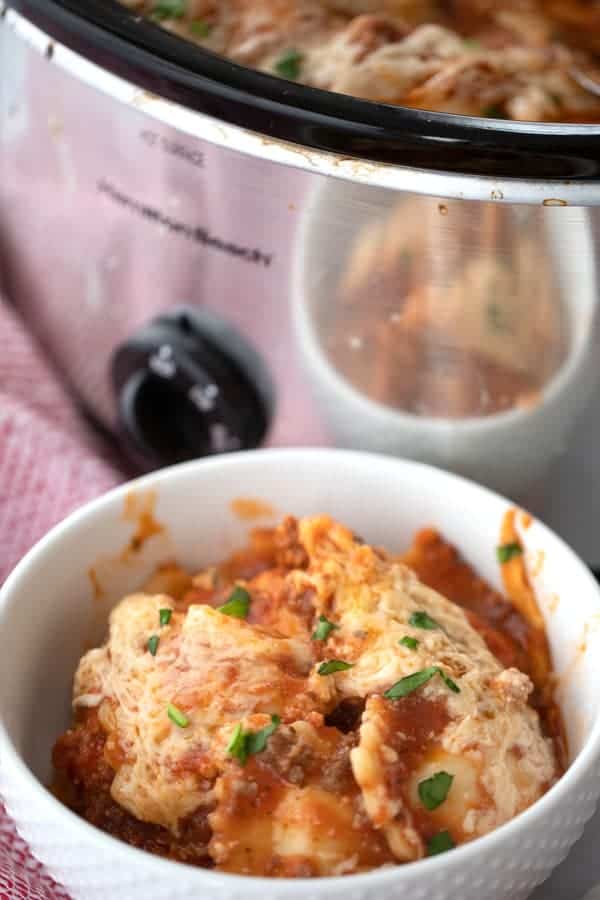 If you've tried this recipe, please rate it and leave a comment on this post. I love hearing feedback from you helps me and other readers too! If you love Pinterest, feel free to leave a comment and photo there too. Also, if you like to share, use the hashtag #thecarefreekitchen on Instagram and tag me @thecarefreekitchen so I can find you and give your post some love. You can also find me on Facebook at The Carefree Kitchen. Thank you!!
Save this for later!!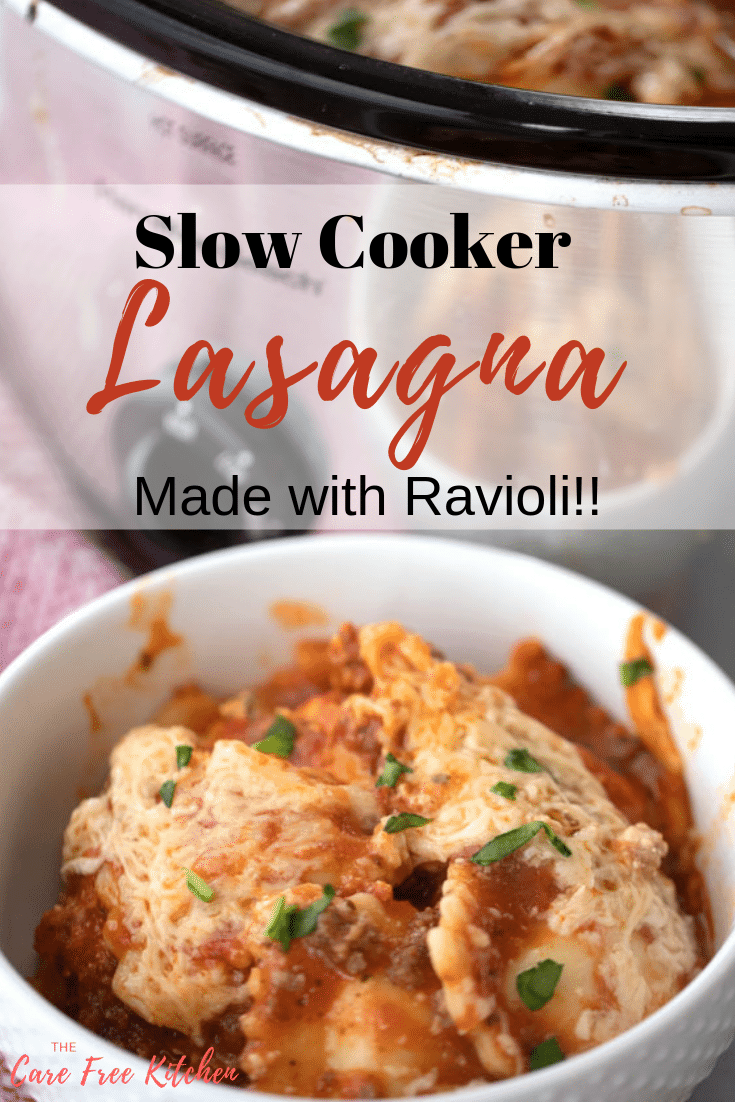 This easy crockpot lasagna with ravioli is such an easy crockpot lasagna recipe. It takes only a few minutes to throw together and is ready when you are. This ravioli lasagna crockpot makes dinnertime such a breeze!