These sun-dried tomato and parmesan biscuits are packed with flavor.  The little bits of chewy sun-dried tomato and the intense parmesan cheese are a perfect combo in these cute little biscuits.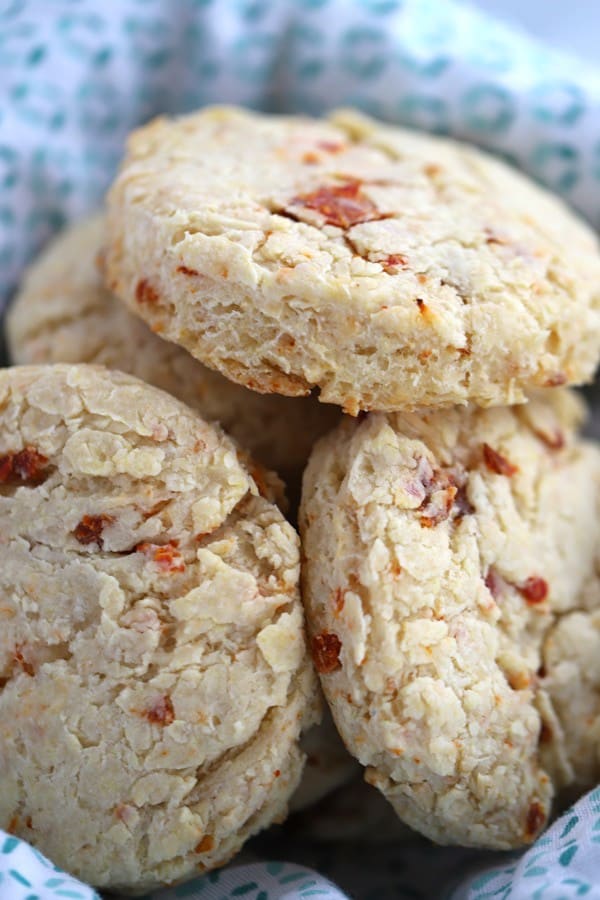 I'd love to experiment a little more with these babies.  I bet they'd be incredible sliced with a chicken breast, some avocado, a drizzle of pesto and a sliced tomato in between! Oh yeah!
The combination of Parmesan cheese and sun-dried tomato is a match made in heaven!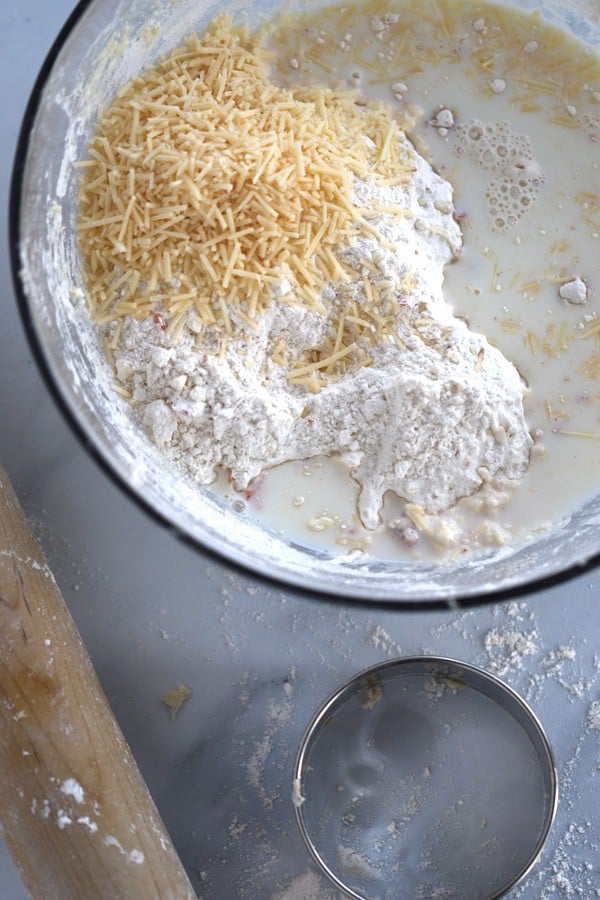 It only takes a few minutes to throw these together. The worst part of the the whole process is wiping the flour off the counter.  The 10 minutes it takes to throw these together is time well spent!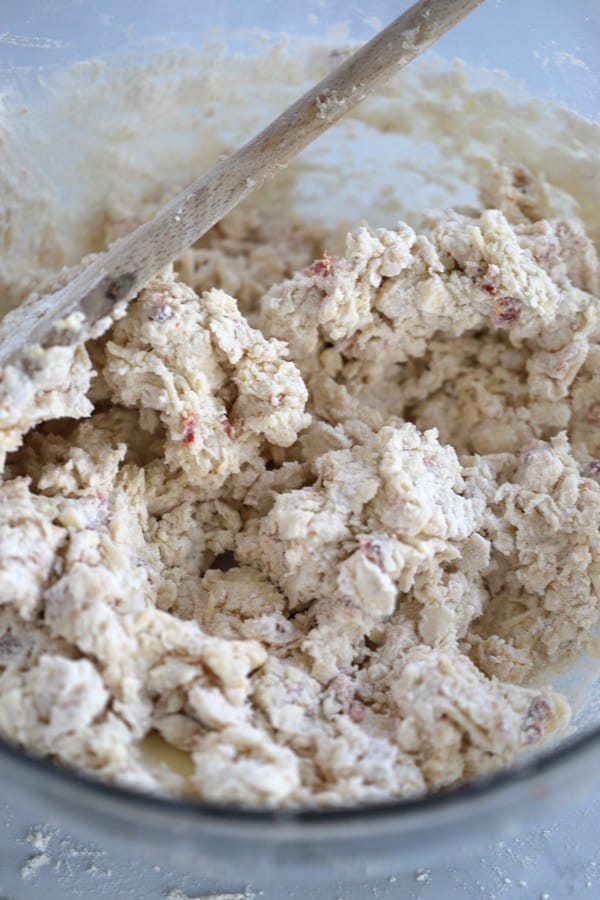 I used about 8 sun-dried tomato halves. You can add more of less depending on your preference.  I minced them up before I added them to the bowl.
Did you know, sun-dried tomatoes have a lot of health benefits?  There ave been studies done that suggests that dehydrated tomatoes contain FruHis, its a carbohydrate that may appear to protect against cancer. I guess it's true, what our mothers have been telling us our entire lives, eat your veggies!  If you'd like to read more about this study, you can read it here.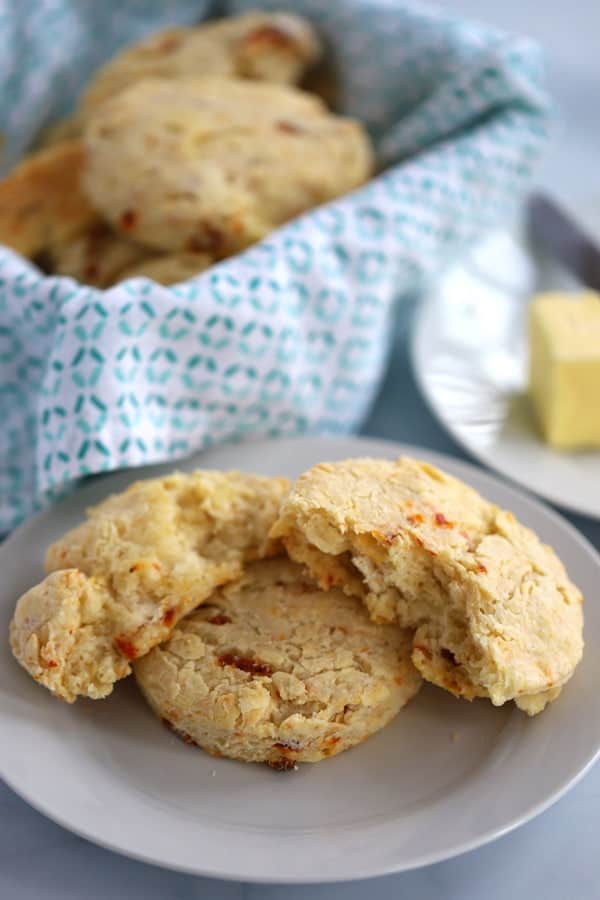 Tips for Making Sun-dried Tomato and Parmesan Biscuits:
It's easy to make these with food processor.  If you don't have one just mix the flour mixture and the butter with a fork until the butter is in very small pieces.
I used dehydrated sun dried tomatoes but I'm sure the tomatoes in olive oil would work too
I used butter but shortening would work too.
i used parchment paper but a silicone mat would work great too.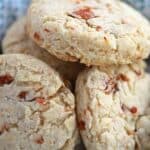 Sun-dried Tomato and Parmesan Biscuits
These delicious sun-dried tomato and parmesan biscuits are a tasty and flaky biscuit the whole family will love!
Ingredients
2

Cups

Flour

4

tsp

Baking Powder

1

tsp

salt

1

tsp

garlic powder

1/3

cup

butter or shortening (I used butter)

1

Cup

Milk

8

halves

sun-dried tomatoes (minced)

1/2

Cup

Parmesan cheese
Instructions
Preheat oven to 350 degrees.

In a food processor, combine the flour, baking powder, salt, and garlic powder. Pulse until the butter resembles corn meal.


In a large mixing bowl, combine milk, minced sun-dried tomatoes, and parmesan cheese. Stir until combined. Do not overmix

Sprinkle a little flour onto your counter and roll out the biscut dough. The dough should be about an inch think. You can make them up to 1 1/2" thick if you want. Cut the biscuits into squares with a knife or cut into circles with a cup or cookie cutter.

Place on parchment paper on a baking sheet. Bake at 350 degrees for 25 minutes or until the biscuits are golden brown. Serve with soup, salad or a slab of delicious butter, Enjoy!
Nutrition Facts
Sun-dried Tomato and Parmesan Biscuits
Amount Per Serving
Calories 230
Calories from Fat 90
% Daily Value*
Total Fat 10g 15%
Cholesterol 27mg 9%
Sodium 477mg 20%
Potassium 370mg 11%
Total Carbohydrates 27g 9%
Protein 6g 12%
* Percent Daily Values are based on a 2000 calorie diet.