This easy ham and veggie fried rice is loaded with veggies and can easily be adapted so the entire family will love it!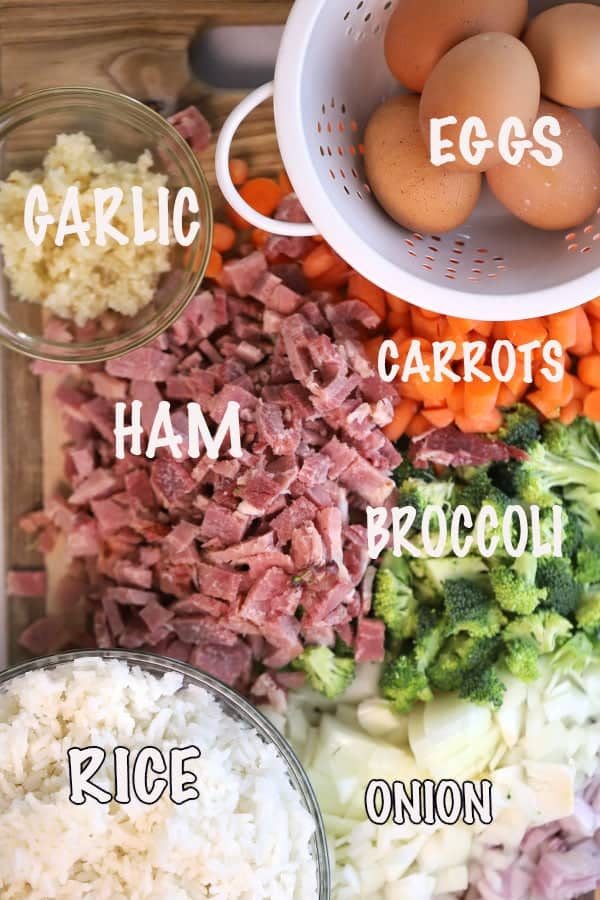 There are dozens of different ways you can adapt this recipe. This time I'm using some honey baked ham I threw in the freezer after Easter dinner and the rest of the ingredients I had in the fridge that needed to be used.  This is my favorite side to make when it's time to clean out the fridge!
You can make this as a side dish or add a little extra protein and it can be the main course.  If you're looking for something to serve it with, you could use my Monterey Chicken recipe, you can find it here.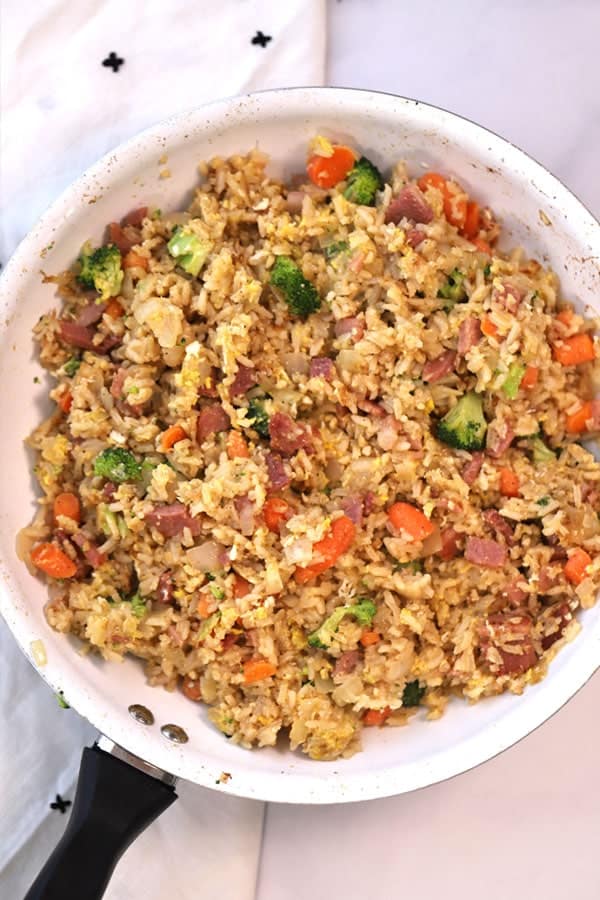 Did you know you can freeze rice? It make wonderful fried rice.  Just throw it in a ziplock bag and thaw whenever you're ready for stir fry.
In my stir fry, I use it as a chance to get my kiddos to eat a few more vegetables.  If you cut them up small and they're are small bite size and about the same color, kids won't even question what's in there.  I especially love to add a huge onion to the stir fry.  My kids don't even thing they like onions or garlic. Haha, what they don't know won't hurt them.
Tips for Making the Best Ham and Veggie Stir Fry:
You can use loads of vegetables.  I shoot for about the same amount of veggies as rice.  As long as I cut my veggies up so they are a small bite size, my kids don't even notice.
Did you know you can freeze rice? yup, next time you have some leftover rice, throw it in a ziplock bag and save it for stir-fry day.
You can use just about any meat in this dish.  Shrimp, steak, chicken, whatever.  I used some left over ham I pulled out of the freezer from Easter dinner and it was delicious.  The ham is a little better when its cut up and in small bite sized pieces and it gives off a great flavor to the other components of the fried rice.
Use whatever veggies your family loves.  Anything from zucchini to carrots to water chestnuts!
When trying to decide what to add to the stir fry first, just estimate what will take longer to cook.  Onion and garlic first and then any root vegetables, vines, and then greens. Be sure to add your egg when the rice is fried already.
After you add the egg, stir constantly just until the egg is cooked.  Don't overcook the eggs.  They burn easily.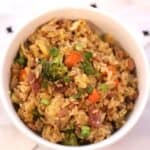 Ham and Veggie Stir Fry
This easy ham and rice stir fry is loaded with veggies and can easily be adapted so the entire family will love it!
Ingredients
2

Tablespoons

Butter

2

Tablespoons

Oil, Avocado, vegetable, coconut, olive works great

2

Tablespoons

Garlic, Minced

1/2

Cup

Onion

1

Cup

Carrots

1

Cup

Ham, Cut into 1/2 Inch pieces

1/2-1

Cup

Broccoli

4

Cups

Rice, Cooked

2

large

Eggs

Salt and pepper to taste

3

Tablespoons

Teriyaki Sauce, (from a jar, your favorite kind)
Instructions
In a large skillet, add your butter and oil and let them melt without browning.

Add your onion and cook until transparent. Add the garlic and carrots and cook for another minute. Add the broccoli and ham and continue to stir.

Add the rice and mix in with the veggies. Salt and pepper to taste. Now stir less frequently. Let the rice and veggies on the bottom of the pan become golden brown before stirring. Once golden, stir. Do this several times until the rice is a little more "fried."

Add a couple more tablespoons of butter If your rice is sticking to the pan. Even a 1/4 cup of water will keep the rice from sticking.

As soon as your rice is "fried" enough for you, add a few tablespoons of prepared teriyaki sauce and a couple eggs. Stir just until the eggs are cooked. ( You don't want to overcook it at this point or your eggs will burn)

Take it off the heat and serve as a main dish or as a delicious side. Enjoy!
Nutrition Facts
Ham and Veggie Stir Fry
Amount Per Serving
Calories 478
Calories from Fat 99
% Daily Value*
Total Fat 11g 17%
Cholesterol 64mg 21%
Sodium 527mg 22%
Potassium 287mg 8%
Total Carbohydrates 79g 26%
Protein 13g 26%
* Percent Daily Values are based on a 2000 calorie diet.
Are you still hungry?  Check out these delicious lemon cookie bars for a sweet and lemony treat or if you're in the mood for peanut butter, check out these no bake cornflake stovetop cookies.