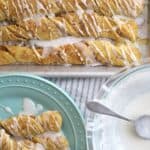 Print Recipe
Einkorn Cinnamon Breadsticks
These Einkorn Cinnamon Breadsticks are made with all-purpose Einkorn flour. They're soft and chewy and have a delicious vanilla glaze. If you love the flavors in cinnamon rolls, you're going to love these cinnamon bread twists.
For the Vanilla Glaze
1

Cup

Powdered Sugar

2

Tablespoons

Milk

1/3

tsp

Vanilla Extract
In a stand mixer (You can do this by hand also, it just takes a little more work) add your warm water. (You want your water to be 110-115 degrees) Add your yeast and sugar too.

Wait until the yeast becomes a little foamy-about 5 min. Add the avocado oil and mix. Add 3 1/2 cups of Einkorn flour and mix again for 2 minutes. Add the last cup of all-purpose einkorn flour 1/4 cup at a time until the dough pulls away from the side of the bowl and isn't sticky. You want to add enough flour so your dough is firm enough to hold a shape but still soft.

Put a towel or saran wrap over the dough and let the dough rise for 10 minutes.

Sprinkle flour on your counter top and roll dough out with a rolling pin. The dough should be 1/3-1/2" think. Sprinkle with a little butter, brown sugar, and cinnamon. Cut into 1" strips and twist the breadsticks. Lay on a greased cookie sheet. Sprinkle again with ground cinnamon.

Pre-heat oven to 350 degrees

Let sit for 10 more minutes or until double. **Hack--put the baking sheet with the breadsticks in the oven for a minute to warm the pan up. Take the pan back out of the oven and continue to rise. It will help your breadsticks rise twice as fast if your pan is warm.

Bake in the oven at 350 degrees for 15-18 minutes or until golden.

While the einkorn cinnamon breadsticks are baking, In a small mixing bowl, Combine the powdered sugar, milk, and vanilla. mix. Set aside.

Let the breadsticks cool for 5 minutes. Drizzle the glaze on the breadsticks.

Store in a ziplock bag or a covered container. To reheat, warm in the microwave for 10 seconds. Enjoy!
Calories:
439
kcal
|
Carbohydrates:
82
g
|
Protein:
7
g
|
Fat:
11
g
|
Saturated Fat:
4
g
|
Cholesterol:
15
mg
|
Sodium:
349
mg
|
Potassium:
28
mg
|
Fiber:
7
g
|
Sugar:
35
g
|
Vitamin A:
3.5
%
|
Calcium:
6.7
%
|
Iron:
14.4
%