Whether you are celebrating with your significant other, your friends, or your entire family, this list of 20+ Valentines Day Meal Ideas will make you think twice about spending money on an expensive dinner out. This year, why not skip the reservations and prepare a delicious, romantic dinner at home?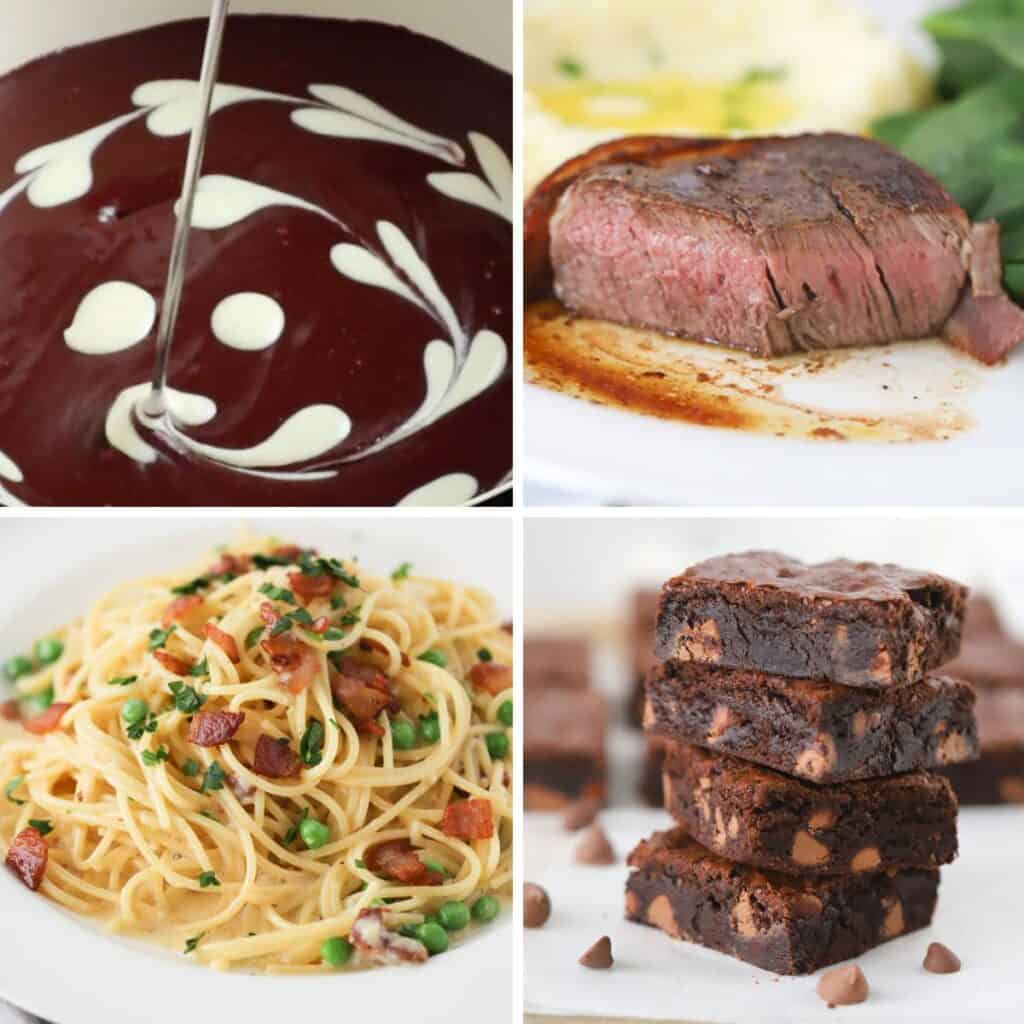 Jump to:
Romantic Valentine's Day Dinner Ideas
Valentine's Day dinner brings to mind recipes that are special, comforting, classic, and delicious - things like steak, creamy pastas, seafood, and of course, chocolate! This list includes a range of 20+ Valentines Day Meal Ideas such as Bacon Wrapped Filet Mignon, Creamy Garlic Tortellini Alfredo, some of my favorite potato recipes, and plenty of chocolate.
Below you will also find a few Valentines meal ideas and tips to get you thinking ahead and making the day extra special and relaxing. Whether you plan to enjoy a romantic dinner for two or a fun meal with the whole family, you don't need to spend loads of money on fancy dinner reservations to make the evening a celebration of love.
Date Night Valentine's Dinner Recipes
This impressive Bacon Wrapped Filet Mignon is juicy, delicious and a surprisingly easy Valentine's Day dinner to make. It's an elegant meal to serve for Valentine's Day, date nights at home or special birthday dinners.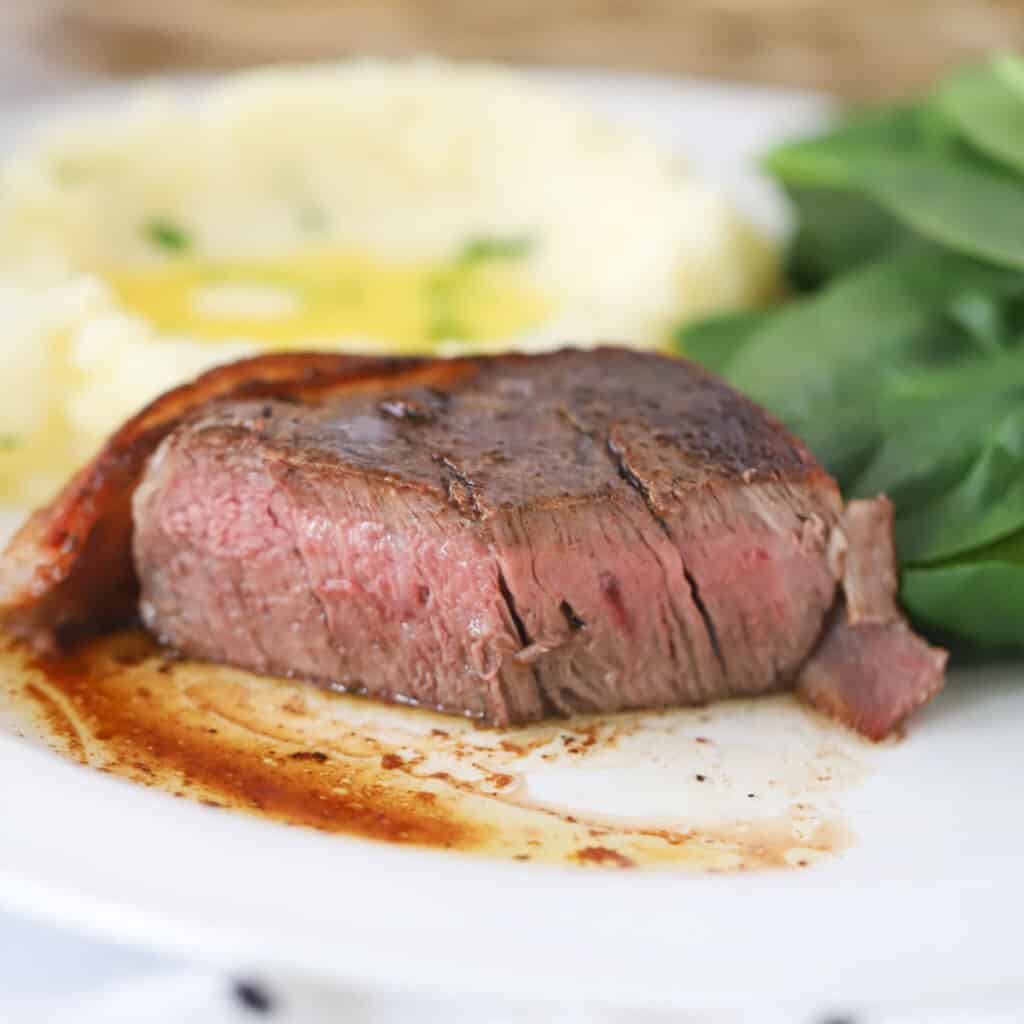 This easy Chicken Fettuccini Alfredo is made with juicy, tender chicken breasts, perfectly cooked pasta, and our creamy homemade Alfredo sauce. It's a perfect weeknight dinner that's quick and super satisfying.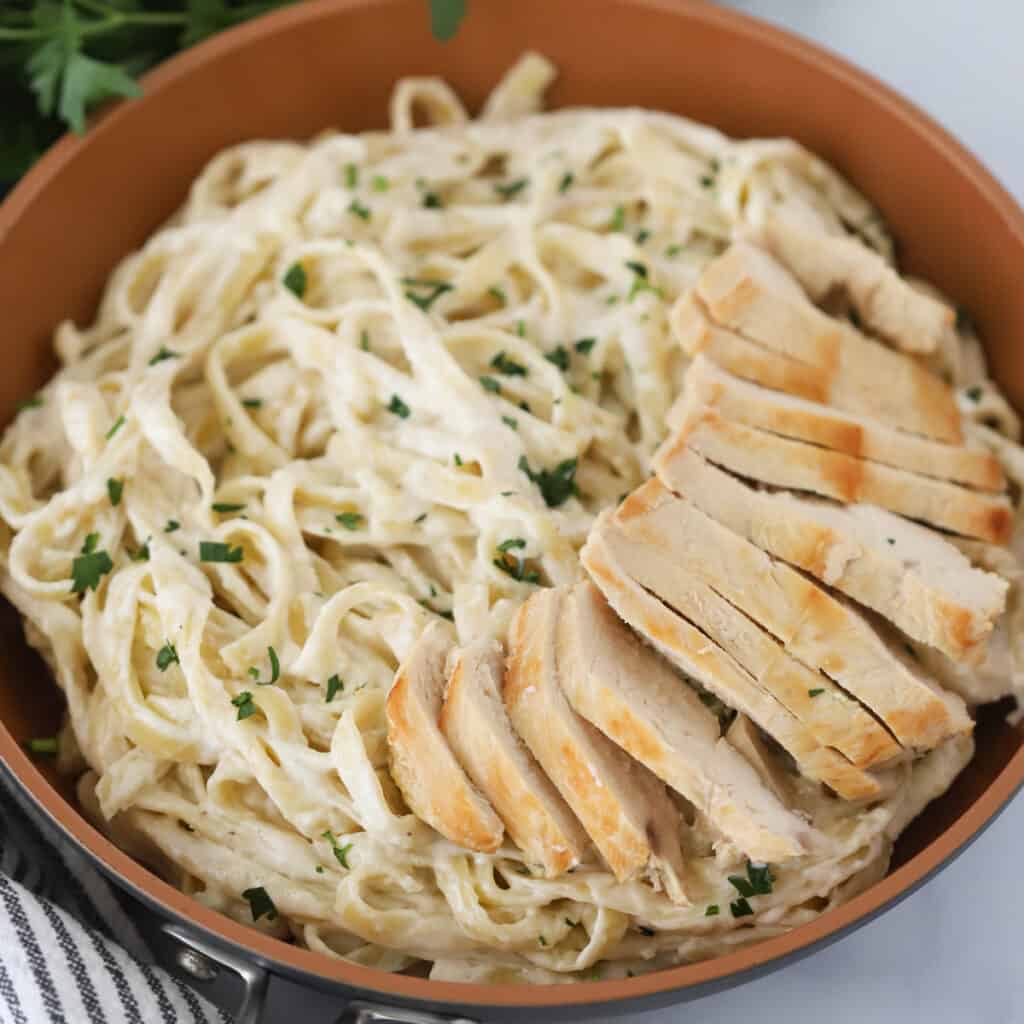 This Heart Shaped Pizza is an easy and delicious way to make Valentine's Day at home super special. Add your favorite toppings, snuggle up, and enjoy with your sweetheart or the whole family.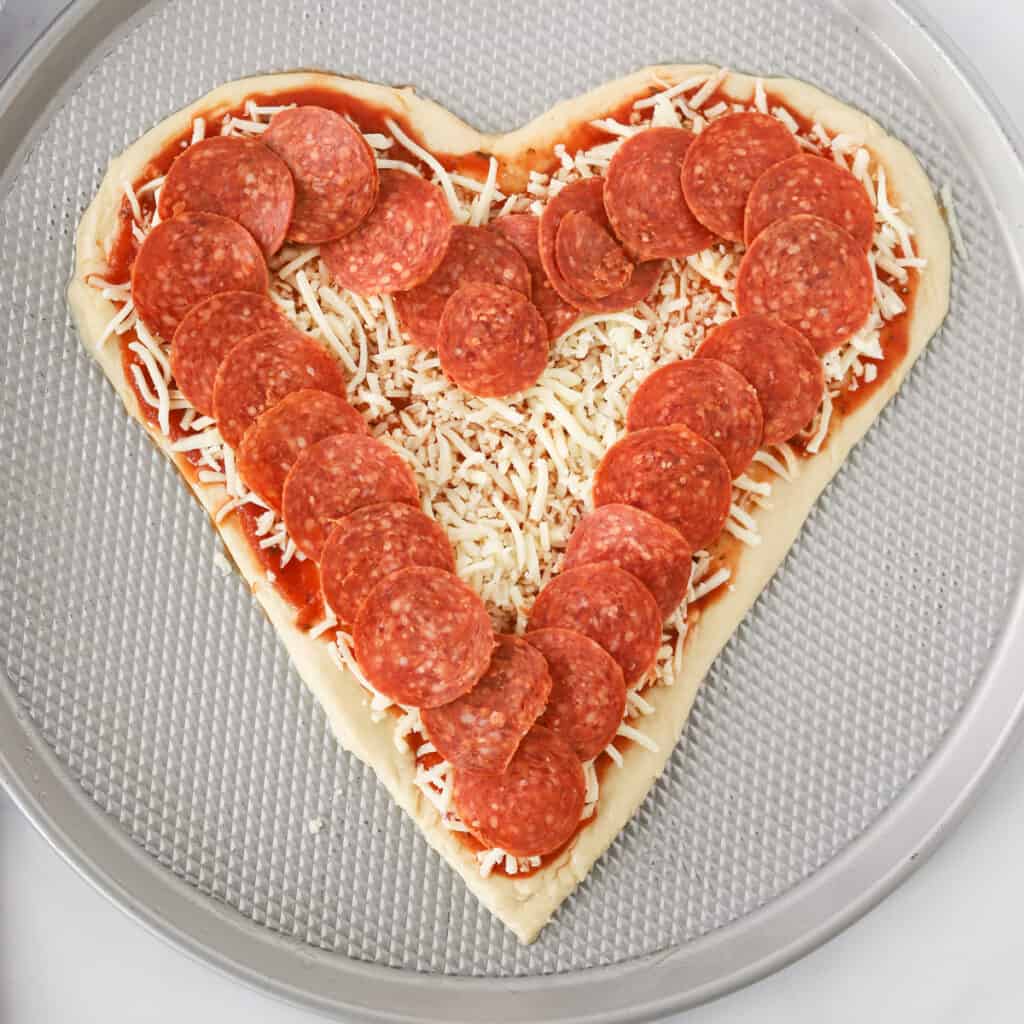 This Creamy Garlic Parmesan Chicken is seared to golden perfection then oven-baked and covered in a delicious cream sauce. It's an easy Valentine dinner ideas to serve any day of the week and is also fancy enough special occasions.
This Green Chili Hasselback Chicken Recipe gives a fun and delicious new twist to your everyday baked chicken. It's fancy enough for special dinners but also perfect for those busy nights when you just need to get dinner on the table.
This Slow Cooker Beef Short Ribs recipe is fall-off-the-bone, melt-in-your-mouth tender and only take about 15 minutes of prep. It's cooked in a flavorful savory sauce along with carrots, onions, and mushrooms.
This Pan Seared Steak is cooked in fresh herb garlic butter until perfectly juicy on the inside with a caramelized crust on the outside. We'll show you how easy it is to pan sear steak, finish in the oven, and enjoy a restaurant-quality dinner at home.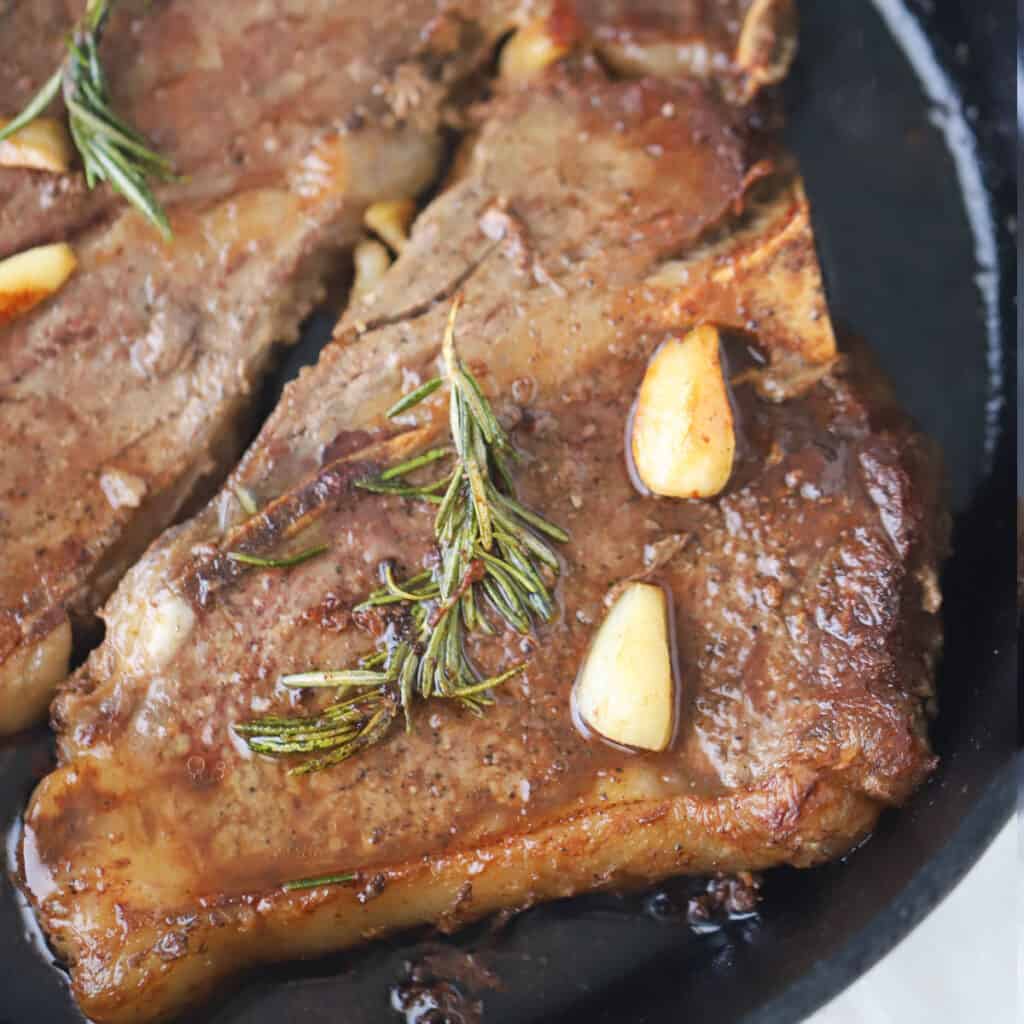 This Homemade Lasagna recipe is rich, decadent and so simple that some might even call it life-changing. Made with beef, spicy Italian sausage, and four different kinds of cheese, no one would ever know it didn't take you all day to prepare.
This Creamy Garlic Tortellini Alfredo is a one-pot meal made with juicy chicken, homemade Alfredo sauce, and fresh tortellini pasta. Best of all, it can be made in about 30 minutes.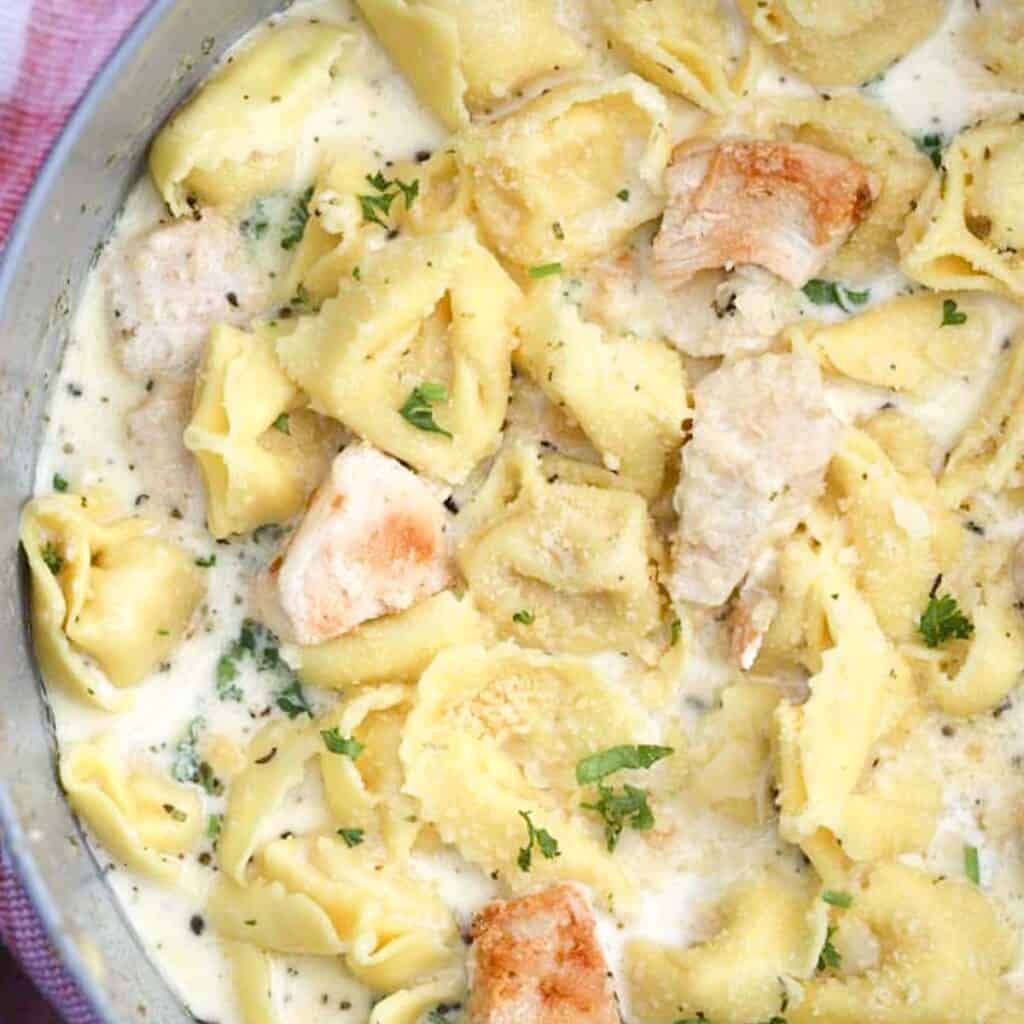 This cedar plank Grilled Teriyaki Salmon recipe turns out tender, flakey and delicious every single time. It uses a simple ginger buttermilk marinade to tenderize while infusing sweet, spicy, robust flavor.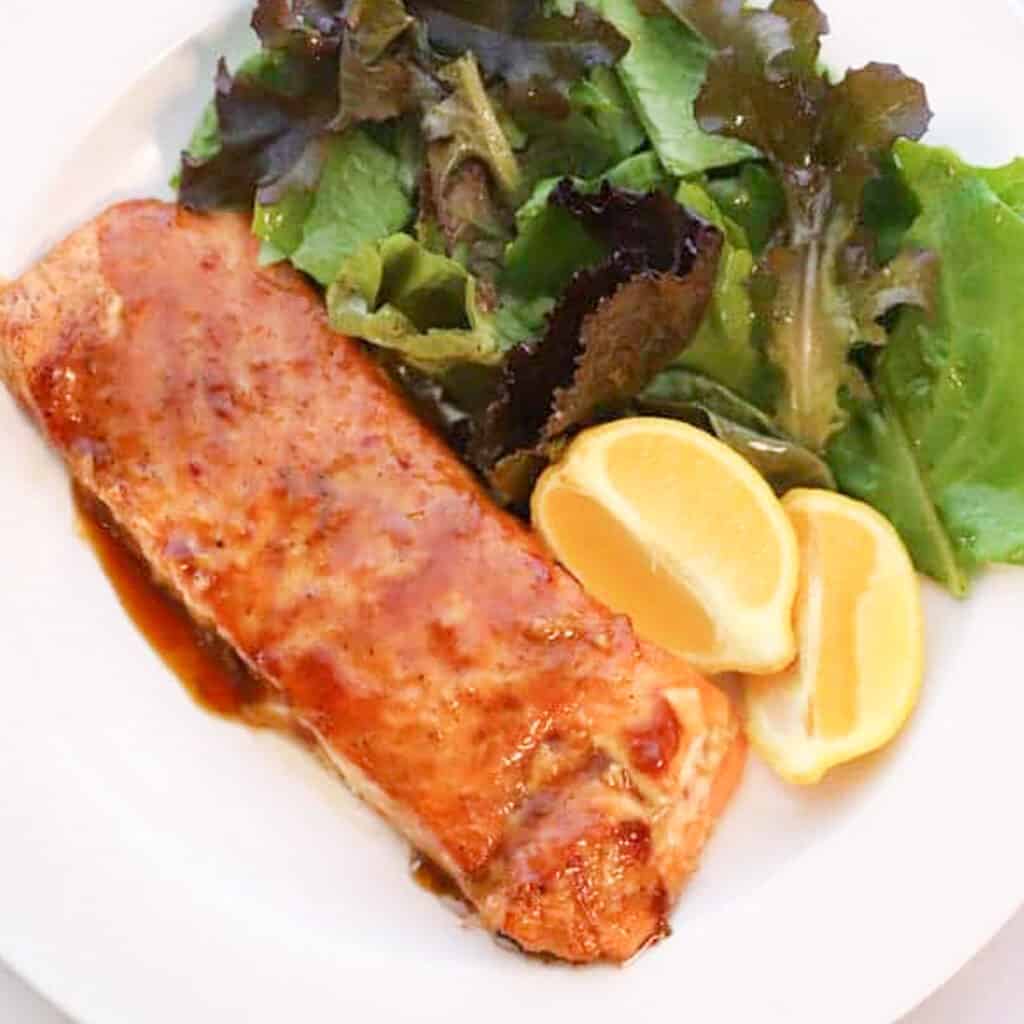 These Three Cheese Twice Baked Potatoes are super creamy and loaded with flavor. Made with Havarti, Gruyere, and shredded cheddar cheese, they are an all-time favorite.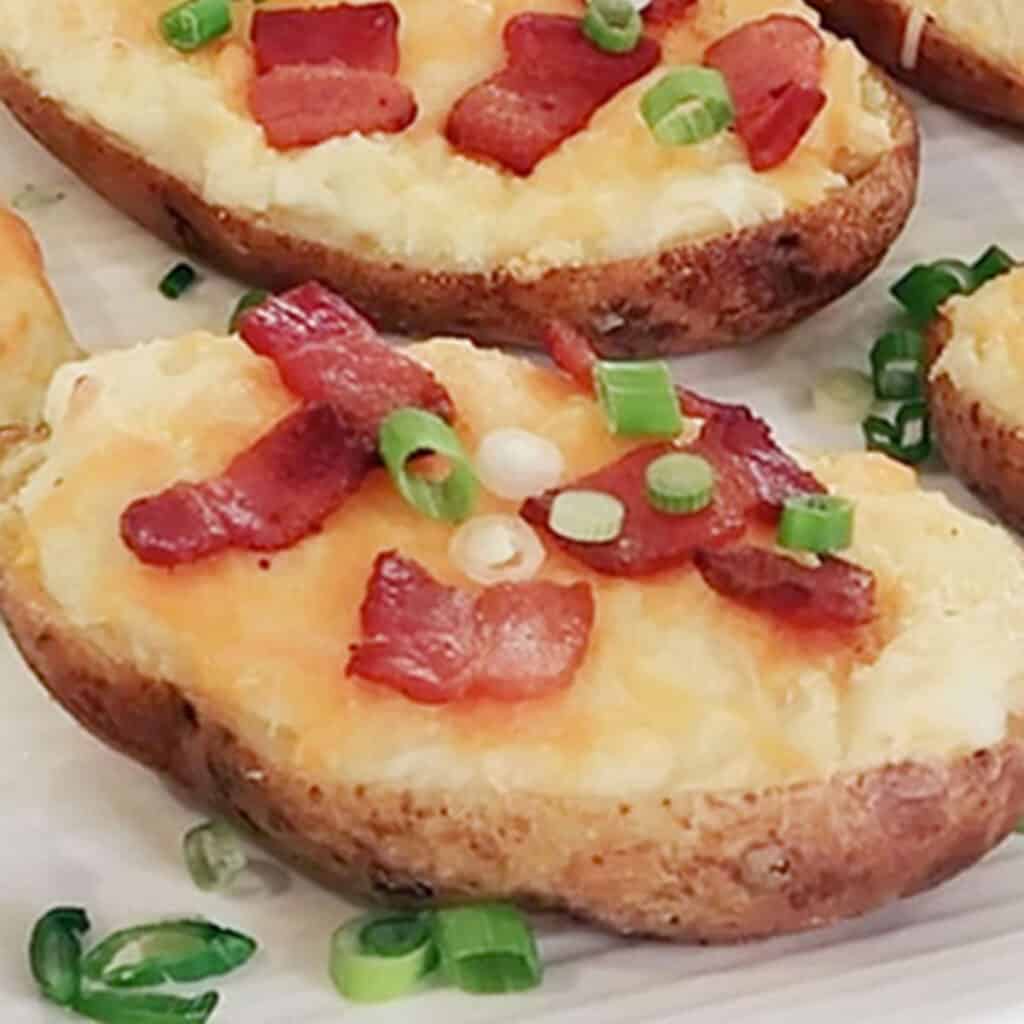 This Best Baked Potato recipe has perfectly crispy, salty skin on the outside and is fluffy on the inside. Top with your favorite toppings such as butter, sour cream, and crispy bacon bits for an amazing side dish for any meal.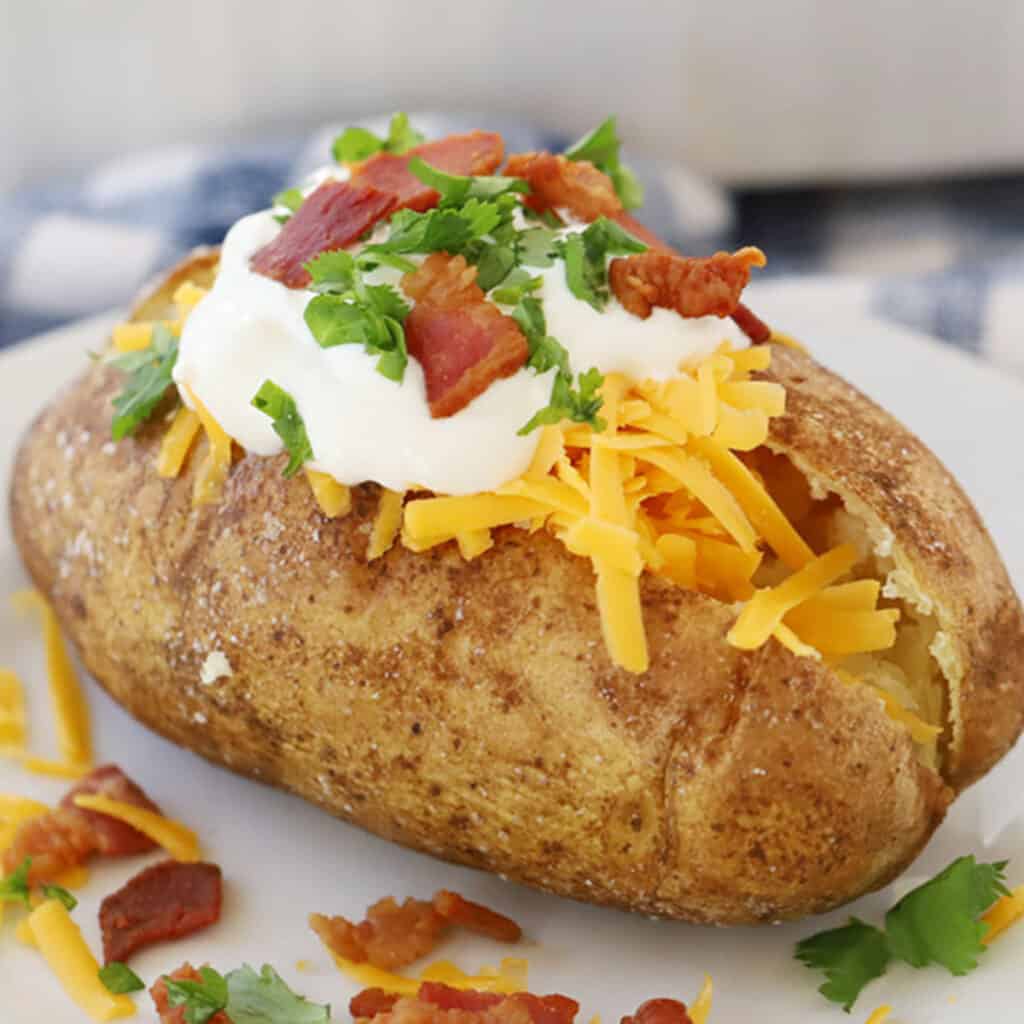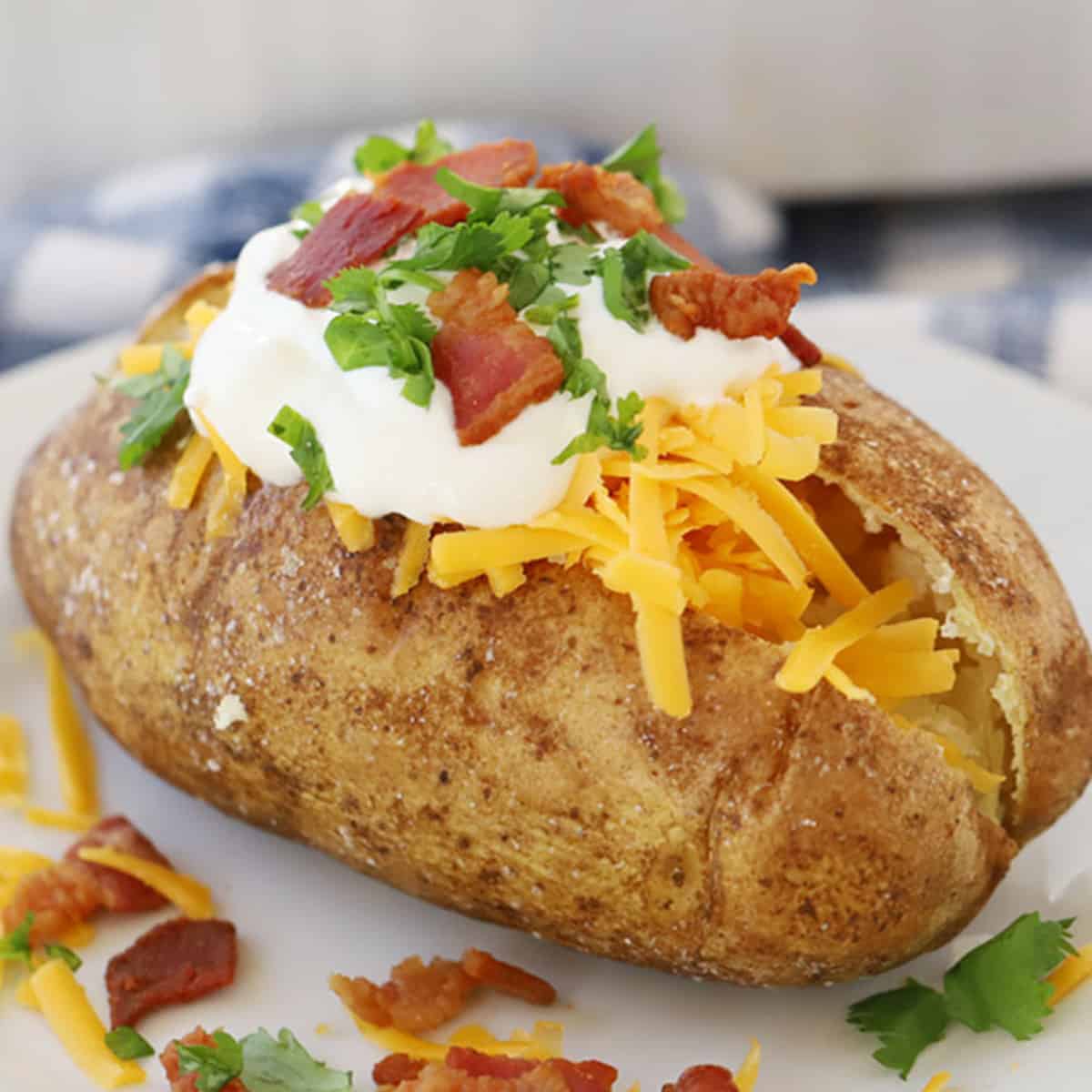 These Hasselback Potatoes transform everyday baked potatoes into something incredible, all with just a few thin slices. Deliciously crispy on the outside, and perfectly tender on the inside, these little beauties are begging for some melted cheese, a dollop of sour cream, and bacon bits.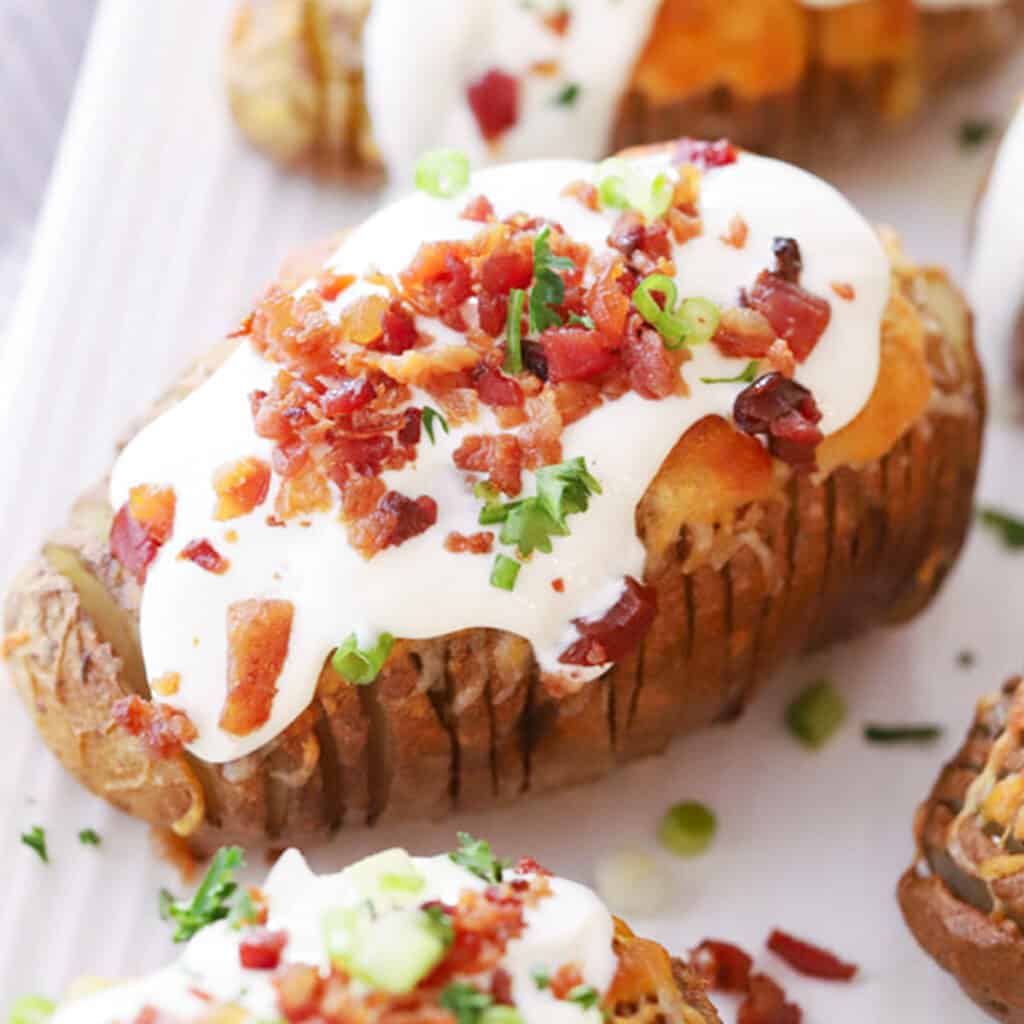 These oven-roasted Rosemary and Parmesan Fingerling Potatoes are perfect for anything from a casual weeknight dinner to a fancy holiday menu. They have a delicious crispy rosemary and Parmesan crust with a smooth and buttery center and are oh-so-easy to prepare.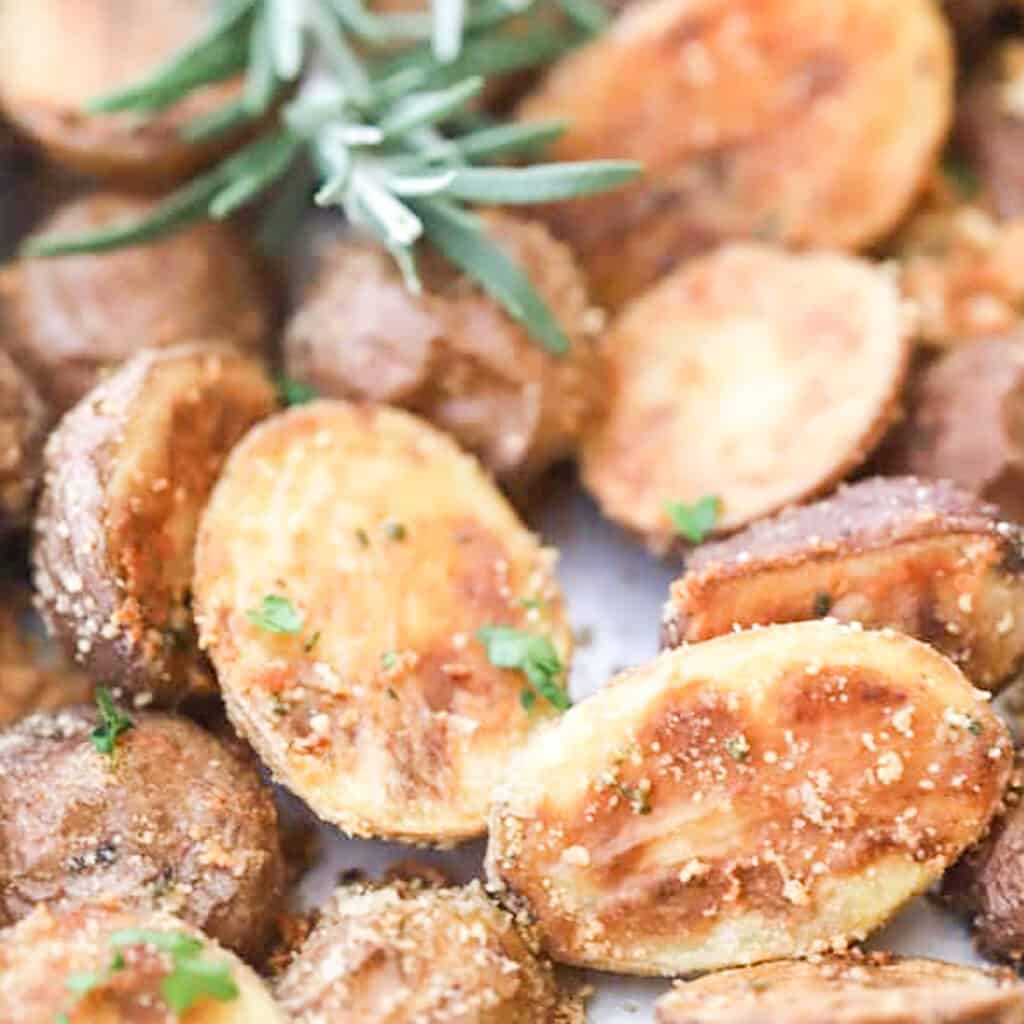 This Bacon Wrapped Asparagus is a quick and easy side dish that is always a hit. Seasoned simply with salt, pepper, garlic and a sprinkle of Parmesan cheese, this recipe is perfect for party appetizers, holiday dinners or getting picky eaters to eat their veggies.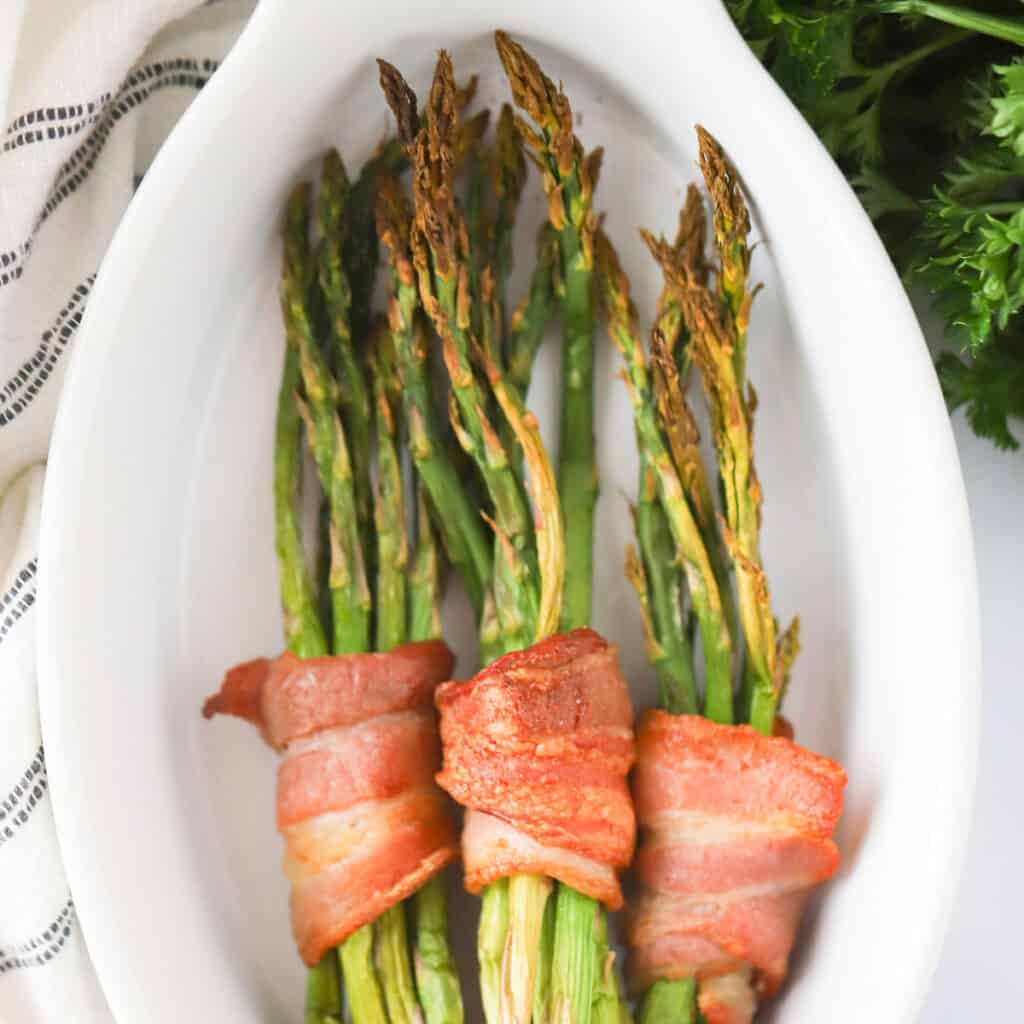 These Parmesan Roasted Tomatoes combine a crisp panko Parmesan crust with juicy, flavorful roasted tomatoes. They're the perfect simple side dish to serve with chicken, fish, pasta, and more.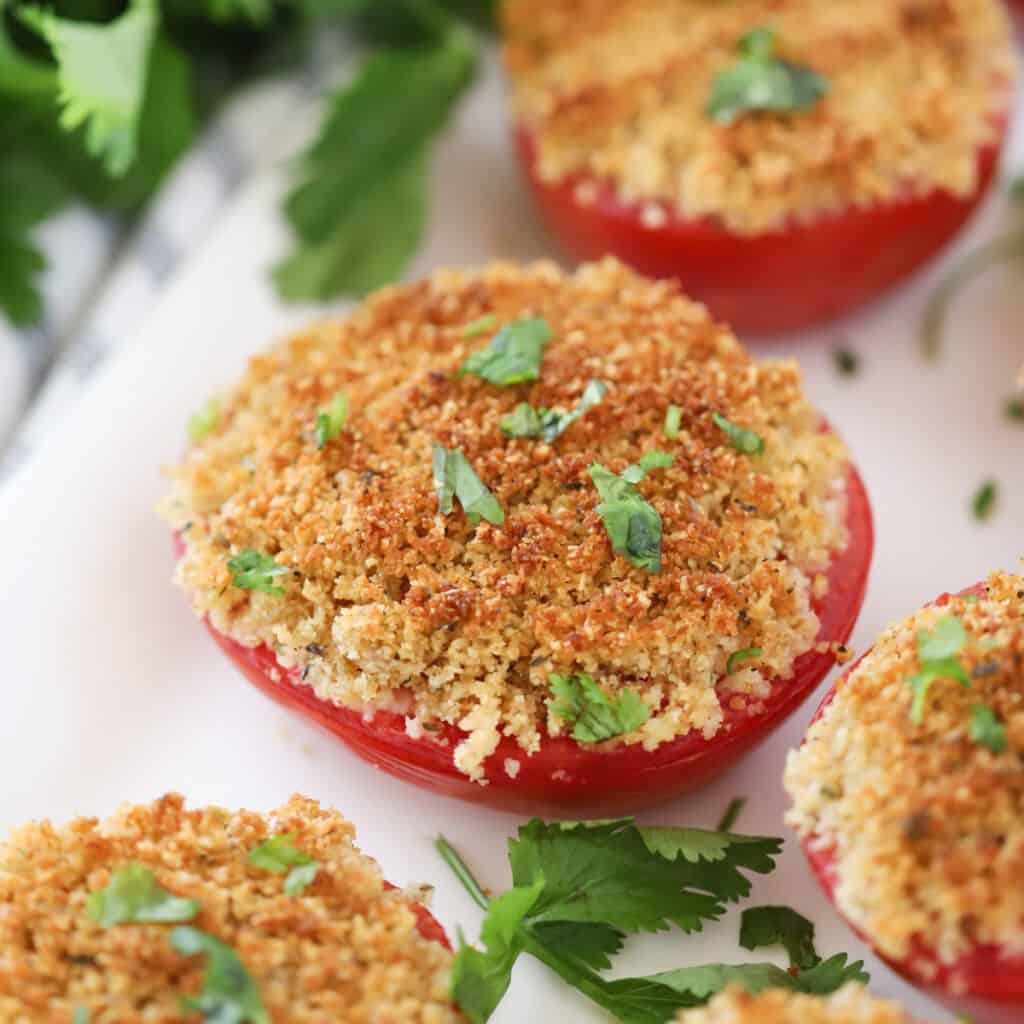 These Creamy Brussels Sprouts are sautéed until golden brown, drowned in a rich and creamy cheese sauce and served with crispy bacon to finish. They make a perfectly satisfying side dish to go with just about any meal.
This easy Tuscan Soup is the perfect hearty comfort food for a cold winter night. Full of Italian sausage, potatoes, carrots, and spinach, all swimming in a rich and creamy chicken broth, it can be ready on your table in just about 30 minutes.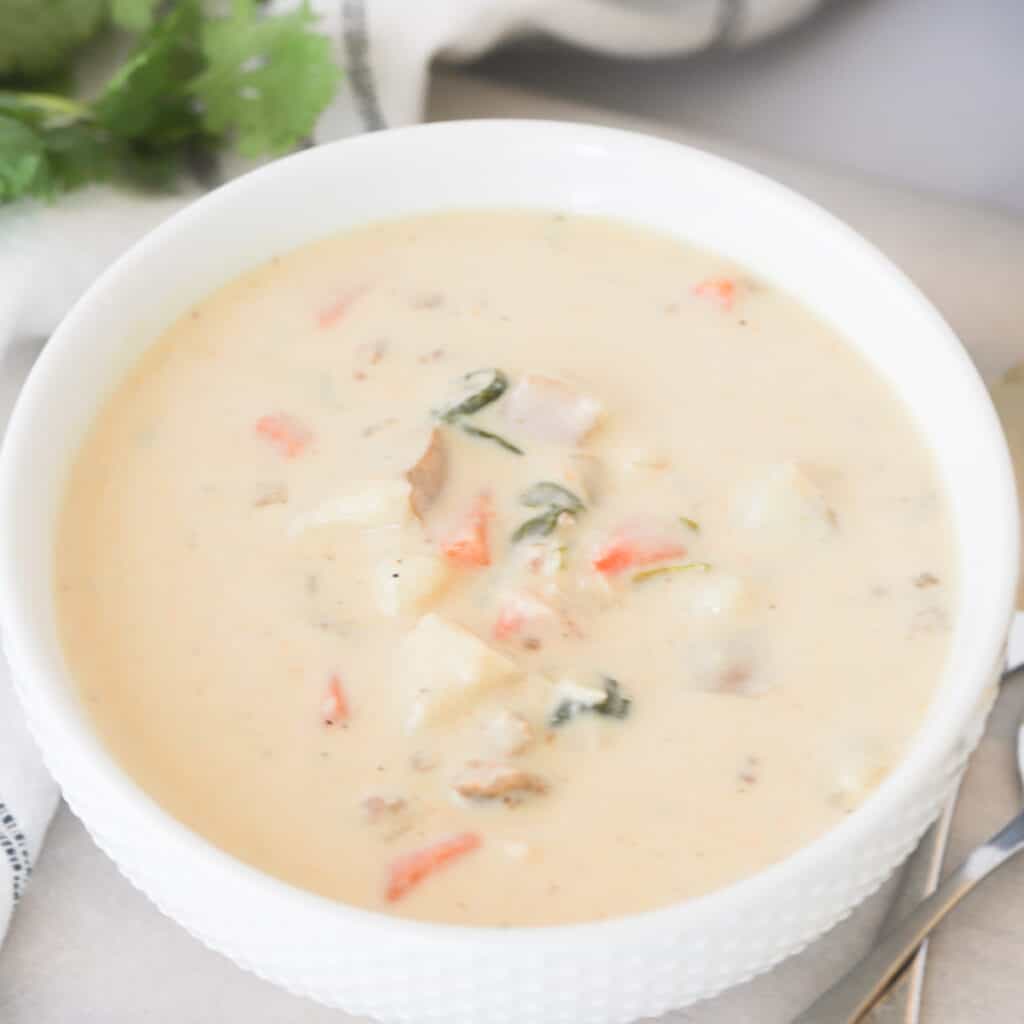 This Creamy Garlic Parmesan Orzo is a quick and easy one-pot side dish that goes well with just about anything. It's made with orzo pasta, fresh spinach, garlic, and Parmesan cheese and finished with a little splash of cream.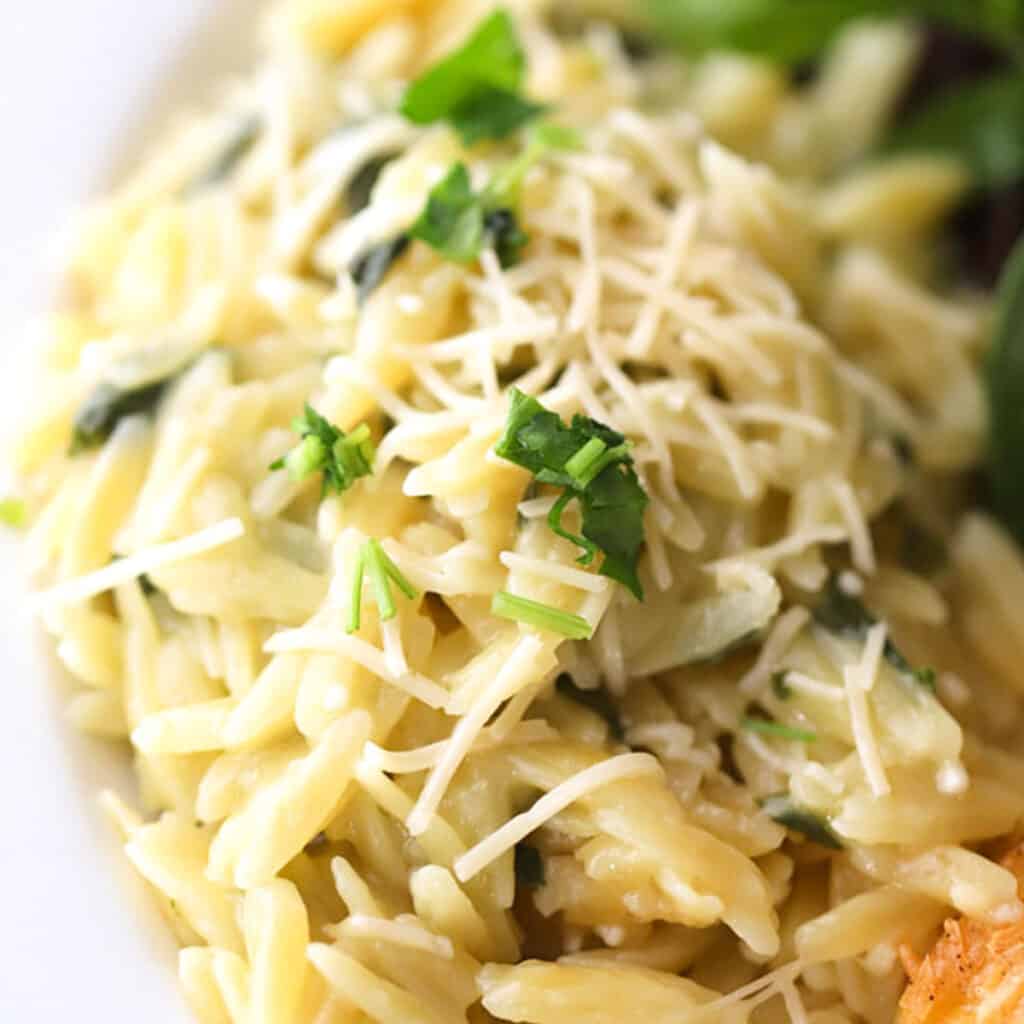 These Quick Dinner Rolls are soft, fluffy, buttery, and so easy. All you need are a few simple ingredients and a minimal amount of prep to have these quick yeast rolls ready and on the table in no time.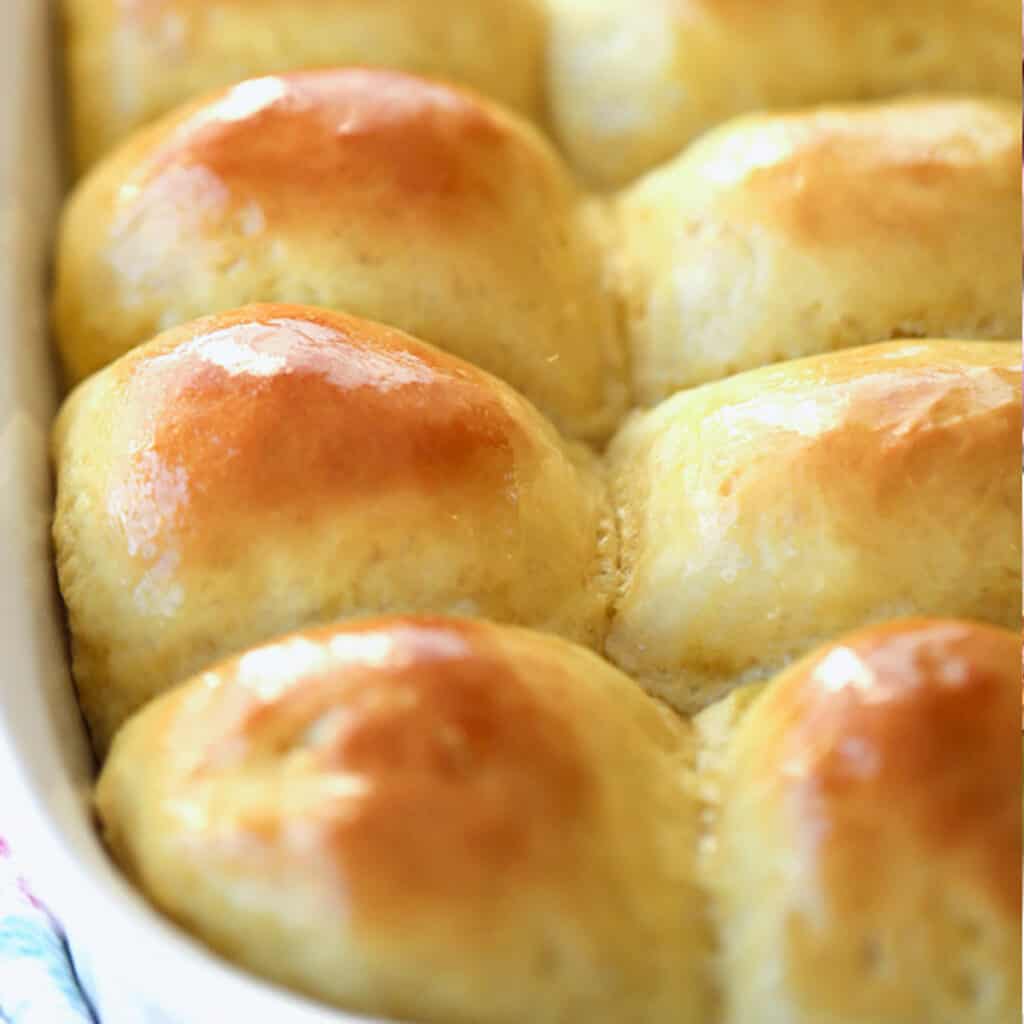 This Chewy Fudge Brownie Recipe will have you ditching the boxed mix after just one bite. This homemade chewy brownies recipe is perfectly dense, full of chocolate flavor, and they literally melt in your mouth.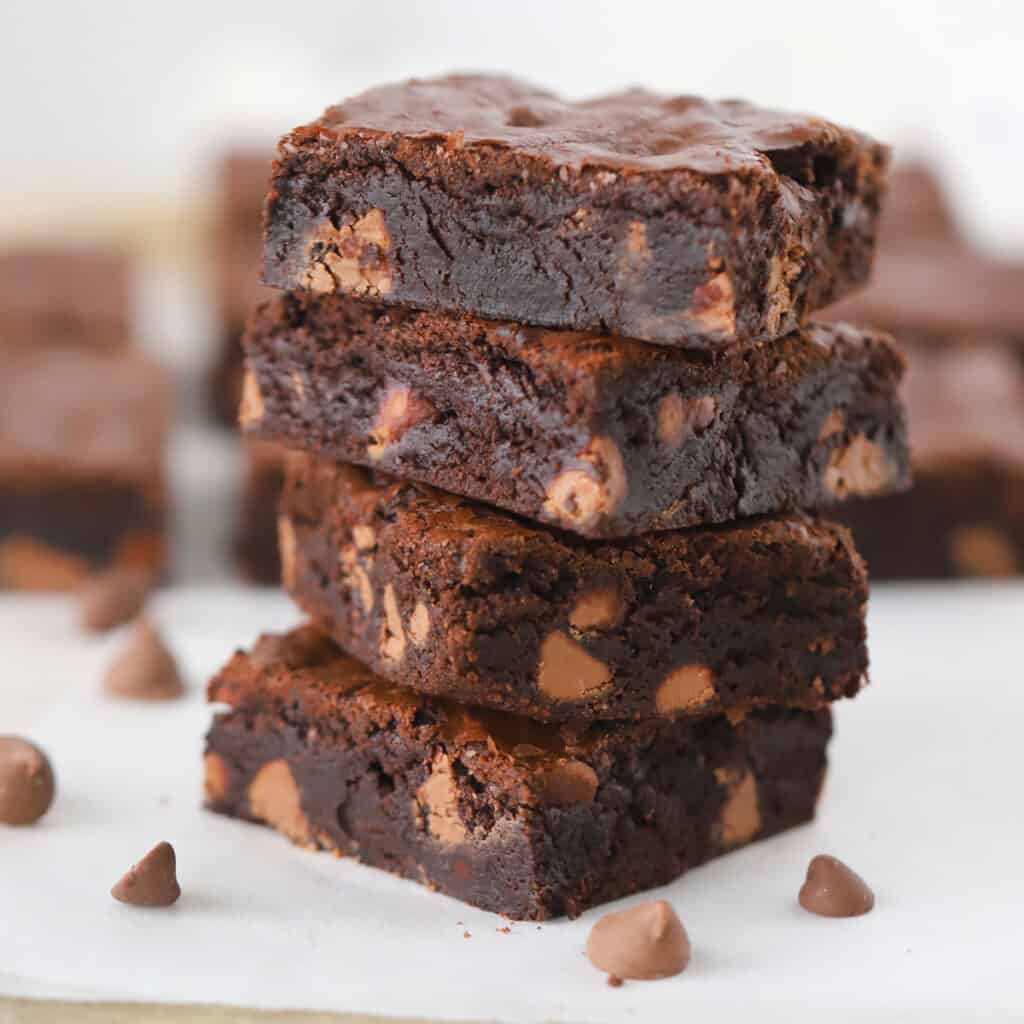 These are a Valentine's favorite every year! It's the perfect combo of sweet and tart, fresh and decadent. I'll show you how to make chocolate-covered strawberries, step by step.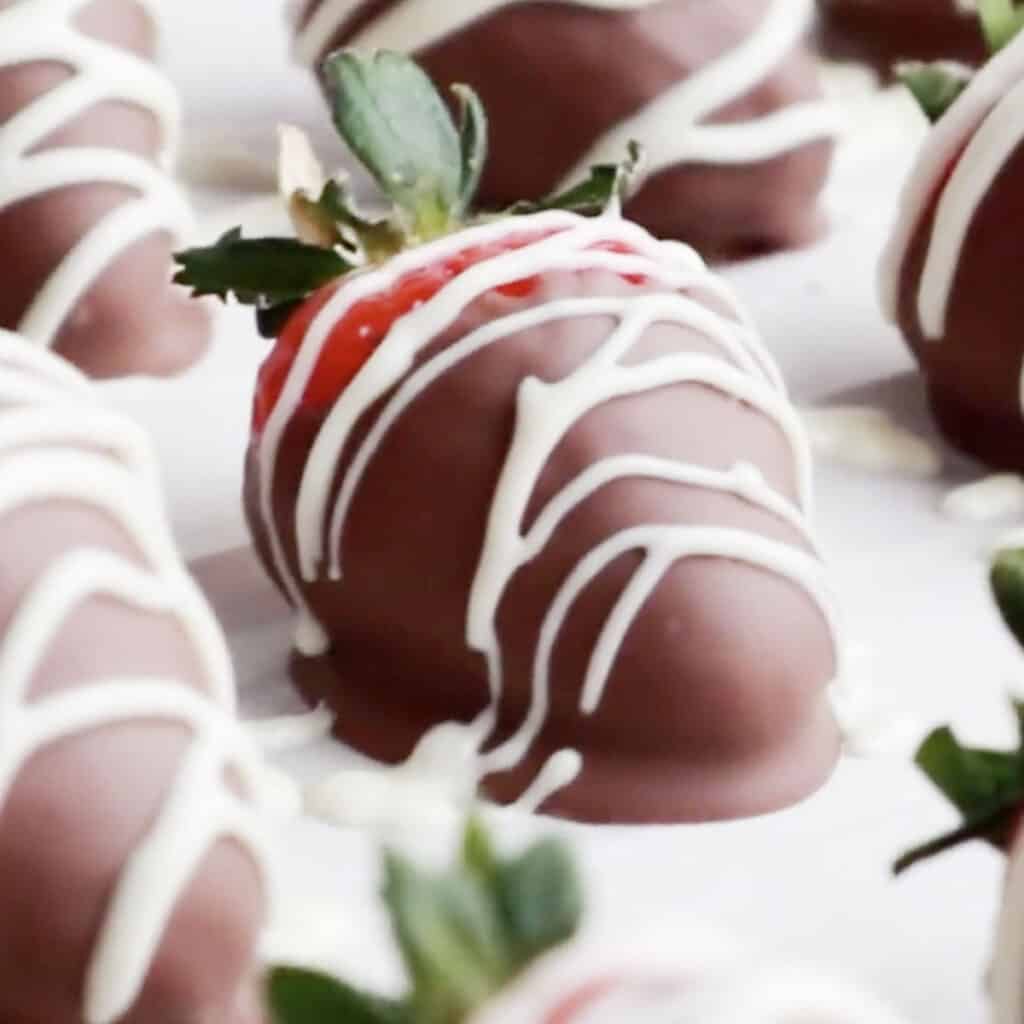 This easy No-Bake Chocolate Cheesecake Recipe is an easy no-bake dessert recipe. It's a creamy chocolate mousse cheesecake recipe and is the perfect way to celebrate Valentine's Day or a regular 'ol Tuesday.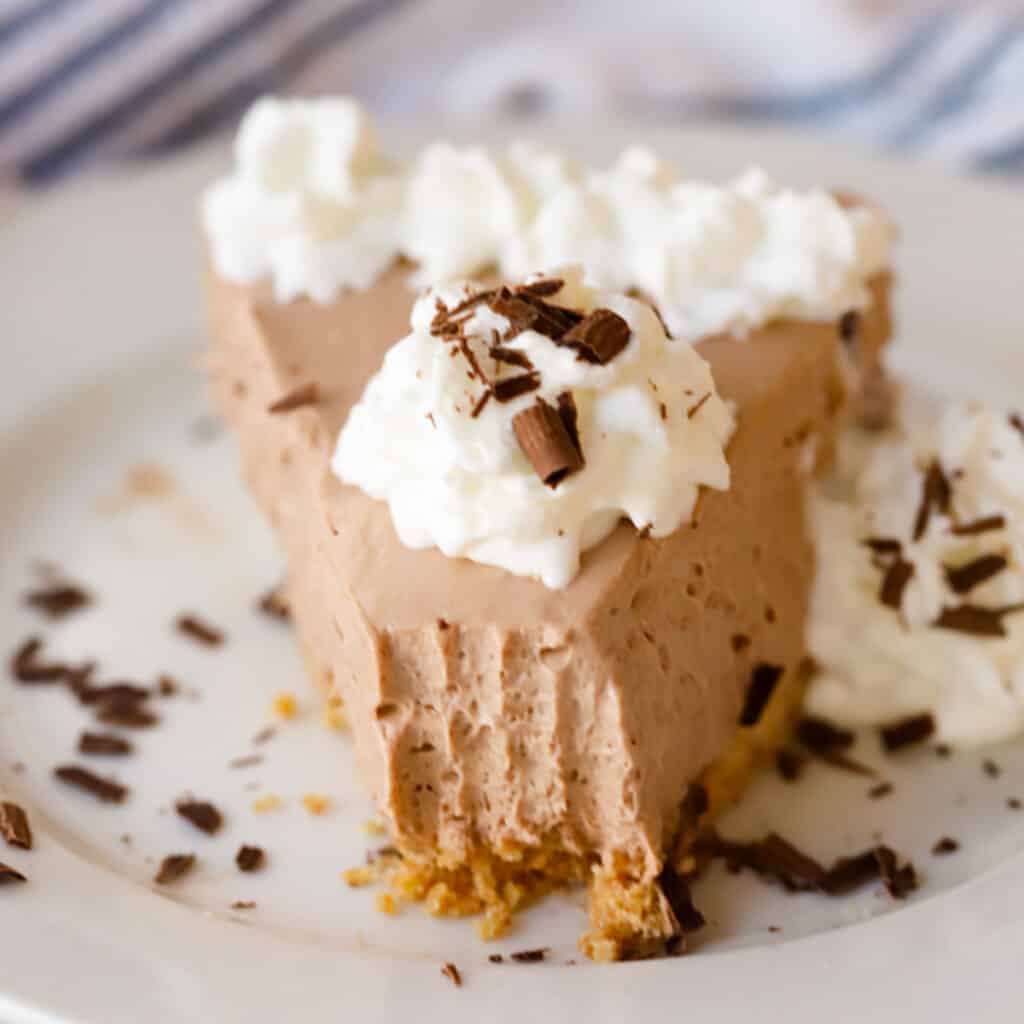 This homemade Chocolate Cream Pie is made with a silky smooth chocolate pudding tucked into a crisp Oreo crust and topped with freshly whipped cream. It's super decadent with a rich chocolate flavor and is insanely simple to make.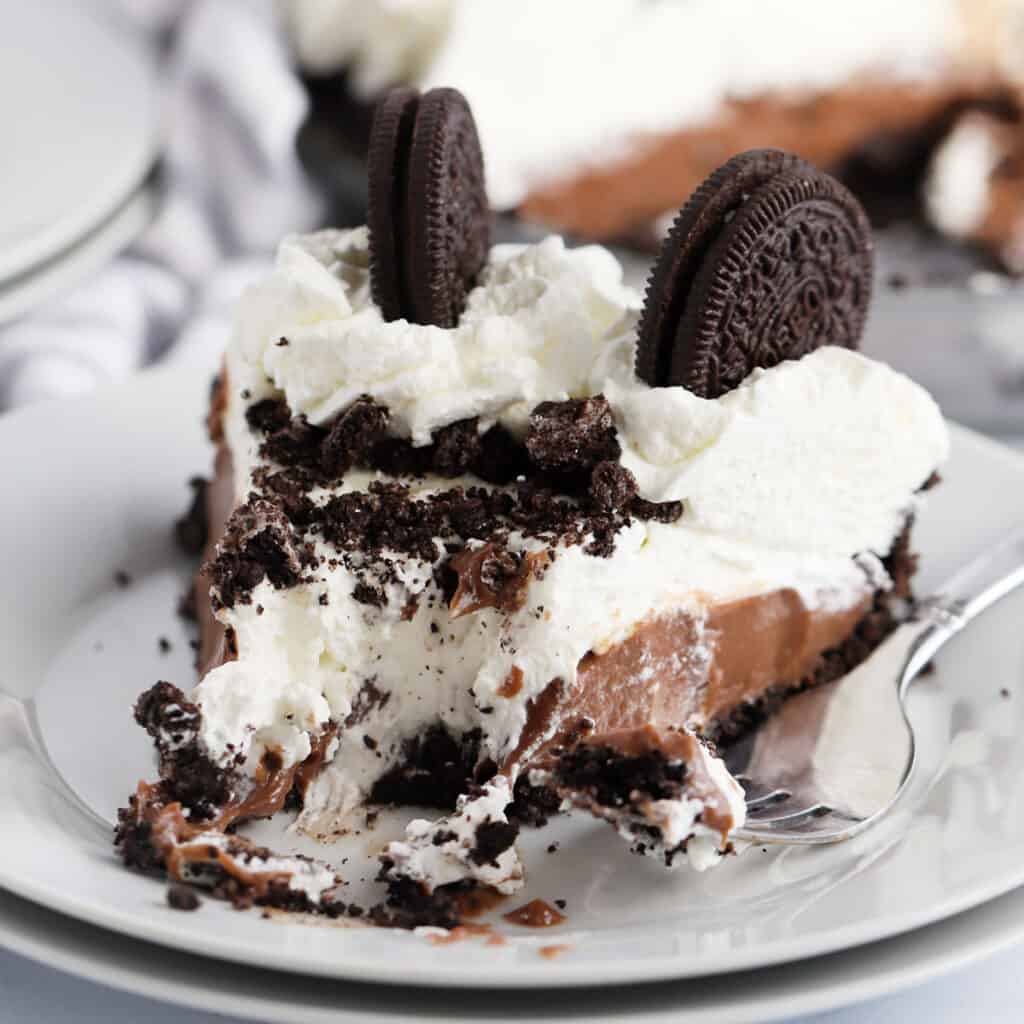 These Chocolate Oreo Parfaits are super simple, crazy delicious and make an impressive presentation with very little effort. Take chocolate pudding to the next level with just a few simple ingredients.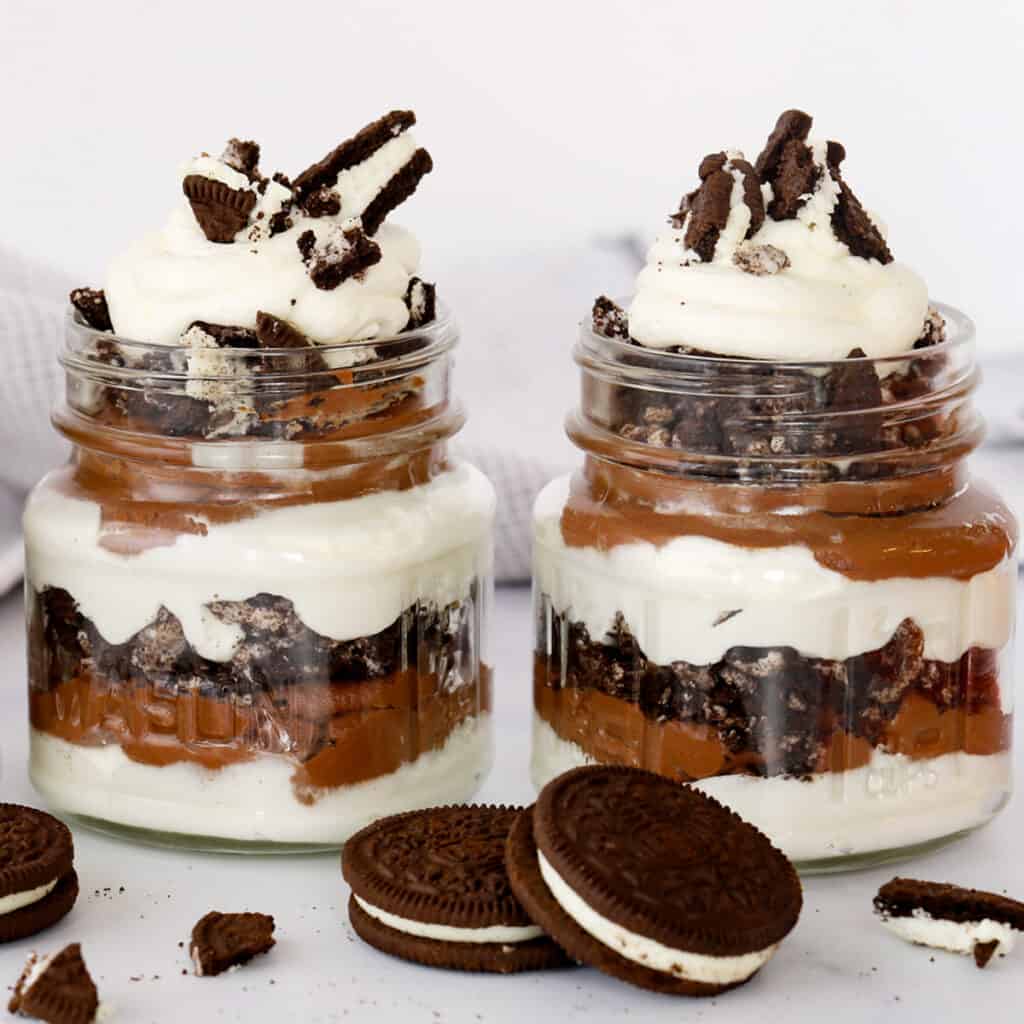 These Chocolate Covered Strawberries are perfect for Valentines Day, or just a sweet treat. They're super simple to make and only take a few minutes.
Valentines Dinner Ideas and Tips
Plan ahead. This is a good practice anytime you are making and serving a special meal with multiple courses. In order to make things enjoyable for you rather than hectic, plan your menu at least a week or two in advance. That way you will have plenty of time to shop and make things ahead of time whenever possible. No one wants to be rushing around the day of a special dinner.
Set the stage. Even though you aren't dining out at a restaurant for Valentine's Day, you can still make it extra special by setting the table, adding flowers, pulling out the fancy candles, and even popping on some music.
Don't prepare a meal for two. Give yourself a future gift by making more than you need so that you and your family can enjoy the meal in the coming days. This might not apply for, say, filet mignon. But there's no need to cut down the size of a recipe just to make it a dinner for two. Go ahead and make full sized batches and save them for later on in the week.
More Easy Valentines Day Dinner Ideas
If you've tried this recipe, please rate it and leave a comment on this post. I love hearing feedback from you. It helps me and other readers too! If you love Pinterest, feel free to leave a comment and photo there too. Also, if you like to share, use the hashtag #thecarefreekitchen on Instagram and tag me @thecarefreekitchen so I can find you and give your post some love. You can also find me on Facebook at The Carefree Kitchen. Thank you!!
Here are over 20 dinner ideas for Valentines Day to help you plan a romantic dinner for two at home or some family Valentines dinner ideas. This list includes main dishes like filet mignon, sides, and plenty of chocolate recipes for dessert. Make this year the best Valentine's dinner at home.
Reader Interactions